Photos by www.theidagency.com
---
The Formula Drift spectacle made a stop in the spot that started it all five long years ago. The brainchild of young entrepreneurs Ryan Sage and Jim Liaw, the Formula D series was born from humble beginnings back in 2004 at Road Atlanta and returned to the launch site. Today, their baby-step days are over and the event draws in triple the amount of people and some of the hottest drifting action in the world. As 2009 heats up, the drift action was as hot as the blocks down in the ATL.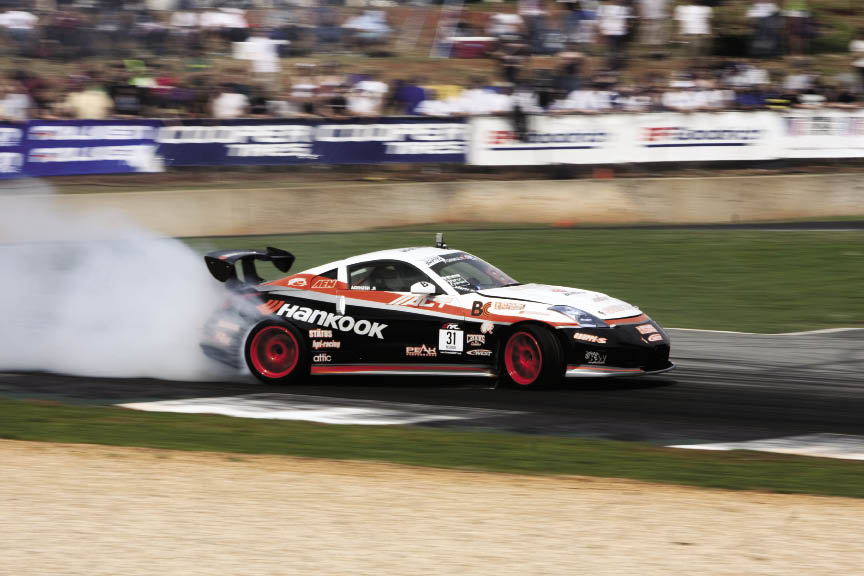 Dubbed the "Proving Ground," the course at Road Atlanta was a 2-day weekend event highlighted with the Formula DRIFT Pro-Am competition in association with US Drift of course Round 2 of Formula D. Attendance numbers were the highest of all time for the venue and despite the chance of rain, fans from all across the South East gathered for the drifting crazed weekend.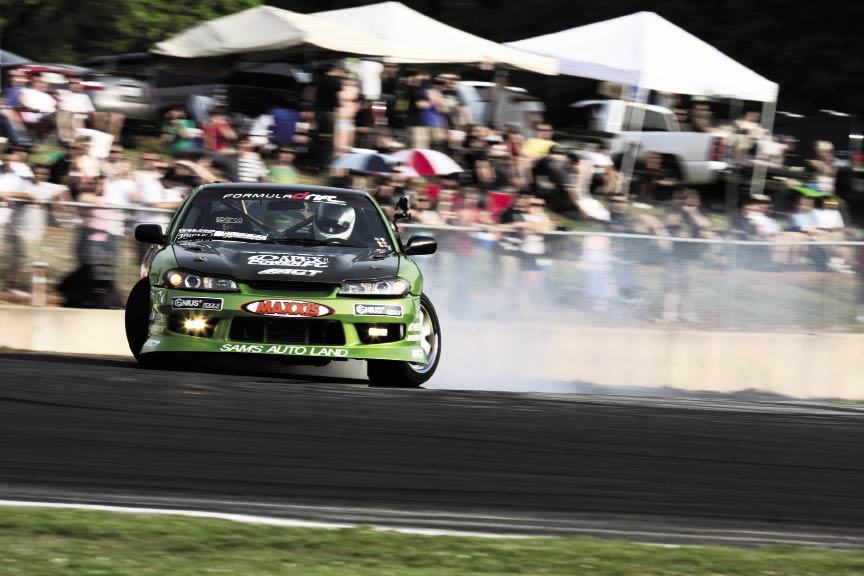 "The fans that come to Road Atlanta are some of the most dedicated and enthusiastic we have," said Ryan Sage, Vice President of Marketing and Co-Founder of Formula D. "The energy of this crowd could be felt and added an additional element of excitement to the event. For the last 6 [visits] we have seen this event grow more and more and we look forward to next season."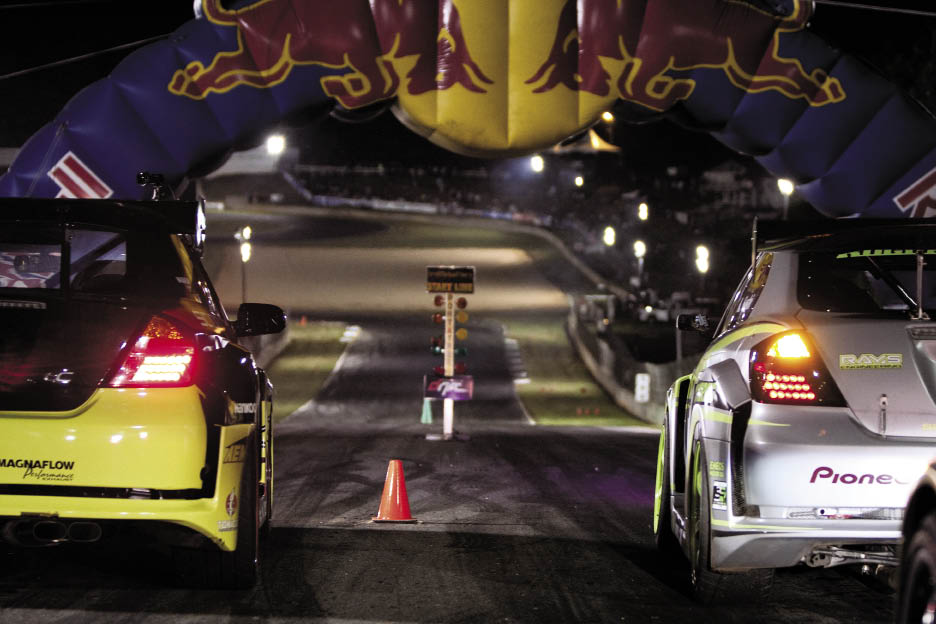 For the second time in his career, Chris Forsberg rocking the NOS Energy Drink / Maxxis Nissan 350Z ragtop took the top prize at the Proving Ground. Forsberg was hella consistent throughout the event and fought his way through fierce competition on his way to both the event victory and point lead for the DiscountTires.com Triple Crown bonus. Darren McNamara piloting the Falken / Sears Auto Center Saturn Sky was a close runner-up and put on an impressive show against Forsberg's more powerful Z. The finals proved challenging after the first competitive run was deemed too close and another run was requested by the judges. Known among the Formula D competitors and fans as a "One More Time" – the next run ended with some paint trading putting McNamara behind and having to settle for second best.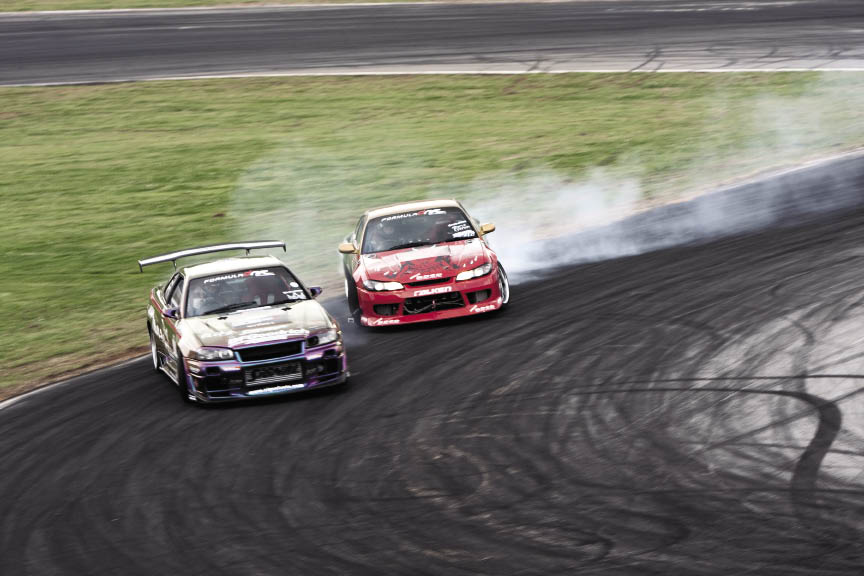 In third place, Ryan Tuerck in the Gardella Racing / Mobil 1 Pontiac Solstice added to his Formula DRIFT championship point lead and secured his second consecutive podium finish. The East coast Tuerck has been on fire as he battled an unfamiliar face in the consolation round, Joon Maeng who had clawed his way up the ladder.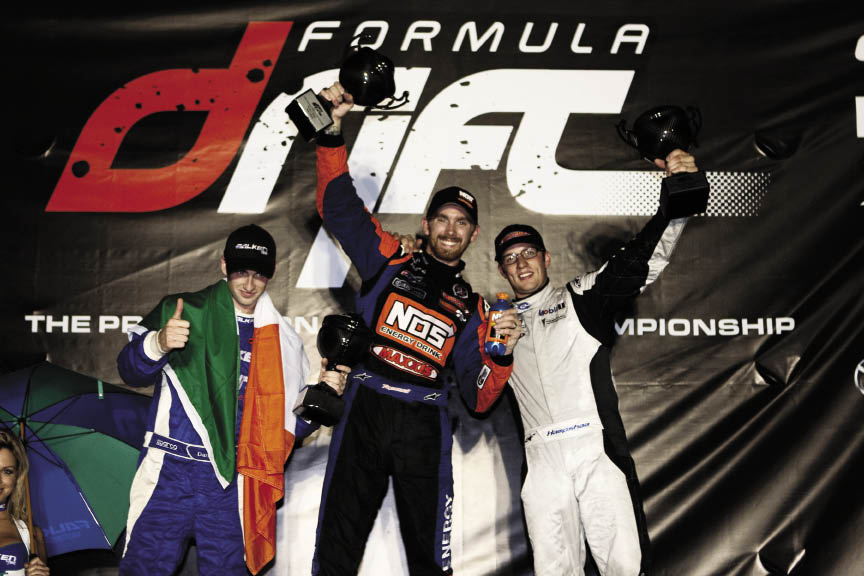 Team Falken who came to the event five cars deep was happy with the end results. "We are starting to show our competitive strength," stated Steve Mitchell, Team Falken Motorsports Manager. "The mechanical problems set us back a bit, and we'll make sure to stock more parts for our next round, but teamwork prevailed and we were able to overcome some of the early struggles. I'm proud of Darren's efforts, as I am of all our team members, and we'll see more of our drivers advance to the finals in the events ahead."
"Road Atlanta has always been an awesome track and the team has had great finishes in the past," concluded Forsberg "I really want to thank NOS Energy Drink and Maxxis tires for continuing their support into 2009, and helping us get back to the top of the podium!"