Photos by CaliPhotography
---
Round #8, the series finale of the 2009 Redline Time Attack Series was held at the famed Auto Club Speedway on the high speed ROVAL configuration. This configuration features two very different parts. The first part utilizes the entire front straight away, part of the back straightaway, and the high banked turns #1 & #2 of the NASCAR oval. This provided some of the highest top speeds we have seen all season with top Unlimited cars reaching north of 180mph. To contradict that, the rest of the course is comprised of flat, low, and mid-speed corners so as you can imagine, setting up a car to perform well on both of these very different parts of the track is a nightmare.
This event had one of the largest showings of competitors all year long. Being that this was the final event of the season virtually every top team from the East and West coast showed up for a battle that would be sure to excite the fans. Sierra Sierra was out for blood after having a taste of victory earlier in the week beating out FXMD's seemingly un-beatable NSX at the 2009 Super Lap Battle Finals. AMS Performance has already locked in the 2009 Unlimited AWD points championship but you wouldn't know it as they pulled out all of the tricks to get another win. Brian Lock and the GoTo Racing/Dell Equallogic R35 GTR, a new addition to the goliath Unlimited AWD class, sure turned some heads as it screamed down the front straight as well. Like his team-mates AMS Performance, Ryan Gates and the Gates311.com Evo X had already secured the Modified AWD points champion, but following in the footsteps of his title sponsor, AMS, he also showed no mercy, but he would have a stacked field with every top team in Modified AWD on his heels. JC Meynet, James Elterman, Sharif Abdelbaset, and even Deiter Heinz in the C-Spec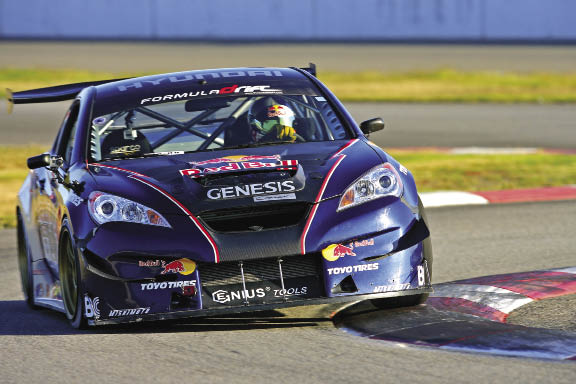 Tuning Evo (formerly MFQ Motorsports) showed up to have a go at Gates and his blazing fast Evo X. The Street West championship was interrupted by the 2009 Street Class East champions as they came out to mix it up on the left coast in a chance to win the 2009 Yokohama Shootout. GT Motoring, Turn In Concepts, and Windspeed Racing put up their best against Jeremy Toye, Manly Kao, and many of the other West Coast Street Class powerhouses. The Stock Class also saw a number of new faces and some familiar ones. Robert Fuller was out in a new 370Z to battle AE Performance's 370Z in Stock RWD while Matt Dennison would try and fend off Thomas Smith in Stock AWD.
The Unlimited Class has gotten out of control fast this season and with the go for broke attitude that the final race of the season gives the teams, everyone was glued to the track when the heavy hitters went out for battle. Just a few days prior to this event, Sierra Sierra pulled a major upset over FXMD at the Super Lap Battle finals and with the new R35 GTR from GoTo Racing and 2009 Unlimited AWD Champions AMS Performance out there as well, nobody knew what to expect. It was an unbelievably close battle as FXMD battled transmission issues with their NSX all day long, but they pulled it together at the last second to set a blazing 1:36.103 lap time which was good enough for the overall win, Unlimited RWD win, and a new track record for a production car. Just one tenth of a second behind FXMD driver Billy Johnson was an impressive showing by Paul Gerrard in the AMS Performance Mitsubishi Evo X with a time of 1:36.230 taking the Unlimited AWD Class win. Taking second in Unlimited AWD would be David Empringham in the Sierra Sierra Evo with a 1:38.028 with Brian Lock in the new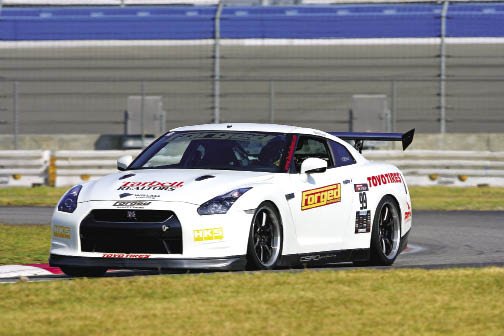 GoTo Racing/Dell Equallogic R35 GTR rounding out the podium with a 1:38.677. It's no surprise that Chris Rado and the World Racing Scion tC pulled off another win in the Unlimited FWD class, but what is always surprising is how quickly he runs with his front wheel drive car. Rado set yet another front wheel drive track record with a 1:39.381 nearly five seconds ahead of Katsuyuki Hiranaka in the Team 5Zigen Honda who took 2nd place in Unlimited FWD with a 1:44.693. Rounding out the Unlimited FWD podium was Jason Saini with a 1:46.558.
The Modified Class has shown us some of the biggest rivalries all season long and every major hitter from the East and West coast was in attendance. Continuing an impressively dominating season Ryan Gates and the Gates311.com/AMS/K&N Evo X once again came out on top taking the Overall Modified and Modified AWD class with a 1:43.497 lap time. Mike Cronin Jr. and Fontana Nissan have been hard at work amping up their R35 GTR and it showed this weekend as they took home 2nd in Modified AWD with a lap time of 1:44.730. The battle for third was a heated one with 3rd through 5th place finishing within a second of each other, but coming out on top was Sharif Abdelbaset and the Forged Performance R35 GTR with a 1:44.943 lap time rounding out the Modified AWD podium. The Modified RWD class saw a few new teams come out with a vengeance in the later part of the season. One of those teams is AQ Motorsports and their S2000 piloted by JC Meynet who is no stranger to the top step of the podium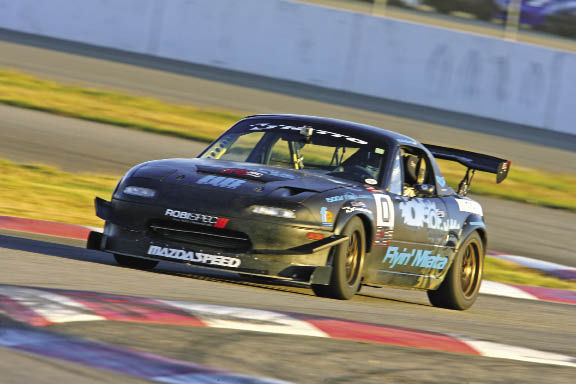 and this weekend would provide JC with another win, but this time in the Modified RWD class. JC piloted the S2000 to a 1:45.462 just barely edging out last year's Auto Club Speedway Modified RWD winner Matt Andrews who drove his Nitto Tires Mazda Miata to a 1:45.541. Richard Taylor and the AE Performance/Hankook/JIC/Etnies Porsche GT2 would finish off the Modified RWD podium with a 1:48.381. Ross Miller and the PTuning Scion tC came into this events as the favorites for Modified FWD, however engine and transmission issues kept them back considerably leaving them in 3rd place with a time of 2:11.543, a time nowhere near what the car is capable of. John Lindeman would take the 2nd step on the Modified FWD podium with a 2:02.176 while top honors would go to Tom Liang with his 1:58.991 lap time.
The Street Class West series is always competitive and this weekend was no different, especially with all three Street Class East champions in attendance. Proving that the West is the best, Jeremy Toye in the Reese Tuning Evo once again blew the doors off of the rest of the street class running a 1:47.678 taking the Overall Street and Street AWD class win. Stephen Ruiz and the StopTech Mitsubishi Evo X once again took the middle spot on the podium with a 1:49.050 less than one tenth of a second ahead of Russ Warr in the M1FD/TuningTech/Octane Report Evo with a 1:49.144. 2009 Street AWD East Champions Tony Weisenhahn and the East Coast dominating Subaru WRX would have to settle for a very close 4th place finish with a
1:49.290. The Street RWD class saw the return of Round #2 winner Jeremy Croiset in his MCS Motorsports/Berk Tech/KW Toyota MR2 and he would once again claim victory in Street RWD with a 1:50.692 edging out the supercharged S2000 of Robert Choo who claimed 2nd with a 1:51.617. Third place went to Jeff Tyler in the HP Autowerks BMW 335i with an impressive 1:52.811. Street RWD East Champion Gregory Haye and the GT Motoring Honda S2000 suffered engine failure in practice. Clint Boisdeau came on strong in the last half of the Street FWD West season and claimed himself another victory running a 1:56.884 in his FocusSport Ford Focus. Taking 2nd place in Street FWD was Chris Stout with a 1:57.440 followed by Jason Nathan with a 1:59.349 for third.
The Stock Class competitors showed up in the masses again for this event but nobody could catch the Tuning Tech/Robispec/Mil.Spec Evo of Matt Dennison who turned in a lap time of 1:53.241 claiming the Overall Stock and Stock AWD title. Thomas Smith and the Zenkei Motorsports/Crawford/Duratech/Motul Subaru STi was hot on his heels in 2nd place with a 1:53.884 with Jon Drenas rounding out the Stock AWD podium with a 1:55.173. Stock RWD was a battle of the 370Zs with Paul Dentice and the AE Performance/Hankook/JIC/Etnies 370Z once again taking the top spot on the podium with a 1:55.534. A new addition to the series was the blue and orange Pizza Factory/Robispec 370Z driven by Robert Fuller barely missing the top spot on the podium with a 1:55.670. Coming in 3rd in Stock RWD was Jim Tway with a 1:56.201. Stock FWD would have an impressive showing by Dez Ballard for the top spot on the podium in the ABF Performance/Gruppe-S MINI Cooper with a 1:59.595, the only Stock FWD car under the two minute mark. Coming in 2nd in Stock FWD was Eric Emmerson with a 2:03.404 followed by Adrian Torres for third with a 2:07.742.
The Drift Class once again saw some recognizable names from the Formula Drift series coming out to play. Taking top honors again was Rhys Millen in the Red Bull/Hyundai/Toyo/RMR Hyundai Genesis Coupe with a blazing fast 1:48.004. Following behind with a 1:54.025 was the Mazdatrix/Exedy/Turbonetics Mazda RX7 of Kyle Mohan in 2nd while the HPS/Baker/Driftspeed 240SX of Henry Schelley took 3rd with a 1:57.497.
As if that wasn't enough, this event also hosted the widely popular Super Session wheel to wheel battle between top Unlimited and Modified Class teams! Taking the green flag for this race was the FXMD NSX, Sierra Sierra Evo, GoTo Racing R35, Fontana Nissan R35, AQ Motorsports S2000, Takata Time Attack STi, and Forged Performance R35. The battles on the track were epic but Billy Johnson in the FXMD/Cricket NSX would take the checkered flag for the Unlimited Class cars followed by Sierra Sierra in 2nd, GoTo Racing in 3rd, and Fontana Nissan in 4th. Taking the checkered flag for the Modified group was JC Meynet and the AQ Motorsports S2000 followed by Forged Performance and Takata Time Attack.
Another special feature for this event was the Yokohama Tire Street Class East vs. West Shootout. The competition pitted the Street Class East and Street Class West champions against each other in a chance to win a 2-Day Jim Russell Racing School! In Street AWD it was Jeremy Toye in the Reese Tuning/Robispec Evo vs. Tony Weisenhahn in the Turn In Concepts WRX. Both cars were reportedly not running at 100% with Weisenhahn's car running with a cracked radiator and split hose. Toye's car had to be pushed to the line and they were black flagged on the first lap due to mechanical issues. Weisenhahn would go on the claim victory in the match up. For Street RWD it would have been Manly Kao in the Buddy Club/TrackHQ/APR/Toyo Lotus Elise vs. Gregory Haye in the GT Motoring/Challenge/Bridgestone Honda S2000. Unfortunately Haye's S2000 lost a motor in practice handing the win by default to Kao. It seems Street FWD was the only class with a healthy match between Clint Boisdeau and the FocusSport Ford Focus and Doug Wind in the Windspeed/Forced Performance/Continental Tire Dodge Neon SRT-4. Boisdeau put up a good fight with a 1:56.4, but it was Wind who clenched the victory with a 1:52.5.
Overall, 2009 proved to be an exciting year and with the big announcement of investors joining the Redline Time Attack series next year we can only imagine what's to come in 2010! Congratulations to all of the 2009 champions! See you at Buttonwillow Raceway March 26th-27th for Round #1 of the 2010 Redline Time Attack season!