The RH9 Story Continues with Garage G Force.
Our last regular issue of PASMAG (April/May 2015; #130) introduced a band of brothers who have helped shape the Japanese (and global) tuning scenes like few have been able to. The group, known as Record Holders 9 (a.k.a RH9), may have started out as street circuit racing tuners looking for legitimacy in real world circuit and drag application, but what they grew into influence entire generations of tuning enthusiasts, domestically and internationally. We recently sat down with Naohisa Tazawa, another one of the RH9's founding members, to learn more about the story of RH9, and to see just how it (and he) came to be.
PASMAG: Thanks for your time, Tazawa-san. Let's start with how the RH9 group turned from a band of tuners sharing costs at track days into an association with social and legal standing, and then becoming a legendary tuning presence in Japan.
Naohisa Tazawa: Even though we started as tuners sharing costs and generally just competing for serious fun, the group went through some big changes in 2005 when we were forced by new regulations in Japan to adopt a more community-oriented approach as an association. So, with that it was decided, for example, that we would apply our know-how to developing devices and mobility vehicles for the handicapped. That all changed again when RH9 became an actual corporate entity and the president, Phoenix Power's Mr. Yokoyama, decided to scrap the project and return to our proper tuning roots. In hindsight that was good for the group because it meant we didn't have to keep trying to read between the lines, legally speaking, in order to remain legitimate. Besides, only one of our members was ever really that interested in mobility vehicles.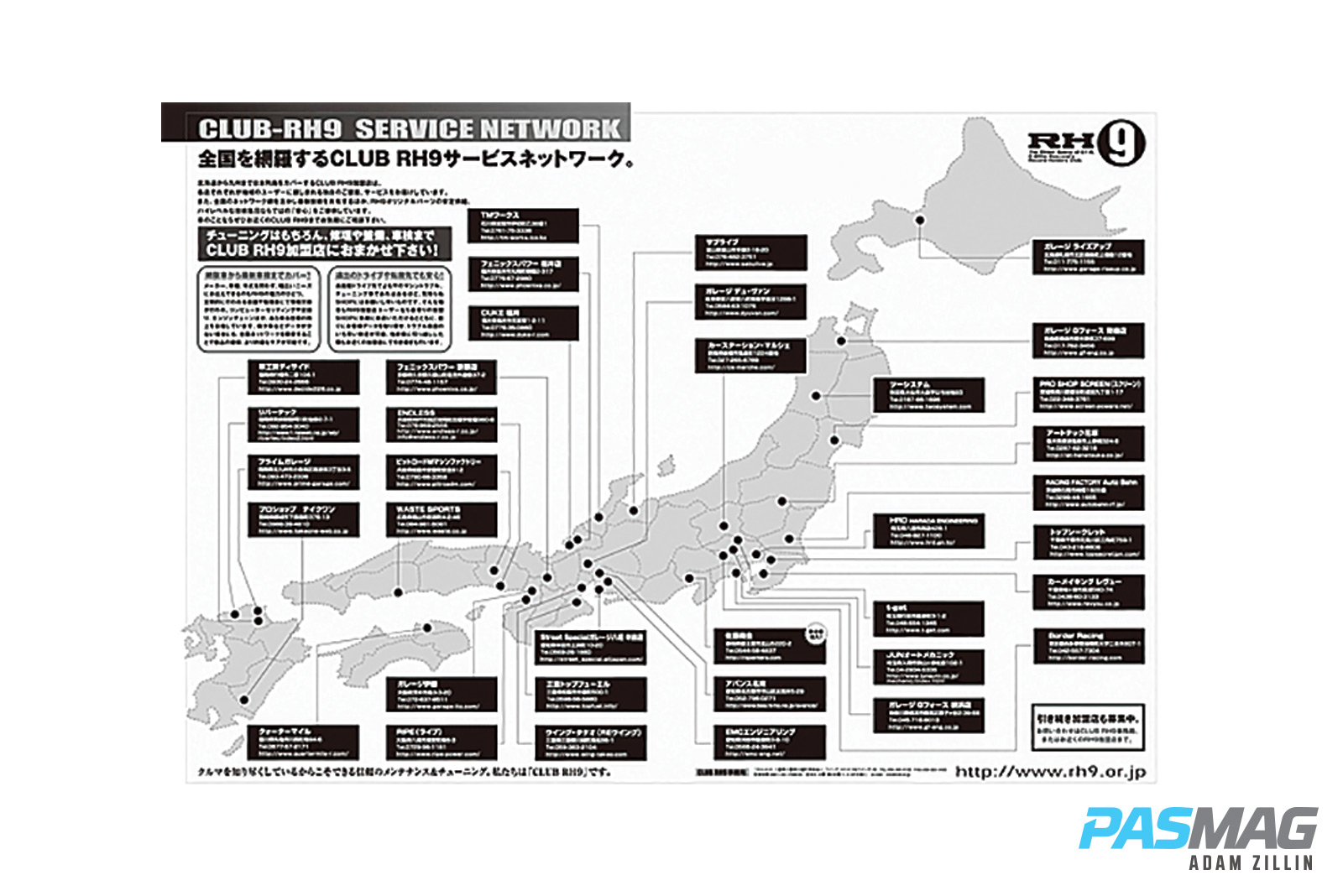 PASMAG: Besides the obvious political issues in becoming an association, were there any benefits?
Naohisa Tazawa: As an association, the smaller garages now had a great opportunity to take advantage of cheaper parts they otherwise never would have had access to from major manufacturers like Tomei Powered and HKS because, as a shop on their own, it simply was far too expensive and time consuming to draw up their own contracts. Without the RH9 group's level of cooperation and power as a collective, many smaller shops wouldn't have made it.
PASMAG: How did the system work?
Naohisa Tazawa: The biggest problem with RH9 being an association was that legally we weren't allowed to turn a profit. If we did, it was all taken as tax. Once we became a Kabushiki Kaisha (K.K. or limited liability corporation) in 2009, things changed again and, as a corporate entity, RH9 had a unique position between the manufacturers and the smaller workshops whereby we could access cheaper pricing on their behalf - which while passing on savings directly to the shops, in turn gave rise to HKS Power-Sellers; awards that are still given to this day, depending on region and volume of sales.
PASMAG: I remember back at the Tokyo Auto Salon in 2014, I was invited to a party the RH9 group had organized and I can't recall ever seeing or hearing about all the members being in the same place at the same time?
Naohisa Tazawa: That's because it had never happened before! Mr. Yokoyama wanted to bring all the tuners together under one roof, thought the Auto Salon was the best place to do it and we decided to invite all member workshops to the gathering. It was an impressive turnout. Yokoyama even personally screened all the campaign girls to ensure they were of the highest quality!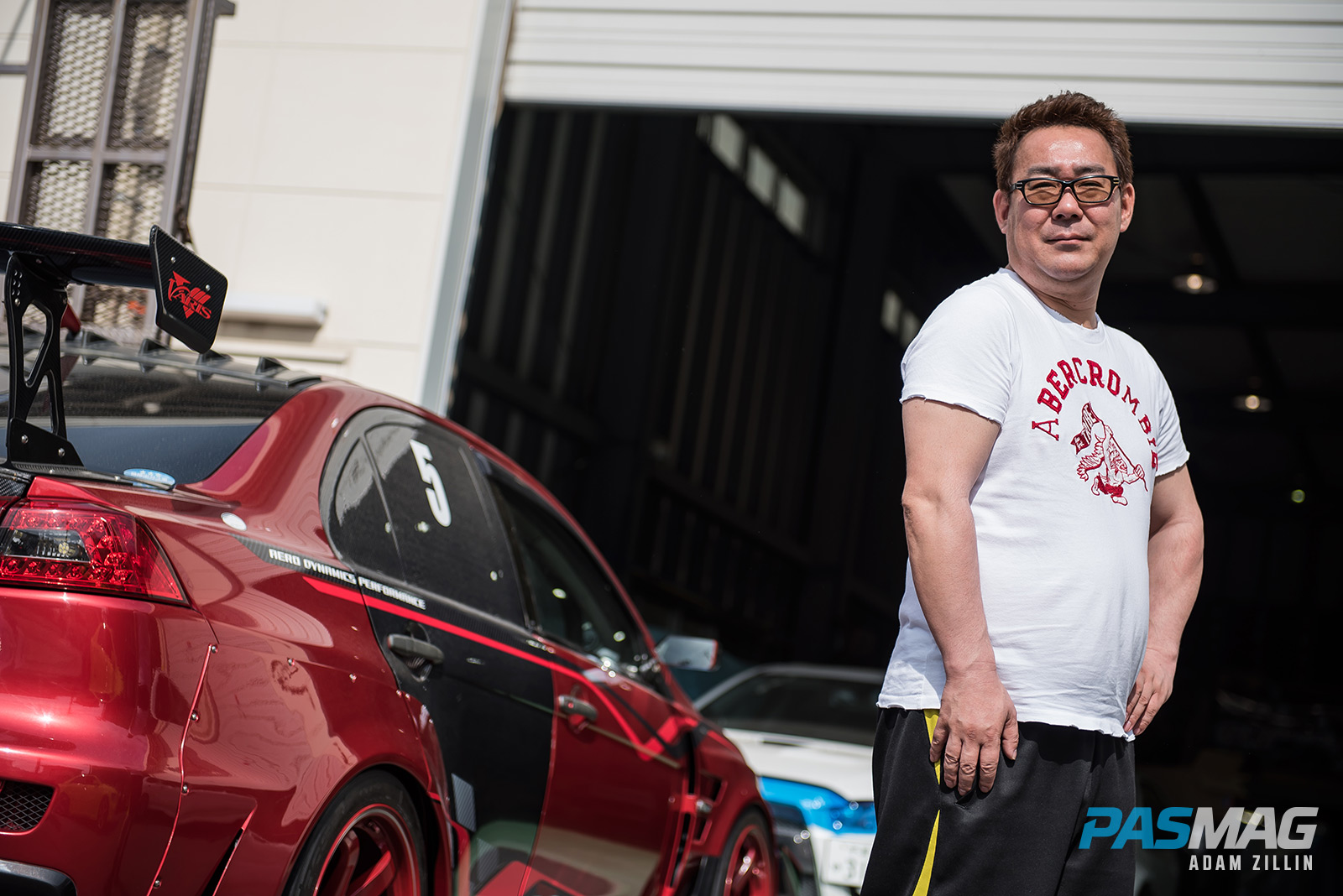 PASMAG: I remember most of the night fondly but not much after we started getting serious! On a more sober front, how did you personally get into tuning?
Naohisa Tazawa: Back then in Aomori, just below the tip of Hokkaido, I began as a mechanic working on imported foreign cars, which became a bit of a boom in the early '80s, and I cut my teeth at a garage called Sky Road where I also worked on Datsun Sunny B110s, Toyota Celicas, Minis and the like. One customer I befriended soon after was an importer of rally cars from abroad, and he started to get into Mazda Familias and Mitsubishi Galant VR-4s and would often ask me to travel 1,500 kilometers round trip to pick up a brand new Galant from Kawasaki and transport it to Aomori where I would completely strip and re-build it for rallying. Then, when it was done, truck it back down to Tokyo! I ended up making a regular business of this type of service for many years.
PASMAG: That is serious dedication! Is that when you were bitten by the rally bug and where the Lancer legacy started?
Naohisa Tazawa: Yoshiaki Endo was actually the client I was referring to before and he competed in the WRC and then soon after he asked me to work as his mechanic. So I would travel with the team and service the Galant and later the Lancer in the WRC rallies.
PASMAG: So you were actually a WRC mechanic?!
Naohisa Tazawa: Yes! I was a specialist with Group N and Group A machines, including the Pulsar GTi-R, 240RS Silvia and, of course, the Lancer Evo and Galant VR-4. It was mostly during the Asian rounds where I operated, but I did attend the Australian and New Zealand WRC rounds as well.
PASMAG: Whoa! I was not expecting that. So, how did you go from WRC to drag racing and now time attack?
Naohisa Tazawa: Well the Silvia, RX-7 and R32 GT-R started to really take off and I was also doing a lot of tuning on these cars for customers well into the '90s, which naturally led me to high power outputs and zero-yon drag racing events where I figured I was skilled enough to compete successfully. The street racing and drag scenes were booming, so naturally the bigger the numbers the better. We had a lot more drag racing events back then sponsored by HKS - at least five big meets a year.
PASMAG: Okay, Godzilla and Silvias were popular, so why go with the Lancer Evolution?
Naohisa Tazawa: It was by coincidence that I got into drag racing Evos. I was actually building an FC wide body drag demo car and it just so happened someone was passing up on an Evo II and, at that time, the general public conception was that Evos were useless as drag cars. That was interesting to me, so I set out to prove people wrong because I already knew how to build fast Evos! At that time, the fastest Evos couldn't crack 10s down the 400-meter dash, but on my first pass in the Evo II I nailed an 11-second flat pass, and on the second run managed to break into the 10s with a 10.7 pass. We were by far the fastest Evo in Japan and the media really wanted to know how, and why, we were doing it. Incidentally, I ended up getting well into the nine-second bracket and was the fastest non GT-R in the world for a time.
PASMAG: Living life one quarter-mile at a time. I have to ask the obvious question, though. Why the name G Force?
Naohisa Tazawa: You may find it's a boring story, but I was actually a bass guitarist in a band as a young guy and one of my friends had an album by Gary Moore called "G Force." I really liked that title because it mixed what I thought was speed: fast and hard, car-wise. But, more importantly, my friend had an Apple II and it had the exact same font the band used on the album cover! So, we designed the logo and stickers for the company on that Macintosh; and the "G" you see in our current company logo is the same one from that album in 1980.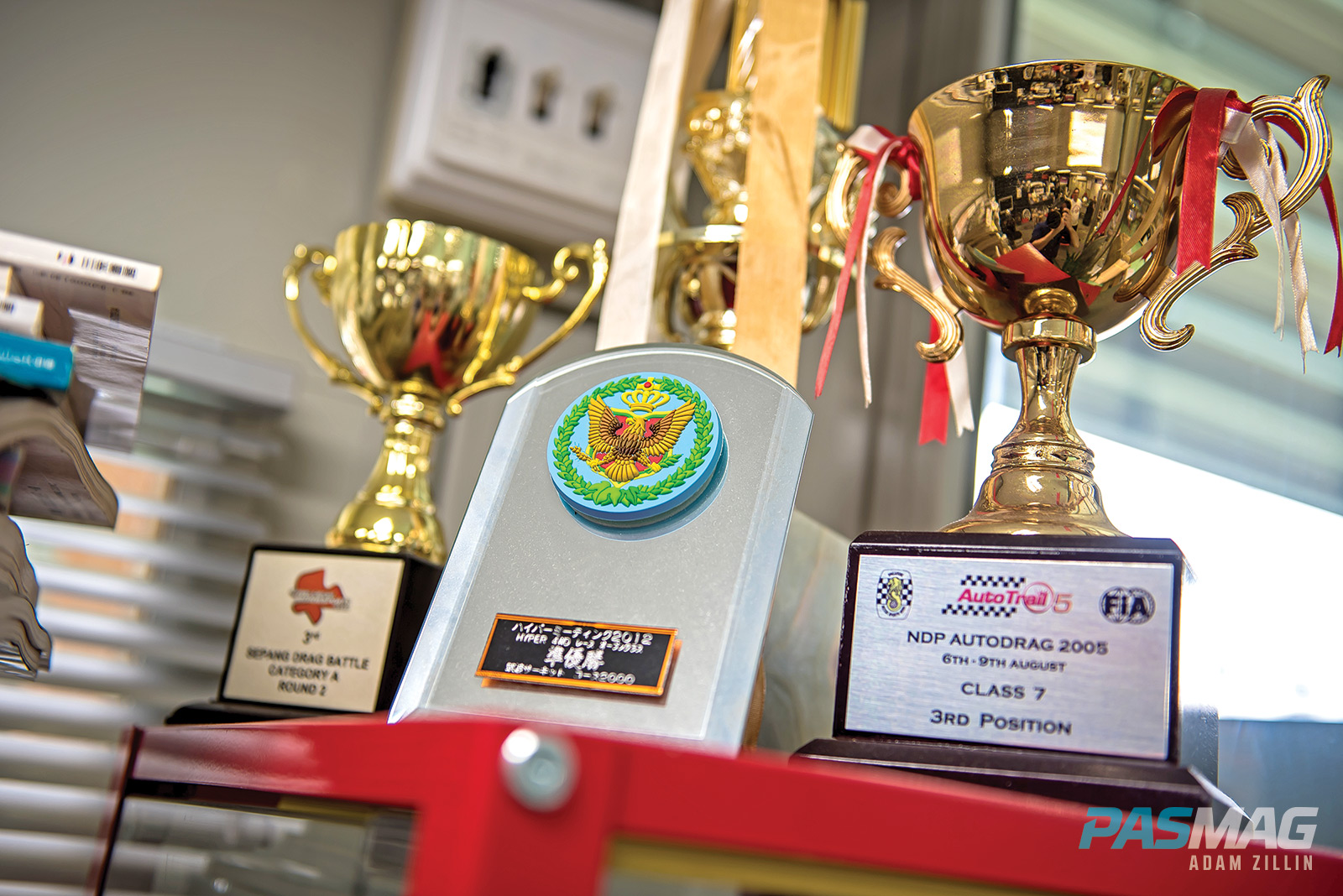 PASMAG: That's not boring at all! Any other adventures you have had personally as a tuner?
Naohisa Tazawa: One year I took one of my Evos to Malaysia where a TV company was sponsoring a drag event and put up $15,000 for the first prize winner. Jackie Chan was also there and, you know, he's a big fan of Evolution Lancers. Jackie was even putting up a trophy and some prize money out of his own pocket. But then Jackie told the organizers he wanted to do some drag racing himself, and the organizers didn't want to take the risk if anything happened to him, so they turned him down. Jackie got really pissed off and left, taking the money with him! Ironically, I ended up winning the Jackie Chan trophy in the Evo IV and, while I didn't get any money, I did win the trophy! I also did get a slice of the main prize money because my other Evo finished third in the main event, so it worked out alright in the end.
PASMAG: Final question, Tazawa-san. It's very well known that you are a time attack specialist these days and have a close relationship with Nobuteru Taniguchi. Tell us about it.
Naohisa Tazawa: Taniguchi-san and I have been friends for years. I knew Nobuteru before he became really famous in the racing and drift scenes. We have a circle of friends that have celebrated each others birthdays for years. I have always known Nob was a very fast driver, and I was a builder of very fast street, drag and circuit Evo Lancers, so the partnership was natural and set to continue.
Speaking of continuing, stay tuned for the next installment in this series as it's just starting to heat up. We have something top secret in the works... Oh wait, I may have said too much!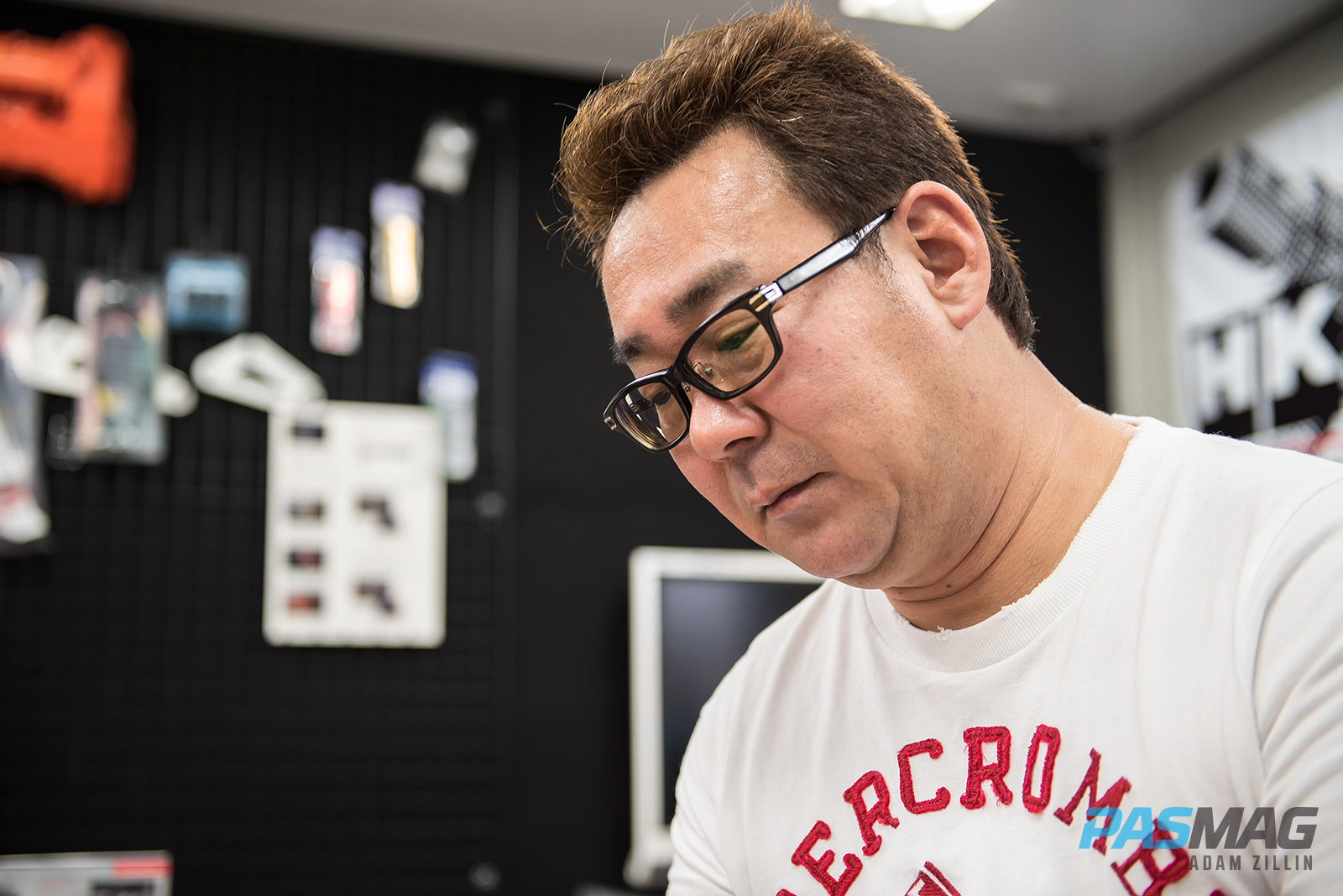 Stay tuned for The Legend of Mid Night Club - Part 3.
Contributor: Adam Zillin