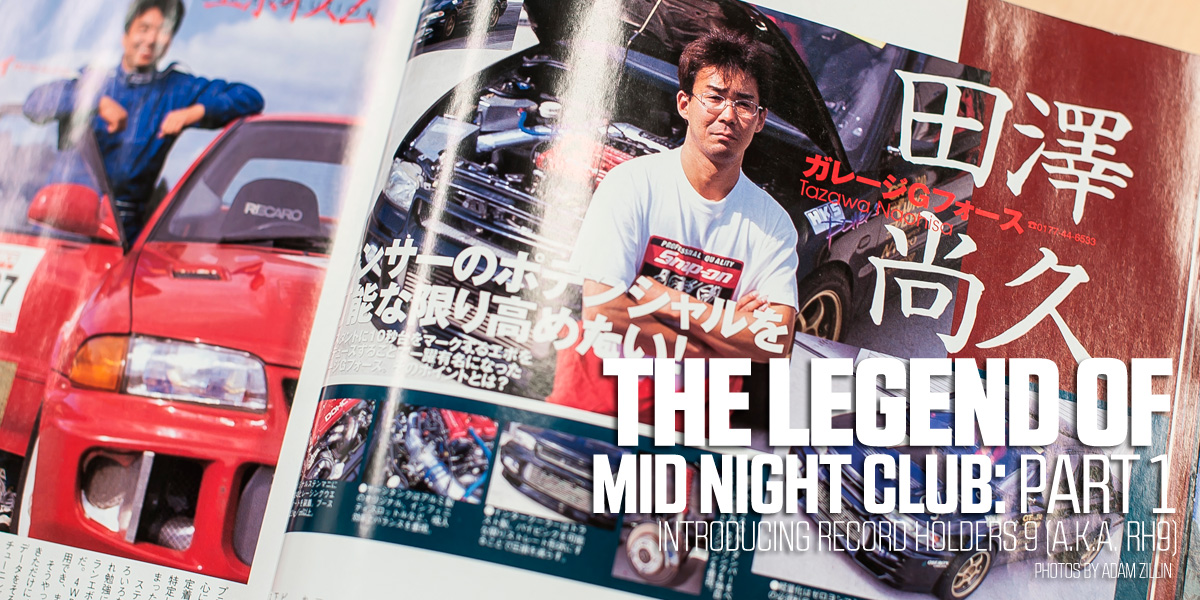 Introducing Record Holders 9 (A.K.A. RH9)
NO DOUBT, MANY OF YOU READING PASMAG HAVE HEARD OF THE "MID NIGHT CLUB." THIS GROUP OF LEGENDARY STREET RACERS NEEDS NO INTRODUCTION; THEY'VE BEEN THE FOCUS OF BOTH ARCADE AND CONSOLE VIDEO GAMES, EVEN TO THIS DAY, AND HAVE BEEN CONSIDERED SOMEWHAT OF A MYTH FOR NEARLY 30 YEARS. THE PEOPLE AMONG THEIR RANKS MAKE UP THE BIBLE BELT OF STREET RACING INFAMY IN JAPAN.
I know a lot of the members of Mid Night personally, and am good friends with some of the senior ranking personalities in the group, but the entire premise of Mid Night is still shrouded in secrecy for very specific reasons. Working my way up through the chain of command, even as a member myself, in order to bring some of these stories to light proves quite the task. Let's just say that you donít simply walk into their shops or offices and casually get the skinny on the back story. It has taken me 10 long years to get to this point, if that's any indication of the egg shells I continue to negotiate.
As I continue down this rabbit hole (one that will very likely lead to some light at the end of the tunnel), let us stop along the way so that I can introduce you to another very important group that you have most likely never heard of: the RH9 group.
This particular series of insider columns starts with an overview of what the RH9 group embodies, with the aim of placing a spotlight on some of its core members.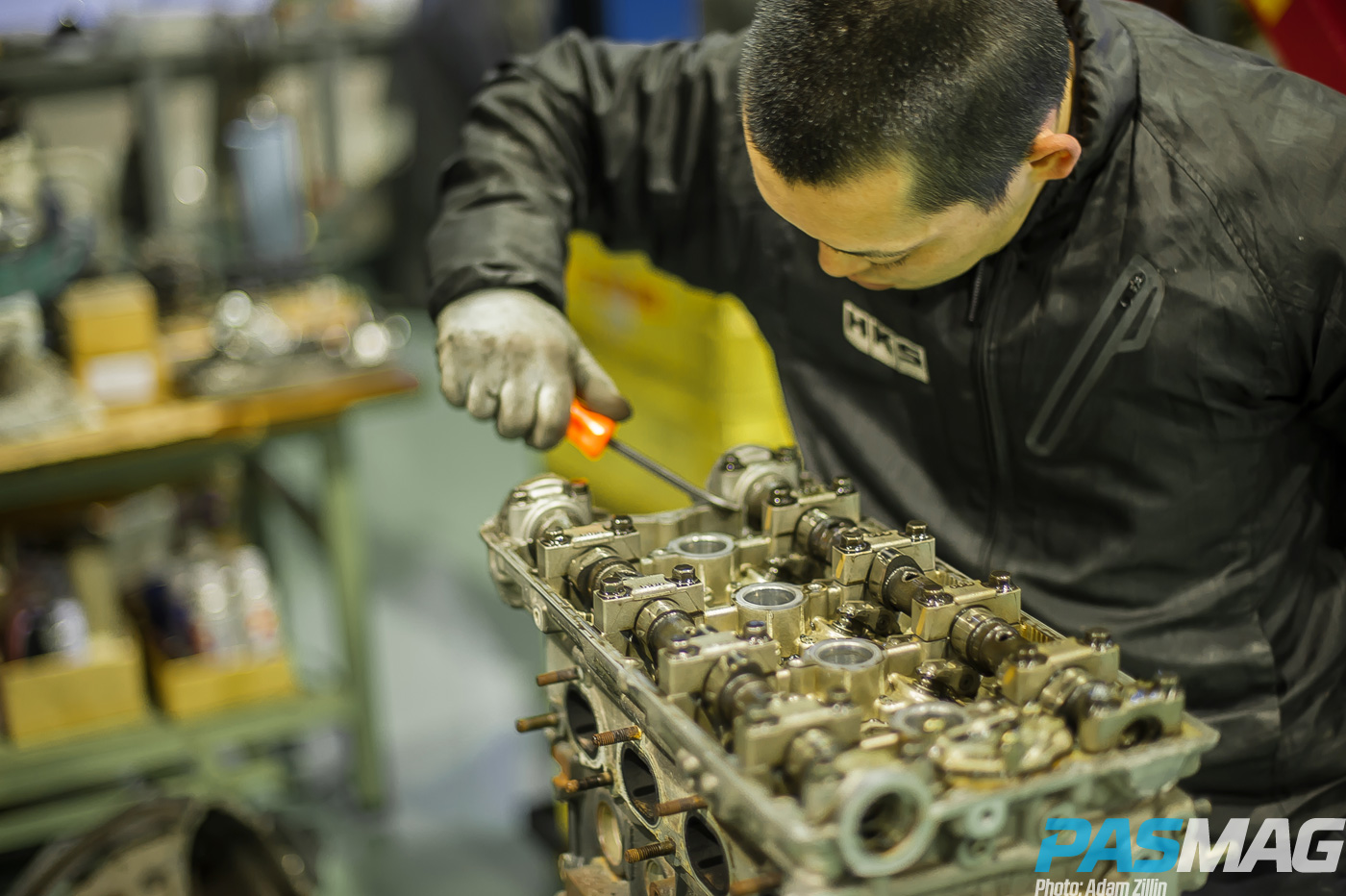 First is the name. RH9 stands for "Record Holders 9." Specifically speaking, all tuners accepted into the group had to be capable of building cars that could blast down the quarter-mile in nine seconds or less. Yes, the original idea of the group was based on drag racing; pure zero-yon stuff that later developed into what we now know as time attack. During the early 1990s, the R32 GT-R was, naturally, the weapon of choice for most members, but a few members specialized in equally deadly machinery like the Lancer Evolution, which could be tuned, even at that time, to monstrous power outputs of over 700 horsepower. More on that later, though. Keep in mind, the Japanese were running eight-second passes in R32s before many of us were born or knew what a GT-R was. Do you feel that? It's gravity suddenly weighing down on your thoughts! I feel it too, so don't worry. Although my issue is with being old enough to remember. Some would say too old, but I digress.
The RH9 group, in stark contrast to the Mid Night club, didn't want to be associated with (or stuck to the stigma of) street racing. It was illegal, it was risky and it could have damaged, or even worse, destroyed their business integrity. At that time, street racing in Japan was akin to the Wild West, where manufacturers went to battle against each other for superiority in the showroom and on the street, with tuners taking the baton for how far they could push the envelope of performance and the law.
Some of the greatest cars to ever come out of Japan did so during the tuning equivalent of the "golden years" between 1985 and 2000. Everything you have ever loved or revered about hardcore Japanese machines began, in a major part, with this group. This is the real JDM.

In respect to the RH9 group specifically, the quest for professional legitimacy in lieu of the law, and the desire to build their businesses around this premise, led the members to go from what was initially a non-profit organization to a full-fledged corporate entity in 2003. Yes, RH9 is a current and actual corporation comprised of the whoís-who of tuning in Japan.
Which tuning brands are involved in this group, you ask? Does the name Top Secret ring a bell? How about JUN? Endless? What about Top Fuel or Phoenix Power? The presidents behind these tuning giants are all original members and still are to this day. In fact, the RH9 group is comprised of 36 active companies that co-exist to push the envelope of tuning, honing their skills in the workshop by producing monsters, only to then take each other on at the track. It's not just a locally-centralized group either. The tuners making up RH9 stretch as far south as Okinawa and as far north as Hokkaido. There's a lot of densely-packed societal space in between.
Importantly, the track is where RH9 wanted to clearly differentiate themselves from the street racing scene. Legitimacy, at least in respect to accolade and the money it brought in, had to be earned at the track or strip. It started with a few of the original members renting track time to simply do what they loved to do. But back then, track time was expensive, so they actively enlisted other tuning entities to support their efforts. Rapidly, tuners small and large joined one by one, forming what was essentially a tuning crusade, the likes of which Japan had not previously experienced. Heady stuff indeed.
This crusade is part of the reason time attack was born. At the very core of the RH9 group, competition against each other meant pushing their cars and spirits to the limit on the track in order to one-up the competition. It was fierce. It led to sales, infamy and broken relationships. "All's fair in love and war," as the saying goes.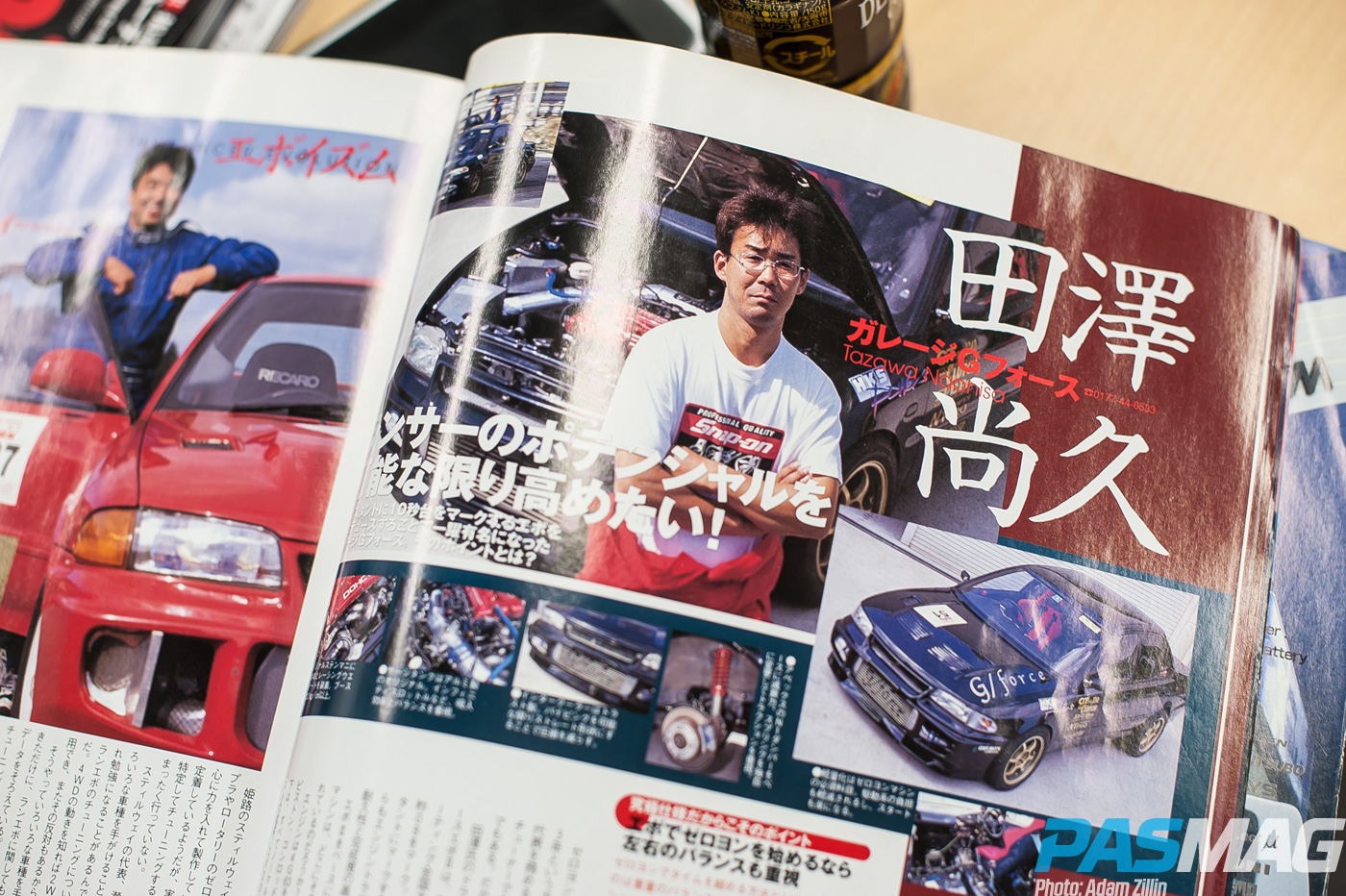 One major boom for the group came in the form of print advertising, since print ads equal business and, at that time, Daijiro Inada's Option magazine was at the forefront (and still is) of all that is holy in tuning circles within Japan. Because many of the smaller workshops couldn't afford spreads of their own, as a conglomerate advertising under the RH9 group, the tuners facilitated cheaper inserts for everyone concerned. It was a marriage of sorts. The marriage didn't last for some, but weíll leave the dirty details out of this delicious automotive cocktail for now.
RH9 exists to excel; to push the tuning boundaries as a collective. It still does today. It's not as if they had a choice. Instead, they were spoiled for it. But above all, being legitimate was paramount.
There's a lot to go through and, personally speaking, I'm extremely privileged to have the connections I do. Among them is one of RH9's early "adopters," although that is a rather unintentionally dismissive assessment of a man who is one of the major pillars in Japanese tuning, and arguably the most seasoned and experienced Evo tuner on the planet. As you'll find out in the next edition of these editorials, Tazawa san bucked the trend of monster GT-Rs by harnessing his WRC rally experience and channelling it into Mitsubishi's legendary platforms in the VR4 and Lancer Evolution. He still holds the accolades to this day. The story about his foray to Malaysia to compete in a Jackie Chan-sponsored drag event is the stuff of legend, and promises to be a rollicking good read.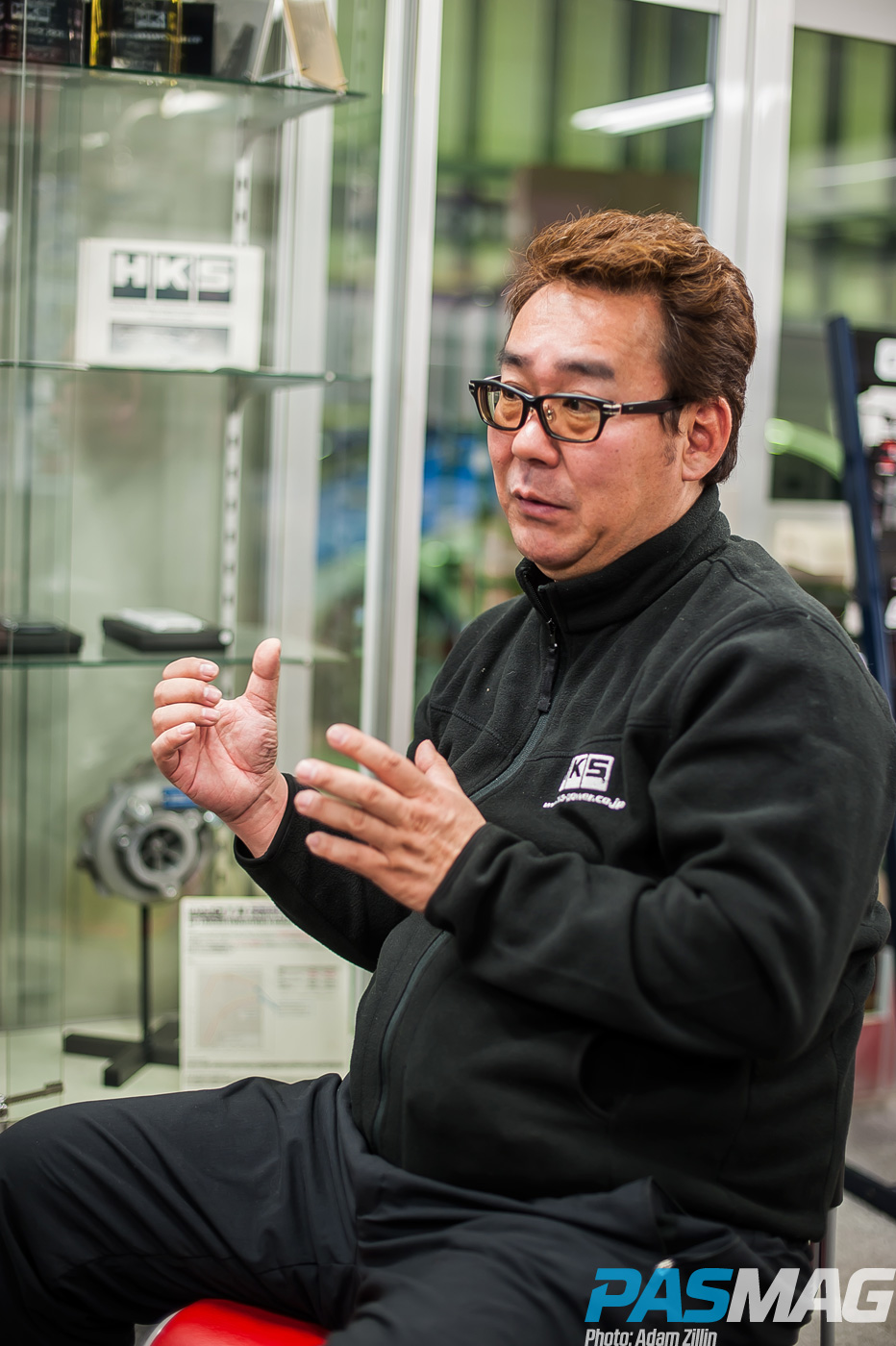 It occurred to me as I sat down with Tazawa san to discuss his personal and professional involvement in the RH9 group that I was privy to something significant, something almost unheard of outside of Japan, and something I am very honored to bring to the readers of PASMAG. Itís a labor of love.
Now that I'm on the topic, I keenly remember being invited by Smoky Nagata to attend an RH9 reunion party at last year's Tokyo Auto Salon, the first of its kind ever staged, and I marveled that it had never happened before that day. That's not to mention the alcohol-fueled hijinks that took place at a certain bar a short while later. On stage that night were people I looked up to as a teen. They were all under one roof. I had to pinch myself to make sure it was actually happening. It was a display of unity, a show of force. It was profound to see the "group" coming together to reinforce that RH9 is still an actual group instead of individual tuners, which many casual observers think is the case. There is unity in chaos, on many levels.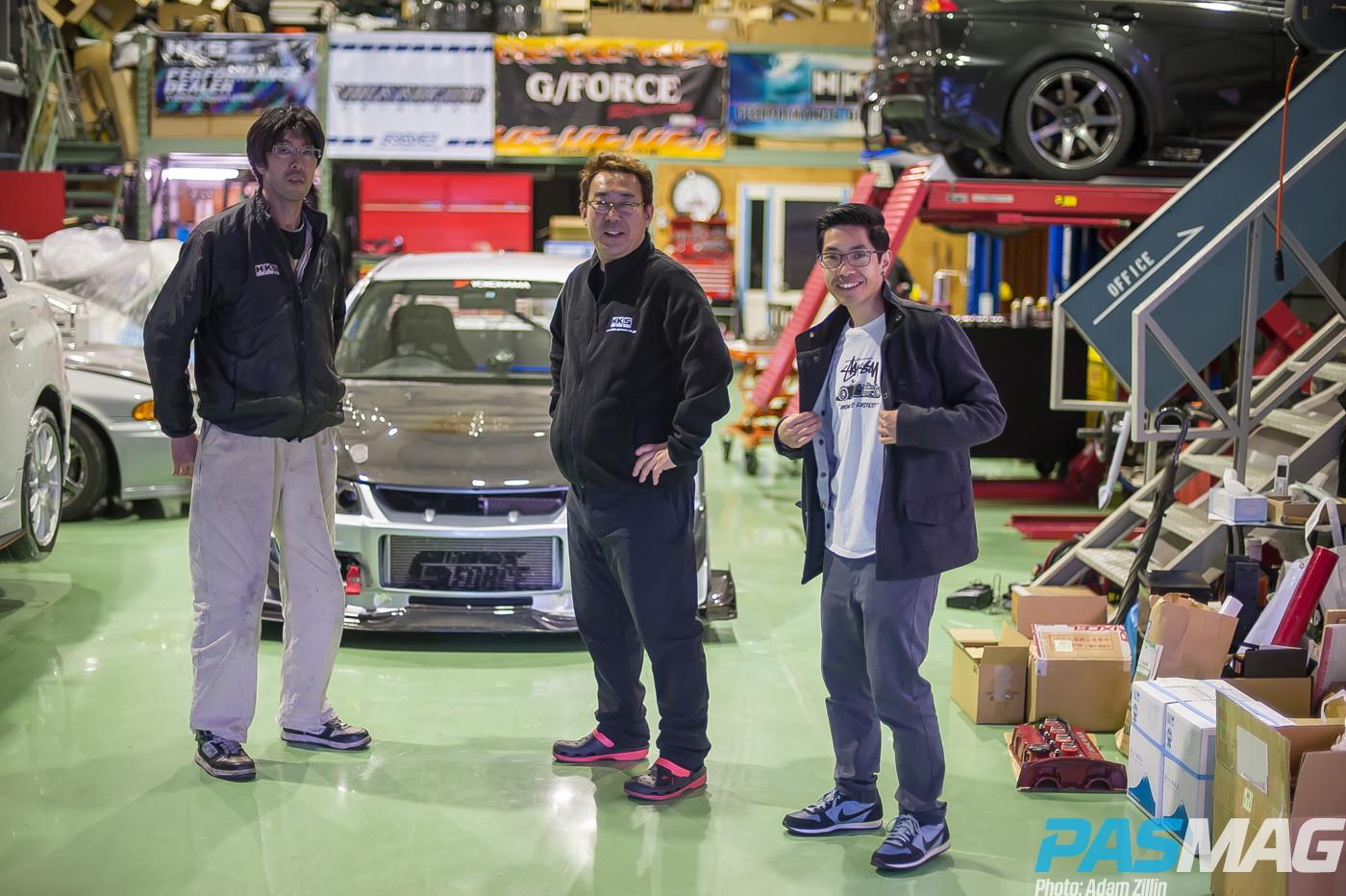 But for you, dear readers, I feel that in order to get the most out of this series of articles, you will need to grasp the key concept that, in Japan, intrinsically, inextricably, the group is more important than the individual. It always has been. It always will be. This is why a group like RH9 can exist. Because they co-exist.
There's a lesson in this for all sorts of people living outside of this amazing country.
Traditionally, us "Westerners" have always trumpeted individual endeavor and, while that is well and good, the Japanese continue to operate on a different wavelength. Without it, a group like RH9 would never have been created, not to mention, stand the test of time.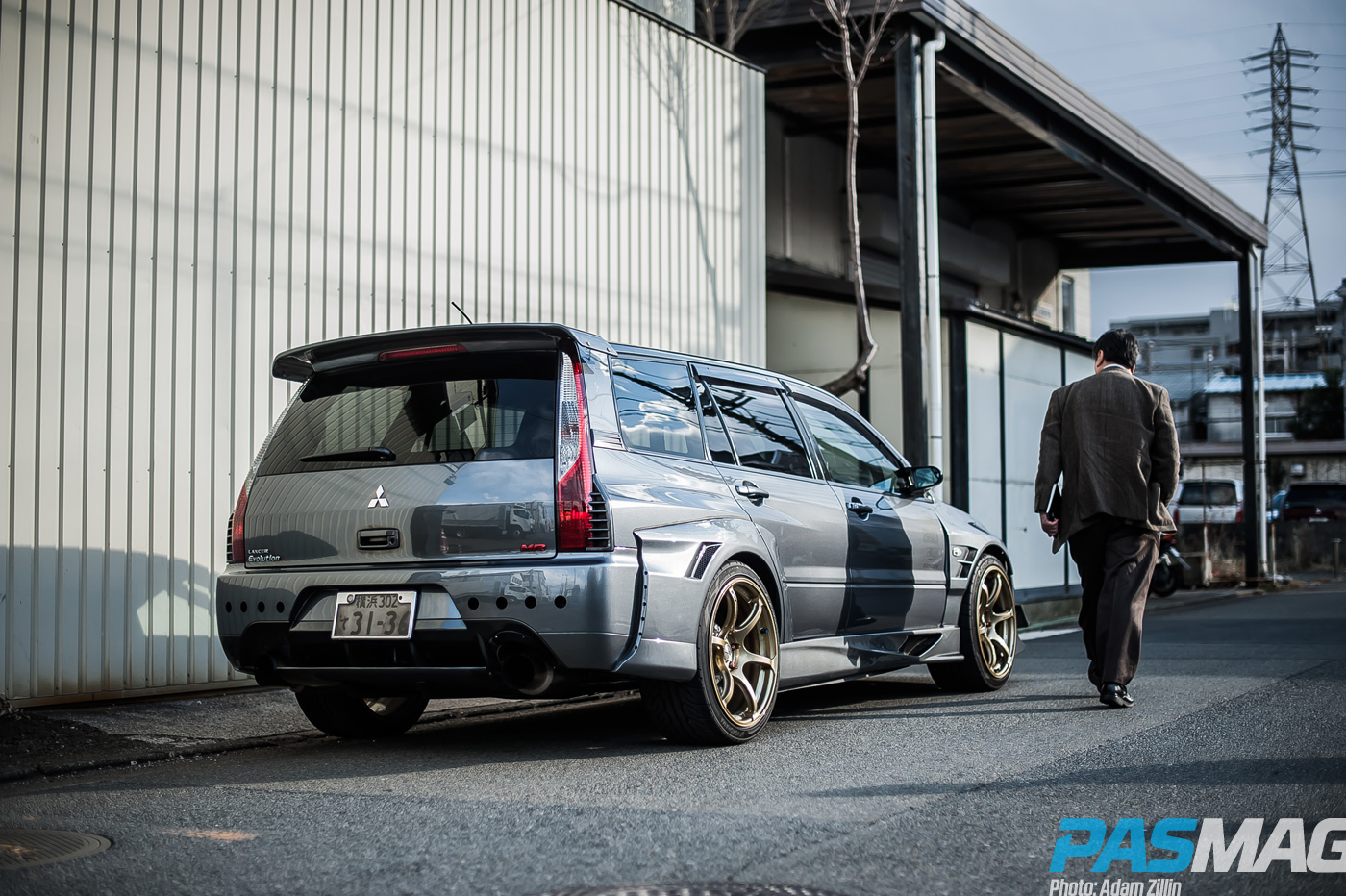 Stay tuned for The Legend of Mid Night Club: Part 2 - Garage G Force
Contributor: Adam Zillin