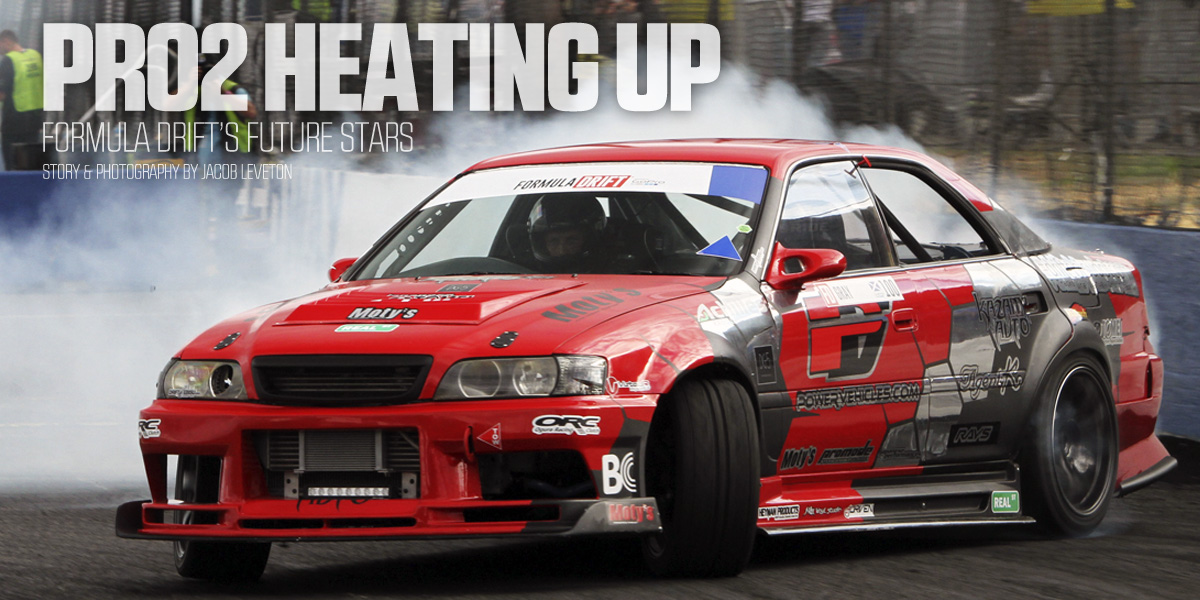 At the halfway point in the 2015 Formula Drift PRO2 season, we've begun to see a separation in the standings. Of the 36 drivers who have made a qualifying pass, 21 have qualified for the Top 16 tandem rounds so far. Six have pulled away from the rest of the field, having scored at least 100 championship points. In total, eight drivers from the PRO2 class will earn their Formula Drift PRO license for the 2016 season, so there's still plenty to fight for from all drivers on the roster!
Alex Heilbrunn
INCA MADNESS RACING BMW E46
Heilbrunn has been the class of the field at the first two events, qualifying first in both Florida and Seattle and earning an event win and a second place finish. Heilbrunn is originally from Peru, but earned his PRO2 license from the Just Drift ProAm series in Southern California. His speed and tandem experience has shown through in each round, and he is the clear favorite to win the season championship with a 50+ point lead after just two events. We feel that Heilbrunn could easily be competitive in the PRO class, and is likely to be a mainstay.
James Evans
SIKKY RACING NISSAN 350Z
Evans sophomore season has gone well, earning a win at the Seattle event and qualifying well at both events. Evans is the only Sikky Racing driver in the PRO2 series after his teammate Dan Savage won the PRO2 championship in 2014, and has carried the torch well. Evans finished fifth in 2014, and is looking to improve his finish this season. As the owner of Sikky Manufacturing, who makes V8 mounts for many import vehicles, Evans is technically mixing work with play at each round. We are already seeing improvements in Evans' tandem skills, and expect him to also become a mainstay in the Formula Drift PRO class in coming years.
Faruk Kugay
BAYSHORE SUPPLY NISSAN S14
Kugay has been a driver we've kept our eye on the past few seasons, and his experience in the Formula Drift paddock has helped him develop his PRO2 program quickly. As one of the main crew members for Kenny Moen, Kugay's car has many parts in common with Moen, and Kugay has been able to learn the ropes of the series alongside the Achilles Tire team over the past few seasons. Kugay has also competed in Europe previously, and is a mainstay in the Golden Gate drift program in Northern California. After earning his first podium in Seattle, Kugay tells us he's aiming to finish the season strong and continue his momentum in to the Formula Drift PRO class for 2016.
Andy Gray
DRIFT EBISU / POWERVEHICLES TOYOTA CHASER
While a rookie in Formula Drift, Gray likely has more seat time in his car than any other driver on the grid. Operating the Powervehicles drift car rental program at Ebisu Circuit in Japan as well as exporting Japanese cars to Europe, Gray has hosted many of the PRO and PRO2 drivers over the years. Gray is making the long commute from his home in Japan for each round much like Daigo Saito, Robbie Nishida and Masashi Yokoi, and he has told us that he plans to compete in the PRO class next season assuming he earns a license. Gray's four-door Toyota Chaser is one of our favorite cars on the PRO2 grid, and his experience in the chassis has brought him strong results so far.
Taylor Hull
TAYLOR HULL RACING NISSAN S14
Hailing from Georgia, Hull has grown up around motorsports and is ready to show his driving prowess. With 10 years of experience around asphalt, dirt and road racing, Hull has focused on building not just a powerful drift car, but a reliable one. Hull has earned a pair of strong qualifying results, and his ability to keep his car running and sideways has allowed him to win several tandem battles as other drivers have either broken or spun out. As simple as it sounds, sometimes the simplest approaches in racing turn out to be the most successful ones. His V8-powered S14 sounds similar to several other V8-powered cars on grid, but only because the formula is tried and true.
Dave Briggs
BRIGGS RACING NISSAN S14
As the most experienced driver in the PRO2 grid this season, Briggs has high expectations for himself. In his fourth season of Formula Drift, the Canadian is pulling double duty in both the PRO and PRO2 class for a second consecutive season. Briggs has stayed faithful to the Nissan badge, previously driving a pair of S14s as well as a 350Z in competition. His current SR20-powered S14 is one of the only four-cylinder cars on the PRO2 grid, but has proven to still be competitive. A second VQ-powered S14 is in the process of being built, and may make its debut later this season, if not early in 2016.
For more Formula D information, go to www.formulad.com.