Photography by Snaps Studio (@snapsstudio), Pierre Ramirez
---
Everything You Need To Get Your Car Track-Ready.
Track season is finally upon us! If you're like many enthusiasts, you're already preparing your car for its first track experience of the year. If you're in the southern states, you're lucky enough that track season is a year-round ordeal. Either way, we've got everything you need to know about getting your car ready for the track, even if it's a bone stock brand new ride. We sat down with United Speed Racing to get an idea of what kind of prep goes into building and maintaining a street-driven track car. With an impressive Civic Type R as their current platform of choice, they've got lots of knowledge to share with you.
First of all thank you for sitting down with us to discuss track prep. Could you briefly introduce yourselves and United Speed Racing to our audience?
We are a small automotive performance shop located just north of Atlanta, Georgia. We focus primarily on Asian and European street and track performance, but handle domestics at times as well. We try to be as much of a one-stop shop as possible, capable of turning a customer's stock street car into a powerful and/or great handling machine for the road or track, while also providing full road race car builds, custom fabrication, full track support, and track coaching.
Looking at your FK8 Civic Type R, it's obvious you have some experience setting up a brand-new, untouched platform for the track. Walk us through the process from starting with a stock vehicle to lining it up on the grid.
Working with a new platform that has no prior released information can definitely be a challenge. I personally take on a challenge as a new goal. First we take the car and feel it out in stock form, normally resulting in a track test in as close to stock configuration as possible. We generally may change the oil or brake fluid to cope with the harshness of the track, and add some sort of data system. We take this first test as a chance to get an idea of the platform's strong and weak points - see how it changes lap after lap, check how well the cooling system copes with repeated hard laps, especially in the Georgia heat, get a feel for the overall braking performance, etc. We then gather the data and notes, sit down, and formulate a starting point of weaknesses to address first.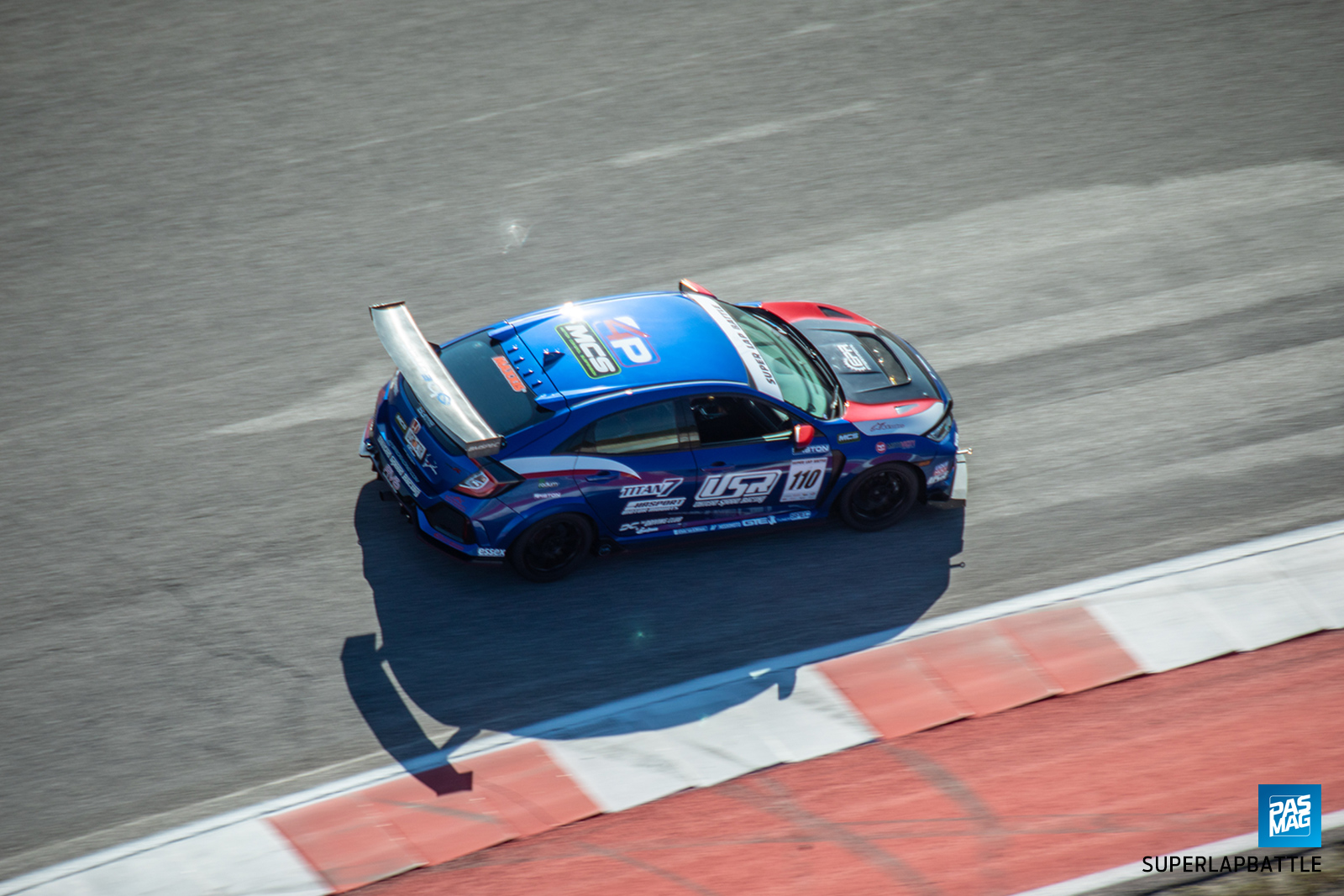 What is the absolute most important aspect of a vehicle to modify if you're looking to take track day seriously? Is there a priority on a certain modification in that regard?
Nearly every production road car should have special attention given to the brakes, especially the brake fluid. Most standard brake fluid works just fine on the street, but can't handle the repeated and sustained high temperatures reached on the track. We recommend flushing the standard fluid and swapping to a quality high temp fluid designed for track or race use, and oftentimes, depending of the platform, swapping to an upgraded brake pad at the same time. Many people jump right into handling and power mods, but the two things needed to go fast and be safe are good brakes and skills behind the wheel. Fast cars don't make a fast driver. A fast driver makes a fast car.
The combination of wheels, tires, and brakes is obviously of utmost importance. How do you figure out which combinations of the three works best for you?
When a customer comes to us to outfit his car for the track, we ask 2 main questions: What are your current goals and planned usage for the car? And what is your skill level?
If their skill level is a novice or still actively learning technique, then we suggest starting on an average grip performance tire, a street/track brake pad, and either the stock wheels or a wheel that they can grow into. Sure, putting on a hot set of big brake calipers and rotors, ultra race brake pads, and very sticky race tires can allow them to carry more corner speed and brake later, but it will hide mistakes and make it harder to fine-tune techniques and learn to use the tires and brakes to their maximum potential. A standard performance tire will speak to them while on track and give them instant feedback of how they are driving and when they are over-driving the car and its potential. An average brake setup will require them to brake efficiently to have the most effect rather than just stabbing the pedal. As for wheels, most stock wheels can easily handle what is needed to learn, but upgrading this early can offer more future potential as well, and gives their car some personalization.
If the customer is a skilled driver with many high performance driver education events under their belt, or has competed previously, then we look at what their goals are and how they expect to reach them, and then we help make the most effective plan to get there.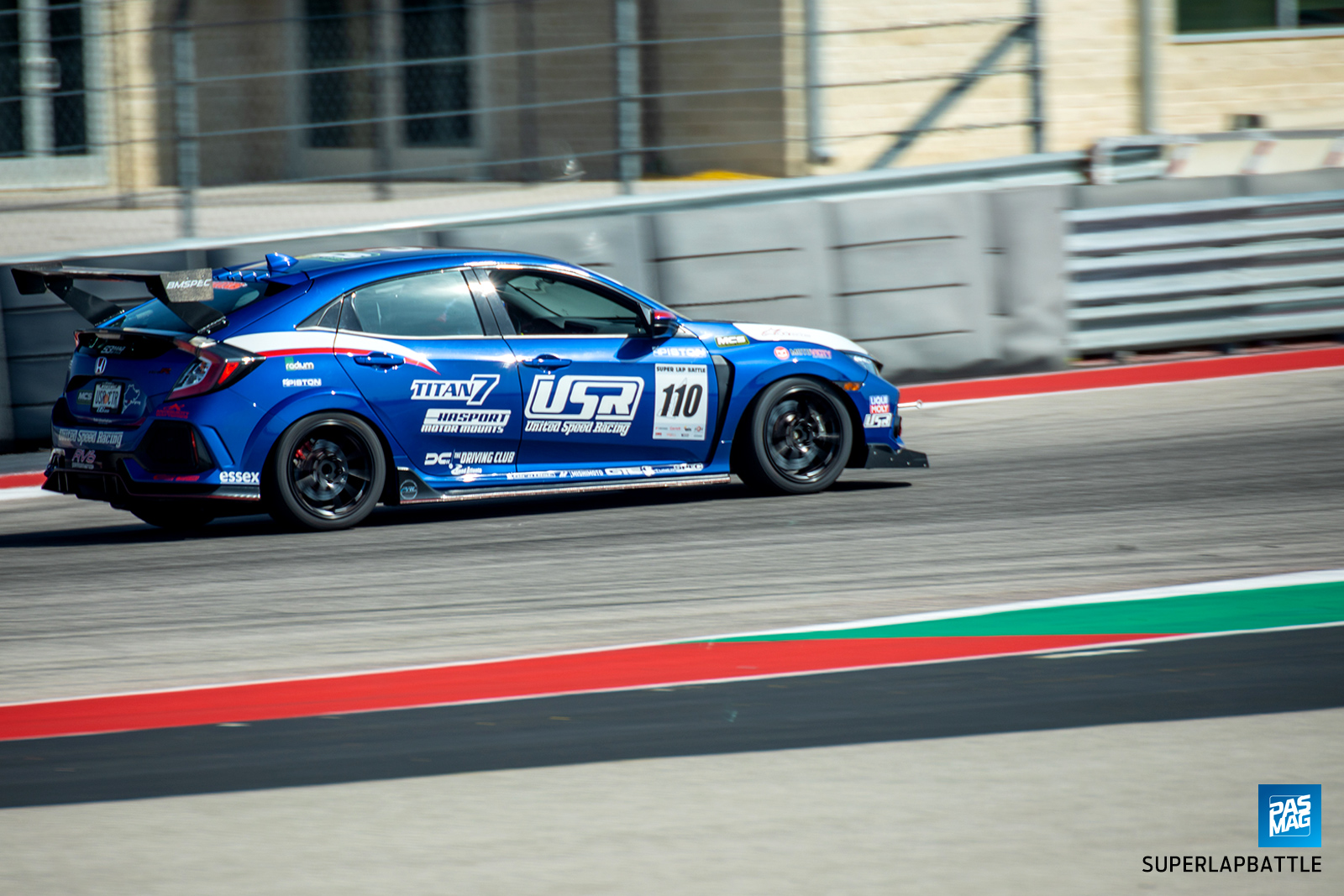 What kind of extra maintenance comes along with tracking a street driven car?
I hear many people say they want to attend track events but feel they need a second car to do so. They don't want to abuse their everyday vehicle. Yes, tracking a car can accelerate wear and tear, but if techniques are learned and used properly, there really isn't much more needed than what is required for average commuting. Change brake fluid as discussed previously, and flush it more often - every six months to a year. Bleed the brake fluid frequently. Other fluids like engine oil - and sometimes transmission fluid - will need to be changed more often. We also suggest regular inspections by a qualified technician to keep a tab on wear for safety. If a driver starts slow to hone their techniques, sets real goals to reach, keeps on top of their maintenance, and uses some common sense, then just about any car out there can be used for the track.
At what point does aero become applicable for the track? Is that usually reserved for serious time attack contenders?
Aero can be tricky. I don't like to use it as a "band-aid" whenever possible. It shouldn't be used to fix a shortcoming, but rather used to enhance an aspect of the handling. Most track day cars have no need for real aero parts like splitters, wings, diffusers, etc. Simple canards and front lips can often help front grip without being overly aggressive. Proper aero needs high speeds to be truly effective, and this is not F1. The car should be fairly capable without it, and so should the driver, before adding big wings and splitters. Other changes can be done to the suspension, alignment, tire choice, or even driving style before a real change in aero is needed.
Does your Civic Type R's setup change depending on the track you are racing at? What changes for each track and what stays constant?
For the most part the setup stays fairly consistent. On a pro level, alignment, balance, spring rates, gearing, and more are often changed for certain tracks. For us, and for the majority of track drivers out there, many of those changes will not be noticed. We normally keep the alignment fairly consistent, sometimes with small changes to toe or camber to suit the style of the track better to improve turn in or change grip levels in the corners. Most of our setup change will be done with shock settings. We run a 2-way motorsport shock with adjustable compression and rebound dampening at each corner. This gives us the ability to adapt the car to what is needed to reduce lap times, then we make notes of changes so we can easily replicate them each time we return, or if we go to a new track that is similar to one we have already raced or tested at.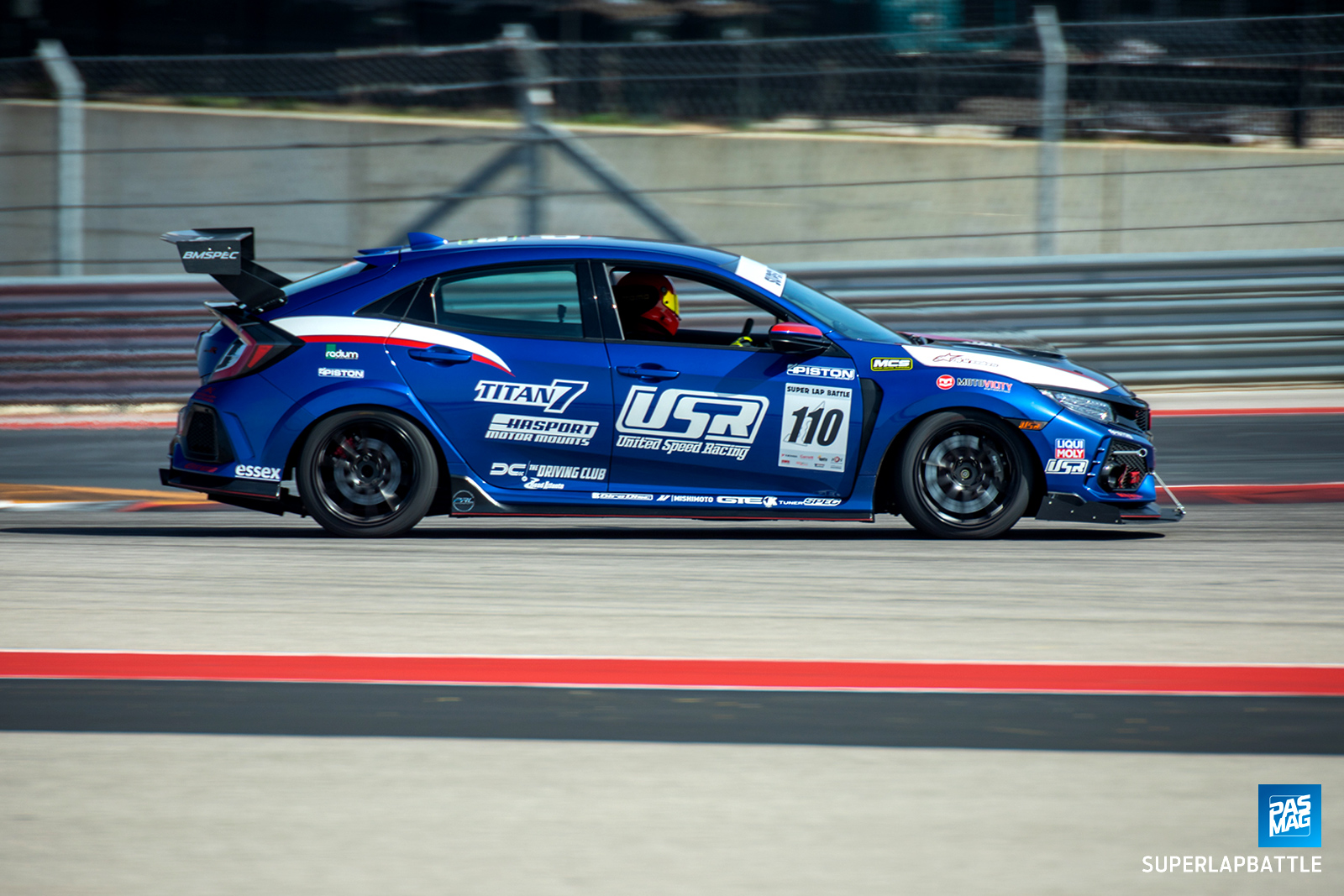 What is some advice do you give to your customers who want to start tracking their vehicles?
Don't rush. Find a good track day group with quality instructors, and make use of those instructors for many events. Try different instructors as well - we all coach differently, and some methods work better for others. Seat time, quality instruction, and the willingness to listen and learn will truly result in a better experience and better techniques. Honing those techniques will allow more speed and performance. It may take a lot of events, or trying different groups to really get there, but the end result is a reward for the driver, and should also be a reward for the instructor witnessing that moment when something "clicks" and improvements are made.
How extensive is the list of safety modifications you've made to your car? How far should the average Joe take safety modifications? Are there must-haves for regular Time Attack duty?
Our car is still a street car as well. It may not appear to be, but we do drive it on the street to and from events often. The idea of track safety is an argument that has many sides and many notable points and trade-offs. When starting out, keep the safety equipment OEM in the car - stock seats, stock seat belts, air bags, etc. Get yourself a quality SNELL rated helmet that fits properly, and a head and neck restraint. There is a device available that works with OEM 3-point seat belts, and will save you from neck injury if the need arises. As you progress, improve your safety equipment, but please have it done by a qualified shop or at minimum with their assistance to be sure it is done properly. Improperly mounted seats or installed harnesses are less effective than OEM equipment. Each car is different in terms of proper safety upgrades. Newer, more modern cars have higher crash and rollover standards than a 1988 Honda Civic, and generally need less to be safe.
In our Civic Type R we have replaced both front seats with racing seats to help reduce weight, but also for safety and a more planted seating position for driver control. We have a standard race bucket passengers seat to keep weight down, along with a 6-point harness, but on the driver's side we have a head containment bucket seat and 6-point harness for more side impact safety. We have also added our USR 4-point harness bar that works with stock seats or aftermarket, is made with DOM roll cage steel tubing, and is integrated into the OEM safety mounting positions in the floor: two at the front seat mounting, and two at the rear seat belt mounts. We have also disabled the airbags since we are using 6-point harnesses, and have added a suede racing wheel with quick-release for better grip, less weight, and easier entry and egress being able to remove the steering wheel.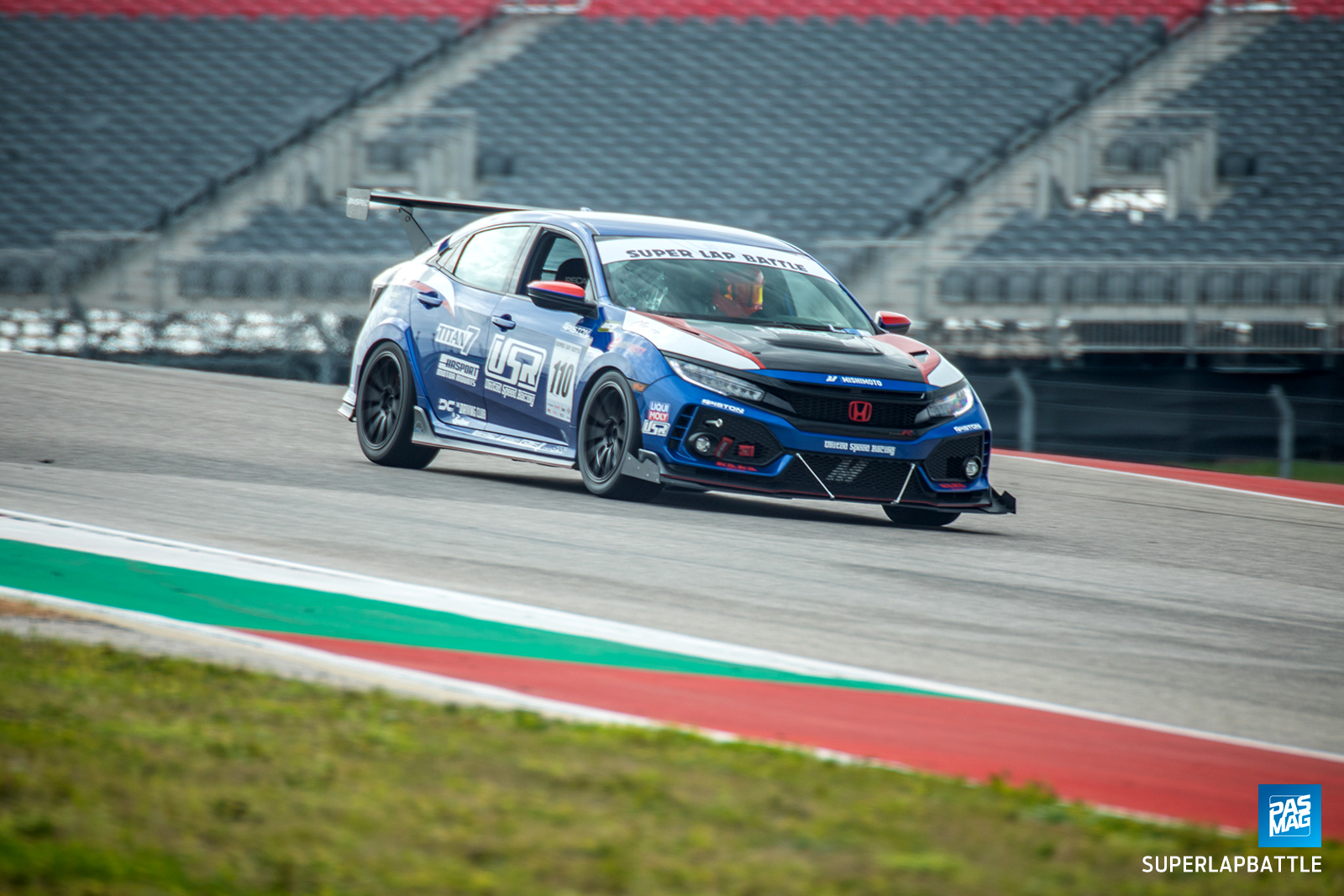 How frequent and how extensive is a bolt check on your car?
A bolt check should be done at minimum before every track day, but if street driving the car between track days it is recommended you perform a bolt check after a track day as well, and this is very often overlooked. Hitting curbs, aggressive braking, and off track excursions can and will loosen bolts, change alignment settings, etc. Just as you don't want a failure at high speed on the track, you also don't want it to happen on the highway. You can't be overly cautious in the aspect of safety.
Is there anything we didn't touch on that you feel is important when preparing a car for track use or time attack?
I say it over and over: have patience, take your time, hone proper skills, and make use of instructors. Seat time, seat time, seat time. Make a goal, figure out a good plan of reaching it, and build up at a reasonable pace. If you want to get right into racing, there are great multi-day racing schools that provide a lot of seat time in a short period, as well as quality shops that can build you a safe and proper race car right off the bat.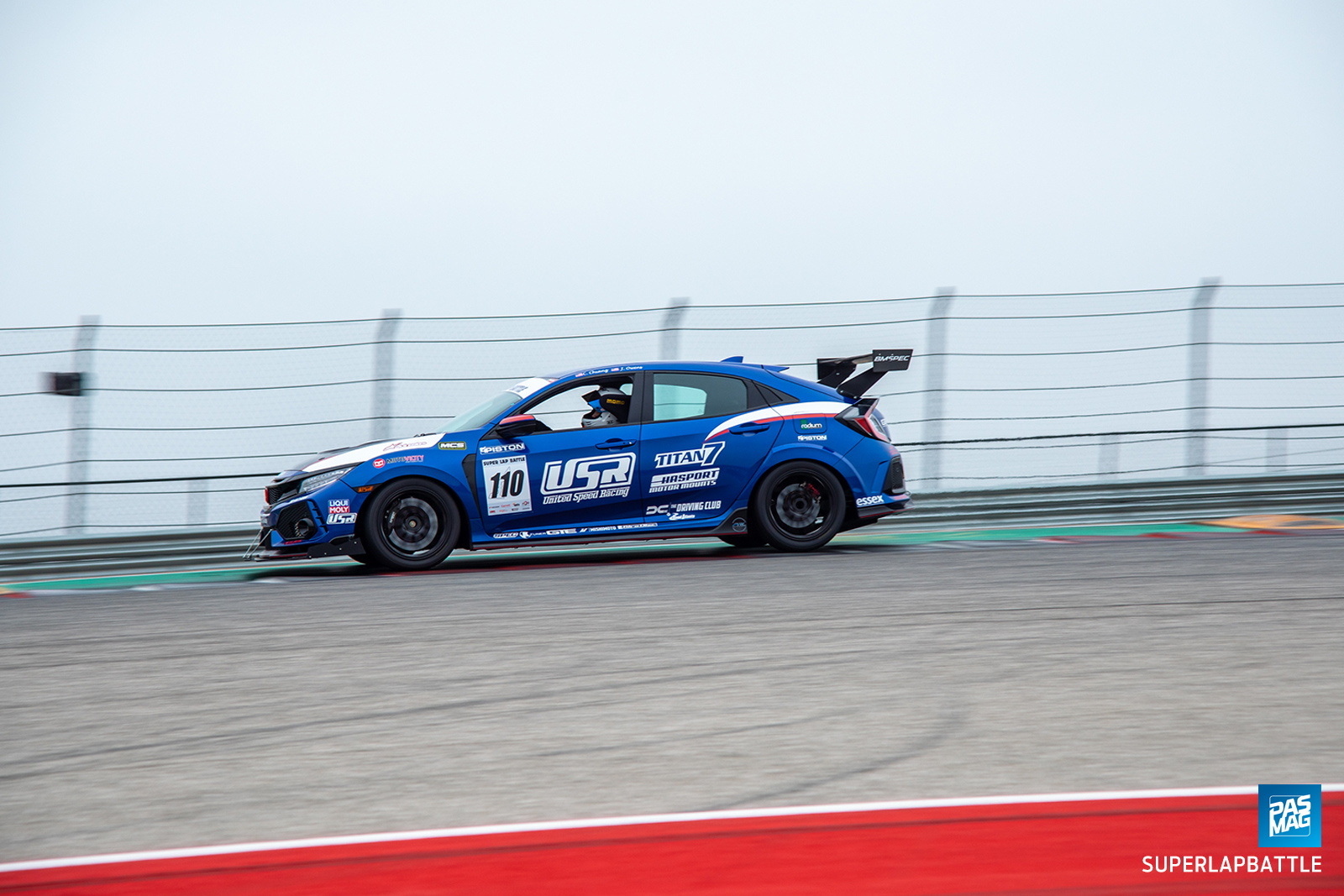 United Speed Racing is featured in PASMAG #154. Click HERE to order.