Notes from Micky Slinger. Photography by Jay Canter
---
Taking a Crack at Building an All-Rounder To Take Home After The Show.
Nineteen SEMA Shows attended, and 2018 would be the first show Jay Canter has been to where his handiwork would be on display. Even with that much SEMA under your belt, actually building would be a bit of a nerve-racking challenge, but Canter, having been involved in the industry since 1995, took the challenge head-on. Canter has also been shooting photos for PASMAG for the last 20 years, so when we caught wind that he'd be building a SEMA truck, we asked him to take us along for the ride.
After the truck was built, shown off, and made it back home, we sat down with Canter to ask a couple questions about his experience and to outline some of his favorite parts to find out why they're important to have on a truck that would retire from the SEMA spotlight to become a daily driver for photoshoots, camping, and trips to the gun range. If you've ever dabbled in the idea of building something for the big show, you may want to take some notes here.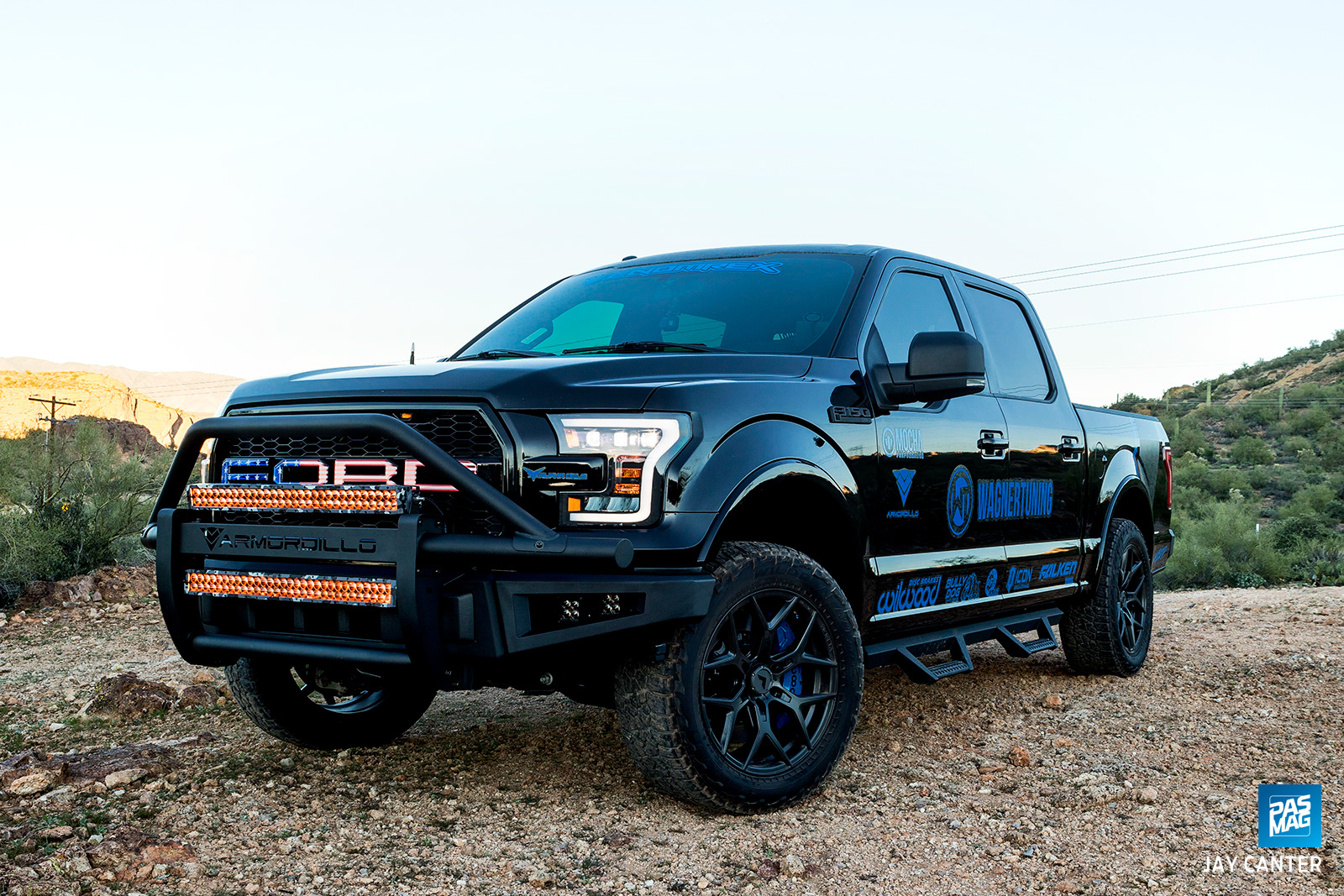 PASMAG: Tell us about the experience of setting up a SEMA build! How did you acquire the F-150, and how did it all begin?
Jay Canter: I was in the market to purchase a personal truck. After driving pretty much everything, I decided that the 2017 F-150 was the best overall. It was the most comfortable, best looking, and who doesn't like turbos? Also, I'm not a fan of the front end change on the 2018s, so I was able to find a low milage 2017 that had basically all the options I would have wanted in the first place. I knew the truck was not going to stay stock for very long, so just saying, "new wheels and tires" turned into a, "yeah, let's do a lot more than just that." I had some companies interested in using the truck for SEMA, so I knew it had to be more than just a few pieces thrown on.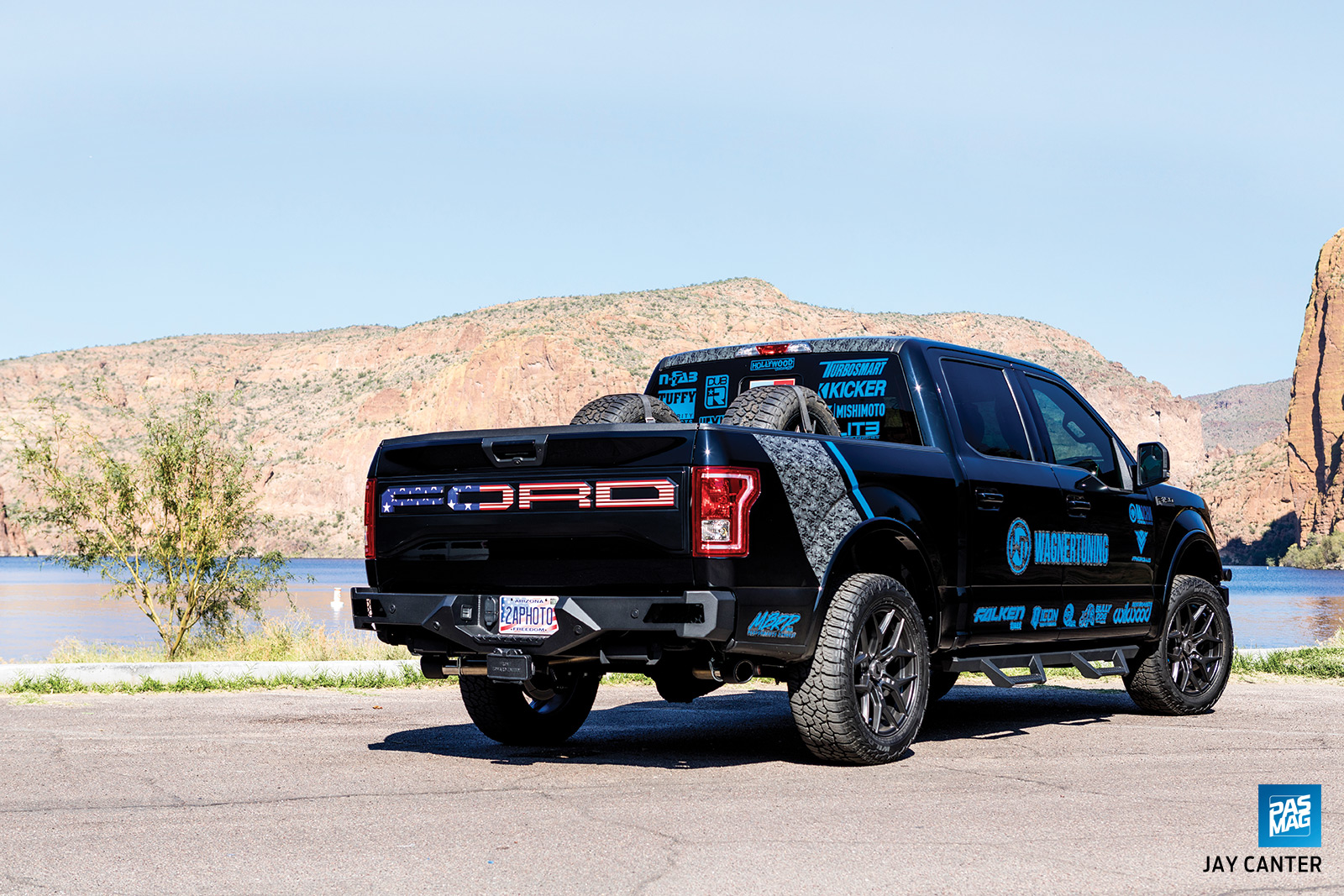 Did you experience the infamous "SEMA Crunch" during the build process?
Actually, yes! I picked the truck up in late May, 2018, and figured since the body style had been available for two years already, there would be plenty of aftermarket support, so I would be able to get parts, put them on, and be good to go at least a month before the show. Some parts that were shipped ended up not being the correct version, so I had to wait a bit for the correct ones to show up. I also needed to find a shop or three to help with the build, and after dealing with one or two that ended up being unhelpful, I was fortunate to find some shops who did amazing work and helped out big time. Vinyl went on two days before the show roll-in, but that was SEMA crunch enough for me.
Describe the feeling of completing your truck and seeing it among the other builds at SEMA 2018!
It's awesome to see a build and design you've done at the world's largest show. That means there are some companies who believe in you and what you are doing, which, of course, is a huge honor.
What is your favorite aspect of the build?
I am quite impressed with the EcoBoost engine. With just a few bolt-ons and a programmer, it really moves. I can't wait to see when new turbos and downpipes get put on what will happen. Overall, my favorite aspect is the entire truck. I designed it exactly how I wanted it. Sure, I could have been like 95 percent of the other trucks there and put a huge lift that isn't all that usable for daily needs, but the Icon Vehicle Dynamic suspension is perfect for daily freeway use and going off-road.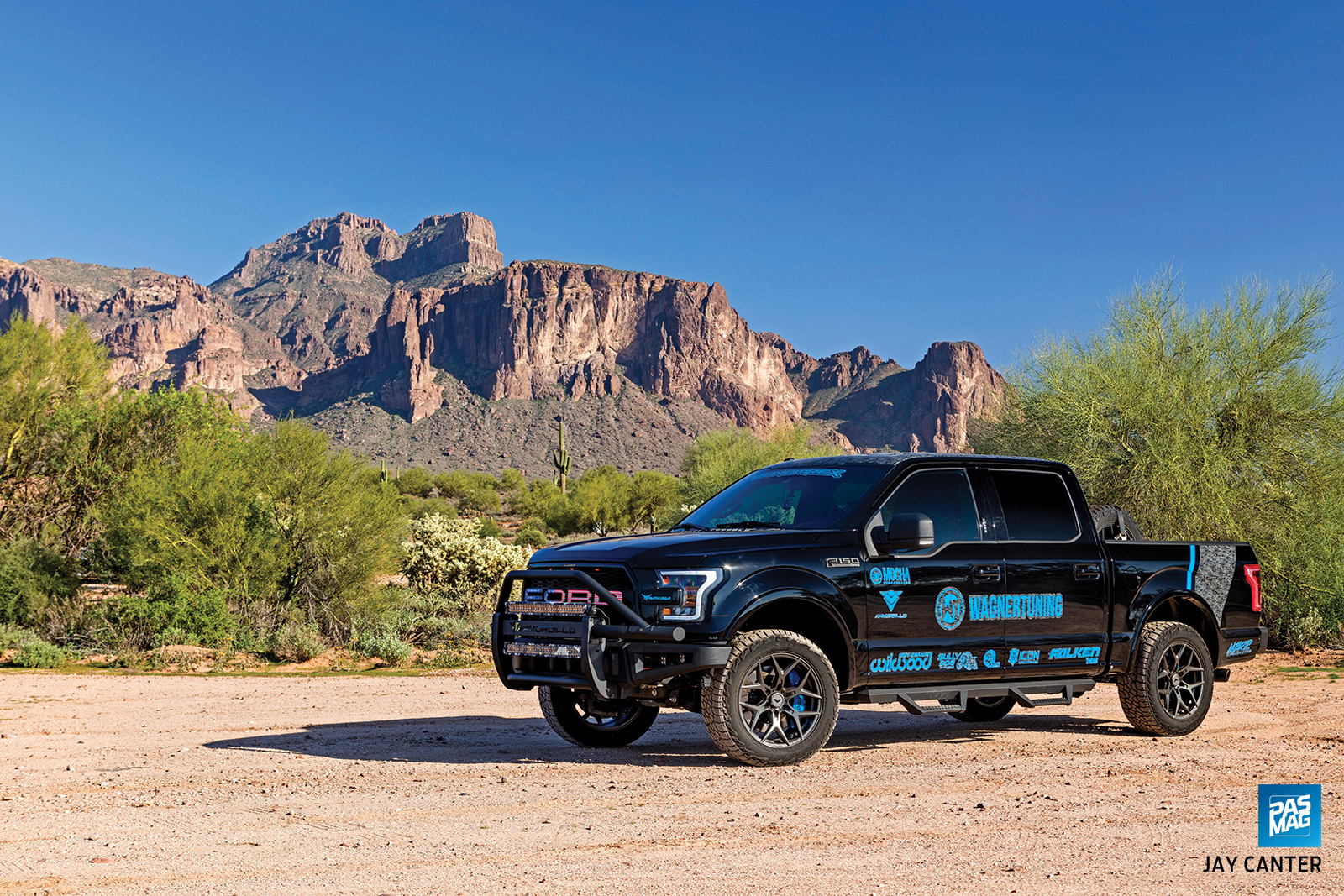 What are people's reactions to the truck? How do you respond?
It all depends. At SEMA, I did sit there and listen to some people say it was cool, but not very lifted like the other trucks there. Of course, some people don't like the colors of the vinyl. Luckily, it isn't their truck! At the end of the day, it only really matters as long as I'm happy with it and the companies involved are happy. No matter what I would have done, there would be someone hating on it. If it had a huge lift, people would have said that it isn't very useful or it looks like every other truck at the show. You can't please everyone - just please yourself.
PARTS OF THE PLAN
ENGINE PROGRAMMER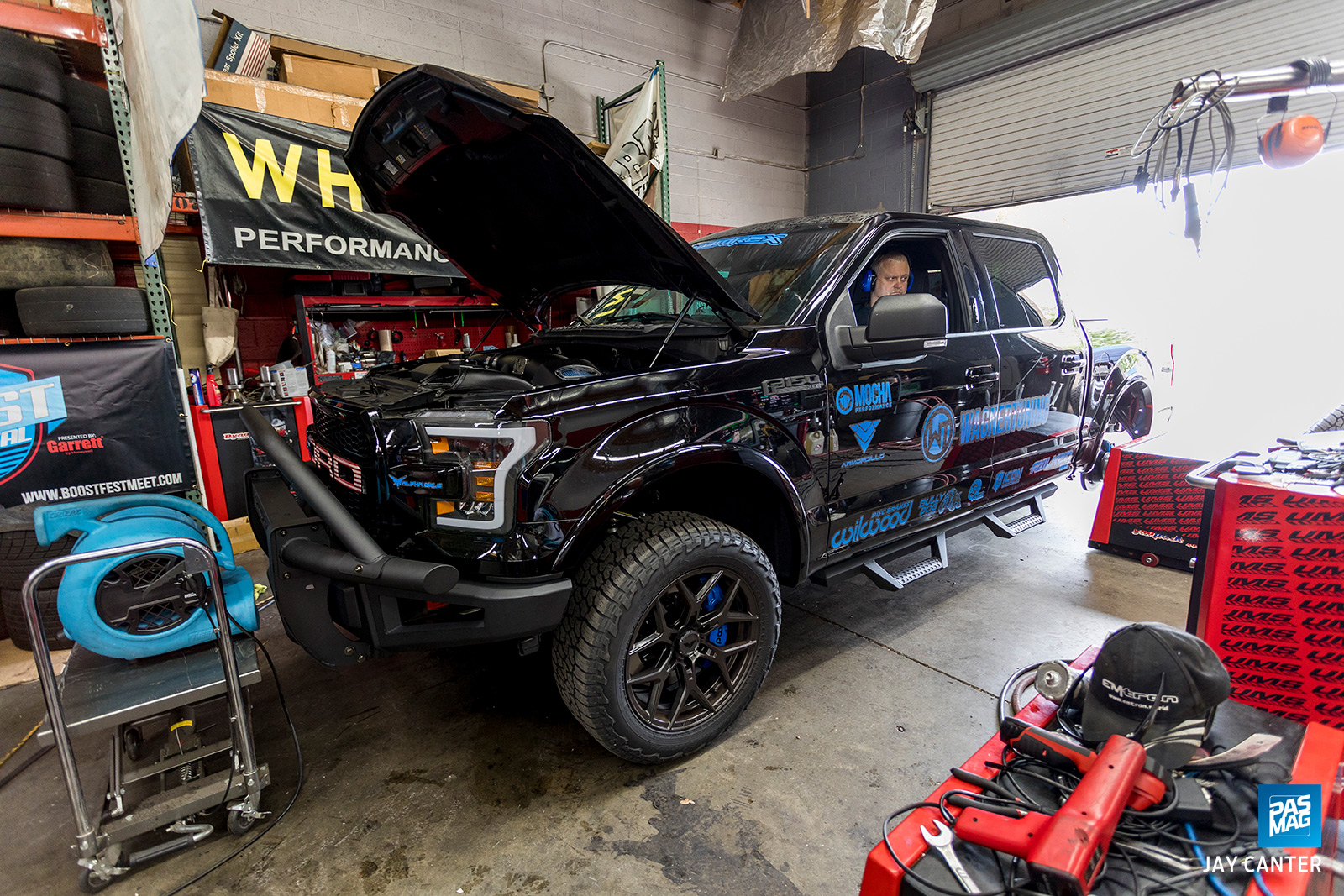 With Ford choosing to offer a V6 twin-turbo engine in the F-150, it now gives tuners more ways to make good power out of the 3.5-liter engine. At the time of building the truck for SEMA it barely had 10,000 miles on it, so I wanted to keep that reliability, but still wanted more power out of it. The easiest way to make a decent amount of extra power with the best bang for my buck was an engine programmer, so I chose the new Bullydog GTX because it has a great touchscreen that gives you tons of information, plus it's easy to install. It already comes with a preloaded tune, which is what we used to see what it would do. On low-grade 87-octane fuel, it gave the truck about 80 wheel-horsepower, which definitely makes the truck even more fun to drive.
INTERCOOLER
As with any turbocharged application, one of the things you'll want to do is upgrade the intercooler, especially when Ford produced the minimum size intercooler to keep things cool-ish with the engine. Wagner Tuning is a well-known name in the German tuning world, producing intercoolers for Audi, BMW, and other European vehicles. This is their entry into the US truck market and they did an amazing job. Their intercooler fits absolutely perfectly and comes with every bracket you need. You can even reuse the factory piping, which makes the install even simpler. Their cooler uses cast end tanks versus the plastic crimp-on ends that the factory uses, and being about four times larger than factory increases airflow significantly.
EXHAUST
The Ford V6 exhaust note is a bit questionable; you either like it or hate it. I was leaning towards the hate it side when I first got the truck and would open up the throttle, so I knew the exhaust had to be changed out. There are a lot of options, but with it being a daily driver, I did not want to have a loud exhaust - except when I wanted it to be loud. The MBRP exhaust I chose has 2.5-inch piping to allow for some good flow, but it won't be obnoxiously loud. To give it a bit more ascetics, I got a pair of MBRP's carbon fiber exhaust tips. There's no extra power with those, but they look amazing!
SUSPENSION
My F-150 is two-wheel drive, which isn't what I originally wanted, however it actually has a higher tow capacity than the four-wheel model and better fuel economy, plus, honestly, the deal was far too good to pass up. Without a doubt though, it needed new suspension, so I went to one of the leaders in off-road suspension: Icon Vehicle Dynamics. Their Stage 3 kit is a great setup that bolts directly in to give you increased wheel travel and ride quality. The kit also comes with upper control arms equipped with their Delta joints. This is a solid piece that replaces the traditional ball joint that would always get destroyed from use in harsh environments or just taking suspension on and off.
WHEELS & TIRES
This is a daily driver, but I still wanted performance and great looks, so Venom Rex wheels were my top choice. Designed and made by Vorsteiner, makers of amazing pieces for supercars, I knew these wheels were going to be perfect. The color choice is "Tungsten Graphite," which has some really nice metallic grey in it (when they aren't getting abused in the dirt). The Venom Rex engineers perfectly executed the 20x9-inch wheel offset and styling, as they sit absolutely flush to the fender with no spacers.
Mated to the wheels are Falken Wildpeak AT3W tires. I've used their tires for many years in different applications, so I already knew their all-terrain tires would be fantastic. The Falkens have low road noise for normal driving and they handle higher speeds like champs, plus off-road performance is not compromised either, which makes these some of the best all-terrain tires on the market.
BRAKES
With the addition of horsepower, stopping power is equally as important. Wilwood makes a front and rear kit for this generation F-150, which is the last year they did a front and rear kit, as this truck has a mechanical e-brake. All of the new gen trucks received an electronic e-brake system that a rear brake kit is not available for as of yet. The other super nice thing that Wilwood offers is a ton of different color options to customize the brakes to your liking. Now there's a much more stylish and powerful way to stop the truck more quickly.
EXTERIOR
When I saw Armordillo's Pre-Runner Guard front bumper, I thought it looked like something that could be used to push just about anything out of the way with ease, while protecting important pieces, like the intercooler. It's also modular, so you can unbolt the bull bar if you don't want to run it, and it's a direct bumper replacement, so there's no cutting or welding needed for install. Another nice thing they thought about was the fog light holes, as there are already two tabs welded in for mounting light pods.
I opted for two pairs of Mocha Performance MA22 LED light pods. Mocha's lights run a two-color LED inside the housing, with mine being a white LED that changes to orange with the flip of a switch. Across the bumper are two of Mocha's 30-inch light bars with the same white and orange LED lights. I had a good friend of mine, Wes of FS Defense, who does custom cerakote work in the gun industry, put down a custom camo job to make them truly one-off pieces to stand out on the front of the F-150.
AUDIO
As a midrange F-150, the audio honestly wasn't horrible, however there was a ton of room for improvement, and Kicker Car Audio has definitely figured out how to improve the sound in an F-150. They've designed a punchy eight-inch powered sub box to fit behind the rear seat, so it doesn't take up valuable floor space. I much prefer a bit of punchy bass with nice mids and highs, so to compliment the powered sub, all the factory speakers were torn out and Kicker's high end QS series went in. The master installers over at Unique Car Audio in Gilbert, Arizona, did the complete install and tuning of the speakers, and now the truck sounds as good inside as it does outside.
INTERIOR
Without the luxury of an actual trunk to be able to hide things in, any additional secure space is value added, so under the rear seat is a Tuffy Security Products gun safe, though you can use it for anything you need to secure. It's high quality and a super easy install, plus with the seats down, it doesn't take up additional space and is impossible to see from outside the truck. This was super important to me since I am always on the go, and sometimes that extra peace of mind is well worth it.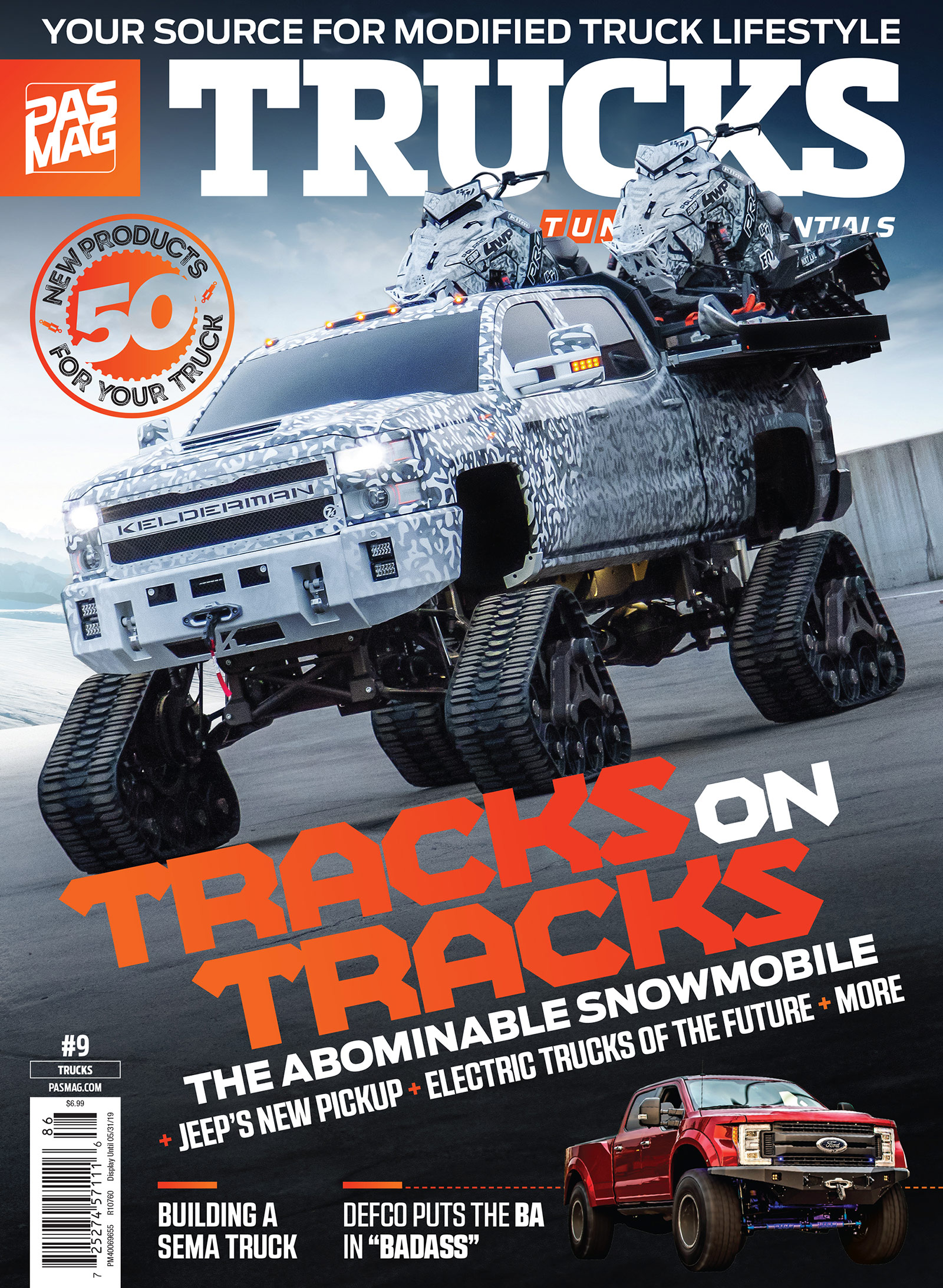 Jay Canter's 2017 Ford F-150 XLT EcoBoost is featured in PASMAG Tuning Essentials: Trucks Volume 9. Click HERE to order.