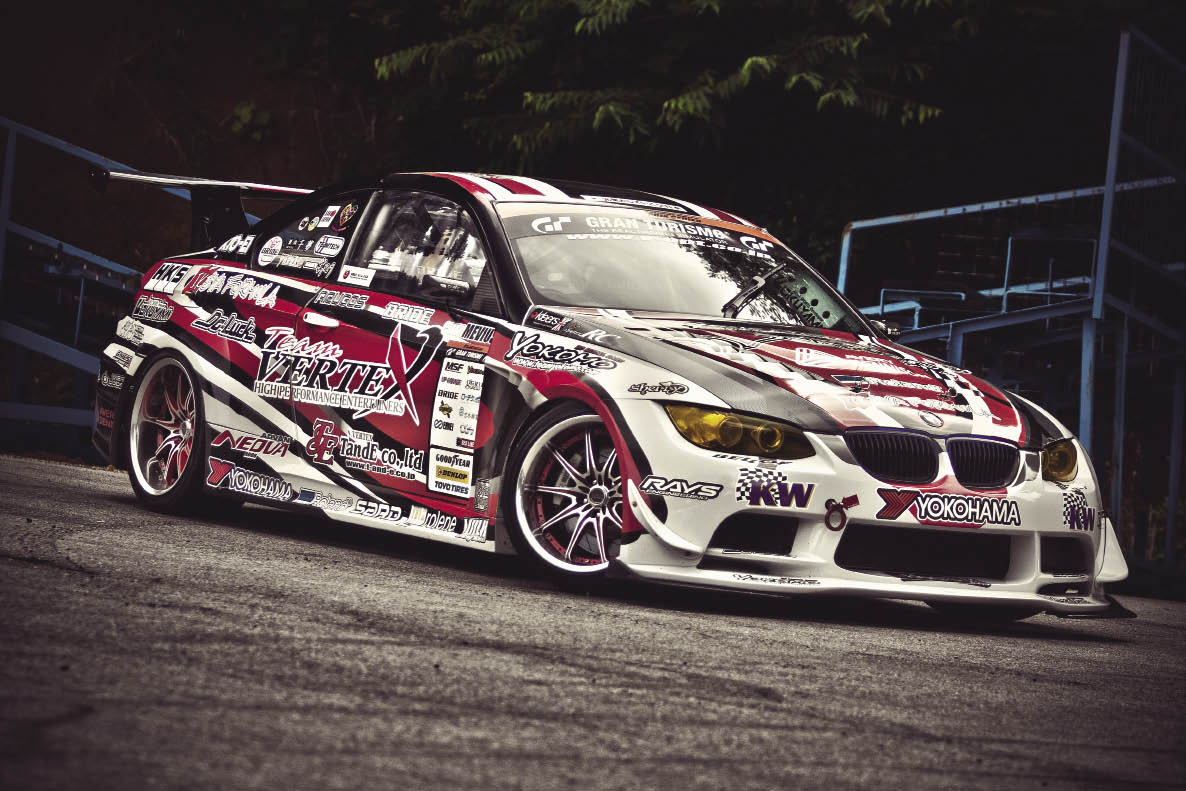 He founded the T & E company (which stands for Technical and Elegant) back in 1996. It has since grown to encompass the many sub-brands under his wing, including the Vertex line of body kits, Légerfort exhausts, and SUI:VAX tuning. Ueno established the Vertice Design brand to move his line of body kits up market, targeted specifically at premium luxury vehicles like the Ferrari 360 Modena and Mercedes-Benz CLS. It also caters to the BMW crowd, as evidenced by Ueno's latest D1 creation shown here: the Vertice Design BMW E92 race car.
But why an E92, and why now? In 2007, Ueno realized that he was approaching eight years of racing with the Toyota Soarer. Although he had achieved some success with the car, including placing third overall in the
inaugural 2001 championship, he was itching for a new project as an outlet for his creativity. He had become fascinated by BMWs, including his E65 7-series daily driver, and wanted to see what he could do with one in competition.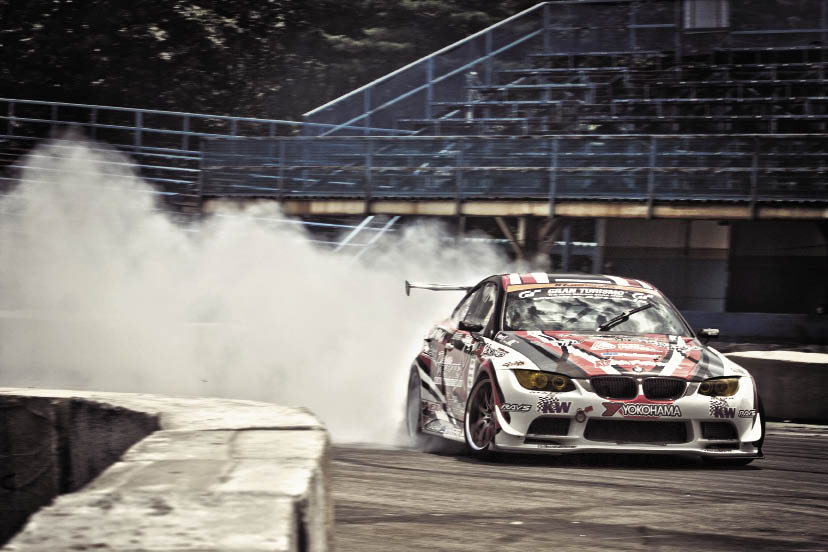 At the time that he began the venture, BMW was fairly untested when it came to drifting. Remember, Mike Essa's current Formula Drift ride with its M5 engine-swap didn't exist back then. Ueno could have gone with anything, but chose the E92 coupe since it would offer the most flexibility for performance enhancement. The body style was also familiar in size and balance to his old Soarer, seen as one of the heavier cars to muscle around a drift circuit. Ueno knew it would take a lot of time and custom work to bring the chassis up to his liking, so he started with a bare-bones Japan-spec 320i. Some might find it odd that instead of sticking with German engineering under the hood, he sourced the engine from Toyota. A 3.1-liter 2JZ-GTE motor, usually found in a mid-90s Supra Turbo, was dropped into the front of the luxury coupe with the help of his SUI:VAX tuning crew.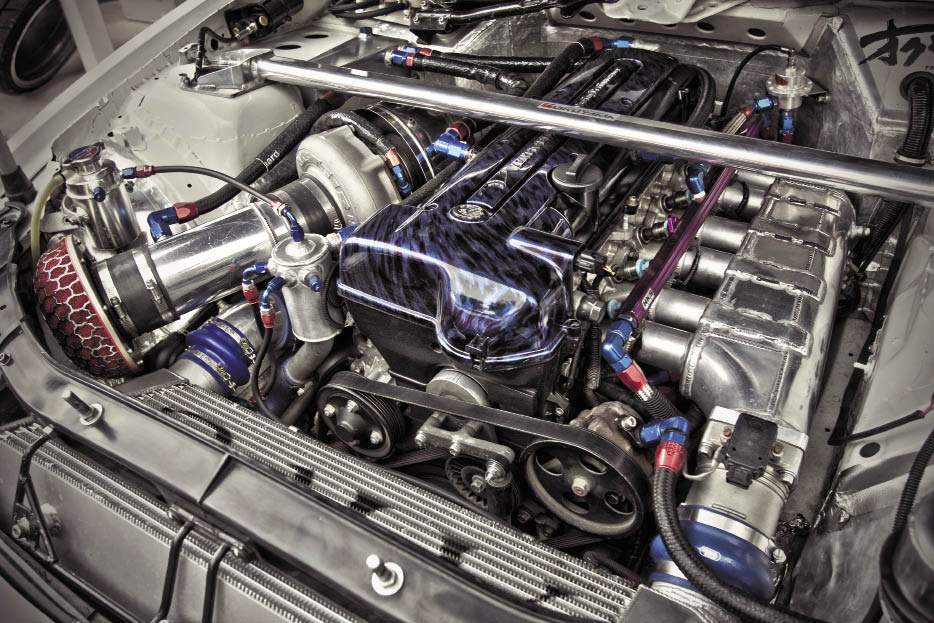 The 2JZ is one of the best engines ever produced by Toyota, originally designed to de-throne Nissan's all-conquering RB-series. It offers endless possibilities for customization, and Ueno's plan was to make maximum tire-shredding power. Originally the 2JZ engine is a twin-turbo setup. A smaller turbo spools up quickly at low revs for an initial boost, and then the larger unit kicks in for the full monty. For Ueno's purposes a single turbo would suffice, but not just any turbo. His engine is force-fed by an enormous HKS F51R Kai BB turbine.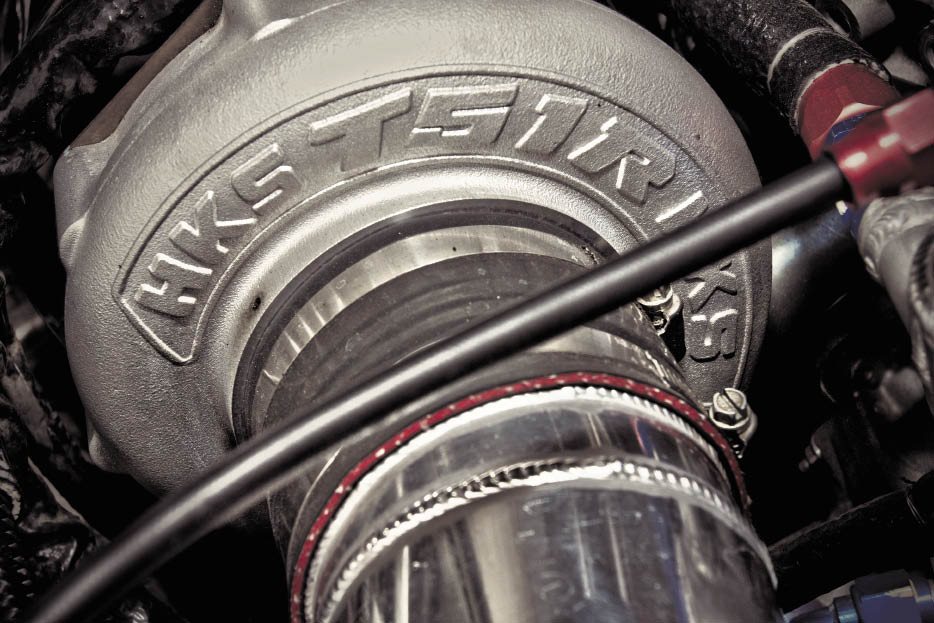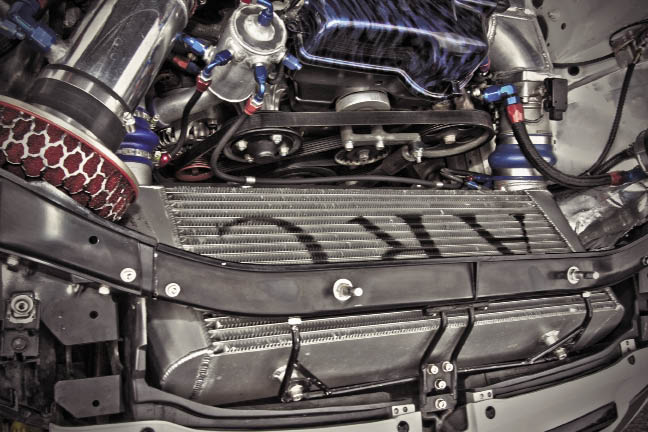 You could call it the MVP of the all-star team of upgrades. Air is first channeled in through an HKS intake, and then later pushed past an ARC V-mount intercooler. Just before it enters the manifold it is combined with a shot of NOS for even greater combustion. 1000 cc injectors and an HKS fuel rail deliver the proper amount of gas needed to make it all work, while a custom SUI:VAX titanium straight-pipe exhaust lets it out the back. At the wheels, the Vertice Design E92 puts down an astonishing 800 horsepower. That makes it one of the most powerful cars on the D1 roster, a list that includes Manabu Orido's 850 horsepower Supra and Daigo Saito's 800 horsepower Mark II JZX100. With company like that, Ueno's choice of the Toyota power plant doesn't seem so strange after all. To cope with the tough demands of racing, other engine internals needed to be replaced as well. HKS pistons, cams, and a crank damper pulley ensure that the six inline cylinders continue to fire as requested. A Yashio Factory radiator was fitted to keep things cool under pressure, along with an original T & E surge tank. The transmission was completely redone from the ground up with a new Holinger 6-speed sequential gearbox, ORC Arugos triple plate clutch and Arugos flywheel. It still has the third pedal, but there are no gates to worry about, just easy up or down clicks for each shift. With the engine out of the way, Ueno needed to improve the BMW's handling and stopping abilities. The suspension was a case of trial and error in which he tried a few sets of dampers before eventually landing with the KW Competition series three-way coilovers. The brakes were upgraded with the Project Mu euro MEVIUS big brake kit that includes six-piston front calipers, four piston rear calipers, and slotted rotors all around. It was good, but in test runs the car still didn't feel right. Something was still missing: the proper body.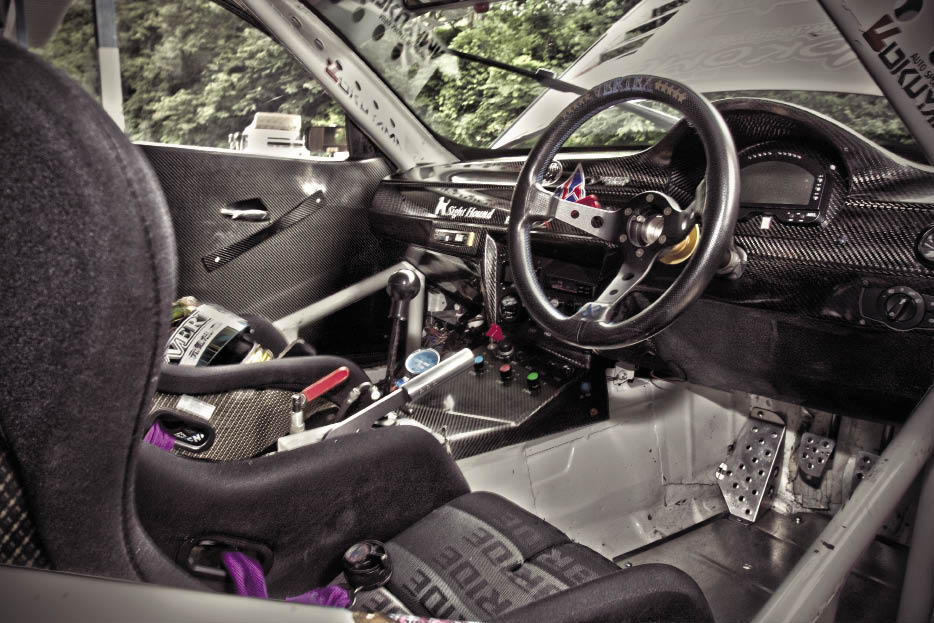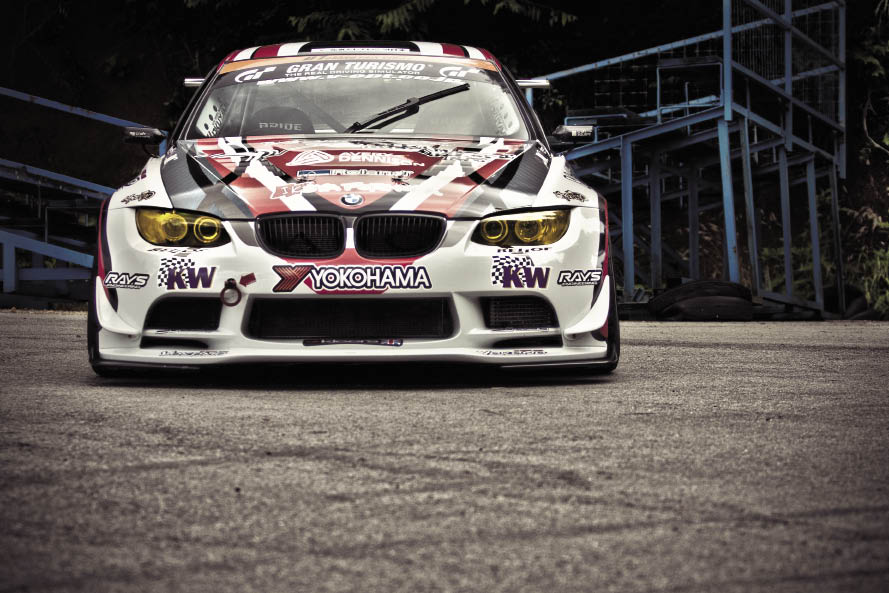 Although Vertice Design's products are aimed at expensive European brands, they each have a purpose. On the E92, the goal is to aid drivability on the race track, not unlike many of his existing Vertex kits. The front fascia is lower, wider, and has extra intake openings for plenty of air to feed the huge turbo. Front end downforce is provided by canards, and front under diffusers. Moving to the side, wide front and rear fenders lead back to a new rear bumper that also has cut outs to channel air for added rear downforce. The hood, doors, and trunk lid are all made of dry carbon fiber, keeping the package light. Yokohama's ADVAN Neova AD08 rubber is encased around Volk GT-F 18-inch wheels with a red paint finish, complimenting the signature Team Vertex red and silver livery. One of the most unique aspects of the BMW's body work lies in its rear spoiler. The SARD Fuji Spec M GT wing is flanked by custom vertical carbon fiber splitters. In a straight line, the splitters have very little effect. However, when the car is going sideways in a drift they make the back end much less twitchy. The splitters were a new addition to the car for the 2011 season, and Ueno describes the difference in balance as night and day. Vertice Design's craftsmanship doesn't stop on the outside of the car. Nestled between the Okuyama roll cage is a dry carbon dashboard and dry carbon center console set which really ties the room together. Ueno's signature Vertex Deep 90mm 10 Star steering wheel couldn't be left out either, connected to the steering column via a Works Bell Rapfix quick release hub. Other interior amenities include Bride Zeta III carbon fiber seats, TeamTech 4-point harnesses, and an AiM Sports MXL Strada digital gauge displays all of the vital data. Ueno also has a HKS F-Con V Pro computer and HKS EVC boost controller at his fingertips to fine tune the specifications before each run. It may no longer be a luxury coupe for touring the German countryside, but it definitely functions as a D1 racing machine should.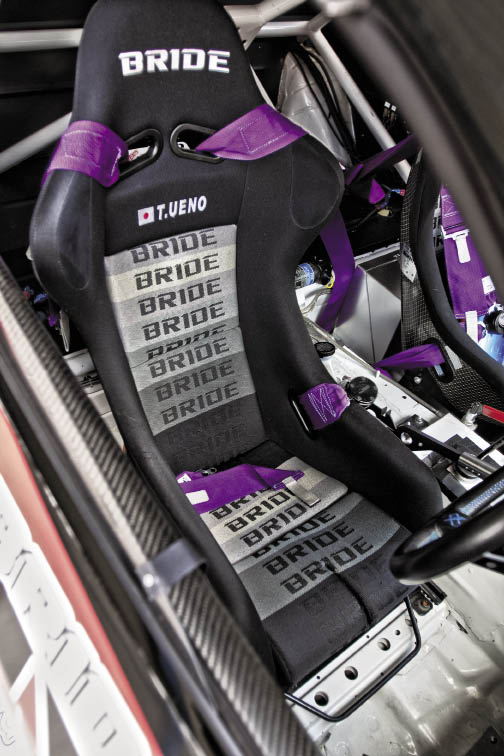 It's rare for a professional driver to be a successful businessman at the same time. Many chose one route or the other, but Ueno has skillfully developed his T & E franchise into an ever expanding portfolio of tuning wizardry while maintaining a career in racing. His latest project, the Vertice Design BMW E92, isn't just a sign of his automotive expertise, but it's also an indication of his passion for motorsport on all levels. Ueno was among the first to compete in D1, and you should expect to see him on the track for many years to come.
Essentials
Vehicle: BMW 320i (E92)
Owner: Takahiro Ueno
Location: Japan
Engine: 2JZ-GTE - 3.1L single-turbo I6 (3067 cc)
Engine Modifications
HKS Power Flow Intake
HKS T51R kai BB Turbo
HKS Pistons
HKS Crank Damper Pulley
HKS V Cam Kit Pro
HKS F-Con V-Pro Computer
HKS EVC boost controller
HKS Fuel Rail
1000 cc injectors
ARC V-mount front intercooler
Original TandE Surge Tank
Yashio Factory Radiator
NOS Delivery System via trunk-mounted tank
ATL Fuel Tank in trunk
Custom Engine Cover with Vertice Design hydro print
Exhaust
SUI: VAX custom one off single-exit Titanium exhaust (straight pipe from manifold)
HKS Exhaust Manifold
Transmission
Holinger 6-Speed Sequential
ORC Arugos Triple Plate Clutch and Flywheel (Ogura Racing)
Active Traction Service (ATS) Deftforce Type-R Rear LSD (16-plate vs. traditional 12-plate clutch-type LSD for added durability)
Exterior
Vertice Design Original Body Kit, including:
Vertice Design Front Bumper Spoiler with under side fins (under canards)
Vertice Design Front Bumper Canards
Vertice Design Wide-body front fenders
Vertice Design Side Steps
Vertice Design Rear Bumper Spoiler
Vertice Design Dry Carbon Hood
Vertice Design Dry Carbon Doors
Vertice Design Dry Carbon Trunk Lid
Vertice Design Custom Carbon Fiber Vertical Wing Deflectors
Sard Carbon Fiber GT Wing Fuji Spec M
Craft Square Carbon Fiber Side Mirrors
Bellof HID Lighting System
Kitz Air Jack System
Single Wiper Setup
Wheels and Tires
Volk GT-F Red Spoke Wheels - Front 18x10", Rear 18x11"
KYO-EI lug nuts
Yokohama Advan Neova AD08 - Front 255/35R18, Rear 265/35R18
Suspension and Brakes
KW Competition 3-way Dampers; Springs Fr. 14kg, Rr. 17kg
Ikeya Formula Suspension Arms (Camber, etc.)
Project Mu euro MEVIUS Big Brake Kit: 6-piston front calipers and 4-piston rear calipers; slotted rotors; brake pads
Interior
Bride Zeta III Carbon Fiber Seats
TeamTech 4-point Purple Harness
Vertex Deep 90mm 10 Stars Steering Wheel (Blue Stitch)
Works Bell Rapfix (steering wheel quick release)
Aim MXL STRADA Meter
TP Checker
Vertice Design Dry Carbon Dash Board
Vertice Design Dry Carbon Center Console
Okuyama Roll Cage
Rear seat removed for weight