Photos by Jay Canter
---
While out doing errands the other evening, I heard the rasp of a well-tuned engine going the other way – a quick glance over my shoulder and I saw the tail end of a bright orange Datsun 240Z. It put a smile on my face – simple and pure, and surely a load of fun! The Z-car platform has grown in size over the years, and we give credit to Nissan for keeping it alive and evolving when their rival have let nameplates like the Supra and RX fall by the wayside.
Andrew Goodman of Mishimoto loved the style of the new 370Z. The company he works for is well known for their high performance heat exchangers – so being first to market with products for the latest Z, known to have thermal issues, made this build a perfect fit.
Nissans V6 motors are fantastic! They are balanced, smooth and must be nearly perfect given that you can get them in almost any of their vehicles larger than a Sentra. Goodman wanted a bit more from the 3.7L mill under the hood, so a call to Stillen produced one of their Vortech V-3 Superchargers, air intakes, an intake manifold, fuel pump and a set of injectors. Goodman, of course, chose Mishimoto intercoolers to cool the air on its way inside the motor. Up Rev tuning and AEM X-Wifi data monitoring combined to make about 525hp. Keeping it all reliable is a Mishimoto radiator, carbon fiber rad cap, dual oiler kit, thermostat, carbon catch can, silicone hose kit and lots of heat wrap and heat tape. A Mishimoto A/C condenser, air diversion panel and power steering cooler round out a shopping cart full of goodies. Goodman filled the motor with Amsoil fluids, and chose Drop engineering for engine and transmission mounts while an ACT clutch feeds it all rearwards.
The choice of exhaust system on a car is critical – it's like the tie you wear with your suit – get it wrong and the whole look and feel falls apart. Goodman had an Apexi RSX Titanium exhaust system flown over from Japan, and he claims it is the first one in to the country. Nice tie!
With power and reliability in check, it was time to address putting that power to the ground. Work Emotion XC8 19-inch wheels were chosen. They are wrapped in Nitto Invo tires sized at 255/35 are fitted to nine inch wide fronts and 285/30 engulf 10 inchers out back. Braking duties were given to four-piston calipers from Stop Tech and two-piece 355mm slotted rotors. Keeping things planted are KW Variant 3 coilovers located by Drop Engineering adjustable control arms and traction arms. Topping it off are Drop Engineering Lug Nuts – keeping everything in place!
Opening the door reveals a set of MOMO Daytona racing seats and a MOMO Drifting steering wheel and a MOMO King Satin shift knob. Wedge Engineering fabbed custom mounting brackets for the seats and Takata harnesses are in place to keep Goodman planted. An Autopower roll cage was painted gold to match the theme of the 370 and was put in place after Airhead Customs reupholstered much of the interior in suede.
In the dash, you will find the unmistakable Apple iPad as the music source. Audio is fed from there to a Soundstream MPQ-4US preamp equalizer that was grafted to the side of the center console. A Soundstream Stealth 4320 amp drives two sets of Soundstream Rubicon component speakers and a Soundstream Stealth 13 subwoofer. Keeping things relatively quiet is handled by a layer or two of Hushmat. Living at the very rear of the trunk is Dregs Longboard skate board that is held in place by a custom mount. Eyeballing it, I'd say it was a 38 Slide 102 with a custom finish to match the gold theme of the Z, but I'm no skateboard expert.
Last, but certainly not least, it was time to massage the exterior of the vehicle. The fiber-fiends and Seibon were tapped for a new TS Style hood, hatch and pillar bars and an NSM-style rear spoiler. Airhead Kustoms handled the body work, while RAV Designs took care of the custom pearl white and gold vinyl wrap. Hexis vinyl was used for the wrap, and it looks freakin' cool!
Goodman tips his hat to the companies that helped him with the build work – Ldrship Designs in Temecula, CA and Airhead Kustoms in Corona and to all the parts suppliers that made the build possible. We at PAS love the whole package, but we are perhaps most impressed that the car gets used. There are a few stone chips on the front lip and a mark or two on the interior. Not one mark takes anything away from just how cool the project is.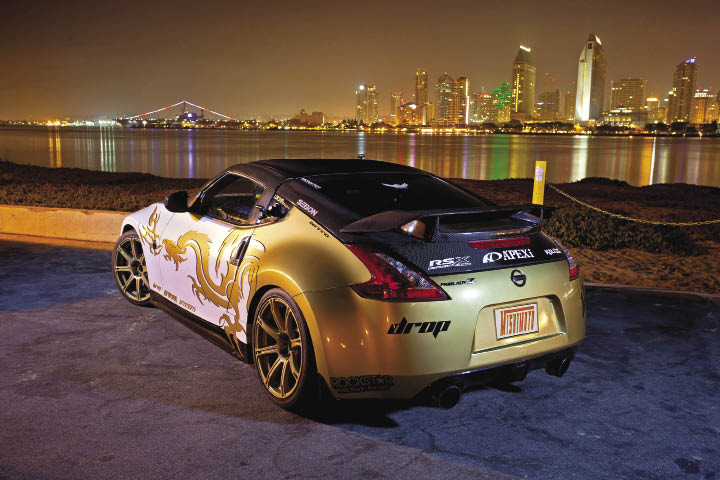 ESSENTIALS
Vehicle: 2010 Nissan 370Z
Owner: Mishimoto
Location: Wilmington, DE
Engine Displacement: 3.7L (VQ37VHR)
Horsepower: 525 WHP
Website: www.mishimoto.com
ENGINE / PERFORMANCE
Vortech V-3 supercharger
K&N air filter
Stillen air intake
Stillen manifold
Stillen fuel pump
Mishimoto intercooler
600CC / Stillen injectors
Mishimoto radiator
Mishimoto carbon fiber radiator cap
Mishimoto A/C condenser
Mishimoto air diversion panel
Mishimoto dual oil cooler kit
Mishimoto power steering cooler
Mishimoto thermostat
Mishimoto carbon fiber catch can
Mishimoto silicone hose kit
Mishimoto heat defense tape
Mishimoto heat wrap
Drop Engineering engine mounts
Amsoil performance fluids
EXHAUST
APEXi RSX titanium exhaust (1st Apexi 370Z exhaust flown in to USA)
PERFORMANCE ELECTRONICS
Up Rev programming
Up Rev timing control
AEM X-Wifi wireless data monitoring
DRIVETRAIN
ACT Clutch
Drop Engineering transmission mount
WHEELS / TIRES
WORK / Emotion XC8 - 19x9 (f), 19x10 (r)
NITTO Invo - 255/35/18 (f), 285/30/18 (r)
BRAKES
355mm 2-piece slotted rotors (f)
355mm 1-piece slotted rotors (r)
STOPTECH / ST40 4-piston calipers (f)
STOPTECH / ST41 4-piston calipers (r)
STOPTECH braided lines
STOPTECH brake pads
SUSPENSION / CHASSIS
KW Variant 3 Coilovers
Drop Engineering adjustable control arms
Drop Engineering adjustable traction arms
Drop Engineering lug nuts
All suspension arms modified by SG Motorsport
EXTERIOR
Seibon TS-Style carbon fiber hood
Seibon carbon fiber pillar bars
Seibon carbon fiber b-pillars
Seibon carbon fiber hatch
Seibon NSM-style carbon fiber spoiler
Custom pearl white / gold vinyl wrap by RAV DESIGNS using HEXIS
Airhead Kustoms body work
INTERIOR
Airhead Kustoms suede upholstering
MOMO Aluminum shift knob
MOMO drifting steering wheel
MOMO Daytona racing seats
Takata Harnesses
Autopower roll cage custom painted gold
Wedge Engineering seat brackets
Dregs longboard custom mounted in trunk
AUDIO / MULTIMEDIA
iPad
Soundstream mpq-4US equalizers
Soundstream Stealth 432 mid-bass amplifiers
Soundstream Stealth-13 subwoofers
Sealed subwoofer enclosure
Soundstream Rubicon components mid range (2)
Soundstream Rubicon components tweeters (2)
Odyssey battery
Hushmat sound dampening / thermal mat
Mishimoto, Drop Engineering, Seibon, Stoptech, APEXI ACT, Amsoil, KW Suspension, Work, Nitto, Momo, Wedge Engineering, Autopower, Takata, AEM, Kali Protectives, Airhead Kustoms, Hushmat, RAV Designs