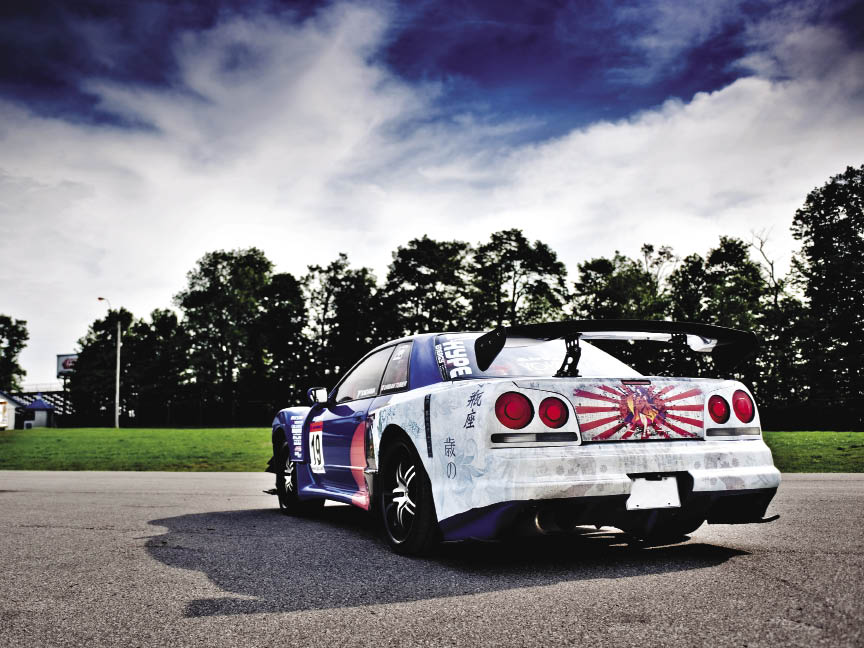 How many of you can think back to the exact second you decided your car shouldn't be stock. Where did it begin? Was it a simple urge to buy some new wheels? Perhaps you are into the scene and bought the car with a plan already in place? For Alp Soykandar of Quebec City, QC, the 1991 Nissan Skyline GTR on these pages was the result of a bet. A simple bottle of Corona was the price, and the cost was more than 1,400 hours of hard work.
Modeled after the Calsonic JGTR Skyline that races in Japan, the body kit was scaled off a toy Skyline that Soykandar purchased. The shell was stretched just over 7 inches on each side, and the hood was opened up for advanced breathing. Front and rear bumpers and lighting from a JDM R34 were welded on and a full carbon wing tops it all off. The body was painted with what Soykandar calls a special European blend blue. Race-inspired graphics cover much of the car, including a half-wrap on the tail end that includes the classic rising sun on the trunk lid.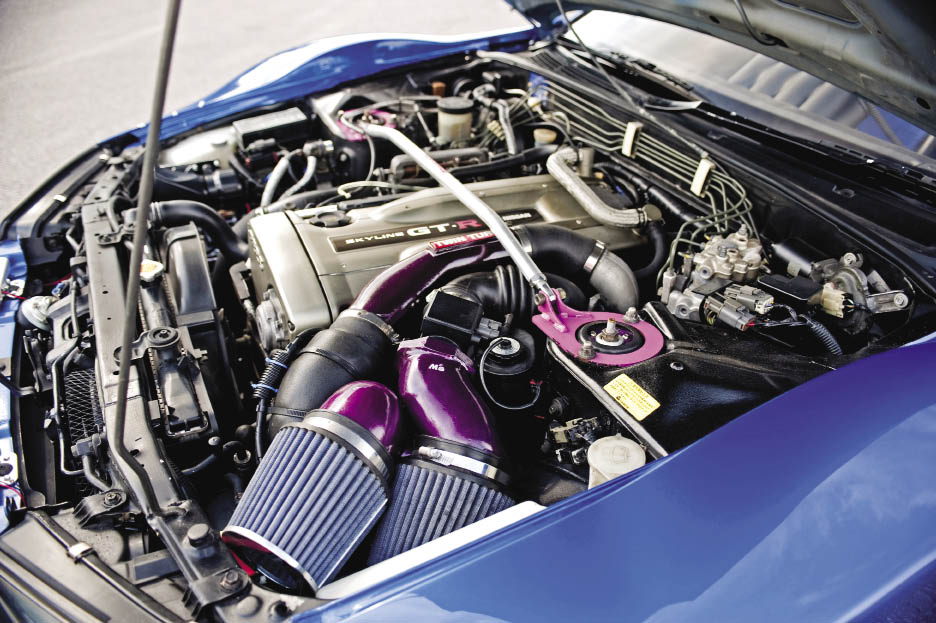 Under the hood lives the venerable RB26. Twin Vibrant filters cleanse the air entering an M's cold air intake system before being ingested, and a pair of HKS blow-off valves keep the turbos spinning. After combustion, a Kakimoto Racing 3" exhaust expels gases from a custom fabricated Y-pipe and catalytic converter. If the airflow additions aren't enough, a Nitrous Express wet system adds some punch and another system sprays the front-mount Calsonic intercooler for maximum efficiency. Keeping it all under control is a Calsonic radiator.
Power is transferred to the transmission via an OS Giken clutch before being sent to 20 inch wheels wrapped in Yokohama S.drive rubber. Underneath, 4-piston Nissan brakes squeeze cross-drilled rotors for maximum stopping ability. A Juran front and Nismo rear strut bar add some stiffness to the chassis while an HKS suspension helps to keep it all on the ground.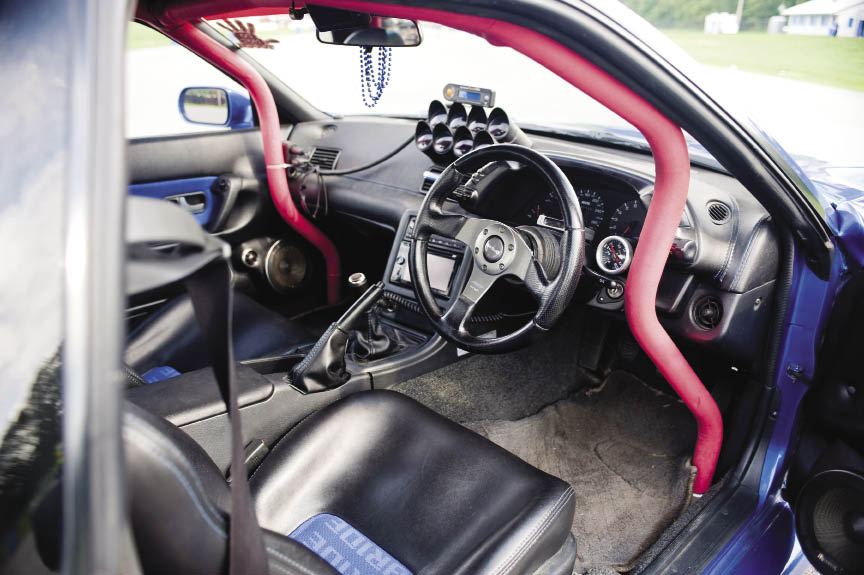 Much emphasis was put on the interior of the vehicle and its electronics. Custom black leather adorns most surfaces, including original JDM racing seats with Bride inserts. Harnessing from Sparco and a Nismo GTR roll cage put a check mark in the safety column. The dash cluster is from a NISMO R34 GTR and includes a 320km/h speedo. That's 200mph for you folks south of the border.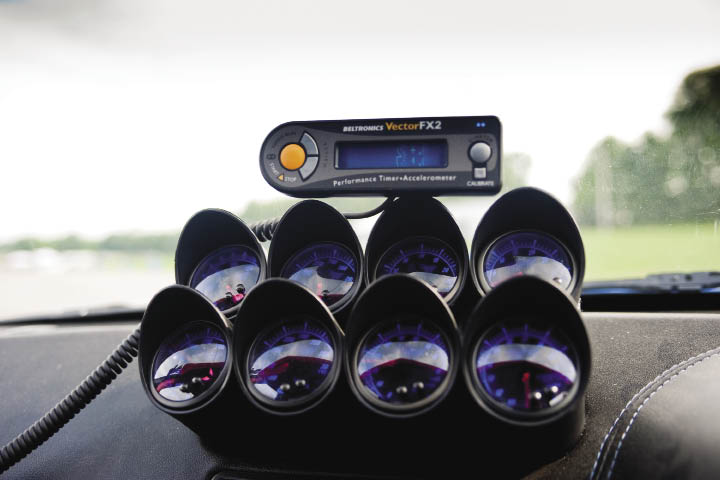 Wanting to keep tabs on every aspect of the vehicle, Soykandar put together an impressive collection of nine gauges. A Blitz boost gauge and eight Glowshift gauges provide information such as oil pressure, oil temp, exhaust and water temp, voltage, nitrous pressure and air/fuel ratio.
Turning to audio, Soykandar teamed with Pioneer to build a solid entertainment system. Heading things up is an AVIC-F90BT 7-inch flip-out navigation DVD receiver. This feeds audio to a pair of PRS-D4200F amplifiers from the Stage 4 series. Each cranks out 75 Watts per channel. One amp drives two sets of TS-C720PRS components while the other gives the beans to a pair of 12-inch TS-W3002D4 subwoofers. A 19-inch RCA LCD TV ensures onlookers are well entertained. The system was wired with Tsunami brand cables.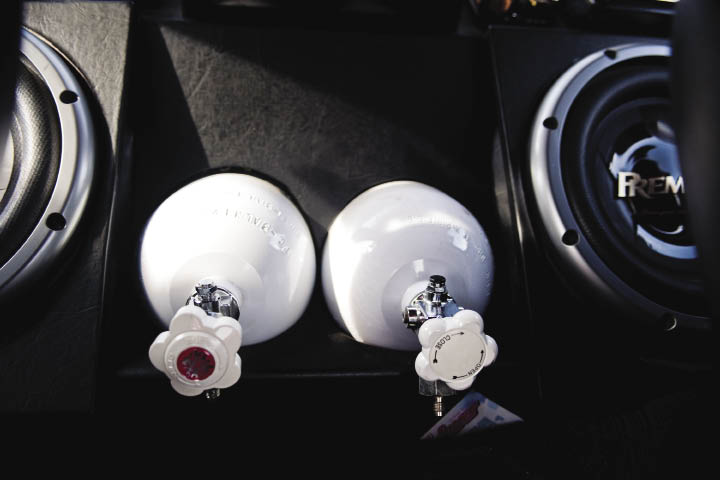 Stepping back and looking at the end result, we certainly appreciate the effort Soykandar put into his Skyline. Countless hours of body work have resulted in a car that stands out from the rest. We are sure his team mates from Team Urban Tuners share our sentiments.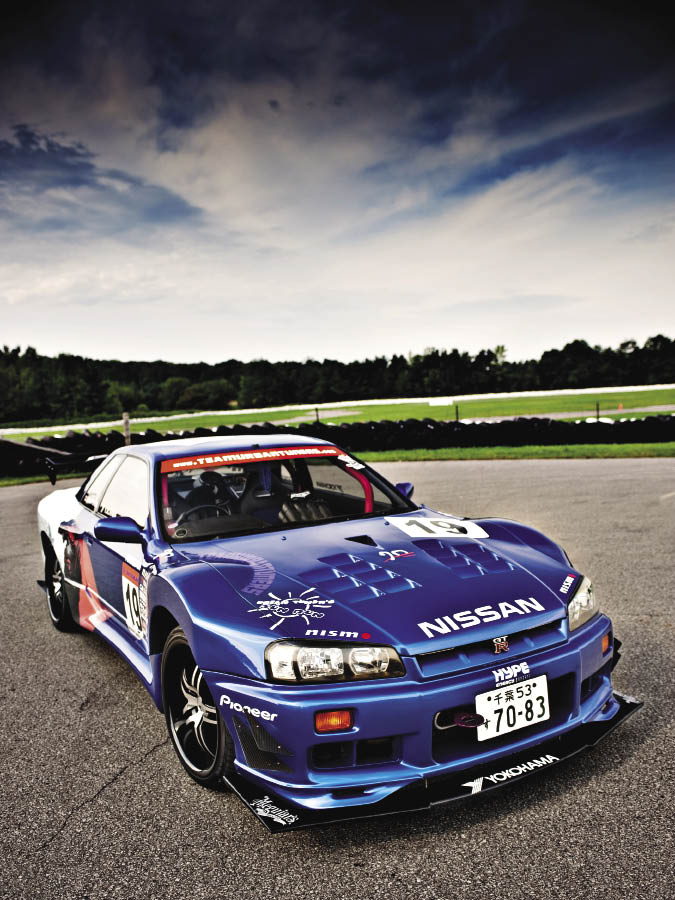 ESSENTIALS
Vehicle: 1991 Nissan Skyline GTR R32
Owner: Alp Soykandar
Location: Quebec City, QC, Canada
Engine: RB26 Spec V, 6 inline racing engine
Club Affiliation: www.teamurbantuners.com
ENGINE MODIFICATIONS
Twin turbo
M's cold air intake system
Vibrant high flow air filters
HKS double BOF's
Kakimoto RACING 3" exhaust line and exhaust and custom made "Y" down pipes with twin flexible and high flow performance cataliser
NX Nitrous Express intercooler nitrous cooling spray system
NX Nitrous Express wet Nitrous system
Calsonic aluminum radiator
Calsonic front mount intercooler
DRIVETRAIN
OS Giken Twin Disk High performance racing Clutch
AUDIO / VIDEO / MOBILE ELECTRONICS
Pioneer AVIC-F90BT Main central multimedia unit
Pioneer Premier Class FC-Ice PRS 4200-F
Pioneer Premier PRS 4200-M (2 units)
Pioneer Premier TS?C720 PRS (4 units)
Pioneer Premier Sub 12" TS?W 3002D4 (2 units)
RCA HDMI LCD 19" TV
Tsunami cables
Beltronics Vector FX2 G-Tag racing system
Carspeed Specialty electronic horn system
Winplus backup camera system
WHEELS / TIRES / SUSPENSION
20-inch IKON
Yokohama S-Drive 275/30/R20
HKS Damper adjustable Racing suspension system
Juran front upper strut bar
Nismo rear strut bar
EXTERIOR
Custom handmade Calsonic JGTR racing wide body kit (7 ¼" both sides)
Custom handmade Calsonic JGTR racing hood with air inlets
Veilside rear fender body kit (customised to R34 conversion)
Custom hand sculpted Calsonic JGTR racing hood
European special blend blue paint
Imported original JDM R34 frond end body welded on 32 chassis
Imported original JDM R34 rear end body welded on R32 chassis
JDM full carbon fibre racing tail wing
Custom carbon fibre side skirt extensions
Custom carbon fibre front lip ground effect extension
Nismo R34 GTR JDM imported Head lights
Nismo R34 GTR JDM imported rear lights
GoPro BeHero 960 Camera set
INTERIOR
RÄZO Type 400 shifter and carbon fiber shifter knob
MOMO Race racing steering wheel
Custom black leather interior, Blue European seams with BRIDE imported original JDM inserts
Original JDM Racing seats with BRIDE imported JDM inserts
SPARCO 4 point racing harness
Nismo GTR JDM role cage
Custom central dash Gauges cluster
Nismo R34 GTR main cluster with 320 Km/h. Speedo
Blitz boost gauge
Glowshift Performance Gauges: Elite 7 Color series, oil pressure, oil temperature, exhaust temperature, water temperature, transmission temperature, voltmeter, 2 Nitrous, air-fuel, wideband, boost
Blazer LED Axxent Series day driving lights