How Luke Skalisius turned tragedy into gold, winning him the title of 9th Annual Tuner Battleground Champion.
Subaru's GD chassis holds a special place in the hearts of many enthusiasts. From 2002 to 2007, Subaru was producing sports cars that were truly a one-of-a-kind staple of the era. Nothing like them had been seen before, and certainly nothing close to them came afterwards. The unique styling and body shape of the GD still evokes emotions of Subaru's rally and motorsports heritage of the era. For these reasons and more, Tuner Battlegrounds 9 Champion, Luke Skalisius, had always reserved a soft spot for the second generation of WRX and STi models.
Even before he could drive, the Subaru GD was his "realistic dream car" - something poster-worthy that was still obtainable within reason. Upon exiting high school and entering a career that allowed him to realize some of those dreams, he picked up his first one: A 2004 Subaru Impreza WRX in Platinum Silver Metallic. It was this car that would teach him countless valuable lessons, as well as the mechanical know-how to keep one in good shape. Of course, that didn't come without its fair share of lessons learned the hard way.
A few blown engines, a transmission given the grenade treatment at the drag strip, and a handful of setbacks into ownership, Skalisius was starting to feel a bit deflated. That was until he met his now-fiance, Maya. She lit up with excitement to work on the WRX the same way Skalisius remembered doing when he first started, and that re-ignited the spark of motivation for him. After some long nights and hard work, the car was back up and running, and he was ready to aesthetically change the car. Some fender flares and a full Air Lift Performance 3P system were installed in no time.
Unfortunately, disaster would strike again. All of the blood, sweat, and tears that went into that build were obliterated in an earth-shattering hail storm, just when Skalisius was beginning to like what he saw. Faced with a decision to make about the future of the car, he had some thinking to do, and while he was browsing online, his decision was practically made for him. He had stumbled onto a 2004 Subaru WRX STi for sale, and this one was painted with a rare color option, Java Black Pearl - the color he had dreamed of when he first started, and the very one you see on these pages. Taking this as a sign, he pulled the trigger, and after a long trip to bring it home, it was time to swap his air suspension system to the new chassis.
An added bonus to the new chassis was the fact that it came with a fully built 2.7L engine! Making a potent 557 horsepower at all wheels, the drivetrain of the new chassis was already done for him for the most part. Custom built heads, an upgraded fuel system, and a rotated Precision Turbo kit ensured plenty of power, and a custom built 6-speed manual transmission with straight-cut gears, carbon fiber driveshaft, upgraded axles, and custom differentials made sure he could put that power down reliably.
As this new build progressed, disaster struck once more. Another hail storm. No, we're not joking. This time there was no hesitation or second-guessing, and Skalisius immediately brought the car to his friend at A-Rod's Autobody Shop for repairs. During the downtime, he did some research on visual styling options for the car, really emphasizing his desire to push the boundaries of a car that had been done the same way so many times before him. Among the first purchases after his deep-dive were a set of 18x12.5 CCW D11L wheels, and the 80mm ABW Motorsports flares that would allow those wide wheels to fit.
With the flares and wheels fit up nicely, he was ready to drive around for a bit, and kept gathering parts for his ultimate vision along the way. Having fun driving the car and making memories with friends, Skalisius says it was getting harder to find time to keep building, until he heard that PASMAG was putting on a T365 event at Formula Drift. Now he had a timeline. Skalisius and his friends at Dream Dash Garage immediately got to work.
The group of them simultaneously tackled bodywork and paint prep while assembling the clean and simply modified interior at the same time. By this point, Skalisius was sending teaser photos to some of us at PASMAG to let us know we could expect him at the show. With everything finally painted, it was assembly time. With just hours to spare before the show began, things were looking good, and Skalisius rolled into the show to put the very last finishing touches on the car right there in the lot.
"Finally, this was it," he tells us. "My dream vision of a 2004 Subaru WRX STi was together and sitting there - it was like a dream come true." All of that hard work clearly paid off, as that event propelled him up the ladder to the championship battle, and the rest is history. Skalisius extends a heartfelt thanks to everyone who helped him along the way. Teamwork truly does make the dream work.
Photography by Jacob Peters (@slap_stl)
Luke Skalisius' 2004 Subaru WRX STi is featured in PASMAG #170. Click HERE to order.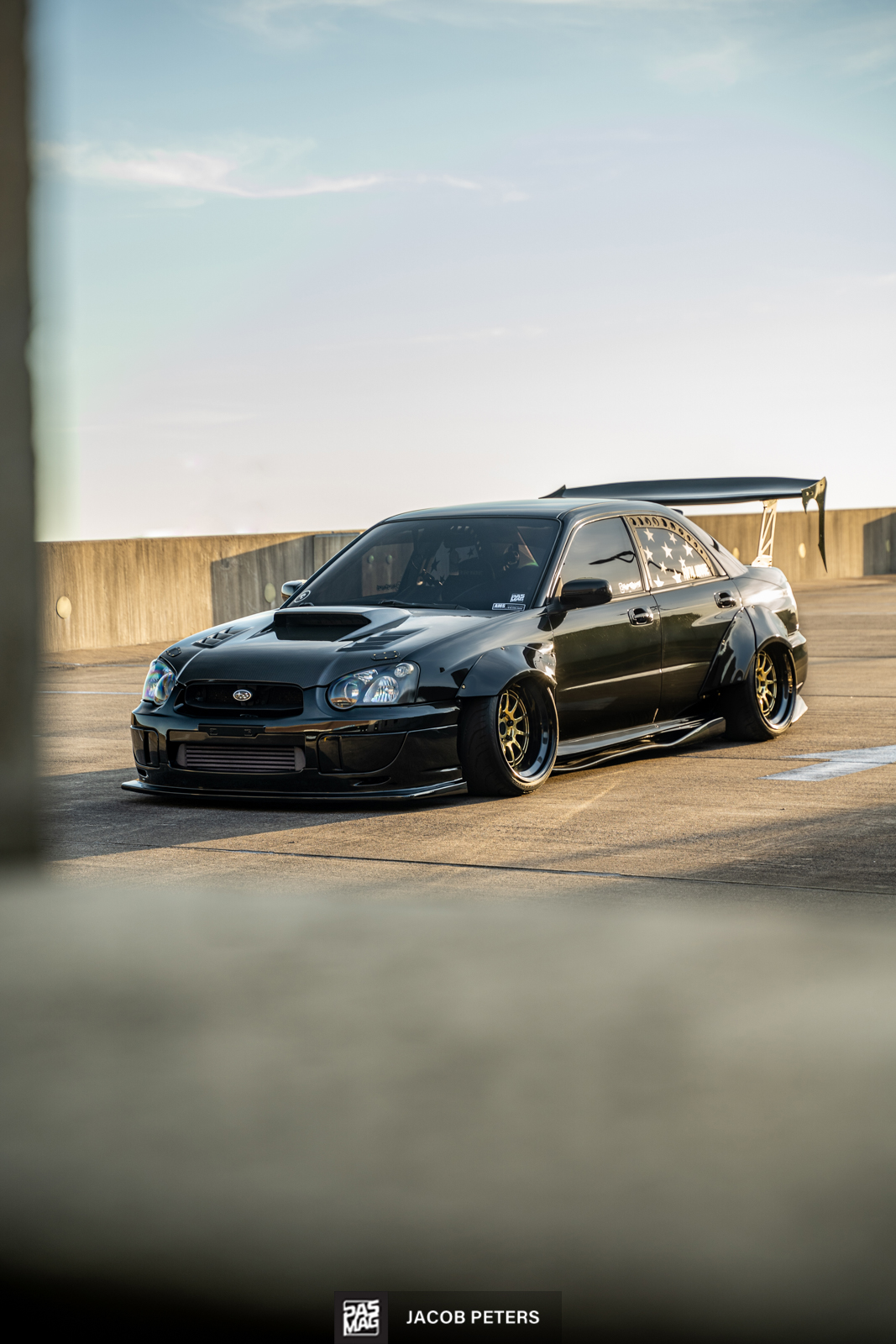 ---
ESSENTIALS
Owner: Luke Skalisius
Location: Granite City, Illinois, USA
Vehicle: 2004 Subaru WRX STi
Horsepower: 557 whp
Club: DreamDash
Social Media
Facebook: /lukas.skalisius
Instagram: @fancystancysti
ENGINE
2.7L closed deck block + Custom built heads + Upgraded fuel system + Precision Turbo turbocharger + Rotated turbo setup + Injen (FMIC, charge pipes) + COBB Accessport V3 + GReddy turbo timer
EXHAUST
DRIVETRAIN
Custom built 6-speed transmission w/ straight-cut gears + Driveshaft Shop (Carbon fiber driveshaft, axles) + Custom differentials
WHEELS / TIRES / BRAKES
CCW D11L wheels - 18x12.5 (f/r) + Federal RSR tires - 295/30R18 (f/r) + Brembo (calipers, drilled and slotted rotors)
CHASSIS / SUSPENSION
Air Lift Performance 3P air suspension system + Cusco arms
EXTERIOR
ABW custom extended flares + S2 V3 front lip + RPG carbon fiber ducktail spoiler + BattleAero wing w/ custom end plates + Voltex rear diffuser + Duckbill rear window spoiler + Prova yellow lens side mirrors + ily.alwyz V2 gold mirror visors + Java Black Pearl custom paint + System X ceramic coat + Carbon fiber hood + Dress Up Bolts Gold Titanium hardware + JDM v7 headlights + Illumaesthetic LED tail lights + Diode dynamics LED interior bulbs
INTERIOR
Bride Low Max seats + Takata racing harnesses + Sparco harness bar + EUDM Gentlemen's Edition STi (door cards, rear seat) + Prova yellow rearview mirror lens
SPONSORS
Dream-Dash + AMS AutoDetailing + Enthusiast Motorsports + Dress Up Bolts
---
PHOTO GALLERY