Photography by Jayson Santoyo
---
Alex Ching purchased the bare chell of this 1989 Nissan 240SX in 2011 and, though it looked like a wrech, he and his friends went right to work to bring out its full potential inspired by past builds.
So what makes this build different from the others? What makes this car fall into the rare category of "built not bought?" Craftsmanship. The tedious craftsmanship and dedication that lies behind the custom parts and project as a whole puts Ching's 240SX at the top.
The 26-year-old car skeleton had no interior whatsoever and was completely covered in rust. Off to the side was a rebuilt motor, while the transmission sat in the trunk. Though it looked like a wreck, Ching and his friends went right to work and brought out its full potential. Within months of the initial purchase, Alex had rebuilt the car by adding a new S15 front end and a turbo. Most S-chassis in Hawaii get fitted with the infamous SR20 from Japan, but Ching decided otherwise. Having previous experiences with other 240SXs, Alex chose to turbocharge the KA and stick out from the normal fanboy fetish.
"Everyone does SR swaps in Hawaii," says Ching. "My KA-T is just as powerful with fewer headaches."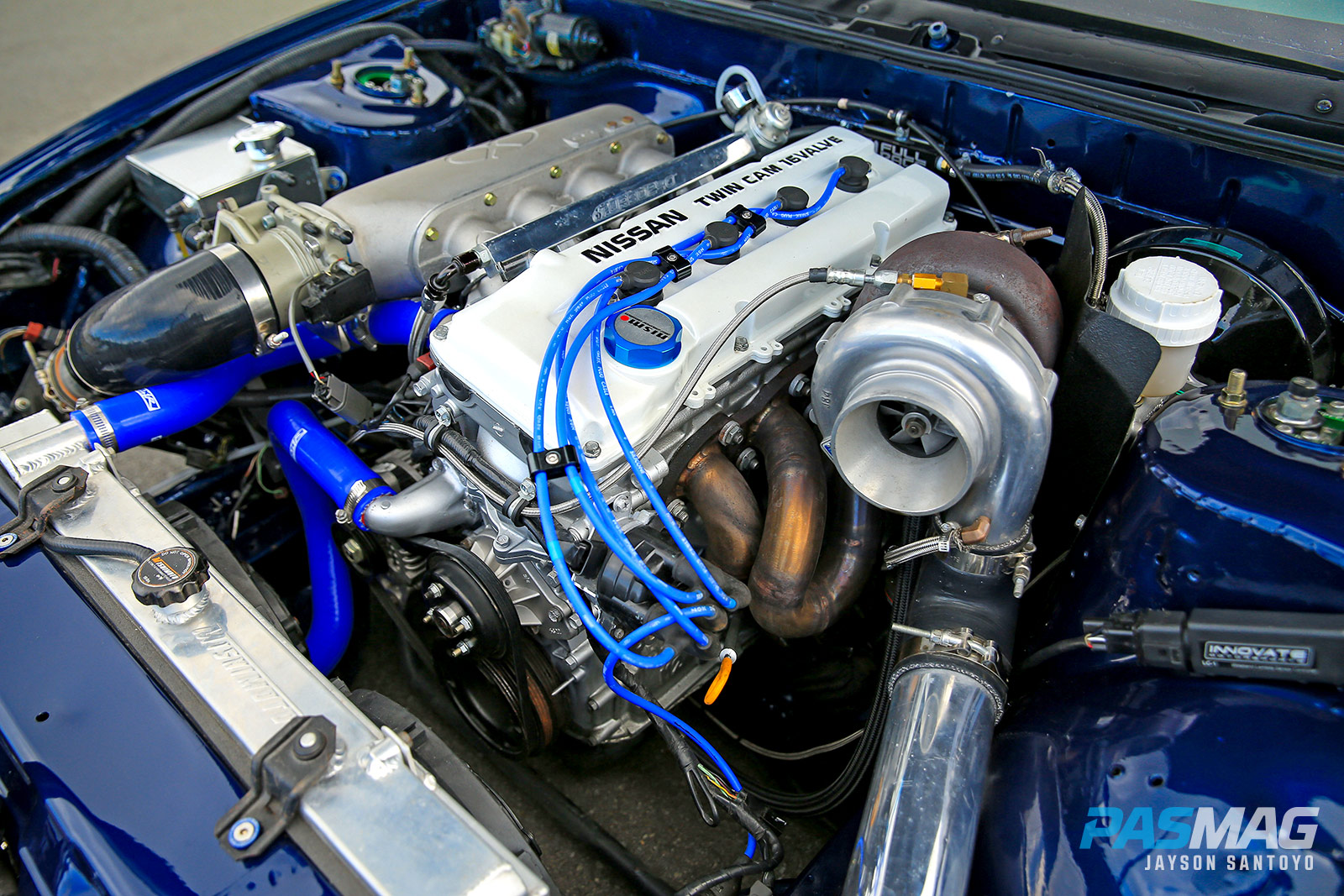 In America, 240SXs come factory-equipped with a KA24, which is 0.4 liters bigger than the JDM SR20. A great advantage with keeping the original KA motor is that parts are available and usually readily in stock if needed. Living in Hawaii, most things may take a while to arrive, so accessible parts were in Ching's best interest. The intent was to hit numbers around 300 horsepower. With the new Xcessive intake manifold, 550 cc RC top feed injectors, Super T70 turbo, DOC race exhaust manifold and a three-inch XS intercooler, reaching over 300 horsepower wasn't even a problem. Ching's 240 actually makes over 400 horsepower now!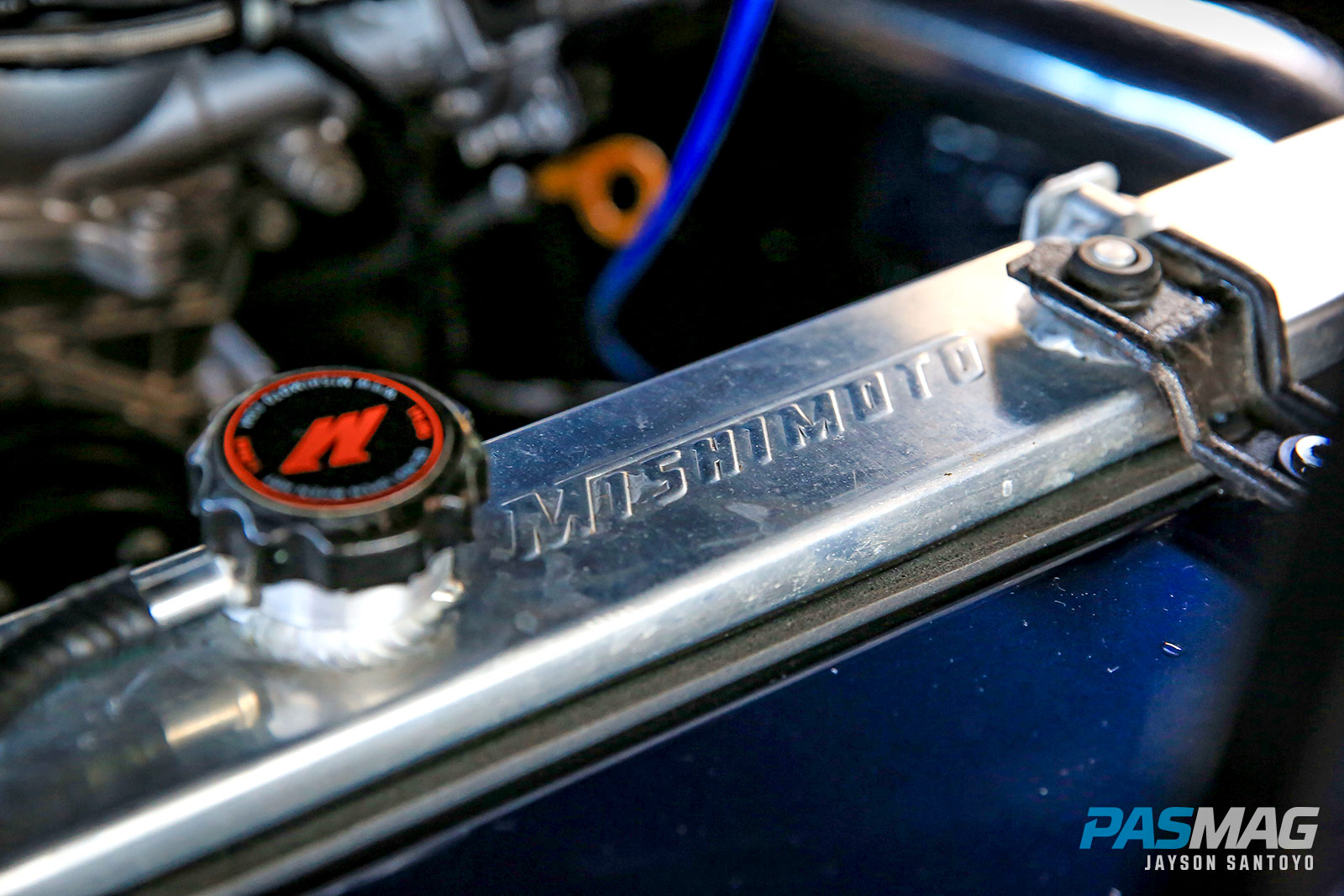 The custom fitment and paint was done by hand at home by Ching himself. His backyard garage was set up with a makeshift paint booth made from a portable tent and canvas. Even after fresh paint and switching between two sets of wheels, the 240SX did not place in any of the car shows it was entered in. Unsatisfied with the outcome, Ching decided to go a different route. He sold the S15 front end and settled on a JDM S13 front end. That didn't last long after an accident, leaving him with a faceless chassis and condemned to retirement for over a year.
"Five years ago, after my accident in another 240, I told myself to stop working on cars," Ching recalls.
Yet, the love for the scene kept him against his word. After seeing a photo online of an Odyssey conversion on an S13 just like his, he was inspired to rebuild his car again. Ching was going to build the famed Odyvia.
In addition to working full time, he worked various side jobs to help fund the parts he needed. No job was too much for Ching; he gained skills for painting cars and making minor mechanical repairs in and out of an auto body repair shop. Prepping and painting over 10 cars by himself in his backyard also gave him the experience he needed to take on the Odyvia project.
Ching welded together his own all-metal front fenders using scraps from the S13. The hood was shaved to fit the Odyssey headlights. The rear fenders were pulled and flared to accommodate the flush stance of the aggressive CCWs. He also fabricated an S13 fastback third brake light on his coupe trunk. Using all metal pieces reduces the risk of paint cracking, which is prone to happen with fiberglass parts. This was necessary considering how low the 240 was going to be set on its new Fortune Auto suspension.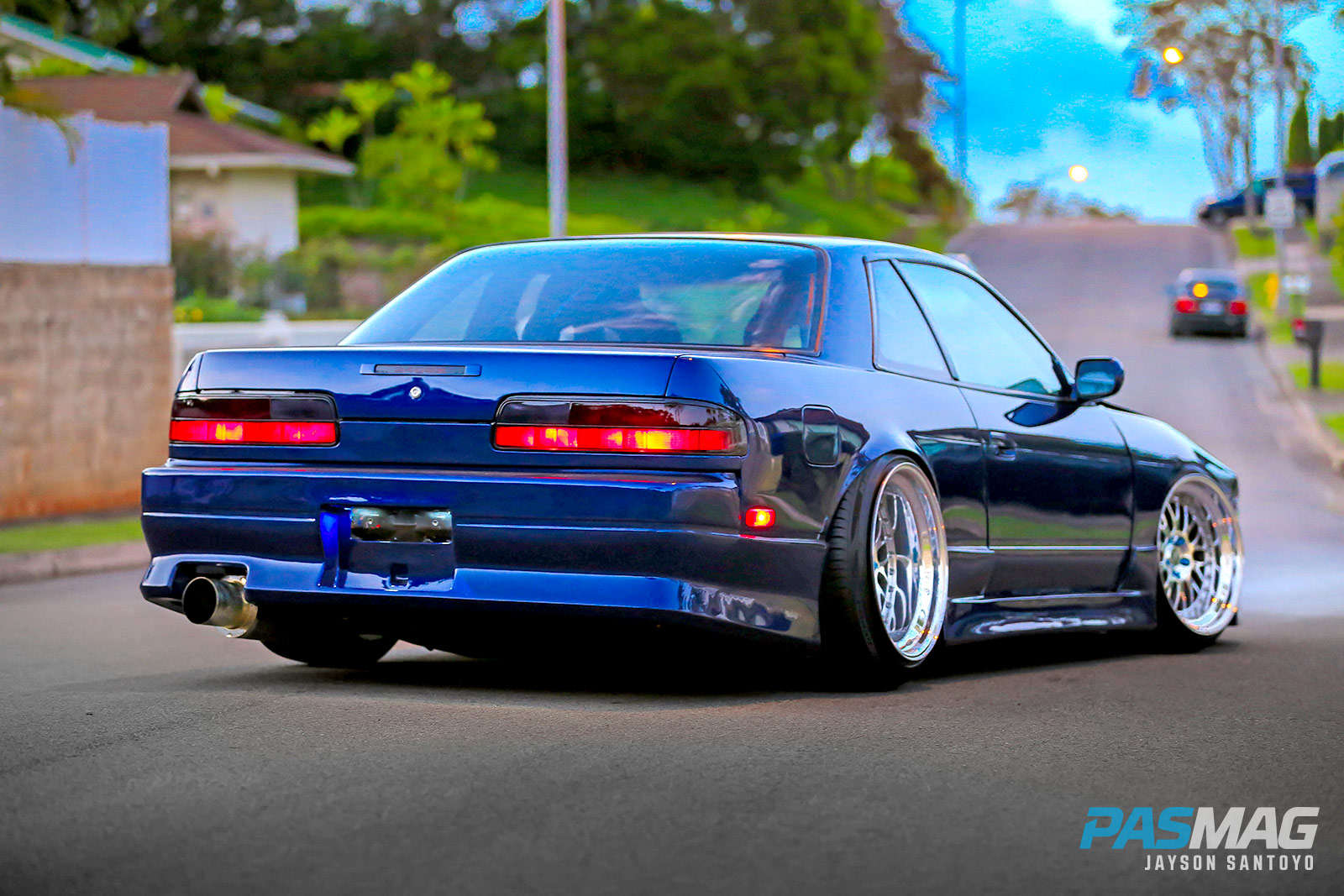 Sitting as an empty shell, within three months, Ching's goal was to enter his car in HIN December 2014. Even after a career change into Civil Engineering, Alex spent most of his off-duty hours prepping the 240. Thanks to his friends and a hefty sponsorship, the 240 quickly came together. The paint and bodywork was mostly finished, the engine was overhauled and equipped with new parts. OEM Nissan glass, Sparco interior parts and the fourth time re-barreling the original CCW LM20s he started with rounded out this iteration of the build.
"If I was never into painting, my car would have have never looked like this," states Ching. Even before wet sanding and buffing, the new blue paint looked flawless, with straight bodylines and no trace of orange peel."
Of course, rushing a build like this comes with consequences. His backyard paint booth was fighting with the stormy, tropic Hawaiian weather, so all work toward the project was put on pause. Ching felt if the car wasn't up to his standard, he didn't want to showcase it. As such, the 240 wasn't finished on time for HIN 2014, but a new goal was set as the Odyvia's debut. The new goal was to take time to perfect the Odyvia to enter Hawaii's biggest car show, Spocom, in August 2015.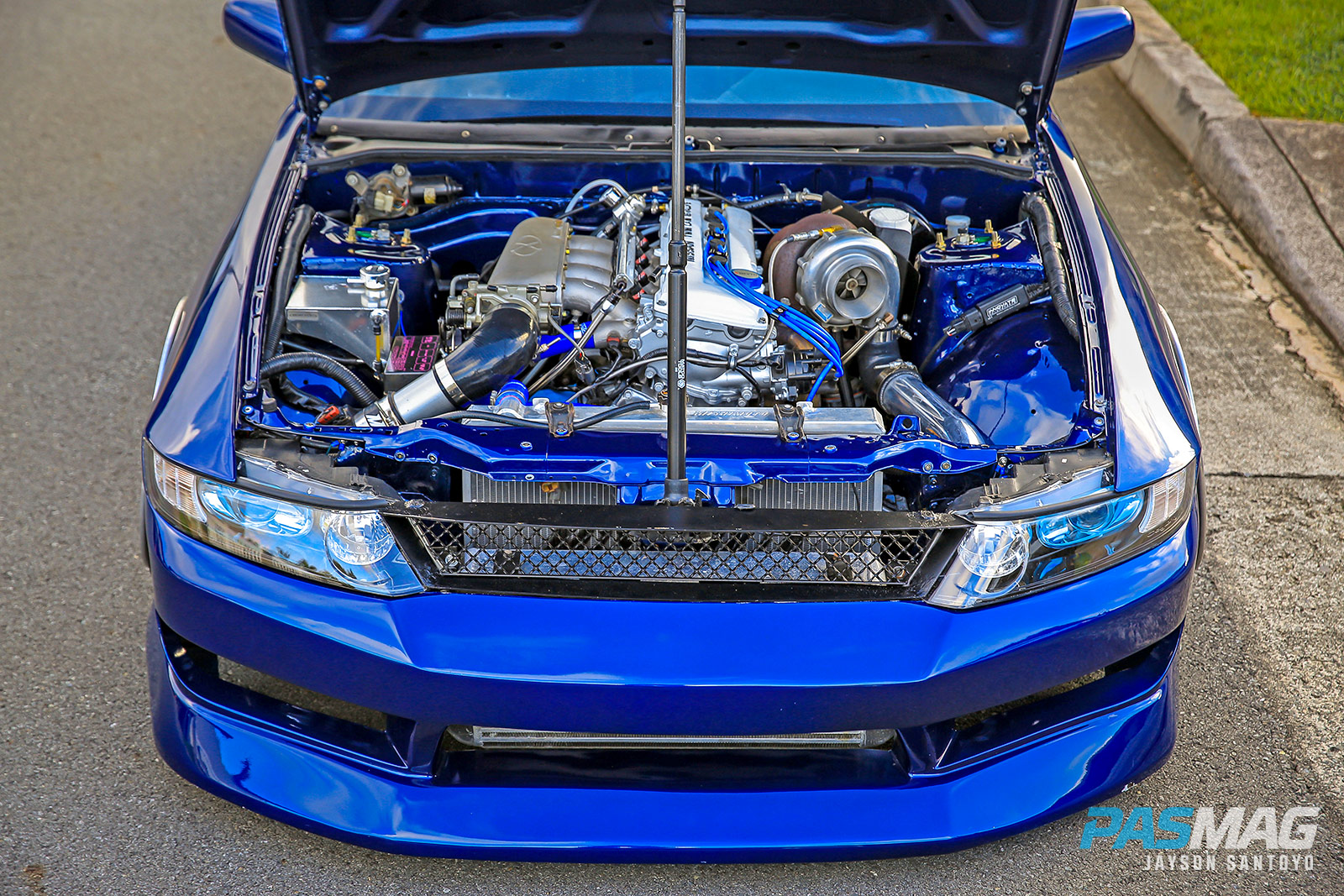 A three-month build would've been amazing considering where and how the car was assembled, but quality was the highest priority. Ching fine-tuned the car and repainted pieces that he thought weren't exactly perfect, and at Spocom Hawaii 2015, Alex's KA-T Odyvia took home first place for Best Nissan and the Super Street award.
"My car never placed at previous car shows, so one of my dreams was to win and I finally did it thanks to my friends," Ching says.
A backyard build like Ching's Odyvia is an inspiration to all enthusiasts around the world. The fact that it came together through great comradery and support of his friends just makes Ching's success even sweeter.
"I didn't come up with everything," Alex says humbly. "I had my friends guide me with their second opinions about plans for the Odyvia. If I needed something, my friends would help me and we wouldn't charge each other or expect anything in return."
The perfect example of the Aloha Spirit in Hawaii.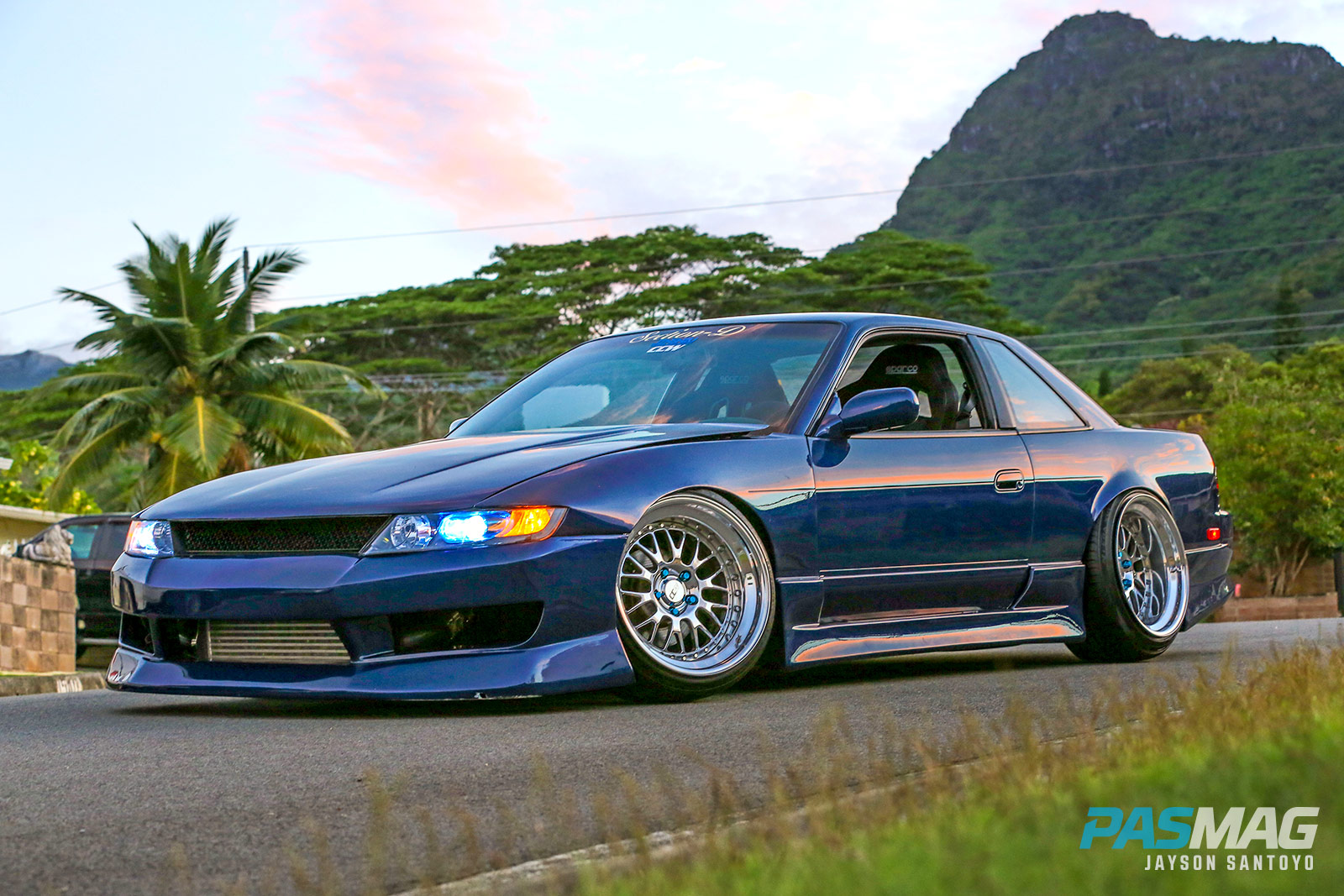 ---
ESSENTIALS
OWNER: Alexander Ching
VEHICLE: 1989 Nissan 240SX
LOCATION: Kailua, Hawaii, USA
ENGINE: Nissan KA24DE 2.4L I-4
HORSEPOWER: 400+ (est.)
SOCIAL
Instagram: @_alxching
Photographer: @jznsn2u
ENGINE / PERFORMANCE
Super T70 turbocharger
XS Power intercooler
OBX Racing hoses
Blitz VD blow-off valve
Turbonetics wastegate
Infiniti Q45 throttle body
Xcessive Manufacturing intake manifold
Turbo 240 fuel rail
AEM fuel pressure regulator
Walbro 255 fuel pump
RC 550 cc top feed fuel injectors
NGK BKR6 spark plugs
ECU tune
EXHAUST
Apexi N1 Turbo exhaust system
DOC Racing header
Custom down-pipe
DRIVETRAIN
Competition Clutch (Stage 3 clutch, 6-puck flywheel)
WHEELS / TIRES / BRAKES
CCW LM20 wheels – 18x11 (f), 18x12 (r)
Nexen SU1 tires – 225/35 R18 (f), 245/40 R18 (r)
Infiniti Q45 2-piston calipers (f)
CHASSIS / SUSPENSION
Fortune Auto 500 coilovers
SPL RUA S13 (rear upper control arms, lower control arms)
EXTERIOR
Spirit Rei Odyvia front bumper
Vertex rear bumper
Custom (grille, all-metal fenders, third brake light, hood, rear quarter panels, trunk)
Honda Odyssey RB1 headlights
HID conversion
Blue paintjob
INTERIOR
Nismo shift knob
Sparco (Lap 5 Street steering wheel, R100 seats, 4-point harnesses)
Gauges (boost, temperature, wideband)
SPECIAL THANKS
PASMAG
Jayson Santoyo
Brandon Chang
Cory Chung
Colby Mira
Candace Izumi
PHOTO GALLERY