You compete, you lose. You learn, you make yourself broke. And you couldn't be happier.
There's a turning point when something that started out as a hobby becomes a lifestyle; when something you like or are interested in becomes something you love. Tuning vehicles is such a great example of that. You start out small and work your way up until the scene eventually swallows you whole - not that you put up a fight to stop it.
Not only is Brian McCann a textbook example of someone who has dedicated his life to the scene, he's also built the most insane and exclusive Nissan 350Z that we've ever seen. It's no wonder that he made it all the way to the final round of Tuner Battlegrounds and was able to show his car off at SEMA. It fit right in amongst all the other "out-of-this-world" builds at the show. I might have even seen some of them blushing.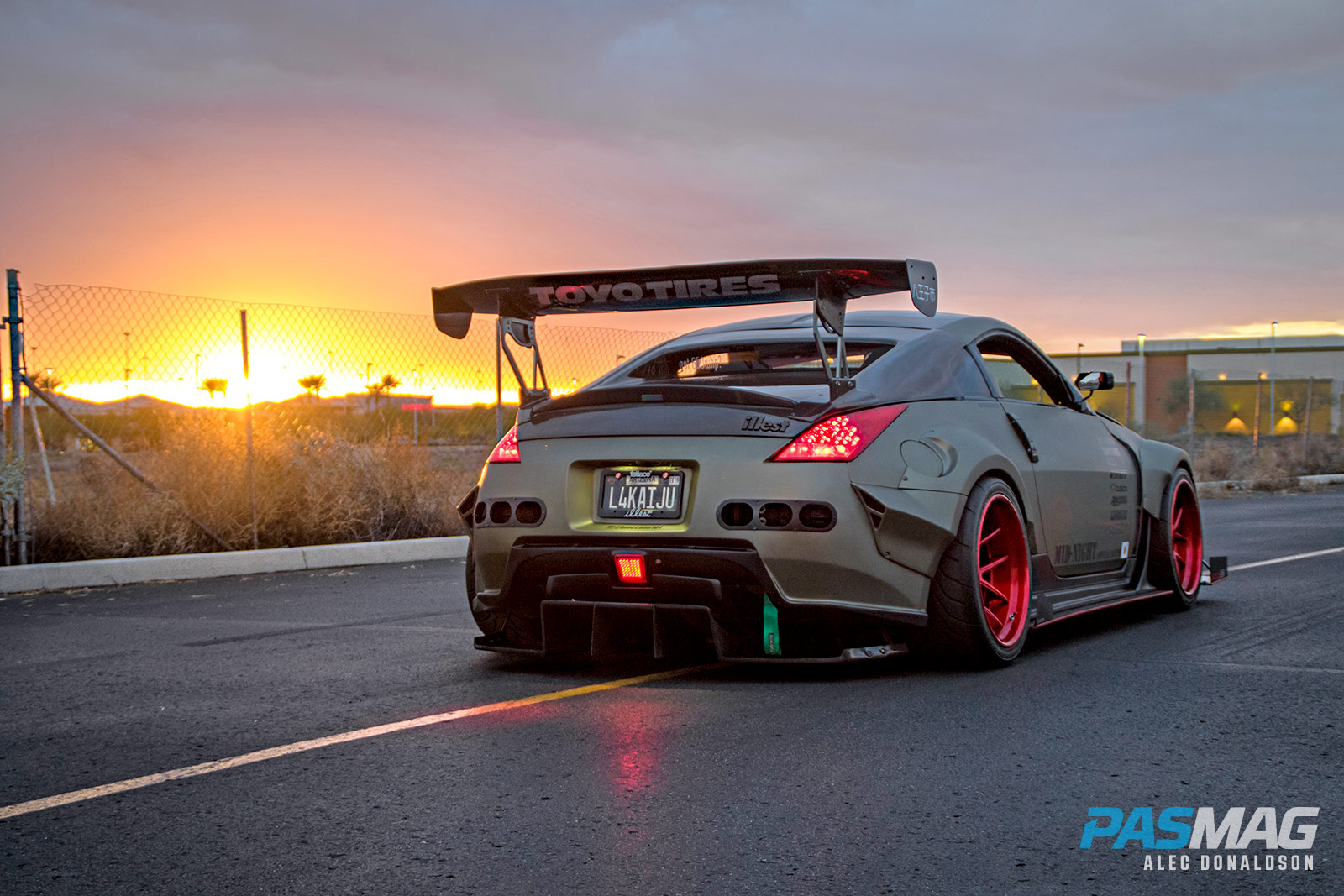 "I'm a normal, part-buyer and car-builder kind of guy that found himself getting connected into the industry," says McCann. "Right now, I own AZEXILED, which is a small, relationship-based reseller and importer of JDM parts."
Stardast, if you didn't know, is the name of wide hip kit on McCann's Z and one of the companies he distributes for. He was actually among the first three people in North America to get the widebody kit for his 350Z – one owner in Las Vegas, Al Vincent in Manitoba, Canada (also a TBG competitor) and McCann in Arizona. The transaction ended with McCann receiving an exclusive kit and a working relationship with Stardast in Japan.
"There were many late night/early morning messages to Japan, and after overcoming our communication barrier, I ended up becoming great friends with Kenichi Nezu, CEO of Stardast, and actually became their global distributor for everywhere outside of Japan," McCann recalls.
Before the Stardast-clad 350Z that most of you, and everyone on the SEMA floor, are familiar with, McCann took it through a couple changes. The first iteration was built up with exclusively aggressive Weber parts in 2010 and 2011. The next major change came in 2012 and 2013 with the addition of the controversial VeilSide kit, flat black paint job and what McCann painfully describes as a "two-year engine build saga."
What most don't realize is that McCann's 350Z has been with him for the long haul. As a guy in his mid-20s, who just started making a bit of extra money, he purchased the car brand new off the dealership lot in 2005. It started out with small things, like stickers and eventually steering wheels, but we all know how quickly that can snowball.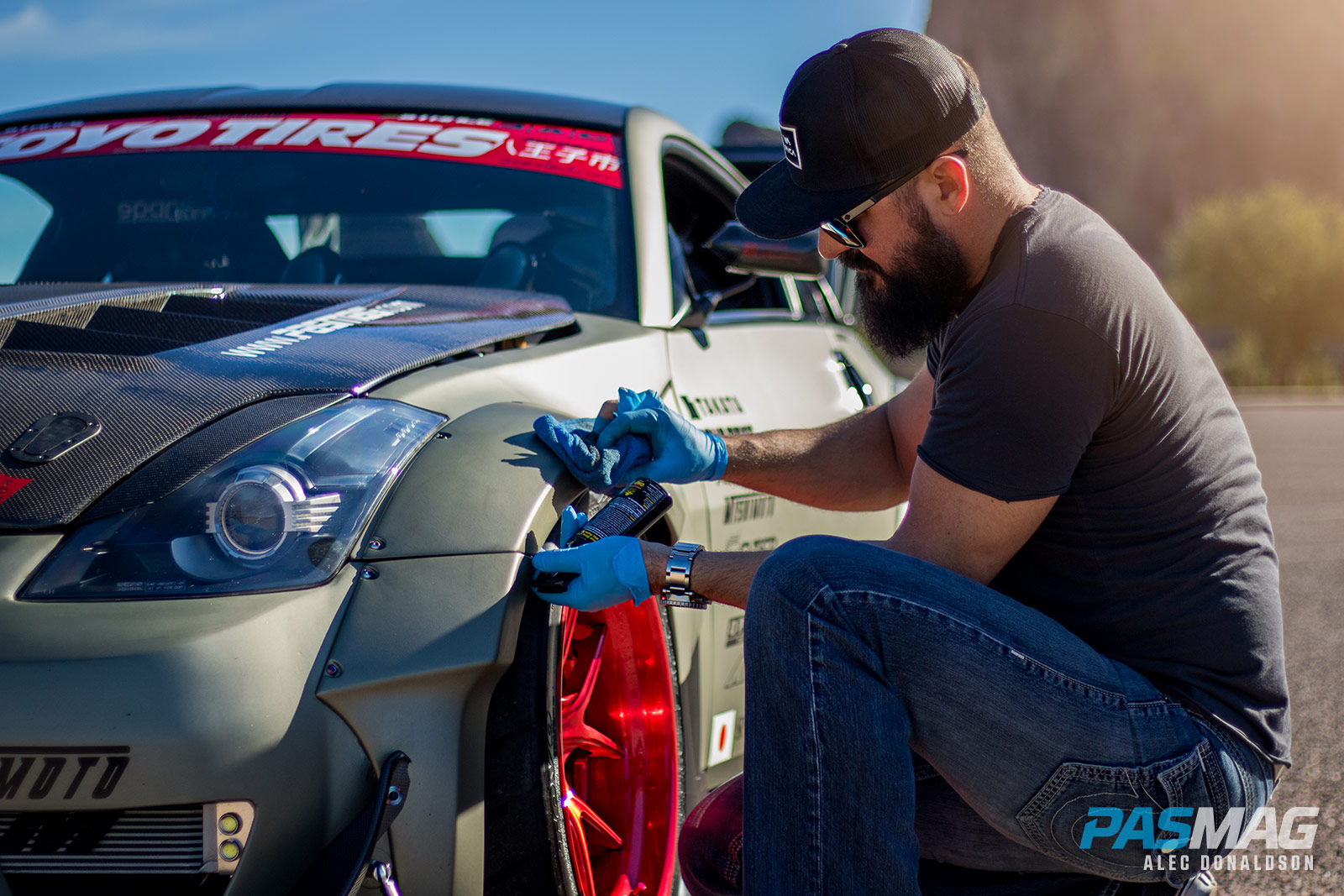 "You do basic stuff because it looks good enough and it's cool for you and keeps things simple, but then that one cool mod will roll around that brings up the level of the car," McCann explains. "Then you sell everything you put on the car and level up those mods to match."
After deciding he was over the VeilSide kit and acquiring the Stardast one, it was time to level up the rest of the car to match the transformational widebody. McCann enlisted the help of his friend Niko Markovich, who just so happens to be a very talented rendering artist. Through Markovich's skill to render accurately, McCann was able to see which parts would mesh and which ones wouldn't before dropping the cash on them to be modified by Division Autosport and Extreme Auto Concepts. Through this whole planning and design process, McCann took huge inspiration from two particular cars that he spotted at the Tokyo Auto Salon in 2014.
"The car itself is a blend of the two cars that Stardast had at Tokyo Auto Salon," reveals McCann. "They had their white 350Z sharing a booth with the FD RX-7 from Car Shop Glow. I have pictures of both of them together and made mash-up pictures of my car as a literal blend between the two."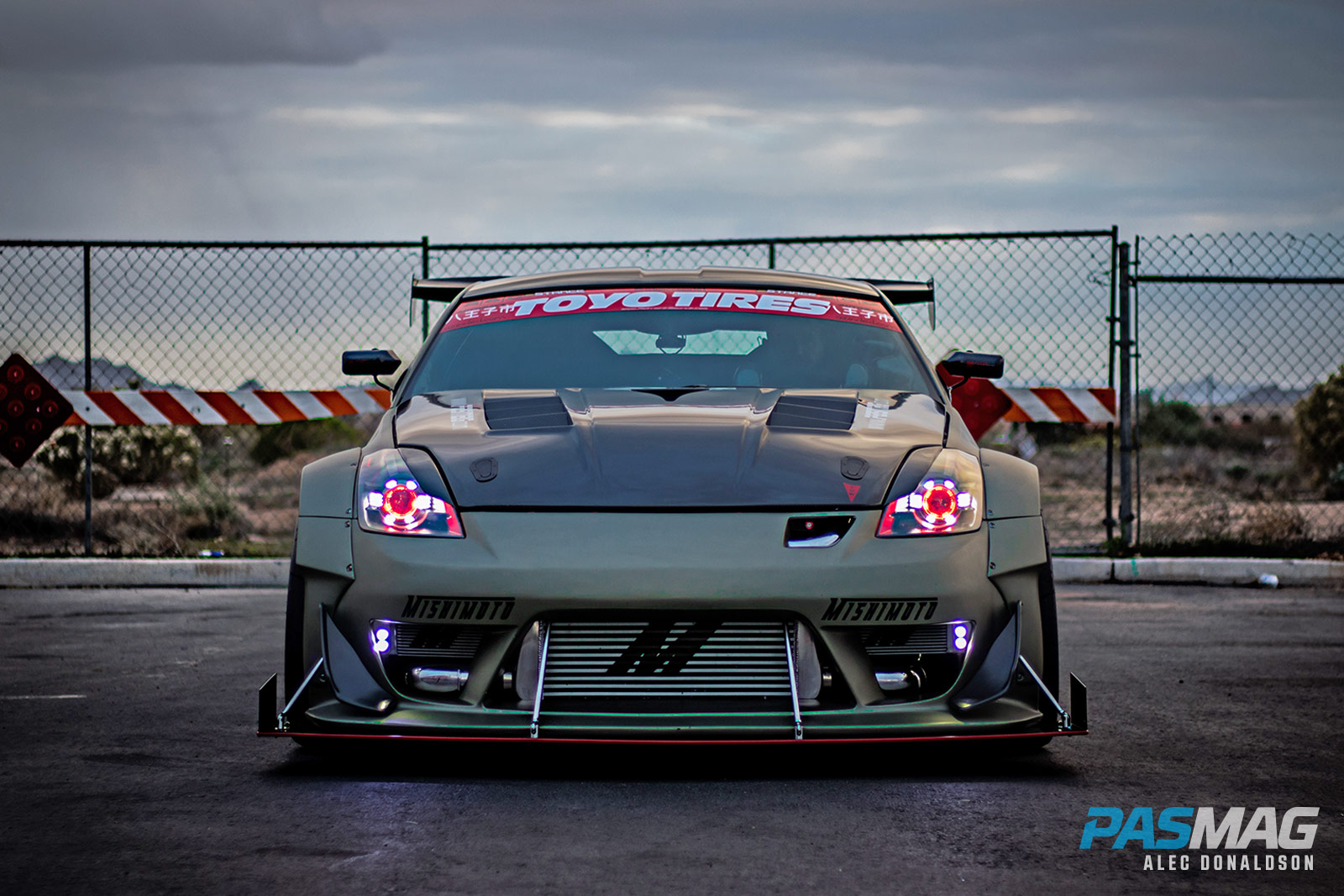 Inspired by the RX-7's radical splitters and canards, McCann set out to give his Z the same feel, but with no splitters on the market for the Z that fit with his aggressive vision, he ended up taking the good old DIY approach. Taking sheets of alumalite, McCann cut them to proper size and design for his car, made them chassis-mount for extra stability and bent them into shape. Best of all, it's all functional!
"I didn't want to build a car that looks like a race car, but have it not function like one, so nothing on the car that looks functional is skin deep," McCann reveals.
On top of the handmade splitters on the front and sides, Garage Mak GT wing, C West canards, and even then Garage Kagatoni diffuser – originally meant for an FD RX-7 – are all functional pieces on the 350Z. It's a good thing, too, because the built engine, with parts from names like Brian Crower, CP Pistons, Mishimoto and Precision Turbo, combine to give McCann 650 horsepower and 650 lb-ft of torque. It's best to make sure the car is planted in any way possible.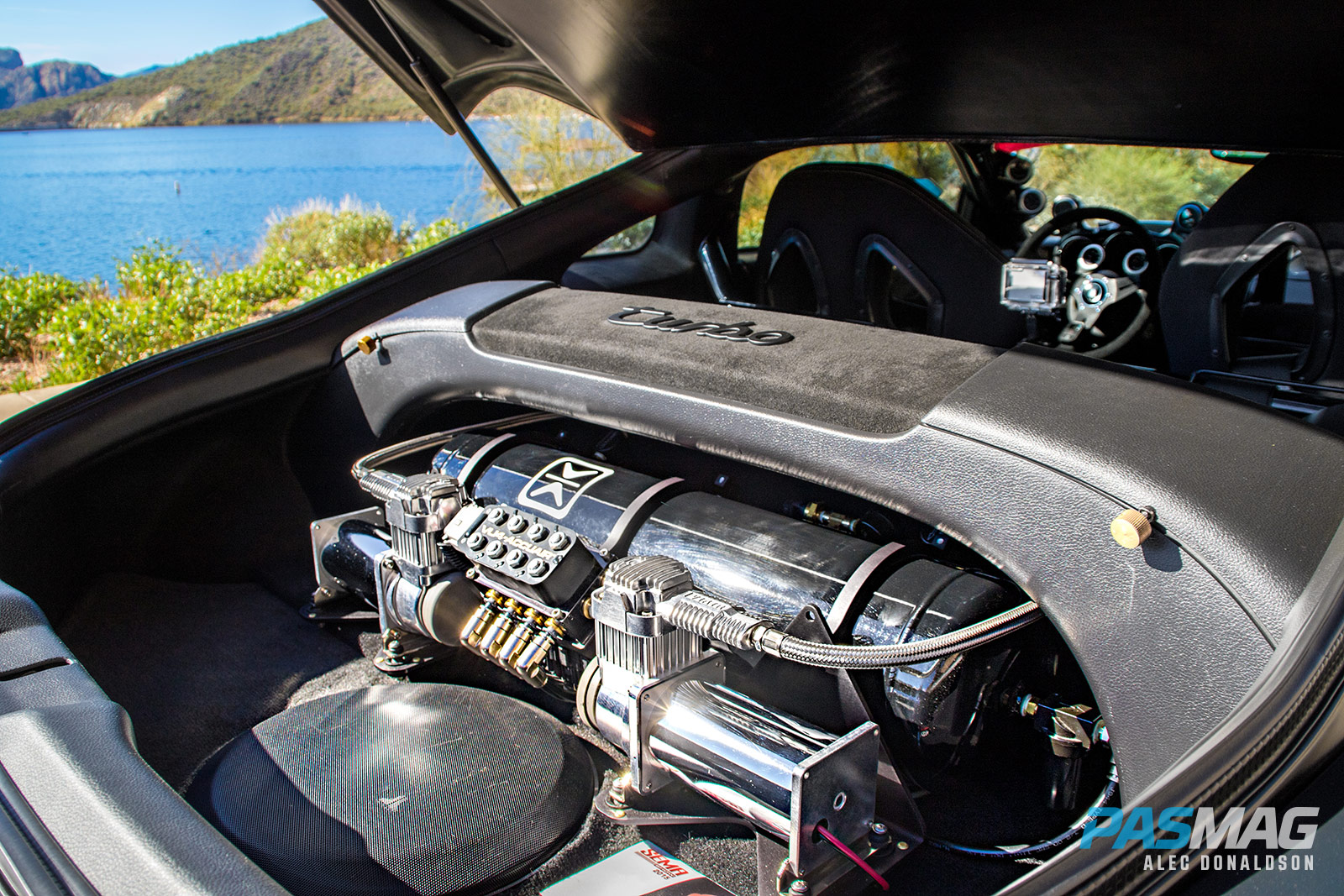 After drooling over rare JDM parts and taking many a picture of the Niche Targa three-piece forged wheels, SEMA show goers next turned their attention to the outstanding body on the Z. Under the Stardast over-fenders and Avery Dennison Midnight Sand wrap are more imported beauties, like the JP Vizage front bumper, Do Luck rear bumper and Amuse 380RS fenders and skirts. Technically, you could buy all of this and put in on a 350Z, but it would never look anything close to McCann's Z. That's because of the extensive custom work it took to satiate his artistic vision.
"You can't just buy the same stuff I did and put it together," McCann says. "It's not a question of just filling a gap; it's sectioning multiple pieces, cutting the wheel arches out of the front bumper and moving them forward or backwards to create better radiuses, changing the overall shape of the nose on the bumper."
It took 12 hours worth of labor to modify the VIS Racing hood to fit around the additions to the engine. That's the kind of work that McCann is willing to put in to perfect his vision. That's also something that gets lost behind a build that is high profile like this. McCann turned wrenches on this car, he didn't just drop it at a shop with a check and then pick it up a couple months later. When he needed help, he employed his friends.
"If I couldn't turn a wrench or if I couldn't do the bodywork, there's no way I could trust just anyone with my vision," McCann says. "Yes, I did a lot of the work myself and this is my work of art, but it was carried out by the hands of my friends, who were my surgeons."
When this hobby becomes a lifestyle and this interest becomes a love, it's important to keep track of your roots. Doing things yourself and doing them with your friends are really some of the most important things you can do to keep this whole tuning thing alive, especially when it becomes part of your livelihood. With that said, it's safe to say that the tuning fire is burning bright at McCann's camp. You can bet that when he goes even more functional this year with Voodoo13 billet suspension arms and Stance Supersport coilovers and air cup system, his friends will be ready to help him put that monster together.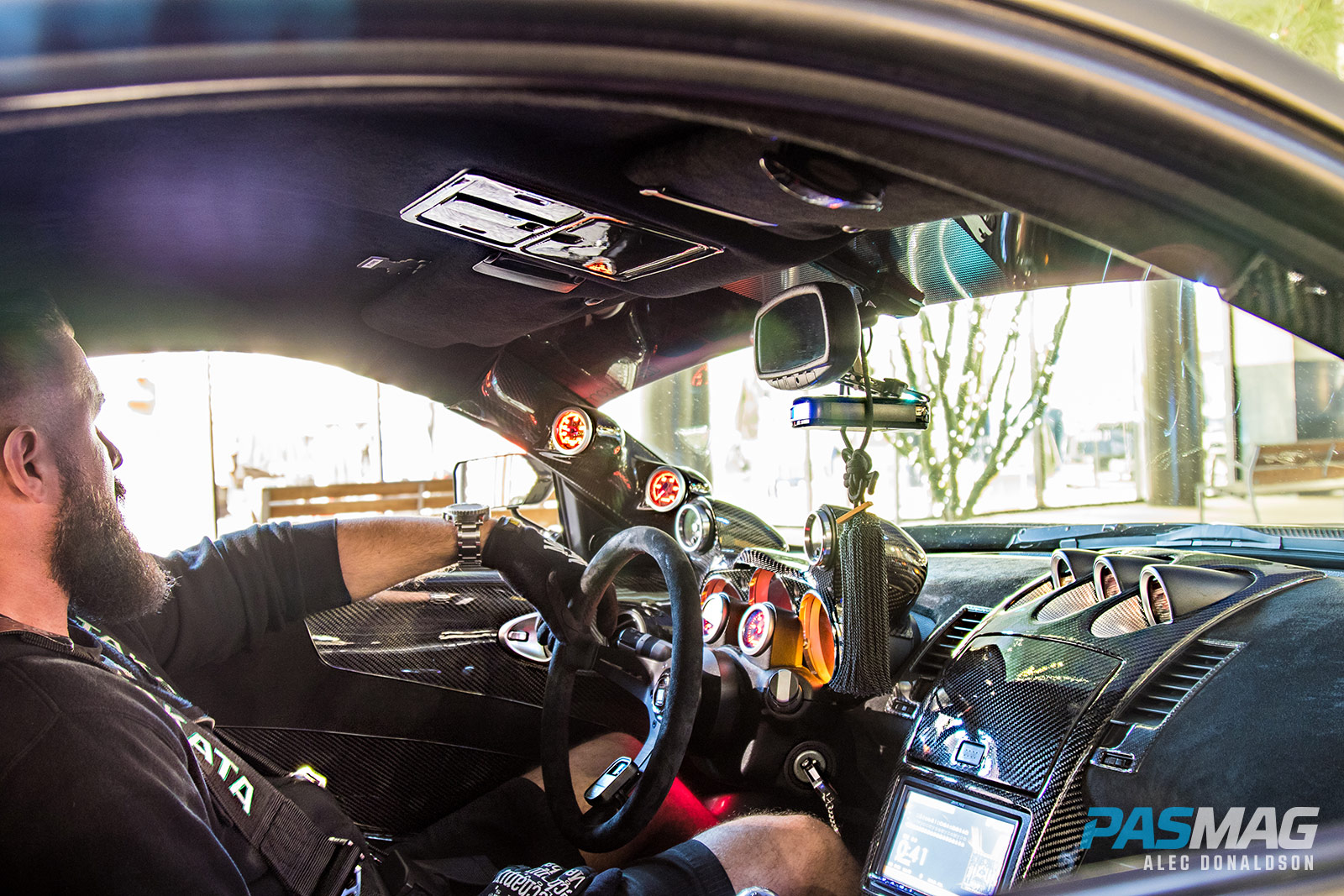 Photography by Alec Donaldson (@adphotosofficial)
---
ESSENTIALS
OWNER: Brian McCann
LOCATION: Scottsdale, AZ
VEHICLE: 2005 Nissan 350Z
CLUB: AZEXILED
ENGINE: Nissan VQ35DE 3.5L V6
HORSEPOWER: 650 hp
TORQUE: 650 lb-ft
BUILT BY: SAAD Racing, Intense Motorsports, Extreme Auto Concepts
SOCIAL
Facebook: Brian McCann
Instagram: @bmccann101
ENGINE & PERFORMANCE
Ported & polished heads
Brian Crower (valve springs, valve retainers, Sportsman piston rods)
CP Pistons forged pistons
Powerlab (turbo kit, plenum spacer)
Precision Turbo CEA 6266 turbocharger
Mishimoto (intercooler, power steering cooler, oil cooler, hoses)
TiaL (blow-off valve, wastegate)
Nitrous Express wet kit
K&N air filter
Universal air intake
CJM Stage 0 RFS fuel system
Walbro 400 fuel pump
ID 850 fuel injectors
DressUpBolts.com anodized titanium hardware
TiBurnt.com burnt titanium hardware
Evo R polished & burnt titanium accents
Extreme Auto Concepts full wire tuck
ARC (polished catch can, oil cap)
PTP Lava turbo blanket
Project X Customs polished valve covers
EXHAUST
Tomei Expreme titanium single-exit exhaust system
Powerlab shorty header
Custom (up-pipe, 3-in. down-pipe, 14-in. down-pipe resonator)
DRIVETRAIN
Jim Wolf (semi-metallic full-face spring disc clutch, lightweight flywheel)
Stainless steel clutch lines
TWM modified short shifter
RJM clutch pedal bracket
Quaiffe differential
WHEELS / TIRES / BRAKES
Niche Targa modular forged wheels – 19x11 -7et (f), 19x11 -44et (r)
Toyo Proxes R888 tires – 295/30 R19 (f/r)
Akebono - 4-piston calipers (f), 2-piston calipers (r)
StopTech stainless steel brake lines
Amsoil brake fluid
CHASSIS & SUSPENSION
Stance LX coilovers
Accuair (eLevel rocker air suspension system, Exo mounting system)
Viair air compressors (2)
UAS Aero Sport air bags
Stillen sway bars
Whiteline urethane bushings
Energy Suspension urethane bushings
Cusco front strut bar
Megan Racing rear control arms
GTSPEC (front fender braces, rear lower subframe tie brace, front splitter chassis mount, rear diffuser chassis mount)
EXTERIOR
JP Vizage front bumper
Do Luck Aero Wivern rear bumper
Amuse 380RS Superleggera (fenders, side skirts)
Stardast wide fender flare kit
VIS carbon fiber (Jun Racing Hyperlemon replica hood (heavily modified), roof cap, tunnel hatch)
Aerocatch hood pins
Craftsquare carbon fiber side mirrors
Garage Mak (GT wing, carbon fiber duckbill lip spoiler)
Top Secret titanium badging
C West front canards
Password:JDM dry carbon fiber winglets
Custom alumalite (front splitter, side splitters)
Fully Torqued Racing splitter support rods
Garage Kagatoni FD RX-7 carbon fiber rear diffuser
Nissan 2006 350Z (bi-xenon headlights, LED taillights)
EVO R (370 LED fog/F1 light, carbon fiber door handles)
Black painted headlight housings
XB35 HID 6000k headlight retrofit
The Retrofit Source Inc 5Five 50-watt ballasts
Z-LEDS (LED switchback side panels, red ring demon eye)
Custom 10-watt Cree LED DRLs in the bumper
Avery Dennison Supreme Midnight Sand matte metallic wrap
John Deere Blitz Black paint
Vintage Wood & Decal Bar vinyl graphics
Division Autosport custom blending & sectioning bodywork
INTERIOR
EVO R (Alcantara dash, carbon fiber dash pieces, hood-mount gauge pod)
TWM (M1 Abrams shift knob, shift extender)
Nardi Deep Corn Black Edition steering wheel
TiBurnt burnt titanium steering wheel hardware
NRG short steering wheel hub
Top Gaiters UK (leather shift boot, aluminum gauge trim)
Marshall amber gauges
Speedhut (custom electronic 52-mm gauges, machined billet bezels)
GaugeCraft RGB main cluster
AEM (TrueBoost gauge, UEGO wideband gauge)
Crawford dash-mount gauge cubby
ATI column-mount gauge pod
Stillen carbon fiber pillar-mount gauge pod
Sparco Chrono Road seats
American Motorsports modified planted low seat bases
Takata Drift 3 black harnesses
Enjuku Racing harness bar
Nismo floor mats
Momo aluminum heel plates
Wicked CAS door speaker pods
Carbon fiber door panels
Alcantara headliner
380RS pedal set
DEFI VSD Basis HUD
AUDIO & MULTIMEDIA
Alpine (IVA W505 head unit, Imprint processor, PDX 1.1000 sub amp, PDX 4.150 sub amp)
JL Audio 13TW5 subwoofer
False floor style sealed MDF enclosure
Boston Acoustics Pro60SE component set
Optima YellowTop battery
DC Power Inc 250-amp billet HOA alternator
Stinger (distribution blocks, 10-farad hybrid capacitor)
SPONSORS
Toyo Tires, Mishimoto, Niche Road Wheels, Accuair, Stardast Japan, Amsoil, Apex'I, Speedhut Gauges, Concept Z Performance, GTSPEC, VIS Racing, Fully Torqued Racing, Extreme Auto Concepts, Division Autosports, The Retrofit Source Inc, Z-LEDS, AZEXILED, TiBurnt
---
PHOTO GALLERY