An R33 GT-R at home both on the streets and at the track.
Eric Strickland found himself drawn to import cars in the mid 1990s after toying with car audio and local shows for a while. His first foray into the import world was a 1994 Honda Accord EX sedan, built to replicate Honda's JDM Accord SiR and turbocharged to a whopping 400 whp. Then, when the "bugeye" Subaru WRX was introduced in 2002, he couldn't keep himself away. He sold his boosted Accord and picked up a World Rally Blue 2002 Subaru WRX, getting to work right away on replicating Subaru's WRC rally car at the time. After six years of ownership, and a few different iterations, the WRX was sold to make room for his incoming magnum opus, a build which would exceed his previous projects by leaps and bounds.
Strickland's love affair with Nissan's Skyline platform started in the early 2000s thanks to Best Motoring and other Japanese car entertainment he could find online. At the time, he never imagined he would be lucky enough to own one of his own, let alone build it to the limit, but he decided to start seriously looking for one in 2007. By February of 2008, he had a 1995 Nissan Skyline GT-R in his name. With the help of some friends at Alamo Autosports in Arlington, Texas, the real fun began.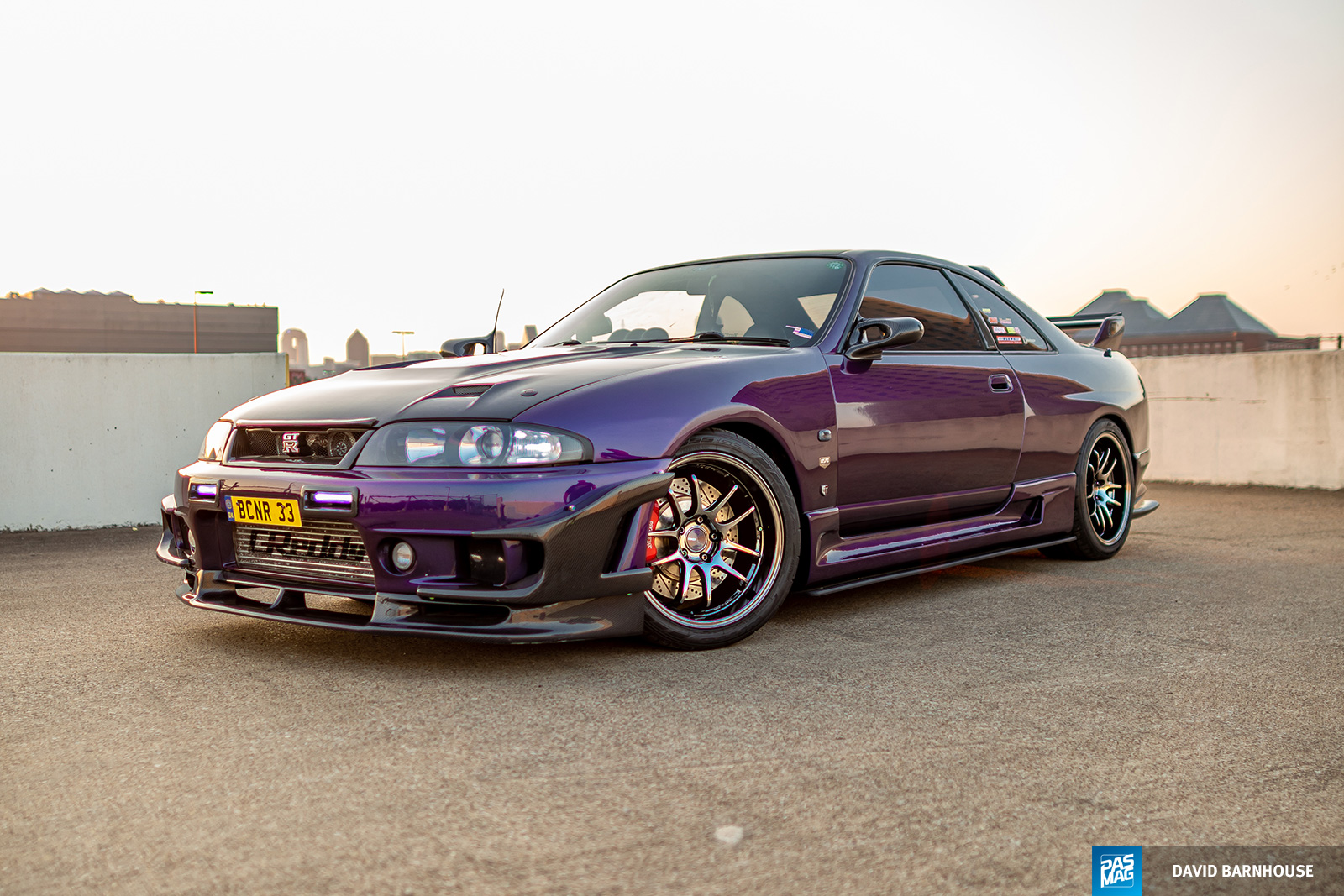 Quality of aftermarket parts was immensely important to him, so after some research on quality aftermarket parts, Strickland and the Alamo Autosports guys threw the GReddy/TRUST catalog at the car. GReddy's A-pillar gauge pod, Type S coilovers, differential covers, a TRUST Power Extreme Ti R exhaust, and numerous engine bolt-ons were among the first large order of parts for the GT-R. With a handful of modifications made, and a SEMA appearance in 2008 under the belt, Strickland decided he was going to go all out with a true restoration job.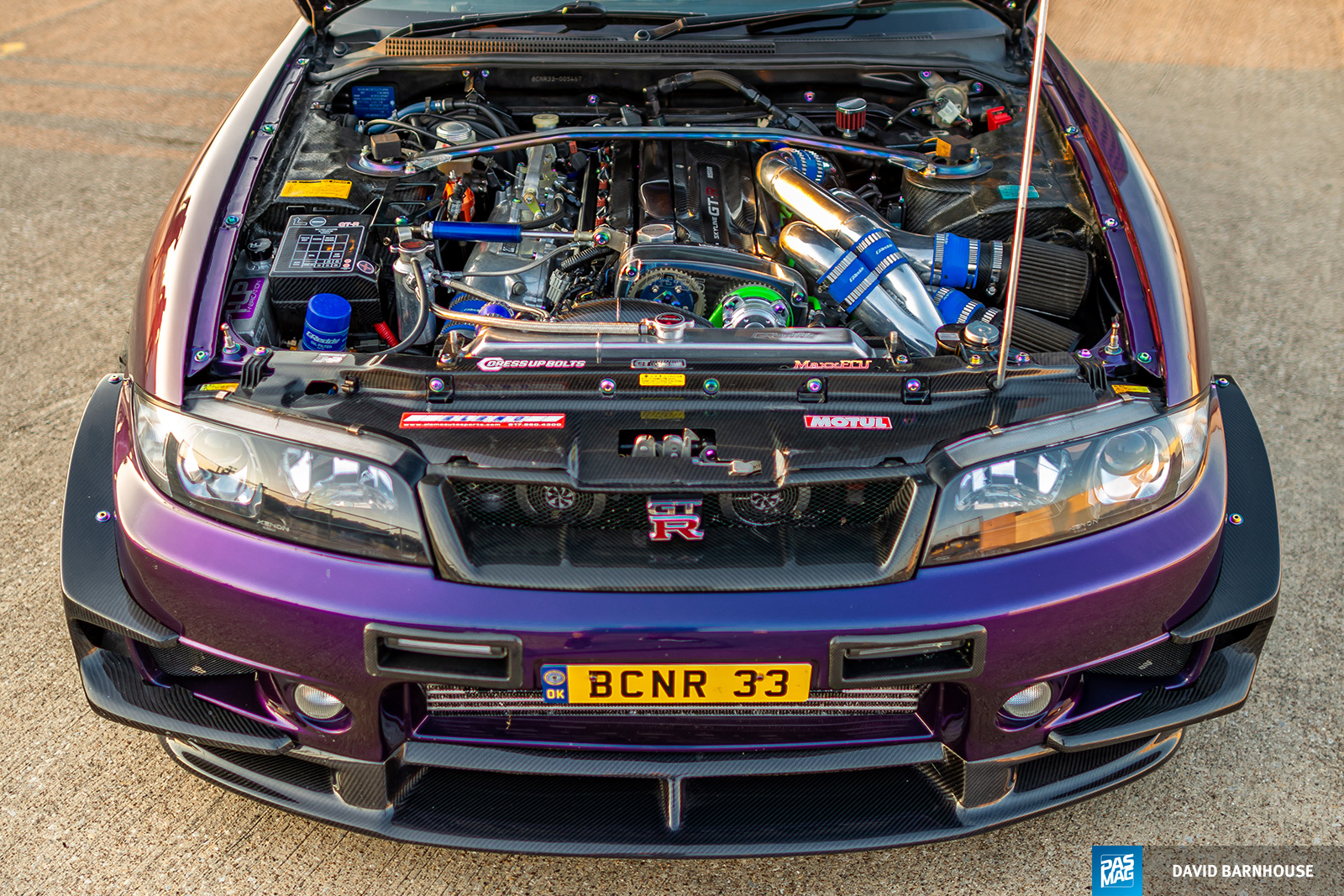 With the engine and transmission pulled, the chassis was stripped and reduced to bare metal to address any rust spots and future concerning areas. During this time, he took the opportunity to replace all bushings and bearings, powder coat all suspension components, and undercoat the car's underside - this was a true resto-mod project now. The engine was disassembled, and the RB head was sent to Michael Ferrara at Club DSport for top of the line head work, which included Tomei cams and a full Supertech valvetrain. At the same time, the block was stripped down and cleaned, and assembled with all new internals to exact tolerances by Brice from Alamo Autosports.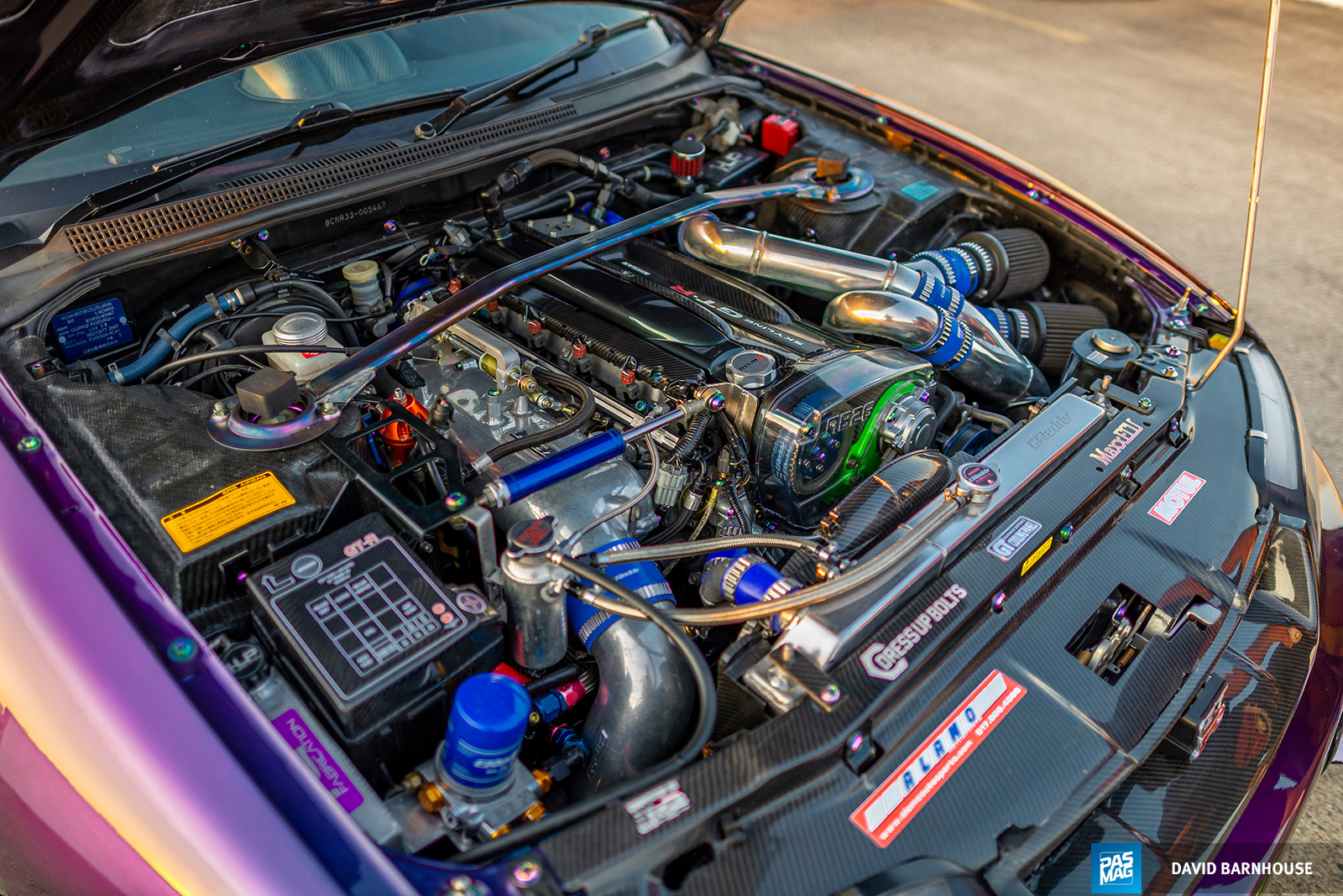 Once the car and complete engine were back in his possession, the drivetrain was reassembled and dropped into the car, and ready for a tune with two new Garrett GT2860 turbos. The final result was a respectable 537 horsepower at the wheels, which was plenty more power on tap than any previous builds. Of course, power is only half of the battle, and with plans to build the perfect all-around car, suspension had to be addressed as well. A full gamut of Nismo arms, braces, and anti-sway bars were installed alongside Cusco strut bars. All in, the setup was good for the street, as well as any road course.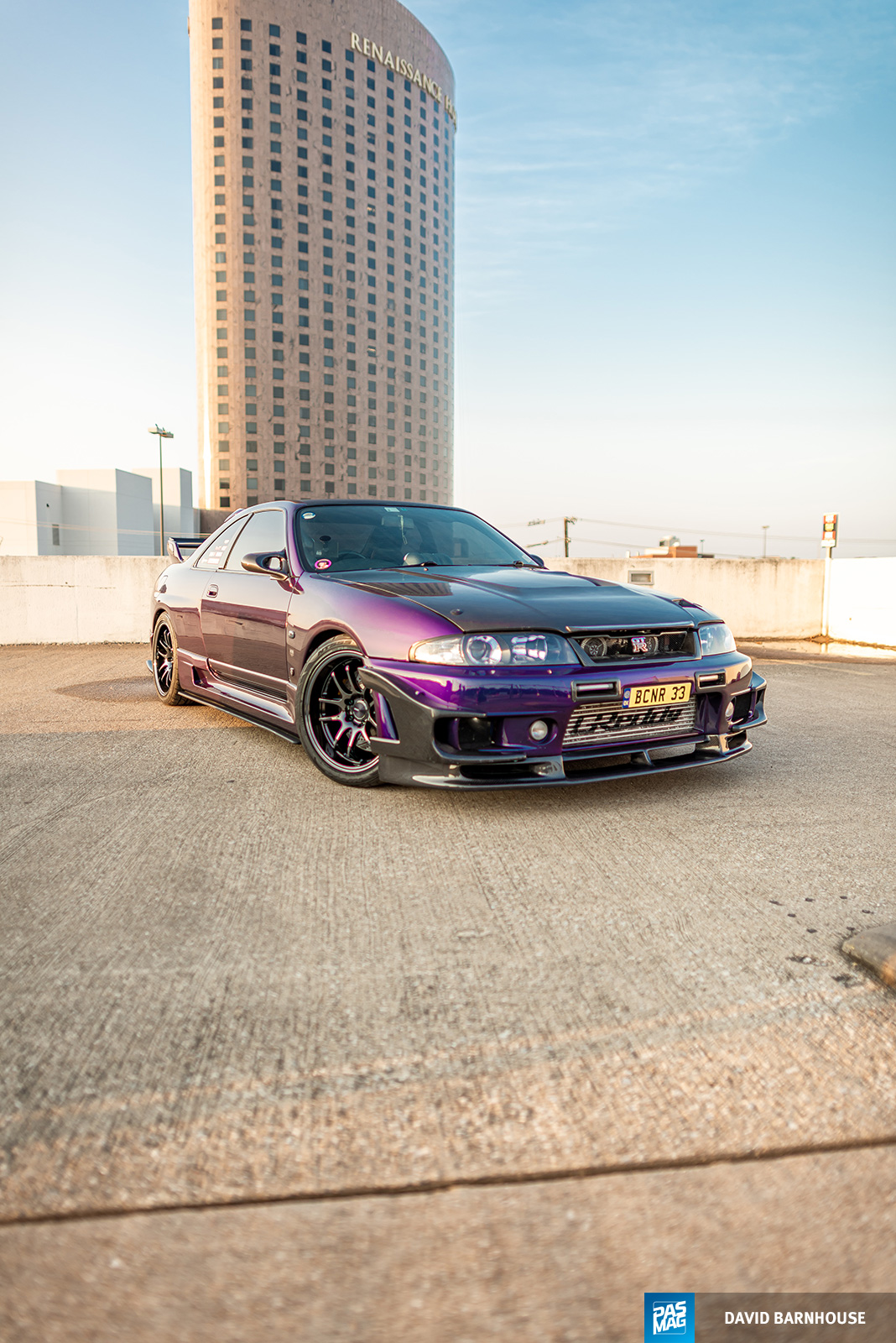 Ensuring the car could also hold its own ground at the local shows that got him into the scene in the first place, the R33 GT-R was treated to a handful of body pieces from the Nismo 400R special edition, including the front bumper and splitter, side skirts, and two-piece carbon fiber spoiler. With a love for rare JDM parts, he also sourced a Stout Type-R carbon fiber hood, carbon fiber Ganador mirrors, Bee Racing carbon fiber side diffusers, and a handful of other cool parts like East Bear LED tail lights.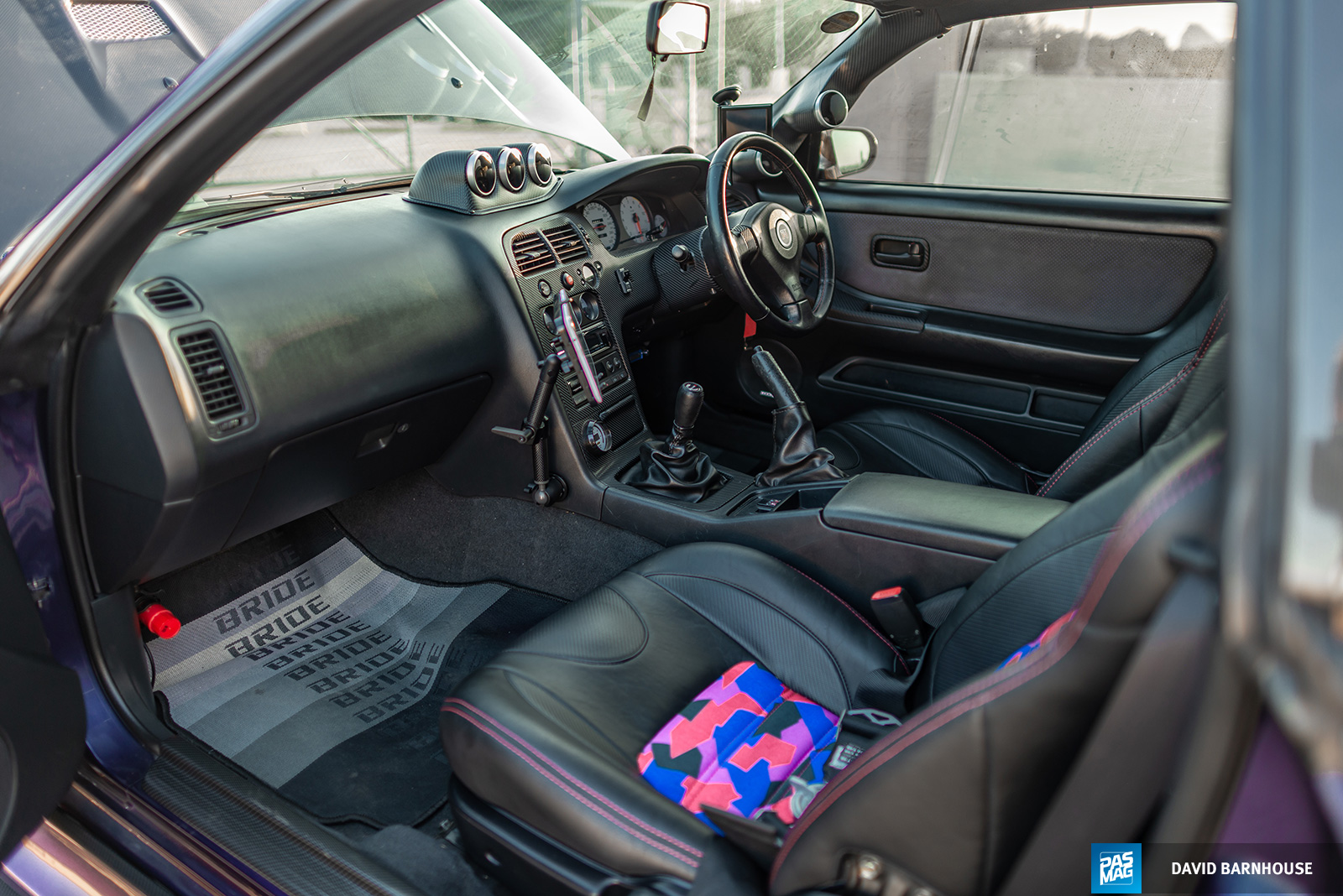 On the inside, Nismo everything to match the 400R theme on the exterior. Driver and passenger are kept snug and secure in the custom modified factory bucket seats by way of Sparco safety equipment, and Bride floor mats keep everything looking tiny alongside the carbon fiber interior trim, right down to the floor. Being a street car, and since Strickland came up in the age of booming sound systems, you better believe this GT-R was treated to an audio system comprised of Kenwood and Kicker audio components. This machine is a true all-rounder!
Photography by David Barnhouse (@shutter.studios.david)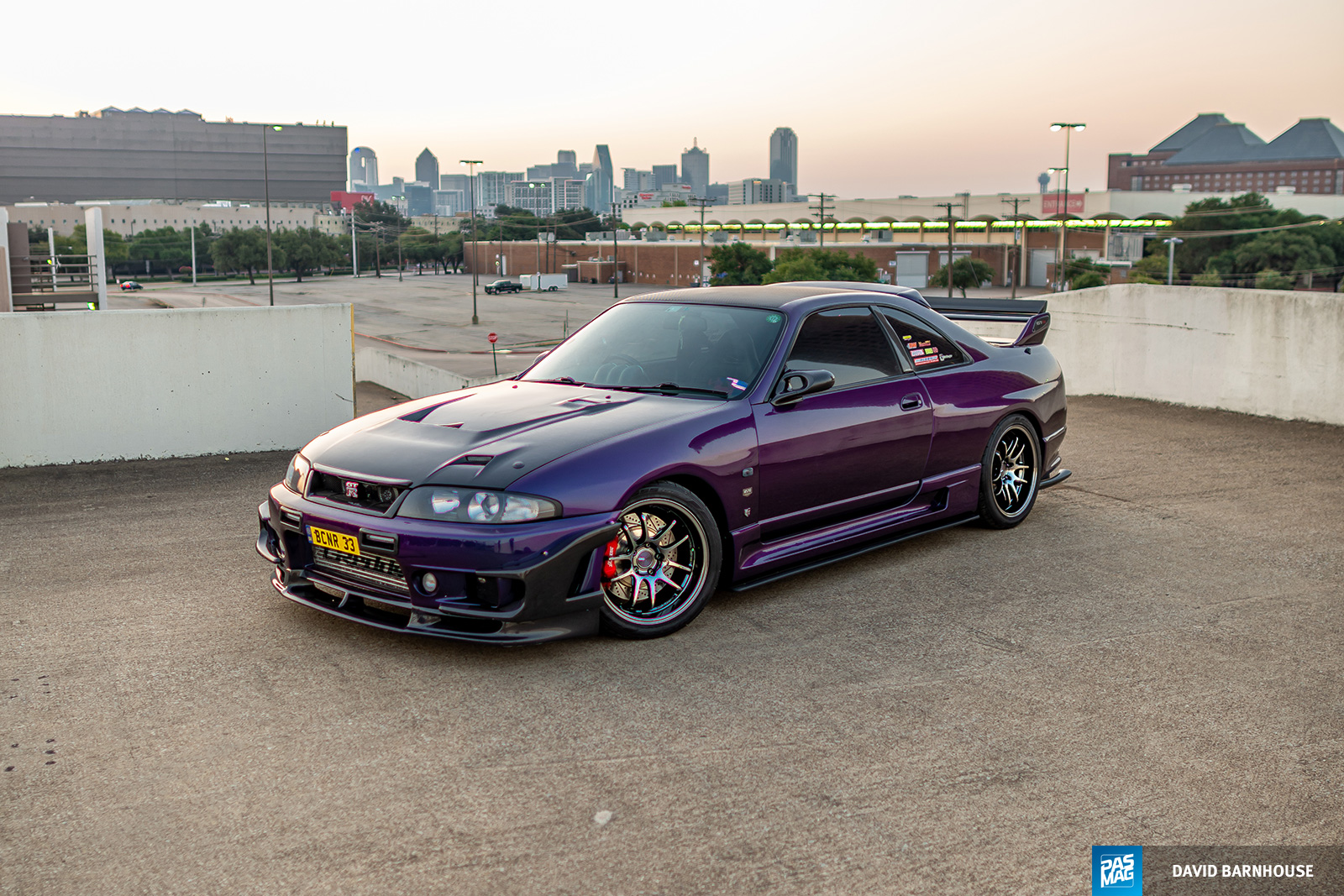 ---
ESSENTIALS
Owner: Eric Strickland
Vehicle: 1995 Nissan Skyline GT-R
Location: Ada, Oklahoma
Engine: Nissan RB26DETT 2.6L Twin-Turbo I6
Horsepower: 537 whp
SOCIAL
Facebook: /OkieGTR
Instagram: @okiegtr
ENGINE
Nissan RB26DETT 05U block
Tomei (oil pump, 272 ProCams, cam cap studs, Extreme manifolds, outlet pipes)
Supertec (Racing oil pump spline drive, valves, titanium retainers, dual valve springs, guides and seats, Racing R35 adapter plates)
GReddy (adjustable cam gears, kevlar timing belt, suction kit, 90mm surge tank, Type 29 intercooler, intercooler hard pipe kit, 10.5mm fuel rail, oil filter relocation kit, oil cooler, radiator, upper rad pipe, 1.3-bar rad cap, water/air separator, pulley kit)
Nismo (N1 water pump, baffled oil pan, gasket set, oil cap, low temp thermostat, engine mounts)
Manley H-beam rods
Wiseco 86.5mm pistons
Cosworth 1.1mm head gasket
ARP hardware
Garrett GT2860 turbochargers
HKS (actuators, carbon fiber coil pack cover)
ATI harmonic balancer
GKTech hi-flow fan
ACL race bearings
AEM Performance Electronics water-meth kit
A'PEXi stainless downpipe
1-UP Fab (oil separator, coolant overflow tank)
Mine's camshaft baffle
Deatschwerks (1000cc injectors, DW400 fuel pumps (2), fuel pressure regulator)
Fragola PTFE fuel lines
Tial 42mm BOV
Hitachi R35 coil packs
Silk Road torque dampener
SAMCO (heater, rad hose)
Nissan R34 GT-R engine cover
EP Racing carbon fiber fuse box cover
Dress Up Bolts titanium fasteners
EXHAUST
TRUST Power Extreme Ti R exhaust
DRIVETRAIN
Nismo (Super Copperplate twin clutch, chromoly flywheel, rear diff cooler, transmission mount)
Driveshaft Shop 1-piece aluminum driveshaft
GReddy diff covers
GKTech stainless steel clutch line
WHEELS / TIRES / BRAKES
Enkei PF01 EVO wheels - 18x9.5 +12 (f/r)
Nitto 555 G2 tires - 275/35/18 (f/r)
KICS Racing titanium lug nuts
Rotora (6-piston front calipers, 4-piston rear calipers, 14-inch front rotors, 13.5-inch rear rotors, stainless steel brake lines)
Cusco master cylinder brace
GKTech ABS delete
CHASSIS / SUSPENSION
GReddy Type S coilovers
Nismo (anti-sway bars, rear 4-link brace, rear circuit link set, rear lower A-arm, front tension rods, front circuit link set, center reinforcing bars, R34 trunk floor brace)
Cusco (tension rod brace, titanium strut bar, rear AL strut bar)
Ultra Racing subframe braces
Driftworks HICAS eliminator kit
Custom carbon fiber reinforcement
KTS roll center adapter
Whiteline (sway bar end links, subframe bushings, chassis bushings)
SuperPro suspension bushings
EXTERIOR
Midnight Purple II LV4 paint
Nismo 400R (front bumper, carbon fiber front splitter, side skirts, 2-piece carbon fiber spoiler)
Nismo (rear spats, smoked side markers, clear turn signals, carbon fiber hood lip, sport horns)
STOUT Type R carbon fiber hood
Garage Defend (carbon fiber canards, carbon fiber cooling panel)
Ganador carbon fiber mirrors
East Bear LED tail lamps
Bee Racing carbon side diffusers
Top Secret (carbon fiber rear diffuser, carbon fiber vortex generators)
Maxton Designs cab spoiler
Nissan R35 GT-R rear badge
EP Racing carbon fiber grille
Final Motion carbon fiber air guides
Nagisa Auto Gacchiri fender brace
INTERIOR
Nismo (rear floor mats, gauge cluster, aux gauge cluster, leather shift knob, carbon fiber B-pillar trim)
GReddy A-pillar gauge pod
Bride front floor mats
Sparco (4-point harnesses, harness bar)
Carbon fiber interior trim
East Bear 3-gauge center pod
5th Element carbon fiber trunk wall
Custom factory bucket seats
Nissan R34 Skyline V-Spec II steering wheel
AEM Performance Electronics AFR gauge
Defi BF series gauges
ATS turbo timer
AUDIO / MOBILE ELECTRONICS
Kenwood DDX773BH head unit
Kicker (QS 6.75-inch mid-range speakers and tweeters, LS 10-inch subwoofer, IQ 1000.5 amplifier)
SPONSORS
Alamo Autosports
Superior Motorsports
---
PHOTO GALLERY