This is another build that we got a closer look at with a video feature during our Tuning365 SEMA episodes, and how could we not? It's not a stretch to say this might be the cleanest modified 300ZX we've ever seen, with lots of quality engine work to boot. Seeing this level of attention to detail in such a niche and rare chassis is something special. Since it's in the Toyo Treadpass, you can already assume a certain level of quality, but this 1986 Nissan goes above and beyond in a few ways.
Starting in the engine bay, a section which is no doubt a primary focus of this build, we're treated to a beautifully assembled naturally aspirated RB build that looks to be floating in the perfectly shaved and wire-tucked bay. The block is from an RB25, and the head is a ported and polished RB26DETT head with a modified combustion chamber. A catalogue of quality internal parts make up the insides of both halves of the engine, and custom titanium parts complement the HNengineering carbon kevlar velocity stacks nicely.
This '86 ZX is built to drive, so the rear subframe has been swapped out in favor of one from an S14 240sx. Techno Toy Tuning takes care of the front suspension arms, with Part Shop Max components for the rear, all of which works in tandem with the set of Feal Suspension coilovers on all four corners. Inside the cockpit, things are kept simple and clean with Bride Stradia II seats with carbon kevlar backing (a personal favorite), Imperial Mats floor and cargo mats, and a Haltech IC7 digital dash display inside a Mako Motorsports cluster.
The combination of Safari Gold 920 paint and the iconic RS Watanabe R Type wheels truly set this car apart in the aesthetics department, especially among the wild builds in the Toyo Treadpass. The period correct looks coupled with quality fabrication and engineering make this build an easy favorite for me.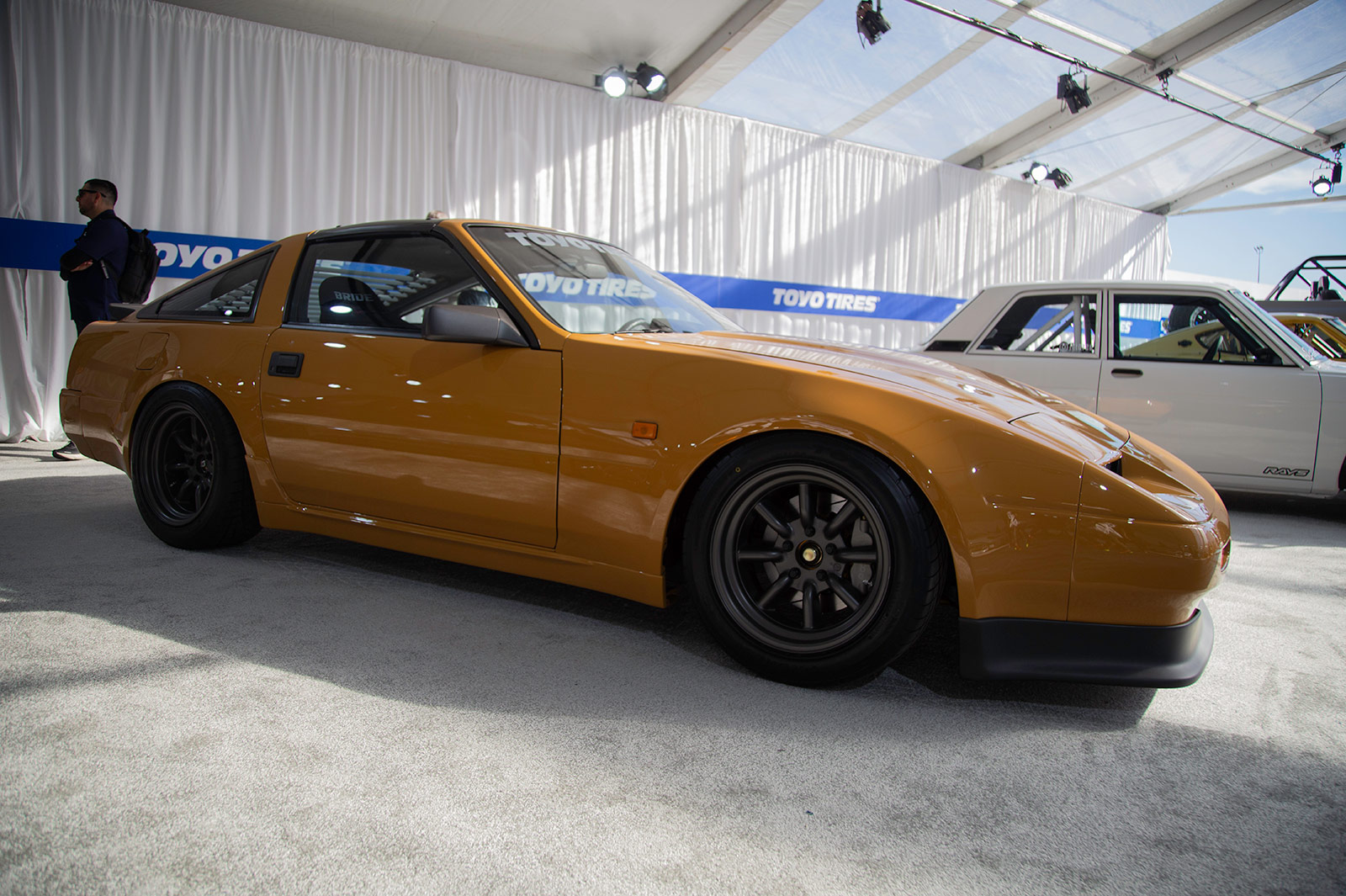 As seen in PASMAG #169. ORDER HERE
Photography by Adrian Munoz (@ajm_studios), Gerbie Reyes (@gersmms2k)
---
ESSENTIALS
Owner: Brandon Miller
Vehicle: 1986 Nissan 300ZX
SOCIAL
Instagram: @rvae38
ENGINE
RB25 (engine block, power steering pump)
Ported and polished RB26DETT head w/ modified combustion chamber
CP Carillo oversized 11.6:1 pistons
Nitto (77.7mm stroker crank, H-beam rods)
Tomei 273 10.25 camshafts
Supertech (valves, valve springs)
Ti retainers
R34 N1 (water pump, oil pump)
Billet oil pump gears
HNengineering carbon kevlar velocity stacks
Ross (damper, pulleys, crank fire ignition)
Haltech (2500 ECU, sensors)
Tuned by Shue Tuning
Wiring Specialties harness
Radium Engineering (fuel rail, fuel pressure regulator)
Raw Brokerage engine internals
EFI Hardware enlarged throttle bodies
Custom titanium header
Freed Engineering custom titanium (VIN plate, power steering reservoir)
Innovative Engine Engineering throttle linkage
Shaved and tucked engine bay
EXHAUST
Custom titanium exhaust system
WHEELS / TIRES / BRAKES
RS Watanabe R Type wheels
Toyo Tires R1R tires
Techno Toy Tuning brake kit
CHASSIS / SUSPENSION
S14 240sx rear subframe
Techno Toy Tuning front suspension arms
Part Shop Max (rear suspension arms, knuckles)
Feal Suspension coilovers
EXTERIOR
Safari Gold 920 paint
Concept Color custom (body work, rear bumper)
INTERIOR
Renown 130R steering wheel
Bride Stradia II carbon kevlar gradient seats
Haltech IC7 dash display
Mako Motorsports cluster
Imperial Mats (floor mats, cargo mats)
SPONSORS
---
PHOTO GALLERY