Photography by Phillip Awad
---
Some say it's not what you know, but who you know. Others say the key to success is hard work and dedication. When you combine that work with a great network, it makes a blueprint for exponential growth and personal prosperity – whatever that happens to be. But it's only when you visualize your dreams and start believing in them that things start to happen. And in the case of Derek Chan, that's exactly what happened.
Chan's 370Z is the culmination of a number of long-term goals, determination, vision and making the most of his opportunities. A byproduct of Bulletproof Automotive, this 2009 Z is something of an enigma; many people have seen and appreciated the 370 and it's modified variations, but rarely are they done with such care, attention to detail and curation of fine parts.
Chan's fortunes with his 370 have taken him on an adventure that began on a completely opposite end of the spectrum. His interest in cars began when he was young. As soon as he could drive, his passion directed him towards sports cars and the desire to modify them. That led to a Honda Civic Si Coupe with a set of Volk TE37s and some bolt-ons that Chan says, "don't count."
A college student and living at his parents, Chan was working at a self-serve frozen yogurt shop. Keeping an eye out for the next opportunity, he was saving his money for a fresh tuning platform, something a step up from his Civic.
Looking at the latest platforms, the Nissan Z33 appealed to him in a number of ways.
"When the 350Z came out, it was the best of all worlds – it was fun to drive, sporty, affordable and a really good bang for the buck."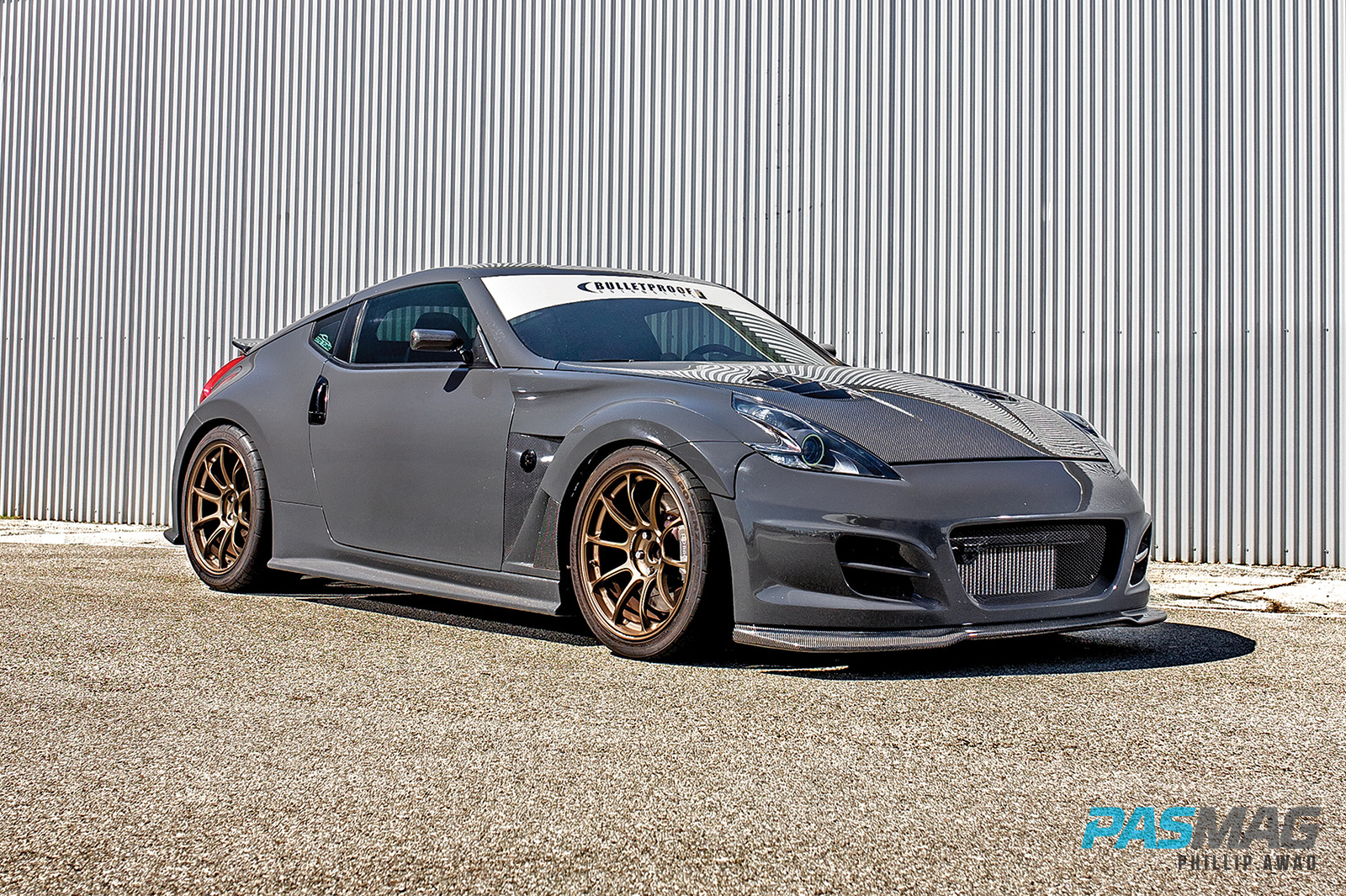 That all changed in 2009 with the release of the 370Z. It was sleeker, had an additional 25 horsepower, a shorter wheelbase, wider track and independent suspension all around. So, when Chan caught wind of the new model, the Z34 was immediately bumped to the top of his list.
"It was right when the 370 came out. It was actually a toss up for me, because the dealer I went to had a Nismo 350 and the 370. They were literally the same price because it was an outgoing model.
"So I could've got a loaded Nismo instead of the base model 370, but I wanted the new thing. I liked the aggressiveness of it, and Nissan marketed it as an upgrade in every way. On paper, why wouldn't I get that? Plus I knew I was going to mod it anyways, so I figured it would be better to work with the blank 370 canvas."
Relatively untouched for the better part of three years, Chan dressed his 370Z with a set of Advan RG IIs, some coilovers and light styling and performance mods, but it wasn't until two years ago that his ride, and his life, embarked on a new journey altogether.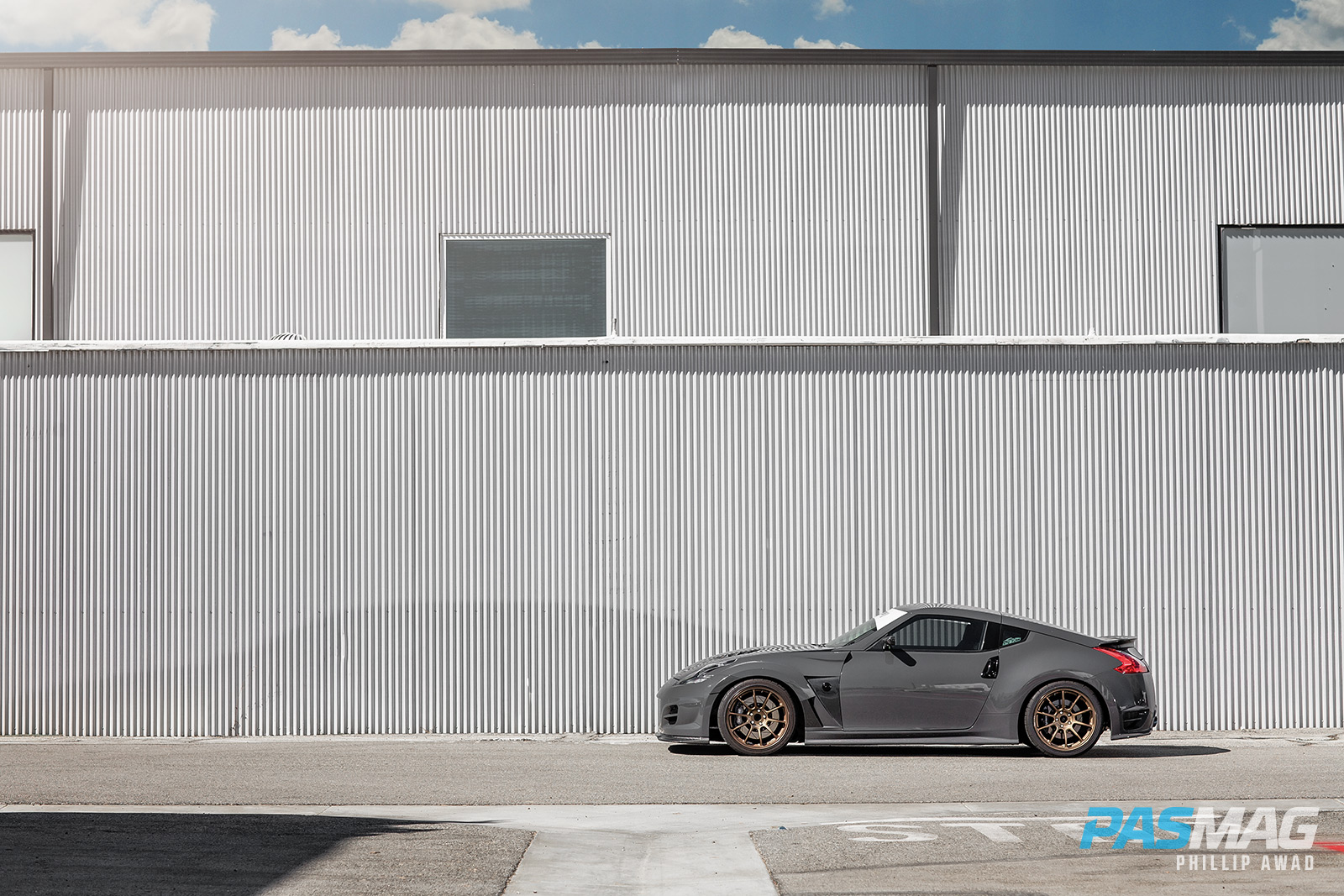 "I graduated from college and was looking for a job in the summer of 2012. I saw Bulletproof was hiring, and I knew they were the main importer of Zele in the U.S. I've wanted this particular body kit since it debuted at the Tokyo Auto Salon in 2009, so during my interview I told them I have a 370 and I want the Zele kit. They said, 'Oh yeah, we can bring that in for you!' So the interview went really well, and I got hired!" Step one at his new job was obtaining the Zele Performance body kit he'd been eying for three years. Saving his pennies for three months, he took advantage of his new workplace discount and, as they say, the rest is history.
It marked Chan's first official mod as part of the Bulletproof Automotive team but, as he soon realized, it wouldn't be long before more followed.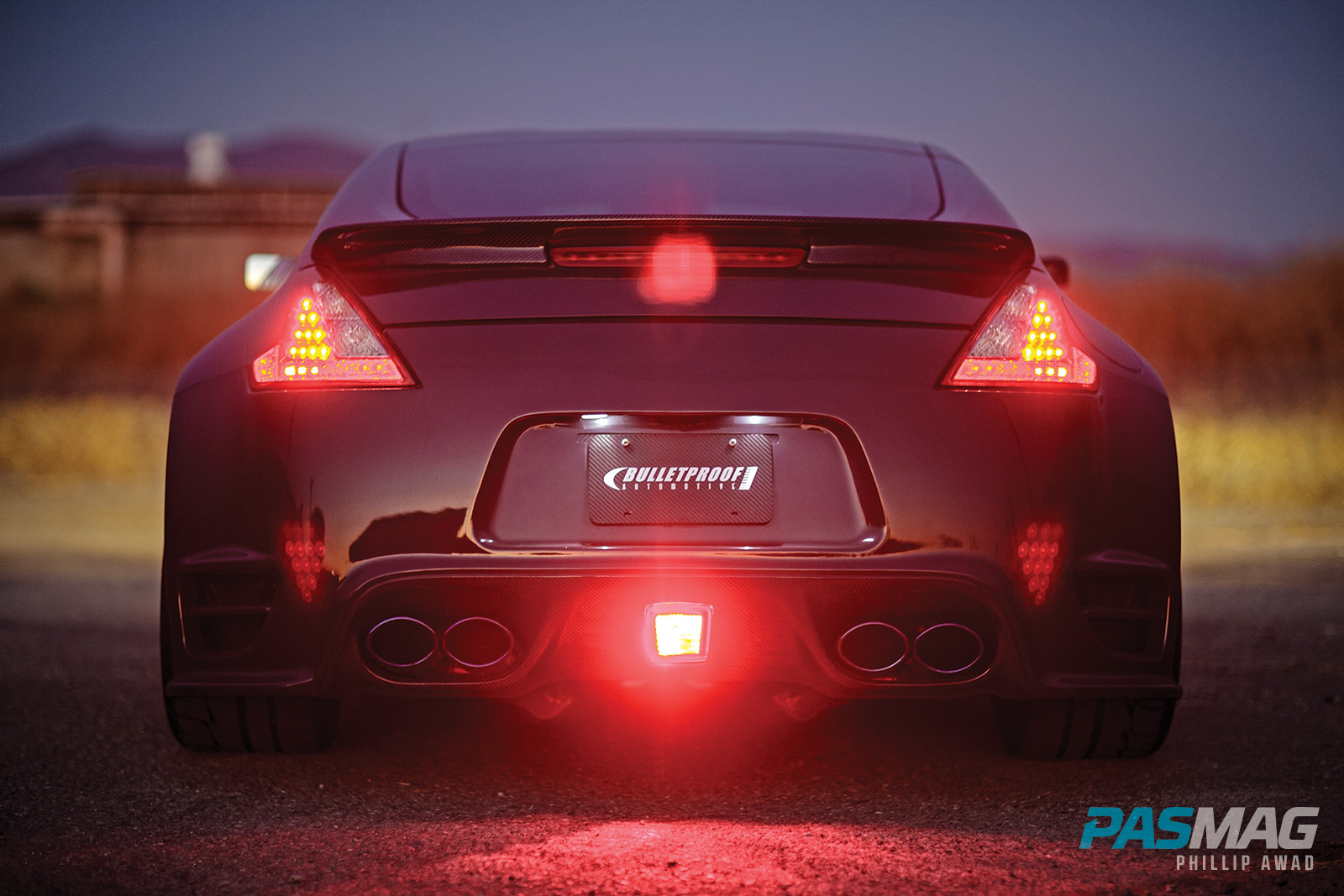 For starters, because of the kit design, it only works with a custom exhaust setup, or Zele's proprietary exhaust. This was a major problem because Zele previously discontinued its system, but after some heavy convincing on behalf of Chan and Bulletproof, the company decided to make three additional versions of the kit. So Chan had one, complete with quad titanium exhaust tips.
Cue major mod number two.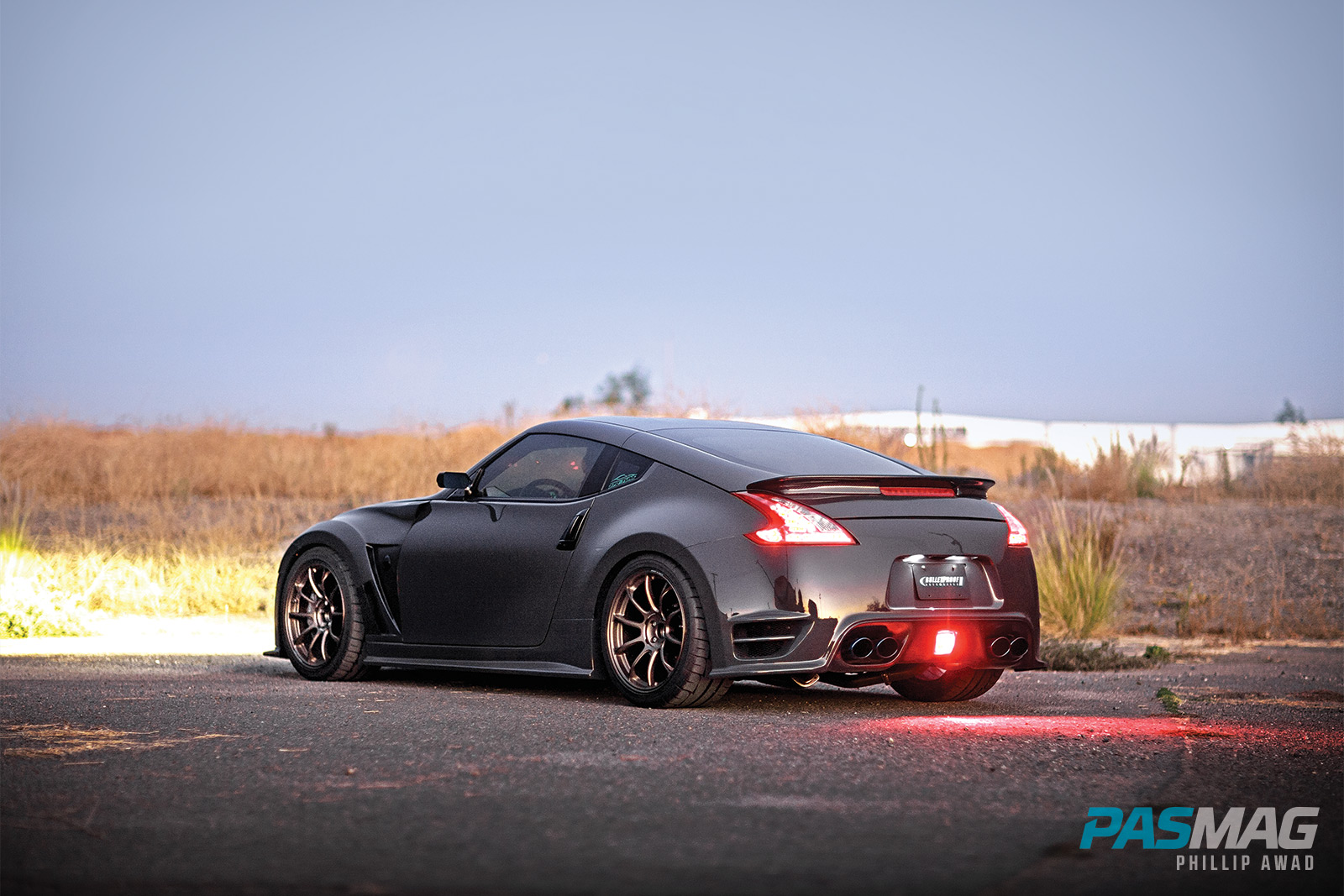 Matching the aggressive setup of the Zele body kit, Chan sourced a set of Varis carbon fiber wide front fenders, a Varis cooling bonnet and Craftsquare TCA-F side mirrors that sets his car far apart from many other cars – let alone 370s – on the street.
The car rides low on a stiff set of Powerhouse Amuse Bilstein coilovers, so Chan is planning to protect his priceless exhaust and bodywork with skid plates in all the proper places – which, given the Z's capabilities and California's constant threat from construction, hilly terrain and awkward driveway entrances, will likely be used more often than not.
But his impressive list of goods doesn't stop there. Like the rest of his build, Chan went far into Japan to source his parts.
"My favorite aspect of the build is all of the hard work put into finding exclusive and rare Japanese parts. Some of them are one-offs and others are discontinued, which makes for an awesome build because very few people have the same stuff I do. That, and I'm a huge advocate of keeping the industry alive by supporting the people and companies who continue to innovate and push out groundbreaking new products.
"You don't see 370s too often, but they're well represented on the forums. There are lots of guys who go with U.S.-made parts, and there's absolutely nothing wrong with that, but I felt that the Japanese tuning shops have a different mentality to what we do here. The quality and craftsmanship of some of these parts is unbeatable."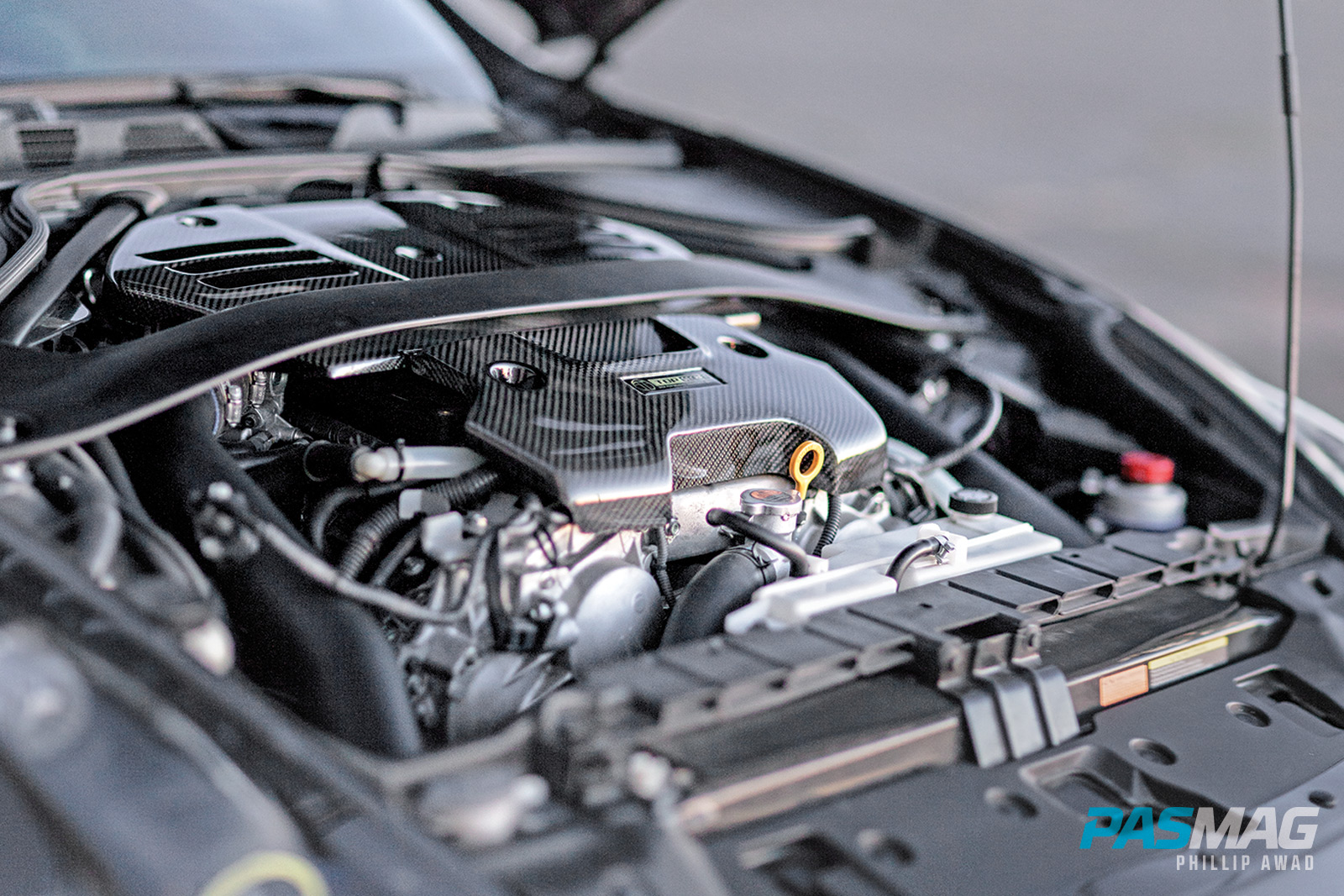 When you pop the hood, you'll see a discontinued Top Secret carbon fiber engine cover that protects a built VQ37VHR treated with North America's only custom HKS GTS7040 supercharger kit designed by Car Making Revyou, plus an intercooler and air intake developed by the same. An Aeromotive 340 Stealth fuel pump, Fuel Lab regulator and CJ Motorsports Stage 2S fuel rails feed gasoline into the engine, detonated by six HKS Super Fire Racing spark plugs.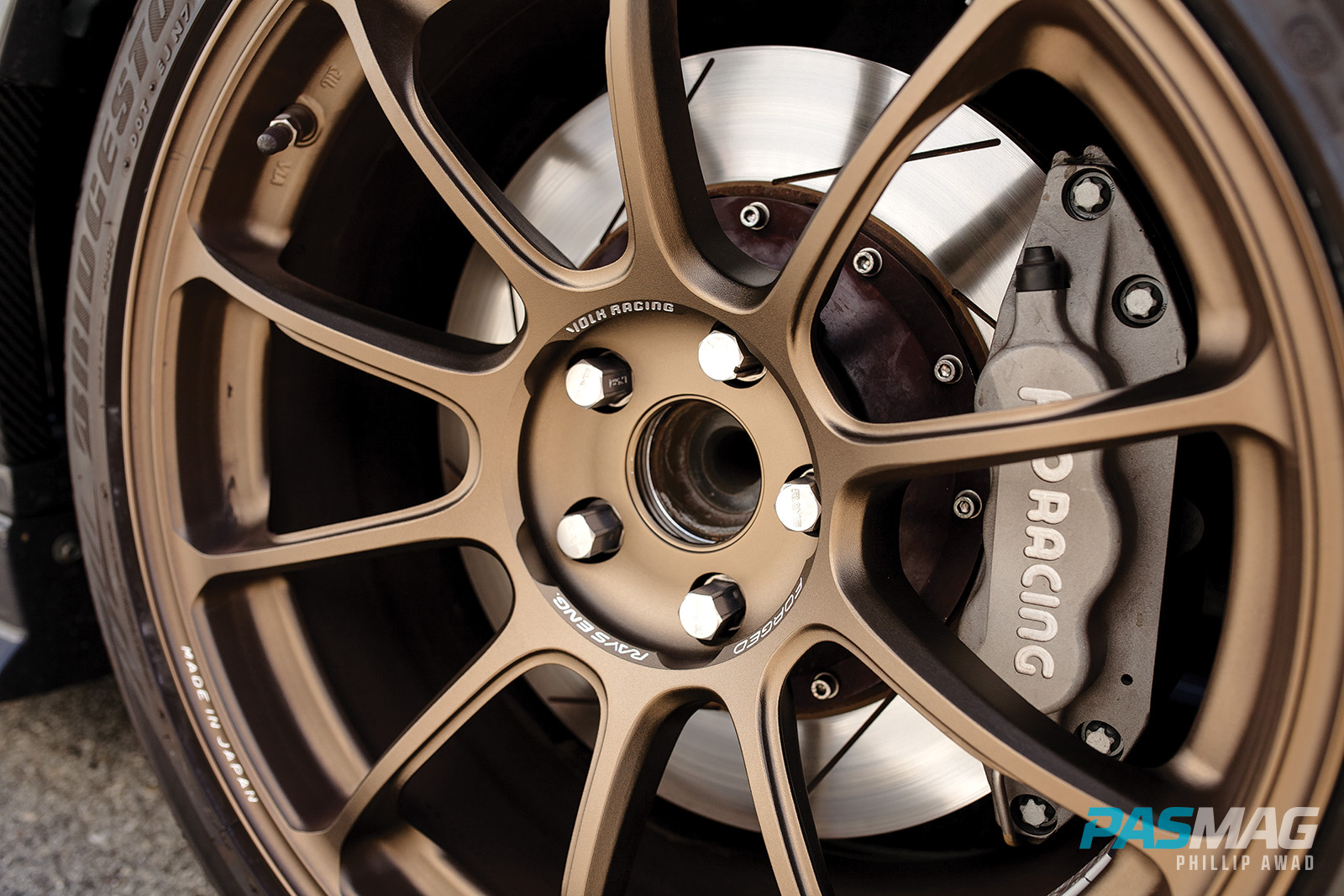 Needing equal power-reduction equipment, Chan opted for six-piston AP Racing AP5700SG front brake calipers and four-piston rears along with two-piece slotted rotors, stainless braided lines and Endless RF650 fluid. Chan says he chose it because it makes for a system that can literally do it all.
Even his Bulletproof boss, Ben Schaffer, shakes his head when he talks about the thought and work behind the car.
"The car is an all-around tuner car and balanced performer," Schaffer says. "It has audio upgrades but it's not a mobile electronics car, it certainly has power but it's not a drag car, it has great suspension but it's not a circuit car, and it has beautiful Porsche paint and a customized, very rare Zele aero kit, but it's not a show car. It checks a lot of boxes and does so in balance."
In fact, the 370 is so well balanced that, until recently, Chan was making his 100-mile work commute every day in it. If we had to sit in a set of Bride Vorga seats, listen to some ARC Audio components and a 10-inch subwoofer, and look past a set of Defi Advance and Innovate gauges for a couple-hundred miles each day, we probably wouldn't complain either.
Today, he saves his prized possession for real drives: up and down Mulholland Drive, along Newport Beach and down the Pacific Coast highway. Talk about hard work paying off.
See Derek Chan's full feature in PAS Dec/Jan 2015 issue (Order HERE)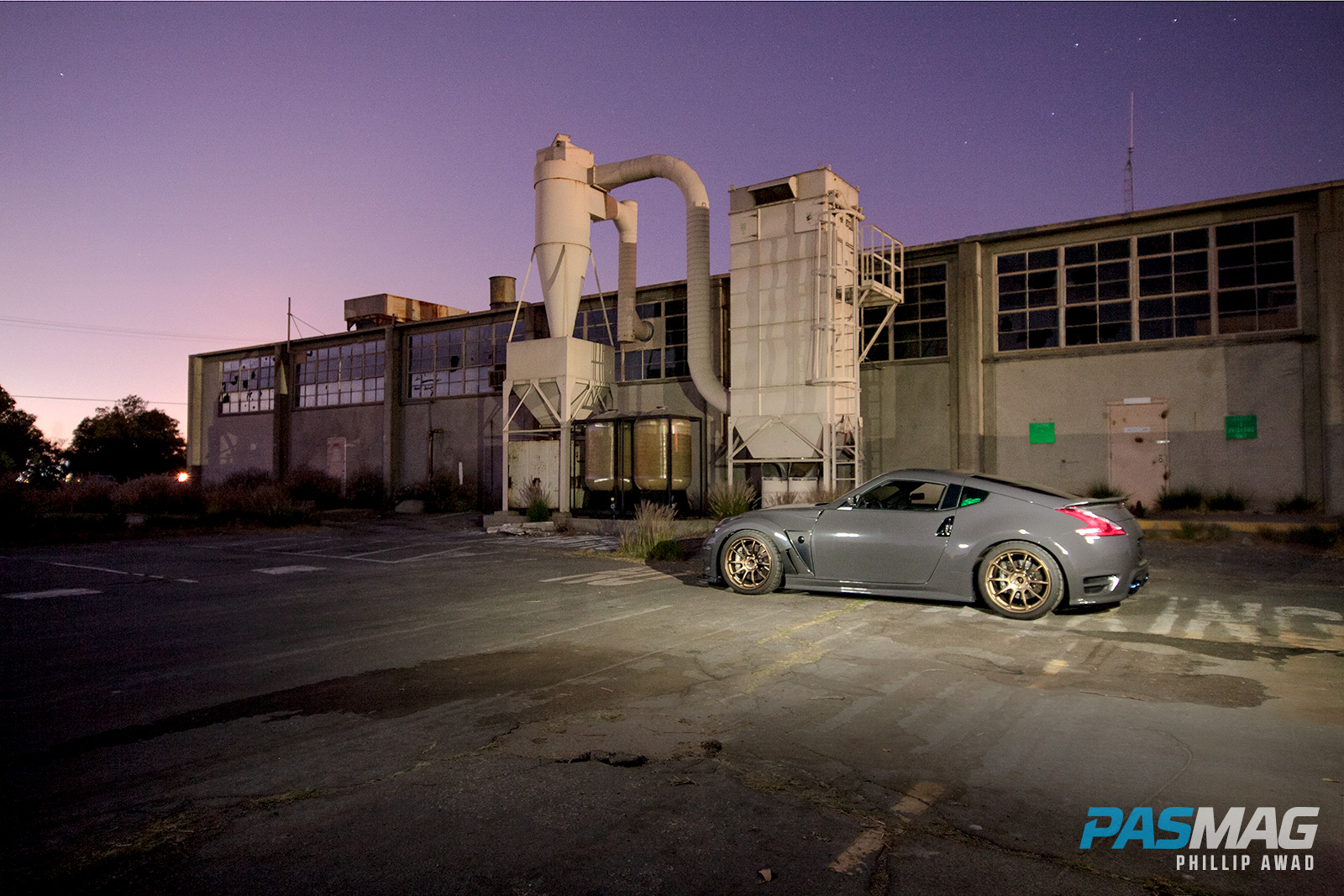 ---
ESSENTIALS
Owner: Derek Chan
Vehicle: 2009 Nissan 370Z
Location: Hawthorne, CA
Engine: VQ37VHR 3.7L V6
ENGINE MODIFICATIONS
Tuned by Church Automotive Testing
HKS (custom GTS7040 supercharger kit designed by Car Making Revyou, Super Fire racing spark plugs)
Car Making Revyou (custom intercooler, custom intake)
Samco black hoses
HKS Dry 3 layer super filter
CJ Motorsports Stage 2S return system fuel rail
Fuel Lab 51502 fuel pressure regulator
Aeromotive 340 Stealth fuel pump
SARD 800 cc fuel injectors
EcuTek engine management system
EXHAUST
Zele Performance (custom stainless exhaust w/ quad titanium tips)
Fast Intentions resonated test pipes
DRIVETRAIN
OS Giken Grand Touring twin-plate clutch
Zspeed Performance HD clutch slave cylinder
WHEELS / TIRES / BRAKES
Volk Racing ZE40 wheels – 19x9.5 +22 (f), 19x10.5 +15 (r)
Bridgestone Potenza RE-11 tires – 265/35 R19 (f), 305/30 R19 (r)
AP Racing brake kit – AP5700SG 6-piston calipers, 14.25-in. 2-pc. slotted rotors (f), AP3751SG 4-piston calipers, 13-in. 2-pc. slotted rotors (r), stainless steel braided lines
Endless RF650 brake fluid
CHASSIS / SUSPENSION

Powerhouse Amuse Bilstein coilovers (f/r)
Cusco sway bars (f/r)
SPL Parts (aluminum spherical bushings, control arms (f/r), rear camber arms, rear toe links, rear traction links, endlinks (f/r))
EXTERIOR
Bodywork by Auto Explosion (Gardena, CA)
Zele Performance (front bumper, rear bumper, carbon fiber custom rear diffuser, spoiler)
Varis (carbon fiber wide front fenders, VSDC cooling bonnet)
Top Secret (carbon fiber engine cover)
Craftsquare TCA-F side mirrors w/ blue glass
Custom painted headlights
STI lenses
Green LED demon eye headlamps
Dual white halo headlamps
Nissan rear fog light w/ red LED rear bulb
Gloss black door handles
Porsche GT3 RS gray paint
INTERIOR
Tommy Kaira Baby shift knob
Neo Grinta steering wheel (perforated leather w/ green stitching)
Works Bell steering wheel adapter
Rapfix II Yoshioka Edition quick release
Short hub
Bridge Vorga seats
Takata Drift III black snap harnesses
Defi Advance RS gauges (boost, oil temperature, oil pressure)
Innovate AFR gauges (2)
Powerhouse Amuse R1 titanium harness bar
AUDIO / MOBILE ELECTRONICS

Installed by Dynamic Mobile Audio
Kenwood eXcelon DNN770HD head unit
ARC Audio (XDi 803 amplifier, XDi 10D2 subwoofer, XDi 6.2 component speakers)
Zenclosures 10-in. rear facing box
SPECIAL THANKS

My best friend, Karen Huang. She's been by my side since day one. Without her neverending support, this build would never have happened.
My friend and project manager, Jonny Grunwald, because there were times when I gave up on continuing the build, but he took it upon himself to make sure the job got done properly.
To the companies that helped me in the build: Americoat, Auto Explosion, Auto Talent, Bride, Bulletproof Automotive, Church Automotive Testing, CJ Motorsports, Corner3 Garage, Cusco, Dynamic Mobile Audio, GY Custom Lighting, Mackin Industries, Powerhouse Amuse, Varis, Zele, ZSpeed Performance.
Last but not least, my parents, my sister, and all of my friends for putting up with me and my crazy hobby!
PHOTO GALLERY