Photos by Scott Demarco
---
All too often you hear that a car enthusiast's other half is not exactly supportive of their hobby. You want a turbo, but they want a new living room set. The struggle is real. This leads to secretive parts buying and installs becoming an 'Overly-expensive oil change, I swear!' These disagreements can drive a wedge into the relationship and lead to an unfortunate end. This is why Lauren Hansell and Eric Bungo's story is so refreshing. They got together because of modifying and stay together through modifying.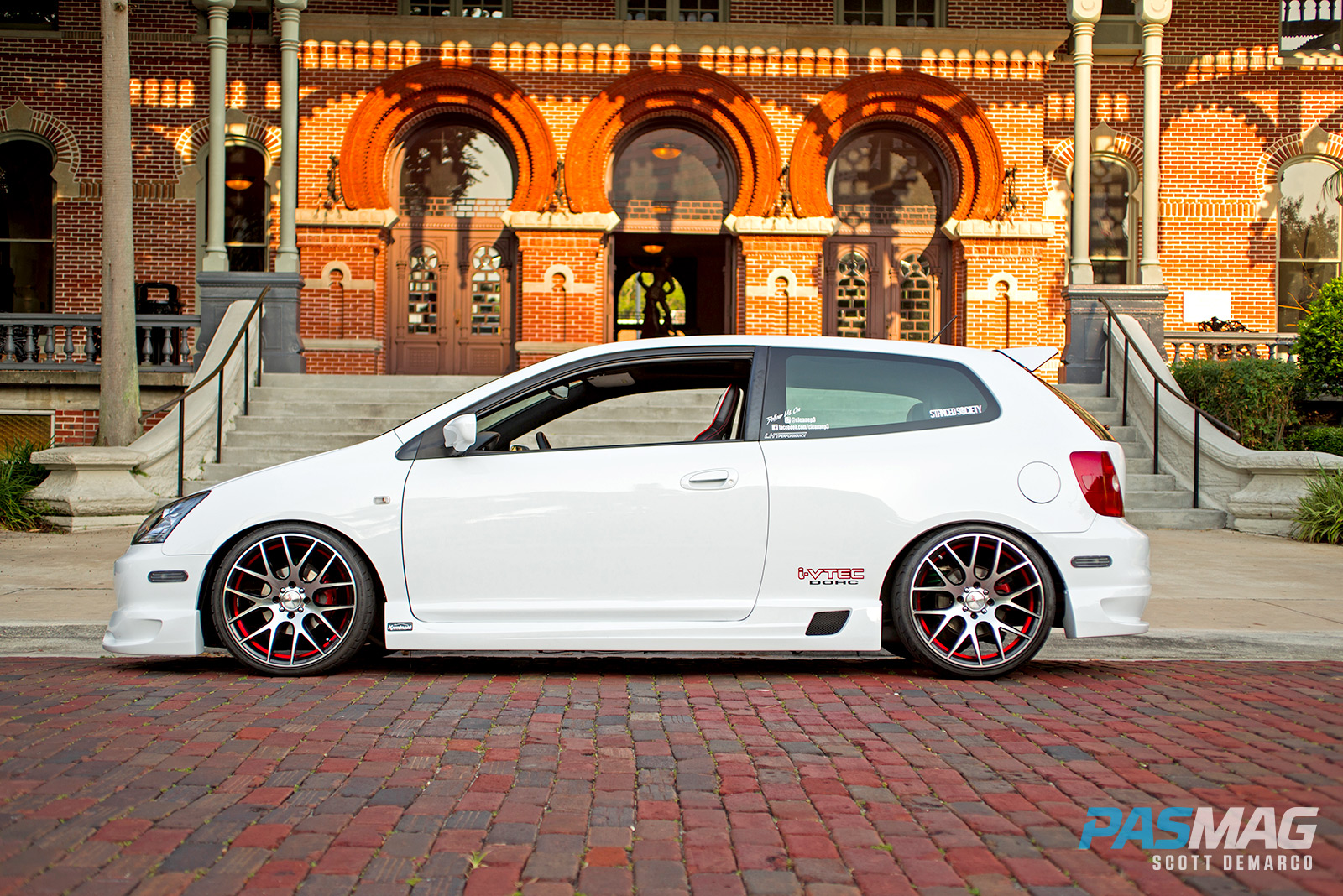 "Modifying cars has been the major factor that brought us together and has kept our marriage going strong for the last 10 years," says Hansell. "Even our wedding photo is a picture of us in our 1969 Volkswagen Karmann Ghia we used to own." How awesome is that? A dream come true for many gear heads. However, after a few different projects, the two chose to step back for awhile.
It was the mid-2000s and the economy had just taken a turn for the worst. Without the thing that makes the duo so happy, things started to get a little testy. "During this time we experienced some of the most trying times of our marriage," recalls Hansell. "We realized that we needed to get back into what we loved doing and what brought us together: modifying cars."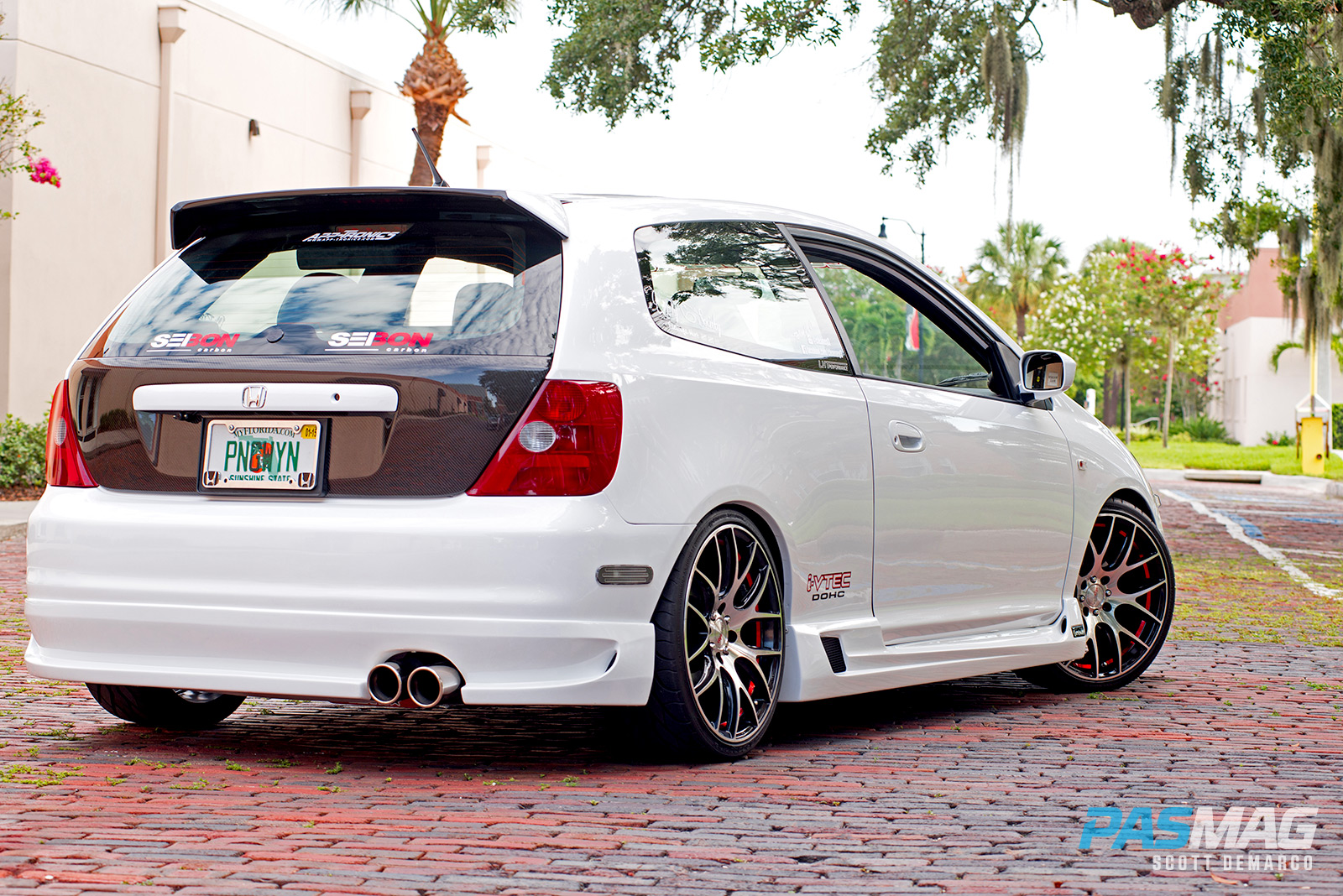 As the economy cleared, a project car finally appeared on the horizon. What would it be? After perusing the classifieds, as-is lots and dealers, the car they would both agree on would be a banged up, silver, hatched Honda Civic Si. The 2002 to 2005 Civic Si, or the EP3 as it's otherwise known, is a bit of an ugly duckling in the Honda community, especially when compared to other, more popular Civic iterations. Hansell and Bungo knew this, and took it on as a challenge of sorts.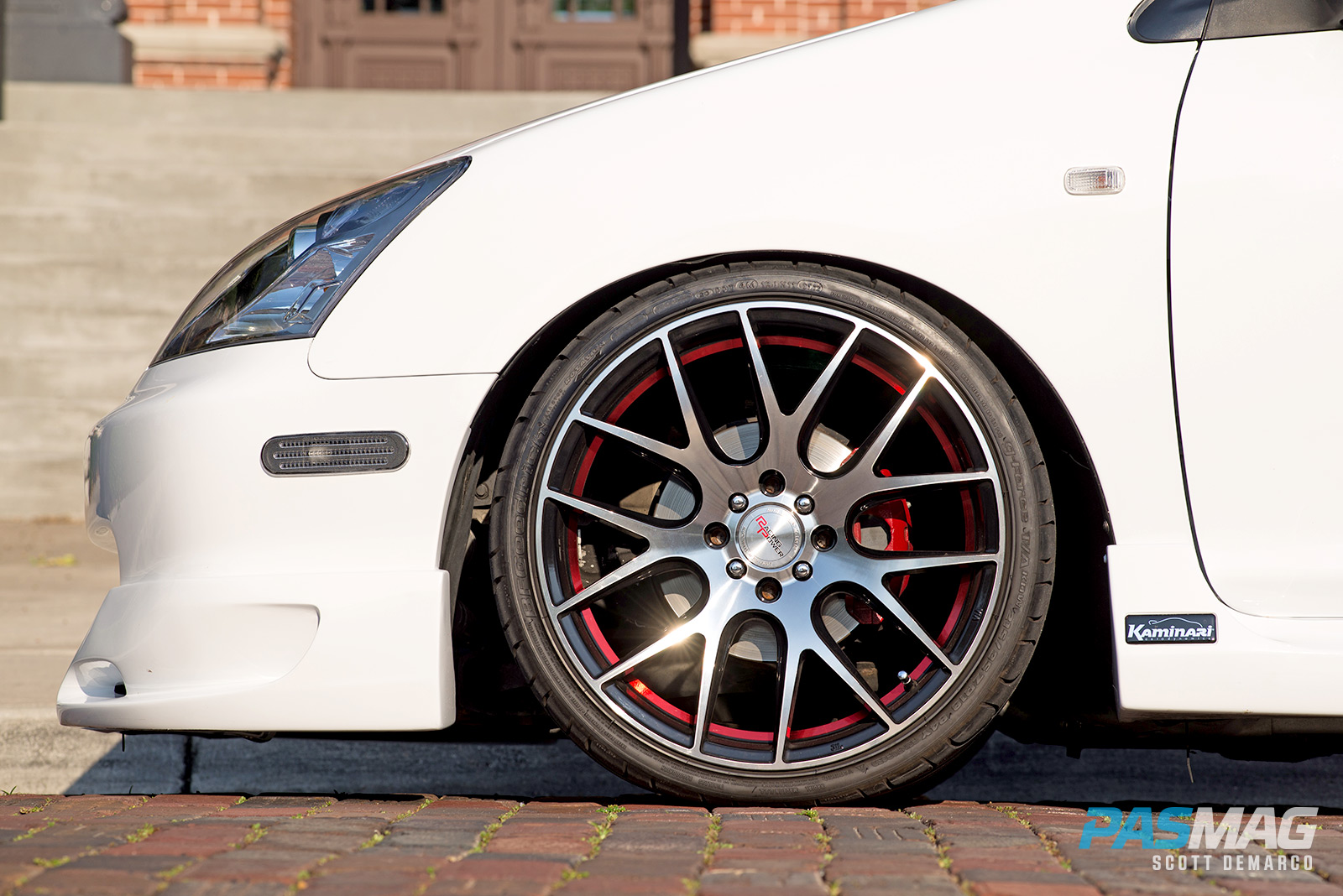 "The EP3 is one of the least loved Hondas and we were ready to take on the challenge of making this style Honda a showstopper," explains Hansell. "We wanted to prove to ourselves that we could keep a Civic clean and refined, while still being original and making an impression in the industry against the thousands of other Civics that have come before us." After snagging their little EP3, Hansell and Bungo didn't let it sit for long. Soon, the plans for the car were mapped out. However, a solid foundation is needed as a basis for a stellar build and the Civic was looking less so. Every panel had a dent, every wheel had found a curb and the paint had seen better days.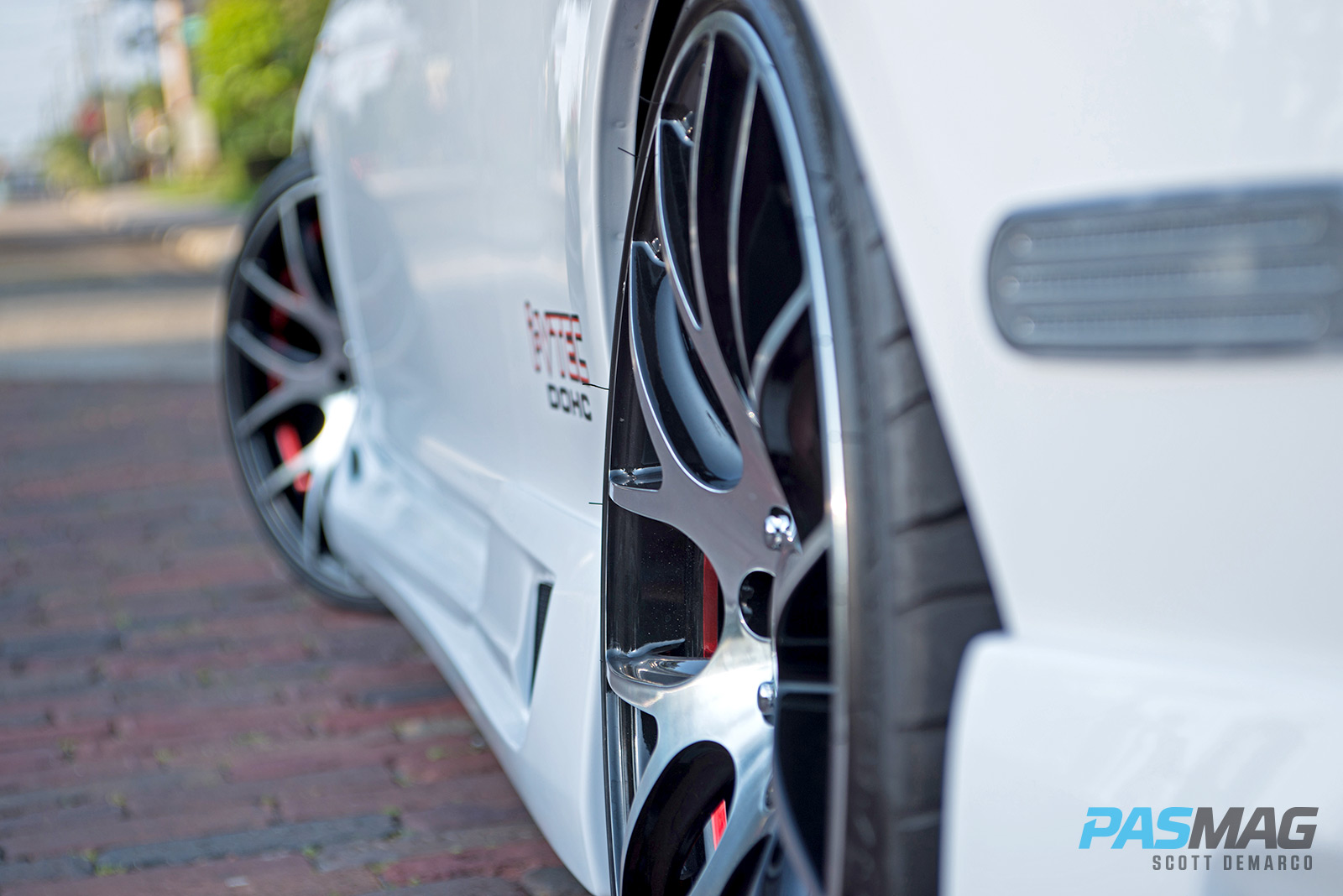 This is where Steve at Silverking Collision came in. The bodyworker extraordinaire took the Honda back to its showroom days with a brilliant white, while also molding on the Kaminari lip kit that Hansell and Bungo had procured. To really see the effects of the new aero, the Civic was lowered on Tein Basis coilovers and given new kicks in the form of Racing Power TH227 wheels. It was decided that the EP3 would take on a classic Si color scheme of white and black with hints of red. To contrast the white paint job, the Seibon Carbon hood and trunk were installed.
Silverking was nice enough to suggest a little hot rod interior shop called Interiors by Jesse, who could carry the theme to the inside. A set of Corbeau Sportline XXRs soon took the place of the factory Si Recaros, wrapped in black leather with black inserts, white piping and red double stitching. The scheme spread to the rest of the interior as well, wrapping the doors, headliner and A, B and C pillars with white, black and Si red.
"After only a few months of driving it, we soon realized that the car was nowhere near fast enough," says Hansell. "After a lot of searching, John at LHT Performance was sourced for being one of the best and most reliable when it came to engine modifications and upgrades."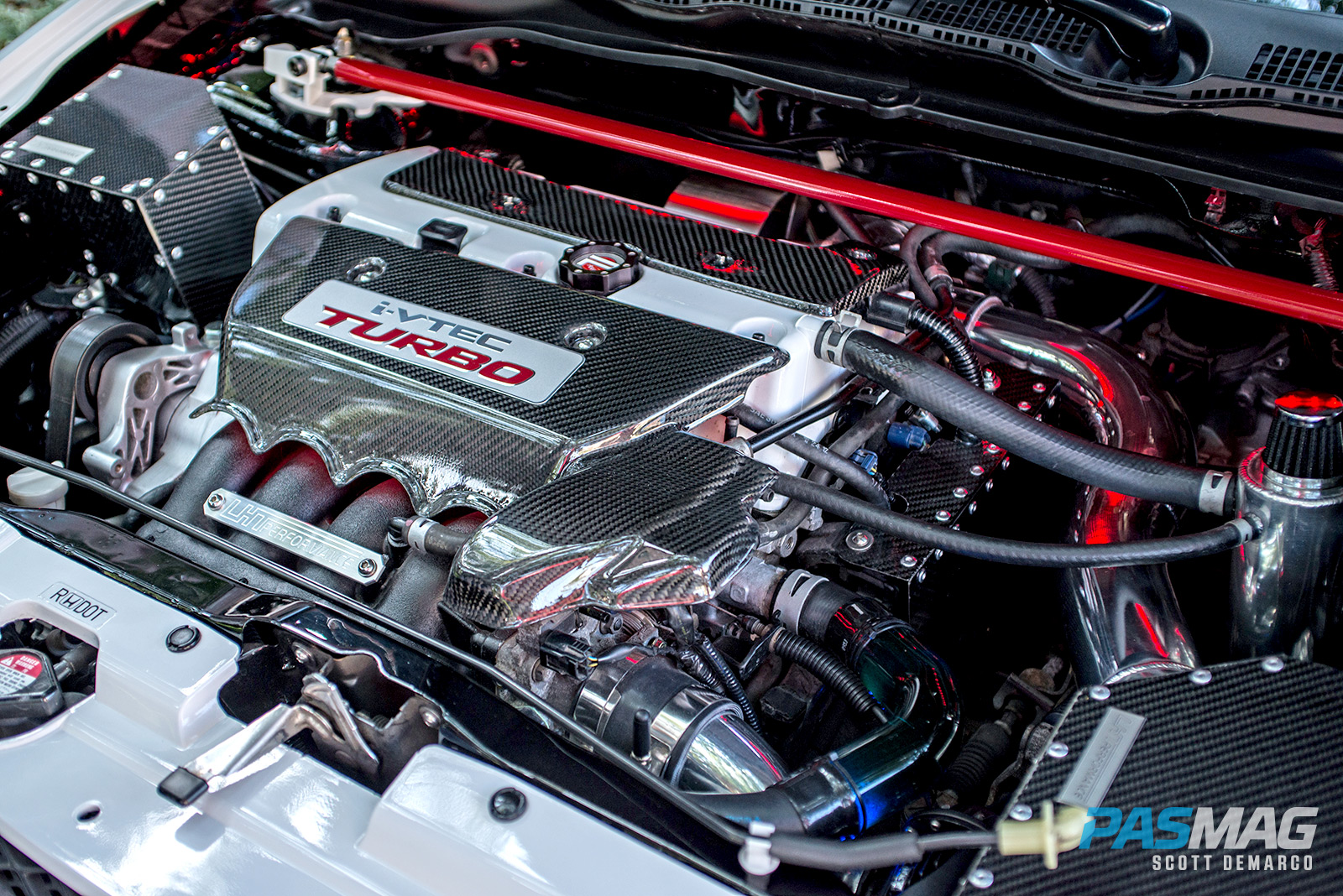 A GT3076R Garrett turbo cooled by a Precision Turbo intercooler, a custom intake, bigger Deatschwerks injectors, Hondata K-Pro EMS, and custom exhaust system make this Civic scream. The EP3 was dyno'd at 130 wheel horsepower when it first went in for upgrades. It came out with 301. All hail the K-series!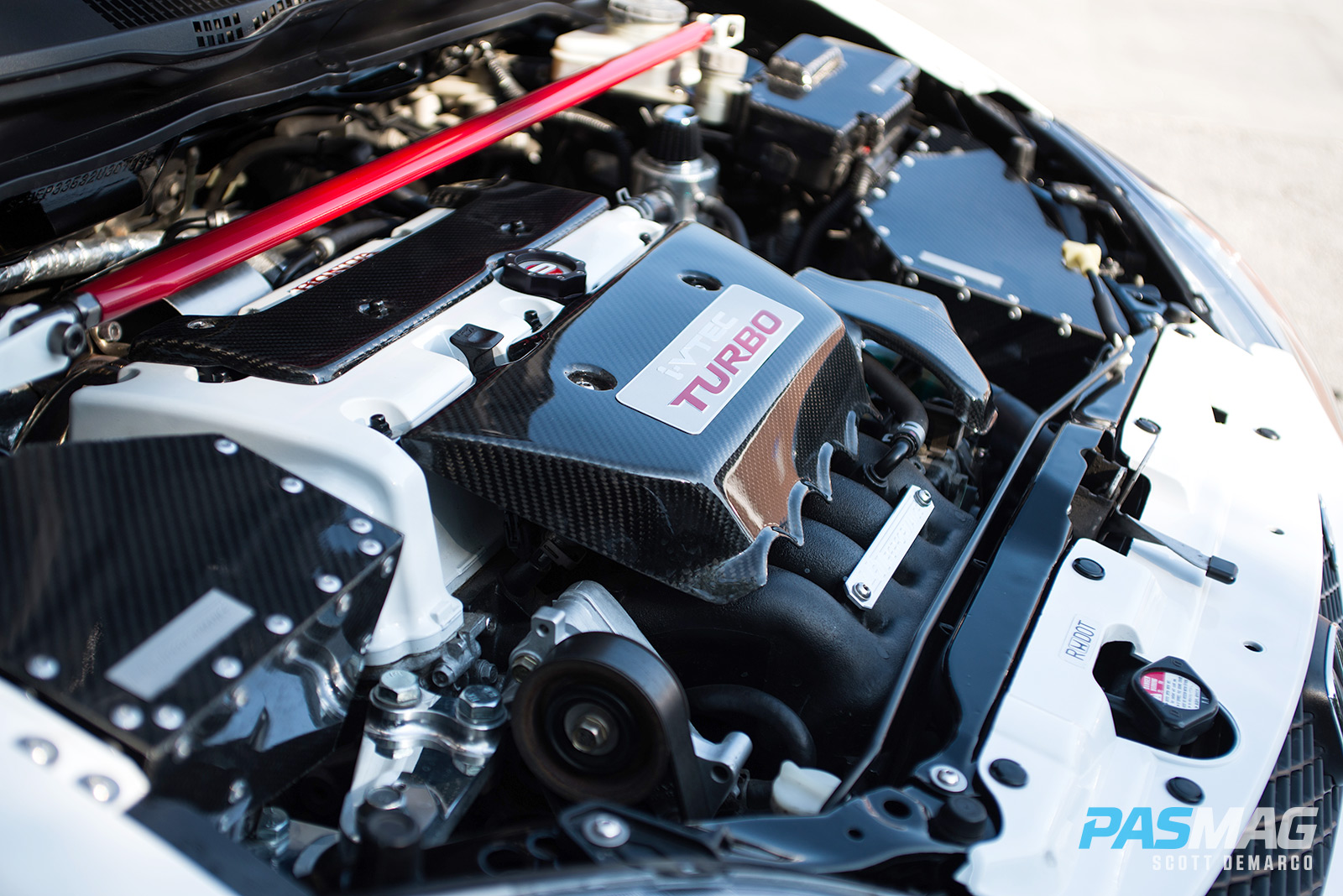 So it's show-ready and good to go, right? Wrong. A car destined to make an impact at the shows has to be an effective all-around build. It only makes sense that the couple's next move was to get a bangin' audio system happening. Hansell and Bungo stumbled across Soundwaves of Tampa, who guided them on their multimedia mission.
"Chris Ott at Soundwaves was given permission to work magic and out came an extremely elaborate, but very well executed entertainment system," recalls Hansell.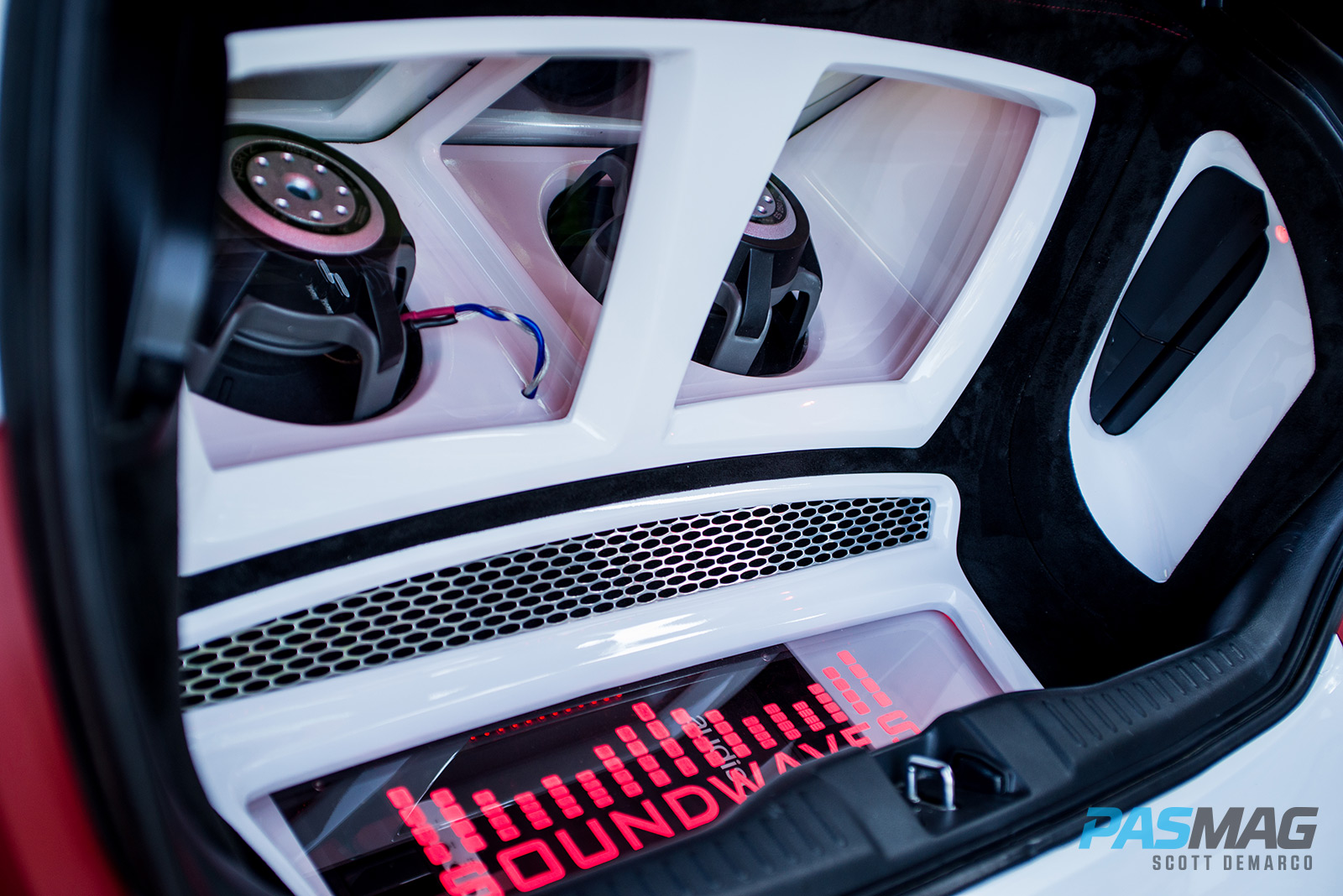 The set-up includes a Playstation 4 in the trunk, iPad Mini in the dash, and crystal clear Audison-Hertz sound from all around. Two pairs of Hertz HV165XL speakers and HT28 tweeters occupy the front doors, a pair of 10-inch Hertz ES 250.5 subwoofers call the custom trunk enclosure home, while Audison bit Ten processor and Voce 5.1K amplifier make everything sound the part. The PS4 can be played on a 10-inch flat-screen TV when the hatch is up.
The EP3 has since enjoyed success at many shows around Florida and looks to keep up that trend. The couple intends to expand and improve upon all aspects of their build with more audio, more power and aesthetic upgrades throughout. And with living room sets in their distant future, all the funds can go towards their Civic Si. Talk about a power couple!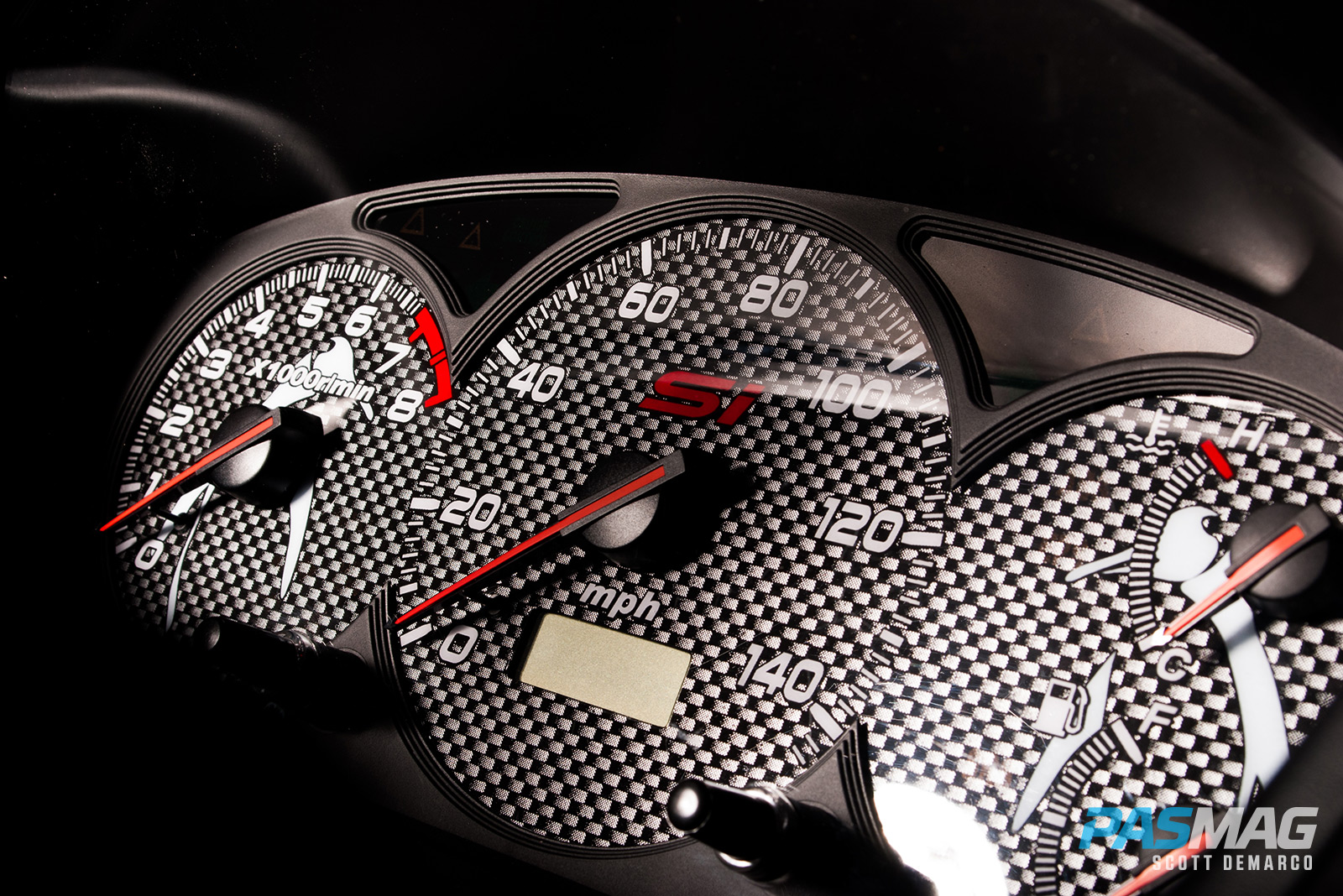 ESSENTIALS // Vehicle: 2002 Honda Civic Si, Owners: Lauren Hansell & Eric Bungo, Club Affiliation: Team Heavy Hitters, Engine: Honda K20A3 2.0L I-4, Horsepower: 301 hp
ENGINE MODIFICATIONS // Garrett GT3076 turbocharger, Precision Turbo (AS1025 intercooler, external wastegate), HKS blow-off valve, LHT Performance (custom intake, custom oil catch can), Password JDM (carbon fiber spark plug cover, intake manifold cover), Walbro 255 fuel pump, Deatschwerks 600 cc injectors, Killerglass coolant hose, Hasport Performance motor mounts, Hondata K-Pro engine management, Stainless steel oil lines, Gloss black engine bay, White & red painted valve cover, Custom (carbon fiber air box, carbon fiber ABS module cover)
EXHAUST SYSTEM // LHT Performance (downpipe, turbo-back exhaust system)
DRIVELINE // Clutch Masters Stage 2 clutch
CHASSIS / SUSPENSION // Tein Basis coilovers, Tanabe strut bar, Blackworks control arms, A Spec Racing subframe brace, Beaks subframe lower tie bar
WHEELS / TIRES / BRAKES // Racing Power TH227 wheels – 18x8 (f), 18x8 (r), BFGoodrich g-Force T/A tires – 215/35R18 (f), 215/35R18 (r), Red painted brake calipers
EXTERIOR // Kaminari (front lip, rear lip, spoiler), Seibon Carbon (carbon fiber hood, carbon fiber trunk), Depo projector headlights ? Clear side markers, LED Glow 3 million color underbody LED, LED wheel well lighting, Silver to Candy White custom paint
INTERIOR // Corbeau (Sportline XXR custom wrapped seats, 4-pt. harnesses), MOMO Millenium steering wheel, NRG Innovations (quick release steering wheel hub, harness bar, trunk privacy hatch cover), Autometer boost gauge, Suede wrapped (headliner, A-pillars, B-pillars, C-pillars, door inserts), Custom carbon fiber gauges, Relocated climate controls, LED interior lighting, Custom white painted dash
CAR AUDIO / MOBILE ELECTRONICS // Audison (bit Ten processor, Voce 5.1K 5-channel amplifier), Hertz (HT28 tweeters, HV 165XL front speakers (4), ES 250.2 10-inch subwoofers (2), Custom fabricated trunk enclosure, 10-inch TV screenApple iPad Mini, Sony Playstation 4, Apptronics SmartNav, Battery relocation to trunk
SPONSORS // Corbeau, Soundwaves, Apptronics, Seibon Carbon
SPECIAL THANKS // SilverKing Collision, Interiors by Jesse, LHT Performance, and Soundwaves of Tampa