Photography by Robert Haleluk
---
As car enthusiasts, we get a raw deal. Even if your drive the speed limit and obey all the laws, you still are going to get the stick for being in the wrong place at the wrong time. Of course the law will argue that since you changed some OEM part with an aftermarket one, apparently that makes you an outlaw and you should be run off the roads, or even better out of town. But fact remains, many modified car owners are doing their best to keep it straight but are still victimized to the point where it's not fun anymore. But that is where, the masses should realize, they elect the government, they can mobilize and change things around. Damn, look at the Ukraine where a peaceful protest can bring down an illegal government, so what would be the problem staging a protest and getting legislation reversed or at the very least reviewed.
The boys over at Speed Max Performance (S-Max) don't pay much attention to all the turmoil around these issues. In fact, S-Max owner Dave Hary, used to run an audio installation shop and after selling it decided to get in the more edgy world of performance. A risky move in today's climate with all of the focus on high gas prices and problematic legal messes surrounding aftermarket performance. Still in a very short time frame, S-Max has been able to carve out quite a reputation, bag a PAS cover car and get loads of magazine play in the process.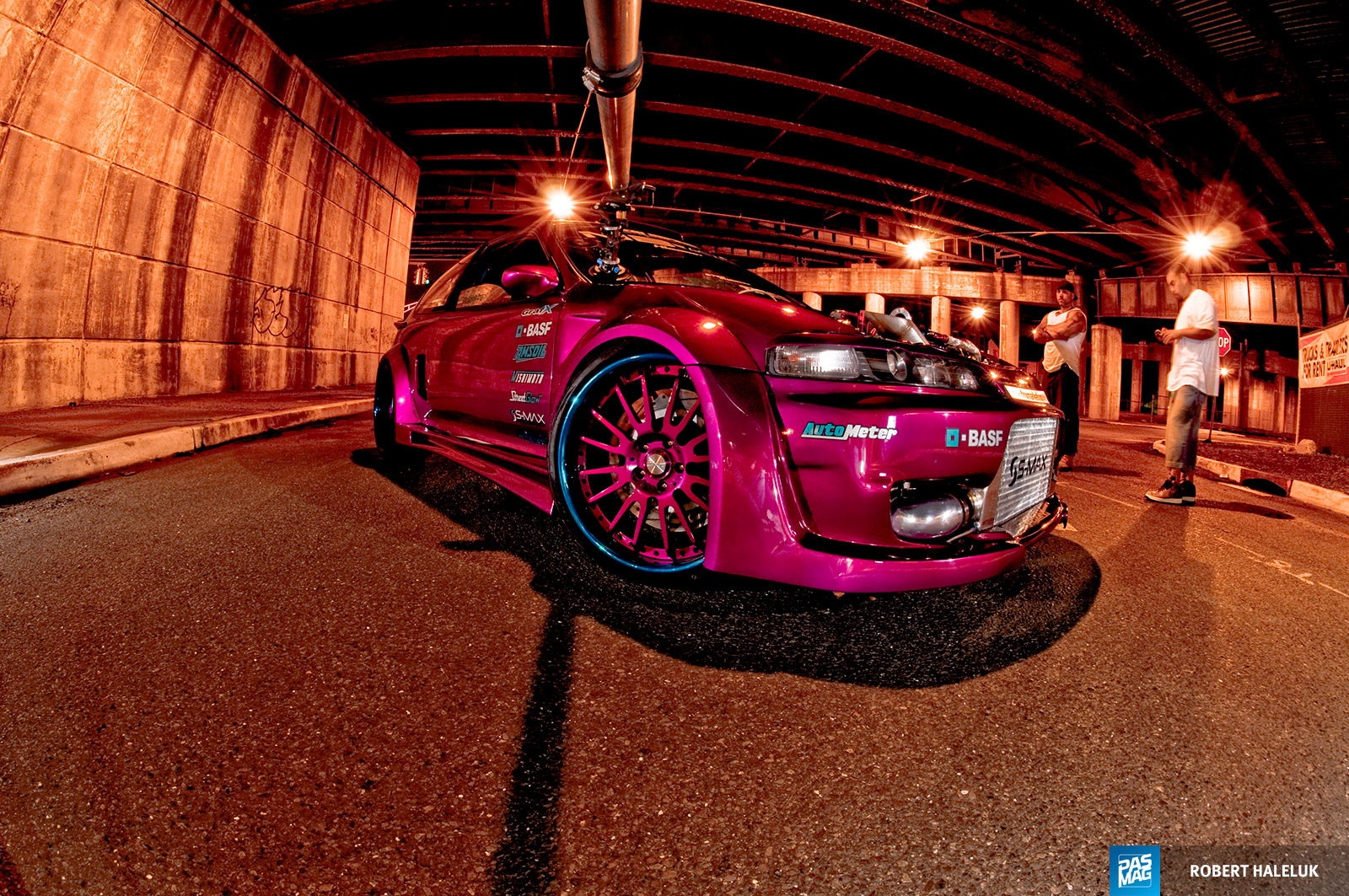 This particular Civic is owned by Kenny Vinces who thumbed his nose at the law, street racing this car in the bustling late '90s street racing scene in Toronto. While we get to see more than enough "Fo Shizzle, the Rizzle Dizzle" Bubble-back Civics looking to get some ink, this one definitely caught our attention. And we weren't surprised because Hary wouldn't touch anything that doesn't end up totally rocking at the end of it. Vinces is in the Custom car Audio biz at a place called Car Crafters in Paterson, NJ, so the audio and multimedia was sure to crank some heads around. "I bought this car as a daily driver way back in '95" says Vinces, "in 2003 I decided to take it off the road and build a showcar." Over the last 5 years, that is exactly what Vinces has been doing building and rebuilding his EG to out do any of his previous builds like the Accord and RX-7.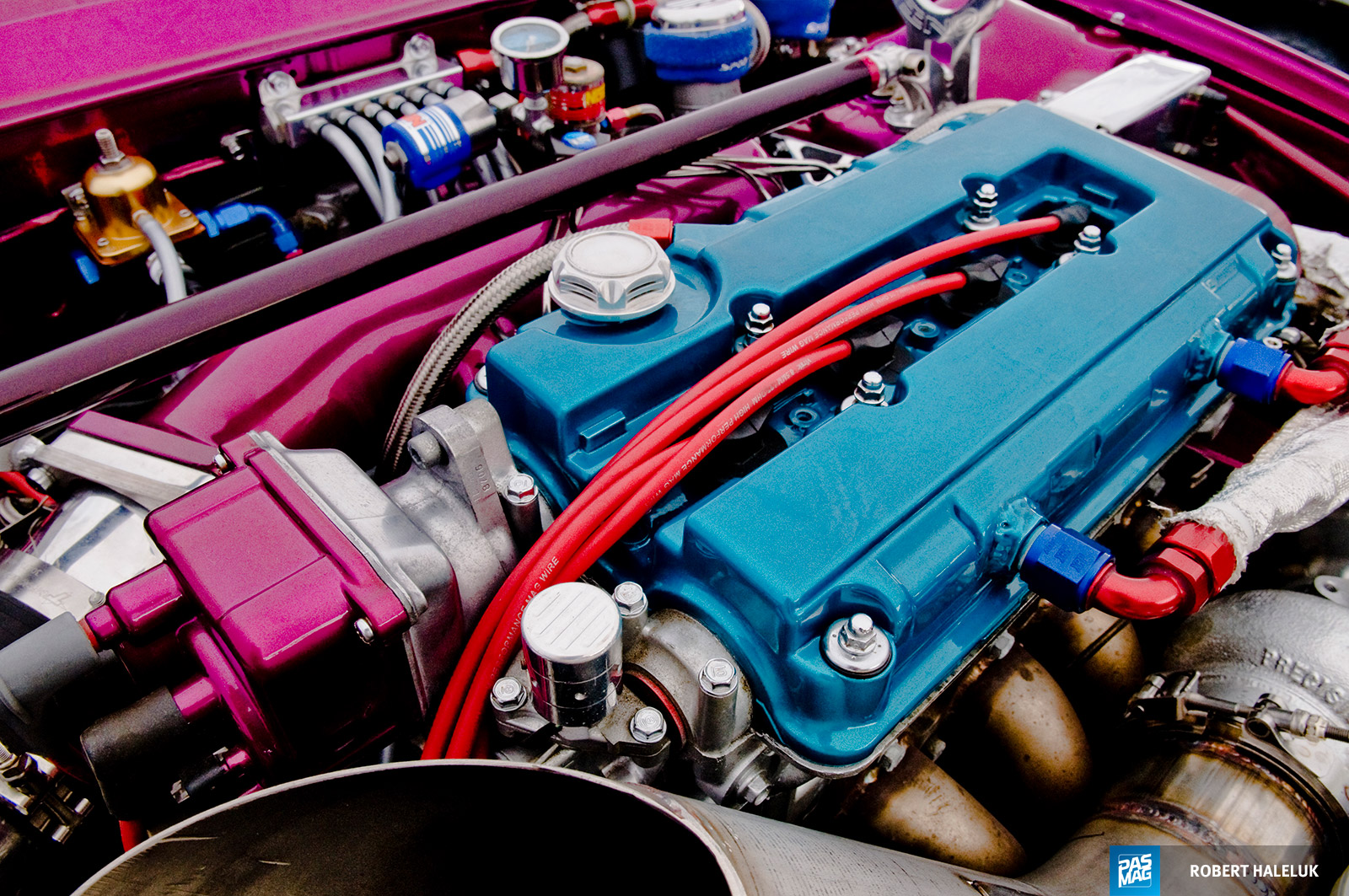 At the heart of the build is B18C that is far from your average build. How far? Try 770whp with 515lb-ft of torque kind of far. Balanced and blue printed, the engine received Wiseco 8.8:1 pistons, Eagle rods with a ported and polished GSR head at the hands of MB Racing in Garfield, NJ. The assembly was fitted with a knifed-edged GSR crank was bolted back up with Cometic gaskets and ARP studs. The engine was fitted with a Precision PT76 turbo and a maze of S-Max intercooler piping, TiAL blow-off and a big S-Max front mount. The charge air is regulated by and Accufab 90mm throttlebody fitted to an S-Max intake manifold. Fuel is fed by Weldon pumps into Precision 1000cc injectors and ignited MSD coils, NGK plugs and Vitek wires. The oxides are fired out the MB Racing top-mounted header and a custom 4-inch stainless exhaust with a proper wastegate dump out the front bumper.
To extract all the potential, Haltech was contacted to supply their E6K standalone engine management system. After hours of exhaustive tuning at the CLM Motorsports dyno in Newark, NJ, all 770 ponies needed to be harnessed. Competition Clutch supplied their beefy twin disc, matched up with a cryo-treated GSR transmission spinning up Driveshaft Shop Chromoly axles.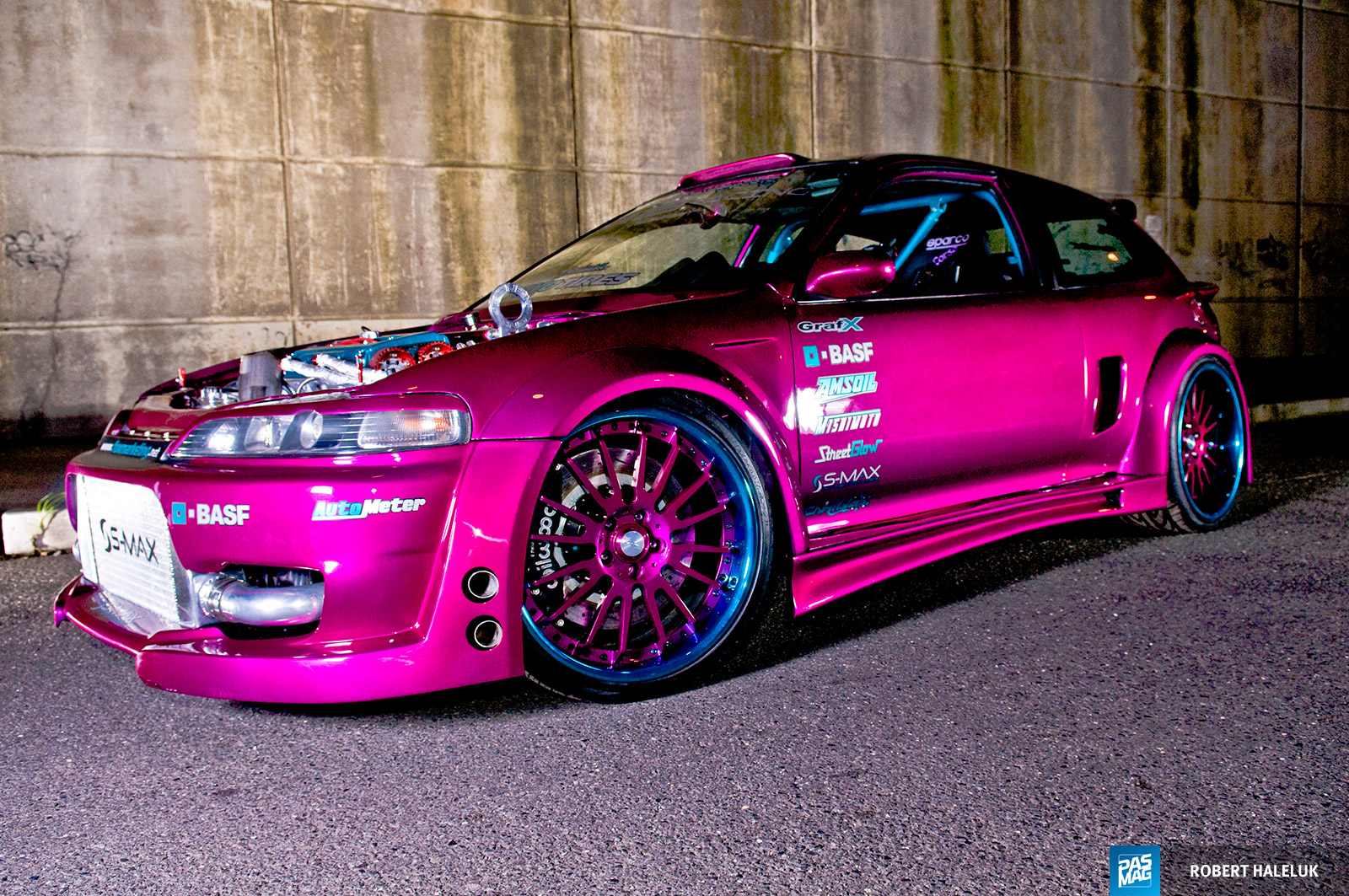 To get noticed in Jersey, you have to stand out. Vinces knew that a stock body bubble-back would not cut it, even with almost 800 horses under the lid. A custom 4.5-inch metal widebody was grafted onto the former commuter car. NSX vents were molded into the fenders, the handles were shaved as were the antenna and roof gutters. A roof scoop was added as was a gas lid from a motorbike and a JDM Honda Integra Type-R front end. Carbon splitters were fitted to the front and a Wings West duck bill roof spoiler made it onto the project as well. After a long prep-job by Dave Lightner the car was shipped to Donnelle in Paterson, NJ for several coasts of silver, triple Candy and finally a BASF Candy Fuscia.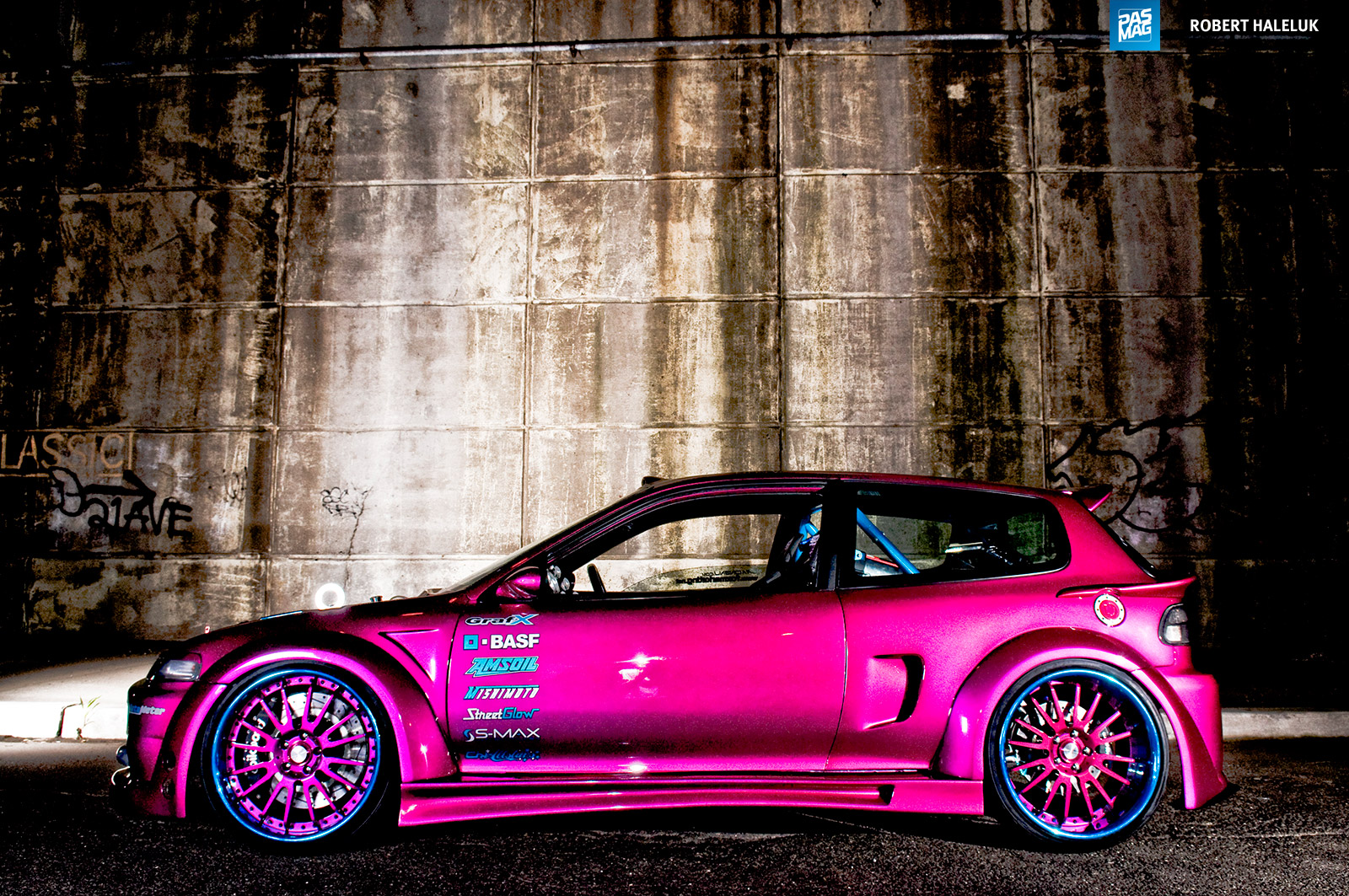 With all that new space under the wheel wells, Vinces needed a lot more tire to stuff them. To make that happen, he contacted Avus for their 3-piece custom wheels finished in color-matched face with teal lips. The fronts are 20x9 and the rear are a massive 20x110inch all 5-bolt after a fresh Integra Type-R 5-lug conversion. Toyo Proxes 4s were stretched on 245/35R20 up front with 295/25R20 in the back. Behind the wheels are Wilwood 16-inch 2-piece rotors clamped down by 6-piston binders with a 13.5-inch rear rotor and 2-piston caliper. A set of D2 coilovers were added on with a pair of Eibach sway bars and Energy Suspension bushings to keep it tight.
The interior of Vinces' car is a creation that helps this car clean up at shows coast to coast. At Car Crafters, the crew built a full custom fiberglass dash that houses 14 Auto Meter gauges and a Sharp 17-inch LCD display. The center console and door panels are also fiberglass'ed along with every possible interior piece. A Techniq steering wheel boss was added along with a custom leather wrapped Sparco Corsa wheel. A 4-point roll cage with billet NOS brackets was installed all color-matched along with the exterior.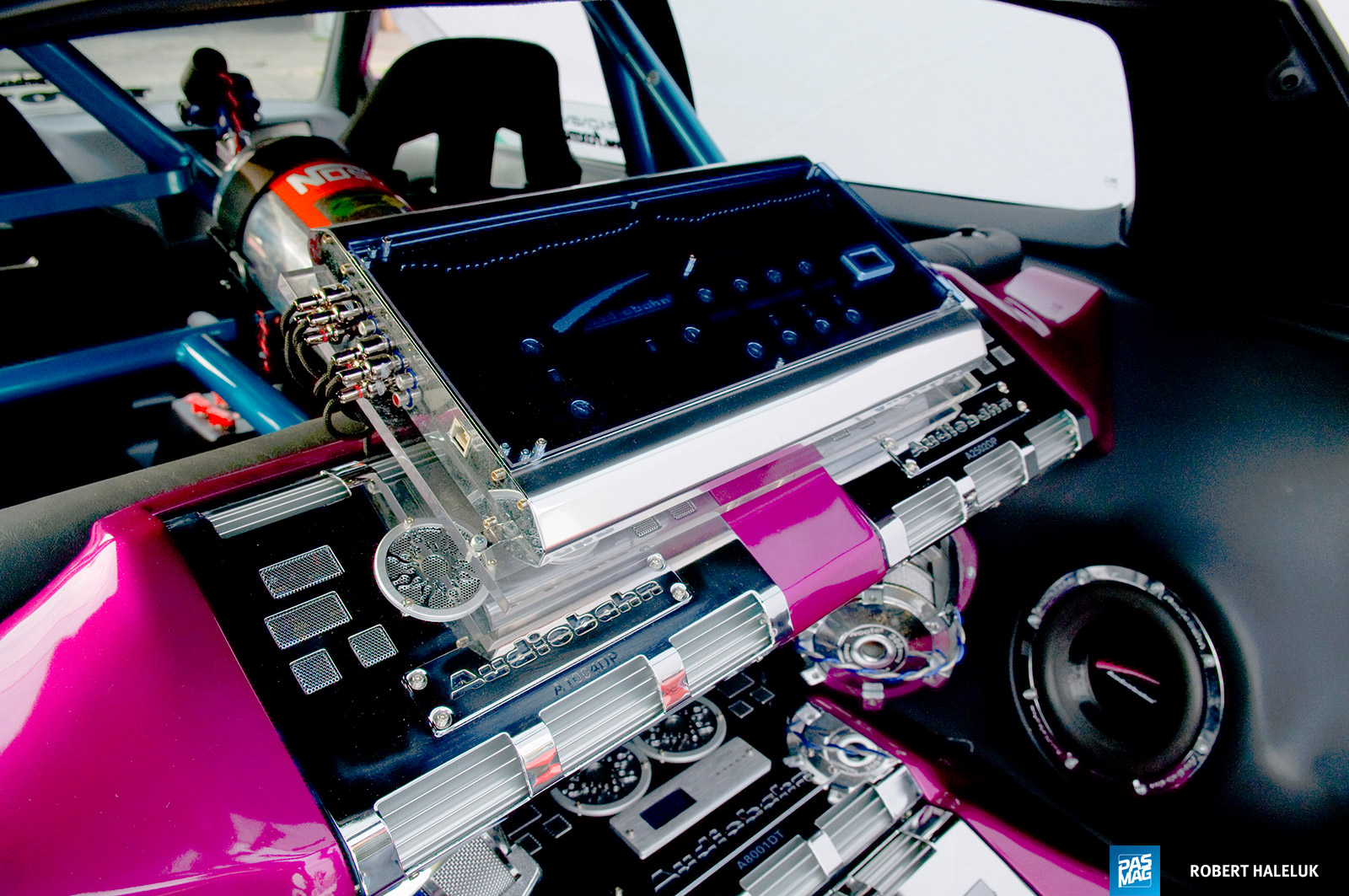 When it came to audio and multimedia Vinces drew together the entire team to make a real statement. Feeding off a Pioneer KEH P5000 headunit, the signal heads to an AudioBahn 30band EQ before amplification. The sub amps are a pair of AudioBahn 800.1 units to match the 400.4 AudioBahn high frequency amps. In the trunk are a pair of AudioBahn subs complimenting the two sets of 3-ways and components found throughout the cabin.
Just like I was hinting at earlier, we see a lot of EGs come across our desks here, most of which are filed under "G." They either are too JDM Tyte or far too whack but this build definitely has it all. The outrageous bodywork, the custom magic and loads of power to back it up. We didn't expect anything less from Vinces or his accomplish Hary and are eager to see how it dominates Honda classes across the country with ease.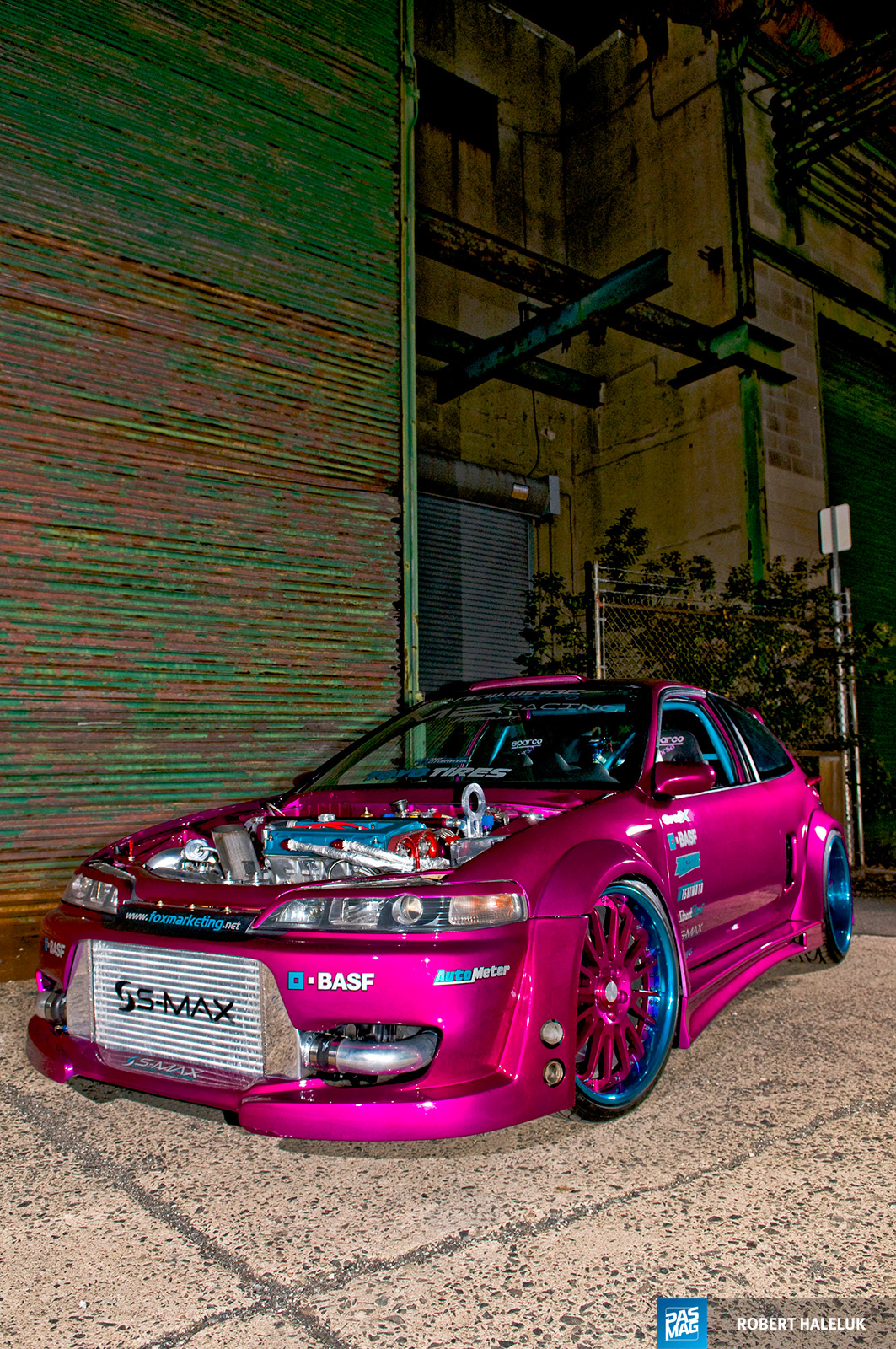 ---
ESSENTIALS
Owner: Kenny Vinces
Location: Paterson, NJ
Vehicle: 1992 Honda Civic
Power: 770whp with 515lb-ft
Engine: Honda 1.8L B18C1 inline-4
ENGINE MODIFICATIONS

Balanced and blue printed block
Wiseco 8.8:1 pistons
Eagle rods
Ported and polished GSR head by MB Racing in Garfield, NJ.
Knifed-edged GSR crank
Cometic gaskets
ARP studs
Precision PT76 turbo
S-Max intercooler piping
S-Max front mount
TiAL blow-off
Accufab 90mm throttlebody
S-Max intake manifold
Weldon pumps
Precision 1000cc injectors
MSD coils
NGK plugs
Vitek wires
MB Racing top-mounted header
Custom 4-inch stainless exhaust
Custom wastegate dump-pipe
ENGINE MANAGEMENT
DRIVELINE
ACT Street Disc
SpeedTech aluminum driveshaft
KAAZ LSD
WHEELS, TIRES, BRAKES
Avus 3-piece custom wheels - (f) 20x9-inch, (r) 20x11-inch
Toyo Proxes4 tires - (f) 245/35R20, (r) 295/25R20
Wilwood 16-inch / 6-piston
Wilwood 13.5-inch / 2-piston
SUSPENSION
D2 coilovers
Eibach sway bars
Energy Suspension bushings
EXTERIOR
Custom 4.5-inch metal widebody
NSX side vents
Shaved: handles, antenna, roof gutters
JDM Honda Integra Type-R front end
Carbon splitters
Wings West duck bill roof spoiler
Bodywork by Dave Lightner
Donnelle in Paterson, NJ for BASF Candy Fuscia.paint
INTERIOR
Car Crafters custom fiberglass work
Auto Meter gauges x14
Techniq steering wheel boss
Sparco Corsa wheel
Custom 4-point roll cage with billet NOS brackets
AUDIO / MULTIMEDIA
Pioneer KEH P5000 headunit
AudioBahn 30band EQ
AudioBahn 800.1 amps x2
AudioBahn 400.1 amps x2
AudioBahn 12-inch subs x2
AudioBahn 3-way speakers x4
Sharp17-inch LCD display
PHOTO GALLERY