Photography by Jacob Leveton.
---
If you look around, you'll see that Drifting has some serious momentum. No it isn't where mainstream motorsports are, it may never be. But considering it only became a professional sport in 2001 and really sparked here only five years ago the motorsports world is totally awestruck with the progress. Packing Irwindale with over 10,000 spectators, major TV deals and merchandising gaining momentum drifting has advanced further than where the motorsports monster of NASCAR was. Back in the 50's NASCAR was nothing more than some good ol' boys hanging out on the beach watching near stock cars go in straight line, then pull a U-turn. That's right, I said "beach" as in on sand because there were no tracks, no TV deals and certainly no major marketing dollars just gearheads labouring to start something.
Drifting arrived in grand fashion. It hit and hit hard. Will it make the transition into mainstream, well in a way it already has. Hell, my mom knows about it and I swear I didn't coach her, see puts it on every now and then and reads up on it. So North America has momentum but most fans don't even know how huge it is all over the world. Europe has several drifting series, Australia / New Zealand has their own series and competitors pick up skills from all over.
When a foreign drift car comes across our desk, we are amped to peek under the hood. We wanted to chat up the driver, see how they view the sport and really get a grasp on the scene in their homeland. Because the future success of drifting isn't just what happens in the US but how the rest of the world develops. Then the money, the TV and the talent will all follow.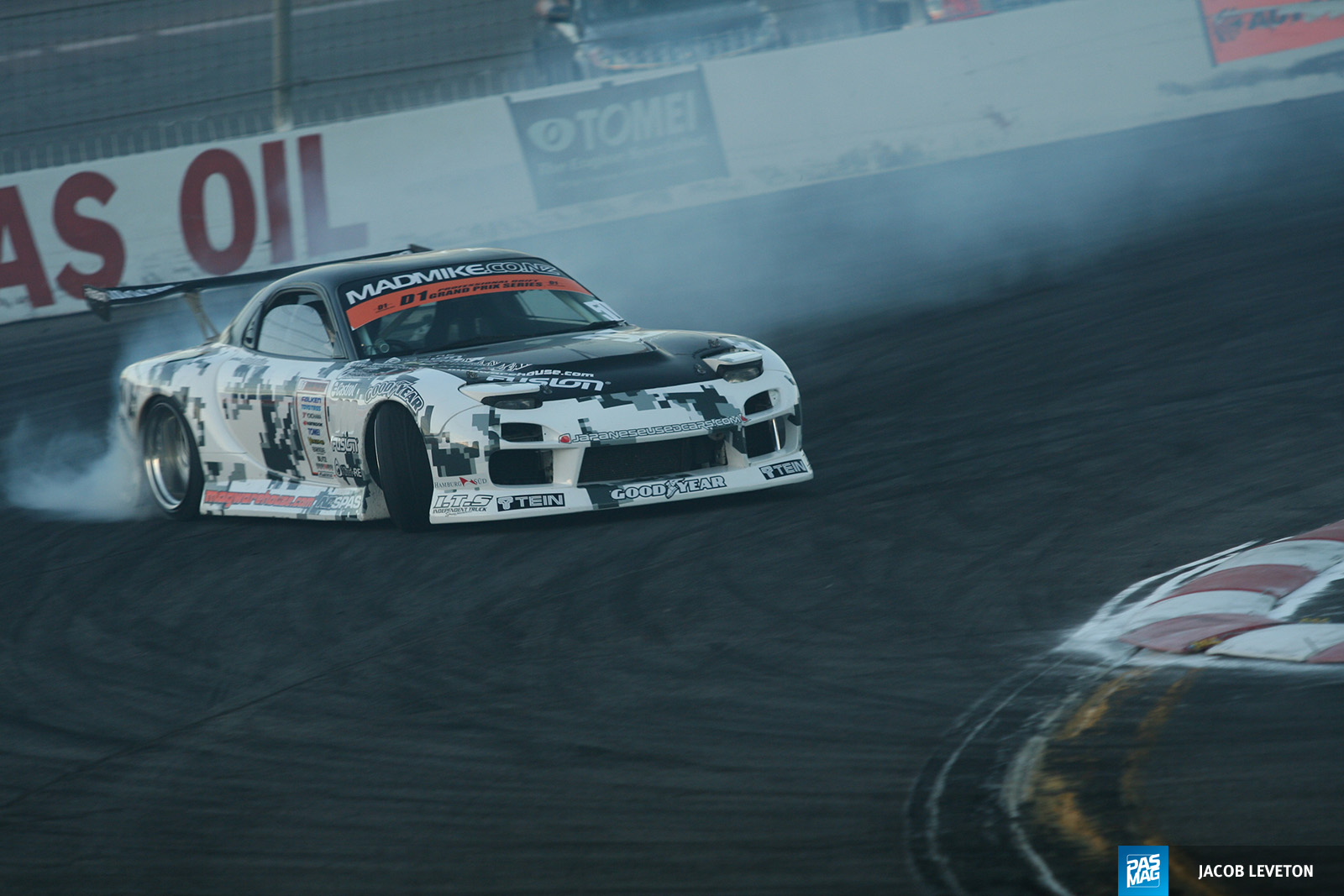 "Mad" Mike Whiddett is just one of those interesting drivers, with a tight drift car and the kind of dedication to the sport that will keep it lit. His weapon of choice is an FD RX-7 that has around $60K USD piped into it but its tough to argue that the package is totally gangster.
At only 25, Whiddett has owned over 26 rotary powered vehicles! He was afflicted with the rotary bug when he was only 13, wrenching on an old RX-3. And so began the affair with spinning triangles inside epitrochoids. Whiddett started with a clean 1994 FD3S chassis and stripped it to the bare metal. Kiwi-RE.com of Auckland, NZ began fabricating the 6-point cage, stitch welding the chassis and building an entirely race-ready interior. Then they completed the details like the switch panels, a fire extinguisher mount and an army of GReddy and Spitfire gauges. A monster tach upfront and center was priority number one.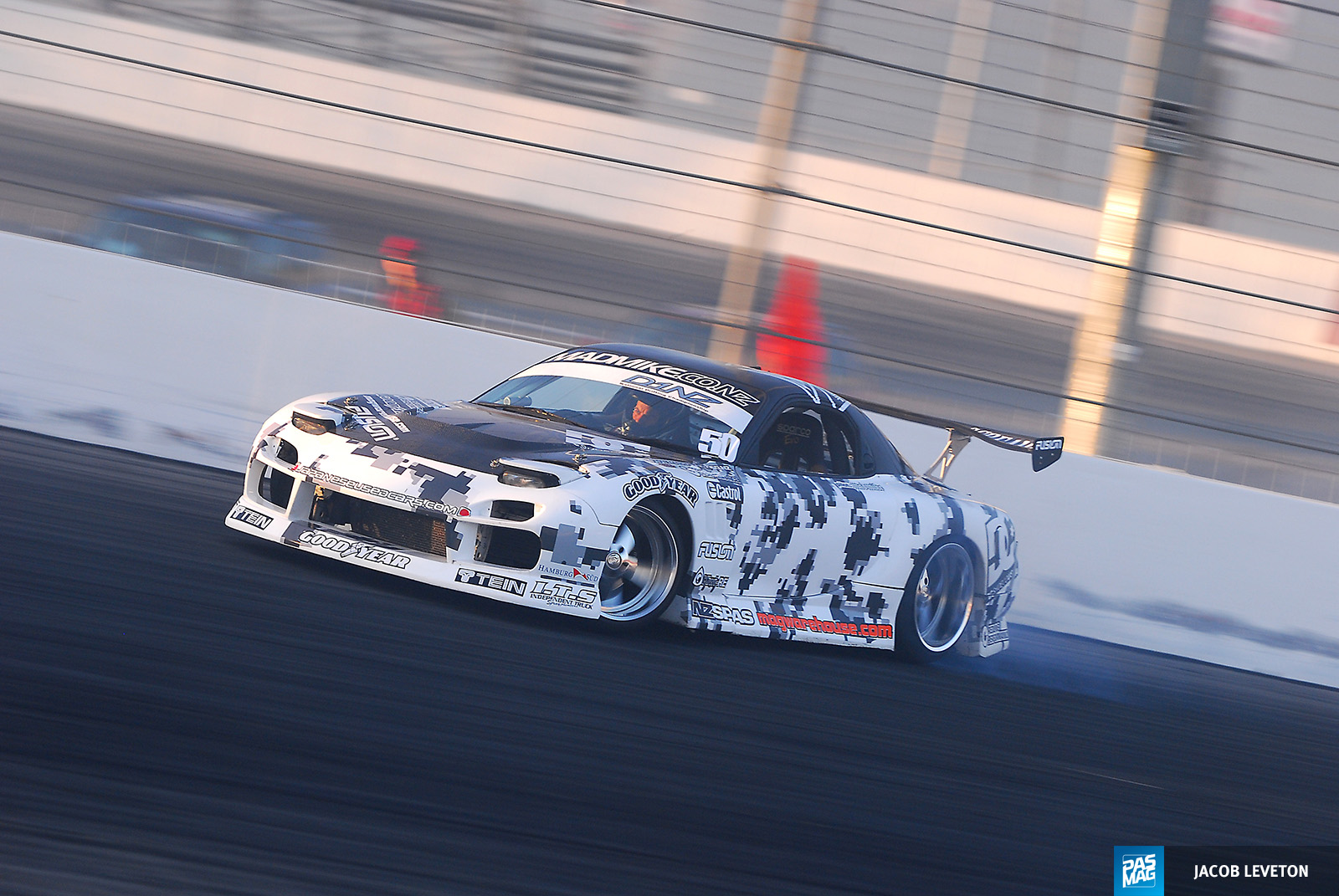 The shell of the car was about to get a makeover as well. Whiddett's frien Ian "Chomey" Sheppard was delegated to fit up the ultra aggressive BN Sports blister widebody kit. This 4-piece kit adds over 50mm in width and really sets the car off. The car was dragged to ITS Customs to get a fresh coat of Appliance White with a flat black roof. The Whiddett himself cut the vinyl "digi-snow-camo" and sponsors at his company CREA8GRAFX Limited. They added a C-West carbon fiber lid and then went on a hunt for some rollers that would sit flush.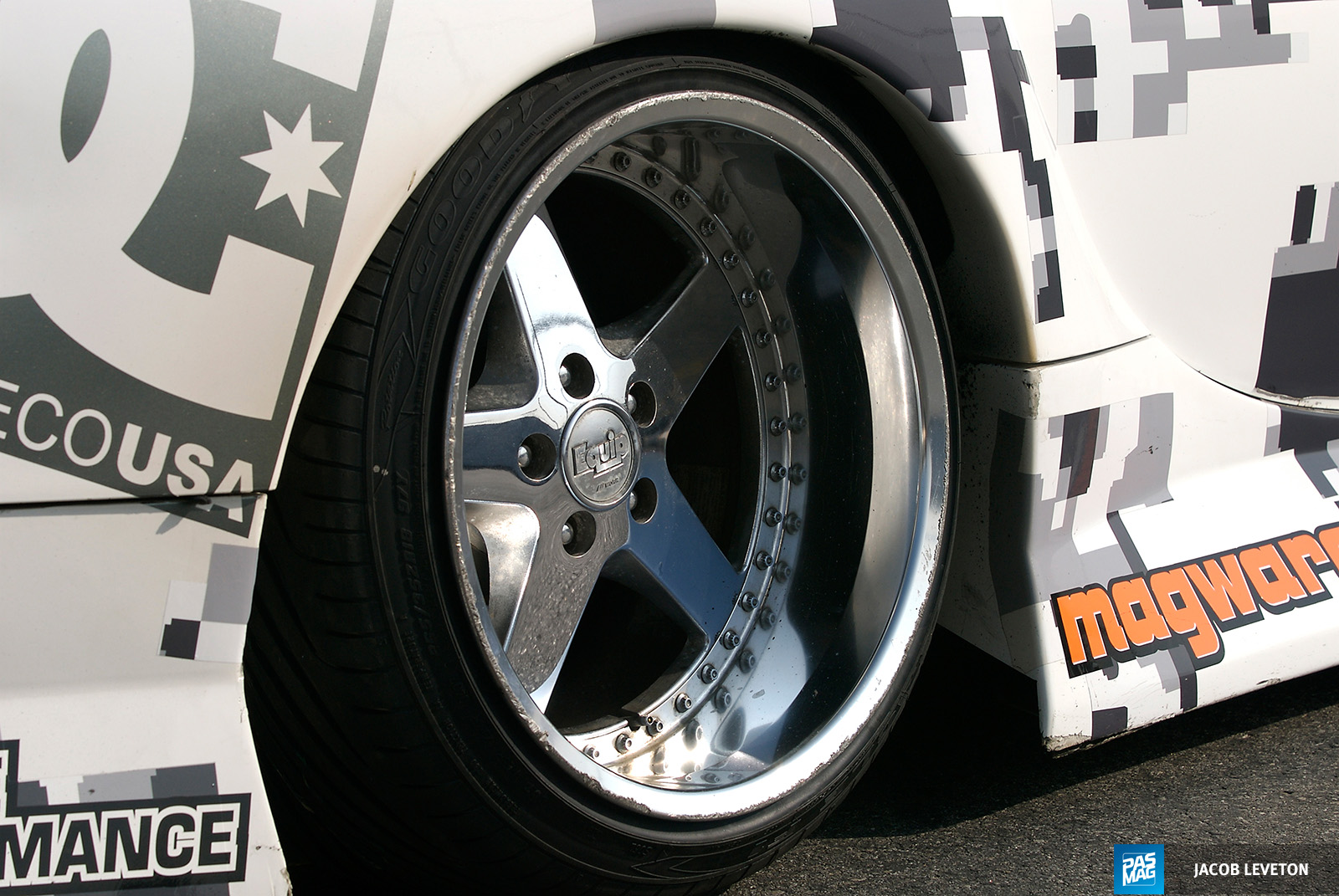 What Whiddett ended up with was a set of 3-piece S1 Meisters in morbidly obese sizing. The fronts are 18x11-inch shod with Goodyear Eagle F1 245/35R18 and the rears are 18x12 with a –15 offset and Goodyear Eagle F1 265/30R18 stretched over them. Keeping them planted is a set of TEIN's Super Drift coilover controlled by the venerable EDFC. The bushings have been replaced with Nolothane but the balance of the undercarriage is all factory Mazda. D2 however did add a couple goodies, the first being a hydraulic e-brake assembly but far more pimp is the D2 airjacks, to pop the car off the wheels in seconds.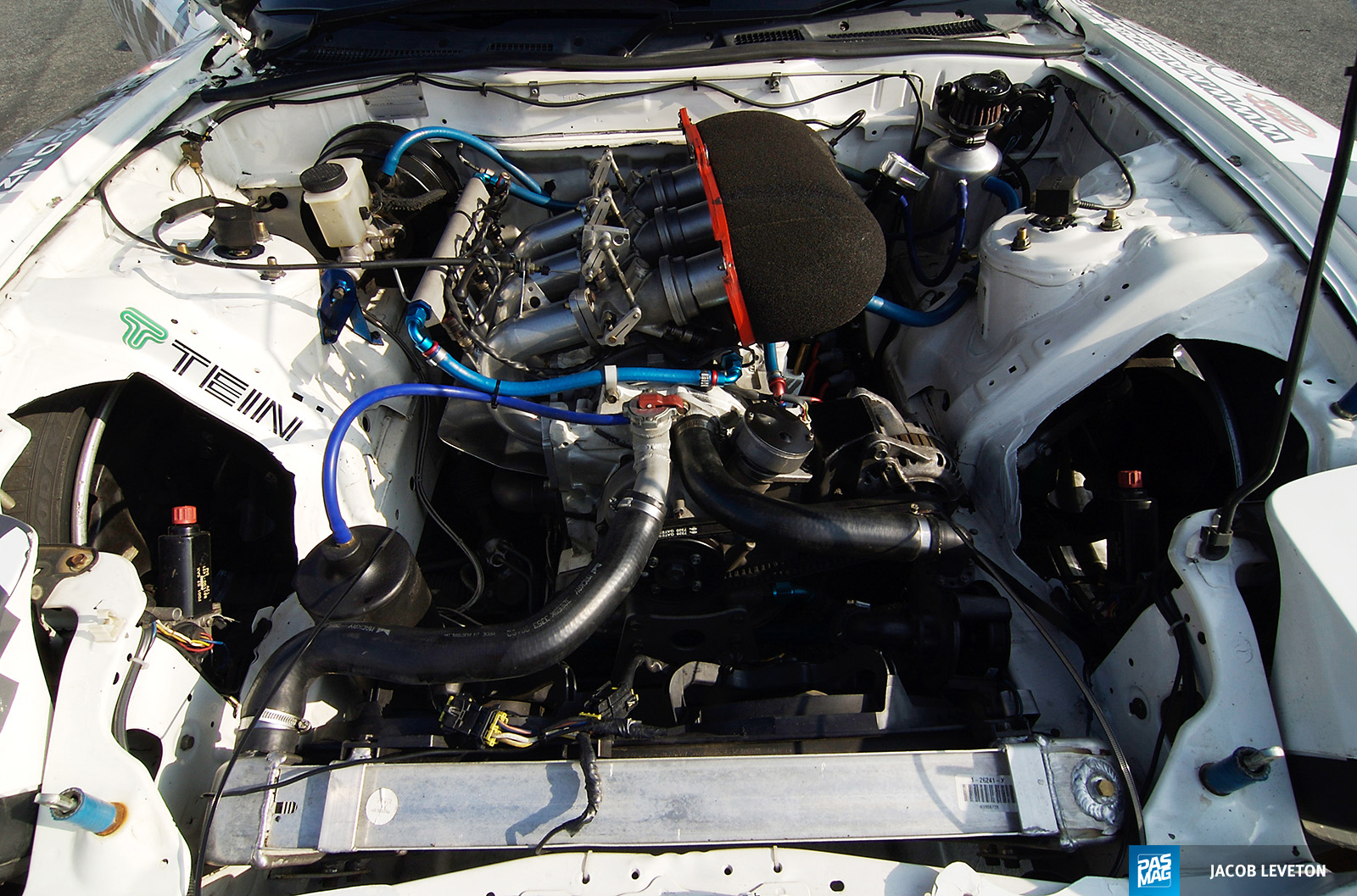 Under the carbon lid is an unorthodox setup. When you see drift RX-7s, 99-percent of the time they have turbos and 2-rotors. Whiddett however, has an N/A 20B triple from the legendary Cosmo. It is a peripheral port setup that is lightened and balanced using the Renesis rotors. The intake is custom as are the fuel runners with the modified eccentric shaft alloying for seriously high revs. The motor is fueled by a Bosch inline pump and 6 x 660cc Bosch injectors and draws in air with three individual 55mm throttle bodies. The ignition is an MSD / Bosch combo firing 6 NGK Iridiums, all orchestrated by a Microtech LTX-12 standalone. The results are good, very good with Kiwi-RE tuning the package to squeeze out 384whp.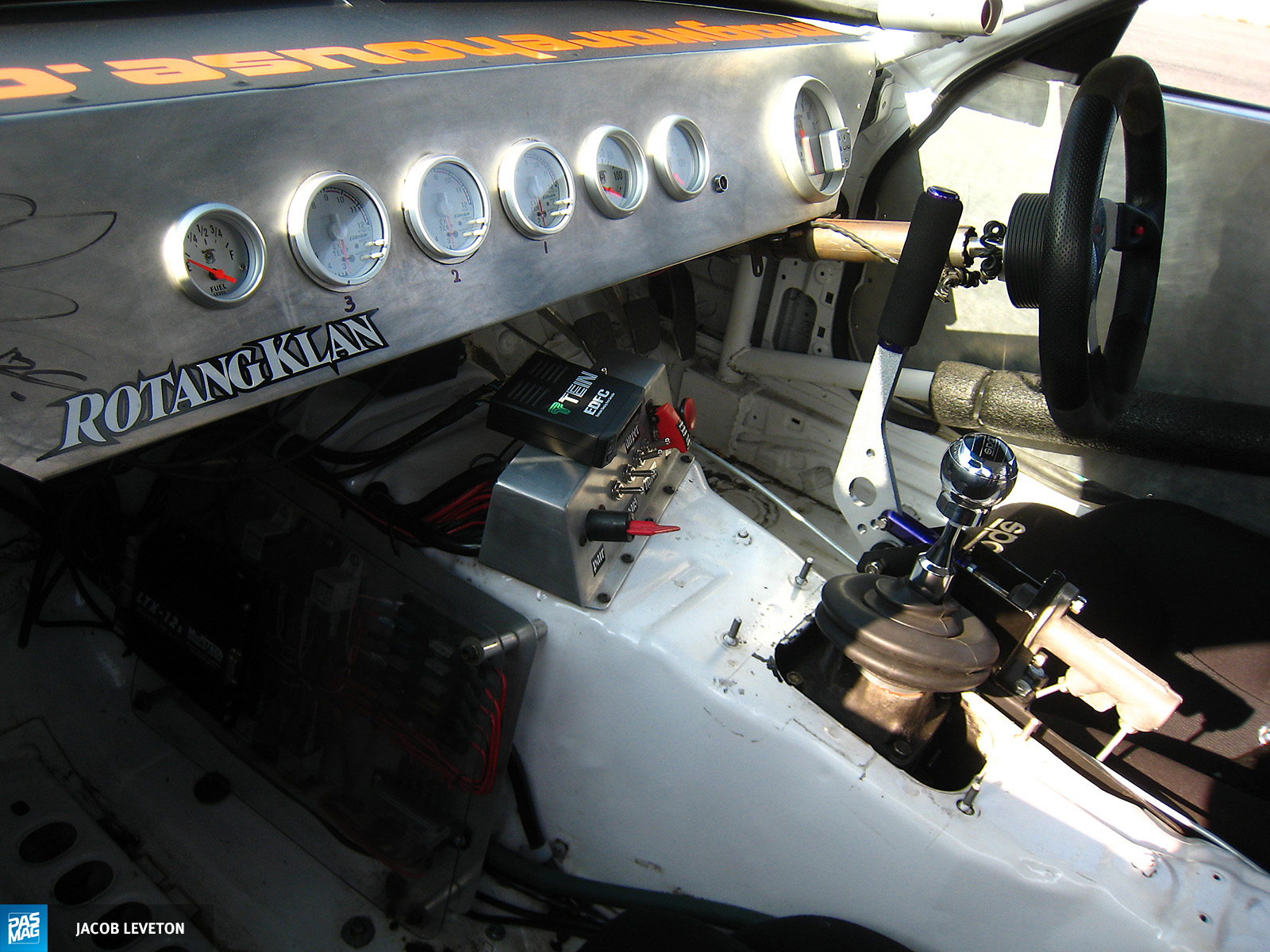 In its lightweight (and drift-ready) form Whiddett decided to take it to the dragstrip. The car clicked off at 12.0 while snaking from barrier to barrier but of course this Mazda is built to slide. And when he isn't holding it down in NZ Drift Series, Whiddett is riding motoX, BMX, breakdancing and skateboarding. He even was invited to compete at the D1 Grand Prix All Star event held at Irwindale with the help of his sponsors including Fusion Audio. Whiddett didn't take the prize, the haunting sound of the 10,000rpm rotary is something no fan will ever forget.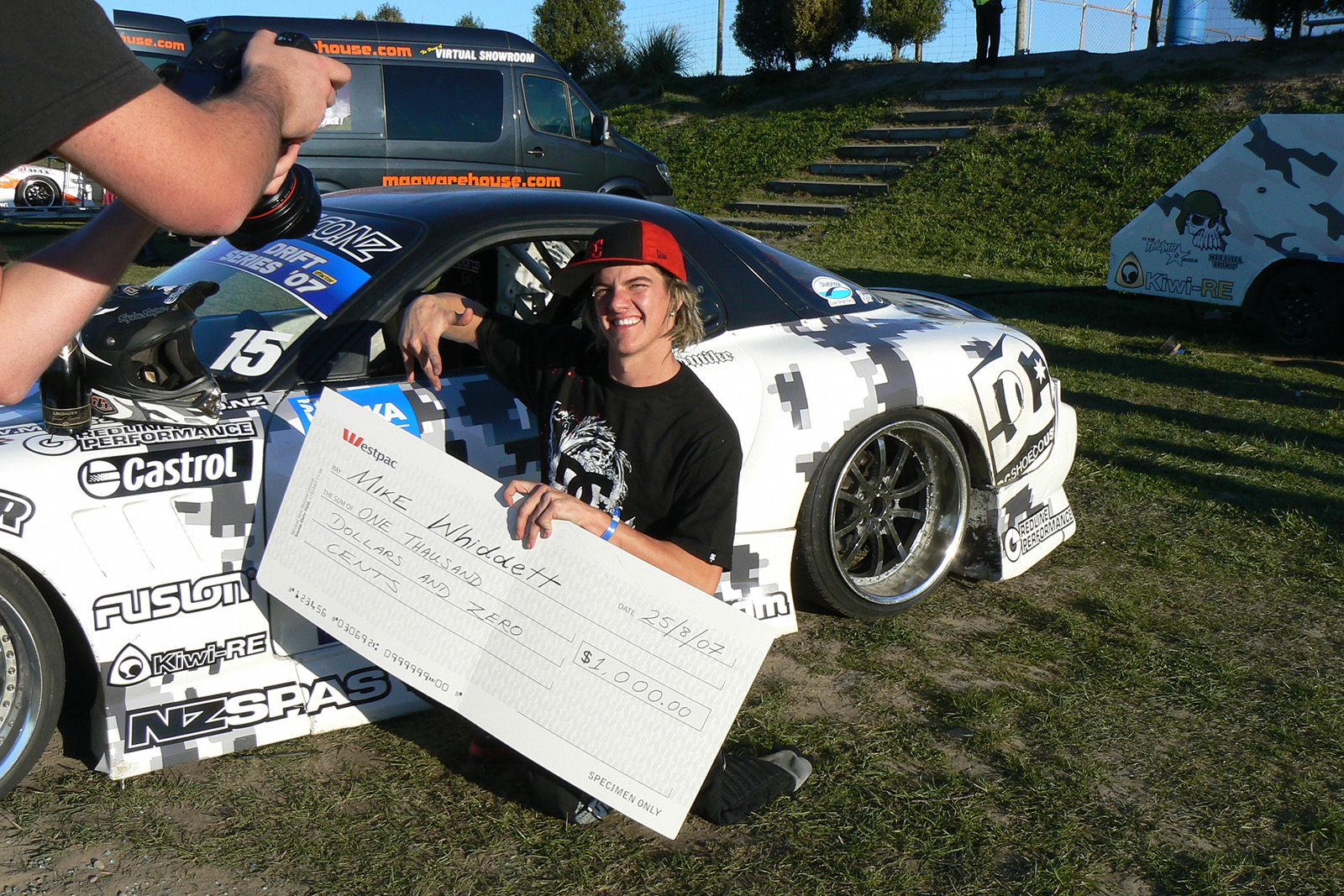 ESSENTIALS
Owner: Mad Mike Whiddett
Location: Auckland, New Zealand
Car: 1994 Mazda RX-7
Power: 384whp
ENGINE / PERFORMANCE
Kiwi-RE built 20B 3-rotor
Kiwi-RE exhaust & header
Kiwi-RE eccentric shaft
Kiwi-RE intake
Kiwi-RE fuel rail
Bosch 660cc injectors
Bosch inline fuel pump
Renesis rotors
Motec 55mm ITBs
NGK Iridium plugs
Microtech LTX-12 standalone
SUSPENSION
TEIN Super Drift coilovers
Nolothane bushings
D2 hydraulic e-brake
D2 air-jacks
WHEELS & TIRES
Work S1 Meister wheels - 18x11 -10 (f), 18x12 -15 (r)
Goodyear Eagle F1 tires - 245/35R18 (f), 265/30R18 (r)
INTERIOR
Kiwi-RE sheetmetal interior
Sparco EVO seats
RJS 5-point harnesses
Sparco steering wheel
6-point cage
EXTERIOR
BN Sports Blister Widebody
C-West carbon fiber hood
Digi-Camo by Mad Mike
SPONSORS
Fusion Audio
Kiwi-RE
Goodyear
Thump
NZ SPAS
Castrol
DC Shoes
PHOTO GALLERY