Although you might not recognize it right away, this cool-looking, Army Green Silvia S15 is famous. In fact, we bet you've seen it before. Most people we know are at least a little familiar with the ongoing movie franchise "Fast and the Furious," and even if it wasn't everyone's favorite choice, the "Tokyo Drift" installment did have its enjoyable moments... Unless you were a Silvia... Specifically, this Silvia. This was Han Seul-Oh's Silvia – the blue and orange one – which the hapless non-drifting hero, Sean Boswell (played by Lucas Black), thoroughly trashed in the parking lot race scene. Only it wasn't thrashed, thanks to the minor miracle of special effects. Instead it's gone on living, changing hands a couple times to slowly become the wide body monster you see today.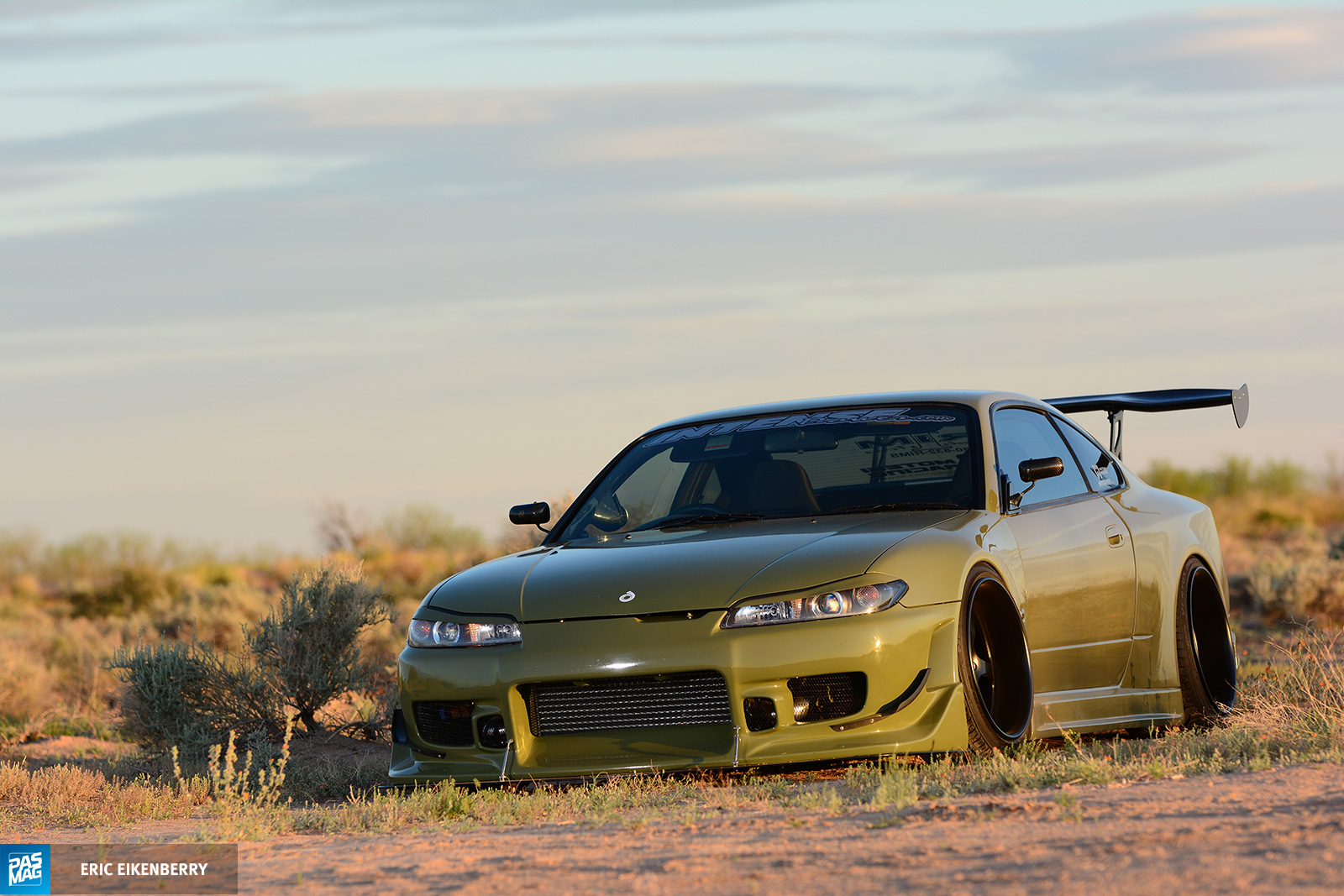 Our story picks up after the movie ends. Universal Studios imported the car to the States for filming, then sold it to Flawless Rides in California in mid-2006. They installed the eight-piece C-West body kit and refinished the car in a custom paint color. Other pieces such as the Origin carbon fiber GT wing, C-West eyelids and carbon fiber canards and APR race mirrors made their way onto the car too.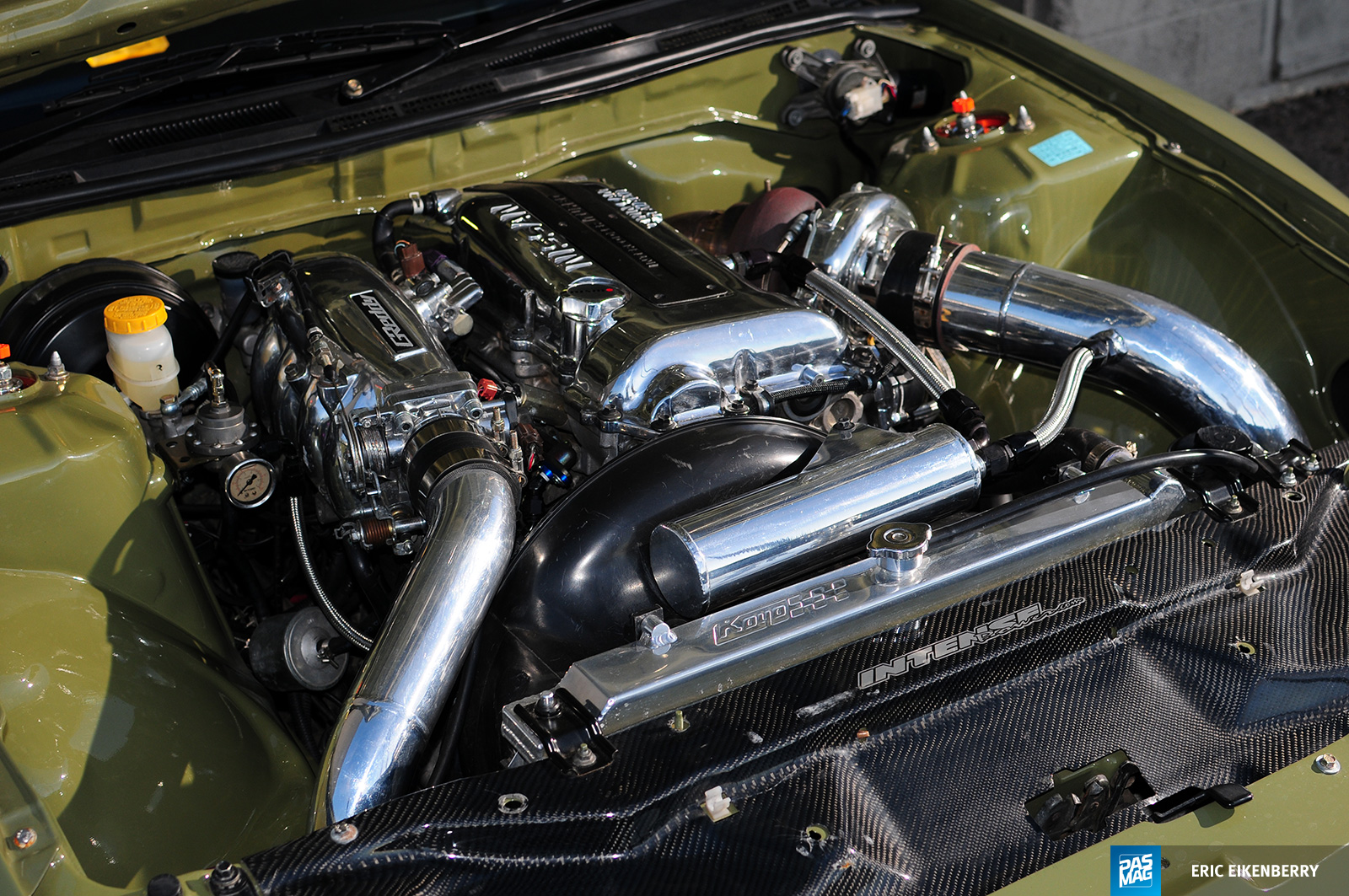 This is where Billy Vaughn stepped in. He saw the S15 in the movie and simply "had to own it." He traced the car to Flawless Rides and made them an offer they could not refuse. For a few years the work progressed, but much slower than he wanted. We all know the story. Life happens and the demands of family and work combine to bring our projects to a crawl. Finding the right shop can also be a problem when dealing with a chassis which was never available in the U.S. It wasn't until January, 2011 that it all kicked into high gear again. Vaughn felt the need to add power, so he collaborated with PowerLab. Han Wong and his crew built an exhaust manifold to hold a Garrett twin-scroll GT3076 turbo and twin TiAL MVS waste gates. They also shaved the engine bay, moving the wires, the fuse panel, the battery and the brake lines for an ultra-clean appearance under the hood.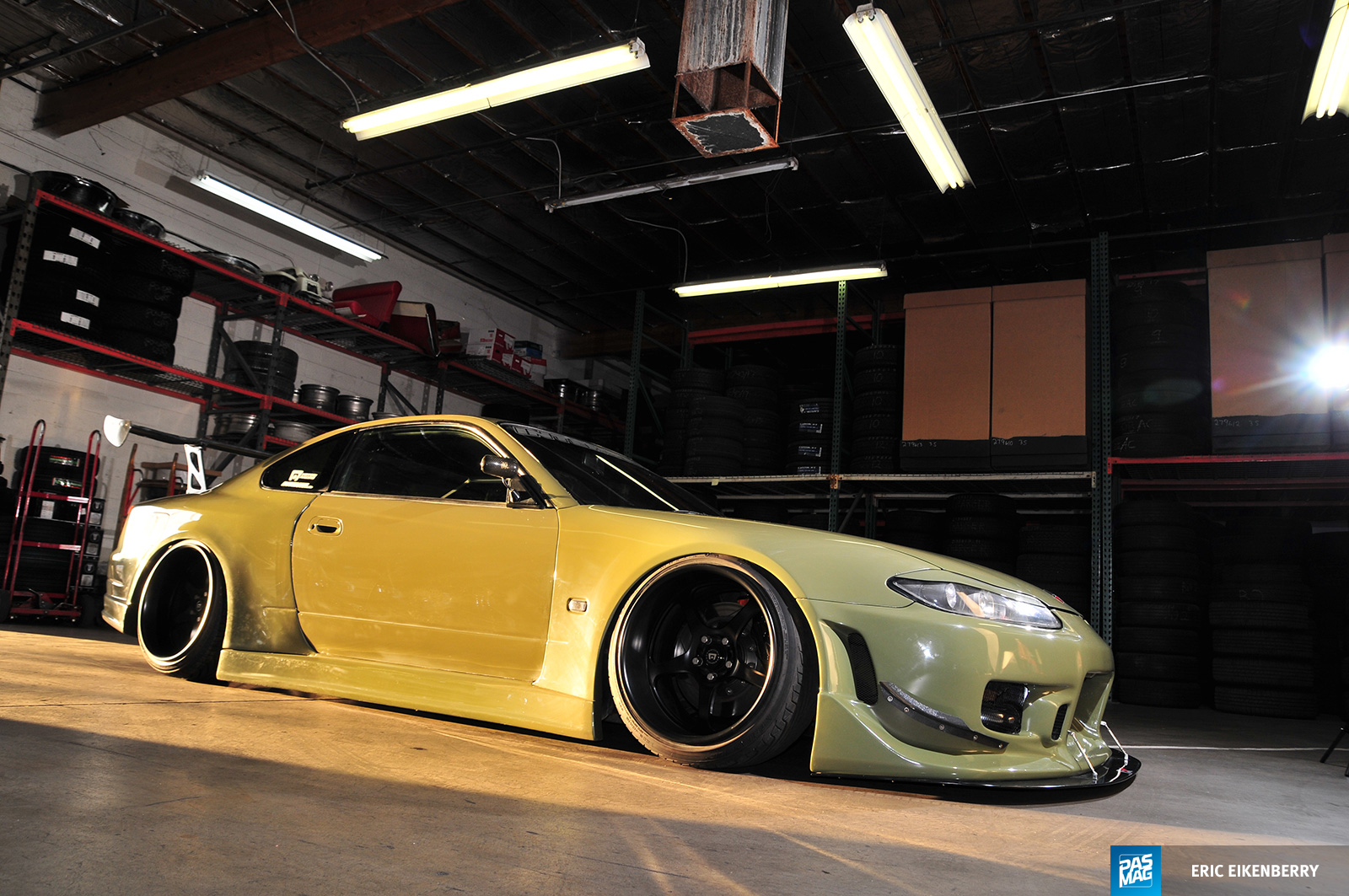 Vaughn then took his car to Rim1 in Phoenix, Arizona, where he is currently a manger, and had K-Sport's Airtech height-adjustable suspension kit installed. Since he uses this as a daily driver, traveling from north Phoenix to work near the Phoenix International Airport each day, having the ability to lift the car makes it useful and prevents damage to the APR carbon fiber front splitter and C-West nose. Look carefully and you can see that the splitter is mounted to the front bumper cover, which is set up to be quickly removed from the Silvia with just a couple hand tools. The fuse panel was relocated just below the front right headlamp, so having easy access is a necessity.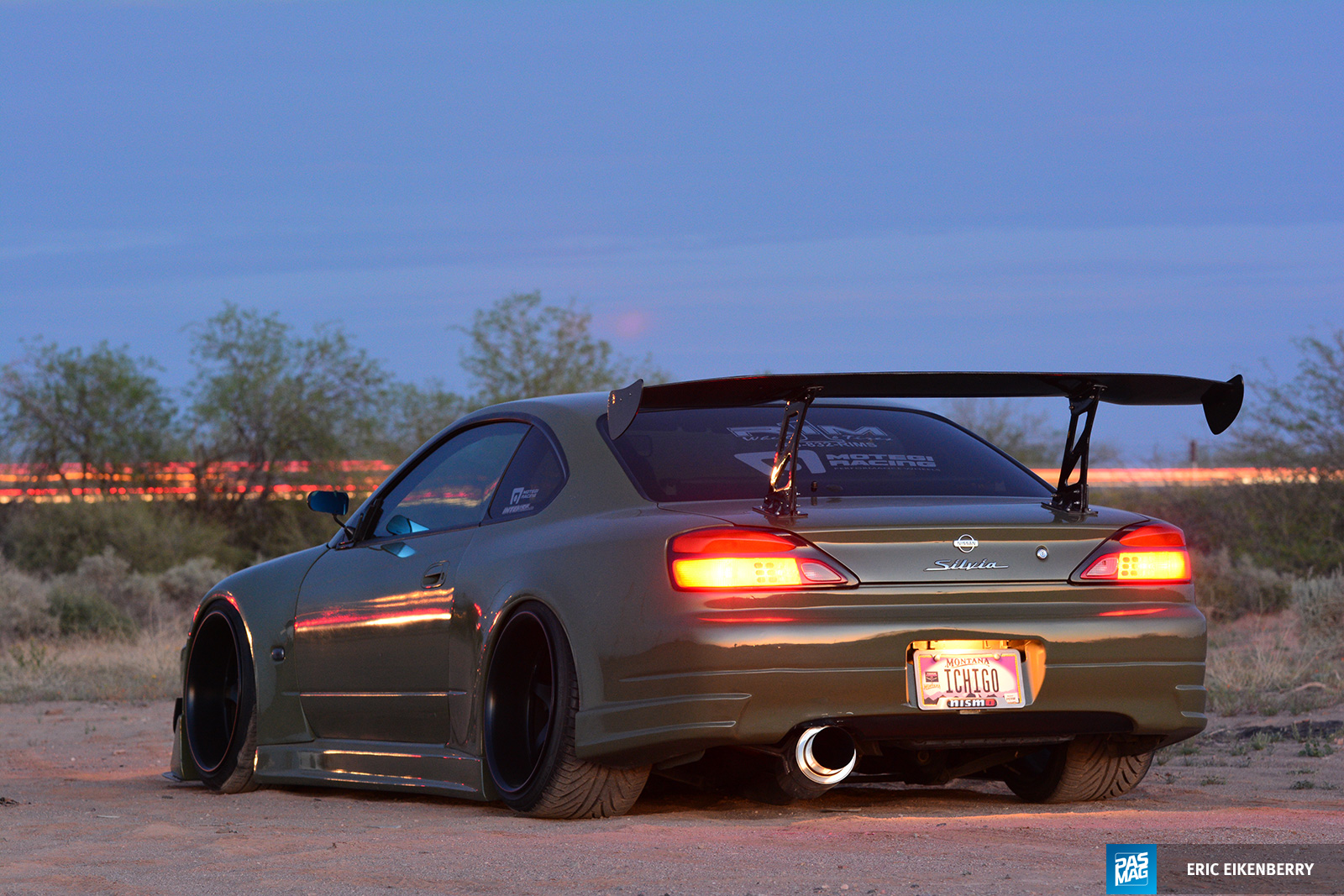 He upgraded the rear brakes with a two-piston Z32 conversion to better match the OEM Nissan four-piston front calipers, then added Powered By Max two-piece slotted rotors to the front and rear to complete the package. Then he contacted Motegi Racing, who they were kind enough to build a set of forged Traklite 1.0 wheels to his specifications. The satin black rollers measure in at 18x10 in the front with a 19 mm offset and 18x12 in the rear with a zero offset. The dish on these wheels is spectacularly-deep and matches the wide-body fenders perfectly. He jokingly says "While we had it up in the air we installed those as well." Because the car is a daily driver and needs a lot of camber on the Powered By Max rear control arms, Vaughn is running a mixed set of tires; Nankang 225/40R18 on the front and Hankook 285/30R18s on the rear. This keeps his tire costs at a manageable level, even with the wide rolling stock involved. It helps to work for a tire and wheel company too, we suppose.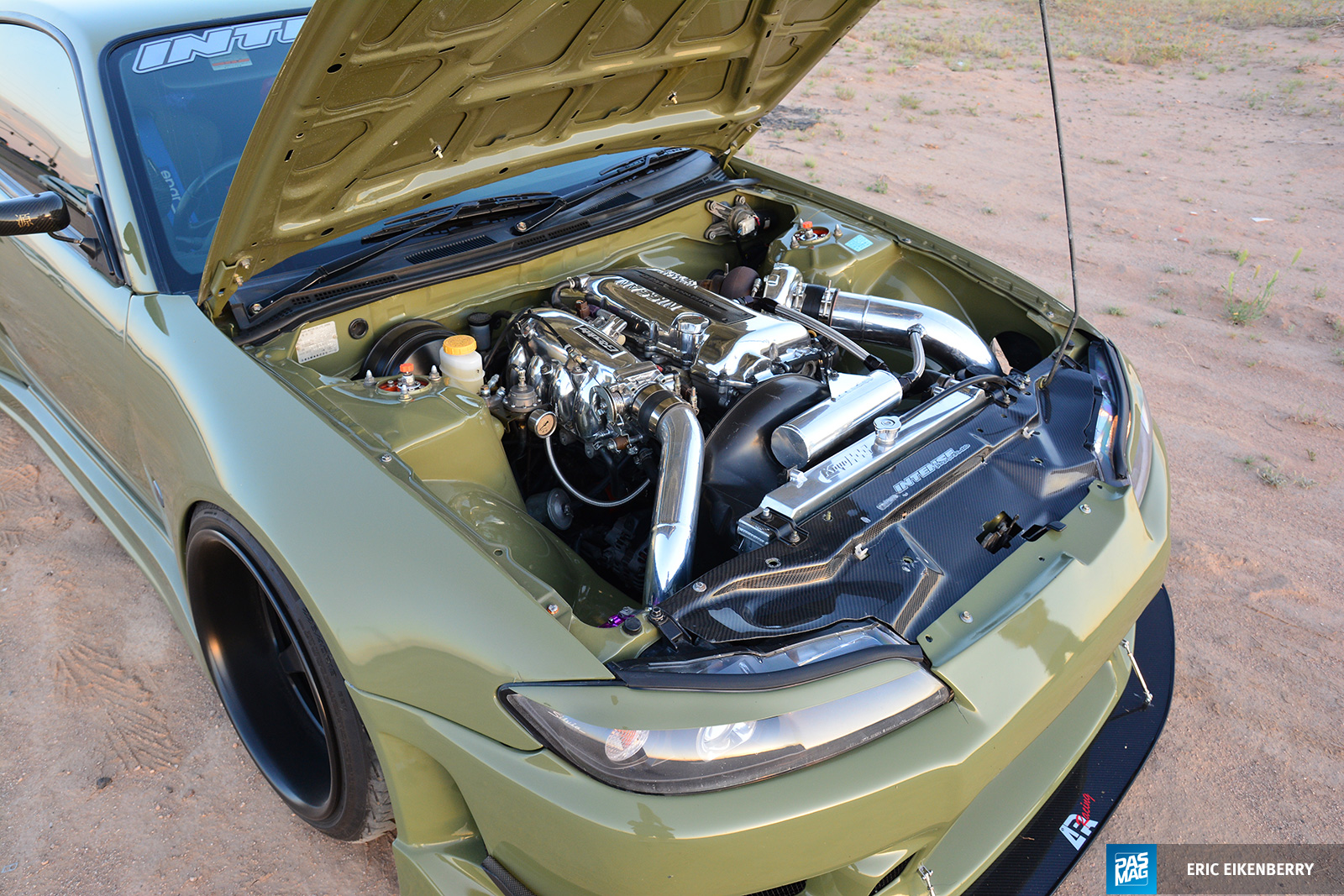 Suspicious Garage installed Tomei cams and a new PowerFC engine management system and fuel pump. Sakuru Garage then touched up the paint (it's a daily driver, remember) and his buddy Eric Beaver completed the final touches, making it ready for the road and the shows. What isn't readily apparent are the little items which make this machine a 'complete package' car: the 880cc injectors, ARP head studs clamping the metal head gasket and ARP exhaust manifold studs supporting the heavier turbo and manifold, the PowerLab open dump tubes, NISMO valve springs and rocker arms, Greddy intake manifold and the Parts Shop Max front mounted intercooler. He had the pulleys anodized purple, ordered a custom catch can and installed a Koyorad twin-core radiator. At this level of build-up, the power is "just a hair shy of 500 hp on race gas and a beast to drive on the street." He also added this tidbit: "I've owned many Skylines and other JDM cars, but never have I received the attention this car brings. It's like driving a dream come true."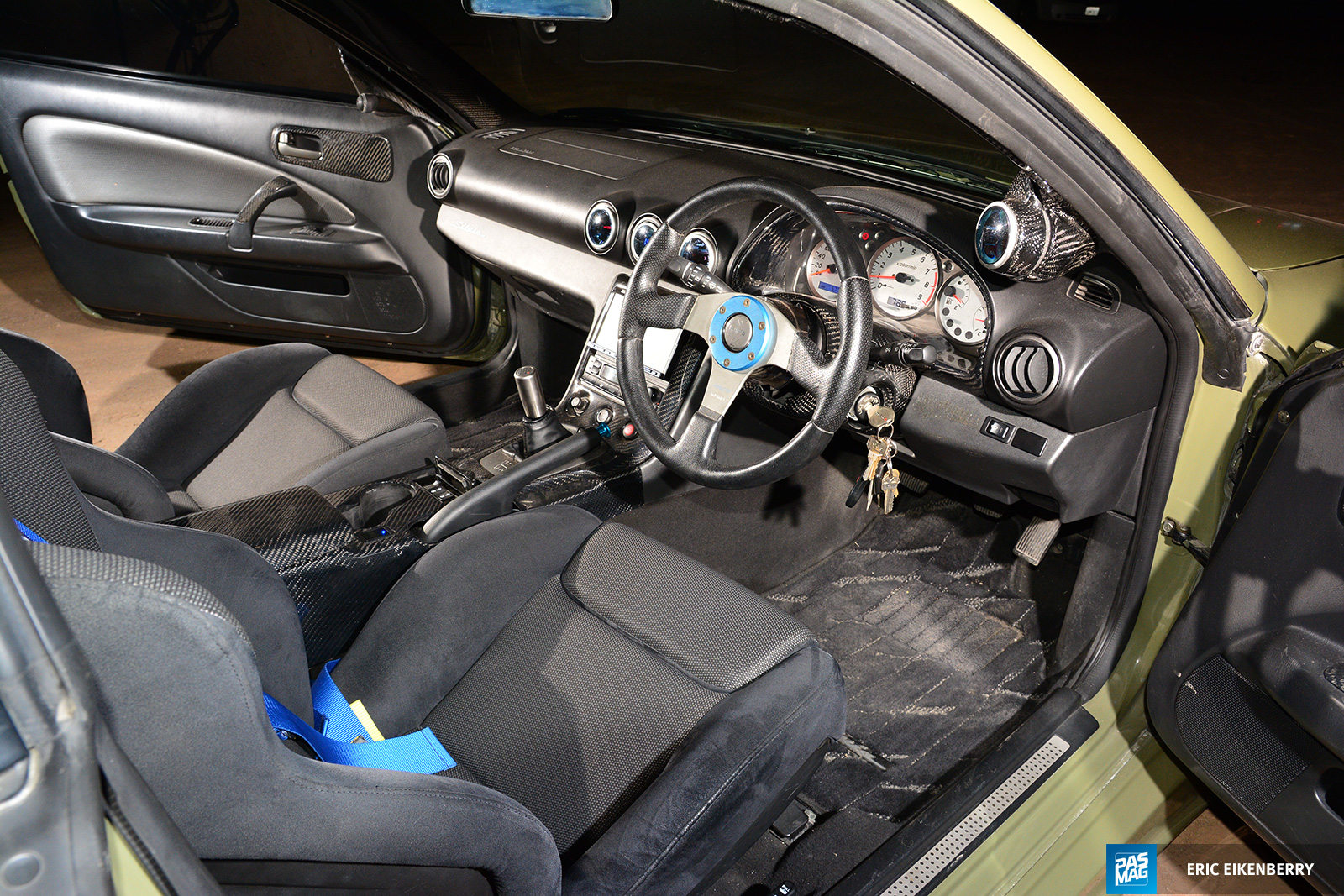 The interior features carbon fiber panels and ProSport gauges for boost, water temperature, oil pressure, and the Wideband O2 readout for tuning.
The front seats are the always-excellent Recaro Speeds and are fitted with Sparco harnesses for the driver and passenger. A Momo Race steering wheel hangs on an NRG quick-release hub. With all of this, he still found the time to have a little fun with a Panasonic double-DIN head unit, JL Audio four-channel and mono amplifiers, and a JL Audio W3 12" sub mounted below the polished aluminum air tank in the trunk. Everything is nicely integrated and the tones and hues of the individual pieces are very subtle. It's a pleasant cabin in which to pass the miles during his daily commute.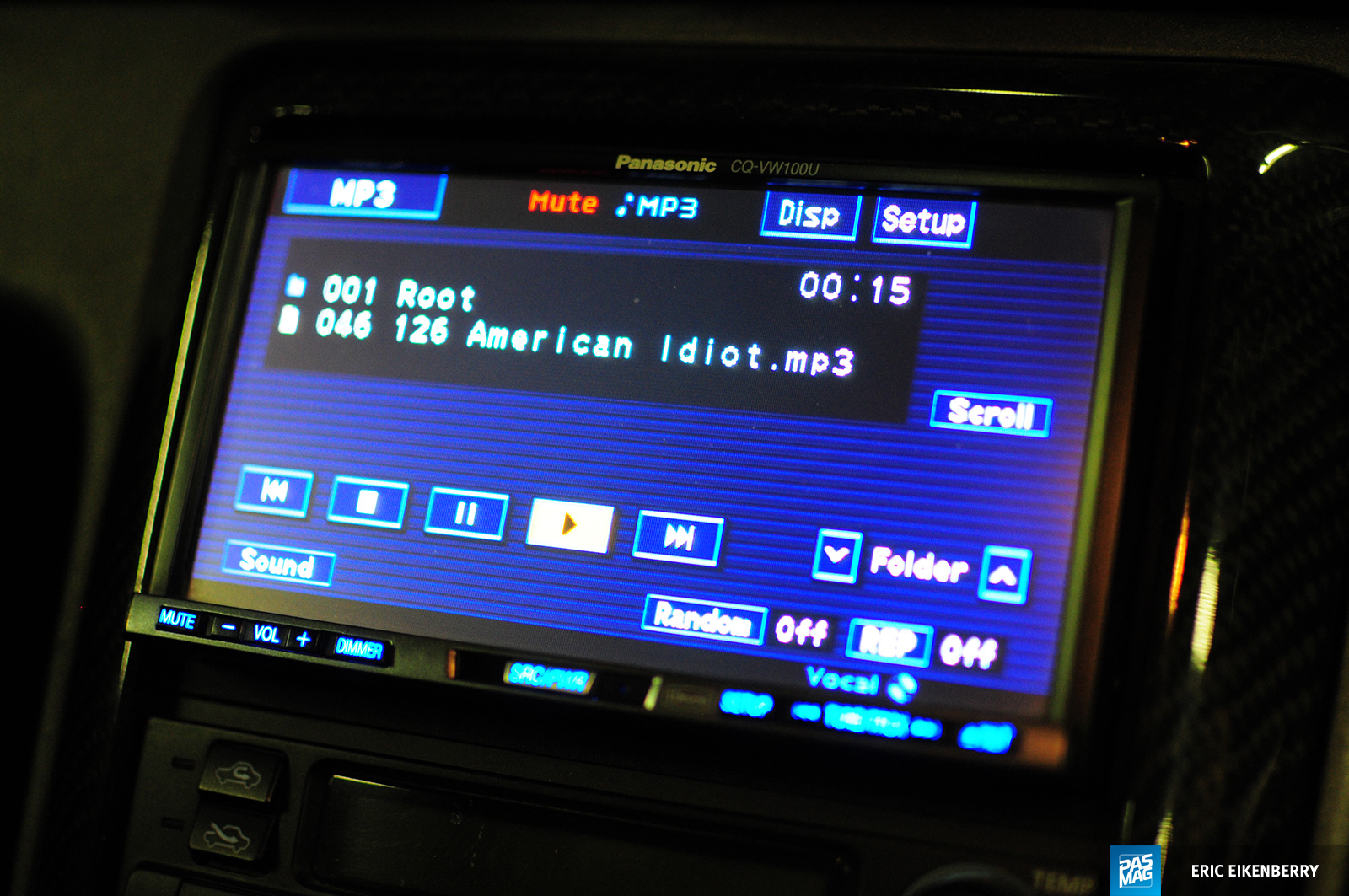 "There weren't many complications with the build, other than the wait itself. Ever since I laid eyes on the car, I knew this was how it had to be and I wasn't going to stop until it was just right. All said and done, I have over $60k invested."
We agree anything this fine can truly be seen as an 'investment' and not mere transportation, but what's craziest is his attitude – he simply loves driving this car around.
"I have beat out all the competition at shows ranging from California to Arizona to Nevada. I know I'll probably never own another car like this again. I want to give a big thanks to my lovely wife Candice and my kids Alexis, Zoey, Vera and unborn son William, whose support means so much."
This just goes to show you, with the addition of a dedicated owner, there is life after the movies after all.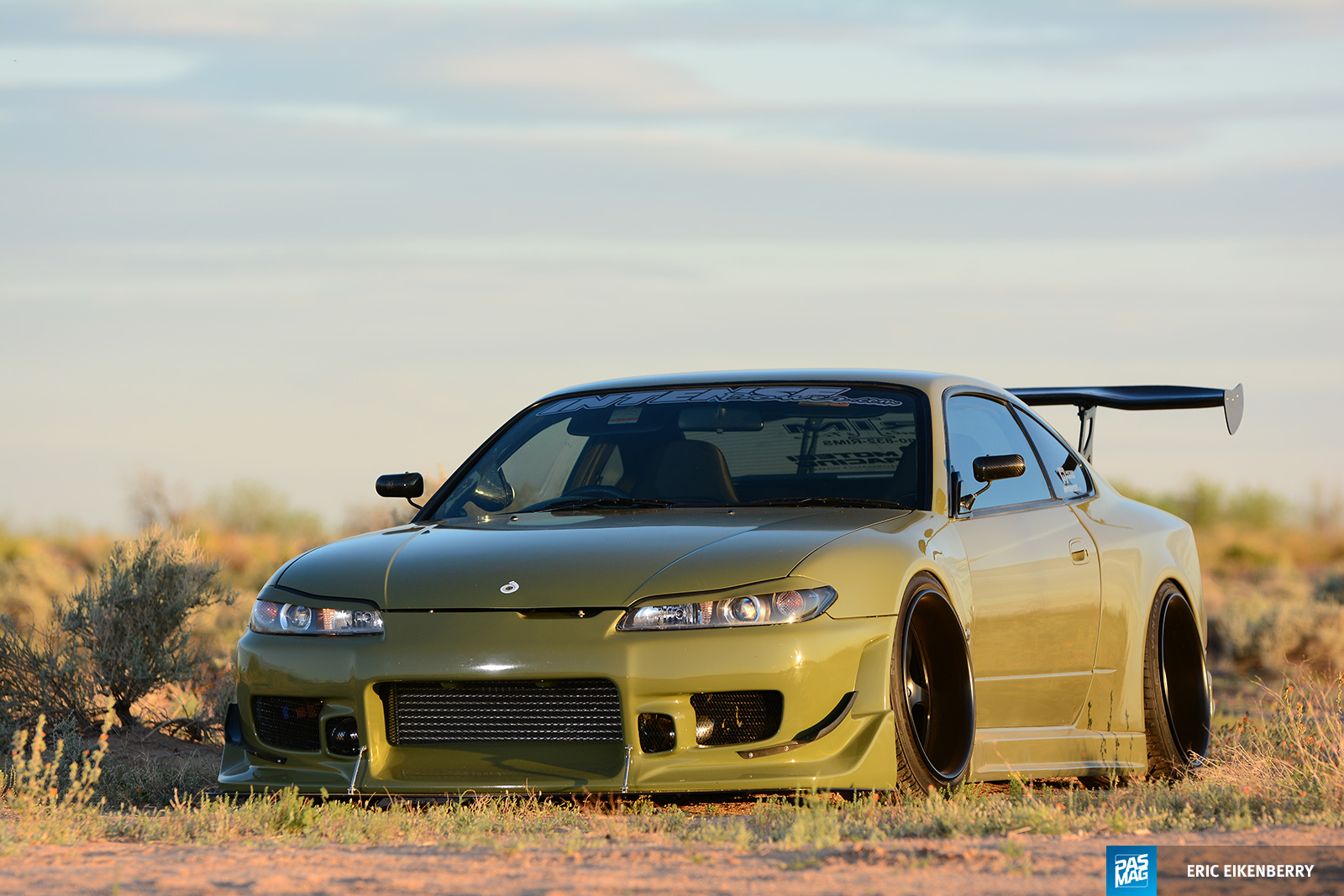 ---
ESSENTIALS
Vehicle: 1999 Nissan Silvia S15
Owner: Billy Vaughn
Engine: 2.0L SR20DET
Horsepower: 500 hp (est.)
ENGINE

PBM front-mount intercooler
Greddy intake manifold
Koyorad twin core radiator
N62 mass airflow meter
APEXi (Power FC engine management, 880cc injectors)
Garrett GT3076R twin-scroll turbocharger
TiAL (MVS waste gates, blow-off valve, purple anodized pulleys, custom catch can)
Tomei 264-degree cams
NISMO (valve springs, rocker arm stoppers, metal head gasket)
Tomei fuel pressure regulator
Walbro 255 LPH fuel pump
ARP head studs
Shaved and wire-tucked engine bay
EXHAUST
ARP exhaust manifold studs
Powerlab (stainless steel downpipe, twin-scroll exhaust manifold, open dump tubes)
APEXi N1 exhaust
DRIVETRAIN

Exedy Hyper twin disc clutch
CHASSIS / SUSPENSION

K-Sport Airtech coil-over adjustable ride-height system
Powered By Max (rear upper control arms, toe rods, and traction rods)
NISMO rear strut brace
WHEELS / TIRES / BRAKES

Motegi Traklite 1.0 two-piece forged alloy wheels - 18x10 -19 (f), 18x12 -0 (r)
Nankang tires - 225/40R18 (f)
Hankook tires - 285/30R18 (r)
Z32 rear brake conversion
Powered By Max (front and rear rotor kits)
Custom brake line relocation kit
EXTERIOR
Custom army green paint
C-West (eight-piece wide body GT kit, carbon fiber front canards, carbon fiber GT mirrors, eyelids)
APR front carbon fiber diffuser
Origin carbon fiber GT wing
Moonface rear wiper delete
HID headlights
INTERIOR

Recaro Speed seats
Sparco harnesses
Momo Race steering wheel
NRG quick-release hub
NISMO shift knob
ProSport gauges (boost, wideband O2 sensor, water temperature, and oil pressure)
Carbon fiber interior panels
LED gauge cluster lighting
AUDIO / MULTIMEDIA

Panasonic double-DIN DVD head-unit
JL Audio (four-channel amplifier, mono amplifier, W3 12-in. subwoofer)
SPONSORS

Suspicious Garage
Sakura Garage
Rim1
Motegi Racing
RHDAmerica
Intense Power/PowerLab
PHOTO GALLERY