Photography by Icon Media
---
What happens when you mix a jewelry designer and a car enthusiast? You get Jamie Liu and an elegantly sinister SL55 AMG
The Mercedes-Benz SL55 AMG was designed like a fine watch, an elegant and stylish accessory to the quietly confident, successful businessperson; refined precision wrapped in subtle extravagance. The Lamborghini Aventador was designed to be like a massive five pound diamond chain, a flashy beacon of wealth and success to the extravagant cartel boss; brute power and aggression wrapped in a superhero costume. Jamie Liu's Mercedes SL55 AMG sits somewhere in the middle, like a well-dressed assassin or a supermodel with a machine gun. Jamie's SL55 AMG has the whole package; elegantly aggressive styling, brute power, and enough technology to make even the best international spy green with envy.
The story starts with an attractive, young jewelry designer and her passion for fine automobiles. With a history ranging from a Honda Civic race car to a McLaren F1, Jamie's taste has always revolved around performance, and her SL55 AMG has its fair share of it. Under the hood lies a 5.4L supercharged Mercedes V8 that is tweaked and tuned by Benzworks. The valve train is beefed up along with a Benzworks head port and polish, while 550cc fuel injectors deliver more fuel to the combustion chambers. Air enters the engine through a custom Benzworks intake and throttle body before being compressed by the factory AMG supercharger and forced into the engine. A custom dual pump system and larger tanks help beef up the air-to-water front mount intercooler system. To make things even crazier, an AEM water/methanol injection system was paired with a Ny-Trex 150 shot nitrous system. The spent exhaust fumes travel through custom Benzworks long-tube headers and exhaust. The result is 700 HP and 750 lb-ft of tire shredding, fear-evoking power.
| | |
| --- | --- |
| | |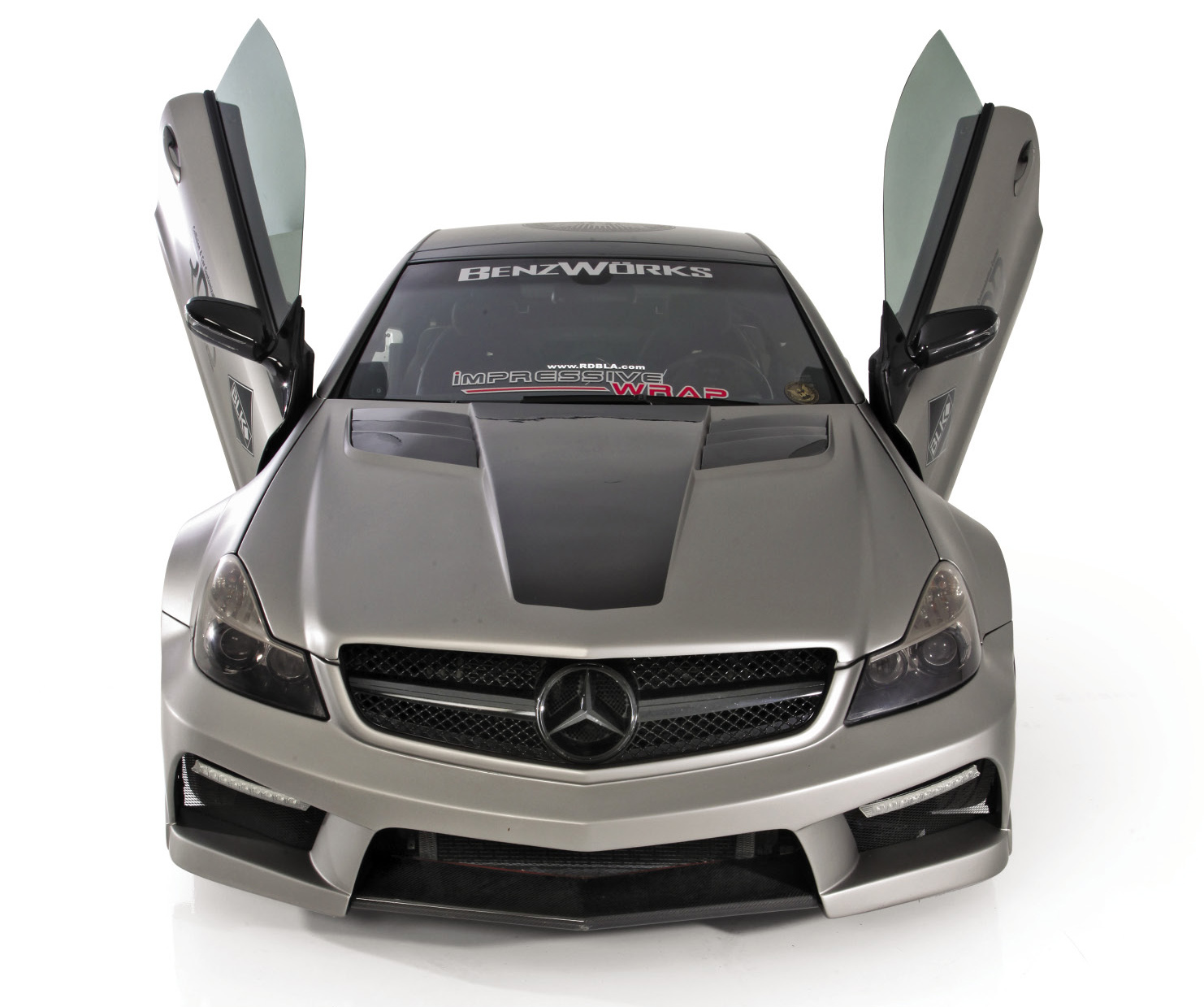 Jamie Liu's Mercedes SL55 AMG sits somewhere in the middle, like a well-dressed assassin or a supermodel with a machine gun.
Jamie didn't stop with the power mods. She went even crazier with the exterior of her already sleek roadster. Enter Misha Carbon, creators of this stunningly aggressive widebody kit. Misha attached the race-car-quality carbon fiber body kit, which replaces both bumpers, hood and front fenders, while adding a rear deck lid spoiler, air diffuser and wide rear fender flares. Promax Motorsports HID headlights and fog lights add another accent to the exterior. With wider body panels comes wider wheels, and Jamie turned to DPE for the task. A set of 20-inch DPE concave series CS16 wheels take the exterior appearance to another level – 10 inches wide in the front and 12.5-inches wide out back. Equally massive Pirelli P-Zero tires give Jamie confidence in the form of traction when she unleashes all 700 HP, while a Benzworks modified OEM air suspension system gives this SL55 the perfect stance. A matte silver vinyl wrap finishes off the look from the outside, but perhaps you've seen this car in one of its many other colors. In the past few years it has been wrapped in no less than six different colors, keeping people guessing and keeping her installer, Impressive Wrap very busy.
Leaving no stone unturned, Jamie also paid a great deal of attention to the interior, or command center, of her SL55 AMG. To put it bluntly, this cockpit is packed with technology. The ultra-comfortable factory SL55 AMG seats are retained, but were reupholstered in black leather and suede inlays, with red diamond-pattern double stitching, much like you would find inside a Lamborghini Gallardo. The stitch and suede accents continue to the door panel inserts and floor mats as well.
Behind the seats, you will find a massive custom sub box housing two 10-inch JL Audio subwoofers. Hidden inside the box is a motorized storage cubby for your unmentionables, sitting underneath an LED-backlit AMG logo and Mercedes-Benz Silver Star emblem. JL Audio component speakers and amps fill the remainder of the interior, while an Alpine DVD head unit controls the symphony of sound to create a well-rounded, top-notch stereo system. Helping make the SL55 feel like a mobile command center, Jamie's iPhone and iPad sit in custom billet aluminum mounts, while a custom A-pillar gauge pod houses a set of AEM boost and methanol flow gauges.
Jamie Liu has created a monster – a monster in a custom-tailored suit. This SL55 AMG is the perfect blend of speed, style, elegance, and driving experience. Take a premium Mercedes sports coupe and tastefully accentuate its qualities and you have this – perhaps the best daily driver ever built.