Photos by Jeremy Alan Glover
---
Those who live on the outskirts of urban Montreal in the L'Assomption area of Quebec and are vehicularly-inclined in any way know of Gabriel Laroche, or "Gab." Some know him as the owner and operator of the ever-busy GAB Eurosport garage, full of Volkswagens and Audis. Euro fans, most notably VW enthusiasts, know Gabriel as that crazy guy who stanced a '98 Jetta GLX and dropped a 3.6L FSI engine from a Porsche Cayenne in it. If that doesn't convince you that this guy is entrenched in the scene, let's also mention that he has his own ice racing team, which he built and tuned his own MKIV Golf for (with a 2.0 TFSI Passat heart and plenty of Audi goodies). Laroche has that DIY attitude that not only ensures absolute attention to detail and the cleanest of builds, but his cars always get noticed as something special. Some say his latest build is to blame for the recent surge in neck brace sales from all of the double takes.
| | |
| --- | --- |
| | |
Laroche is a tried and true Euro nut and a self professed lover of anything under the VW umbrella. That being said, what else would Gab use as the base for his newest creation other than his absolute favorite and old standby: the MKIII Jetta? Right off the bat, this car has something missing and that's a good thing. In a scene that can often be clogged with gaudy body kits and a certain cheese factor, Laroche's Jetta delivers a breath of fresh air. This VW embodies fresh and clean, and not only in appearance. All parts used on this MKIII are OEM or from the most trusted manufacturers. If Gab decides he's still not satisfied with the catalog's offerings? In true DIY fashion, well, he does it himself.
On the outside, any auto fan can appreciate the fit and finish, but a Euro enthusiast can pick out the certain touches that make this car a fanboy's (or fangirl's) dream. As mentioned, the workmanship on this car is impeccable and that's thanks to one thing: Laroche kept it custom. Besides the E-Code headlights, everything else on the outside is OEM. VW fans will appreciate the dedication with the inclusion of the Vento front grill from the Jetta's European cousins. The front lip is a chin spoiler from the VR6 variant. Even the paint is legitimate Tornado Red from Volkswagen's factory color palette.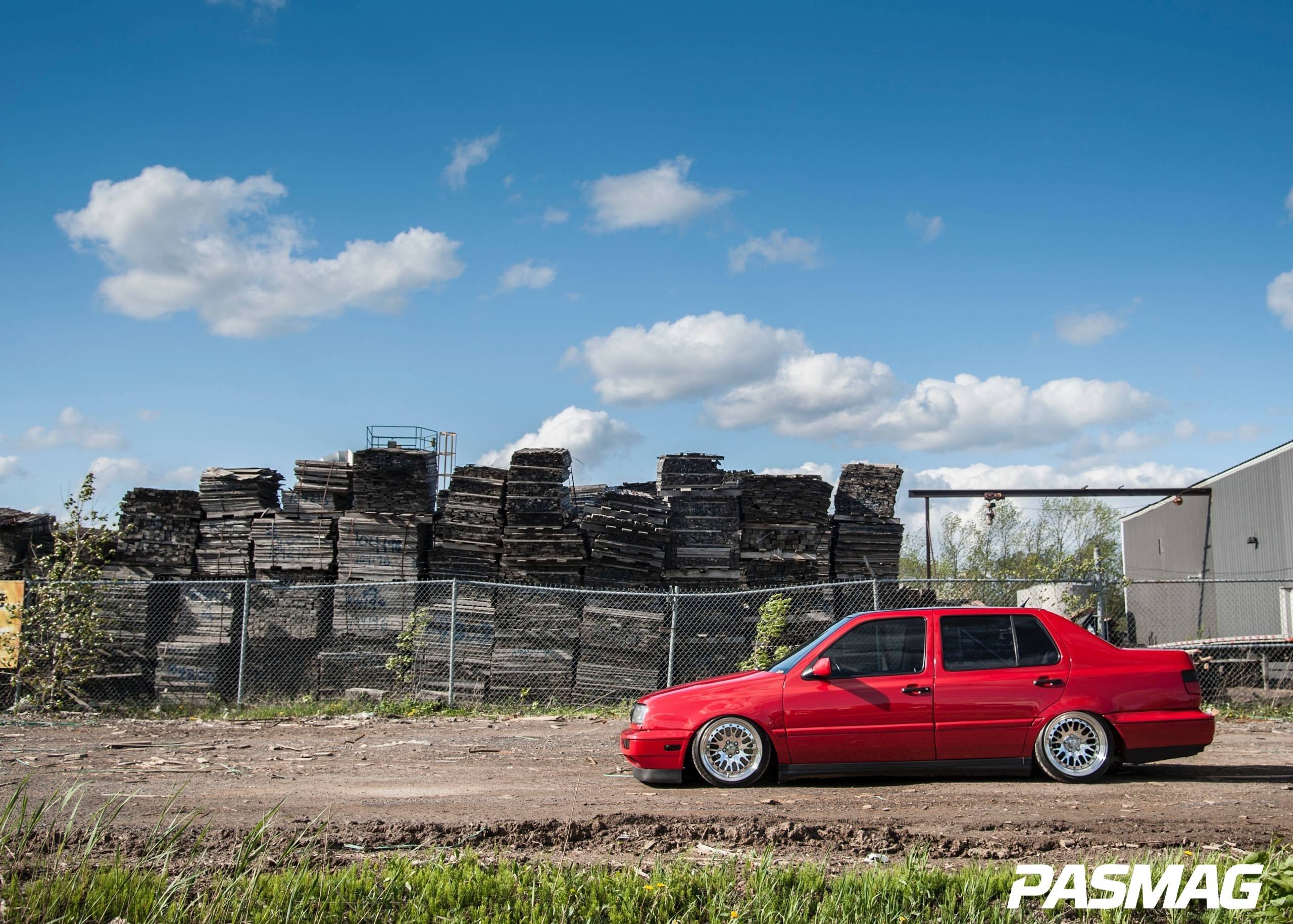 The MKIII sits pretty on some drool-worthy, deep dish, polished CCW Classic Series three-piece wheels — 16x8.5-in. in the front and 16x9.5-in. in the rear, making for fantastic fitment. After they were dressed in Falken Azenis rubber and tucked ever so slightly up into the rolled fenders, Laroche really set off the look by giving the rear wheels a slight amount of tasteful negative camber. This stanced VW isn't only a show car though; it has to be a daily driver as well. For a killer look that delivers functionality, Gab went with an Airlift Performance suspension kit and V2 management system. Now the MKIII can go from bad and bagged at the show to king of the speed bumps on the jaunt home.
Gab really lets his talent shine through the beauty that is the Jetta's engine bay. If you were to look up clean in the dictionary, you'll probably see this engine bay. Only the essentials remain, with everything else either deleted or cleverly relocated and tucked away.
Powerplant-wise, Laroche did what any VW nut would do given the chance; he dropped in 2.8 liters and 24 valves of VR6 goodness. Just what anyone would do isn't good enough for Gab though. A VR6 isn't far enough, so he figured the six-cylinder could use the help of a chip tune from C2 Motorsports. You would think that after that, there's no way that Laroche could need anything else power wise. He already has a gorgeous set up with some respectable power, but we're talking about ?the guy who dropped a Cayenne motor into ?a Jetta here, remember? To push the boundaries a little more, Laroche thought a Vortech V2 supercharger would look right at home feeding his Jetta's VR6 heart. This causes the little MKIII to unleash 320 horsepower and 300 lb-ft of torque. Mein Gott!
| | |
| --- | --- |
| | |
Where air is concerned, Laroche wanted to make sure there were no restrictions. After all, air is also needed alongside the Siemens 630 cc fuel injectors to churn out numbers in the 300s. Air comes through a K&N filter into a custom made intake MAF. After passing through the HGP Turbo short runner intake manifold and Audi B7 S4 throttle body, the exhaust from the resulting explosion is blown out the back of a 2.5-inch Magnaflow exhaust system, which Laroche took the liberty of customizing for even better flow.
To keep up with the madness under the hood, the VR6 is mated to a five-speed 02J transmission with a Clutch Masters FX400 clutch and WaveTrac LSD. To slow things down when needed, brake calipers from an Audi TT clamp onto 12.3-inch drilled rotors.
Gab obviously had comfort and luxury on his mind when putting together the interior, but he didn't forget his commitment to the OEM. While in control of all those ponies, he's treated to Recaro-made seats from an Audi B7 S4 and a steering wheel from the MKV Jetta while the needles climb on a set of Audi TT gauges. A half roll cage from Profusion sits in the back to keep himself and any precious cargo safe and sound.
Laroche brings back to the scene what's been scarce for a while; a sense of simplicity and cleanliness that stands out from the crowd. His car is obscene under the hood, not on the outside with a body kit and huge spoiler. Pair that with work that was done completely on his own at his shop, and you have a winning combination. Who would have guessed that the next up and coming Euro tuning legend is actually a French Canadian from Quebec? Gut gemacht. Bravo!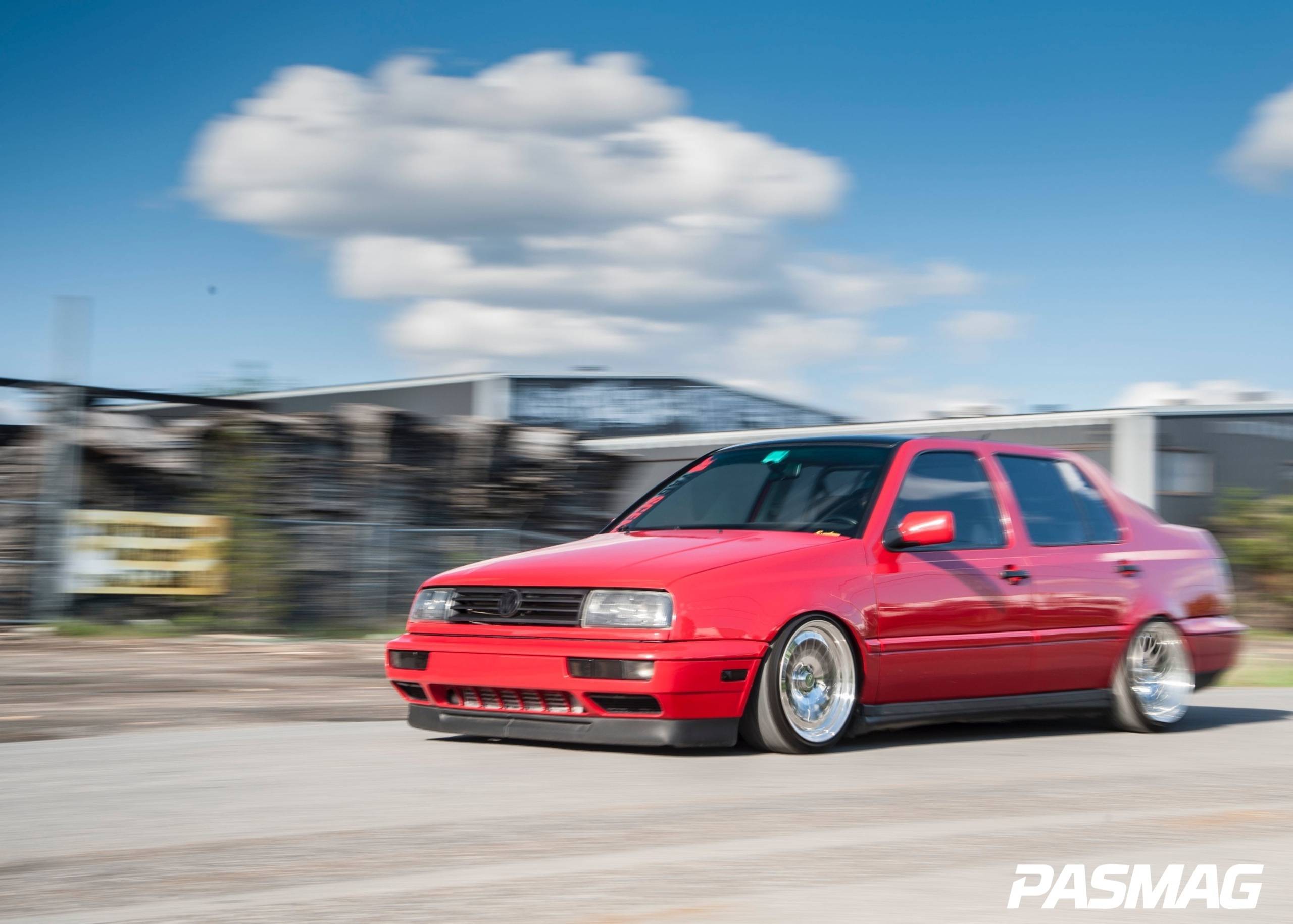 ESSENTIALS

Vehicle: 1998 Volkwagen Jetta
Owner: Gabriel Laroche
Built By: GAB Eurosport
Engine: BDF VR6 24V 2.8L
Horsepower: 320 hp
Torque: 300 lb-ft

ENGINE MODIFICATIONS
Vortech V2 supercharger
Precision Turbo 2.5-in. intercooler
Forge Motorsport diverter valves
K&N 4-in. intake
GAB Eurosport custom 4-in. intake MAF
Audi S4 B7 V8 throttle body
HGP Turbo short runner intake manifold
3 bar fuel pressure regulator
Walbro 255lph in-tank fuel pump
Siemens 630 cc fuel injectors
C2 Motorsports timing control chip
NGK Laser Platinum spark plugs
Volkswagen Golf R32 coil pack
BorgWarner BERU ignition coils
EXHAUST
Magnaflow 2.5-in. custom exhaust
GAB Eurosport (custom headers, up-pipe, down-pipe)
Volkswagen Golf R32 catalytic converter
Vibrant Performance exhaust hanger rods
2.5-in. stainless steel exhaust tips
DRIVETRAIN
Volkswagen 02J 5-speed transmission
Clutch Master FX400 clutch
WaveTrac LSD
CHASSIS/SUSPENSION
Air Lift Performance (front and rear air-over shocks, V2 management system)
Audi TT bushings
WHEELS/TIRES/BRAKES
CCW Classic wheels – 16x8.5 (f), 16x9.5 (r)
Falken Azenis tires – 205/40 ZR16 (f), 205/40 ZR16 (r)
Audi TT brake calipers (f/r)
One-piece 12.3-in. drilled rotors (f/r)
Braided brake lines
Motul RBF600 brake fluid
EXTERIOR
Volkswagen (Golf/Jetta MK3 Euro front lip, MK3 Vento grill, MK3 Vento rear plate holder, MK3 Jetta GLX taillights, Tornado Red paint)
E-Code headlights
Custom bodywork by GAB Eurosport
INTERIOR
Volkswagen MK5 Jetta steering wheel
Audi TT gauges
Recaro Audi S4 B7 seats
Pro-Fusion half roll cage
AUDIO/MOBILE ELECTRONICS
Alpine head unit
Kenwood sub amp
Subwoofer