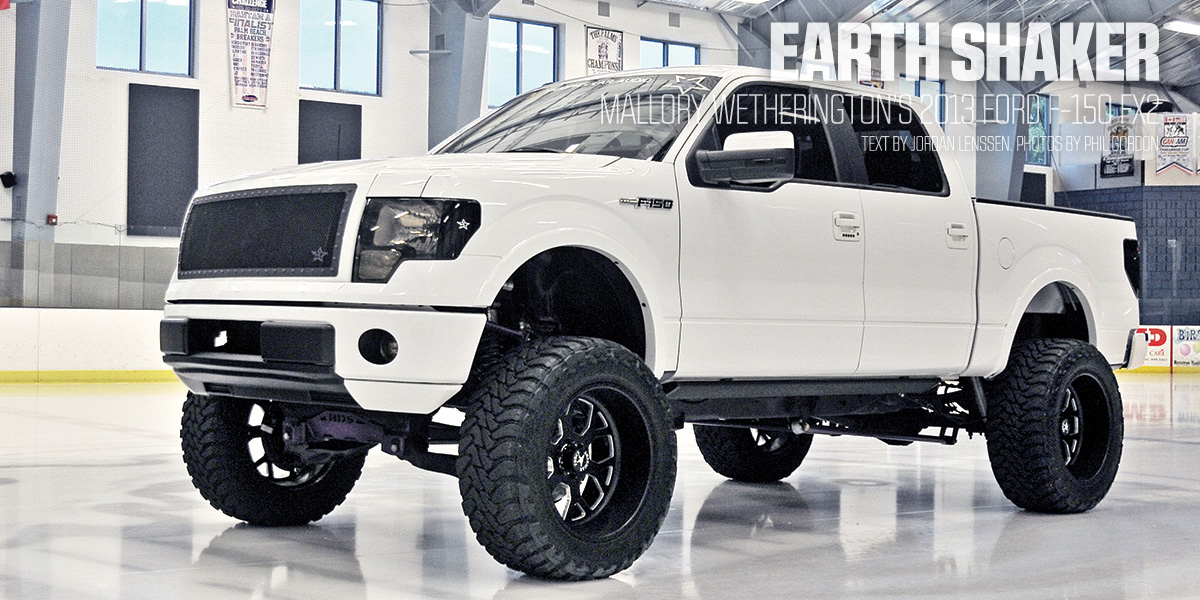 In a world dominated by big trucks and big personalities, standing out in a crowd can be a difficult thing for a newcomer to pick-ups. Mallory Wetherington was just that person when it was time to upgrade from her Cobalt SS into something bigger and better. She wanted to make an impression. And she's done just that.
Growing up in the heart of America, it was an easy choice to make the transition to a pick-up, but one that differed greatly from the low-riding four-banger car she was driving. Still, she knew when she settled on the Ford F-150 – one of the industry's most popular flatbeds and the 2015 North American truck of the year – that she made the right decision. In fact, before she had the truck, she knew what she wanted to do with it: lift it and load it with sound. It's a winning formula when done right.
Thankfully for her, Mallory's husband Mark works with one of the largest truck tuning and building shops in the United States in DV8 Motorsports. With guidance throughout, he helped source the parts from the best in the business to make it exactly what she'd dreamed.
"We're a one-stop truck shop," Mark says. "We specialize in diesel performance, wheels, tires, lifted – we're fully in-house – and we do complete audio builds. The whole nine yards."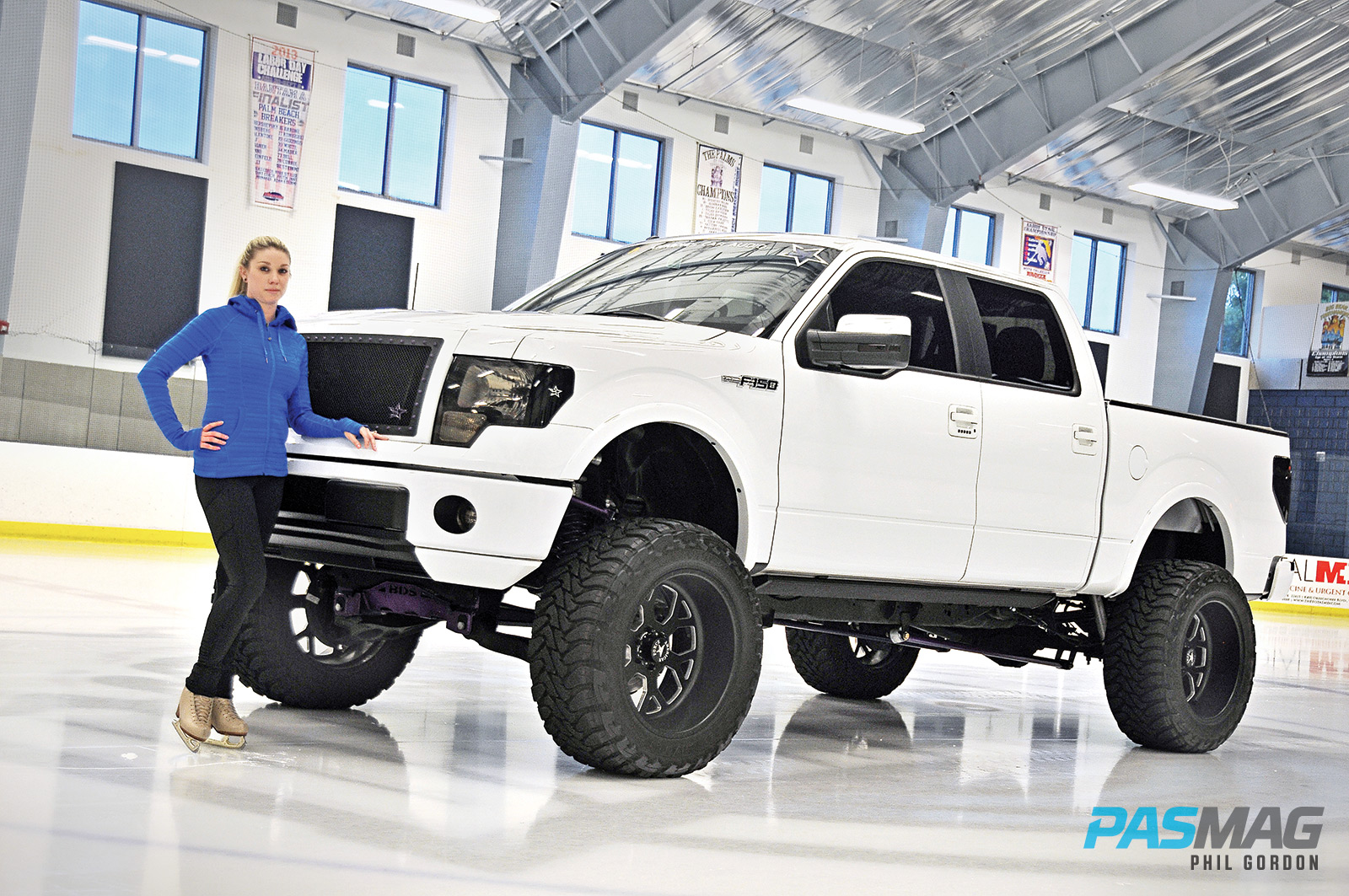 Mallory was in great hands. DV8 took care of the BDS Suspension coilover lift kit and Fox front reservoir coilovers and 2.0 Series rear shocks, which lifts the F-150 six inches. When paired with the 22-inch American Force flat black Shield wheels and hulking 37-inch Toyo Open Country tires, it looks as clean as any lifted build we've seen.
But all that lift makes for a difficult entry, and while Mallory surely has some ups as a figure skating director and coach (which explains the cool shoot location – no pun intended), AMP Research automatic retractable steps are a welcome addition. Just open the door and step up!
The black accents on the accessories, underbody and smoked lamps play a devilish contrast to the white exterior, but it gets even hotter once the lights go out.
"I've wanted to do white and purple," Mallory says of her color scheme. You might be asking, 'Where's the purple?', but look closer and you'll find it on the Smittybilt M1 grille, Fabtech anodized upper control arms, coils, traction bars, tow bar, and Magnitech diff cover. Heck, even the inlet tube from the K&N filter has been given the royal treatment. Just don't get too close, or the HornBlasters Shocker Train Horn kit may blow your ears off.
When the lights dim, a custom set of purple LED under lights give Mallory the perfect blend of personality and uniqueness compared to many of her pick-up counterparts.
"I've always been a big fan of interior and exterior lighting, trying to keep it a little different," Mallory says. "Instead of using the bulbs, we used tape because it gives it a better glow and the exact color I wanted."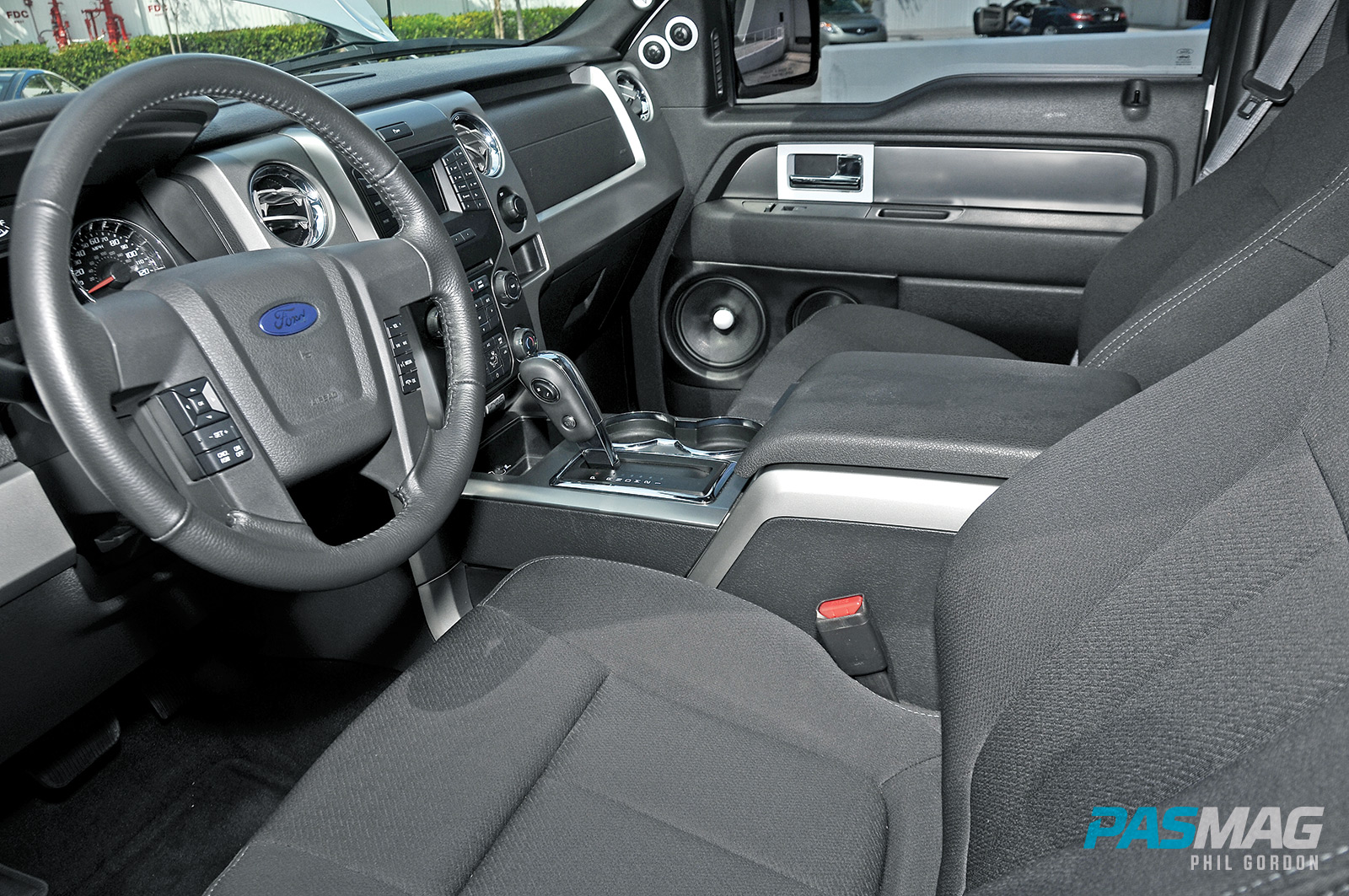 Making sure her interior didn't feel left out, the A-pillars, foot wells and speakers are tastefully treated in the glow, too.
While color is nice and all, the key for her was sourcing a proper sound system. As many of us know, fitting good sound and hard-hitting bass isn't always the easiest thing in a cab that's the size of a few large coolers.
Good thing DV8 knows a thing or two about custom truck audio.
"We had already built her truck completely, so the next step was the audio," Mark says. "I'd been planning on doing an audio build for six to seven months, and Tony, our Memphis rep approached me and asked, 'You've done Memphis booths in the past, do you guys want to do it again?' It was just perfect timing considering I was already planning on doing the system in my wife's truck anyways."
The plan? To build it in time for Spring Break Nationals and have it front and center at the Memphis Car Audio booth.
With that in mind, Mark and DV8's audio installer Kyle Cummings went gangbusters to build the whole system, which meant loading with as much quality gear as possible.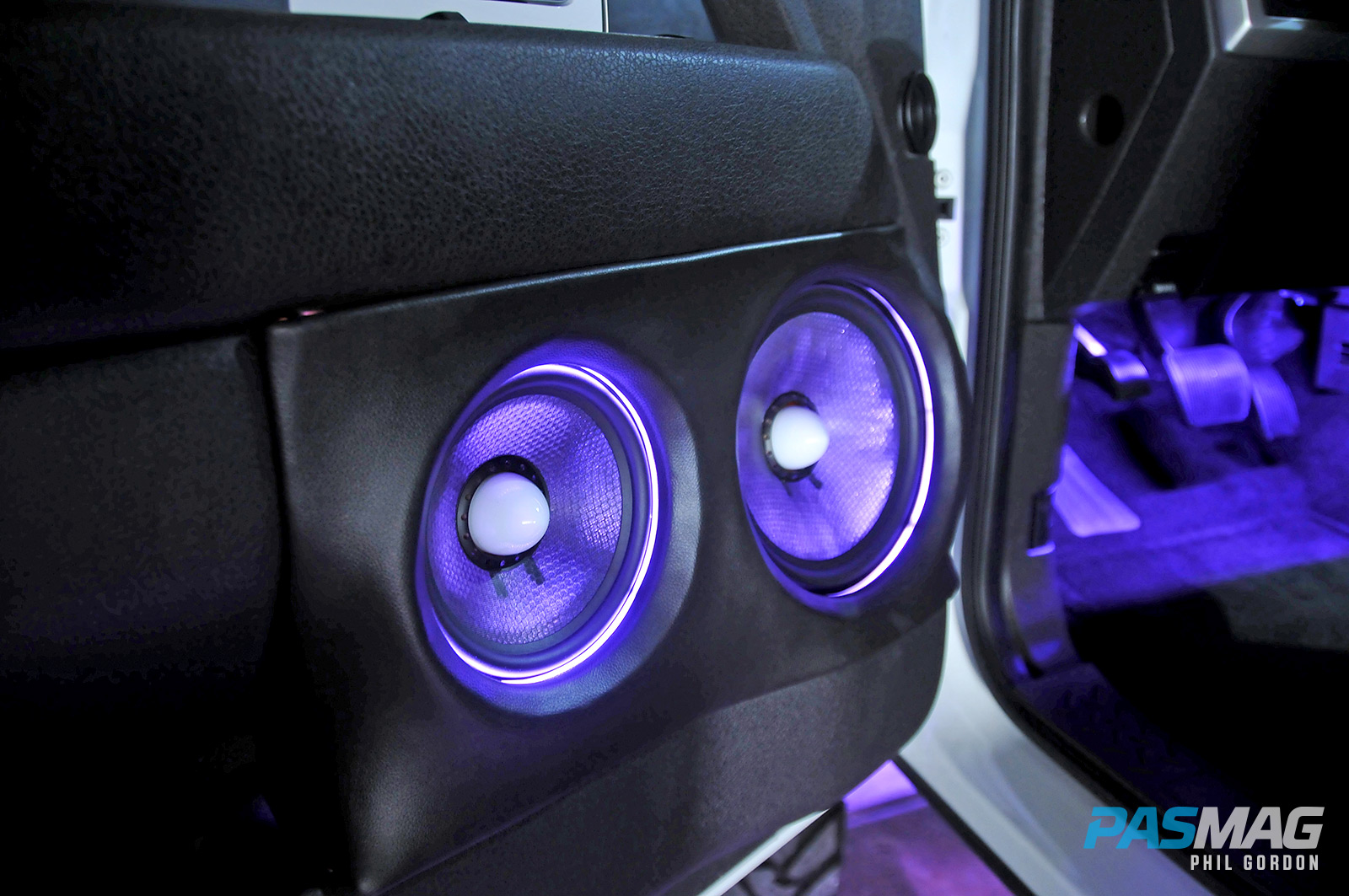 The Memphis MCX subwoofer and midrange amps found a home in custom brackets mounted in the headliner, while the SA mid bass was tucked neatly under the driver seat. Two sets of MClass components were fitted into the doors – the two midbasses on each side surrounded in glowing purple, and the tweeters mounted right behind the A-pillars.
But it's in the back where the boom goes big. We all know cab space in a pick-up is at a higher premium than a Manhattan loft, so trying to maximize space and sound can be a bit of a formulaic nightmare.
"It was either run a whole bunch of eights, or just one or two flat 10s under the seat in a crappy box that you couldn't see," Mark laughs. "To get the most sound out of what we were doing and to get the best looking box, it really forced us to use the eight-inch subwoofers."
Keeping with Mallory's desire for a factory-fresh finish that was also functional, Kyle and Mark came up with an intuitive design that would fit and punch.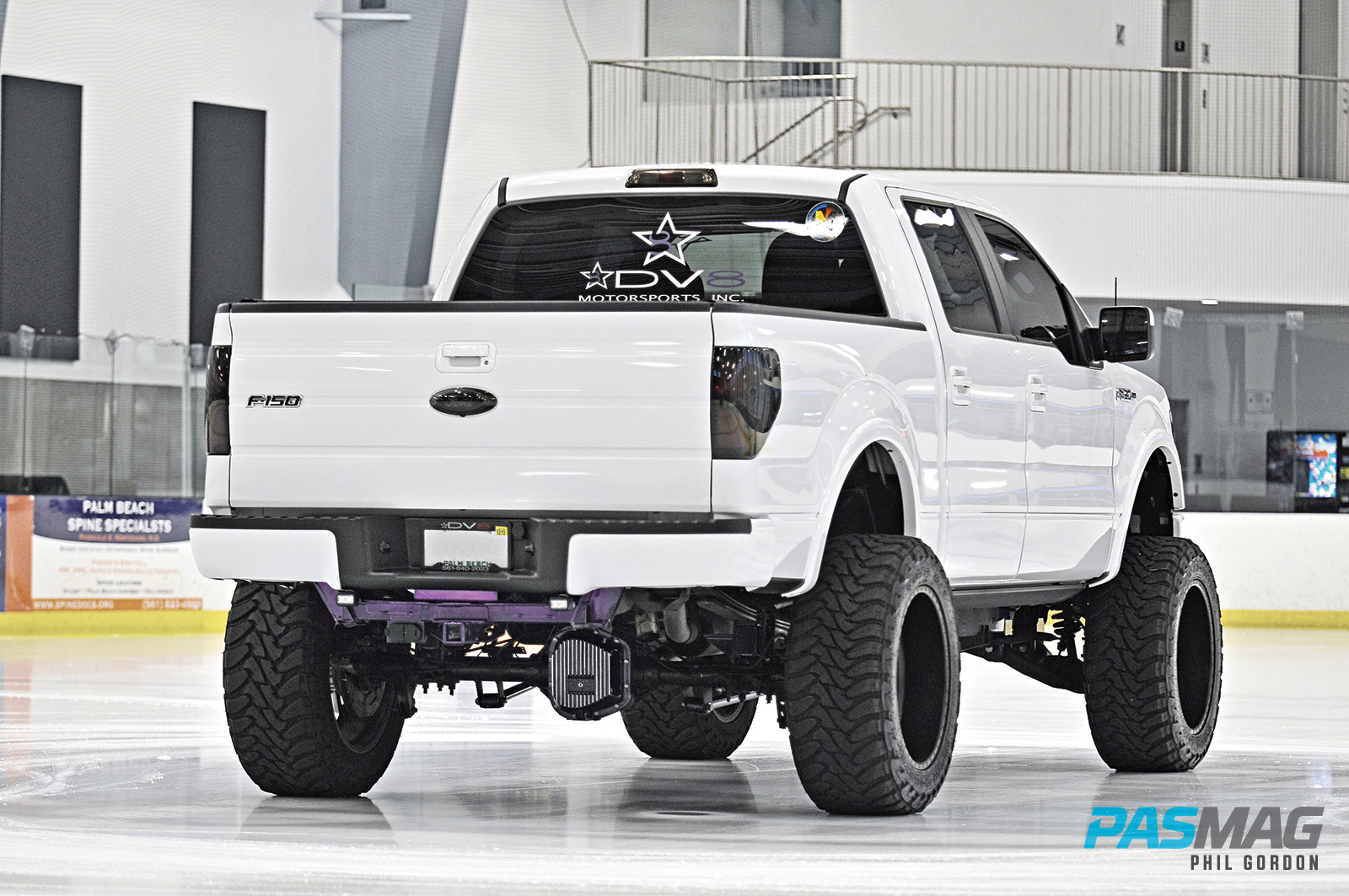 "It's actually two separate boxes that we built to look like one," Mark says. "It's about a cube and two-thirds on each side, and ported. This thing drops, especially with just four eights. It moves a lot of air."
That's undoubtedly much to do with the box design and hard hitting frequencies provided by the MClass double roll butyl surround and ultra-strong carbon-layered construction. It also makes for Mallory's favorite part of her blasting beauty.
"That came out beautiful," Mallory says of her enclosure, aka "Bedlam." "That is Mark's custom design and he did all the math – it's just so impressive."
The truck sat loud and proud with Memphis at SBN, and while it didn't enter any sound competitions because the system was still so fresh, Mallory isn't ruling any out in the future. Mark is even looking into a supercharger or twin-turbo install, so we doubt this is the last we'll hear about it.
And if you're within a few blocks of this thing, we can guarantee it won't be.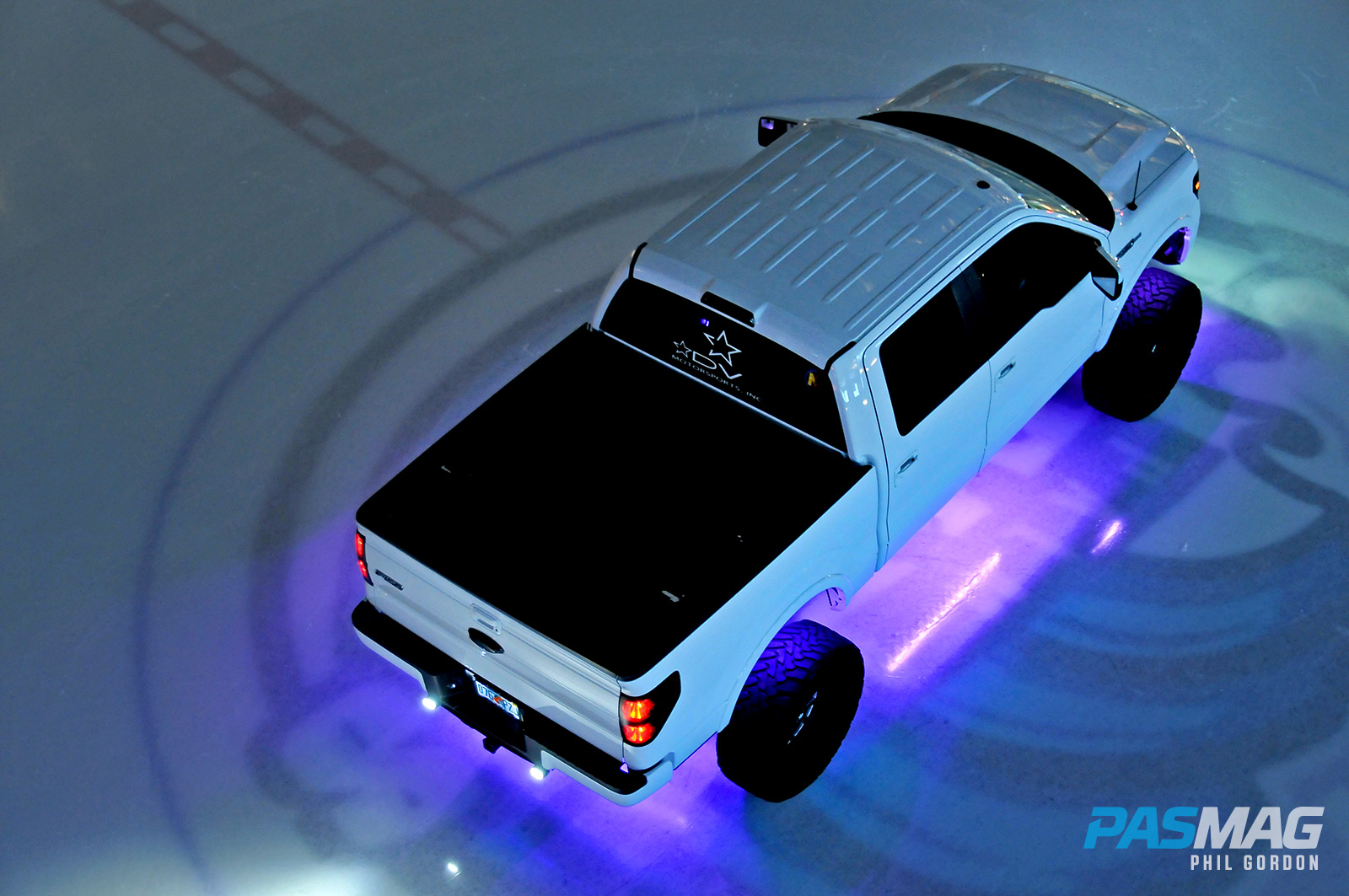 ESSENTIALS
2013 Ford F-150 FX2
OWNER: Mallory Wetherington
BUILT BY: DV8 Motorsports
LOCATION: Palm Beach, FL
ENGINE: 5.0L Coyote V8
HORSEPOWER: 385 HP (est.)
TORQUE: 410 LB-FT (est.)
ENGINE
K&N (air filter, air intake)
SCT Performance X4 7015 tune
DRIVETRAIN
Magnitech diff cover
EXHAUST
Flo-Pro cat-back system
Dumped exhaust
WHEELS / TIRES / BRAKES
American Force Shield flat black wheels – 22x12 (f/r)
Toyo Open Country tires – 37x13.5x22 (f/r)
Stainless steel braided brake lines
CHASSIS / SUSPENSION
BDS Suspension 6-in. coilover lift kit (Fox Racing 2.5-in. remote reservoir front coilovers, Fox Racing 2.0 Series rear shocks, 1-pc. front/rear high-clearance crossmembers, machined cast-iron steering knuckles, dual-pin 5-in. block, offset spring plates, U-bolts, brake line relocation brackets)
Fabtech upper control arms
Custom traction bars
EXTERIOR
Smittybilt M1 grille w/ anodized hardware
Custom smoked 6K headlights/taillights
Rigid SR-M reverse light kit
LED reverse/cargo lights
Purple LED underlighting
MOBILE ELECTRONICS
Memphis Car Audio (LL6A processor, crossover, MCX 1.1100 subwoofer amplifier, SA2100 midbass amplifier, MCX 4.75 midrange amplifier, MClass 15MCR8S4 8-in. subwoofer (4), MClass 6.5-in. components (2), MClass Sync 8-in. rear fill speakers, fuse holders, 0-gauge power wire, distribution blocks)
Custom ported fiberglass subwoofer enclosure by DV8 Motorsports