This jewel is easily one of the world's most perfectly balanced Supras, and quite possibly the most beautiful JZA80 I've ever had the pleasure of positioning in front of my lens.
If you know anything about Manabu "Max" Orido, you may already know where this article is headed. Ridox, a brand known to Supra enthusiasts across the globe, is Orido's outlet for his passion for the chassis. Needless to say, Max Orido knows the JZA80 Supra better than most.
For the sake of my journalistic endeavors and your joy and satisfaction as readers of this fine magazine, let's look closer at what makes this one of the best Supras in the world. Not because of extrinsic matters like power figures and quarter-mile strip times, but because of the man who envisioned and built it.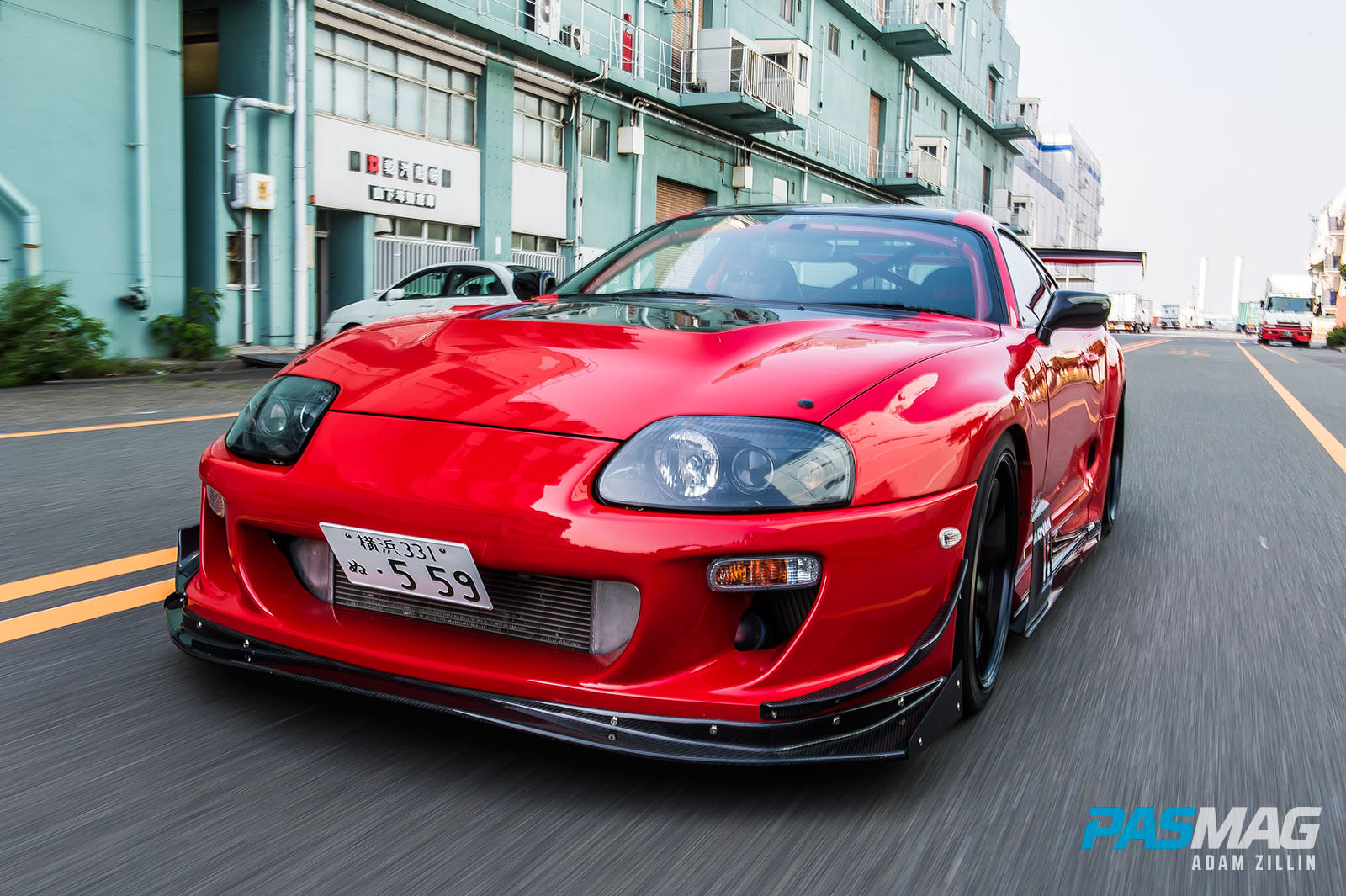 The Supra has a very strong, yet somewhat maligned image internationally amongst enthusiasts for reasons that, more often than not, make little sense in a logical discussion. The JZA80 is the Nissan Skyline GT-R's natural born enemy, but it is somehow commonly referred to as a bit of an ocean liner despite only weighing 3,218 pounds in full trim. It is often spoken of as useful only in straight line applications despite its race results and pedigree clearly contradicting this.
Incidentally, the Supra held the mantle as the only production car made that could brake from 70 mph to a standstill in a mere 45 meters, a title it held for seven years until the day the Porsche Carrera GT did it in one meter less. Obviously weight, and the way the Supra handles it, are beyond reproach.
So, arguments on performance aside, it makes perfect sense as to why Orido loves the JZA80 since he has driven, built and owned one in every single tune you can name, including the most hardcore of them all in the JGTC, the GT500-class Denso SARD and Eclipse Advan Supras.
This particular rebuild is what Orido refers to as a "semi-restoration" and he went to great pains to explain that it is, "…neither a race car, a drift car nor drag car. This is my street car," he continues, "and represents my impression of what the perfect street Supra should look, feel and drive like."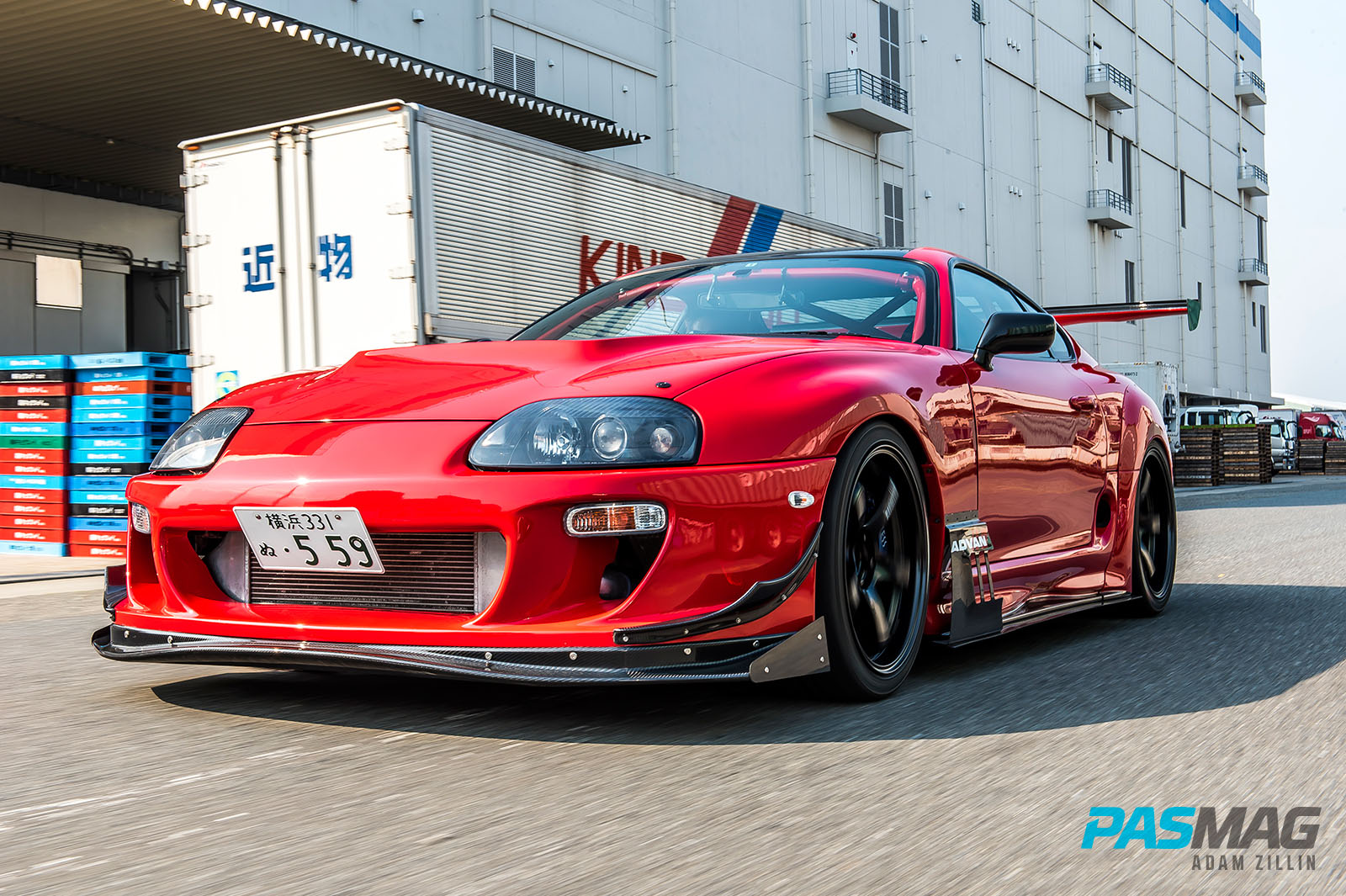 Resplendent in "Max Red" paint (yes, the color is actually named after Orido), the JZA80 benefits aesthetically from a delicious mix of Ridox, Tamon Design and Varis bodywork items; the Ridox items themselves make up the bulk of the carbon fiber you see on the exterior. Max goes on to explain, "This is the last Ridox Type I JZA80 I'll build before bringing out the Type II version of the body kit, which is currently in the design stage."
That's not to suggest there's anything wrong with the Type I. Just look at it! The combination of the flowing carbon curves, accentuated in red and black over ever-increasing levels of rearward downforce-inducing and lap time-reducing function, can't be overlooked.
It strikes a beautiful figure. Orido walked me around the car pointing out little details and things I might have missed, at one point proudly recounting how the door mirrors were kept stock and black to accentuate the rest of the car. If you look closely at the bonnet, you'll notice the neat little bonnet pins that hold it down; an unobtrusive "push-button" type that really helps keep visuals clean and simple. It is often the small things that matter, but Max pretty much nailed the philosophy behind the car's purpose. "It's all about balance. To me, the Supra must be as balanced mechanically as it is aesthetically."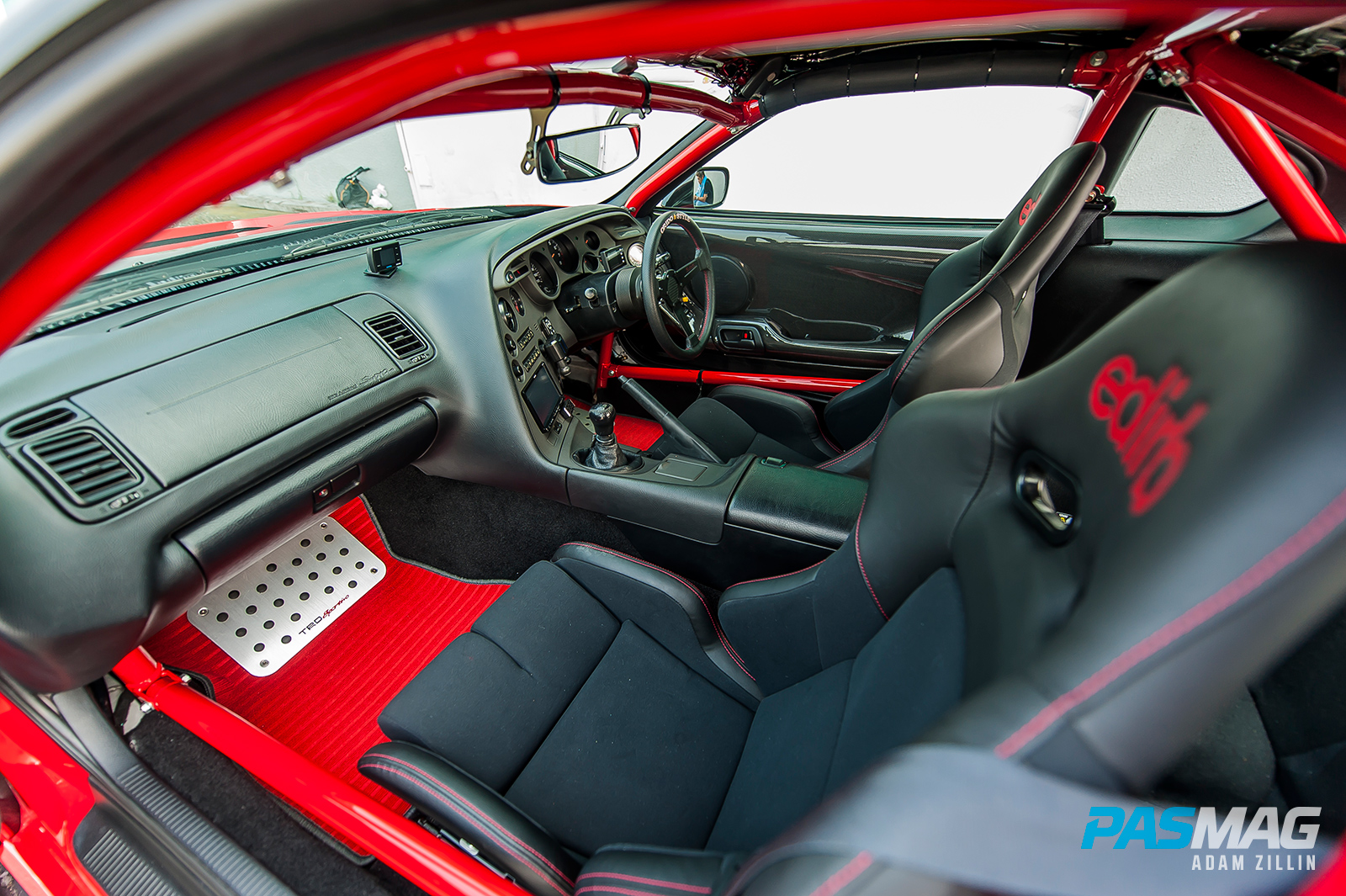 Solid words. Pulling on the handle, the big door on the passenger side swung open and I immediately noticed the glorious looking carbon fiber door panels. "I got them from a Yahoo! auction!" he beamed and with his signature bent smile added, "They were ¥100,000 delivered…" I was aghast. "You mean to tell me this pair of boards cost you less than a thousand bucks from an online auction?" The smile broadened. "Hai. So desu."
And he didn't stop there as we walked around to the rear of the Supra. "These tail-lights are straight from the factory, and while they might be new, they're not cheap. I didn't want to rice out the car with unnecessary modifications, so I kept it as factory specific as I could."
It's hard for me to pull myself away from the visual aspects of the car to focus on the mechanicals, but this review and everyone who is reading it would be cheated if I didn't provide some smackdown in the go-hard department.
Orido-san, as previously mentioned, wants to send a clear message with this car. This is Max running the streets and, for that reason, he was in two minds on whether to keep the car manual or install an automatic transmission. Wisely, Max's left foot and twitching trigger hand kept the car manual. At the heart of the matter is the venerable 2JZ-GTE, recently lifted from Orido's previous build. "It was completely rebuilt from the block up to the ancillaries. I wanted to make sure it was done right, first time out of the box."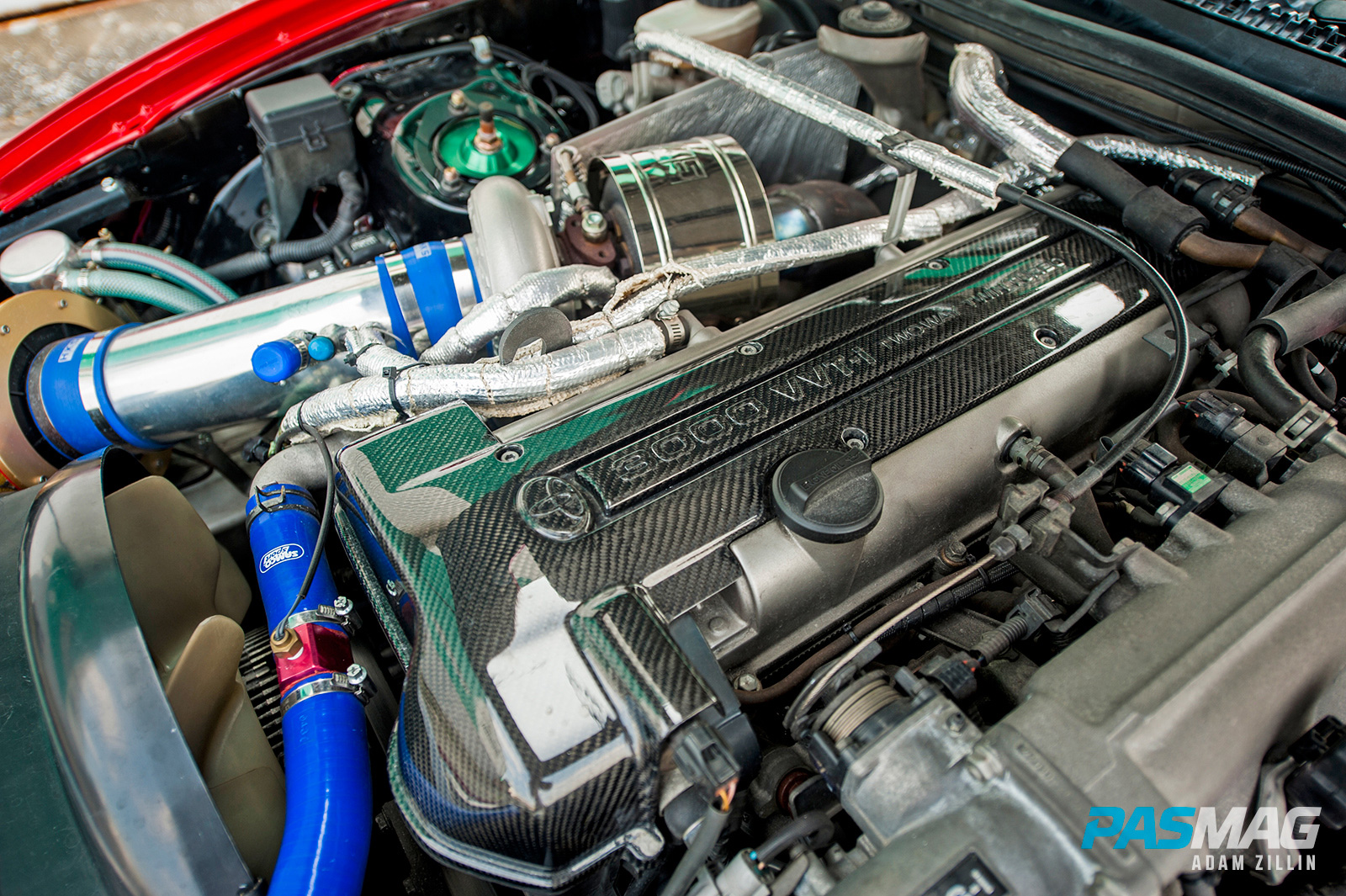 The engine puts out just over 600 horsepower and 506 lb-ft of torque, courtesy of the HKS T04Z snail, HKS intercooler and custom exhaust arrangement; and this with only 1.3 bar (18 psi) of boost. That's impressive, but daily-drivable tractability was paramount. The power drives through an Ogura Racing twin-plate clutch, pressure plate and flywheel set, spinning its way through to a two-way HKS differential.
Stopping the force is a set of Endless calipers, pads and rotors, which are housed by extremely light 19-inch Advan GT Racing wheels wrapped in Orido's signature Yokohama Advan AD08 rubber measuring 255/35 in the front and 295/30 in the rear. The whole system is suspended by Tein Monoflex dampers.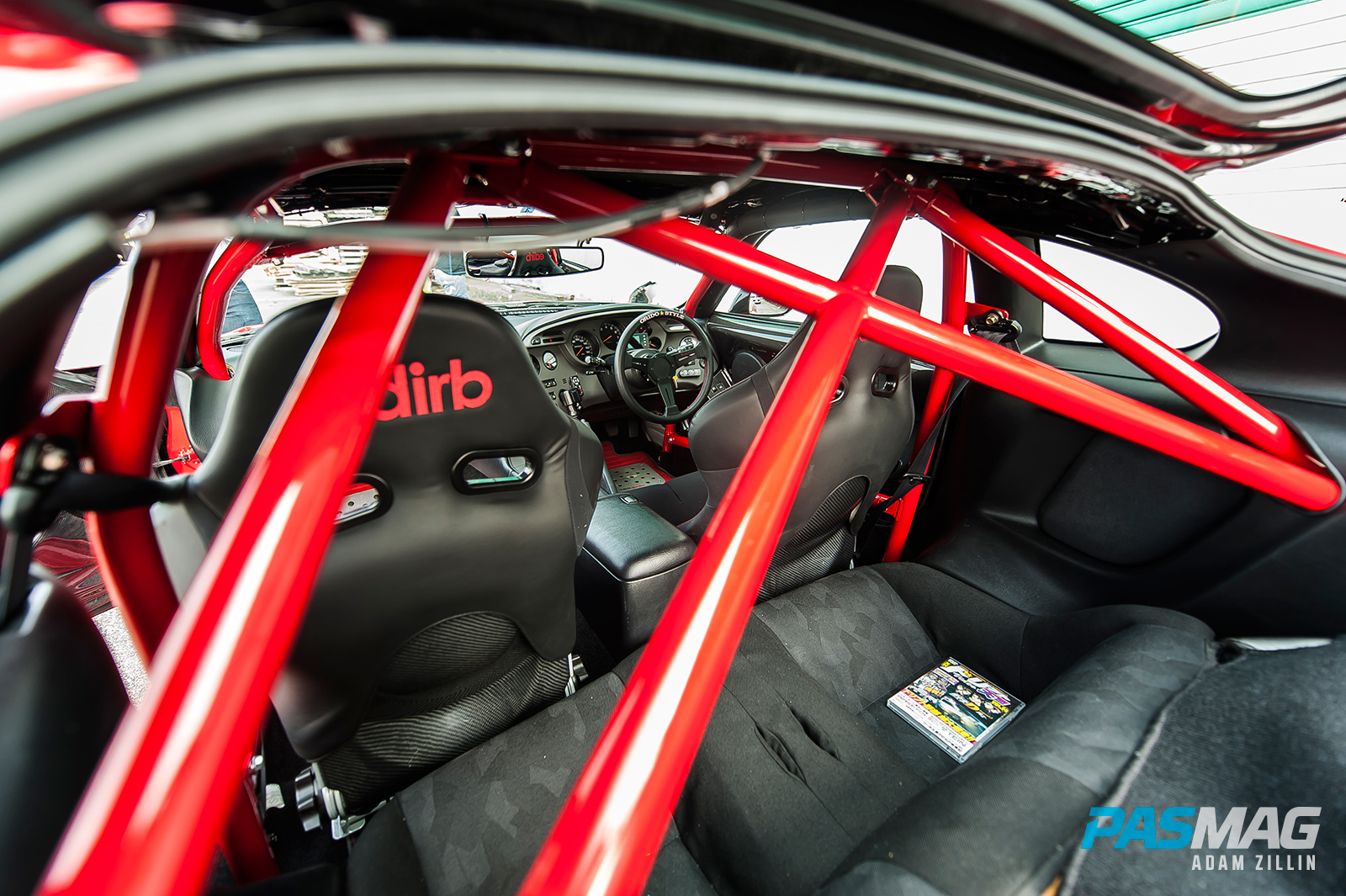 Max has spent just as much time considering the interior as he has the exterior and mechanicals. The newly-created Bride "Edrib" 033 semi-bucket seats for both driver and passenger hint at serious intent. The roll cage is a standout and contrasts beautifully against the black and gray interior. "I was coming back from Fuji Speedway one day when a Porsche pulled up alongside and I saw it had a red roll cage. I thought, 'Oh yeah, that's cool – I'm definitely fitting one to the Supra in that color!'"
One other nice little addition you may not have noticed is the roll bar-mounted rearview mirror. "It's NASCAR style!" Max exclaims with a laugh. He really does appreciate the finer touches to a build.
It's hard at the best of times to pen a feature on a car as amazing as this without feeling like the article will be consumed one day and (hopefully not) forgotten the next. But Orido-san is one of the best known exports for Japanese automotive culture and I'm happy to consider him among my friends in the game. Ridox and Max go back to the roots of the JZA80 Supra, and it doesn't look like he's slowing down with the developments. Soon, you'll see the fruits of that labor, and we will of course be there to cover it.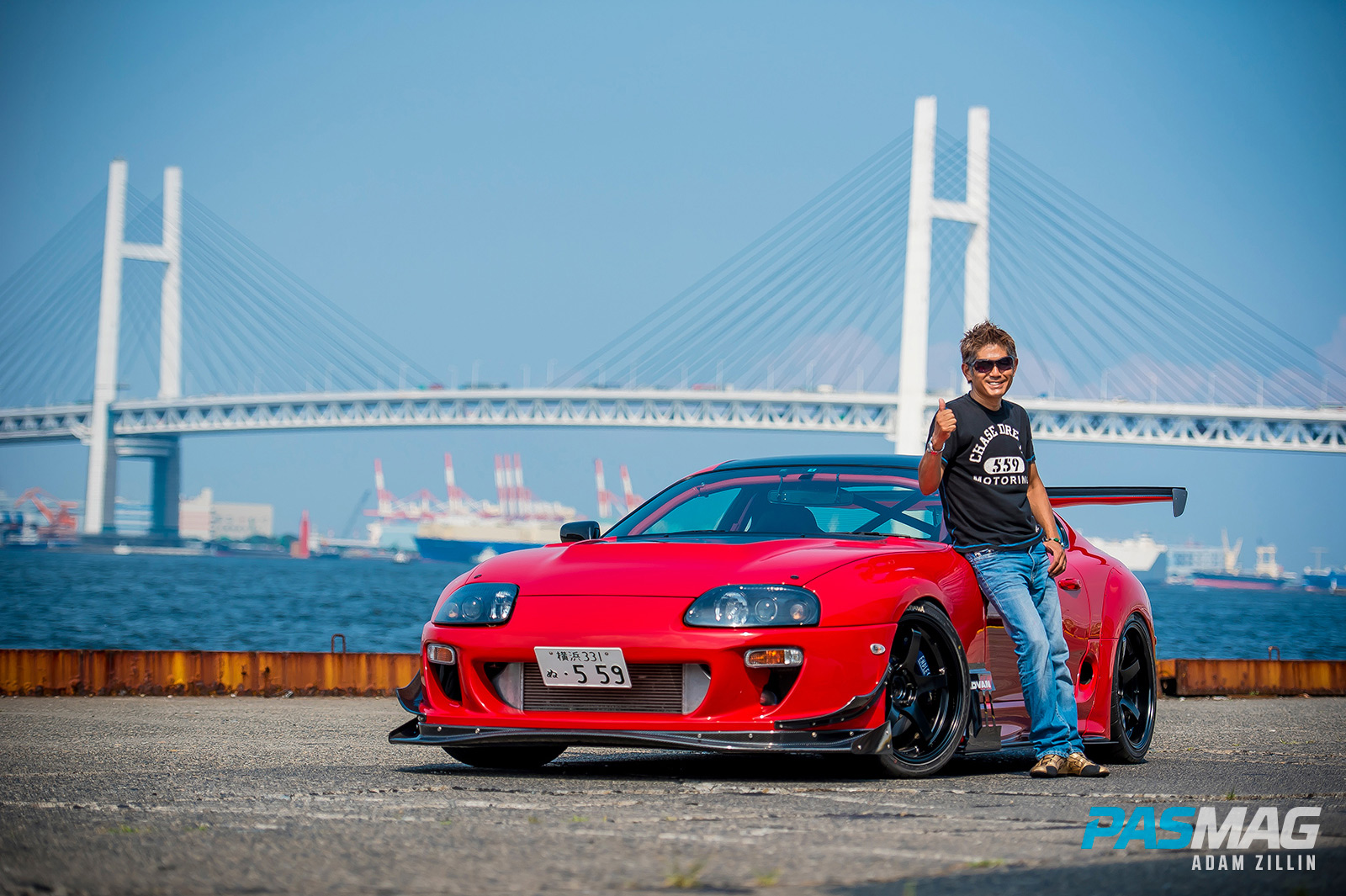 I can't think of a finer Supra anywhere on the planet. Seriously. I've seen too many to count, but this one, considering the sum of its parts, balanced with the attention to detail and philosophical approach to its conception, boosts it to a different league of consideration. Simply put, Manabu Orido knows how to take a Supra to the max.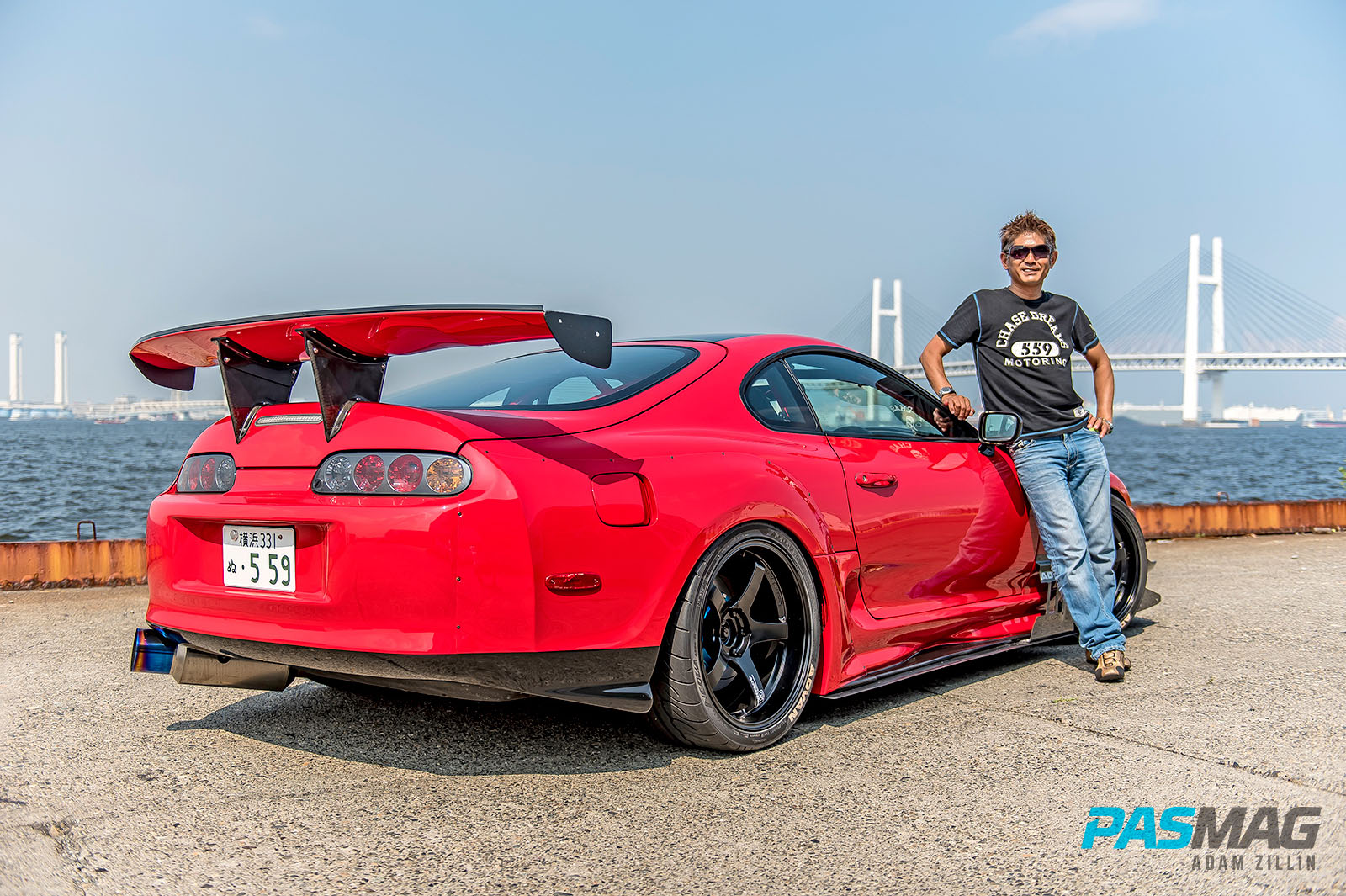 Order your copy of PASMAG's Tuning Essentials: Ultimate Performance Guide (3rd Edition) at www.pasmag.com/backissues.
---
ESSENTIALS
VEHICLE: Toyota Supra (JZA80)
OWNER: Manabu "Max" Orido
BUILT BY: Manabu Orido
ENGINE: Toyota 3.0L (2JZ-GTE) turbocharged V6
HORSEPOWER: 600 hp
TORQUE: 540 lb-ft
ENGINE
Rebuilt 2JZ-GTE
HKS (T04Z turbocharger, intercooler, oil cooler, racing suction intake, F-CON VPRO engine management)
NGK Racing spark plugs
SARD fuel injectors
EXHAUST
Custom (6-4-1 stainless header, titanium muffler)
HKS center-pipe
DRIVETRAIN
Ogura Racing (twin-plate clutch, flywheel, pressure plate)
TRD 2-way differential
Getrag 6-speed transmission
CHASSIS / SUSPENSION

Tein Monoflex adjustable dampers
TRD chassis bracing ∂ Multi-point roll cage
WHEELS / TIRES / BRAKES
Advan GT Racing wheels - 19x10 (f), 19x11 (r)
Advan AD08 tires - 255/35 R19 (f), 295/35 R19 (r)
Endless (slotted rotors, 4-piston calipers (f), rotors, 2-piston calipers (r), brake pads)
EXTERIOR
Max Red custom paint
Ridox (side skirts, front bumper, canards, dry carbon fiber hood, carbon fiber roof)
Tamon Design rear bumper
Varis Carbon rear wing
INTERIOR
Bride Edirb 033 semi-bucket carbon seats
Custom (roll-cage-mounted rear-view mirror, carbon fiber door panels)
PHOTO GALLERY