Farid Nurmohamed's Lexus IS300 is more than just a pretty face.
Back when he lived in Tanzania with his family, Farid Nurmohamed's father was constantly building something. From a Land Cruiser, to a Nissan Patrol, to an old Datsun, he watched his father wrenching on vehicles over the years, and the passion was passed down to him over time. Now residing in Markham, Ontario, it has been years of Nurmohamed's father watching him turn the wrenches passed down to him.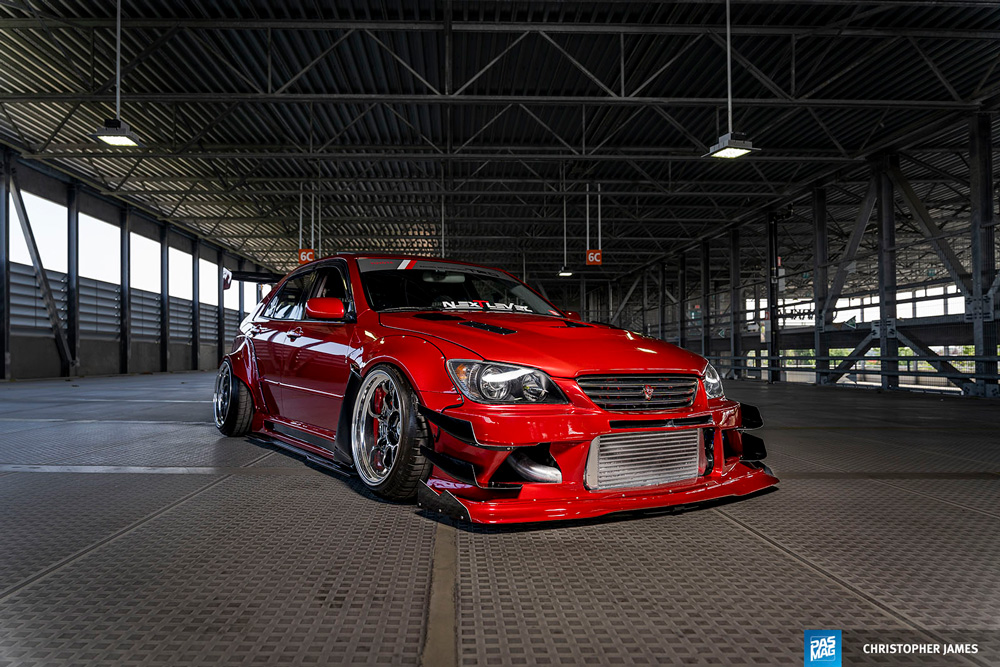 Nurmohamed had always had a soft spot for Toyota's Mk4 Supra - a soft spot that only grew fonder after the Fast & Furious franchise further propelled the Supra platform and its 2JZ into stardom. The combination of power potential and the built-in Toyota reliability was hard to resist. When he learned that the Lexus IS300 was also 2JZ-powered, he fell in love. The styling of the IS300, both inside and out, drew him in. "It had everything I wanted along with it being fun, and reliable," he tells us. "It was a perfect daily to start with."
With a love for show cars that can still put down power, Nurmohamed got started on his new project. He knew he wanted his IS300 to be truly one of a kind, while blending the best parts of show car style and track car style in harmony. The car went through numerous iterations before it got to the form you see here, but the years of changing things up all become worth it when you see the end results.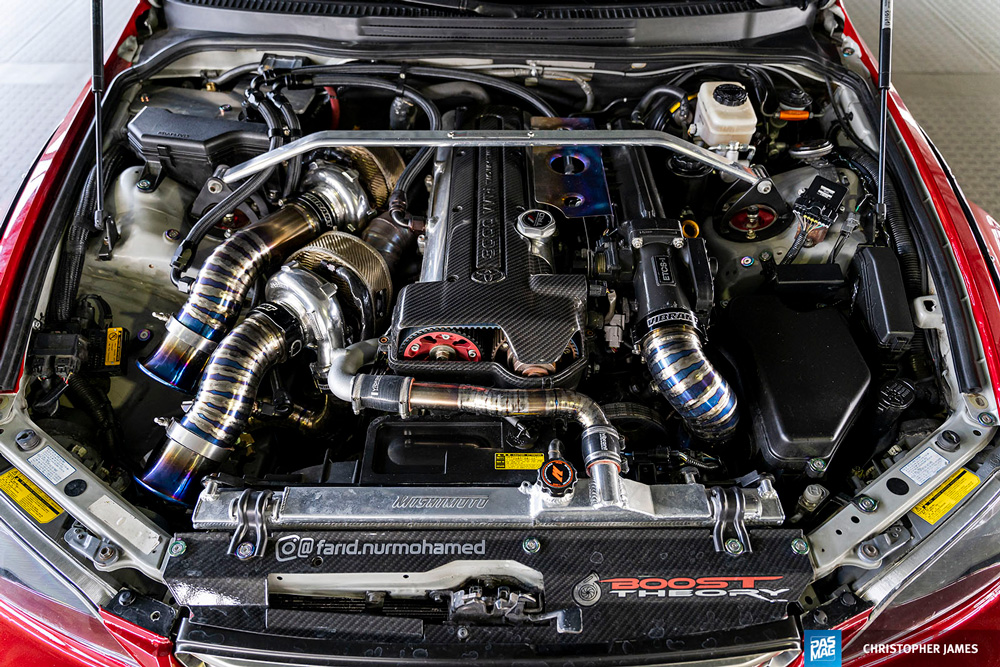 For show style, a variety of exterior options were employed. Rocket Bunny custom fenders, Ascura Garage rear widebody, a Voltex Cyber Evo front bumper conversion, and a Seibon Carbon Evo-style carbon fiber hood are among the most obvious features. JDM dark chrome Altezza tail lights sit beneath the Voltex Type 5 GT wing and a TRD roof spoiler, and Hipposleek side skirts bridge the gap between the heavily altered front and rear ends. The whole package is wrapped in Inozetek's Midnight Red vinyl - the first of its kind in Canada - and the entire car sits on the ground at the push of a button thanks to an Air Lift Performance 3P air suspension system.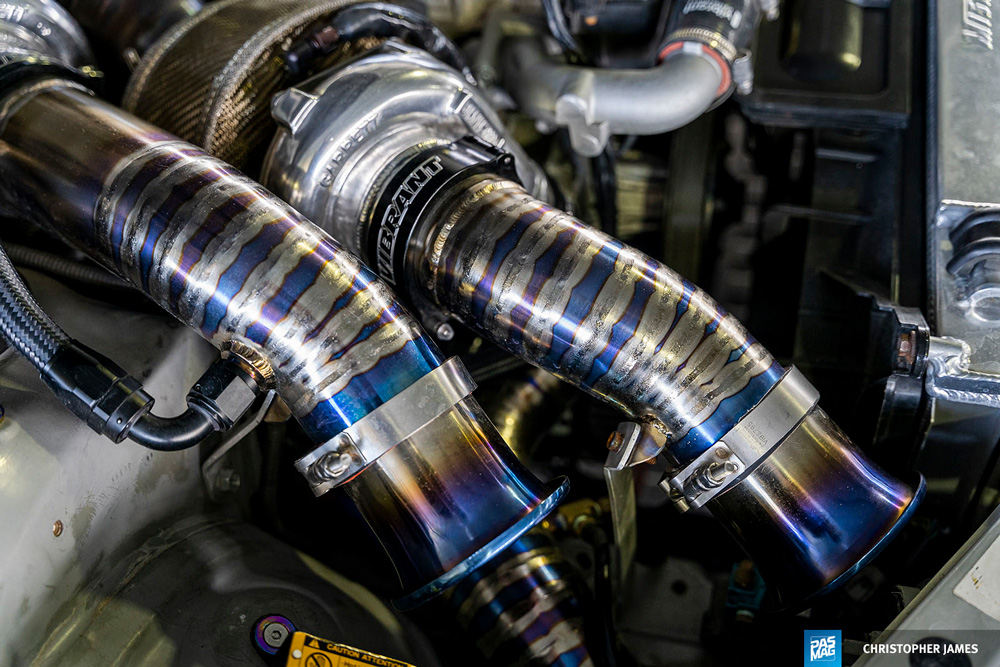 The track and performance side of Nurmohamed's styling cues come courtesy of what he calls the "meaty stance" of drag cars. SSR SP5 wheels, measuring 18x11.5 and 18x13 in the front and rear respectively, are wrapped in Michelin Pilot Sport tires, filling out the wheel wells in a menacing fashion. Stopping the car at speed is a set of Neo Motorsport 6-piston brake calipers in the front and rear, biting down on some C-cut rotors. The canards up front and the previously mentioned wing go a long way in setting an aggressive tone from afar, but the performance looks of this IS300 are not just for show, either. After all, Nurmohamed did pick this car up for its 2JZ.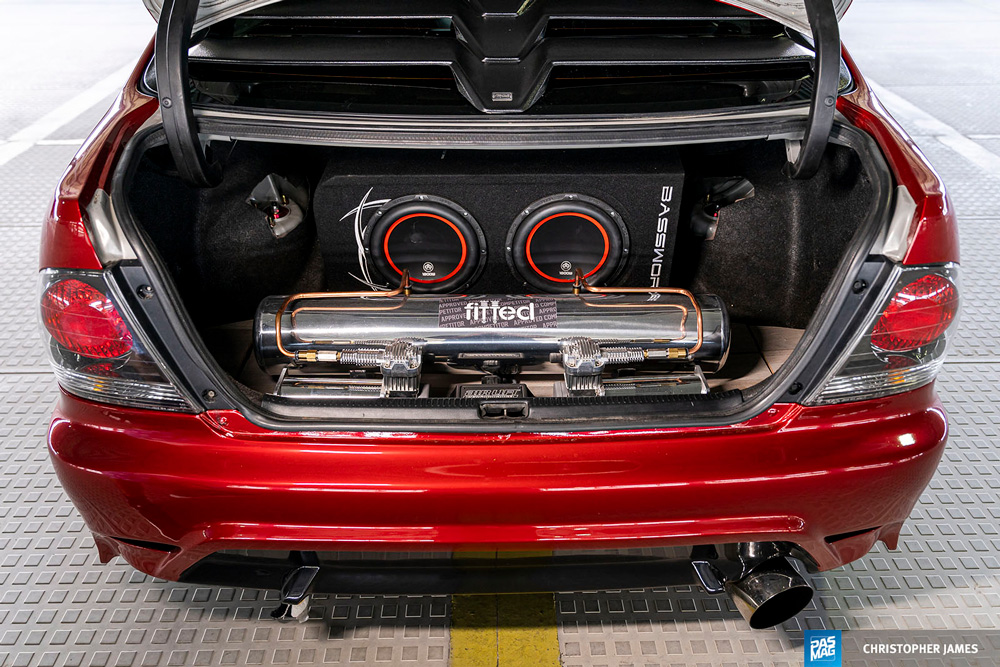 The 2JZ that comes from the factory in the IS300 is not quite the same as the one that has been made famous by the Mk4 Supra. No problem - he just swapped in a TT version instead. Once Boost Theory got him a custom manifold to fit the turbo side in the IS300 engine bay, the 2JZ-GTE he swapped in was the perfect candidate for some upgrades. Garrett GTX2860R twin-turbos, Brian Crower staggered cams, Tial MVR 44mm external wastegates, and improvements to the fuel delivery system helped bump power to a healthy 462 whp and 340 ft-lbs of torque at the rear wheels. The engine bay also looks the part thanks to carbon fiber and titanium in liberal doses. The best of both worlds.
Inside the car, the overall show-worthiness is maintained through quality parts and cohesive styling choices. Bride Brix II seats hold driver and passenger firmly and comfortably in place, and a Momo Tuner steering wheel is just right for handling the car's maneuvers. A custom 55mm triple gauge pod is host to some Defi gauges, which go well with the Altezza digital cluster that Nurmohamed swapped in.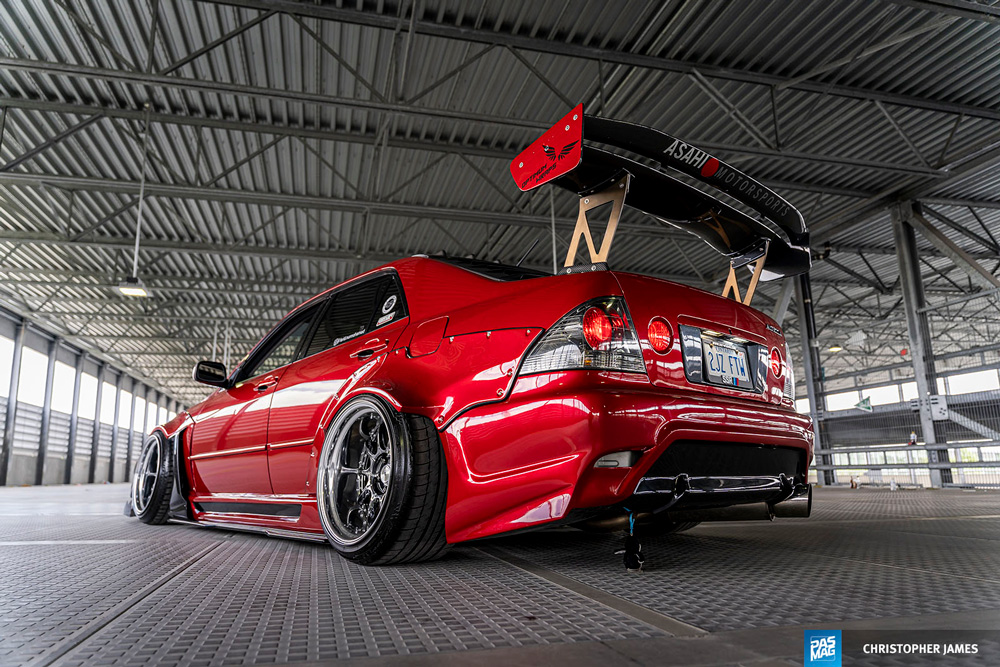 With everything coming together as he imagined, Nurmohamed reflects on the car's driving experience. "I love the way the IS300 drives, especially with the twins," he says. "I have no turbo lag and the power is almost instant in a linear way. All I can say is that it always gives me a smile whenever I drive it!" With his goal of a truly unique build accomplished, Nurmohamed has his sights set even higher for the future. He tells us he has plans to keep building for power until he's in the 1,000-plus club, and that's going to require some work. We can't wait to see the results!
As featured in PASMAG Issue 166. Click Here to order.
Photography by Christopher James (@itschristopherjames)
---
ESSENTIALS
Owner: Farid Nurmohamed
Vehicle: 2003 Lexus IS300
Location: Markham, Ontario, Canada
Engine: Toyota 2JZ-GTE Twin-Turbo I6
Horsepower: 462 whp
Torque: 340 ft-lb
Club: NextLevel
SOCIAL
Facebook: /farid.nurmohamed
Instagram: @farid.nurmohamed
ENGINE
Toyota (2JZ-GTE engine swap, Supra TT head gasket, Supra TT 550cc injectors)
GatesRacing timing belt
BC (valve springs, retainers)
Brian Crower (BC264 intake, BC272 exhaust VVTi staggered cams)
Tomei adjustable exhaust cam gear
Custom twin-turbo V-band exhaust manifold
Garrett GTX2860R turbochargers
Tial MVR 44mm external wastegates (2)
VIbrant Performance (titanium piping, HD clamps)
Polished (turbochargers, valve cover)
Carbon fiber (engine cover, radiator cooling plate)
Mishimoto (4-inch intercooler, radiator)
Tial Q50 BOV
Custom catch can
Hard coolant pipe
Aeromotive Stealth 340LPH fuel pump
Haltech Elite 2000 ECU
Boomslang plug-n-play harness
TRD oil cap
EXHAUST
3-inch downpipes
Custom 3.5-inch (mid-pipe, exhaust system)
Vibrant Performance 3.5-inch muffler
DRIVETRAIN
SPEC Stage 2 clutch
Fidanza lightweight flywheel
WHEELS / TIRES / BRAKES
SSR SP5 wheels - 18x11.5 (f) 18x13 (r)
Michelin Pilot Sport tires - 255/35/18 (f), 295/30/18 (r)
Rays Duralamin lug nuts
Neo Motorsport 6-piston calipers
C-cut brake rotors
StopTech stainless steel braided brake lines
ChaseBays ABS delete and brake line relocation
CHASSIS / SUSPENSION
Air Lift Performance air suspension system w/ 3P management
Dual compressors w/ custom hardlines
Hotchkiss sway bars
Tanabe front and rear underbraces
Megan (front and rear upper strut bars, rear toe/track link)
TC Sportline rear upper camber control arms
SPC front upper camber ball joints
Figs lower mega arms
EXTERIOR
Inozetek Midnight Red vinyl wrap
Rocket Bunny custom front fender flares
Ascura Garage rear widebody kit
TRD (banner, carbon trunk plate garnish)
Voltex (Cyber Evo front bumper conversion, Type 5 GT wing)
Monster Service (rear window louvres, side flares, vents, side splitters)
Altezza (dark chrome grille, visors)
Seibon Carbon (Evo-style vented hood, Evo-style roof spoiler)
JDM (dark chrome tail lights, yellow fog lights, plate relocator)
Hella Supertones
Hipposleek side skirts
JDL rear bumper
Lexus LS430 headlight projector retrofit w/ black housings
Philips Ultinon 6000k D2 HID upgrade
Prolex performance undertray
15% window tint
INTERIOR
Bride Brix 2 leather seats
TRD Altezza SXE10 seat rails
Takata harnesses
Braum rollbar
Altezza digital cluster
Momo Tuner steering wheel
NRG (hub, quick-release)
BLOX weighted shift knob
Custom 55mm STI triple gauge pod
Defi gauges (boost, oil pressure, oil temp)
AEM Performance Electronics UEGO wideband gauge
Ralco RZ short shifter
LED interior lighting
AUDIO / MOBILE ELECTRONICS
Kenwood DX470 DVD head unit
DB Drive (2000 W monoblock amplifier, 12-inch subwoofers (2) 10 Farad capacitor, 0-gauge amplifier install wiring kit)
Bassworx custom enclosure
SPONSORS
Vibrant Performance
Monster Service
Ascura Garage
Optimum Wraps
JRP
SqueakyCleanAir
NEO Motorsport
---
PHOTO GALLERY