Getting back to back wins in anything is pretty amazing, no matter the competition. If you'll recall from last year's Tuner Battlegrounds Championship, Anthony De Guzman and his Toyota Supra of Winnipeg, Manitoba, Canada took the trophy and the cover of our October/November 2015 book. Now, shockingly enough, Benjamin Tran of Winnipeg, Manitoba, Canada has taken this year's trophy and the cover of our February/March 2015 issue with his 2004 Acura TSX. Two stellar builds from the same city, two years in a row! What the hell are they putting in the water in Winnipeg?
For Benji Tran, the car fascination runs deep in his core group of friends. After daydreaming in school and cutting out ads from car magazines to build the perfect Civic (Erebuni kit included), Tran soon realized he was going to need some cash to get his project rolling. His older brother was involved in the car scene, but also involved at McDonalds, which is where Tran got his first job at the ripe age of 15. After making quick friends with a co-worker and co-car-nut, Nathan Kowalski, he was introduced to one of Kowalski's friends and the three taught themselves how to work on cars.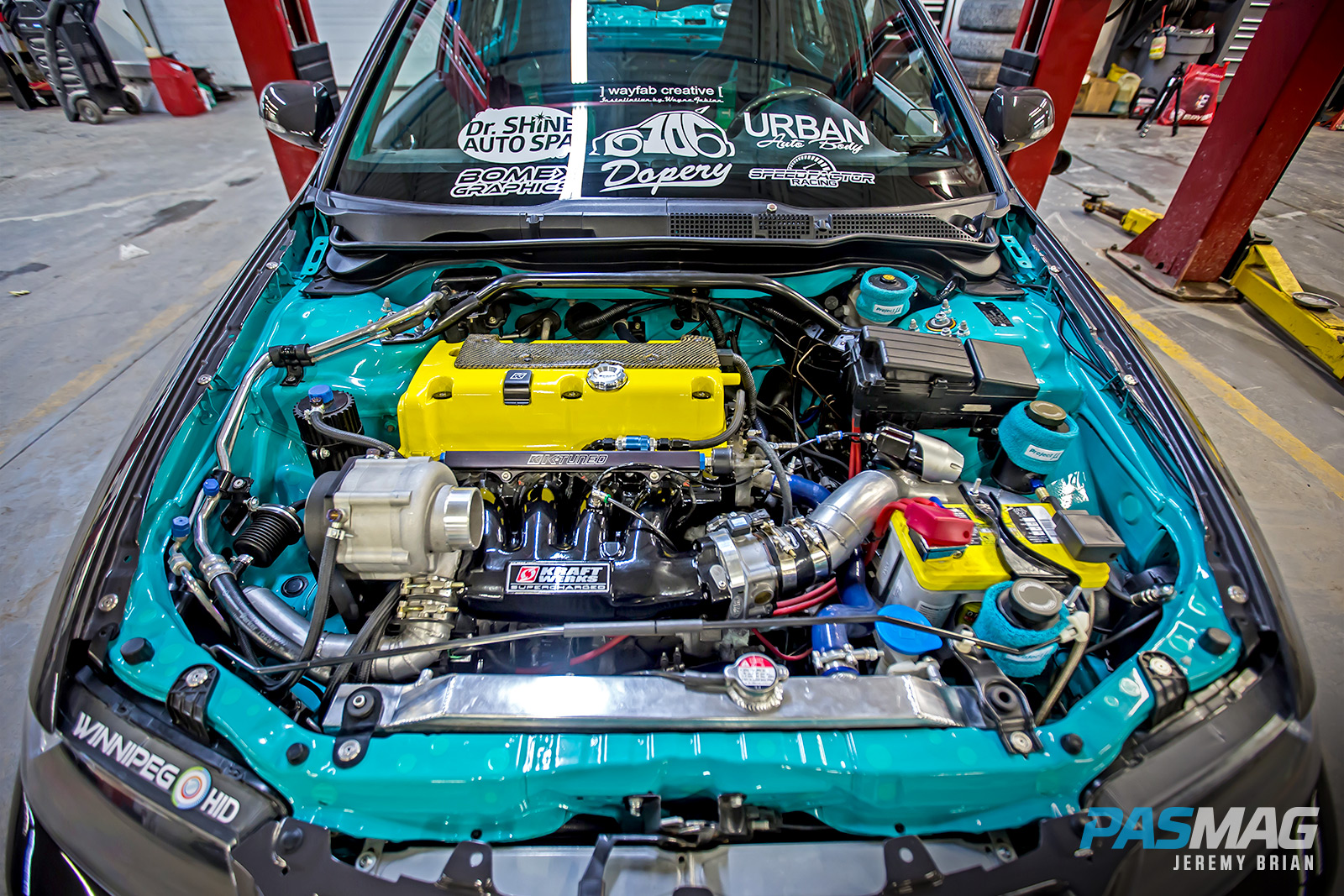 "The three of us, not having any experience, figured out how to swap engines into everything from Hondas to Nissans," Tran recalls. "Within fi ve months of summer, we managed to complete five different engine swaps in Nathan's parents' garage."
Kowalski's parents' garage was addressed with the number "106," which turned into their club, "Garage106." You'll notice that there's still a Garage106 banner in the middle of Tran's windshield. The same members of this crew would help shape Tran's TSX into the winner it is today.
Tran initially bought the TSX in 2008 with the mind that it would be a point A to B car during college that fit his budget and was cheap to drive. Besides, there wasn't really an aftermarket for it at the time. With some extra daydreaming time, however, that would all change for Tran.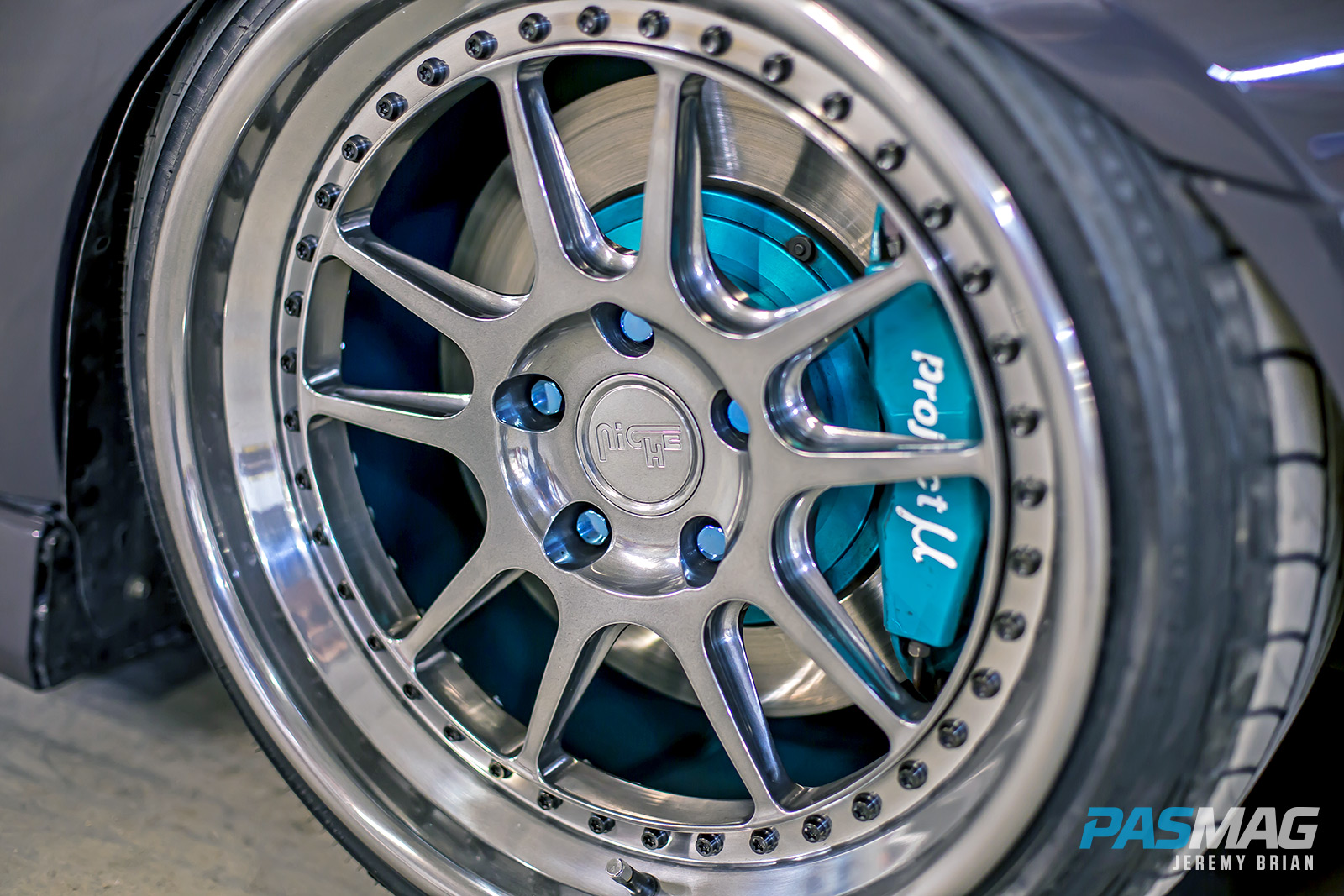 "After five years in school in a laptop mandatory course, empty cart Internet shopping and a lot of daydreaming — I'm lucky I even graduated," he laughs. "The TSX is the luxury version of the Honda Accord EuroR. It doesn't have a lot of aftermarket support, so I was forced to think outside of the box. I wanted to build something functional, yet appealing to me; something to drive daily, so not too flashy, but potent."
Winters in Winnipeg are long and frigid (yay Canada!), so time is of the essence for its resident enthusiasts. One of the biggest jobs on the TSX was the stripping, prepping, sanding and repainting of the car — the outside in a gray shade from a Porsche GT3 RS, the inside a custom saturated teal straight from Tiff any & Co. Tran says he had to work fast to get everything done before the weather turned.
"The paint preparation process took me just under a month to disassemble and strip down the entire chassis of the car, let alone sand the interior too," he says.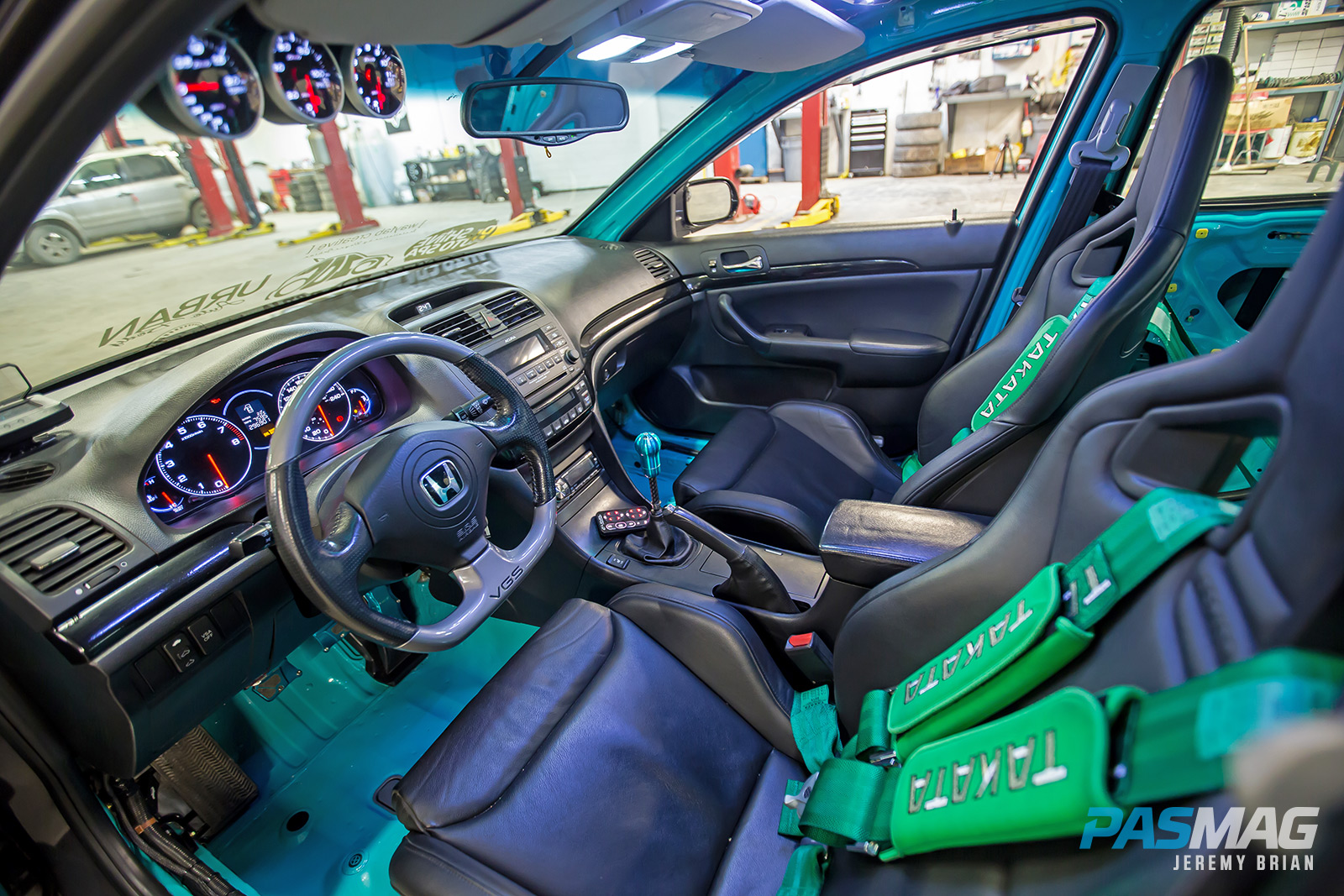 The supercharger was another big job, as the Kraftwerks kit was initially meant for a 2006 to 2011 Civic Si. It took some extra bottles from Chase Bays and a conversion from a Toyota MR2 to keep the power steering after all the fabrication and custom mounting was done.
Right before SEMA, Tran got a few more modifications in. A custom subwoofer enclosure from his friend Wayne Fabian at Wayfab Creative sits in the space where the spare tire would in the trunk, and houses a 12-inch JL Audio W6v3 subwoofer. He also picked up some custom high-luster chrome grey Niche Chicane H81 wheels, which feature teal chrome on the inner barrels to match the interior paintwork.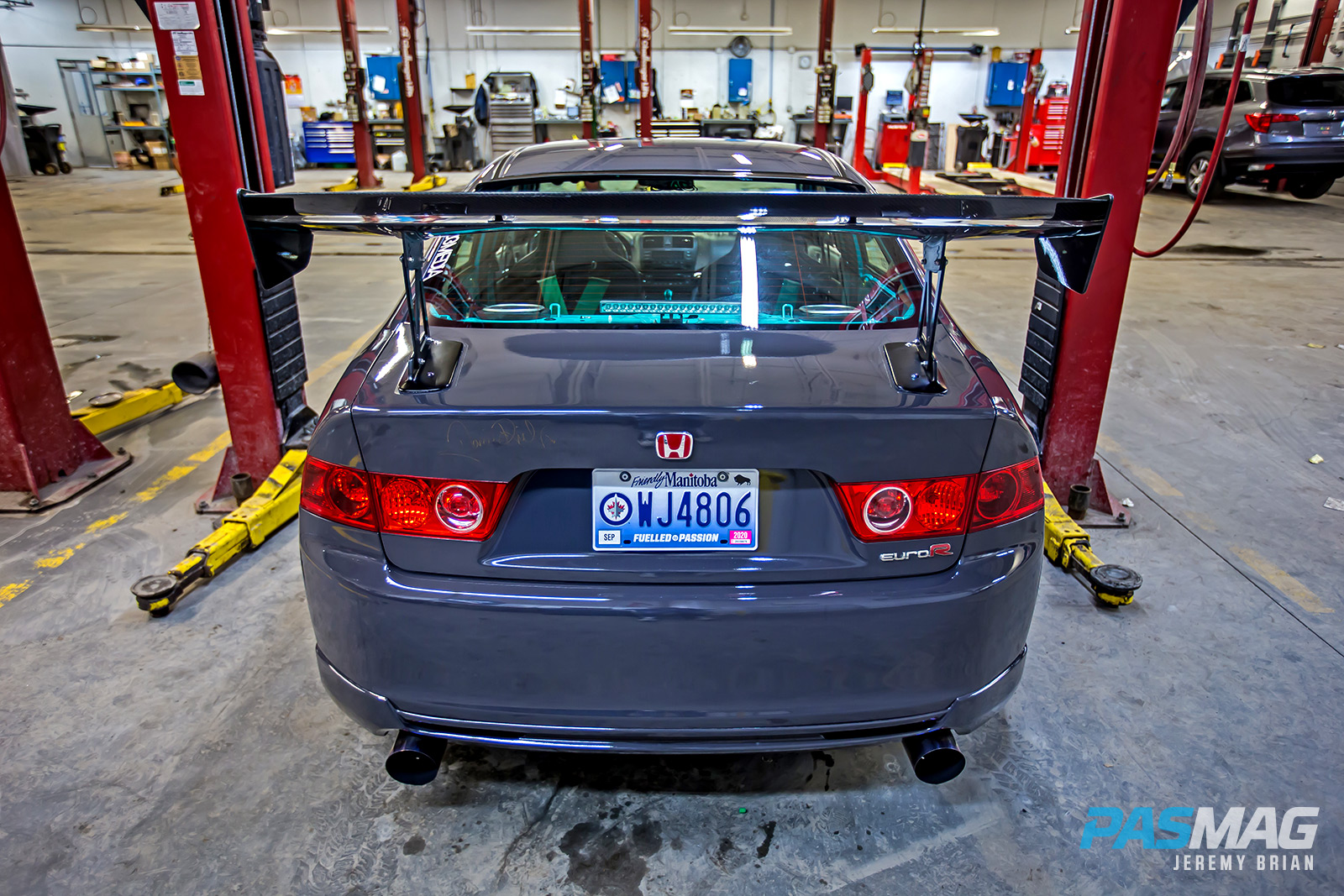 Again, his friends from Garage106 were there to lend a hand with these big jobs. Speaking of which, Tran was actually introduced to Tuner Battlegrounds by his Garage106 crewmate, Anthony De Guzman.
"Seeing what Anthony experienced, all the support from our small city and his progression through to the finish only inspired and motivated me to 'carry the throne' for Garage106 and help designate a place for Winnipeg in the car community worldwide," says Tran.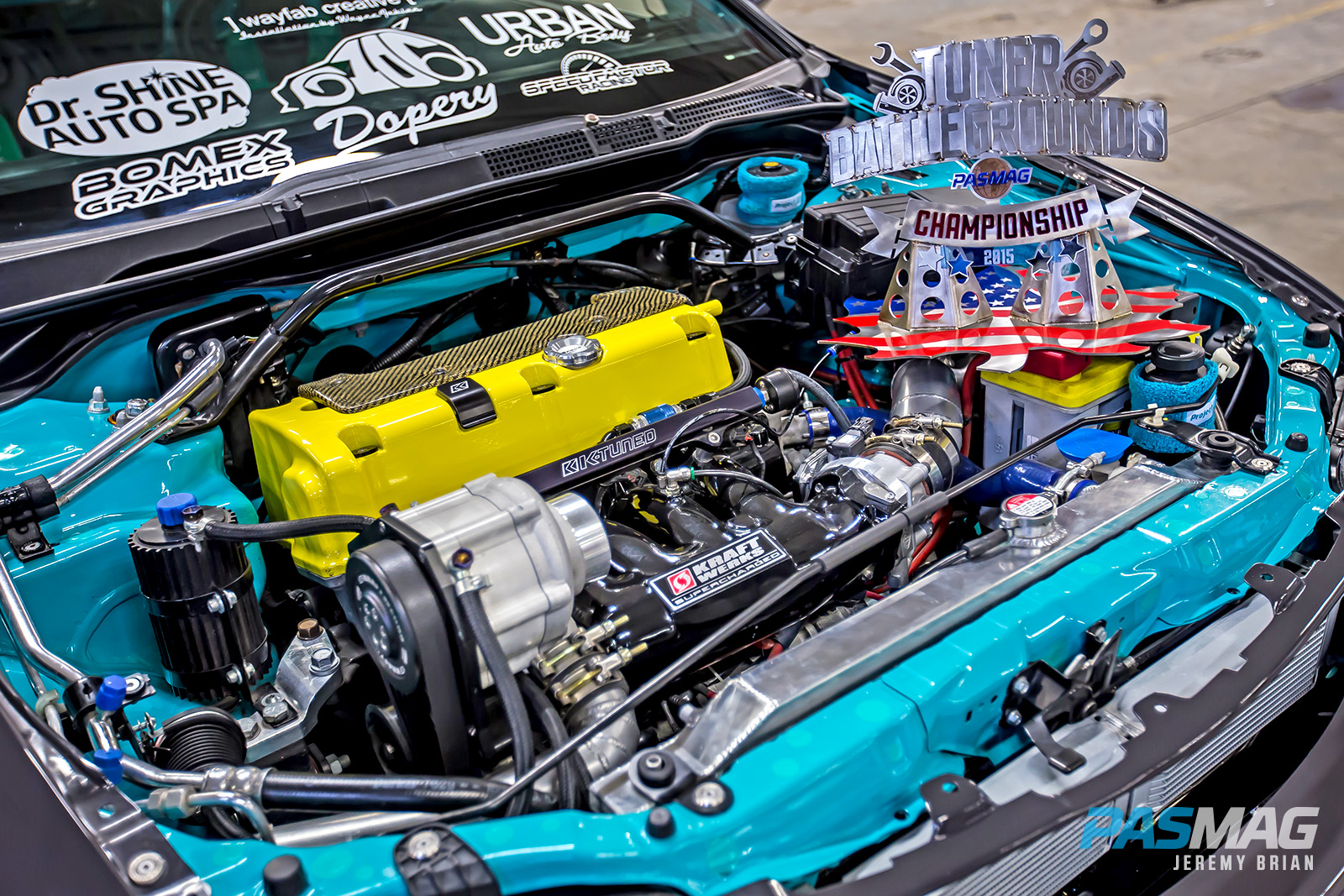 Following De Guzman's experiences went a little more dramatic than last year, however. In Stage 4 of the voting rounds, Tran came up against what he calls his biggest competition. His opponent took the lead right out of the gate and kept it until the last 24 hours of voting.
"I caught up, someway and somehow, and I managed to catch my opponent by just over 150 votes to shrink his lead to less than 100," recalls Tran, excitedly. "It was do or die and my fate was boosted by the social media backlash my opponent faced when he voiced his opinion on the shrinking lead."
When Trans says "social media backlash," he's referring to the immature comments made in the heat of competition. His opponent resorted to calling his style "fake racecar," which Tran took in stride. He's actually accepted the term and uses it when someone asks what kind of style he tried to follow while building his car. It was this attitude that gained him that last minute support from voters.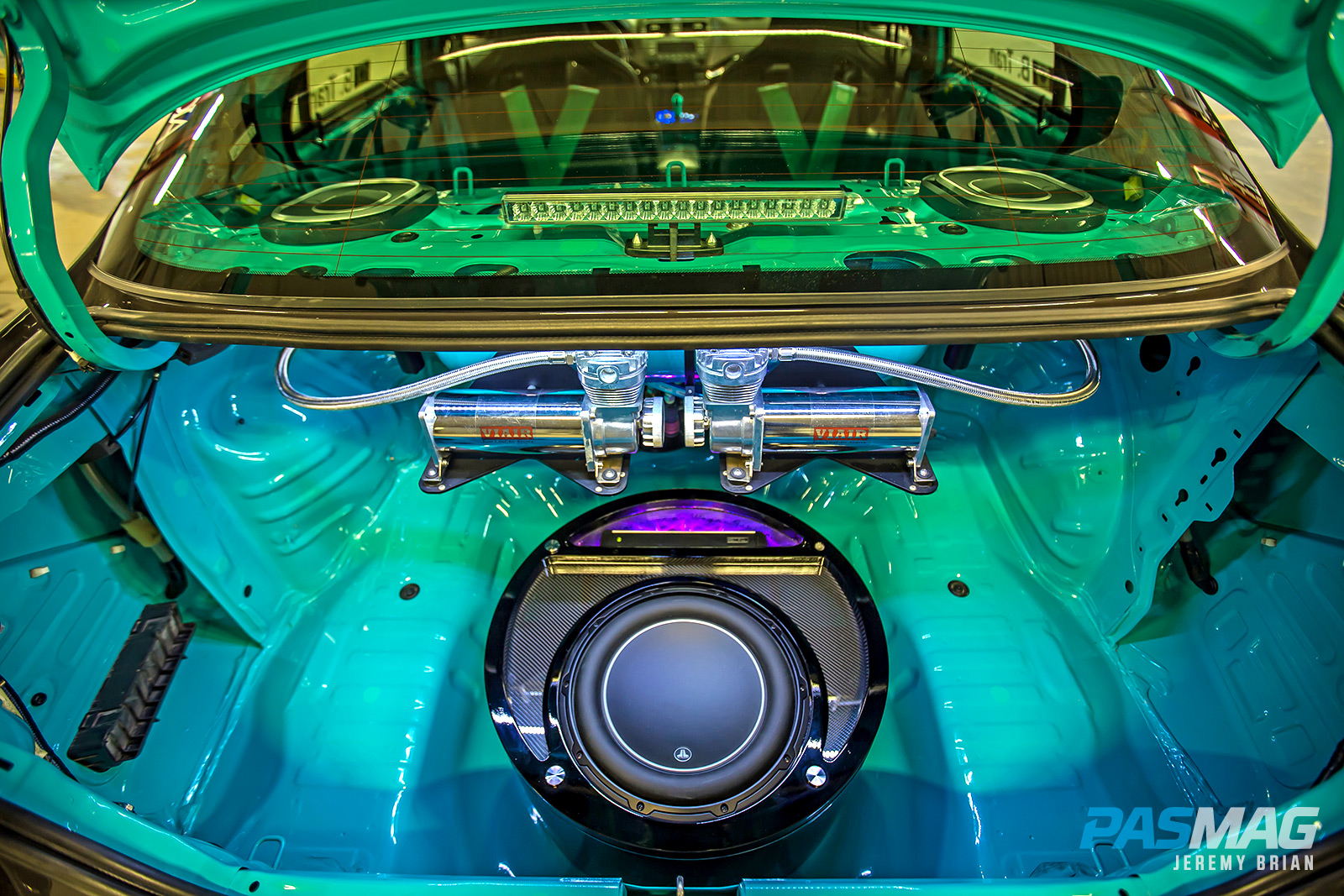 The next and last obstacle for Tran was more like a mountain. Brian McCann's Nissan 350Z, clad in Stardast and other rare JDM bits, had been dominating the competition thus far, garnering record-setting numbers of votes. The championship round of Tuner Battlegrounds was called David versus Goliath by fans, which turned out to ring more than true.
With the help of his friends and family that flew into Vegas from Winnipeg, who helped him hustle for votes all week, Tran came out on top by a mere 10 points! McCann had earned more ballot box votes, but Tran's online presence was unmatched. When all was said and done, Tran says he was actually a little more sad than happy.
"It might sound weird, but I felt sad that it was over more than anything," he admits. "You could see that Brian and I had the same reaction when we gave each other a pat on the back and a brotherly hug."
That's what it's all about at the end of the day — Tuner Battlegrounds is a competition that embodies the competitive spirit and love of all that is modified. We couldn't be happier that Tran's TSX is on our cover, as it shows that something that you built for yourself with your friends can be special to so many other people. Congratulations, Benji!
But seriously, what the hell are they putting in the water in Winnipeg?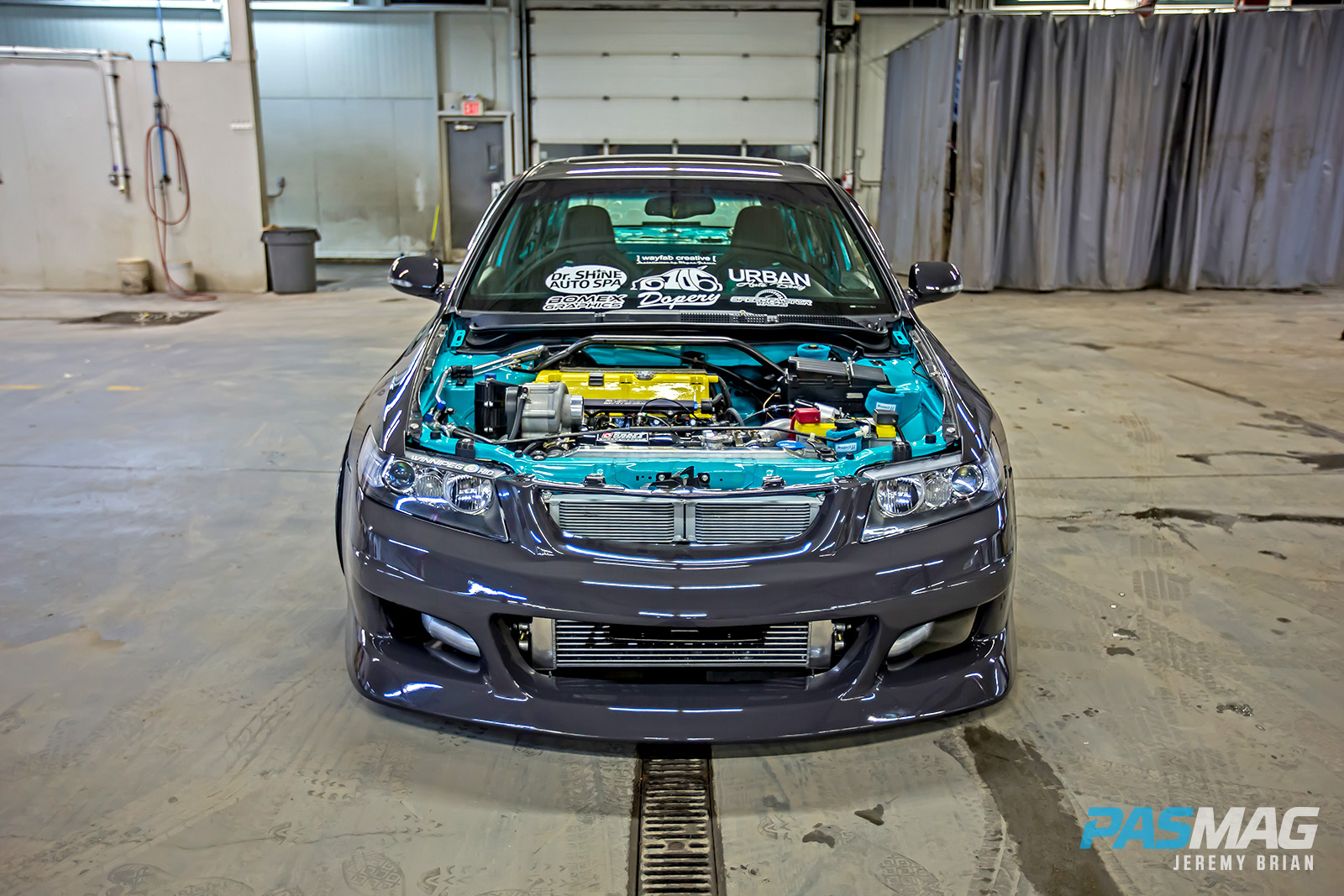 Photography by Jeremy Brian
---
ESSENTIALS
OWNER: Benjamin Tran
VEHICLE: 2004 Acura TSX
LOCATION: Winnipeg, Manitoba
CLUB AFFILIATION: Garage 106
BUILT BY: Urban Autobody & Chrome, Bettess Metal Fabrication, E-Tunez
ENGINE: Honda 2.4L I-4 (K24A2)
HORSEPOWER: 320 whp

INSTAGRAM: @thabenjamins
ENGINE
Kraftwerks Civic Si Race supercharger kit (C30-94 trim supercharger, front-mount intercooler, intake manifold)
Grams Performance 1,000 cc fuel injectors
Toyota MR2 electric power steering conversion
Chase Bays (power steering reservoir, coolant overflow)
Project Mu reservoir cover
Custom (billet aluminum clutch reservoir, front reinforcement bar, aluminum charge pipes, dual front-mount oil coolers)
Acura ZDX 80 mm throttle body
P2R throttle body adapter
Vibrant Racing (silicone couplers, washer reservoir)
Synapse Engineering SQ blow-off valve
Machined 45-degree variable timing cam gear
Unorthodox Racing alternator pulley
Innovative Race 95A engine mounts
K-Tuned (fuel rail, oil dip stick)
Fragola (fuel quick disconnect, AN fittings)
Spoon Sports (valve cover, spark plug cover, oil cap, radiator stay)
Skunk2 flush valve cover hardware
Mugen fender bolts
Honda 2004 Accord aluminum radiator
Samco radiator hose
FAL dual slim radiator fans
Hondata (K-Pro ECU, TSX dual ECU harness)
Motul 5W40 synthetic motor oil
EXHAUST
PLM 4-2-1 header
T1R Sparrow titanium-tipped cat-back exhaust system
DRIVETRAIN
Exedy Stage 1 clutch
Fidanza aluminum flywheel
Aluminum rigid shifter bushings
Motul (10W40 gear oil, DOT 5.1 clutch fluid)
CHASSIS / SUSPENSION
Spoon Sports (rigid subframe collars, rigid steering rack collars)
J's Racing roll center adjusters
Ingalls rear adjustable multi-links
SPC rear camber arms
Airtekk air suspension
Accuair (E-level management, VU4 manifold, eXo mount kit)
Speciality Suspension 5-gallon air tank
Viair dual 480c compressors
3D-printed eXo mounting plate
WHEELS / TIRES / BRAKES
Niche Chicane H81 wheels (custom high luster chrome grey & teal chrome) – 18x10 (f), 18x10.5 (r)
Neuton NT5000 tires – 225/40 R18 (f/r)
Project Mu (Heptagon Super 7 lug nuts, 4-piston big brake kit, HC800 brake pads)
ARP extended wheel studs
Rays valve stems
Russell stainless steel brake lines
Honda Element brake proportioning valve
NiCopp custom brake lines
Motul 5.1 racing brake fluid
EXTERIOR
Porsche GT3RS gray-black paint
Spoon Sports S-Tai front bumper
Voltex Type V carbon fiber GT wing
Acura TSX A-Spec (side skirts, rear lip)
Honda Accord Euro-R (rear fog lights, radiator VIN plate, black window moldings, rear emblem, trunk badge, headlights)
Mugen ventilated visors
Zerg Engineering rear windshield visor
Password JDM hood spacers
Show N' Go front license plate bracket
LED custom third brake light
INTERIOR
Tiffany & Co. blue custom saturated paint
Recaro Sportster CS heated leather seats
Bride seat rails
Honda S2000 VGS steering wheel
Project Mu (shift knob, pedal set)
Takata (4-point harnesses, gel harness pads)
K-Tuned fuel pressure gauge
Defi (Advanced Link, BF EGT gauge, BF boost gauge, BF oil pressure gauge, multi-display link, heads up display)
ARC Magic trunk downforce meter
MOBILE ELECTRONICS
Alpine double-DIN head unit
Infinity Kappa 6.5-in. coaxial speakers
JL Audio (C2-690tx coaxial speakers, 12-in. W6v3 subwoofer, HD series 750 monoblock amplifier)
Stinger 4-gauge wiring kit
Wayfab Creative custom sealed enclosure
Optima YellowTop battery
KnuKonceptz custom (battery/charging harness, ground wires)
SPONSORS

---
PHOTO GALLERY