Sherwin Pacquette's Hill Climb Evo X Makes Waves
You're standing at the side of a hillclimb event with the wind in your hair. Suddenly a black, purple, and blue streak flies by, pops and bangs following closely, audible long after it disappears from sight. It's not a bird, it's not a plane - it's Sherwin Pacquette in his awesome hill climb-built Mitsubishi Evolution with the EXEDY livery.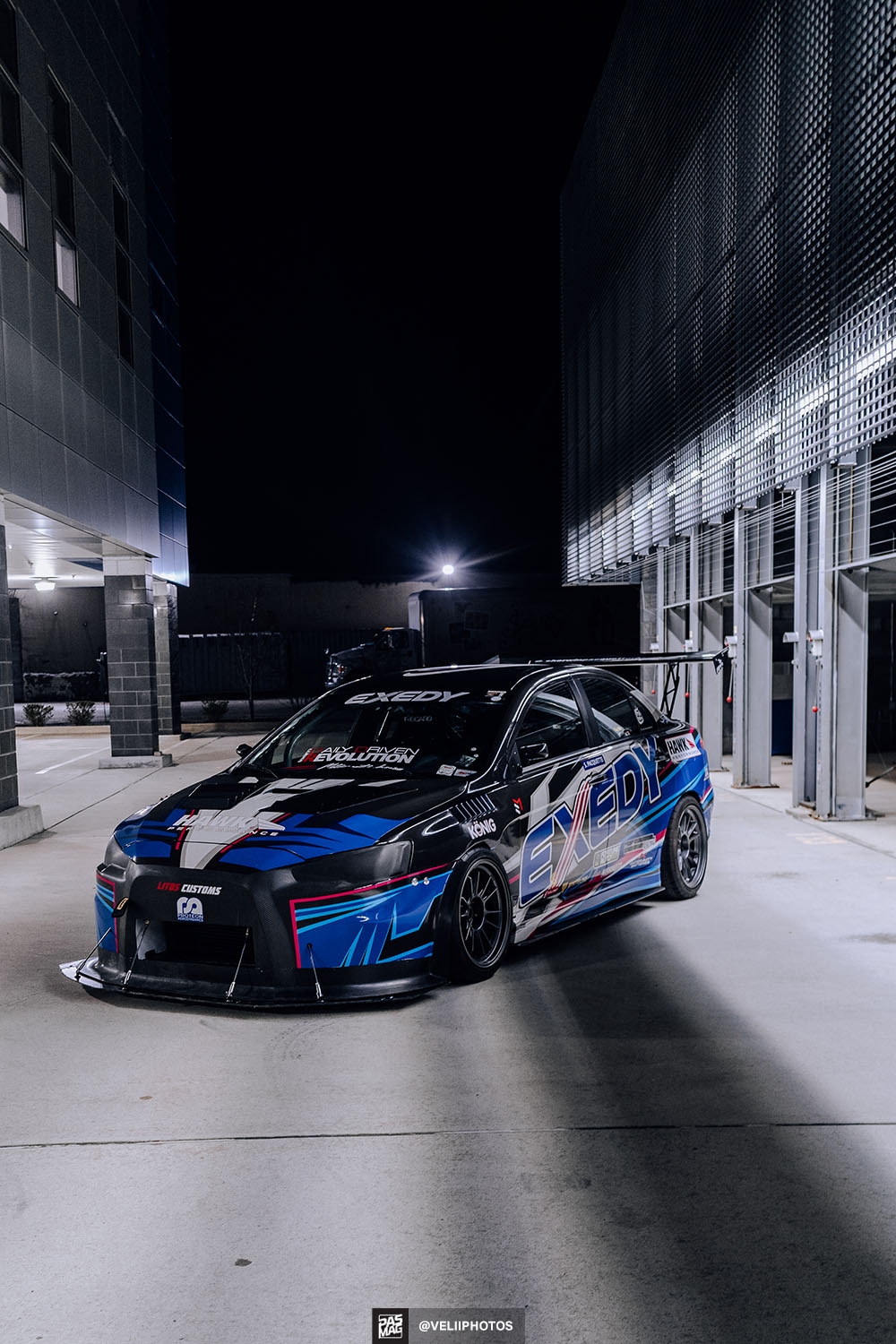 Based out of New York City, Pacquette took a liking to racing early on in his life, as he entered the field as a young racer looking to make a name for himself out there. After attending a couple car shows with his newly acquired Evo X, he decided that car shows weren't for him. He bought the car to be driven after all! Focusing on honing his own driver skills above all else, the Evo is built to a reasonable power level. With a stock turbo bolstered by Mishimoto and AMS bolt-ons, the 4B11T engine puts down a respectable 362 wheel horsepower to all wheels, bellowing its signature song through a Tomei titanium exhaust.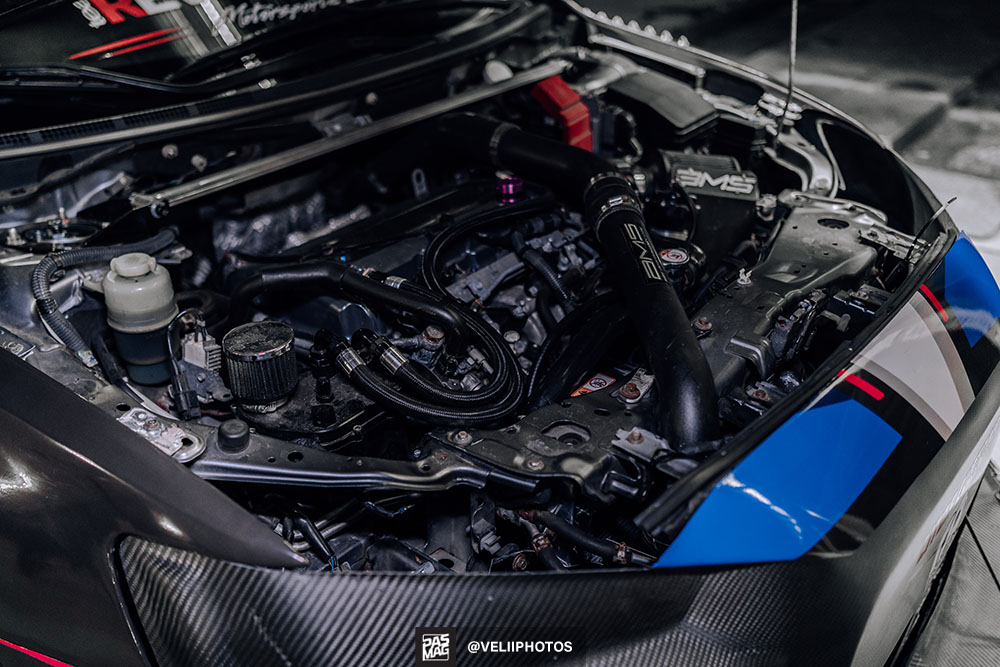 Ensuring that power makes it through the drivetrain efficiently, as well as ensuring it holds up for some longevity in the face of abuse, is EXEDY's Hyper twin disc clutch kit - a popular choice among motorsports enthusiasts who also appreciate some street use. EXEDY's sponsorship race program was a perfect partnership for Pacquette given the light street duty - and heavy race duty - that his Evo will see over its lifetime, and the exterior livery lets spectators know exactly what's up.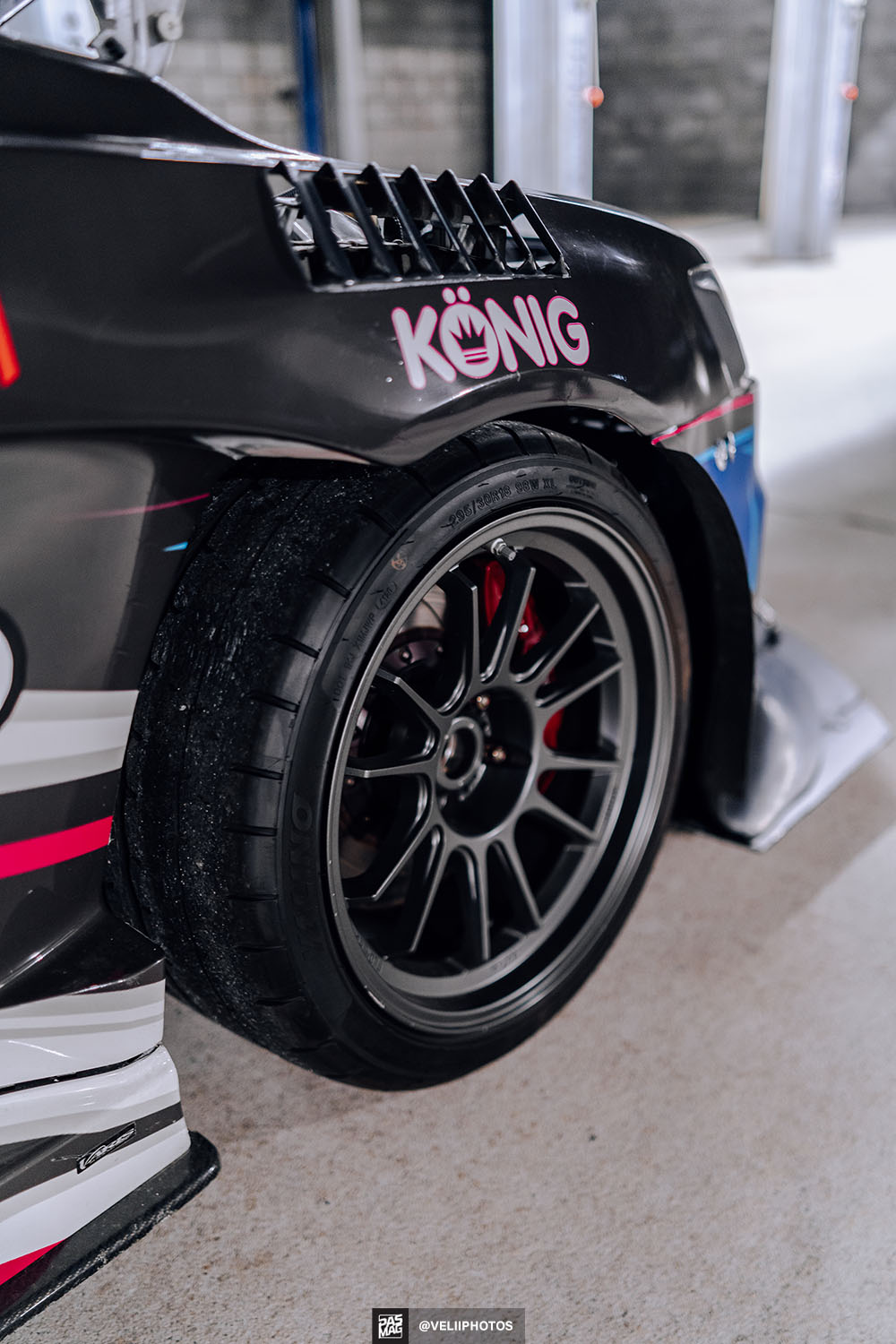 Just about every aspect of this Evo's build sheet is performance oriented, but Pacquette doesn't skip over style just because it's a racecar. The Konig Hypergram wheels are something he once saw on James Houghton's time attack Type R, and immediately fell in love with. The lightweight flow-formed construction combined with the style is everything he wanted in a wheel, so he got himself an 18x11 square set for the Evo X. Wrapped in Valino VR08GP tires, the handling of the car was greatly improved, and only got better with the addition of Fortune Auto's 510 coilovers and Whiteline Suspension goodies.
After a few track days, Pacquette started to learn the ins and outs of his build, and his driving skills began to improve alongside the car itself. As his racing career started to take shape, he attracted the attention of numerous sponsors to help take his Evo X build even further. EXEDY's involvement became more important, EXEDY developed a custom wrap with Wrap City Vinyl, and the car was custom wrapped by Litos Customs to showcase his partnerships, with EXEDY taking center stage.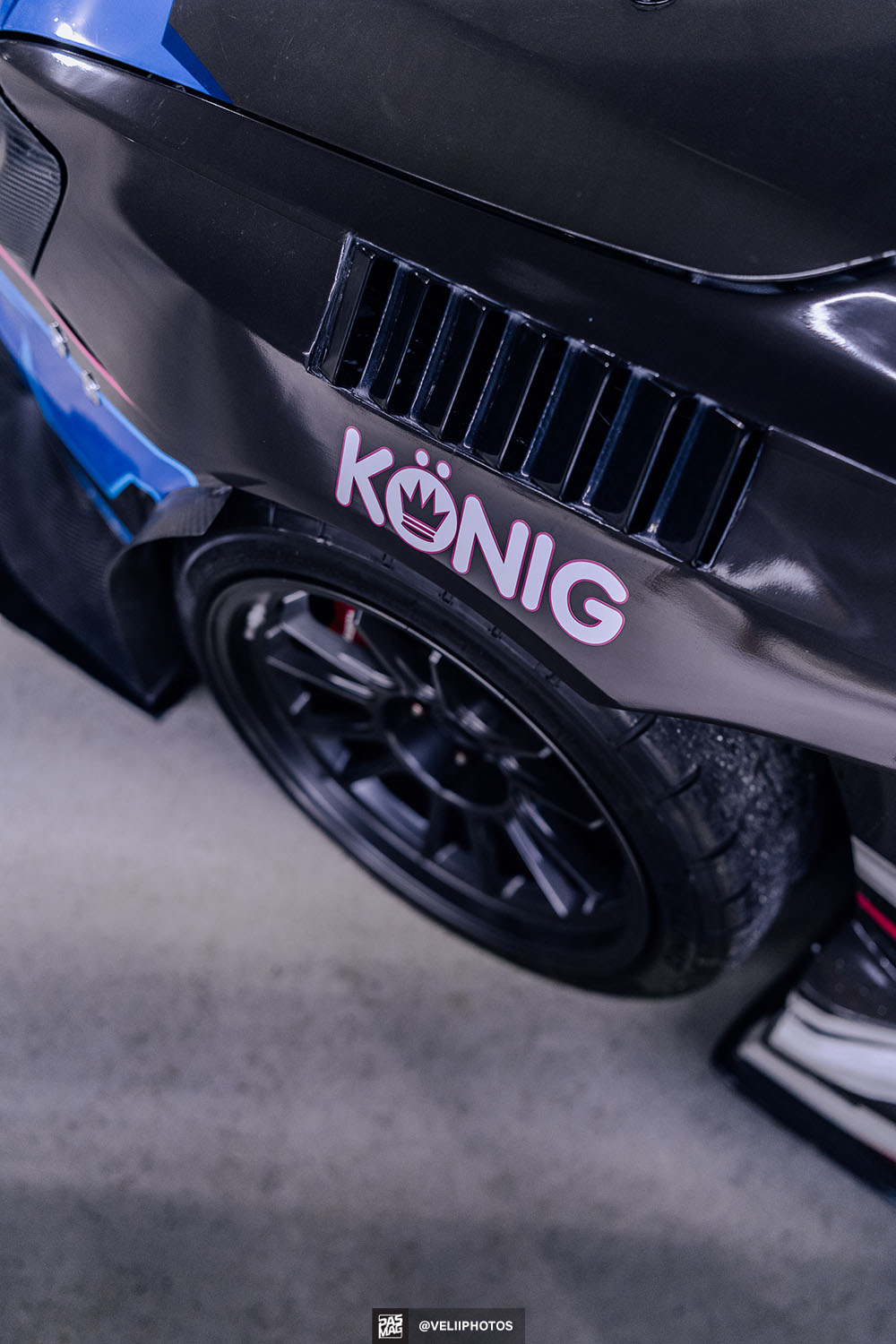 Being a hillclimb racecar now, a custom wrap was far from the only change to the Evo's already aggressive exterior. The front bumper is from Proteon Aero, who also supplies the side skirts, and features a headlight delete. Professional Awesome supplied diffusers, fender vents, side blocks, and the rods which hold the large alumilite custom splitter in place - something Pacquette is happy to show off the durability and strength of by standing atop it at any time. In the rear you'll find a Varis version 2 rear bumper complementing the aggressive looks, and an Aero Motions carbon fiber wing to tie it all together.
Inside the cockpit, Pacquette is held snugly in place through the corners by way of a Recaro Halo fixed driver's seat and Sabelt harnesses. For a little JDM style flare, he's opted for a Key's Racing wheel which is affixed to the Works Bell quick-tilt hub - one of his favorite interior modifications. Onboard at-a-glance diagnostics come courtesy of AEM Performance Electronics gauges. All in, the car is a simply built racecar that focuses on reliability and honing driver skill - a solid recipe for success in the hillclimb world.
"I personally feel that I chose just the perfect platform for hillclimb," says Pacquette. "With the AWD system of the Evo, it's a killer at the hills - even at the power levels I am at now. I may keep that power a bit longer, only because I still feel I have so much to learn and so much more to push the car to its limits. I honestly want to focus more on becoming a better driver - not just to push my own limits, but the car's as well."
Whatever direction this build continues to climb, pun intended, we are along for the ride. We'll be watching as Pacquette grows as a racer and his Evo X evolves alongside him. Keep an eye out for more of this young man and his killer racecar in the near future!
Photography by Sean Bolasingh (@veliiphotos)
Sherwin Pacquette's 2015 Mitsubishi Lancer Evolution is featured in PASMAG's Tuning Essentials: 9th Annual Performance Upgrade Guide (click here to order)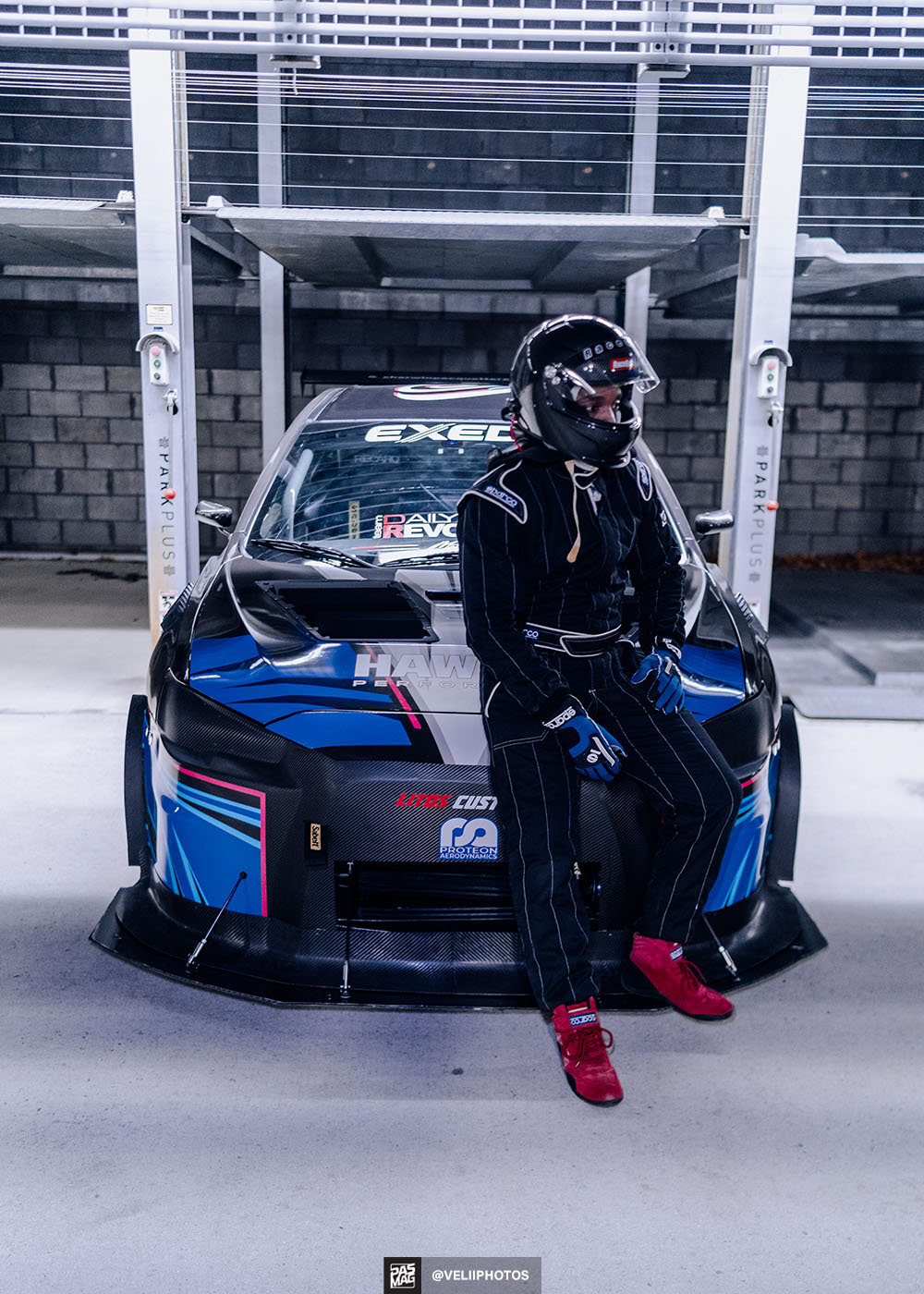 ---
ESSENTIALS
Owner › Sherwin Pacquette
Vehicle › 2015 Mitsubishi Lancer Evolution
Location › New York City, New York USA
Engine › Mitsubishi 4B11T 2.0L Turbocharged I4
Horsepower › 362 whp
Social Media
Instagram: @_sherwinpacquetteracing_
ENGINE
Mishimoto (high performance radiator, V-mount oil cooler, front-mount intercooler) + Antigravity Hi-power lithium-ion restart battery + AMS (widemouth downpipe, intercooler piping) + Tial BOV + Grimmspeed 3 port boost controller
EXHAUST
Tomei titanium single-exit exhaust
DRIVETRAIN
EXEDY Hyper twin disc clutch kit
WHEELS / TIRES / BRAKES
Konig Hypergram wheels - 18x11 (f/r) + Valino VR08GP tires - 295/30/18 (f/r) + DBA 2-piece brake rotors + Hawk Brakes DTC-70 brake pads + StopTech stainless steel brake lines
CHASSIS / SUSPENSION
Fortune Auto 510 coilovers + Whiteline (upgraded bushings, caster bushings, roll center kit, front and rear sway bars, end links)
EXTERIOR
Proteon Aero (front bumper w/ headlight delete, Evo X barge board side skirts) + Alumilite custom splitter + Professional Awesome (diffusers, side blocks, splitter rods, fender vents) + Victory Function blister fenders + APR GT3 carbon fiber mirrors + Aero Motions carbon fiber wing + Varis version 2 rear bumper
INTERIOR
Recaro (Halo driver's seat, fixed back passenger seat) + Custom 4-point roll cage w/ door bars + Sabelt harnesses + Keys Racing type steering wheel + Works Bell quick-tilt hub + IRP short shifter + AEM Performance Electronics gauges (wideband, boost, oil pressure)
SPONSORS
EXEDY + Daily Driven Revolution + Hawk Performance + Fortune Auto USA + Mishimoto + Whiteline Suspension + Proteon Aero + Valino Tires + Litos Customs + Professional Awesome + Konig + Antigravity Batteries + Evolving Motorsports
---
PHOTO GALLERY