The Champion of the OPTIMA Batteries Ultimate Street Car Invitational
Every year, OPTIMA Batteries hosts the OPTIMA Ultimate Street Car Invitational - a multi-stage event that spans several days, in which performance-built street car owners compete for the highest accolade: The Ultimate Street Car. 2021 marked the OUSCI's first time with one of their challenges taking place at SEMA. The Peak Performance Challenge was hosted in front of a crowd in the aptly named OPTIMA Batteries Bronze Lot.
After all was said and done, and the points for each challenge were tallied, only one driver and his car stood atop the OPTIMA podium, and that driver was Jake Rozelle with his 2003 Chevrolet Corvette Z06. Corvette fans throughout the audience rejoiced with sweet vindication. As you might expect, winning the entire 2021 OUSCI championship means Rozelle's Z06 is no factory model with simple bolt-ons.
The heart of Rozelle's 'Vette is a Lingenfelter Eliminator Series 800 horsepower LS7 with a sleeved block and a fully forged rotating assembly. The Lingenfelter LS7's air flow is bolstered thanks to a Performance Design carbon fiber intake, a Nick Williams 103mm throttle body, and 4.5-inch piping throughout, with ducting for added cooling effect. It also features a Dailey belt-driven dry sump mated to a Peterson 10-quart sump tank, and the entire setup runs on Ignite Red E90 fuel to get the most out of the potent V8.
Power is routed through the drivetrain by way of a Centerforce triple disc clutch kit with a customized solid torque tube to remove vibration, through the T6060 transmission, and converging in a C6 ZR1 differential - which has an OS Giken limited slip inside - and ZR1 axles to turn the 18-inch Forgeline VX1R wheels wrapped in Yokohama A052 tires, which is only the beginning of the Corvette's improved handling prowess.
Suspension and handling is further enhanced thanks to a set of JRi double adjustable coilovers with remote reservoirs, as well as LG Motorsports billet drop spindles, which lower the center of gravity and keep suspension geometry balanced. In order to accommodate the ZR1 differential and transmission, the rear subframe is custom built to hold C5 suspension components.
When he started building, Rozelle originally intended to build the ultimate daily driver. Today, he stands as the champion with the Ultimate Street Car, just a few years into modifying his Corvette and driving it hard. Inspired by Pro-Touring, Rozelle has achieved the pinnacle of performance-capable street cars that can still take his lady out to dinner when they feel like taking it, and that's what OPTIMA's Ultimate Street Car Invitational is all about. Congratulations, Jake!
Photography courtesy of OPTIMA Batteries (@optimabatteries)
Jake Rozelle's 2003 Chevrolet Corvette Z06 was featured in PASMAG's Tuning Essentials: 9th Annual Performance Upgrade Guide (click here to order)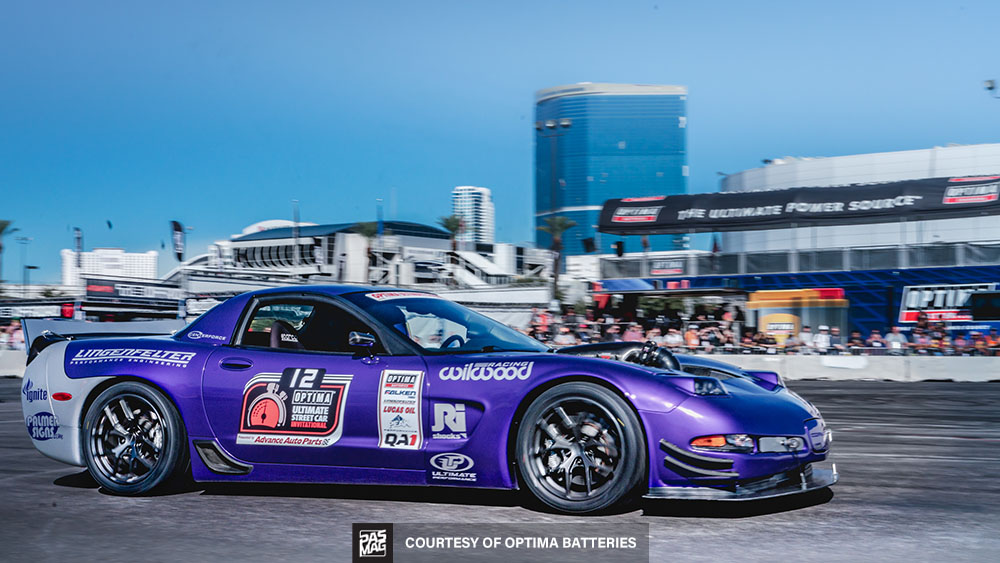 ---
ESSENTIALS
Owner › Jake Rozelle
Vehicle › 2003 Chevrolet Corvette Z06
Location › Lake Havasu City, AZ
Horsepower › 800 whp
Club › USCA
Social Media
Instagram: @jakerozelle
Facebook: /jake.rozelle.3
ENGINE
Lingenfelter (Eliminator Series 800 horsepower LS7 w/ sleeved and blueprinted block, 2-step Launch Controller) + Performance Design carbon Intake + Nick Williams 103mm throttle body + Full forged rotating assembly + Dailey Belt-driven dry-sump + Peterson 10-quart dry-sump tank + Ignite Red E90 fuel + Stand-alone E67 ECU + Custom 4.5-inch air intake tubing w/ ducting
EXHAUST
ARH 2-inch primary headers + Custom dual 3-inch custom titanium exhaust system
DRIVETRAIN
Centerforce triple disc clutch + Custom solid torque tube + TR6060 transmission + Corvette C6 ZR1 (3.90 differential w/ OS Giken limited slip, axles)
WHEELS / TIRES / BRAKES
Forgeline VX1R wheels - 18x11 (f/r) + Yokohama A052 tires - 315/35/18 + Wilwood (6-piston front calipers, 4-piston rear calipers, floating rotors) + Standalone MK60 ABS module
CHASSIS / SUSPENSION
LG Motorsports billet drop spindles + SKF hubs w/ ARP studs + Van Steel (Delrin bushings and steel sway bars) + JRi double adjustable coilovers with remote reservoirs + Custom rear subframe to incorporate C5 suspension w/ larger C6ZR1 diff/trans
EXTERIOR
0.75-inch front flares + 1.25-inch rear flares + Custom (carbon fiber rear spoiler w/ adjustable blade, carbon fiber splitter, aluminum radiator ducting, carbon fiber rear decklid) + Fiberglass nose + AJ Hartman (carbon fiber ducted hood, carbon fiber canards) + Palmer Signs purple and silver livery wrap + Fixed headlights
INTERIOR
Sparco (custom upholstered Pro 2000 seats, 6-point harnesses, removable steering wheel) + AEM CD-7LG dash + Flocked (dashboard, door panel inserts) + Custom center console + Modified fiberglass trunk + Fire suppression system + Optima Batteries D51R + 3D-printed control module
AUDIO / MOBILE ELECTRONICS
Sony double-DIN head unit + Back-up camera
SPONSORS
Lingenfelter Performance Engineering + Wilwood Disc Brakes + Forgeline Wheels + Palmer Plus Car Wraps + Sparco + Ignite Racing Fuel + Van Steel Corvettes + JRi Shocks + Ultimate Performance + Centerforce Clutches
---
PHOTO GALLERY