Photos by Lauder Corea
---
It's easy to see why Reginald Cunanan's Evo captured the TBG: Live title at SPOCOM: Anaheim last year. The fit, the finish, and the color choices play perfectly off of each other. Originally looking at an Evo 9, he took the advice of those around him to drop the extra dough for a 10, and it was a game-winning decision. It's also his first official build after coming off of his 2009 Scion tC, which had minor mods by way of a TRD cold air install and HKS exhaust. This time around he wanted to do it right, by sourcing top quality parts from companies which also offered excellent customer service. But the road to the top hasn't been easy: Cunanan said his Evo suffered a few bumps along the way, including numerous shoddy installs and a near-blown engine. From there on out, he's relied solely on quality builders, good friends, family and his girlfriend to help create this exclusive high-speed showstopper.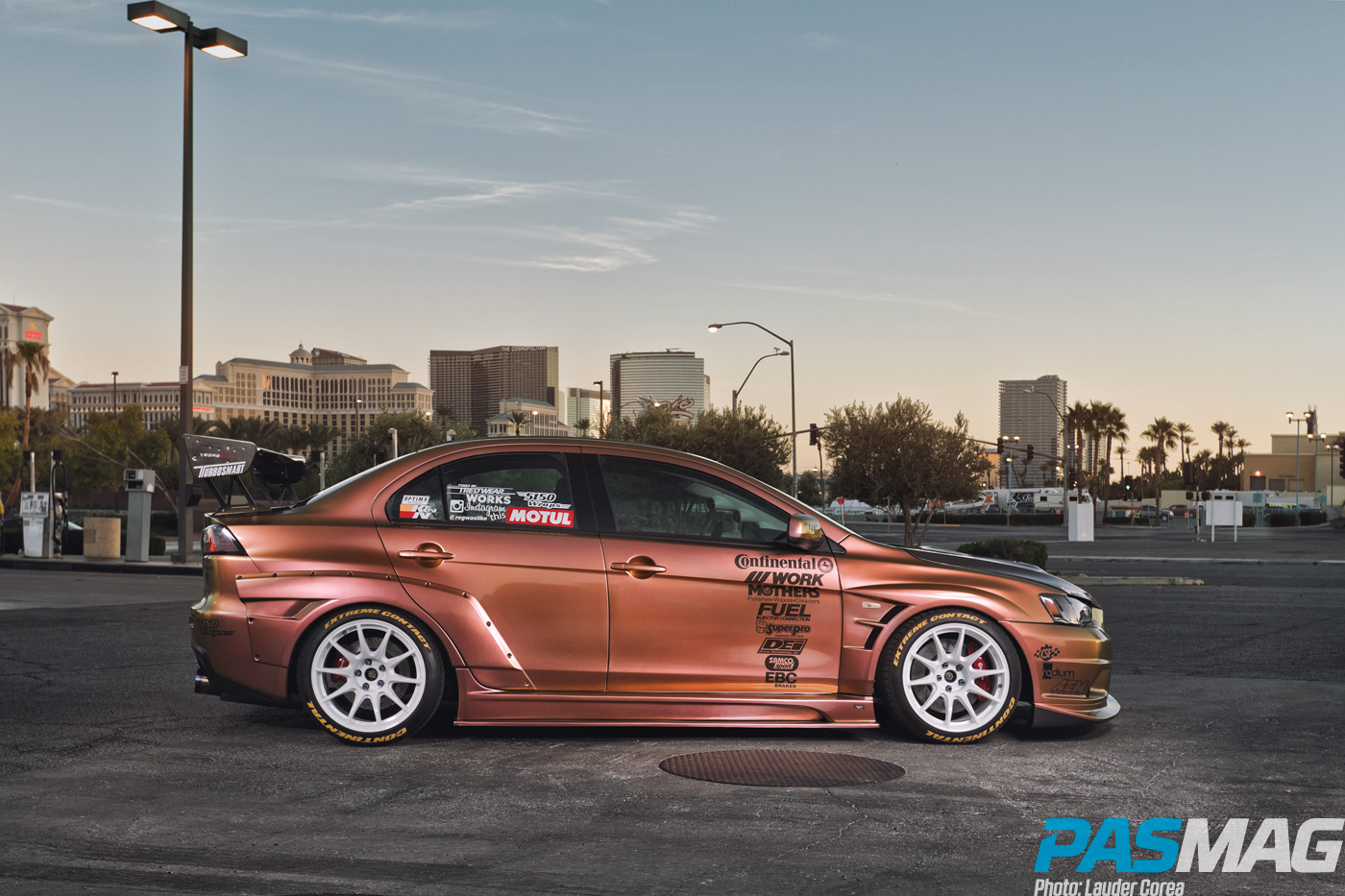 DON'T BE DECEIVED: The CHARGESPEED wide-body and Varis front bumper and side skirts are given subtle, yet stunning highlights thanks to the Autumn Mystery finish. But while you might be thinking itís the perfect paint job - think again. The Hexis USA wrap was adhered flawlessly by the skilled team at 5150 Wraps. Kinda makes you rethink getting paint, doesn't it?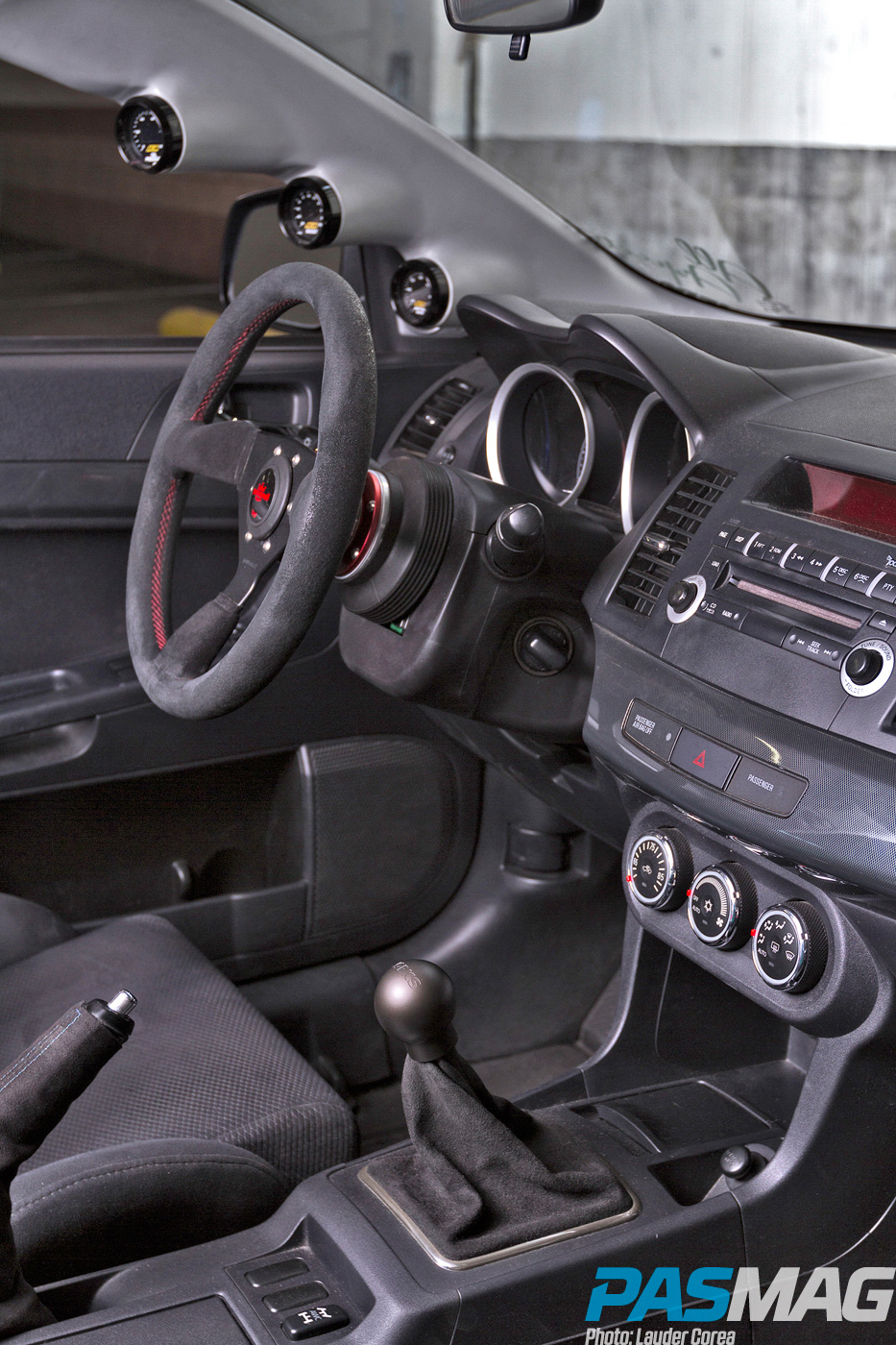 PUT IT WHERE IT COUNTS: The Evo X interior is kept functional and classy, with hints of performance that are perfect for a weekend-warrior/daily. Cunanan opted for a smaller 330 mm Personal Grinta steering wheel for quick response, and the WORKS name is found throughout: WORKS Bell for the short hub and quick release, and WORKS Motorsport for the short-throw shifter kit and shift console bushings. AEM provides the visuals, all lined along the driverís A-pillar.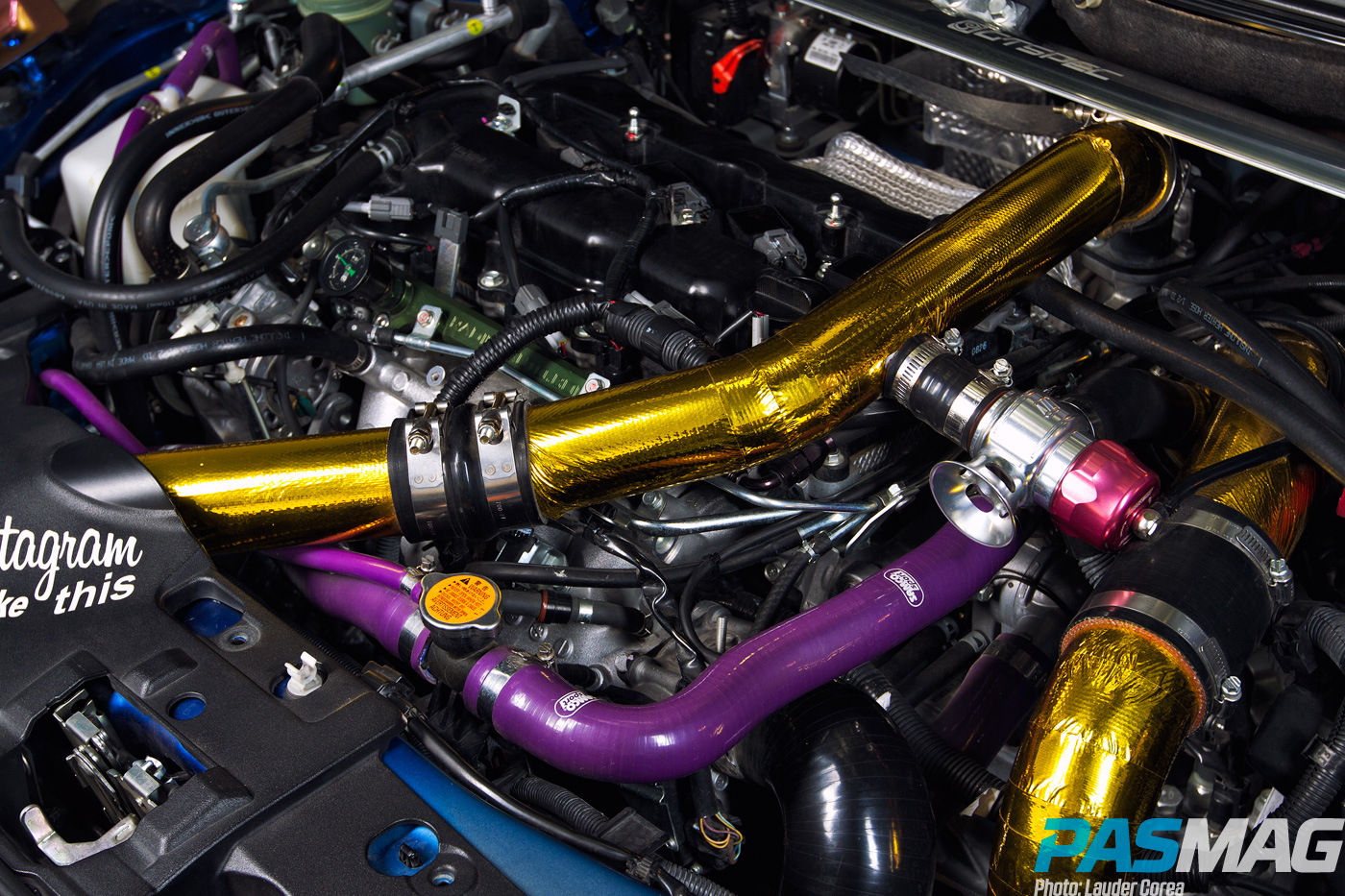 LIFT YOUR LID: Cunanan's style prowess isn't limited to the exterior of his Evo. Heat shields, fire wraps, and silicone hoses dress a powerplant that includes a CSF radiator, AGP cold air intake and intercooler, Turbosmart dual port BOV, and a myriad of fuel system upgrades. All it means is a cooler, more efficient power system that runs up to 400 WHP on E85 (27 psi).
#TBGLIVE Event: SPOCOM 2014 - Anaheim, California
Votes: 62% of the popular vote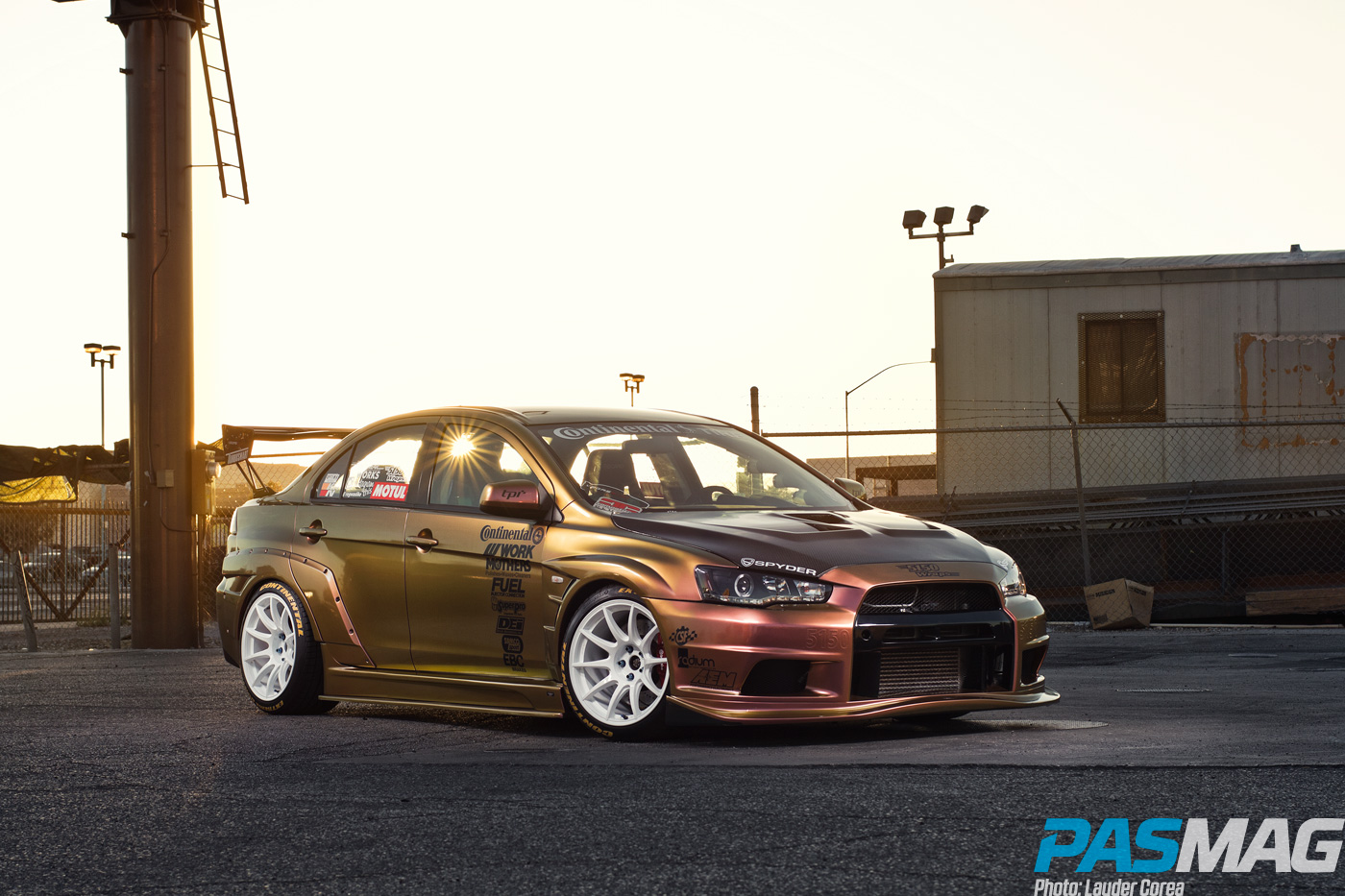 ESSENTIALS
OWNER: Reginald Cunanan
LOCATION: Las Vegas, NV, USA
VEHICLE: 2011 Mitsubishi Lancer Evolution X
ENGINE: Mitsubishi 4B11T 2.0L I-4 turbo
HORSEPOWER: 400 WHP (E85 @ 27 PSI) / 350 WHP (91 OCT. @ 24 PSI)
TORQUE: 358 LB-FT (E85) / 340 LB-FT (91 OCT.)
ENGINE
AGP (3.5-in. intercooler, 3-in. cold air intake, upper/lower intercooler pipes)
Samco Sport radiator silicone hose kit
Turbosmart dual port blow-off valve
K&N (carbon fiber air filter, oil filter)
CSF radiator
Radium Engineering (fuel rail, fuel pressure gauge, dual catch cans)
AEM Performance Electronics 320 LPH high-flow in-tank fuel pump
Fuel Injector Connection 1,000 cc injectors
Grimmspeed 3-port boost controller
Design Engineering, Inc. (gold heat wrap, heat shield, fire sleeve and tape kit)
Dress Up Bolts True Burned titanium bolts
EXHAUST
GReddy (down-pipe, cat, Ti-C single-exit exhaust, exhaust tip)
Design Engineering, Inc. exhaust heat wrap
DRIVETRAIN
Competition Clutch stage 3 sprung clutch
WORKS Motorsports (Hybrid shift cable bushings, short shifter kit, shifter console bushing kit)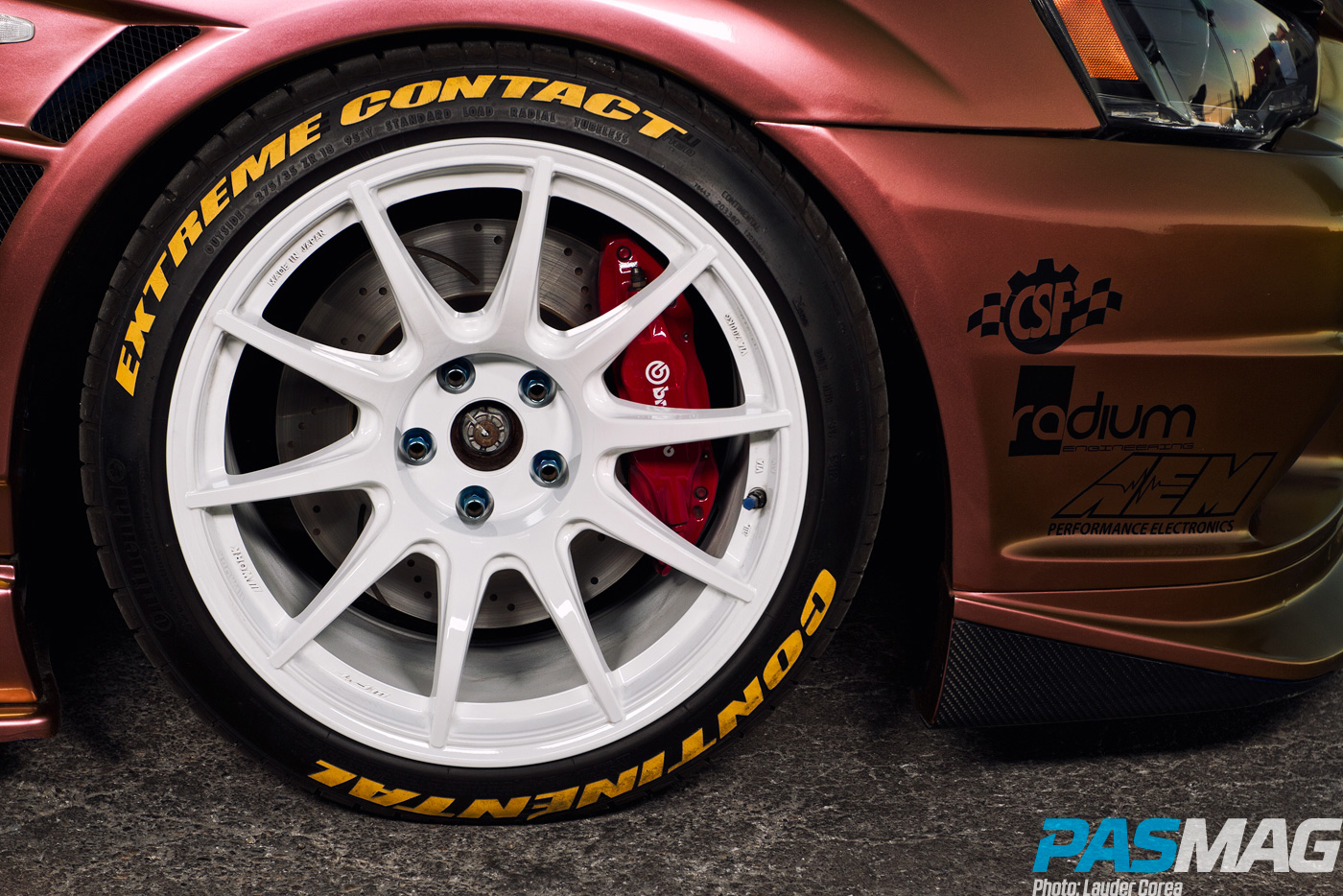 WHEELS / TIRES / BRAKES
WORK Wheels M.C.O Racing Type CS wheels - 18x11 +18 et (f/r)
Continental Tire Extreme Contact DW tires - 275/35 R18 (f/r)
TaperPro USA Scratch-Free forged racing lug nuts
TredWear Racing Font yellow tire letter kit
Brembo brake calipers - 4-piston (f), 2-piston (r)
EBC - 1-pc. slotted and dimpled brake rotors (f/r), Blue Stuff brake pads (f/r)
CHASSIS / SUSPENSION
STANCE (Super Sport+ 10K coilovers (f), Super Sport+ 9K coilovers (r))
SuperPro Suspension (sway bars (f/r), roll center kit)
GTSPEC strut bars (f/r)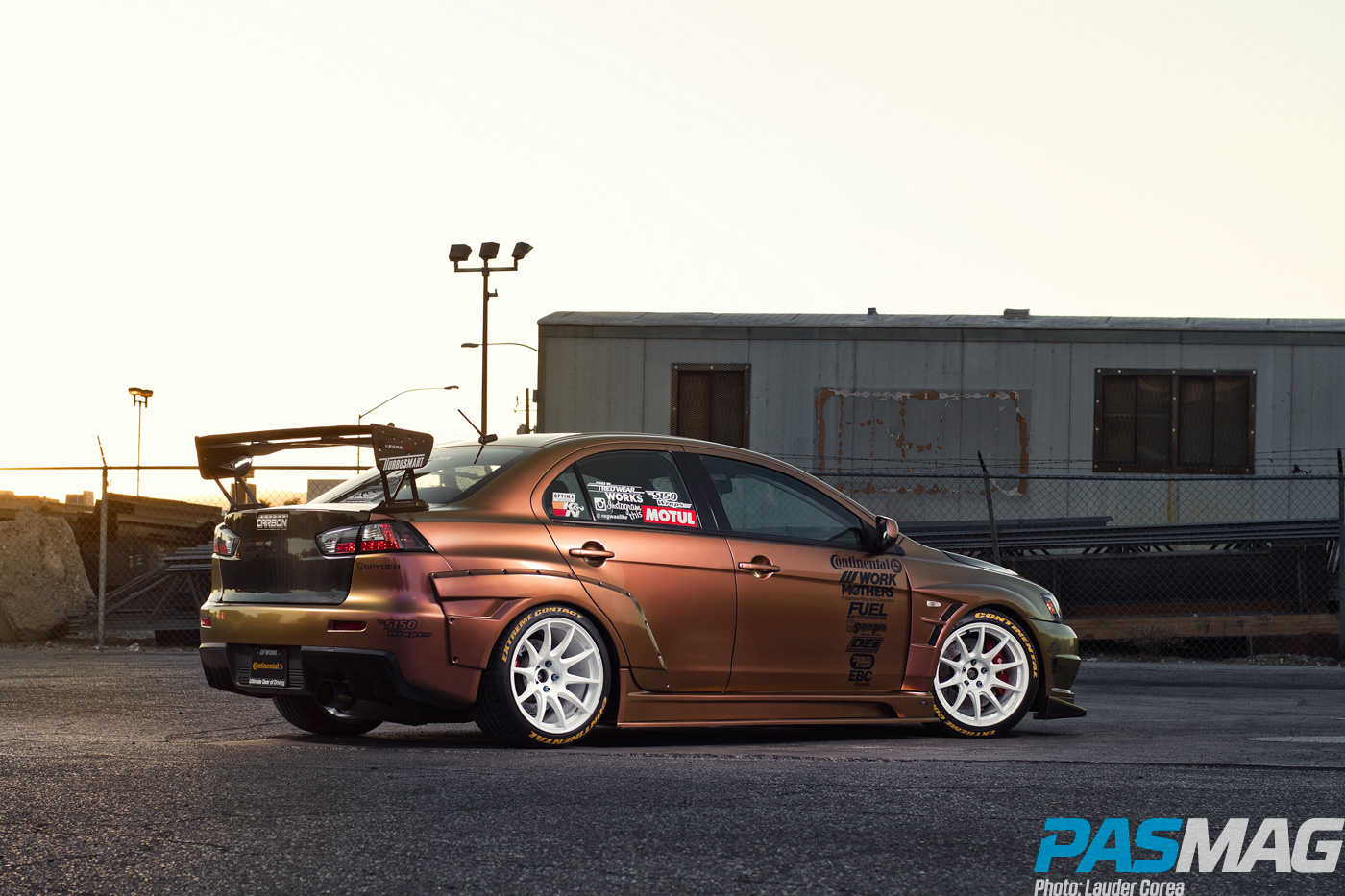 EXTERIOR
Varis (original Runduce side skirts, original Runduce front bumper with lip guard)
CHARGESPEED (wide front fenders, Blister wide rear fenders) l VIS Racing (carbon fiber trunk, carbon fiber V-mount wing)
Carbon fiber hood l Spyder Auto (projector head lights, LED taillights)
Hexis USA Autumn Mystery vinyl wrap by 5150 Wraps
INTERIOR
Alcantara Suede upholstery
Personal Grinta 330 mm suede steering wheel
WORKS Bell (short hub, quick release)
WORKS Motorsports (grab shift knob, short-throw shifter kit, shift console bushing kit)
Custom Alcantara (shift boot, E-brake boot)
AEM Performance Electronics gauges (boost, AFR , oil pressure) l Custom A-pillar gauge pod
Recaro (OEM) seats l Takata 4-pt. harnesses
MOBILE ELECTRONICS
Rockford Fosgate (OEM) (head unit, subwoofer, speakers, tweeters)
Optima Battery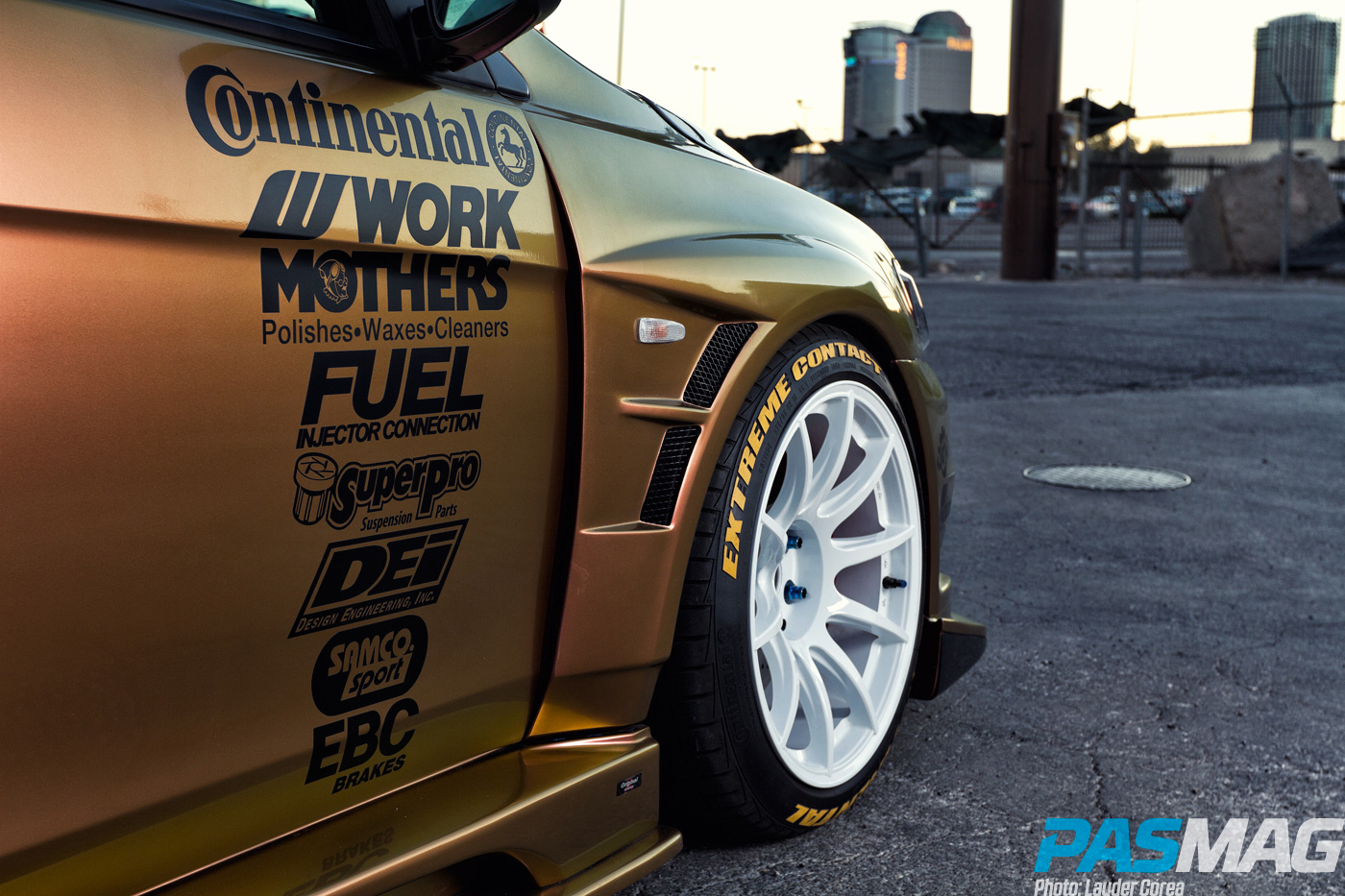 SPONSORS
Continental Tire, 5150 Wraps, EBC Brakes, Fuel Injector Connection, Spyder Auto, WORK Wheels, GT SPEC, Mothers, CSF Radiators, SAMCO Sport, TredWear Letters, Radium Engineering, Design Engineering Inc., All Aspects Apparel, SuperPro Suspension, WORKS Motorsports, Hexis USA, Dress Up Bolts, AEM Performance Electronics, Competition Clutch, Motul, Turbosmart
Contributors: Jordan Lenssen, Lauder Corea