Photography by Brian McGee
---
Tucked into the suburbs of west Santa Ana, California is a nondescript house not unlike any other house on the street, but behind the big single garage door is a working man's personal workshop. If you were to take a peek into that garage on the right night, you would find Dominic Le hard at work on his magnum opus - his "last build for a while" after a long line of incredible projects - an SR20-powered 1971 Datsun 240Z with more character than many before it.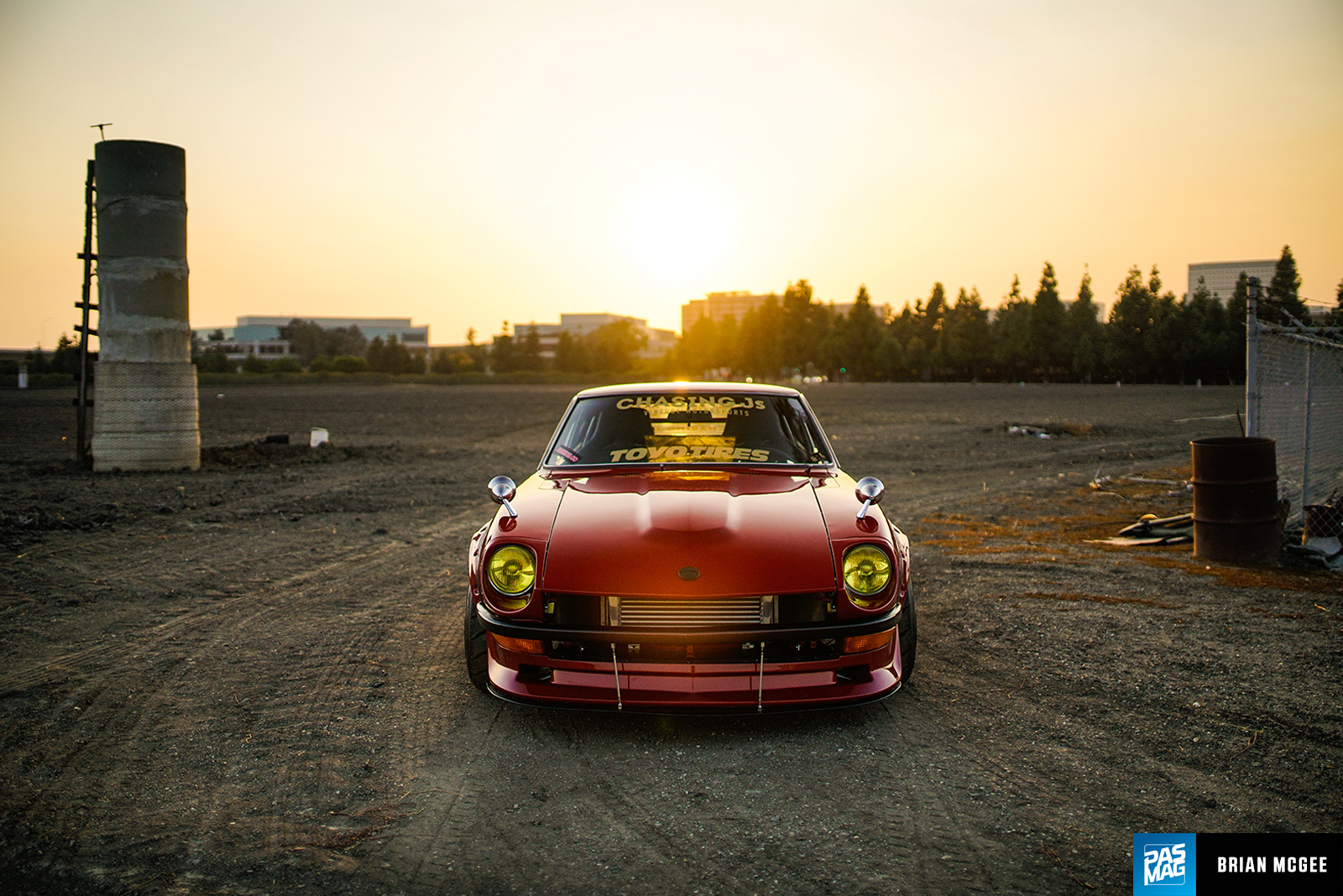 Le has made his name in the industry with multiple jaw-dropping Datsun builds, each one as incredible as the last. His build roster with Chasing Js, his own Japanese classic car resto-mod brand, is extensive. Two Datsun 510s, a 1973 Sunny UTE, and one of SEMA 2016's show-stopper builds - the 1974 Datsun 260Z powered by a 1000-horsepower 2JZ. Before the 2JZ Datsun, all previous builds were powered by some form of SR20, and this year at SEMA 2017's Toyo Treadpass, he returned to his roots with his dream car.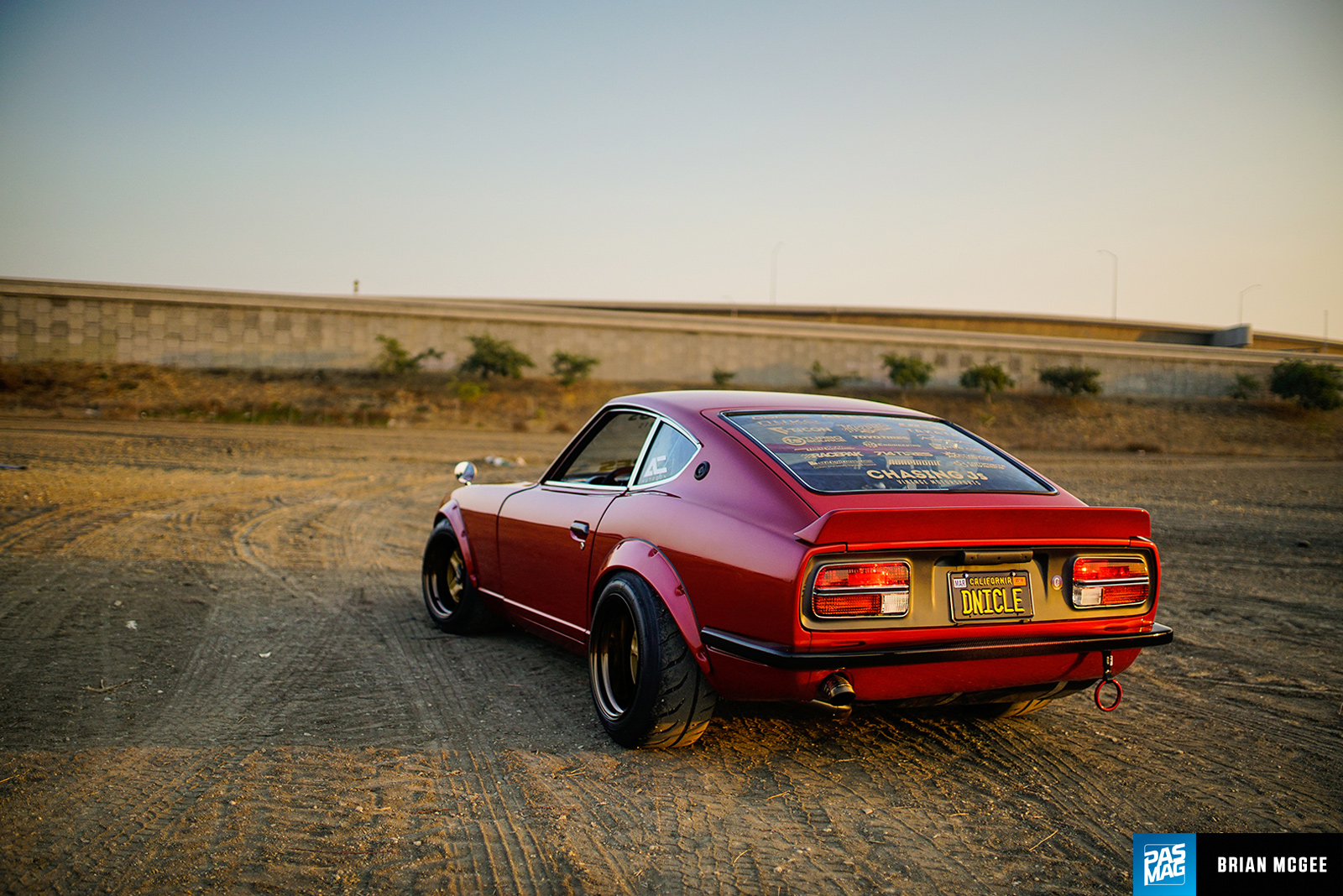 "This car wasn't planned to be a SEMA car," Le laughs. "It was going to be my last build for a while, and I wanted a car just to have fun for drive-around time, but as the build progressed things got crazy." One look beneath the hood at the titanium-decorated SR20DET lets us know that he's not exaggerating - this thing is crazy. From front to back, the engine back is decorated in a combination of burnt and unburnt titanium, providing a spectacular color scheme to the spotless bay.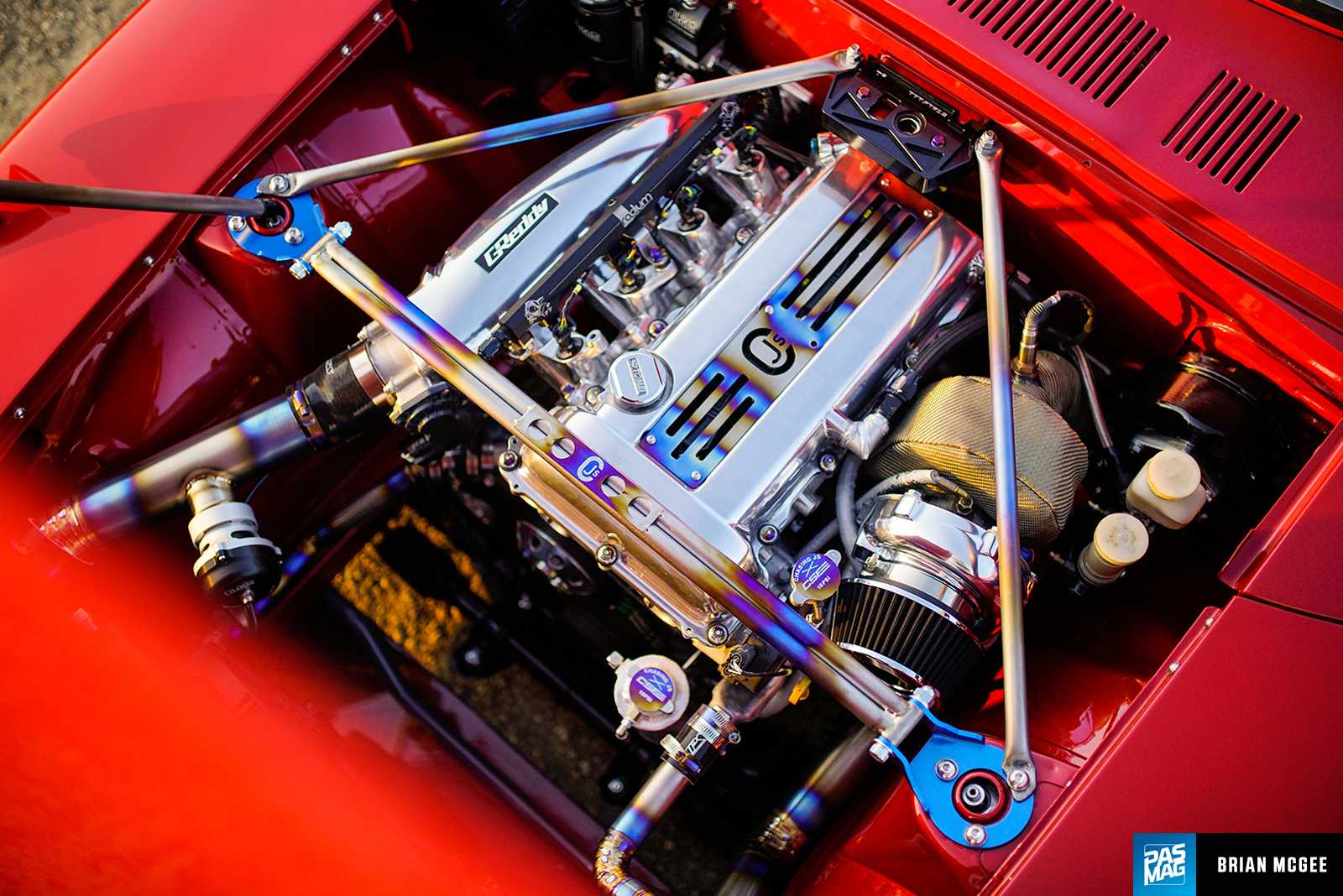 The SR20DET is bolstered with the help of a GReddy intake manifold, Tomei poncam, a combination of Manley and CP bottom-end internals, a Garrett GTX 3071r turbocharger custom-built by Apexboost, and a long list of other go-fast goodies. Perhaps the most interesting part of the engine build is the conversion to a drive-by-wire system, courtesy of the DBW throttle body from a Scion FR-S. Le tells us that this is the world's first drive-by-wire Z to his knowledge, and the first (if not the second) drive-by-wire SR20.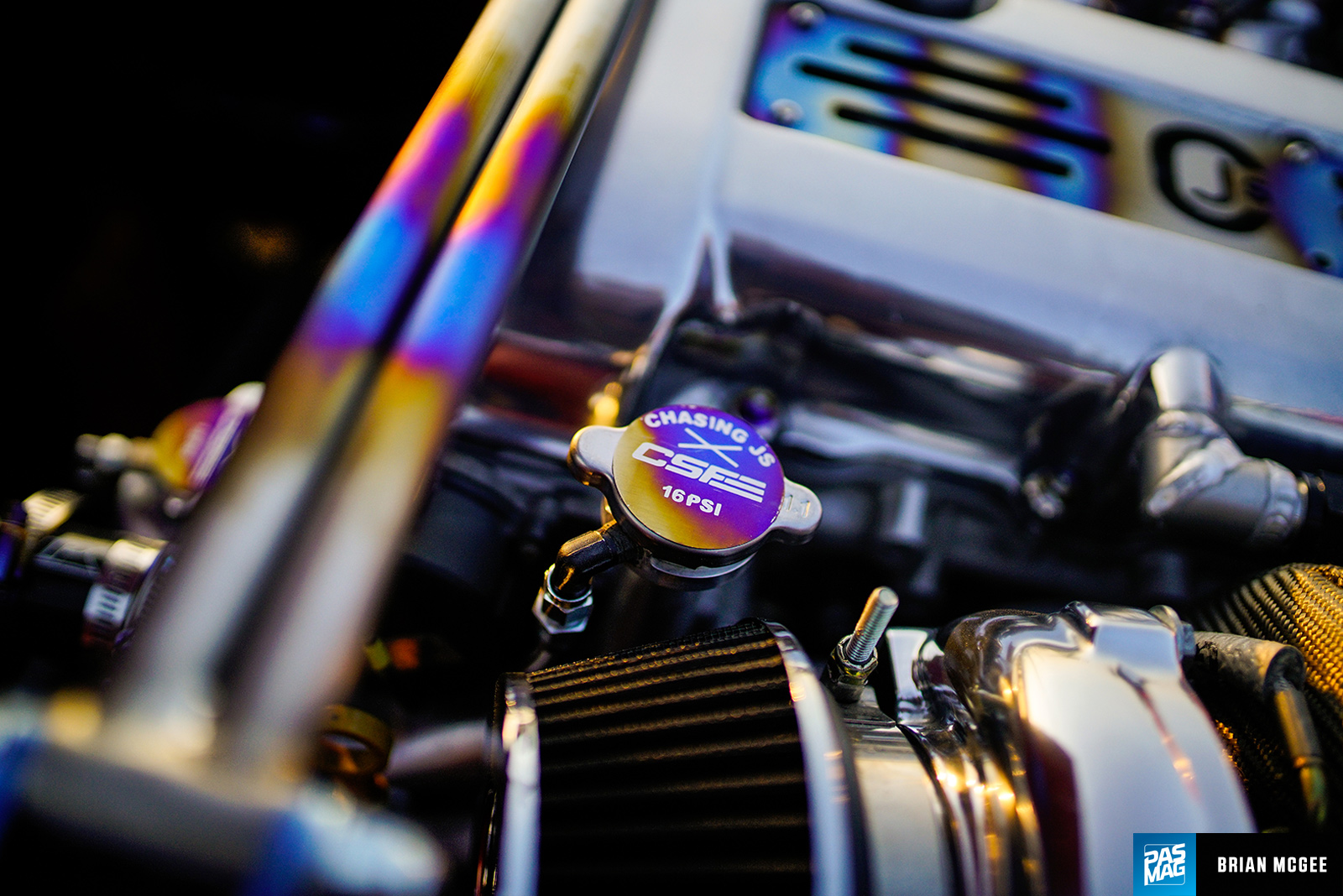 Either way, that DBW system is a nice touch of modernization to the time-tested tuning icon that is the SR20DET. Electronic signals are handled by an Adaptronic M2000 ECU and custom harnesses courtesy of Rywire.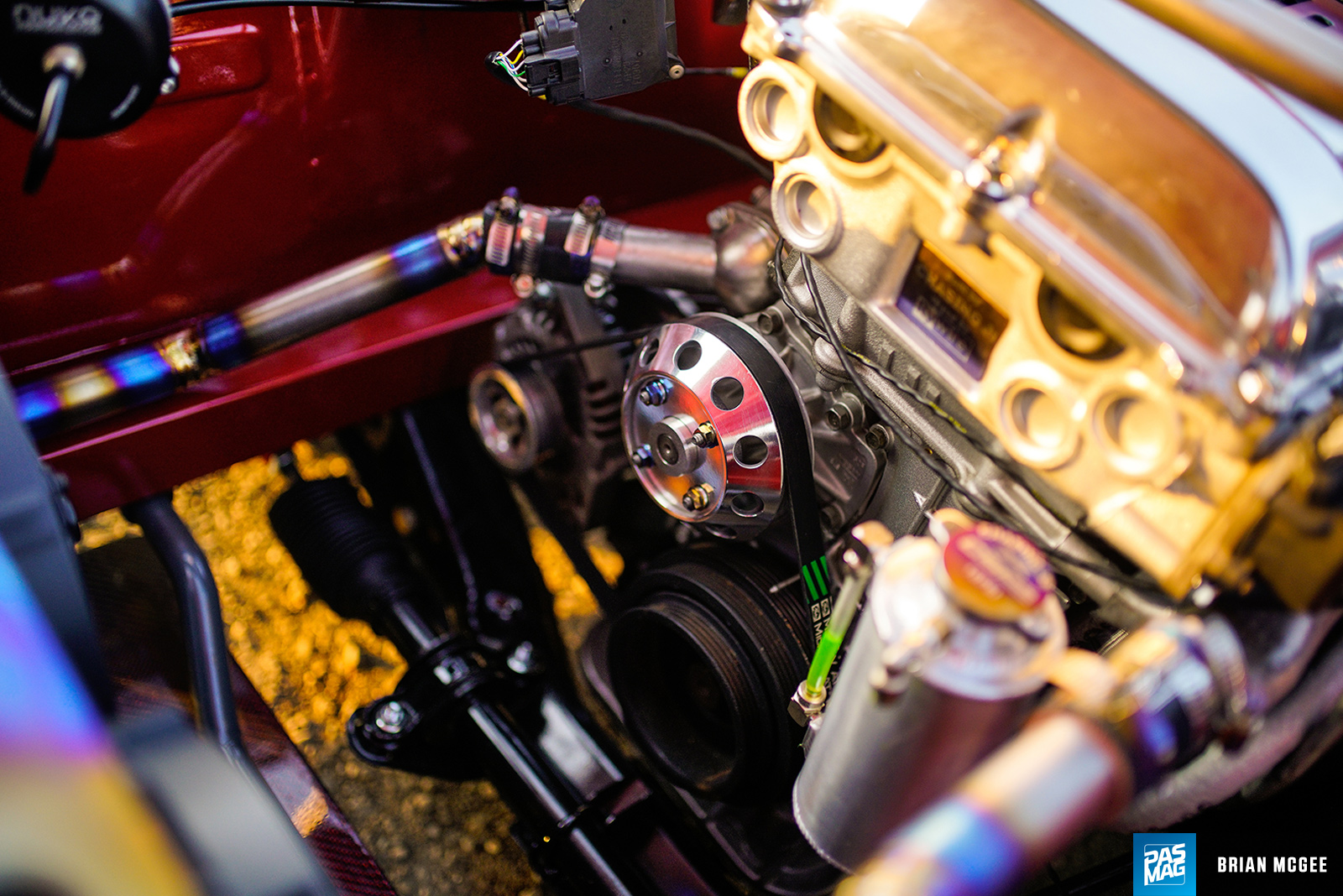 Part of what makes this 240Z so impressive is the fact that most of the car really was homemade. "Building a car at home is not the easiest thing to do," he tells us, "and time management was really important since I only do this after I come home from my 9-5." From the custom carbon fiber dashboard to the beautiful red reflective carbon fiber bumpers and front splitter, Le has certainly put in the hours to make this build unique.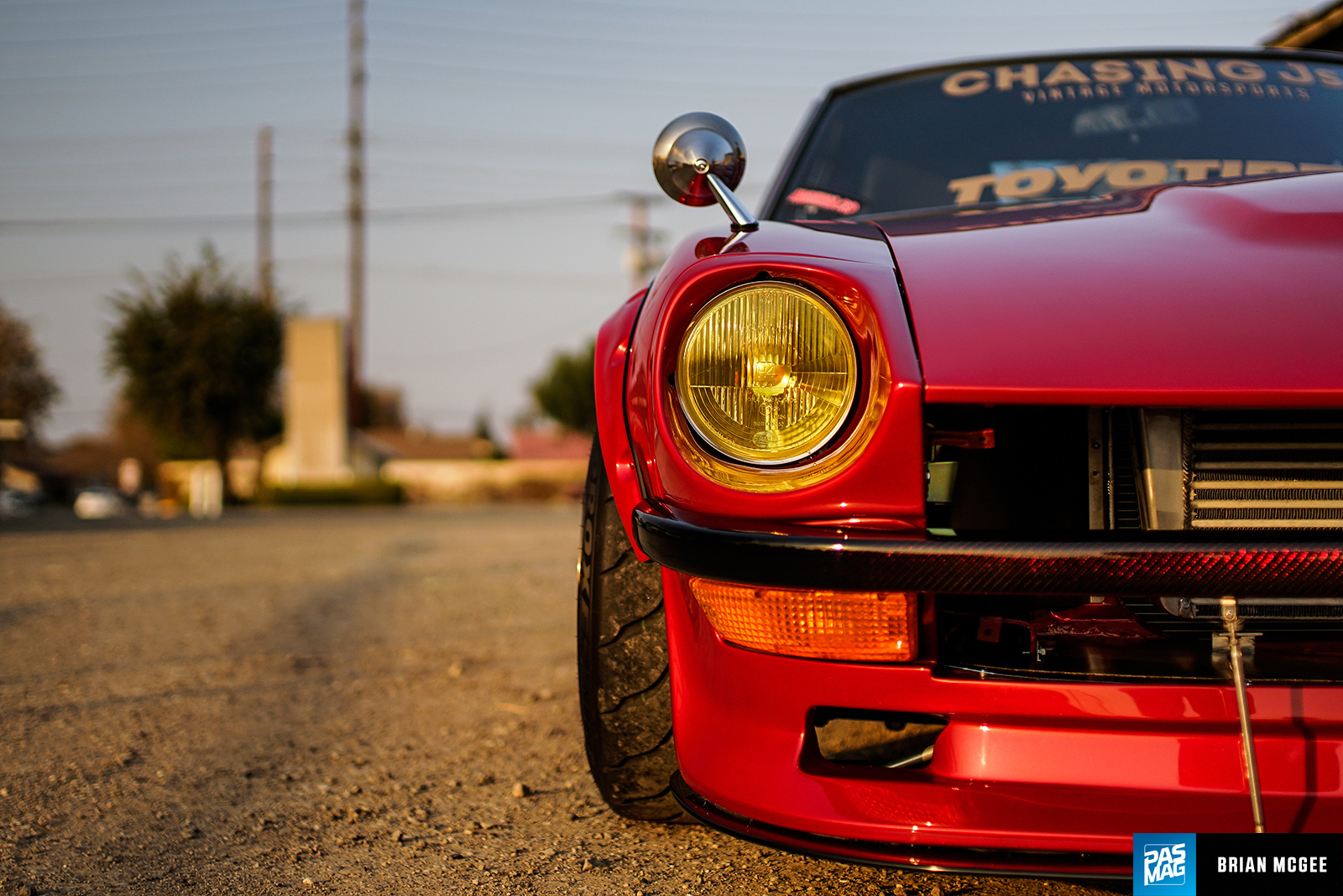 From the outside, the Datsun is eye-catching from all angles. The custom mixed red paint by PPG stands out in any crowd, even among the cream of the crop in SEMA 2017's Toyo Treadpass, and the custom reflective red carbon fiber is an attractive addition.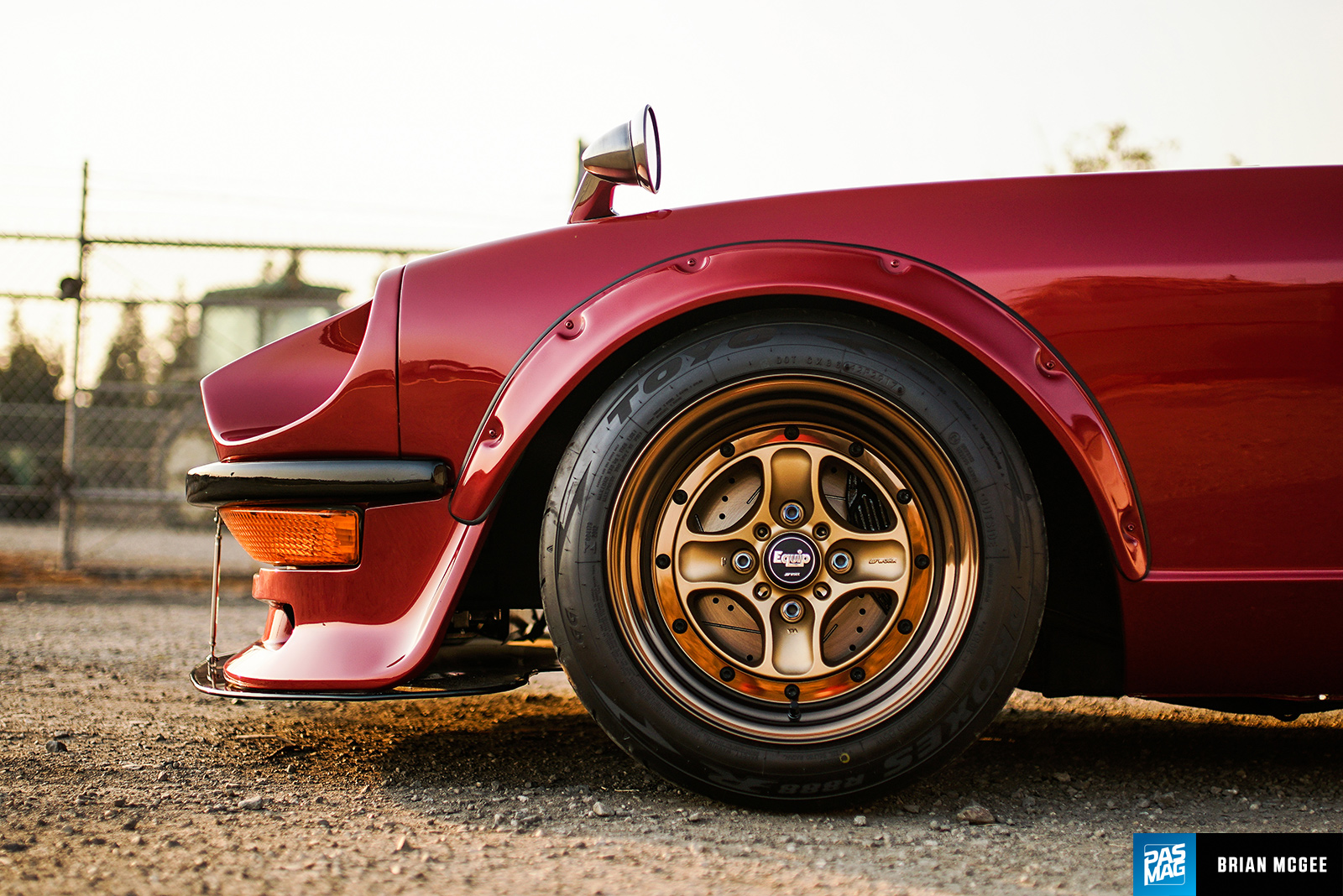 Getting the car's color scheme just right is a set of 15-inch Work Equip 40 wheels in a tastefully finished with a Sprint Gold face and Bronze Anodized barrel for that modern take on a period correct look. At 9.5-inches wide in the front, and 10.5-inches wide in the rear, a set of JDM ZG flares widens the Z just enough to achieve a meaty and functional fitment with the Toyo R888R tires measuring 205/50/15 up front, and 225/50/15 in the rear.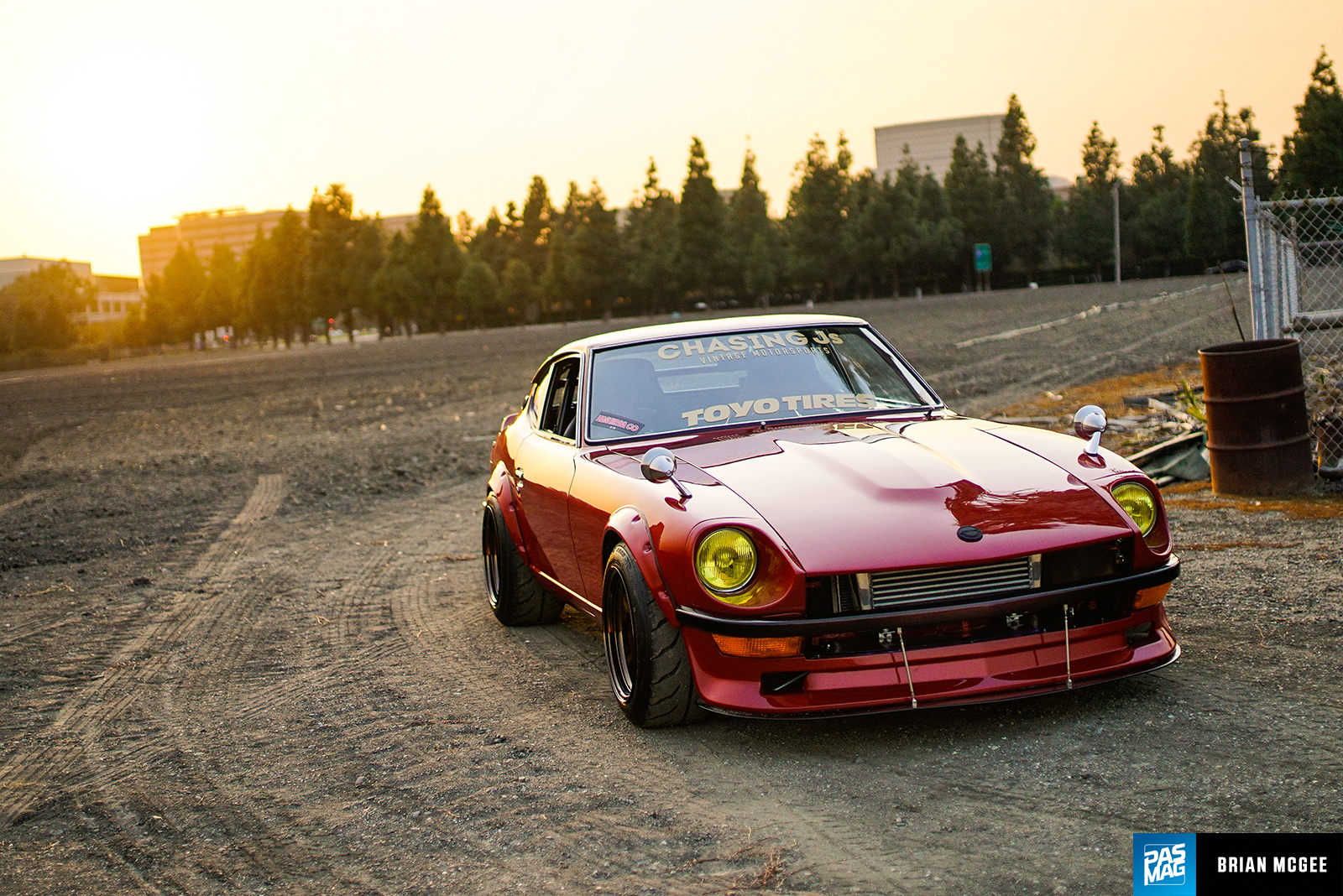 With all that power and grip to boot, the Datsun needed to handle as well, at least well enough to be a fun spirited Sunday driver. Most suspension components, like front and rear control arms, tie rods, and even coilovers with Swift springs, are custom made from billet. Custom front and rear strut bars made of titanium come courtesy of Chasing Js, and each one displays the brand name proudly on custom burnt titanium nameplates. The details really come together in the places you can't see from the driver's seat. That said, the cockpit isn't an afterthought either.
Step into the 240Z and you're met with an impressive array of carbon fiber components. The dashboard, the seat backs, the center console, and even the door panels are all custom made Chasing Js special carbon fiber pieces. Some of the build's overall themes are echoed inside as well.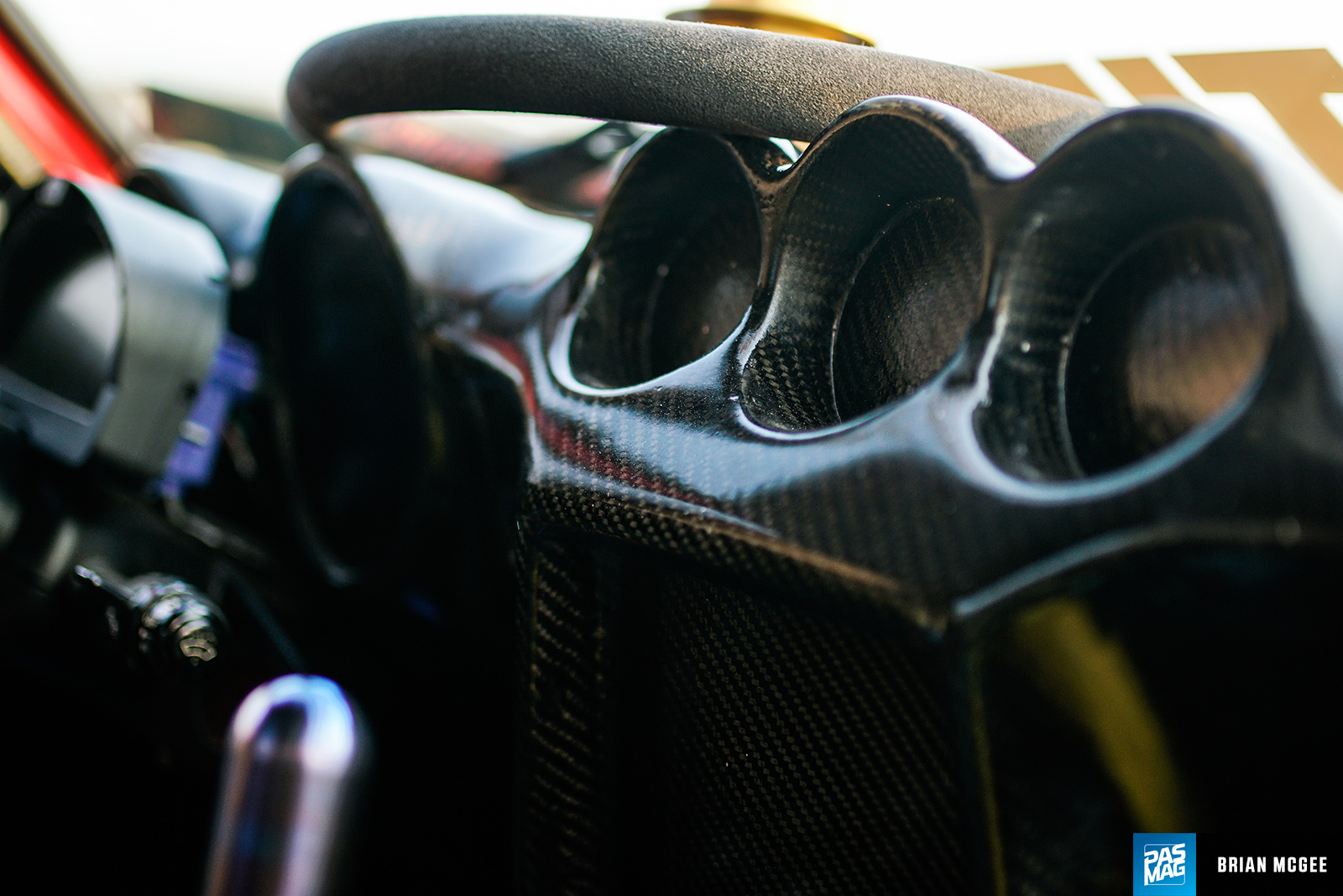 The steering wheel's block-out horn delete plate is the same red reflective carbon fiber as the bumpers, and the floor mats, switch panel, and ATP short throw shifter feature the same titanium look found in the engine bay.
All in, the entire build is one worthy of admiration and praise, and that's exactly what Le received during his time at SEMA 2017. It wasn't easy to follow up the 2JZ Datsun 260Z from last year, but by all accounts he seems to have succeeded thanks to a good network. "I only work with brands I can trust and people I can call if there is a problem," Le claims, referencing Shawn from Adaptronic and Ryan from Rywire as his go-to electronics gurus. "This build challenged the heck out of mehe says. "From working with titanium to all the new electronics, one thing that I am grateful for that helped me out the most is keeping good people around you."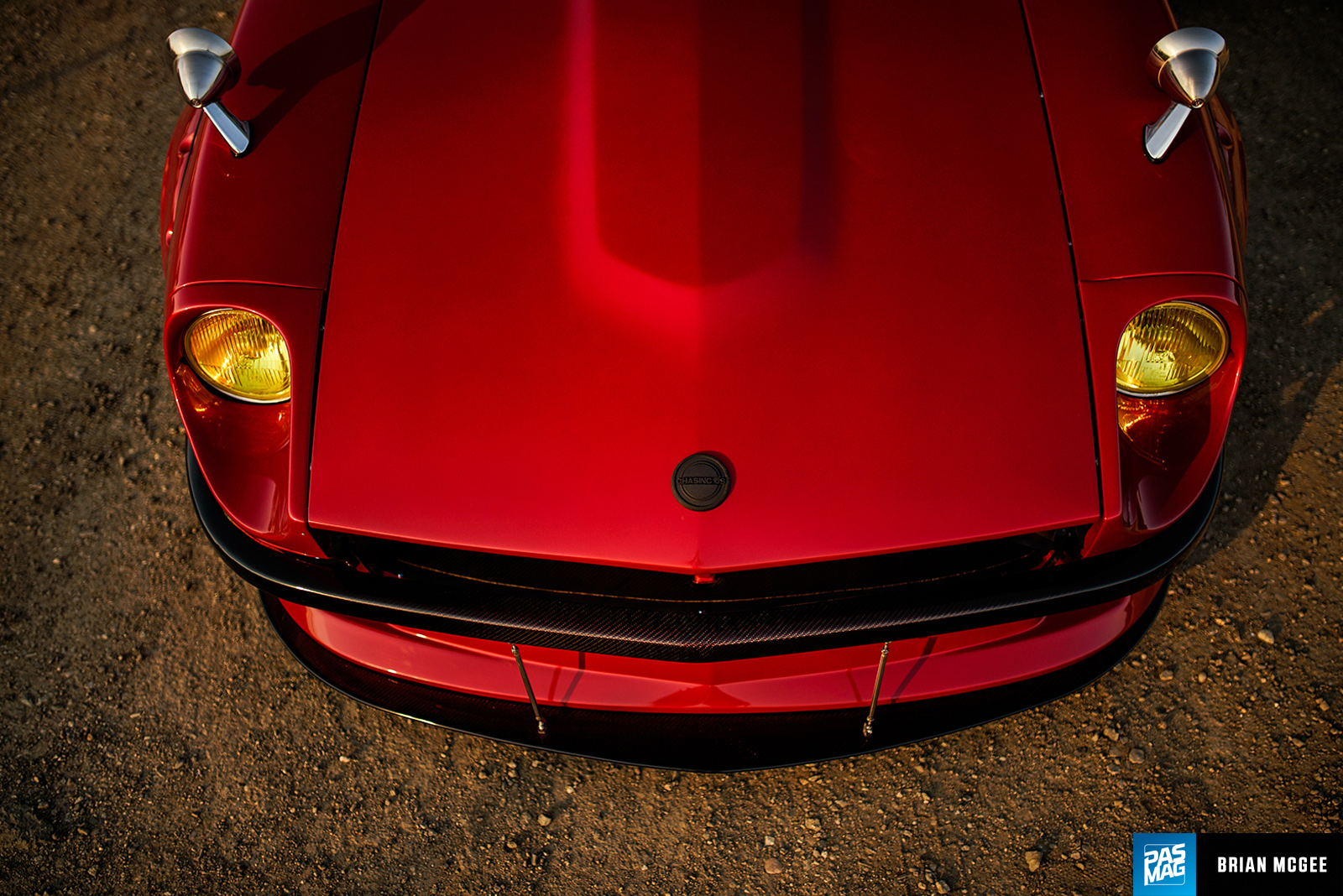 He extends a big thank you to Shawn of Adaptronic, Ryan from Rywire, and of course, his wife Cindy for helping him run parts when he was either stuck in the office or stuck under the car. With the garage build "finished" (is any build ever really finished?), Le says that this is his last build for a while, and with two young children to raise and a full time job, that might be true for now. However, if this industry has taught us anything about passionate builders like Le, they'll always be back eventually.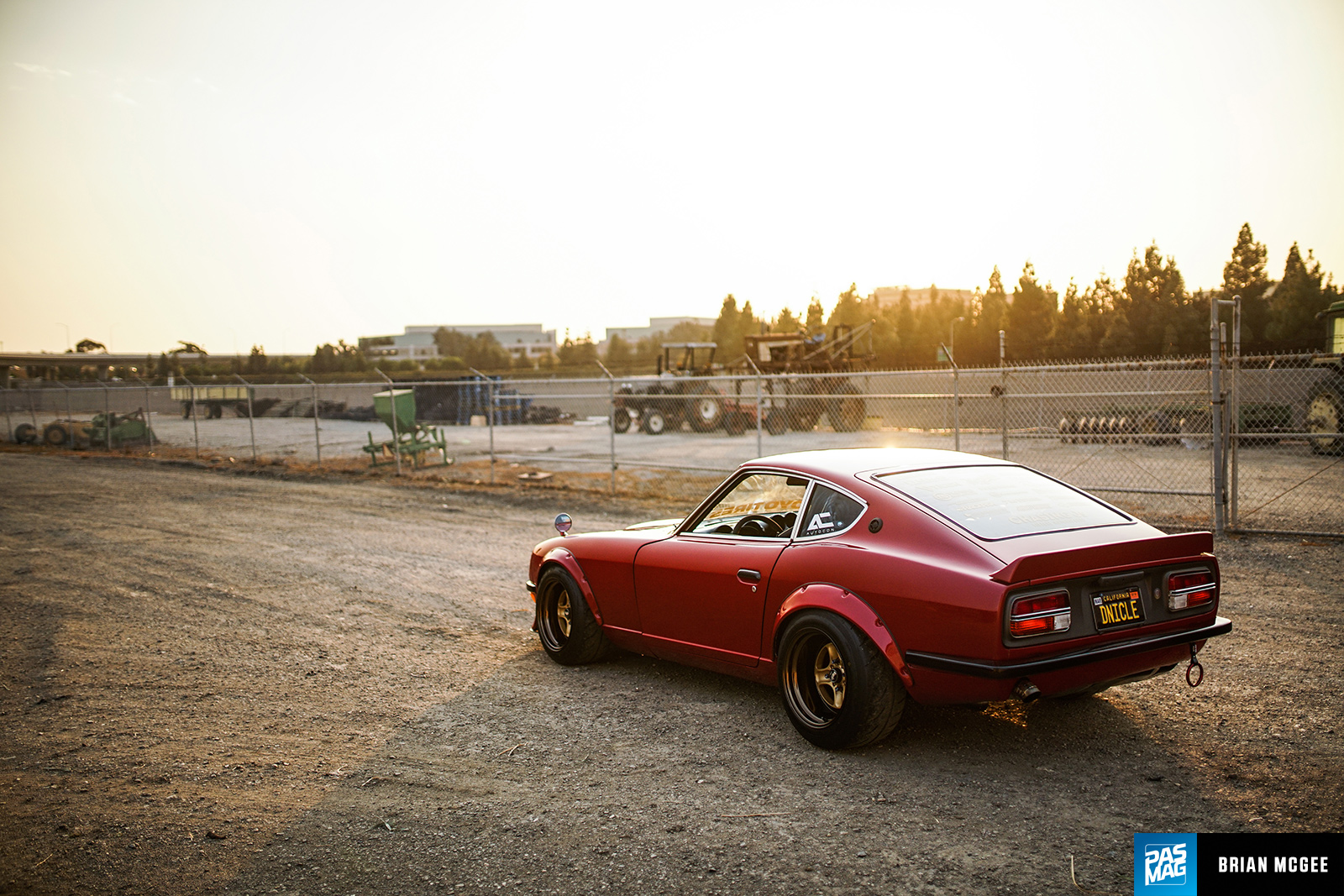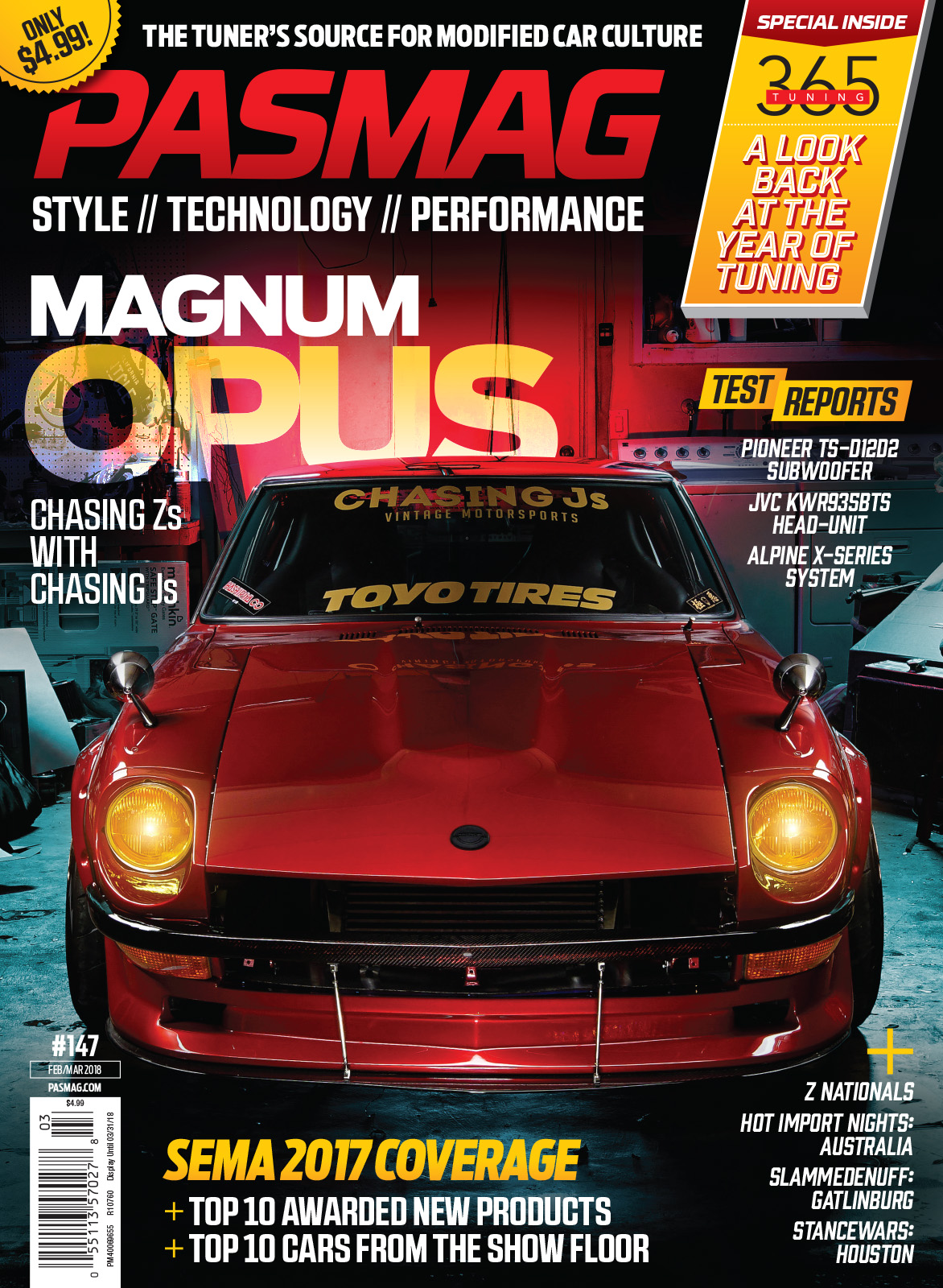 FEATURED ON THE COVER OF PASMAG #147.
ORDER YOUR COPY HERE.