Photography by George Bucur
---
A hometown hero is someone to look up to. A local that excels in their respective outlet and lights up the field that they play in. Someone who, when they decide the time is right to exit that field, will be talked about for years after. In the Greater Toronto Area of Ontario, Canada, our hometown hero would have to be Jason Gale. The amount of class and quality he and his 370Z bring to any show they attend, even across the border, is unparalleled, and just like the play on words nickname he's given the car, "GaleForce," the car has swept across North America, leaving an impression everywhere it goes.
Before we get to where Ontario's typhoon is now, let's talk a little about Gale's beginnings. You'll be glad to know that he spent his first years of car building wrenching away on Hondas, just like most of us. It all started after installing an aftermarket stereo in a 1987 CRX Si, which gave Gale the push to chase after a career as a certified car audio installer. After getting a job at the best audio store in his area, the doors were open to build possibilities, and so a '95 Civic hatch and Acura Integra soon followed.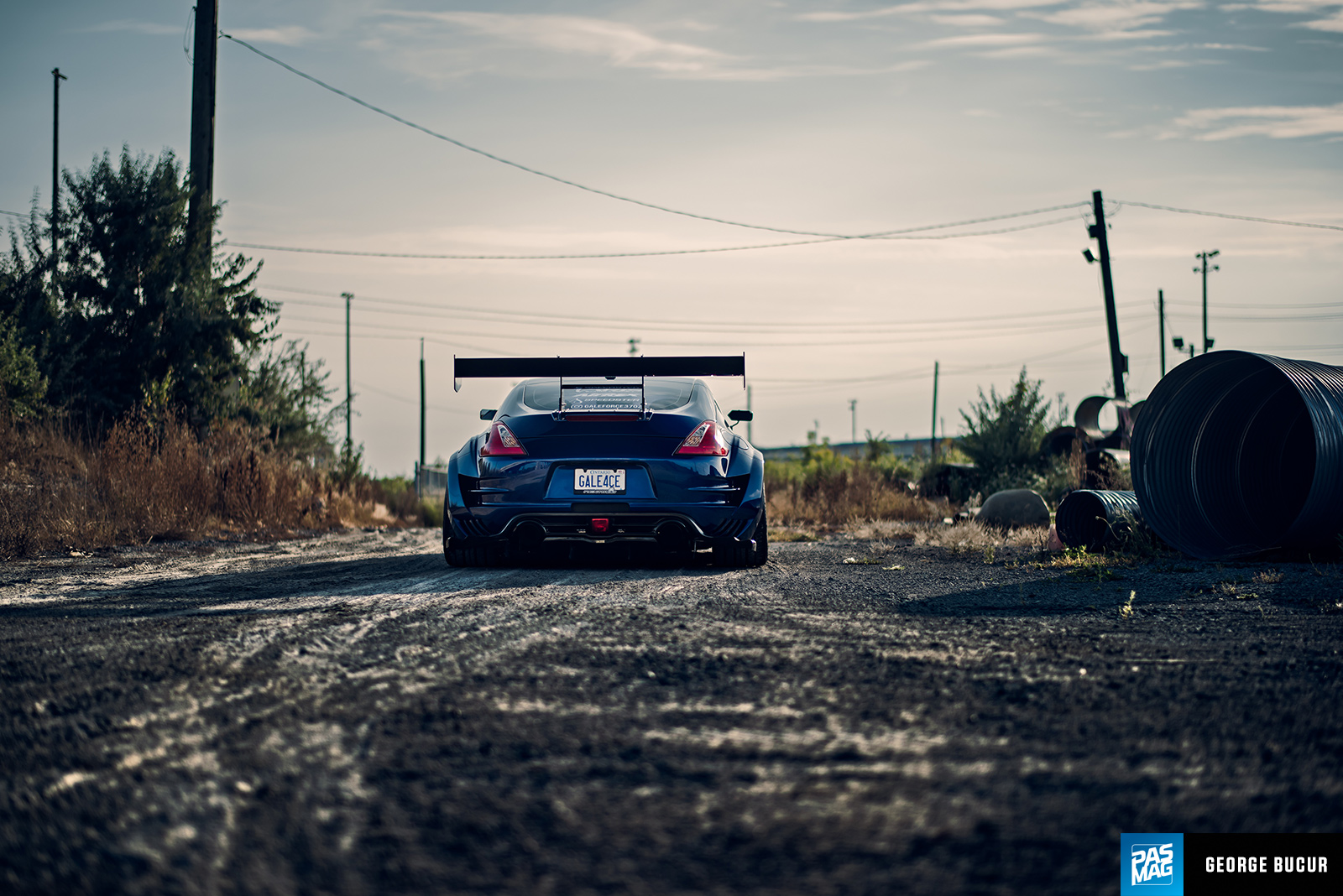 While Hondas were the cars he learned to wrench on, Gale had another car he pined for: Fairladys. And soon he made a huge switch, quitting his job for something different and selling his Hondas. Gale was ready for a project of a certain make and model.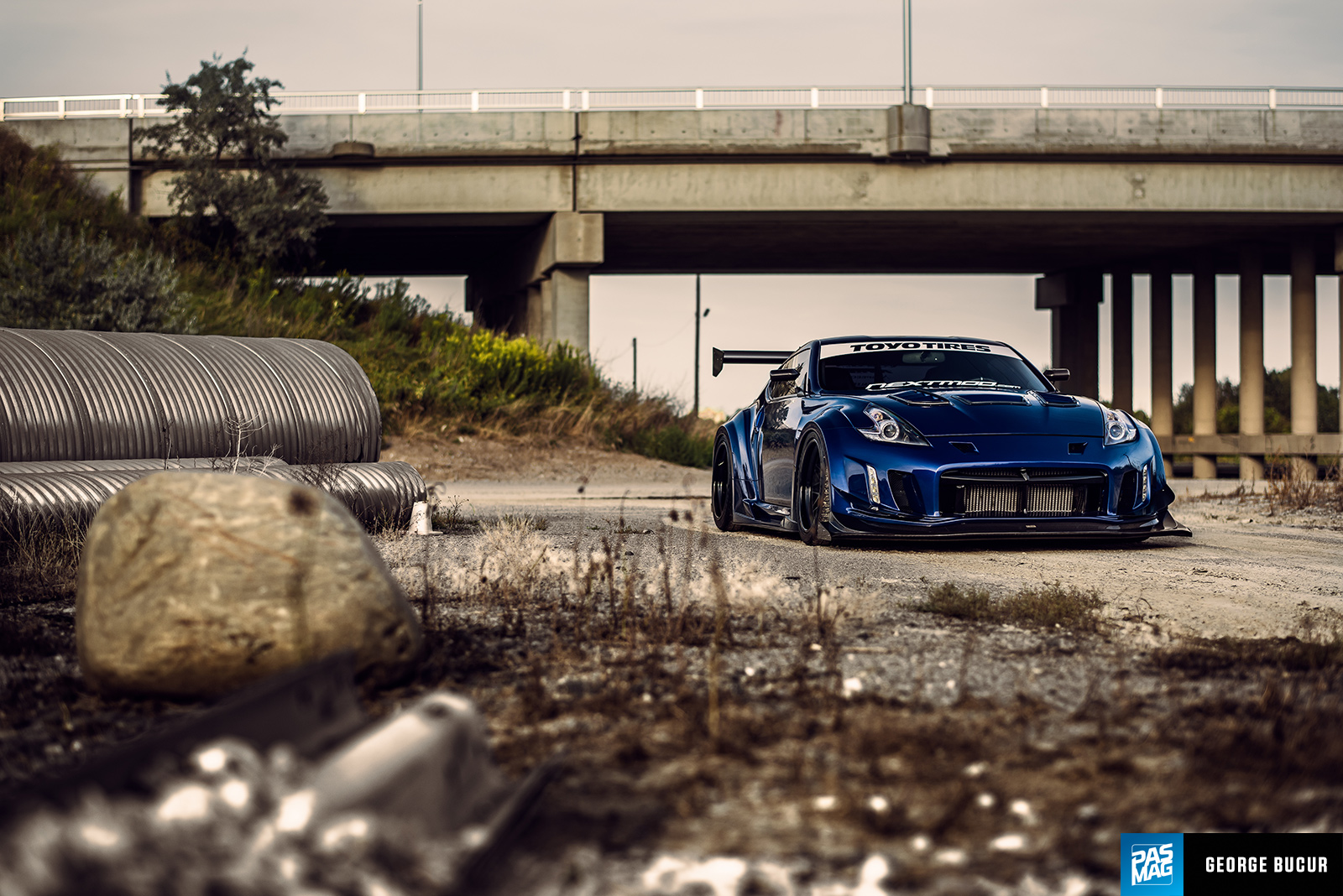 "I always loved the Z cars from when I was very young," Gale says, thinking back. "When the ads for the 370Z came out, I wasn't sure that I liked it until I actually saw one in person. Then I knew I had to have one. Now I'm back to building great projects again!"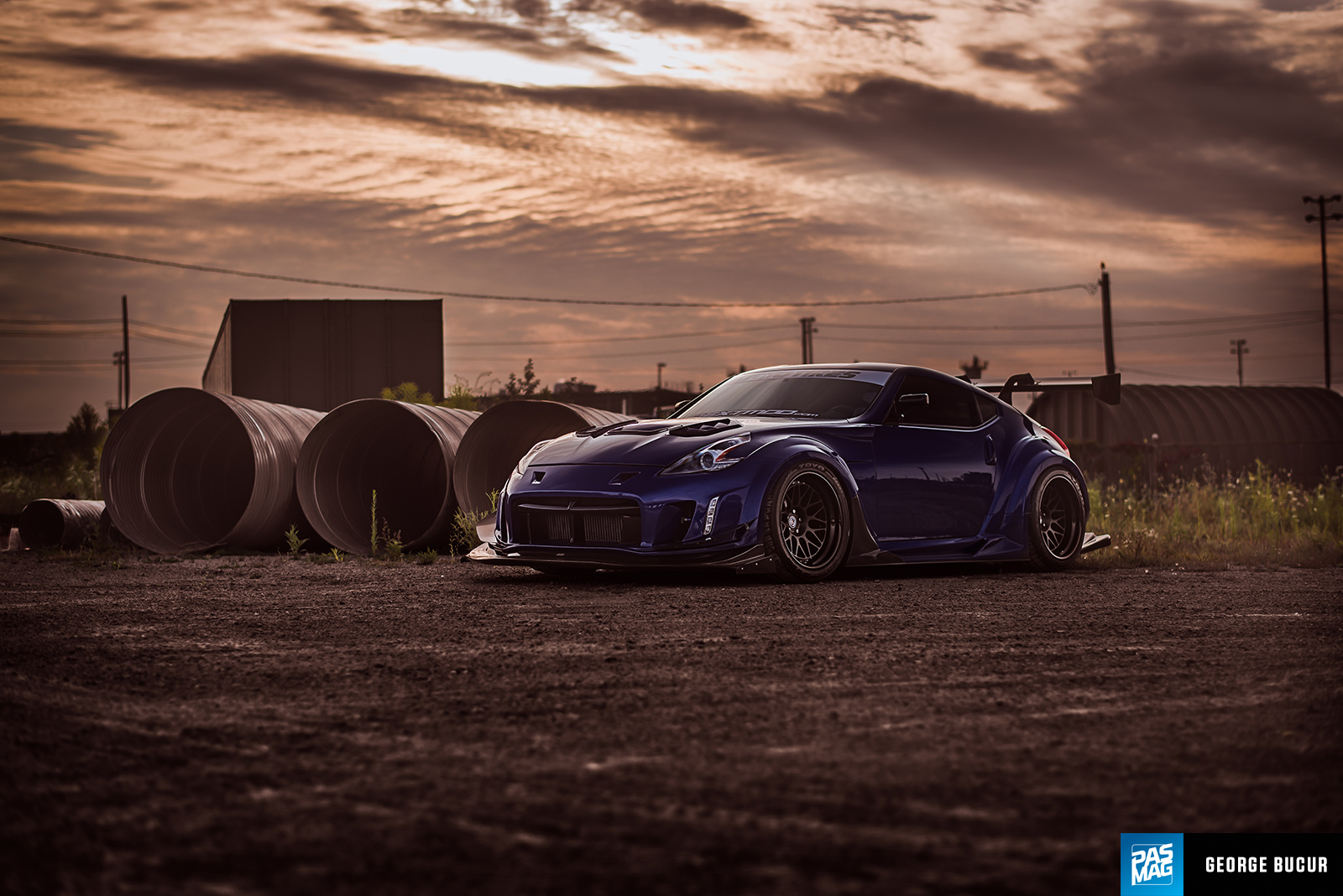 The first iteration of the GaleForce Z34 saw it in silver, wearing a JDM mix of a Mine's carbon fiber front lip with Amuse side skirts and rear bumper. Next was a blue splash of paint, paired up with a full Varis' Arising II kit and a set of gorgeous and lightweight matte blue gunmetal Volk TE37s. This leads us to the latest step it its evolution: Kamikaze.
"My favourite aspect is the Varis Kamikaze widebody kit," Gale gushes. "It was the first kit to be installed on a customer vehicle that wasn't Varis Japan's own demo vehicle and it's the only full Kamikaze kit in North America."
While out in California to pick up the Kamikaze kit and get a proper install, Gale turned to Auto Explosion to set his kit even further apart from its sister kit in Japan. Instead of the exposed bolt install that most would use, Gale wanted to go molded for a seamless look, and instructed the crew at Auto Explosion to keep the body lines of the kit as they were meant to be, not filling in anything that didn't absolutely need to be. The molded Z was then put through a four-stage painting process in a PPG custom blend of paint, specially named "GaleForce Kamikaze Blue."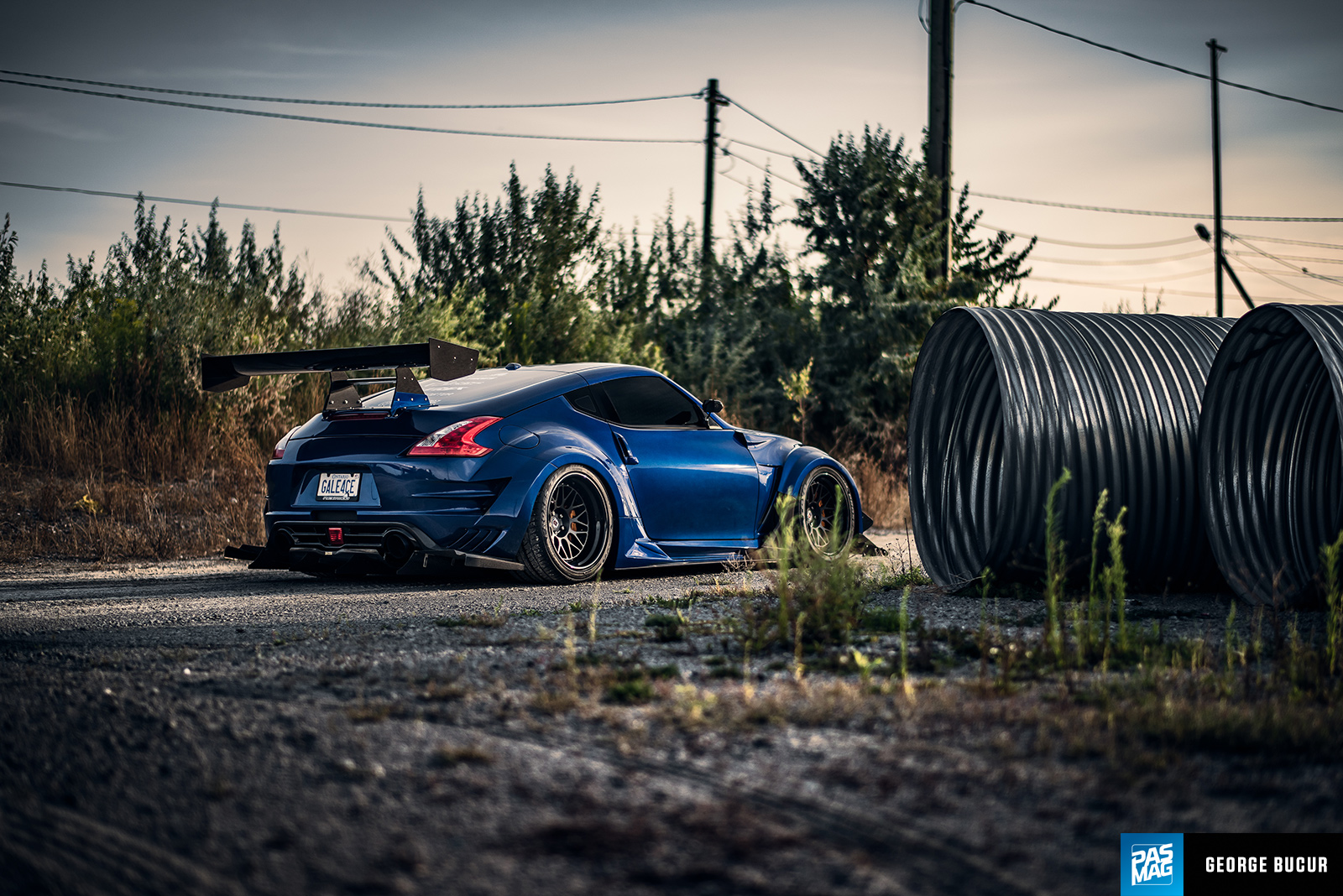 The finished product is something to behold, as the Varis Kamikaze kit builds on the Arising kit and does it bigger in every way. Enlarged fenders take place on each corner of the car, looking like they've been shaped by a wind tunnel as they flow with and into the bodylines of the Z. To match the added width, a carbon fiber lip splitter spans the distance from the outsides of each 285-wide flush front tire, while the rear is transformed into something that looks more akin to aerospace than automotive, with a huge carbon diffuser section and Varis' 1,800-mm VSDC swan-neck wing channeling incoming air. This 370Z looks like it could take flight at any moment, and the molded body makes it seem like it would have almost no wind resistance.
"I find influence from all types of builds," Gale explains of his design choices. "I looked mostly to hot rods; their builds are timeless. They have mirror-like paintjobs and fine details. Japanese car culture provides me inspiration by pushing the envelope with original concepts and designs, as well as utilizing exotic materials, such as titanium and carbon fiber."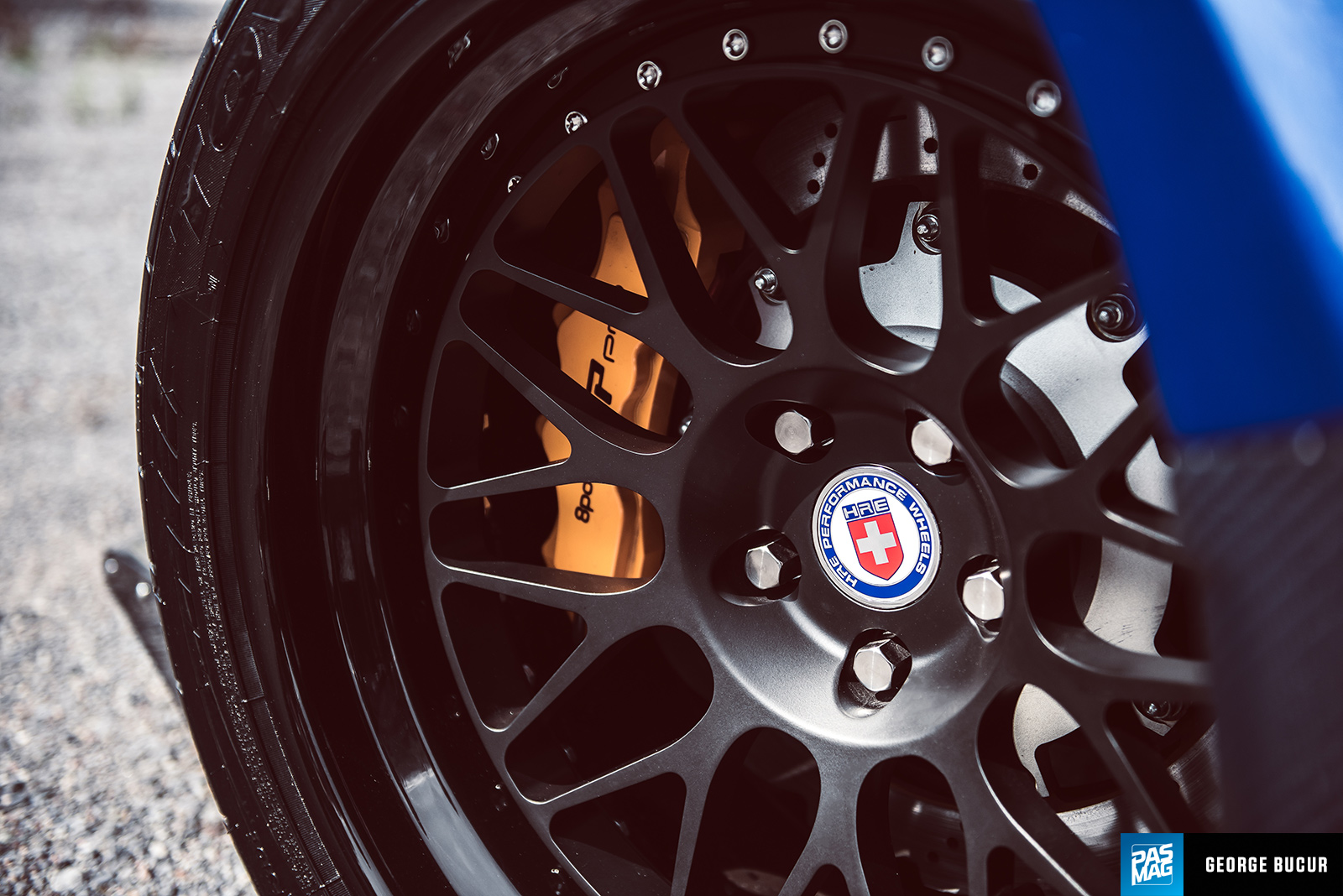 Once the car made it home, it was apparent that the TE37s weren't going to cut it under the fenders anymore, offset-wise. Not wanting to stack spacers, Gale looked into getting a custom set of wheels built, and HRE happened to have what he was looking for. Choosing the Classic 300's tried and true mesh design, he spec'd the fronts to 19x10.5 and the rears to 19x12.5 - the perfect fit for the Kamikaze fenders. Gale even specified for the set to be as light as possible, so extra milling was done during the construction to get the 300s as close as possible to the weight of the outgoing TE37s.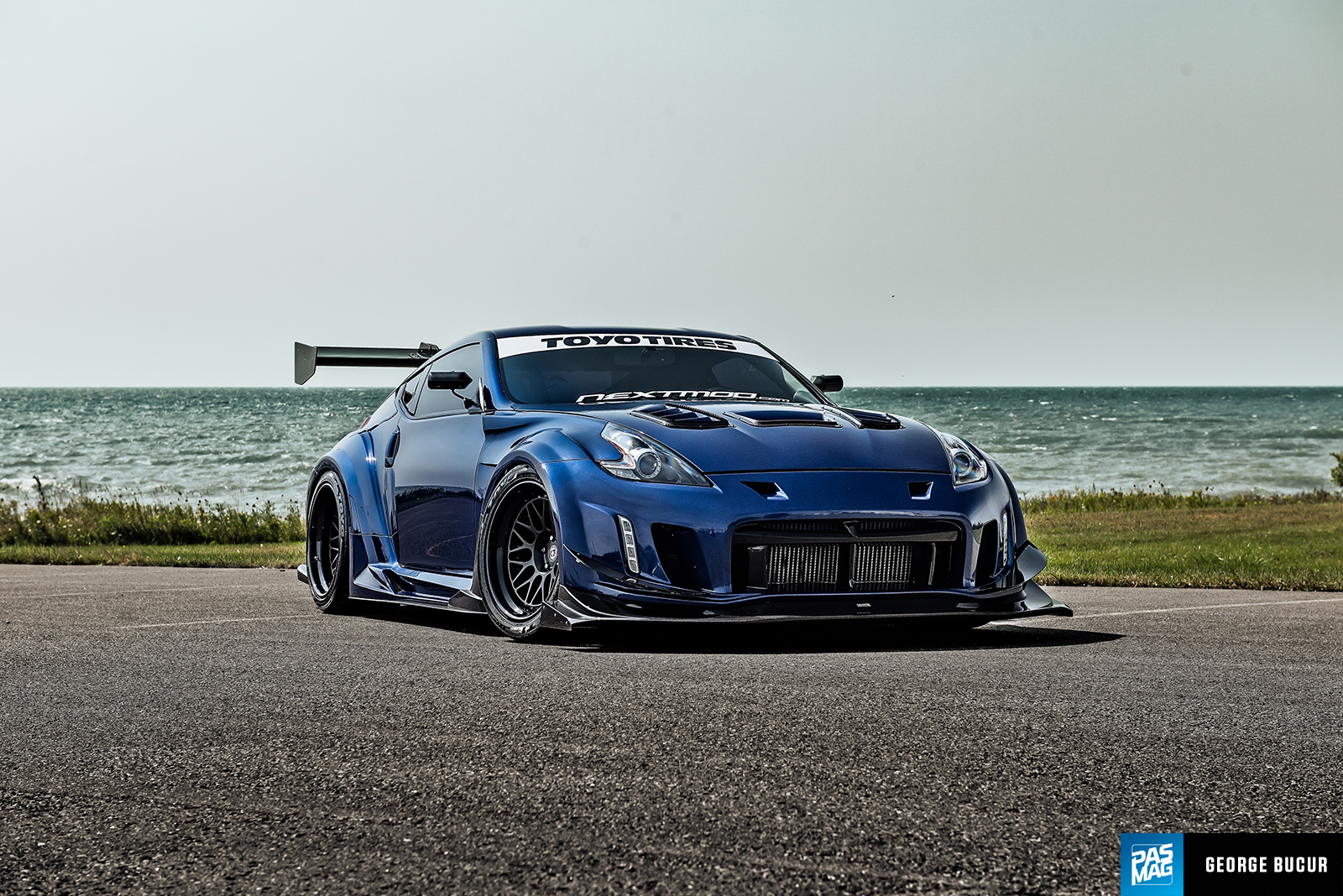 Bringing the 370Z down to hardpark height is a full AirRex air suspension system, which is upgraded to let Gale use his smartphone to lift or lower the car from the inside or outside, and a full set of SPL suspension adjustment arms specializing in camber and caster dial in the Z's stance. Tying together the front struts is a piece that Gale is particularly proud of: a Top Secret burnt titanium strut brace. As with any Top Secret part, they're produced in very small batches, but this part is especially exclusive as one of only three in the entire world. Apparently, this single part took over two years to source.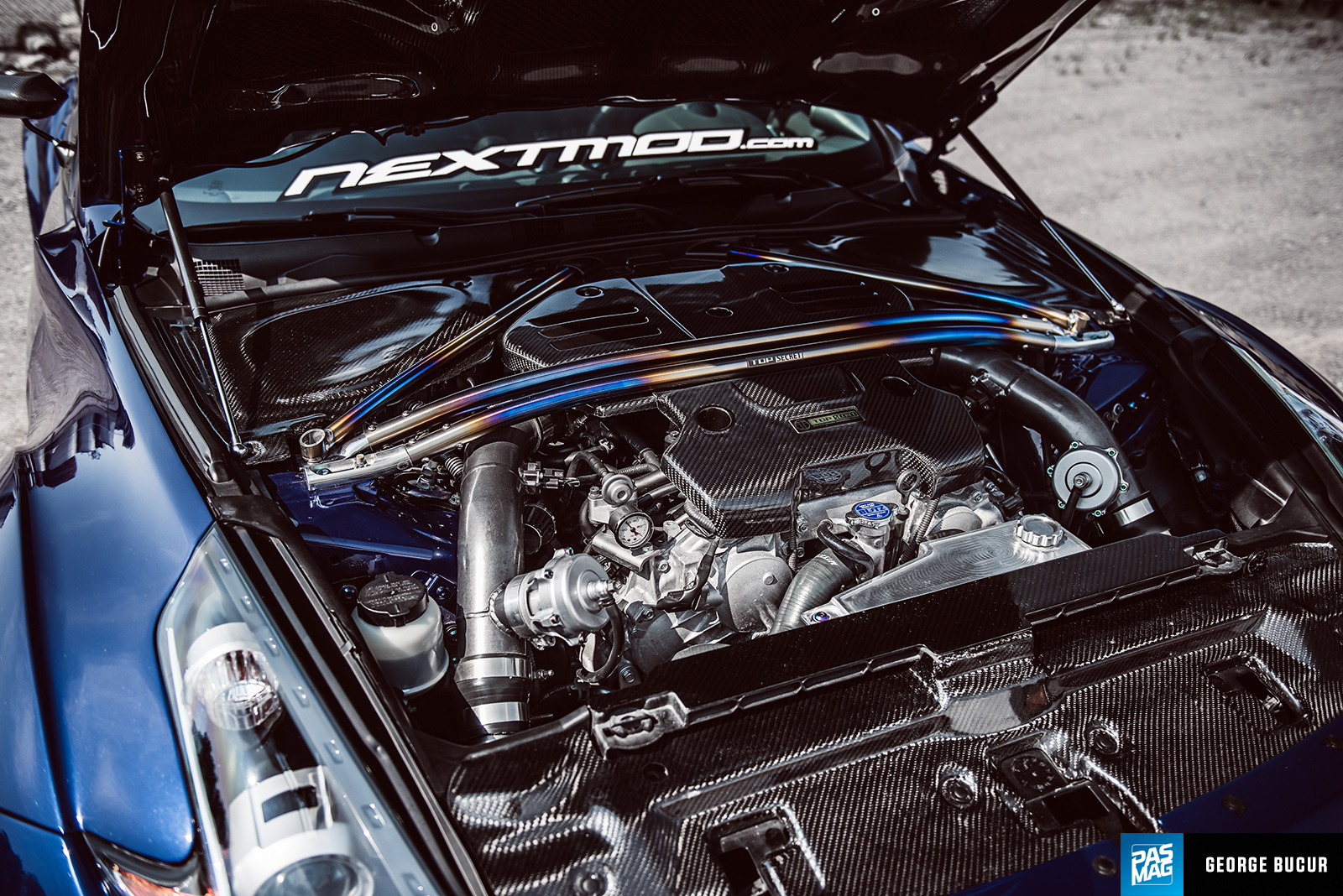 While most of the parts listed up until now seem more show-oriented, this Z still has plenty of go. Under the hood is a Boosted Performance turbo kit, which features a single Precision Turbo 6266 twin-scroll turbocharger and a Treadstone Performance intercooler, and when paired with the overhauled fuel system and R/T Tuning custom tune, GaleForce puts out a very respectable 522 rear-wheel horsepower and 476 lb-ft of torque at 11 pounds of boost. It's definitely enough to spin those 325-wide tires out back.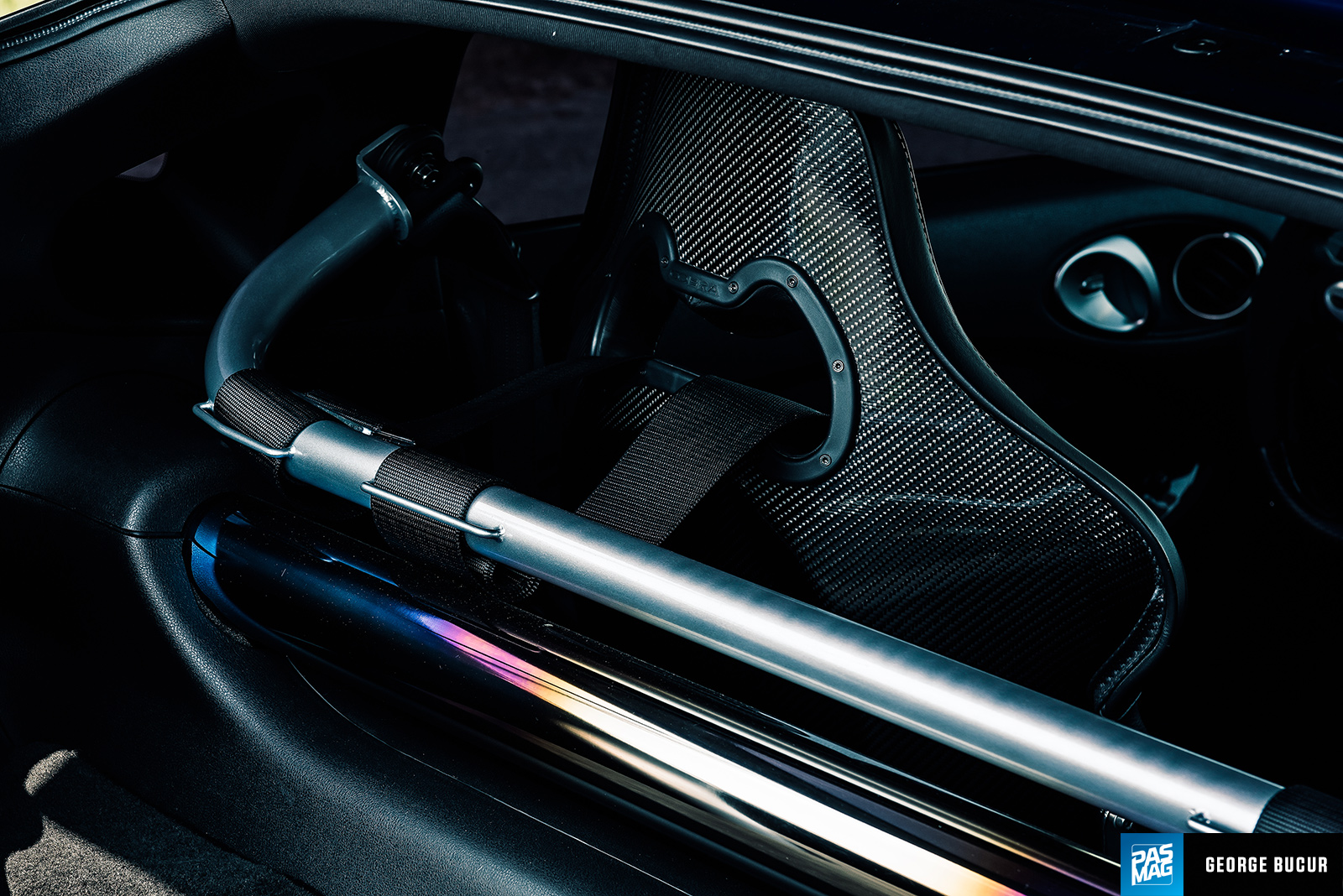 As someone who came up in the car audio community, Gale's interior is a great place to be. From the choice in components, you know he knows what he's doing. All speakers on the inside of the Z are produced by Focal, with Utopia Be tweeters and 165W-RC 6.5-inch mid-bass speakers powered by an Elite FPS 2160 amp provide the musicality, while an Elite FPS 1500 amp supports a unique 13-inch Utopia Be 33 WX2 subwoofer for added bump. This all sits in a custom interior put together by G-Force garage, made up of Alcantara, leather, and hints of carbon fiber, completed with Takata Drift Pro LE racing seats and a custom DTC Motorsports steering wheel.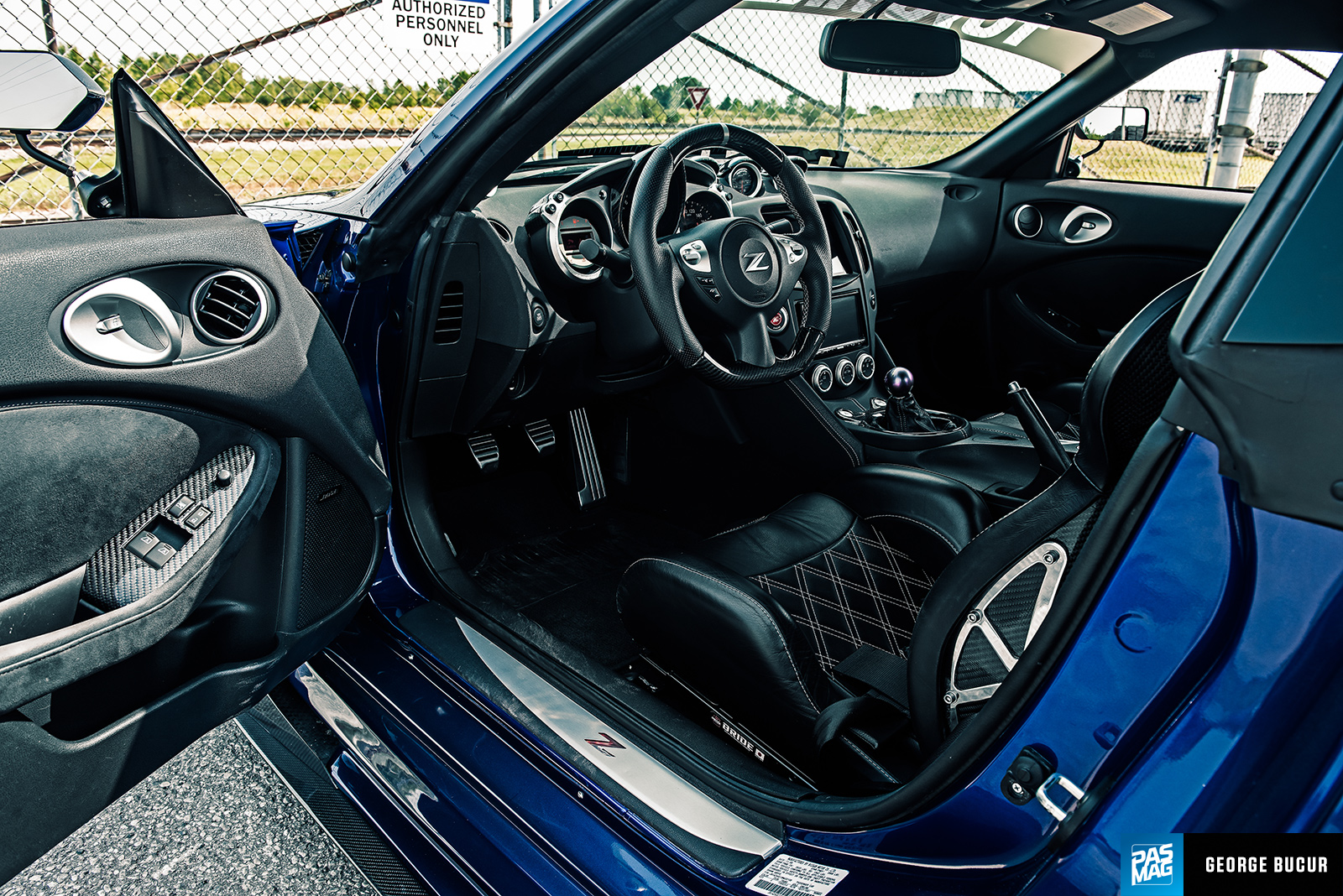 The A-pillar gauge pod is actually of Gale's creation - anything listed in his spec list as "3Gs Customs" is. What some people may not realize is that besides the paint, bodywork and upholstery, Gale installed everything else himself. If it's audio or mechanical, it's his handiwork.
"There have been many challenges throughout this build, which is to be expected when you put so much time, energy, and money into it," Gale says, knowingly. "All of the challenges are what makes a successful build so enjoyable when it finally all comes together."
Perfecting a craft takes time, even when you're as experienced as Gale, and over three iterations of the same car, he's built something that stops people in their tracks, no matter which side of the border or which coast he's on. Ontario's hometown hero could be on his way to a show near you next, so you best make sure your Best of Show trophies are tied down when all that GaleForce wind arrives.