Photography by Gabriel Sevigny
---
You know that feeling you get when you've done something DIY? It may have taken significantly longer than projected and made more of a mess than you initially thought, but that mixed feeling of pride, accomplishment, and satisfaction is enough to make you get a little addicted to doing it yourself. That feeling, plus the respect that's earned in the enthusiast community through working on your own projects, explains why so many learn through wrenching themselves. Our friend, Eric Guerette is a shining example of this.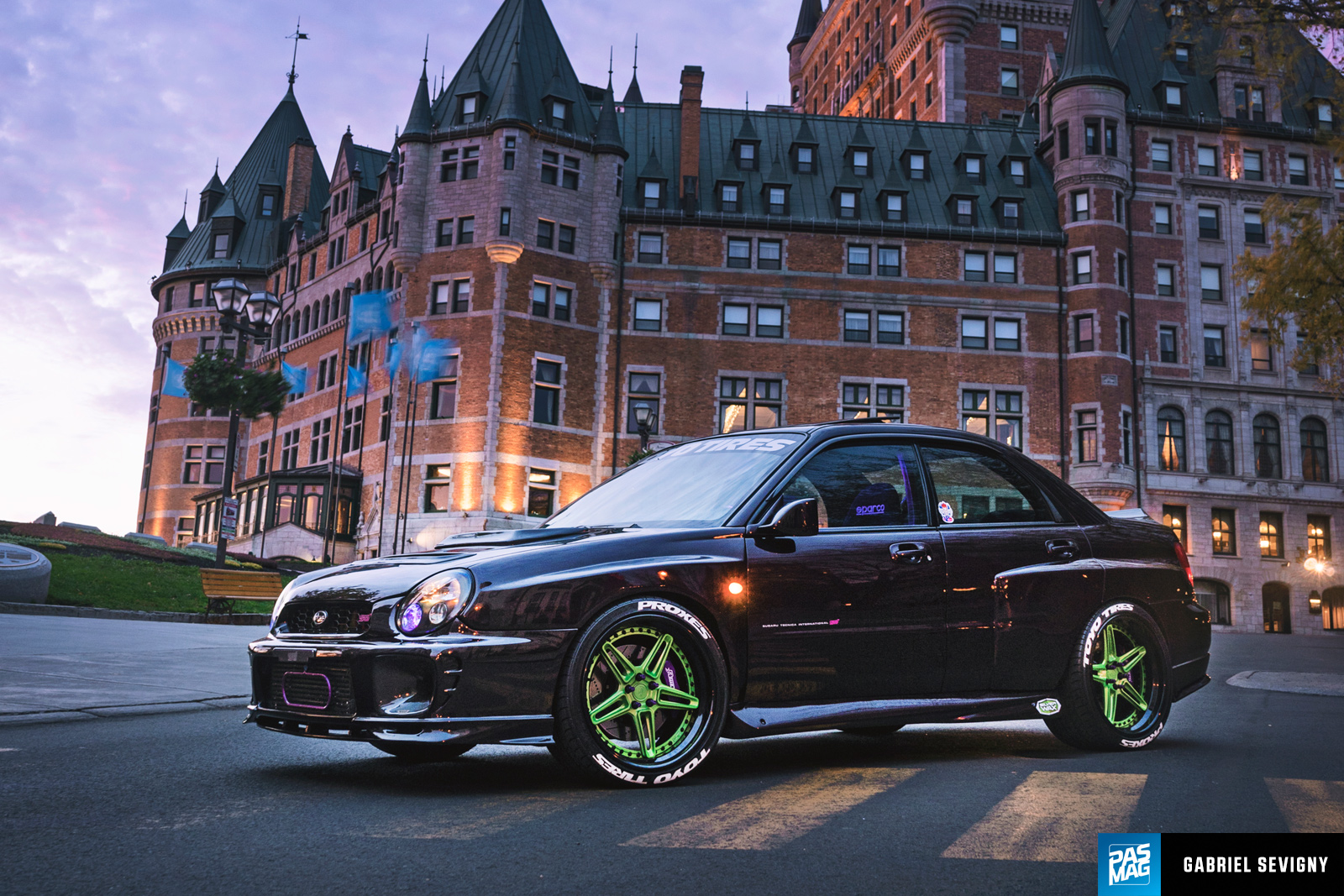 Built by none other than himself and obsessed with constantly improving his car, Guerette was able to propel himself through our Tuner Battlegrounds Championship competition in 2016, eventually landing himself and his WRX in Vegas for the final showdown at SEMA. It was a respectful and humble, yet hard-fought battle against Ger Reyes' S2000, and Guerette ultimately came home with title of runner-up, but that didn't discourage him one bit. Since coming home from Vegas, he's been touring all over the U.S. and Canada, picking up hardware from shows and events all over. He even showed up the day after SEMA ended at Subie Invasion, two-stepping over the exhaust note of the Mighty Car Mods boys' "Subarute" creation for a noise level award.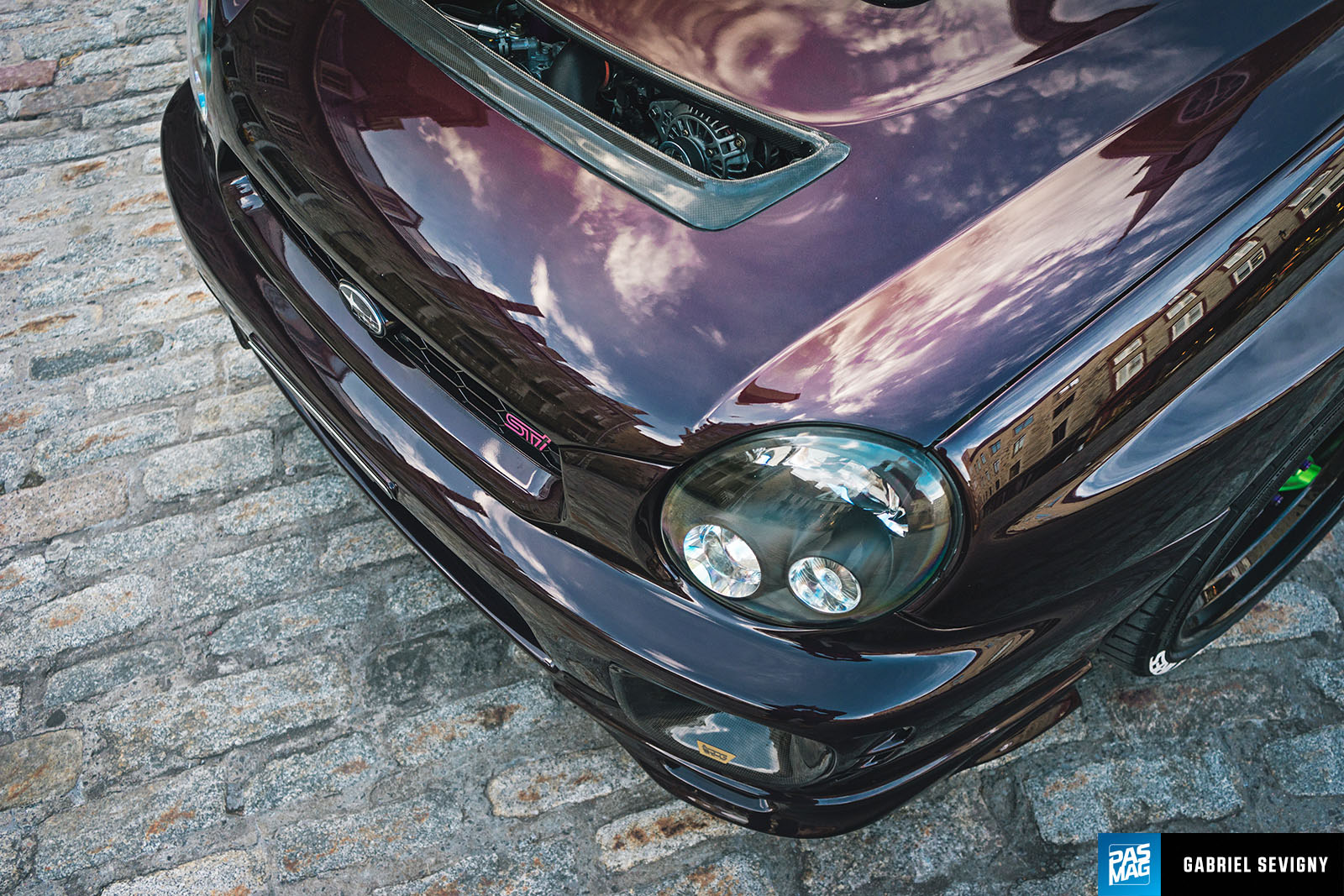 Showing up for the Tuner Battlegrounds Championship, Guerette's WRX was finished in a Black Cherry paint by Sublime Auto, coating a JDM STI body kit and carbon fiber WRC-style front and rear widebody fenders from RPG Carbon. The engine bay is also coated in color - light green shaved bay walls house a built 2.5-liter EJ engine adorned with pink components, most notably the modified intake manifold from a 2011 Forester.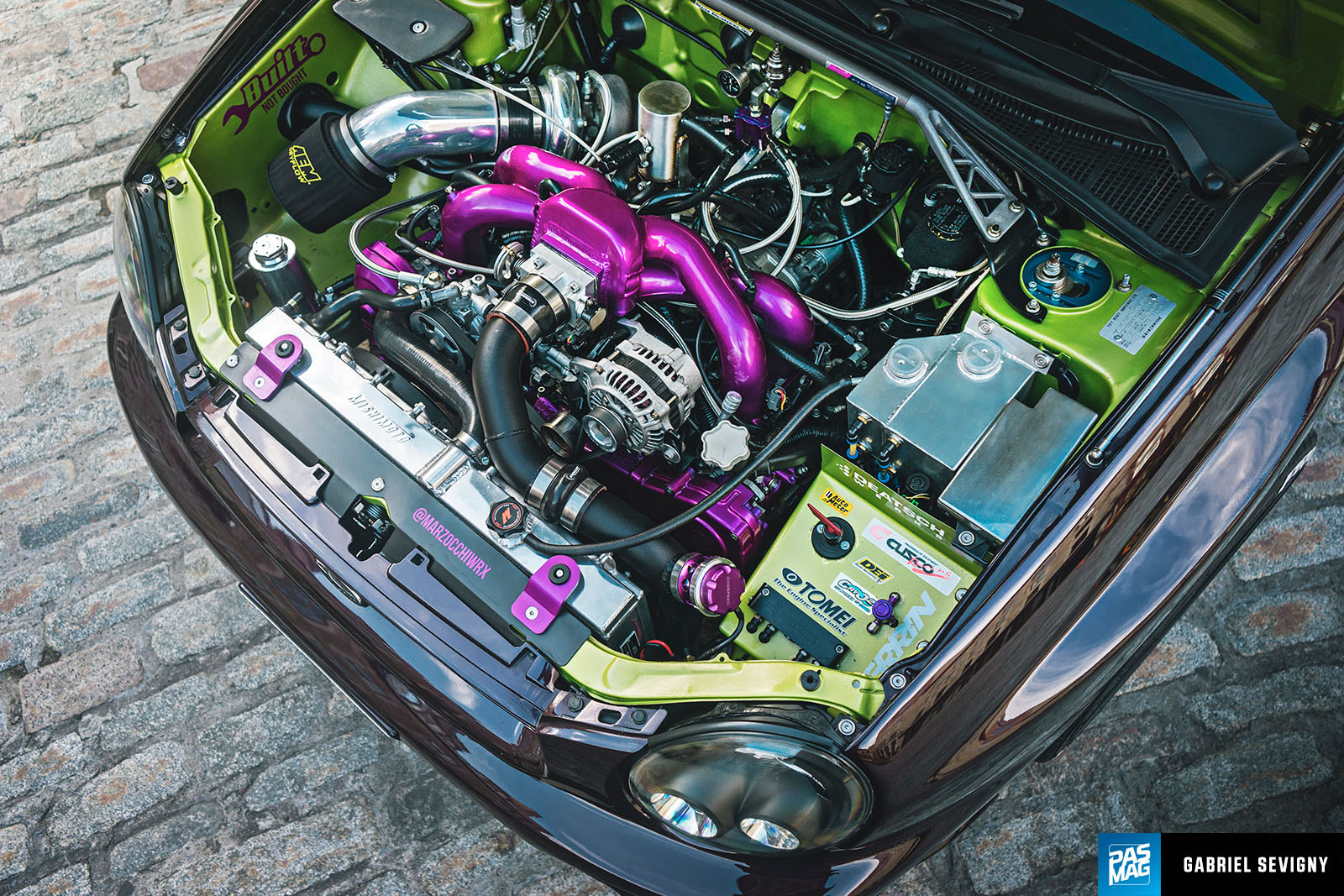 The built EJ has been ported and polished by AZE Performance and packed with performance goodies, like Brian Crower Stage 2 camshafts, Manley H-beam connecting rods and pistons, and a full Supertech Inconel valvetrain. The head of the EJ has been swapped with one from a 2003 WRX and the crankshaft has been sourced from a Japanese EJ20, which has been nitrile coated. It's a great mix of OEM and aftermarket to make a unique engine even more so.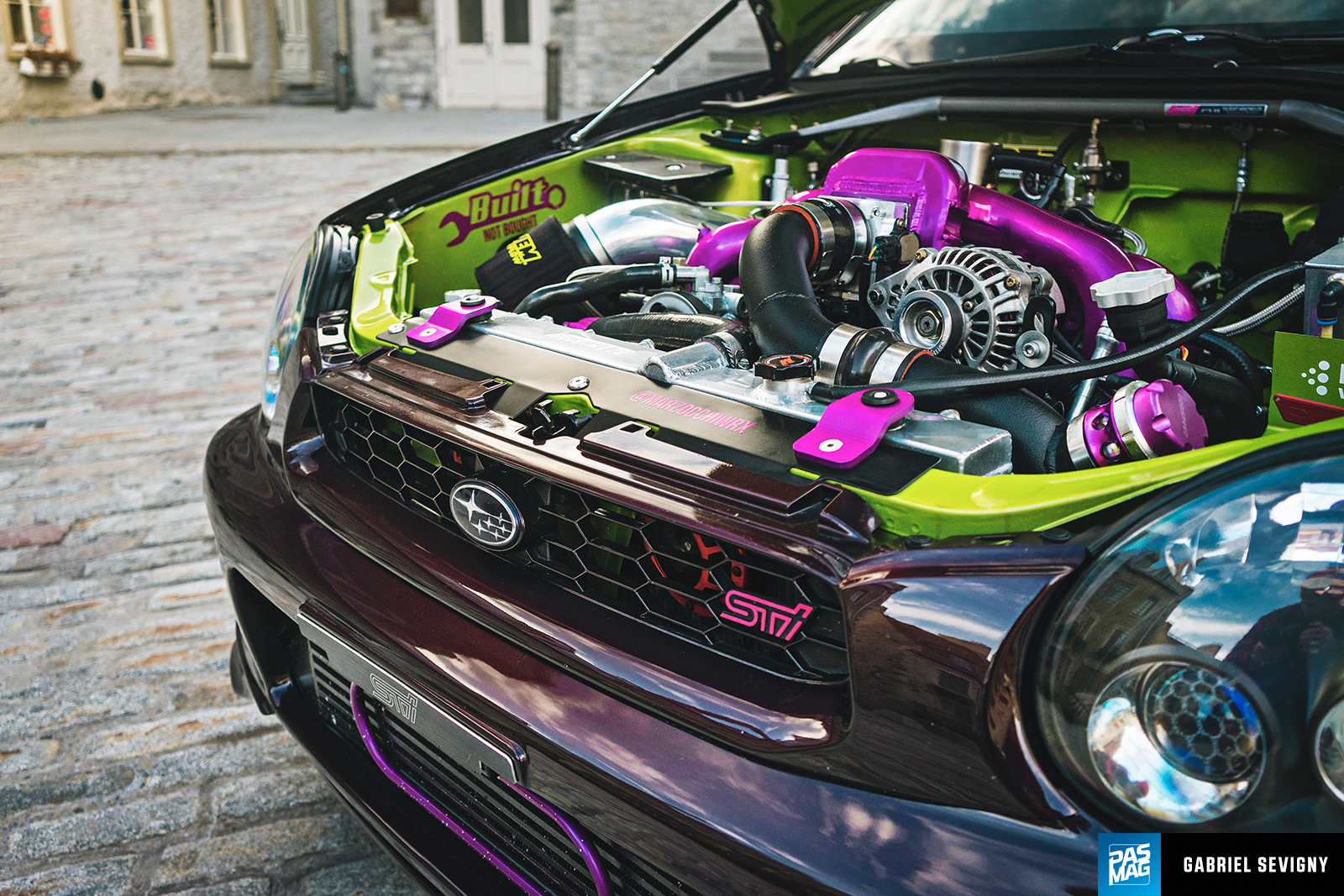 Power doesn't stop there either. The turbo system on the stock WRX has been overhauled to utilize a front-mount intercooler instead of the top-mount synonymous with hood-scooped Subarus, and the snail has been upgraded to a Garrett GTX3582R to really make this "S-car" go (because Subaru starts with "S" and escargot is a French play on snail because this car is from French Canada - never mind). To crank things up even further, a CRY02 nitrous spray kit has been thrown into the mix and is used right on time, junior.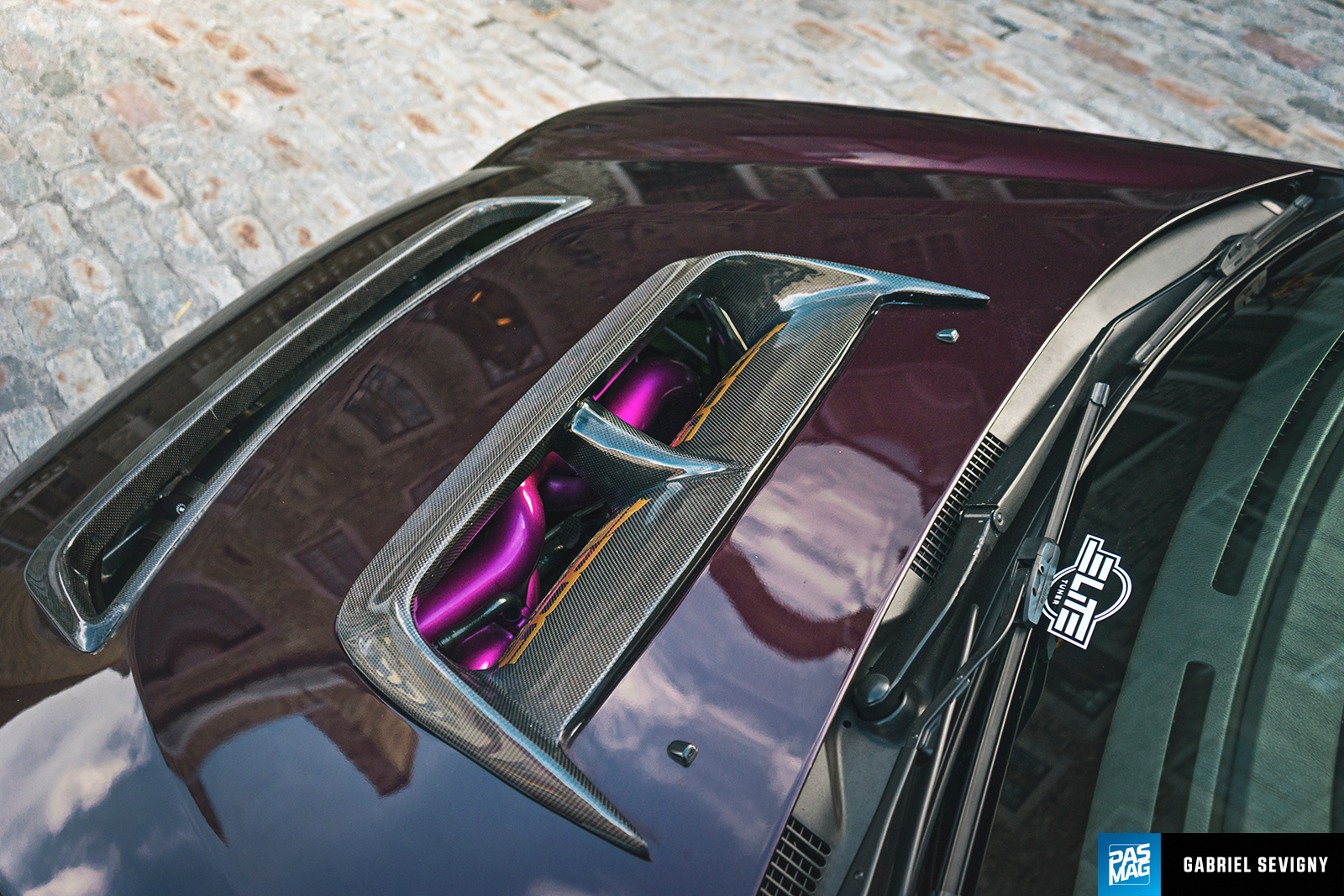 Transferring this power to the ground is an ACT clutch and flywheel spinning away inside a transmission from a one of the most potent factory-offered Subarus with the longest name ever: STI Version 8 Spec C Type RA.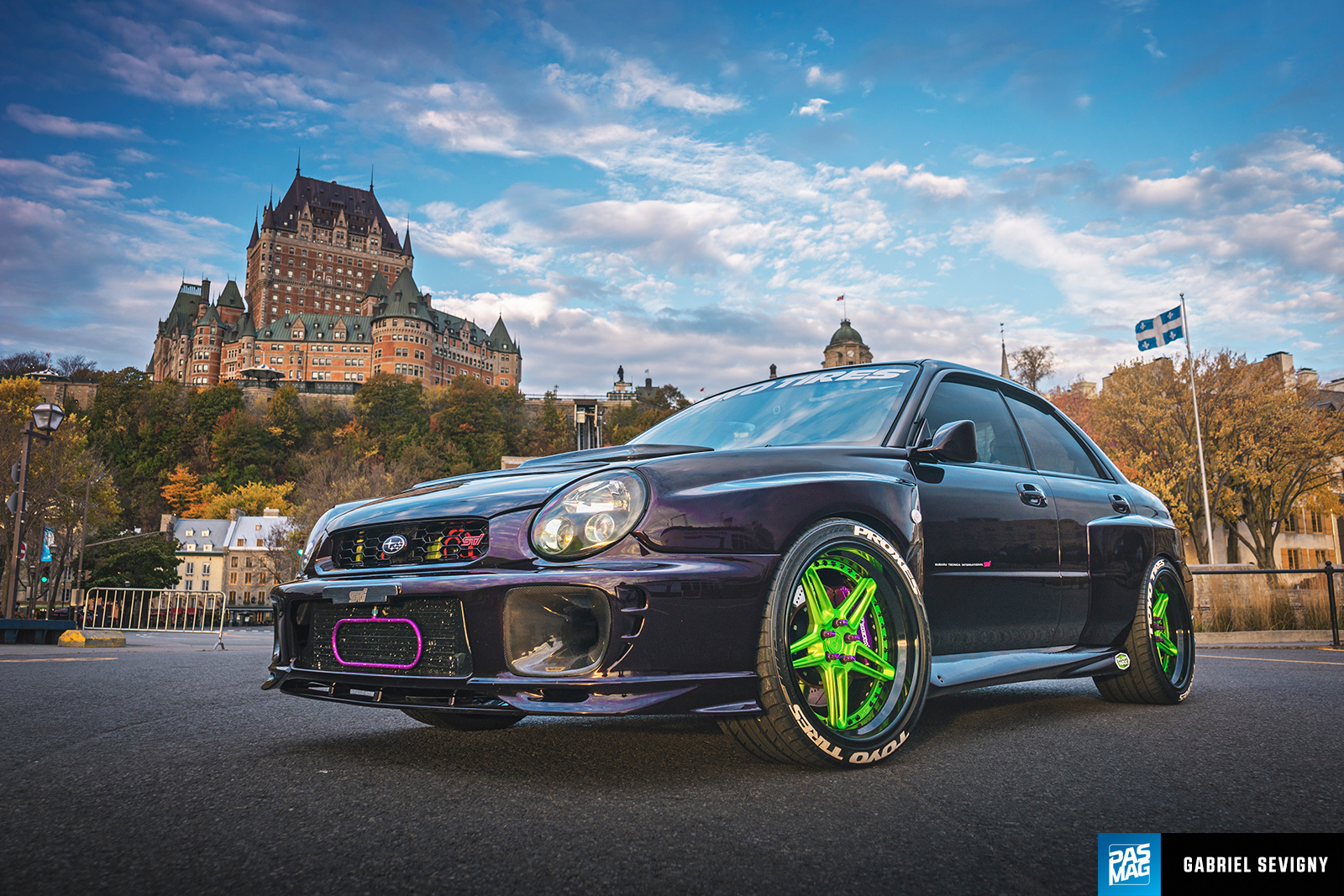 "Cusco and Perrin inspire me with all of their experience on the platform," says Guerette, which is definitely apparent due to his use of the name throughout the WRX. From header to tips is all Perrin, and a good chunk of the suspension is Cucso-branded, like the Zero 2 coilovers, sway bars, and rear control arms. The front control arms and strut bars are all donated by an STI.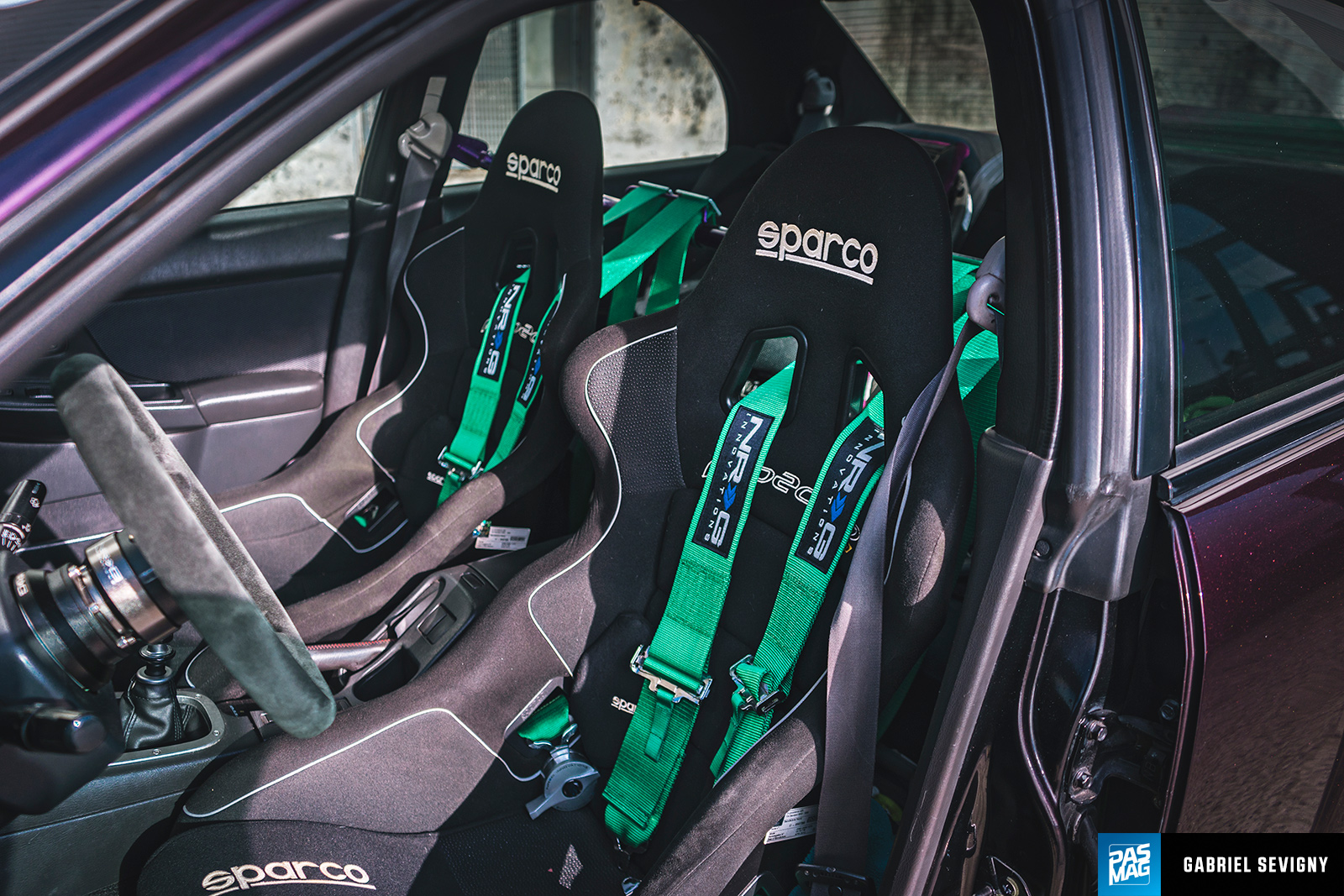 Inside, Guerette straps into Sparco Pro 2000 racing seats by way of NRG harnesses and oversees Autometer gauges residing in RPG Carbon gauge pods. In the back seat sits a car seat for his young daughter since this show car is still a daily driver. We think that makes Guerette a pretty cool dad.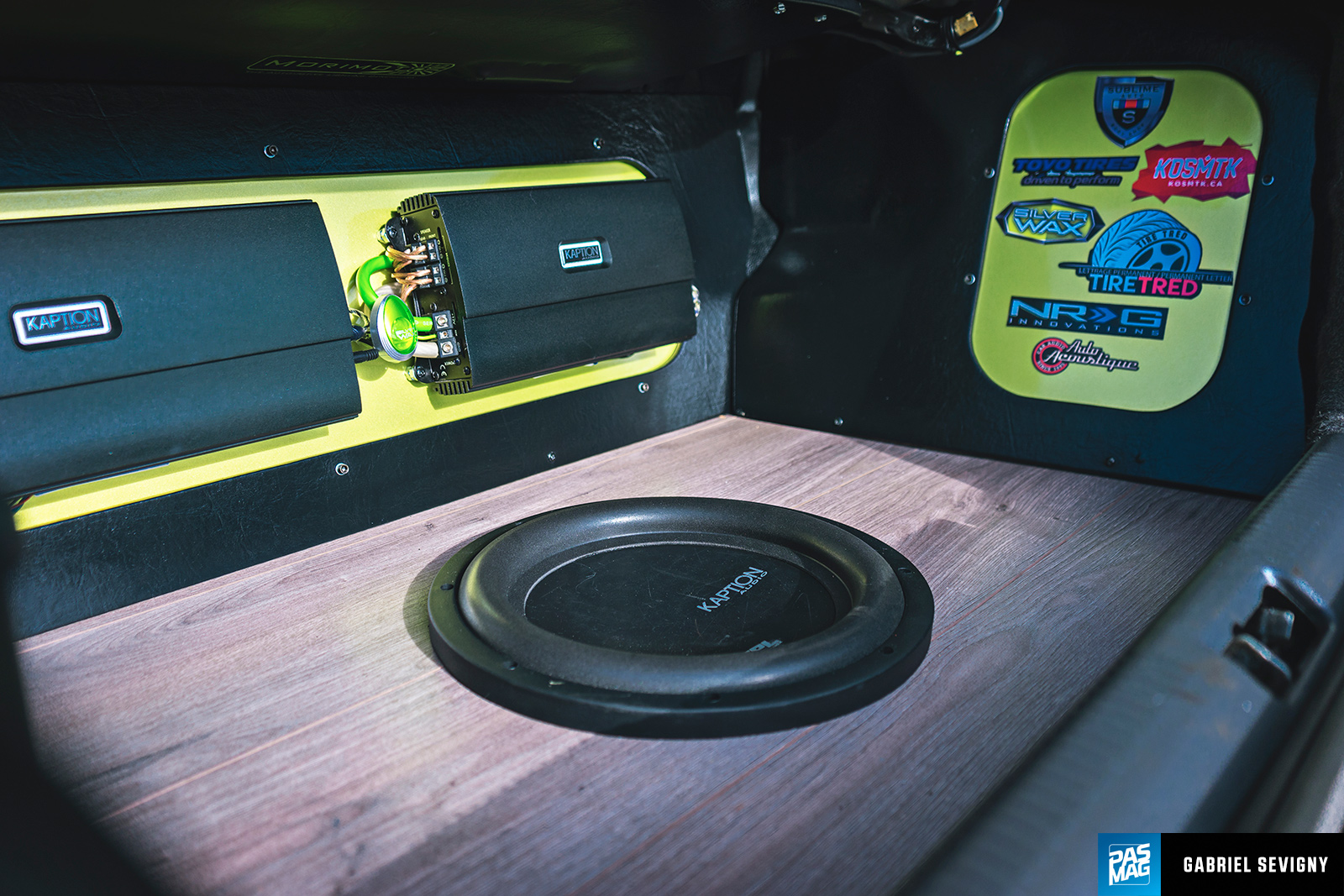 After SEMA, the focus was on rounding out the build, and Guerette obviously thought some changes were needed out back. A new carbon fiber "Spec-1" trunk from Racing Performance Motorsports swings up to reveal a recent audio addition in the trunk space. Poking out from the hardwood flooring is a 12-inch, 1,000-watt, dual two-ohm SPLMAX subwoofer and just above it, mounted to the green-painted metal of the trunk wall, is a 1,200-watt monoblock and 400-watt four-channel amp, the latter of which powers the four 6.5-inch SRX two-way component speakers in the cabin - all from Kaption Audio.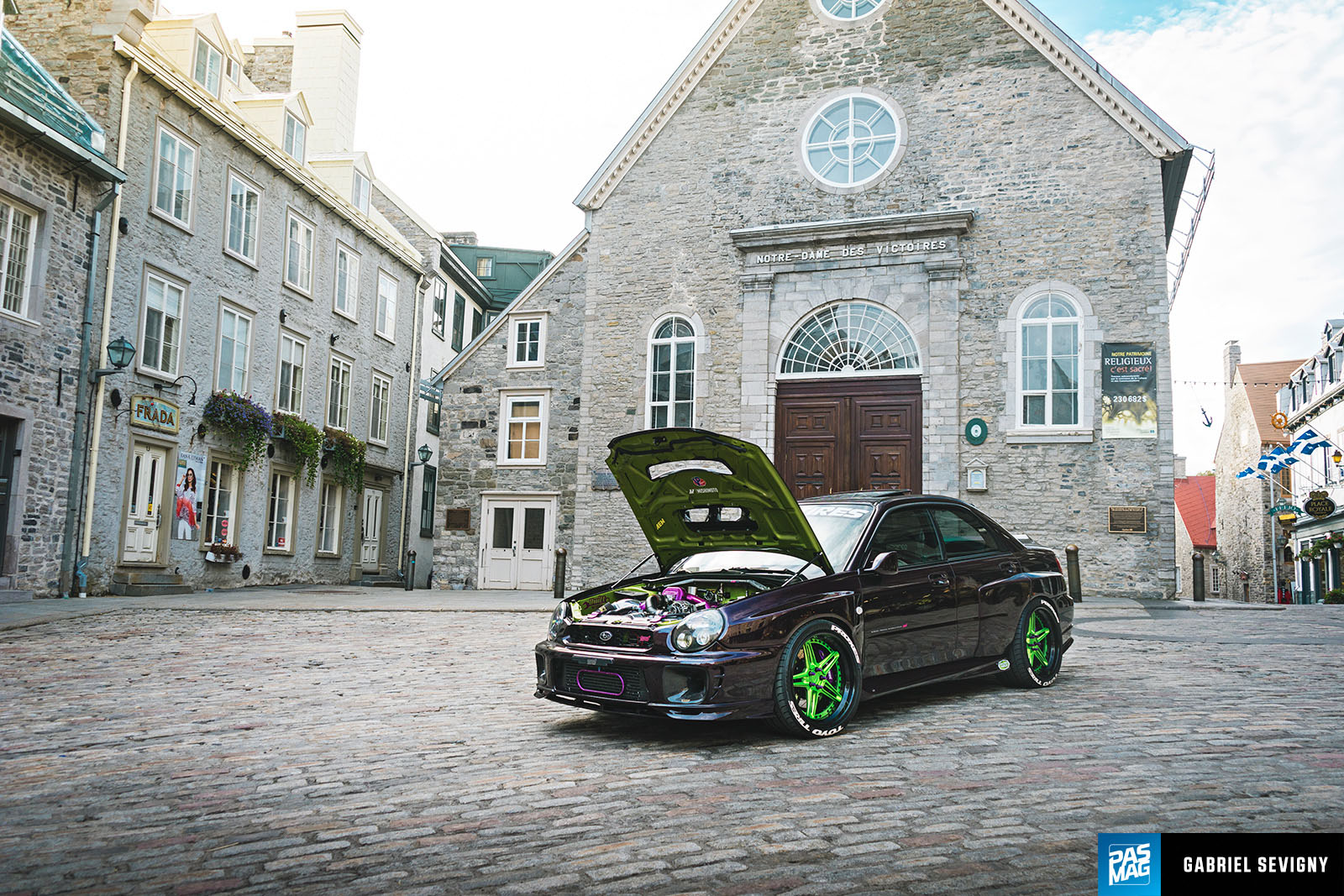 It's a venerable laundry list of modifications that's made even more impressive when you realize that besides some paint and port and polishing, every other piece of this Subaru puzzle has been laid down and made fit by Guerette. Even more astonishing, this was his very first Subaru ever. Guerette has a love for off-road driving and rally cars, owning three Jeeps and a rally-built '95 Civic Coupe that he wrecked during a snowstorm while doing some spirited trail driving.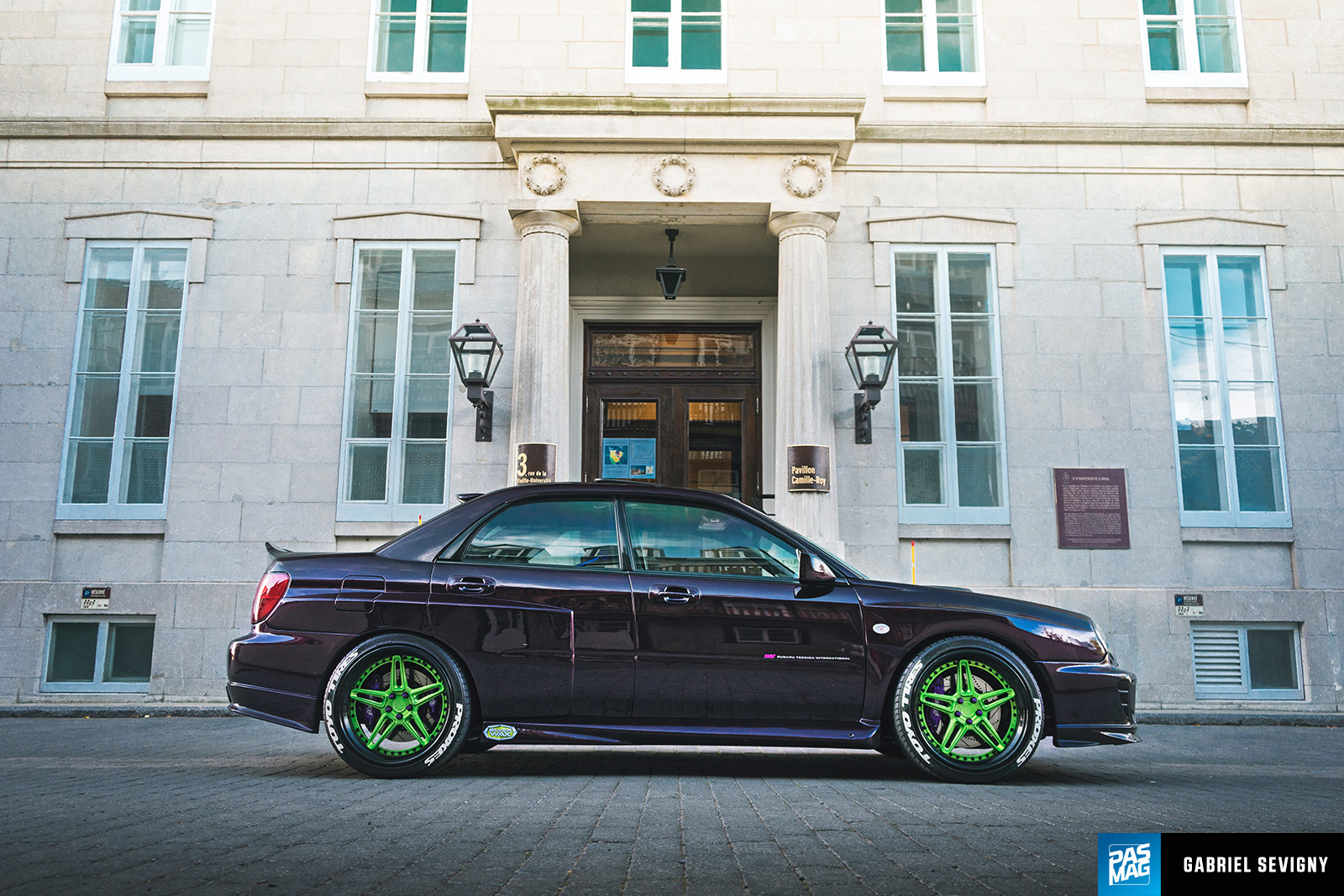 "I owned three Jeeps before selling them to get my Impreza," he recalls. "I was a fan of rally cars, and this was the first turbo Impreza to come to Canada. I was originally going to build a reacecar for lapping and time attack."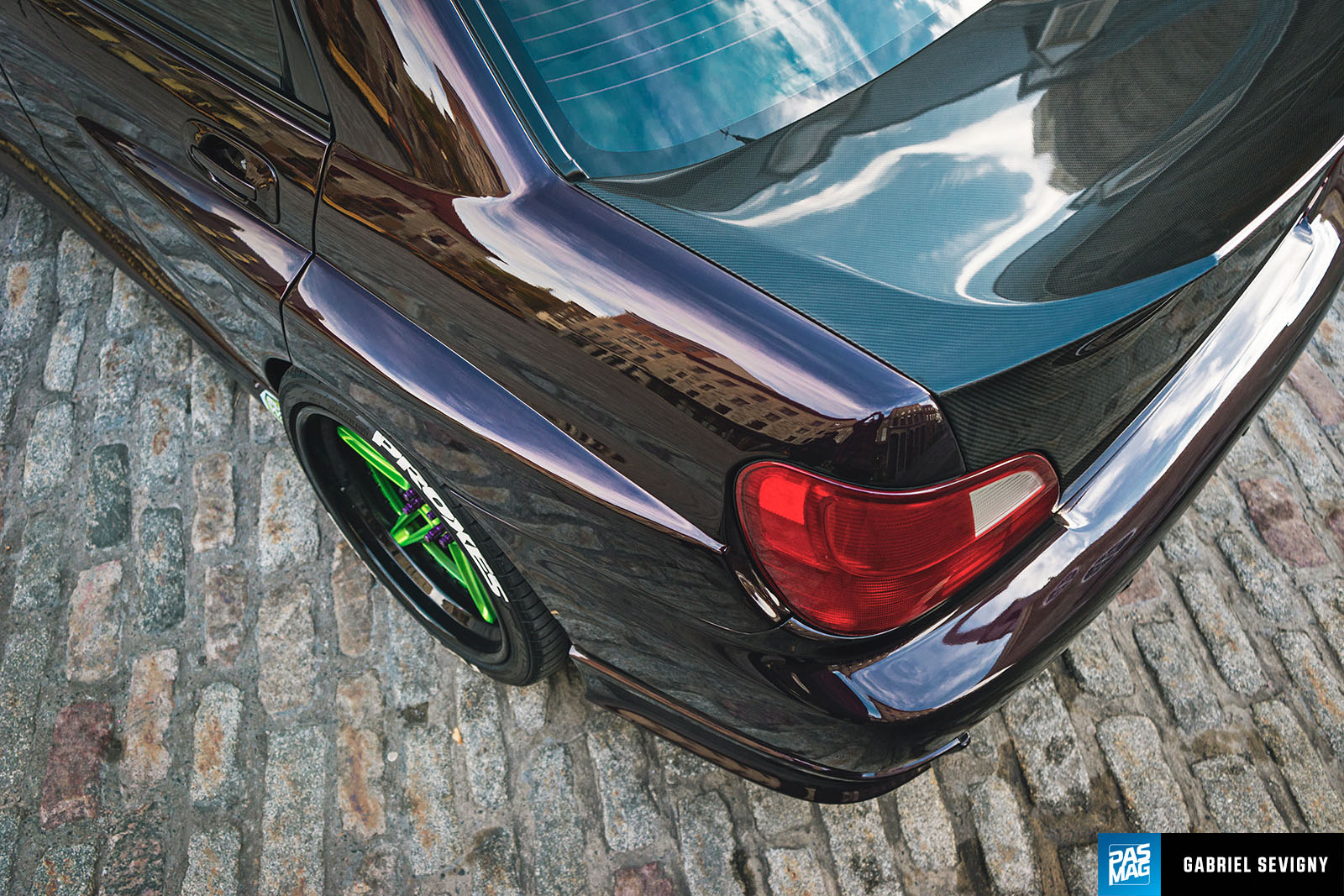 We're glad that the WRX ended up being a car for the show circuit. That way, Guerette is able to show his handiwork to a vast audience, and as someone who's more than qualified to run a "Built Not Bought" sticker on his ride, we're glad he gets the chance to.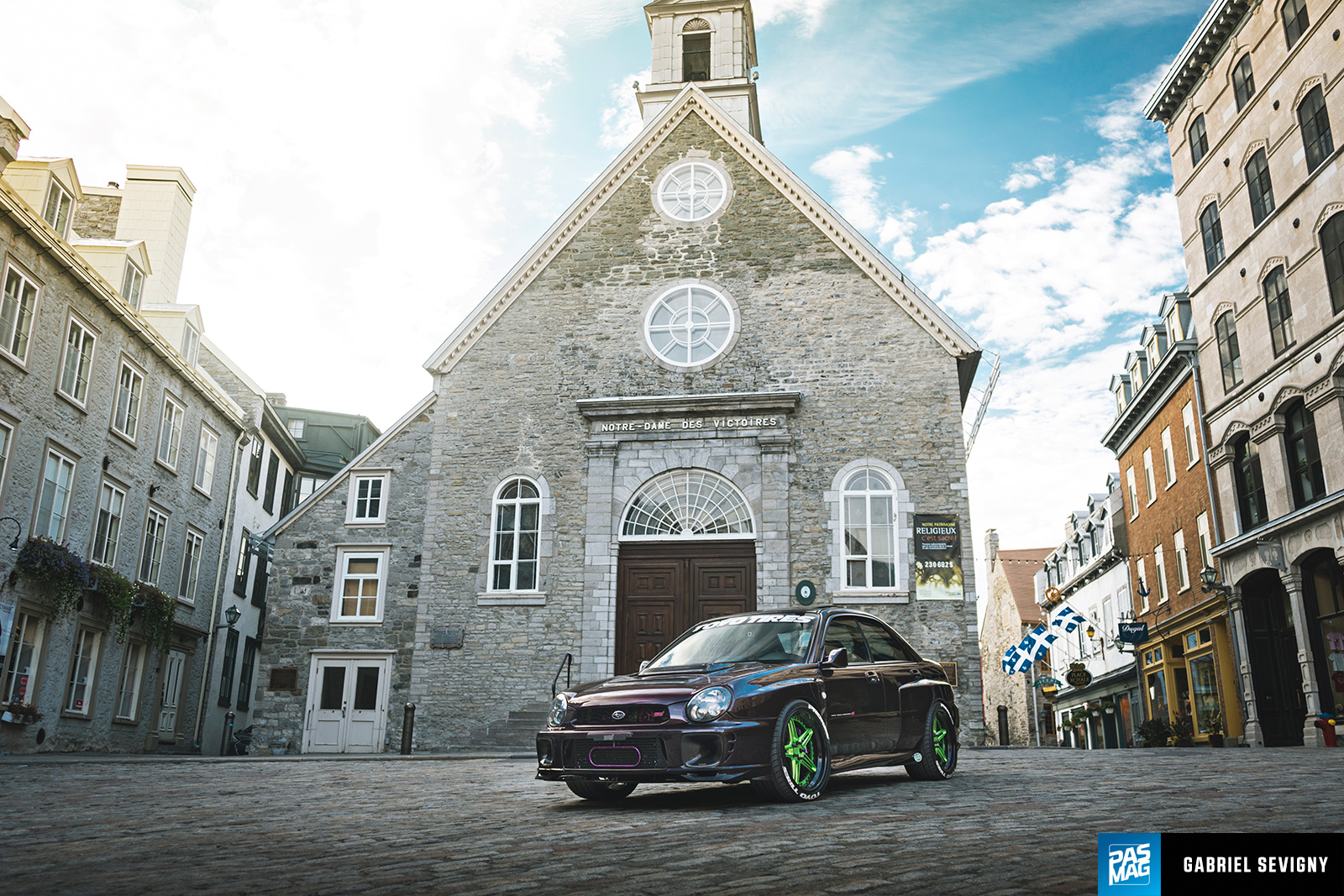 "Always do it for yourself and not for others," Guerette proudly says. "So many things have changed in my life from when I started. I'm very proud to have built this car myself. Always believe in yourself; it's the best thing I learned from this project."