If modifying a car doesn't almost break you spiritually or financially, did you really even build something or have fun along the way? As the owner of a fairly rare 1987 Acura Integra with little to no model-specific aftermarket support, Abner Arguilla has an encyclopedic knowledge of all the local 'Teg and Civic part-outs and junkyard inventories, plus the masochistic "no pain, no gain" attitude to back up going broke for the right, period-correct parts. The challenge of putting it all together, exactly as it's supposed to be, is where he thrives.
Arguilla cut his teeth on working on his personal "lilred" Ford Escort GT, as well many customer cars, in the late '90s and early 2000s at a plethora of speed shops in the San Diego area. While accumulating knowledge during the week and racing the streets of Southern California on the weekend, his Escort would go from NA, to bottled, to boosted in the search for more power. This would all come to a long pause, however, as adulthood came knocking. For more than 14 years, Arguilla's auto enthusiasm would lose the driver's seat to personal responsibility, only to come racing back with a vengeance in the form of one, simple, innocent thought: "I should buy an old Honda with pop-up headlights"
"In 2017 is when the car scene bug got me again," Arguilla explains. "In my search for a 1990s-era build, I came across my current rare gem, my 1987 Acura Integra LS. It was a little on the high-side in price for these cars, but I felt I had to have it - great condition for its age."
When the first generation Integra made it overseas to bolster a fledgling Acura's North American luxury lineup, it carried a lot of excitement with it. Available in a three-door, and then later a five-door, the Integra would also bring accessible DOHC multi-valve engine technology to the masses, which was super rad in the '80s. The power numbers - right around 113 horsepower in the later models - were not so rad, especially by today's standards. Remember though, we're dealing with a retired street racer here. Let's more than double that power figure, shall we?
Honda's D16A1 inline-four has been treated to a full rebuild, being bored out an additional 76 mm and stuffed with racing-spec pistons, valvetrain, adjustable cam gears, and fuel injectors. The crown on top, the Greddy turbo kit, is correct to the era, being a refurbished 1992 to 1995 D-Series system that's been modified to fit the '87 Integra and accommodate the freshly-rebuilt TD05H turbocharger. Accompanied by all the ignition, boost, and fuel electronic wizardry you'd expect from MSD, Greddy, Apexi, and SPA, Arguilla expects the over-30-year-old engine to put down 250 horsepower at 13 pounds of boost when its 15-inch SSR Type-X wheels hit the dyno.
Moving on from the small, lightweight wheels, Arguilla's Integra is a perfect example of a tasteful, performance-focused sport compact of the era on the outside as well. A Kaminari wing sets things off out back, while the custom hood vents become self-explanatory once you know about the party under the hood. Squatting the Acura are the Medieval Pros, which not only have the coolest name for a suspension set, but are a set of exclusive height-adjustable dampers resulting from the partnership between Tein Japan and the Honda chassis specialists at Heeltoe Automotive, in Oregon. Torsion bars from Heeltoe, as well as a panhard bar and camber and toe kits from Cheddas Auto have the Acura sitting right and tight.
Inside, among Buddy Club harnesses and gauges galore, Arguilla says his favorite part has to be the stuff you can touch. The matched wood-grain steering wheel and shift knob really drive home that fact that this car is a classic.
"I love the car community and being able to share and help others," Arguilla says of the fuel to the passion that put this Integra together. "It's just plain fun. Just be passionate about whatever it is that you love to do. Don't let anyone discourage you. You do you."
The nightmare of sourcing unicorn parts and coming up with all-new curse words when you mess up some moulding or break a clip seems absolutely worth it when the end result is something as genuine as the "lilredteg" we see here. Stories like Arguilla's go to show that if you're willing to deal with the pain, your gains are really only limited by your imagination. Oh, and money. Money definitely helps.
Abner Arguilla is the winner of the PASMAG Tuner Battlegrounds #TBGLIVE award category at StanceCon: Sandy, UT. Click here for more info
Abner Arguilla's 1987 Acura Integra LS is featured in PASMAG #167. Click here to order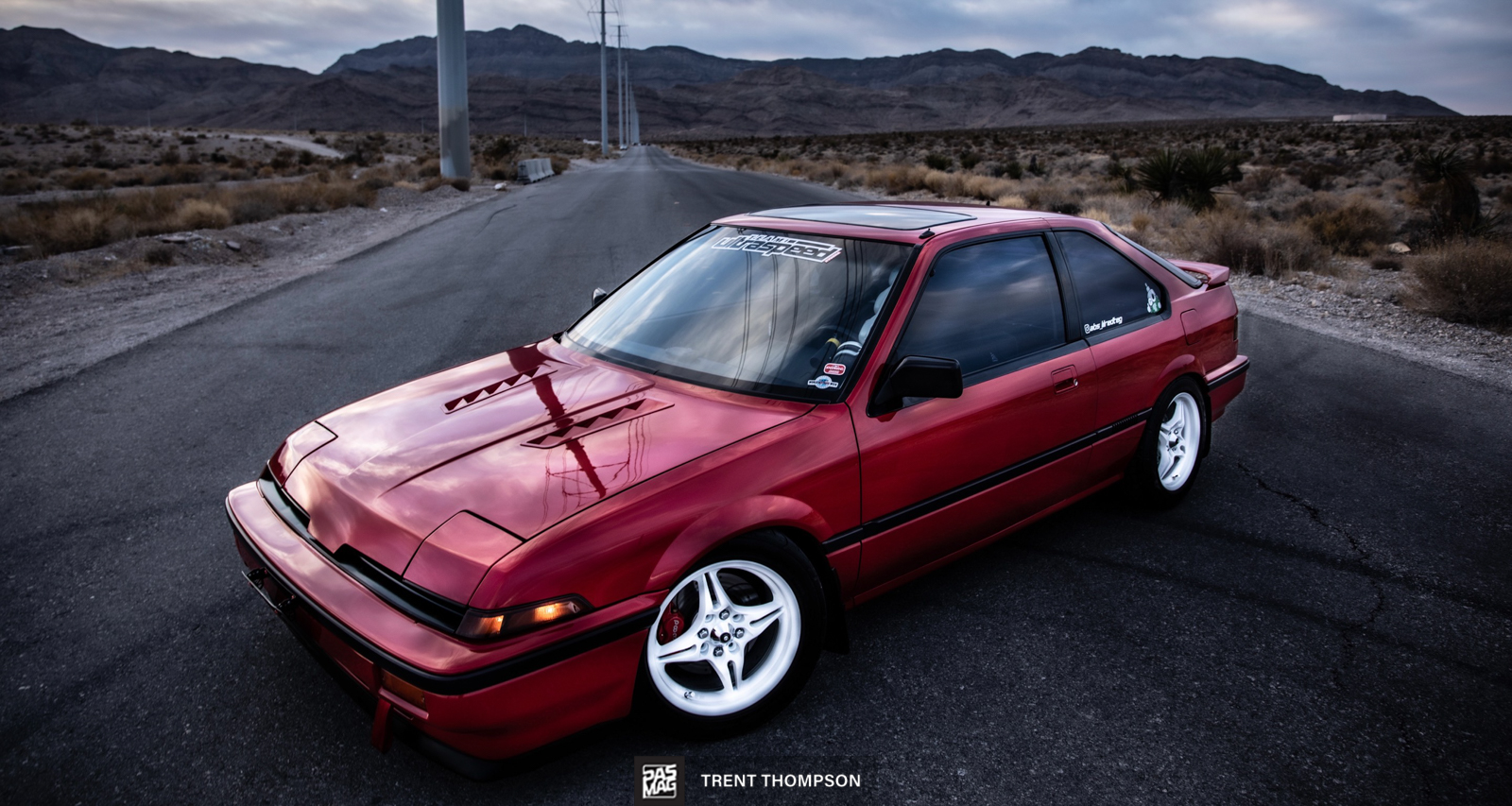 ---
PHOTOGRAPHY BY Trent Thompson (@t3_car_photography)
ESSENTIALS
Owner: Abner Arguilla
Location: Las Vegas, Nevada, USA
Vehicle: 1987 Acura Integra LS
Horsepower: 250 hp @ 13 psi (est.)
Club: Team Ultraspeed Worldwide
SOCIAL
Instagram: @abs_lilredteg
Wheelwell: /abner-arguilla
ENGINE
Honda D16A1 DOHC engine (bored 76 mm)
ACL engine bearings
ARP head studs
Nippon Racing pistons
Supertech valve spring kit w/ 3-angle valve job
Bisimoto adjustable cam gears
Greddy (Type-S blow-off valve, modified D-Series turbo kit, rebuilt TD05H turbocharger, Profec B boost controller & turbo timer)
Osidetiger 360cc fuel injectors
SPA Turbo FMU
Apexi 5-knob AFC
MSD (6 Series ignition control, Blaster 2 ignition coil)
Nology ignition wires
EXHAUST
DRIVETRAIN
ACT clutch kit
Fidanza aluminum flywheel
WHEELS / TIRES / BRAKES
SSR Type-X wheels - 15x6.5 (f/r)
Falken Azenis tires - 205/50 R15 (f/r)
Wilwood BBK
CHASSIS / SUSPENSION
HeelToe Automotive 27-mm torsion bars
Cheddas Auto (camber/toe kit (f/r), adjustable panhard bar)
Tein Medieval-Pro damper kit
EXTERIOR
Kaminari wing
Custom hood vent extractors
INTERIOR
Momo steering wheel
NRG quick release
Buddy Club harnesses
Autometer Sport Comp (Monster tachometer w/ shift light, boost/vacuum gauge)
Accel AFR gauge
SPONSORS
ImportCulture.com
PureJDM
Hirevz Clothing
Realsh1ft
Oneup Acrylix
Exotic Shine Mobile Detailing
313 Signworks
Top Ups
CRZZ Designs
---
PHOTO GALLERY