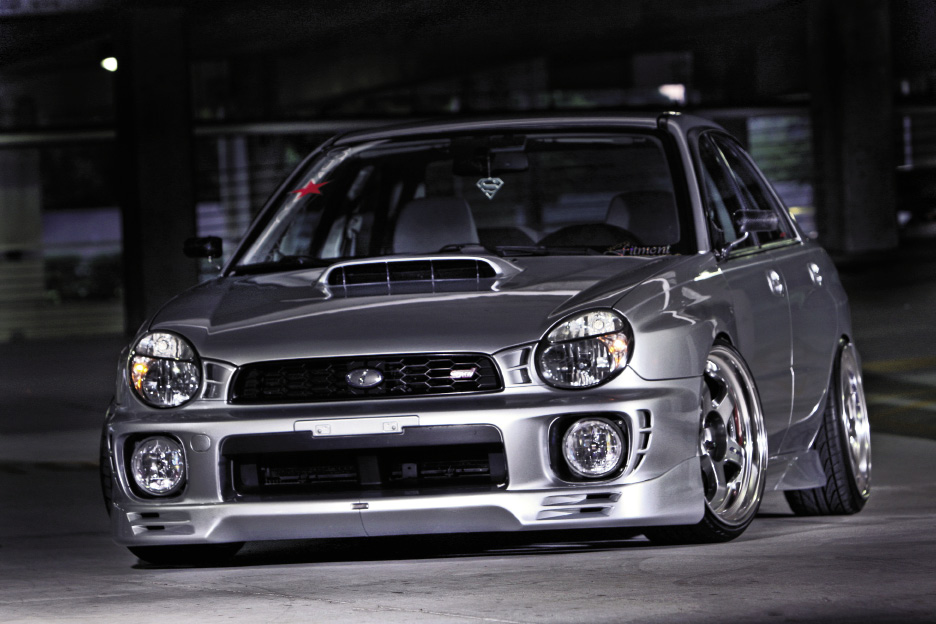 Written by Dave Pankew | Photos by Ravi Angard
When it comes to building a car or working on any project, good results take time. Erick Davis of Tampa, FL claims that he just really likes his car and decided to take his time modding it since the day he bought it back in 2002. That's right, for over eight years Davis has been tweaking his beloved Subaru WRX and wrenching away performing almost every mod possible. He even went as far to list out the OEM maintenance, TSBs and all the free mods he could find on NASIOC. Everything has been addressed and the results speak for themselves.
Davis also lists many of the mods and custom items on his car as the "DJerickd" brand. The name comes from his username on Internet forums, and was used for things he made himself. There are almost too many items to list, but we included the highlights in the spec sheet to give him props for making all that happen himself. Then again, he has had the car for almost a decade, so time was not a factor.
For Davis, he wanted his hard work to attract sponsors and his efforts paid off. His list of sponsors includes Aquamist UK, Carbon Mods UK, Torque Solution, Kartboy, GrimmSpeed, and SGMotorsports but one of his biggest supporters has always been Prosport Inc. Prosport Gauges has done well for themselves in a crowded market of performance gauges.
Only a few years ago there wasn't much to choose from and it was all expensive. Prosport's competitive pricing and Swiss-made stepper motors in their Premium line definitely satisfies customers. The Florida-based company partnered with Davis because they knew he would get the results by being active at events and with local clubs. So Prosport hooked him up with blue Digital series: Boost, EGT and O2 on the dash all in 52mm sizing.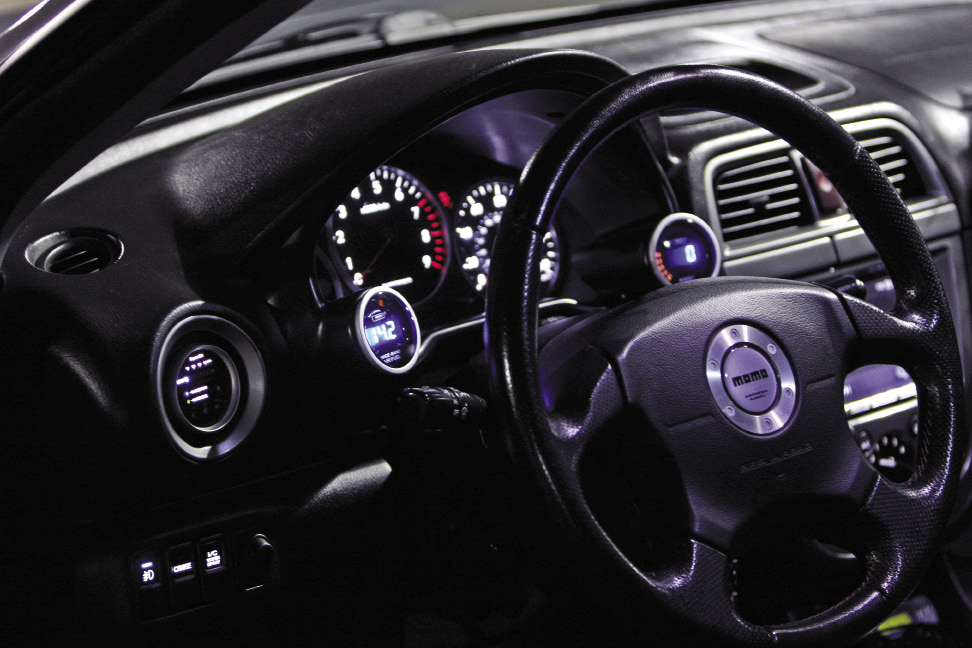 These gauges feature large digital display to keep an eye on the motor functions. The Prosport gauges feature updated sending units for unparalleled accuracy on the vital signs under the hood. Davis also used Prosport fiberglass header wrap to help insulate certain areas under the hood.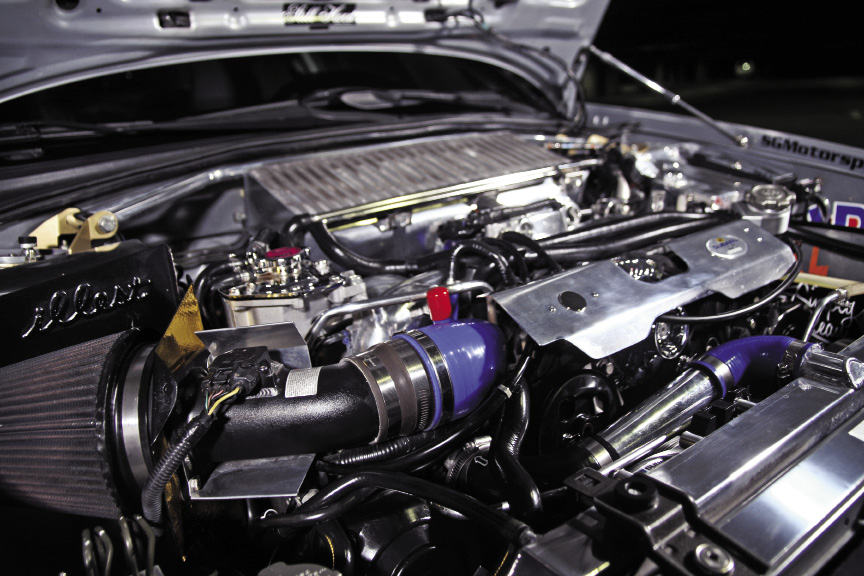 Speaking of under the hood, Davis has made some decent progress on his boxer. The turbo has been upgraded to an IHI VF39 Turbo regulated by a TurboSmart 38mm wastegate. The exhaust dumps into Synic Equal Length Header and a Slow Boy modded Invidia stainless up-pipe and down into an M2 3-inch turbo-back. Air is hauled in with a K&N Typhoon intake which has some custom gold foil touches courtesy of Davis himself.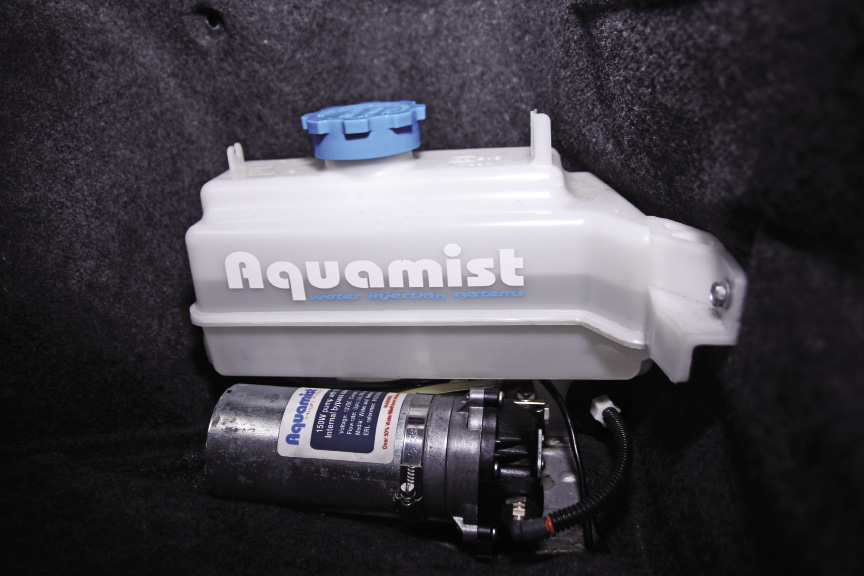 From there the attention was focused on installing a prototype Aquamist HFS-5 water/methanol injection kit and tuning it for maximum gains. The engine was then open-source tuned by Jeff "Snowman" Snow and now puts down around 325whp. The extra ponies were going to be hard on the running gear, so the flaky stock clutch was pulled in favor of an Exedy clutch and lightweight flywheel along with a Driveshaft Shop aluminum replacement shaft. The upgrades ensure that Davis can punch the car and put power to the ground on demand without snapping anything.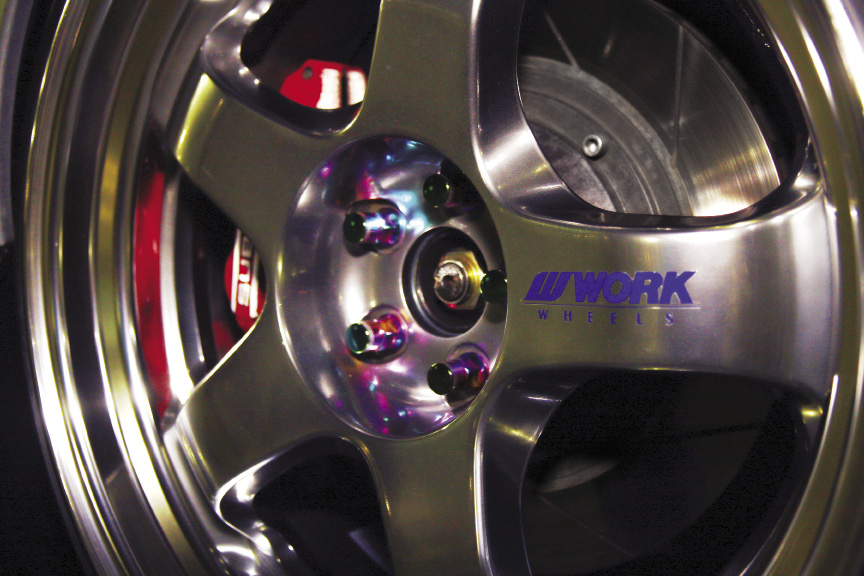 The suspension and chassis received the most attention. Nearly every component is upgraded and Davis had to scour the world to find it all. Items from: COBB Tuning, Whiteline, Cusco, Kartboy, Megan and even JDM STi components have all been fitted to the WRX, representing many different countries! With the right coilovers and the right suspension arms, the handling is very capable and is only ramped up by the many chassis braces that Davis runs. The athletics are due in part of the Dunlop DZ101 215/35R19 tires wrapped around burning black Work Meister S1 19x9-inch +20 wheels finished off with Prosport's very sweet Carbon Fiber valve stem caps. Running JDM 4-pot calipers, the braking gets a shot in the arm with Powerslot Plus 13.4-inch big front rotors, Legacy H6 rear rotors and EBC Red Stuff pads.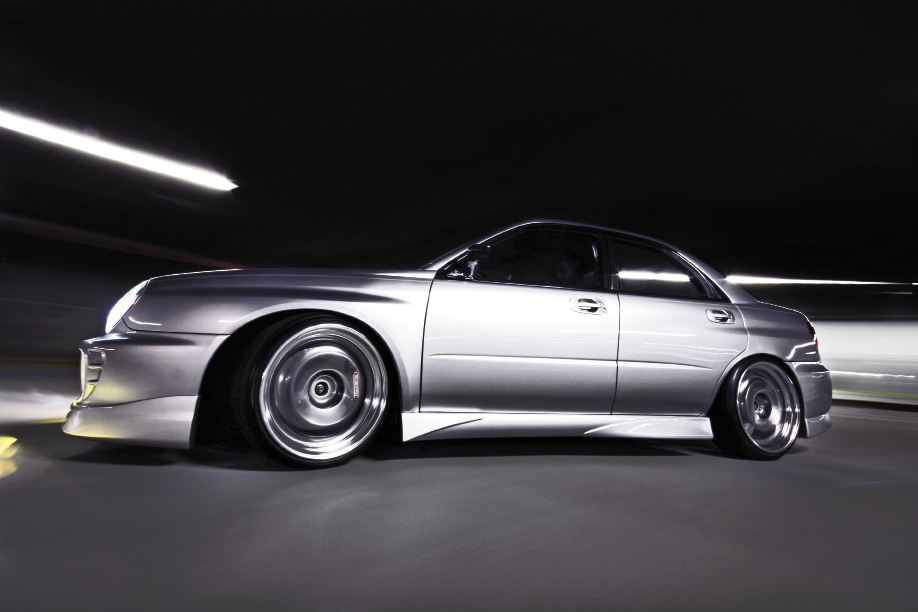 The exterior is understated in typical Subie fashion. Everything is clean and shaved just the way we like 'em (Subarus, I mean). The car was shaved of corner lights, badges, and locks and fitted with a custom rear window spoiler and EGR sideskirts. Then a bunch of JDM STi goodies were added including front lip, rear diffuser, rear lip spoiler and of course, STi badging. After the fenders were rolled to perfection, the WRX was shot in a fresh coat of PPG Platinum Silver paint to wrap it up.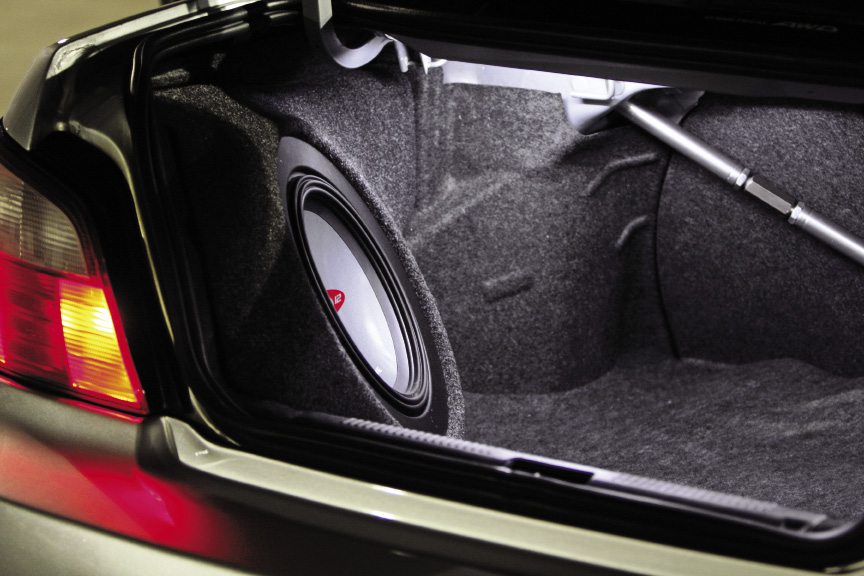 Inside the cabin, the upgrades are primarily JDM STi goodies and the aforementioned Prosport gauges along with Prosport's factory matching aluminum dead pedal. But Davis is a sucker for a good audio system and sided with Alpine Electronics to make it happen. The system is built around the Alpine iXA-W407 Digital Media Station with an innovative Alpine KTP-445 mini amp lurking behind it to power the SPR-17C 6.5-inch 2-Way speakers. The lows are shipped to an Alpine MRP-M500 mono amp to spark up the Alpine 12-inch Type-R subwoofer in a custom Audio Integrations enclosure.
As a regular daily driver, Davis has something special here. Sure, the car isn't going to kill it at the Time Attack or drag strip, but he has a nice all around cruiser with all of the gadgets and luxuries.
ESSENTIALS
Owner: Erick Davis
Location: Tampa, FL
Vehicle: 2002 Subaru WRX
Engine: Subaru 2.0L EJ20 Flat-4
ENGINE
IHI VF39 Turbo
TurboSmart 38mm Wastegate
SlowBoy modded Invidia stainless uppipe and dump tube
Synic Equal Length Header
K&N Typhoon intake w/gold foil heat shielding
Aquamist HFS-5 methanol/water injection w/DDS3 v8
Worx Tuning lightweight crank pulley
SG Motorsports Air/Oil separator
djerickd polished/modded OEM BPV
djerickd ported & polished intake manifold
djerickd ported & painted red TGV's
djerickd polished turbo heatshield w/gold foil
djerickd polished aluminum radiator hose
djerickd 3M urethane filled engine mounts
M2 3-inch Turbo back exhaust
Hondata TGV manifold gaskets
Deatschwerks 650cc injectors
Walbro 342 fuel pump
Weapon R polished aluminum coolant/washer tank
Deka ETX20 lightweight battery
PWR aluminum radiator
Ported & mirror polished Throttle body by WRX03
Prosport Inc. Fiberglass header wrap
ENGINE MANAGMENT
Open source tuned by Jeff "SnowMan" Snow
Driveline
DriveShaft Shop aluminum driveshaft
Exedy Clutch and Lightweight flywheel
WHEELS, TIRES, BRAKES
Work Meister s1 19x9-inch +20
Dunlop DZ101 215/35R19
Muteki Neo-Chrome lugs
JDM 4-pot Calipers
Powerslot Plus 13.4-inch big front rotor brake kit
Racing Brake Legacy H6 rear rotor conversion
EBC Red Brake pads
Goodridge stainless braided brake line
Prosport inc. Carbon Fiber valve stem caps
SUSPENSION, CHASSIS
Megan Street coilovers and rear trailing arms
Whiteline rear sway bar mounts and bushings
Whiteline Front Center adjustment kit
Whiteline rear subframe locks
Oswald Performance lightweight rear bumper beam
Hairpin Racing rear pillow-ball end links
Solid aluminum fender cowl braces by Freddie32001
COBB 25mm front sway bar
Cusco rear adjustable 22mm sway bar
TiC transmission crossmember bushings
Kartboy shifter and rear diff bushings
CL Development rear X-Brace
Replica STi strut bar
Replica STi underbrace
EXTERIOR
PPG Platinum Silver paint
Chargespeed Type 1 rear bumper
Shaved front corner lights, antenna, trunk, trunk emblems and keyhole
Virjose rear window spoiler
EGR Sideskirts
STi Rear lower diffuser - djerickd custom mounts
STi limited rear spoiler
APS TMIC splitter
JDM STi Front lip v2.0
JDM STi v7 hood scoop
JDM "I" grill badge
JDM STi Genome grill sides
INTERIOR
2006 WRX TR seats and door panels
Prosport Gauges Digital Series 52mm Boost Gauge (-14inHg ~45psi)
Prosport Gauges Digital Series 52mm EGT Gauge
Prosport Gauges Digital Series 52mm Wideband AFR kit.
Blitz FATT DC
JDM STi v7 steering wheel
JDM Spec-C Red Hazard button
JDM STi replica shift trim
Prodriven full interior LED conversion in white/blue
Momo/Subaru shift knob
Prosport Inc. Aluminum Dead pedal
AUDIO & MULTIMEDIA
ALPINE iXA-W407 - Digital Media Station
ALPINE KTP-445 - Head Unit Power Pack Amplifier 45Wx4
ALPINE MRP-M500 - Mono Power Amplifier 500Wx1 2ohms
ALPINE SPR-17C – 6.5-inch coaxial 2-Way Speakers
ALPINE SWR-1242D - Dual 4ohm 12-inch Type R subwoofer
Audio Integrations Perfect Fit 12-inch sub enclosure
SHOUTOUTS
Team Sun*Works
Glenn & Ryan @ Prosport Gauges www.prosportgauges.com
Richard @ Aquamist UK
Jay @ Torque Solution
Austin @ SGMotorsports
CarbonMods UK
FloridaSubarus.com
NASIOC.com
S&R Performance Tampa, FL