Photos by Danny Batista
---
A seriously unique take on the EF sedan.
How does one even start when it comes to modifying a Honda? Out of all the platforms to wrench on, it seems as though the offerings from the aftermarket are almost endless for Hondas, no matter which direction you should decide to take. When you decide to build a Honda, you're really spoiled for choice, and above all, it's affordable. It's the reason a vast number of us started on these platforms.
For Jud Lagunas, he actually picked his four-door Civic EF sedan as an affordable family car. I'll let him explain.
"I purchased the car as a cheap, affordable, simple, JDM-style, old, boxy, gas saving family car," Lagunas lists off. "I was the young, broke father of a two-year-old. It was everything I needed, and parts are all over junkyards for EFs!"
After picking up the faded red (more pink than anything) and beaten up EF, with a strangely spotless black interior, Lagunas couldn't help but start to develop a vision of that this car could be if he put some work behind it. He couldn't resist, as the Civic is in his wheelhouse of being old and Japanese.
"I've been a die-hard car guy since my crawling days," says Lagunas. "As I learned to read, I discovered Japanese cars and it stuck as my choice genre. I'm a true auto enthusiast, and I love and have built all makes and models, but nothing compares to my import passion. I mainly love the classics, pre-1990.
At the time of acquiring the Civvie sedan, Lagunas was a paint and body apprentice in a body shop for a few years. As you can imagine, the pinkish paint and beaten body didn't last long. In about three weeks, the car had been straightened out and received the bold and golden paintjob that it's now known for, and giving it the moniker "Goldy."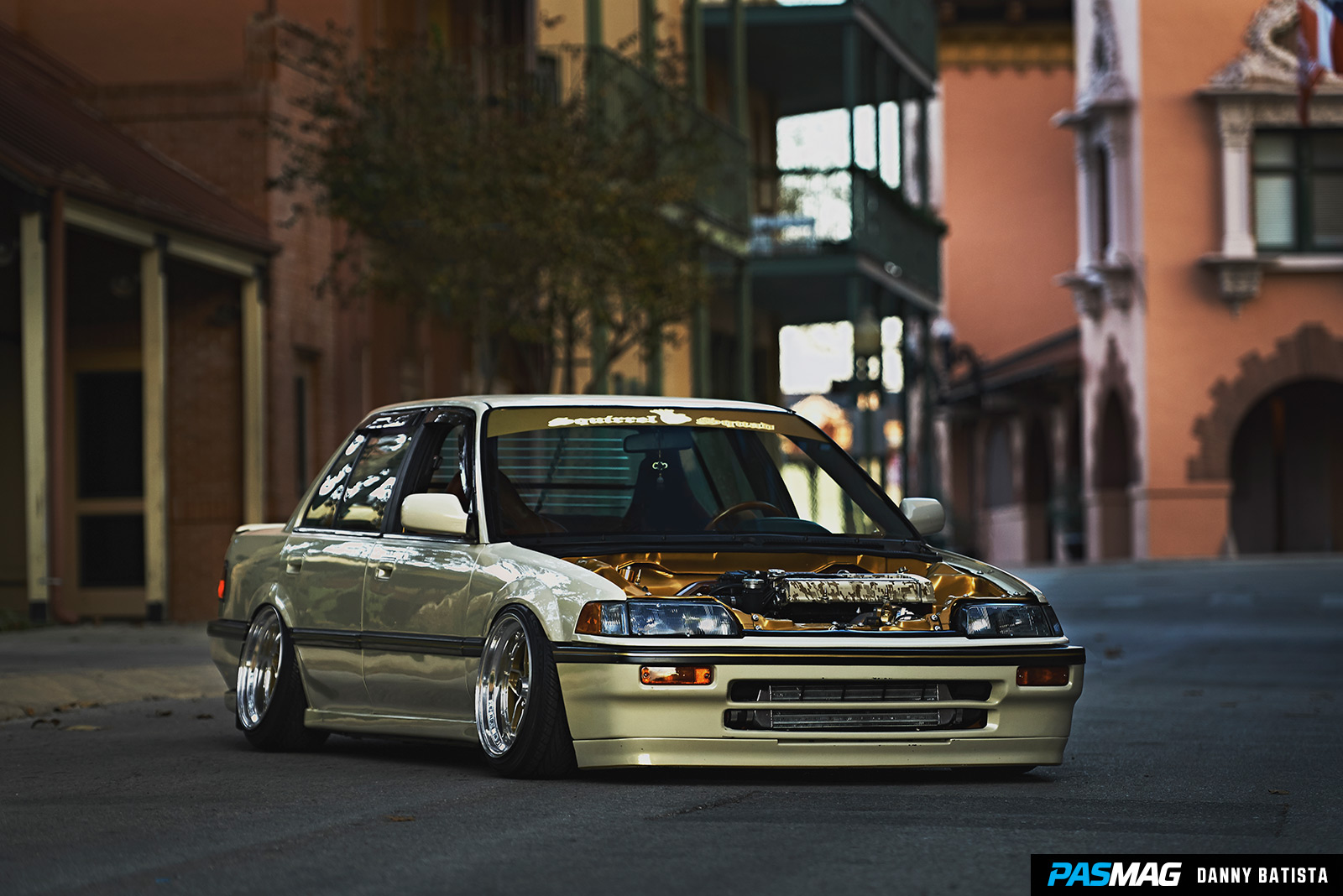 Dropped on some new wheels and tires, plus the new paint-job, Lagunas was feeling pretty good about his new "family" car. So much so, that he decided he'd start up his own little car crew as a joke. He gave himself the humorous name "Squirrel Squad," and started meeting new enthusiasts at meets. To his surprise, Lagunas ended up meeting enthusiasts that were like-minded and were interested in building some high quality show cars from their imports. Squirrel Squad went from a joke to a real thing, and became a driving force for Lagunas to chase his vision for the EF.
"We fed off of each other as motivation and had a great time doing it," Lagunas recalls, smiling. "The vision I had for my car became more in-depth. This continued for five years, leading to today where I'm just wrapping up some of the final touches it'll receive for a the next few years."
Soon, another car had to come into the picture, as the family car was becoming a show car. The most time intensive and challenging part of the EF's build would have to be the engine bay, as it went through a few iterations. The single-cam D-series would be swapped out for a B-series dual, non-VTEC. Lagunas would go on to work on shaving and tucking the bay, plus repainting it in a creamy tan pearl shade, all on his own. He debuted his handiwork at Wekfest Houston 2013, which won no awards, but took home a lot of attention and appreciation from show goers. It had Lagunas in high spirits on his drive back home to San Antonio – until the unthinkable happened.
"A fuel leak sparked a major fire," he says, reluctantly remembering. "The hood latch was first to melt. I fought like a mad man to open the hood and put out the flames. With the help from an angel-like Walmart 18-wheeler driver, we got the fire out leaving only the new bay and front end destroyed. With no money to rebuild, I was crushed."
With years of handiwork down the drain in a matter of minutes, Lagunas was feeling hopeless with his vision of the final form for EF more distant than ever. However, this is where having fantastic friends in your life pays off in spades. With help from his Squirrel Squad teammates and "H Car" and "Skunk" from San Antonio Imports, a benefit car show and dyno day was organized to help Lagunas get back on his feet and back under the hood of his beloved Civic.
"[The benefit show] helped raise me the money I could use to invest in small projects and ultimately rebuild as soon as I could," Lagunas says, beaming. "Seven months later, and right in time for Wekfest 2014, she was ready."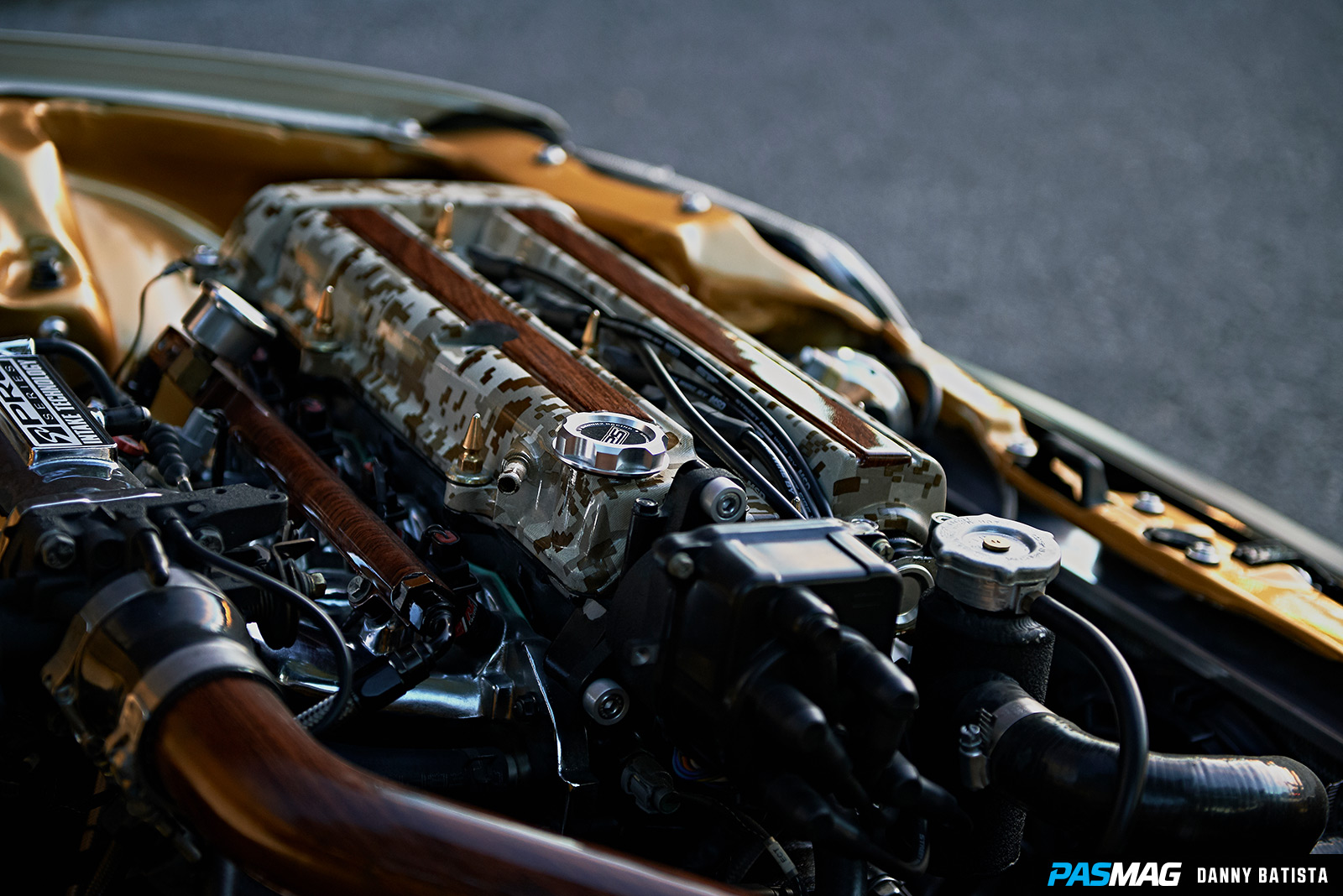 This iteration of the car is the closest to the one you see here, just not as dialed in and touched up. The bay was re-shaved and tucked with a B18A1 sitting cozy inside with a T3/T4 turbocharger setup bolted on to make up for the magical powers of VTEC not present. Lagunas also switched up his specialty of paint and body to wheel refinishing, picking up a set of Image Billet 81 three-piece wheels and restoring them to his liking. The 9.5-inch wide wheels are stretched over some 205 width tires all around and tucked via Skunk2 camber kits in the front and rear.
There are some interesting choices made on the exterior of the Civic, but it just lends to the uniqueness of this build. For one, Lagunas reversed the colors of his body and bay, making the outside a creamy tan color, while the engine bay took on the original gold for a neat contrast. The lip kit on the car is exactly what you're not expecting, as their not specific for the EF whatsoever. The front lip has been retrofitted from a 1993 Volvo, and the skirts come courtesy of a '90 Honda Wagovan.
The inside carries a throwback theme of brown leather and woodgrain, another telltale sign of Lagunas' appreciation for the classics. The Personal steering wheel's woodgrain matches the custom inserts throughout the interior, and the Tenzo R seats up front are reupholstered in the same brown leather that now coats the rear seats and even the door cards. To really nail the vintage theme, the rear window dons some old school Auto Venetian blinds!
Lagunas' ride shows a few really important points that people should know when delving into the world of building their own car. For one, it takes a lot of time. You may see some "builds" happen in a matter of months on Instagram, but ones like these, built in garages by the hands of their owners can take years to get to where they are now. Another point would be that you don't need to stick to a rule book. Yes, Honda has a huge aftermarket, and they even have their own tuning arm, Mugen, but if you stay creative and make your own vision work, you set yourself even farther apart from the pack, like the Civic sedan you see here.
Goldy is just about finished, or as Lagunas would say, "reached her final form." A few more finishing touches, and then it's on to something new!
"Building hard-fitted quality show cars is my passion, and this is just the beginning of my journey," Lagunas says.
If his next build is anything as quality as this EF, we wish him all the luck in the world.