Photos by Angel Hernandez (@shot.by.angel)
---
Michael Regaspi's Acura TSX started with humble beginnings as his daily driver and family car. However, being a car enthusiast to the core and having previous build experience with a Del Sol show car and an RSX Type S fixer-upper, it was only a matter of time before the modifications started. Not long after being claimed the "family" car, it quickly became a full-blown show car that just happened to transport his family.
Regaspi tells us that the build process actually went smoothly with no hiccups or speed bumps along the way. "I've learned from past experience," he says, hinting that his time spent previously building other Hondas prepared him for this overhaul. "I take pride in my interior because I did all the work in it except wrapping the seats. I did all the paint and all the VIP tables in it."
Also in the interior is a loud audio system courtesy of a Planet Audio sponsorship thanks to Regaspi's friend Randy of Jackson Mobile Sounds. In addition to the entertainment-infused interior, he also takes pride in the custom Rootbeer metallic paint, even going so far as to claim it as his favorite aspect of the car, naming it as the biggest eye-catcher.
As an older enthusiast, Regaspi extends his thanks to the younger guys in his local scene, as well as his team. "Most of them are younger than me and when I see them building their cars it gives this old man inspiration to follow. Shout out to team CLYMAX." It's hospitality and inspiration like this that makes it hard to leave the car scene, and Regaspi is a perfect example of that. Keep on building!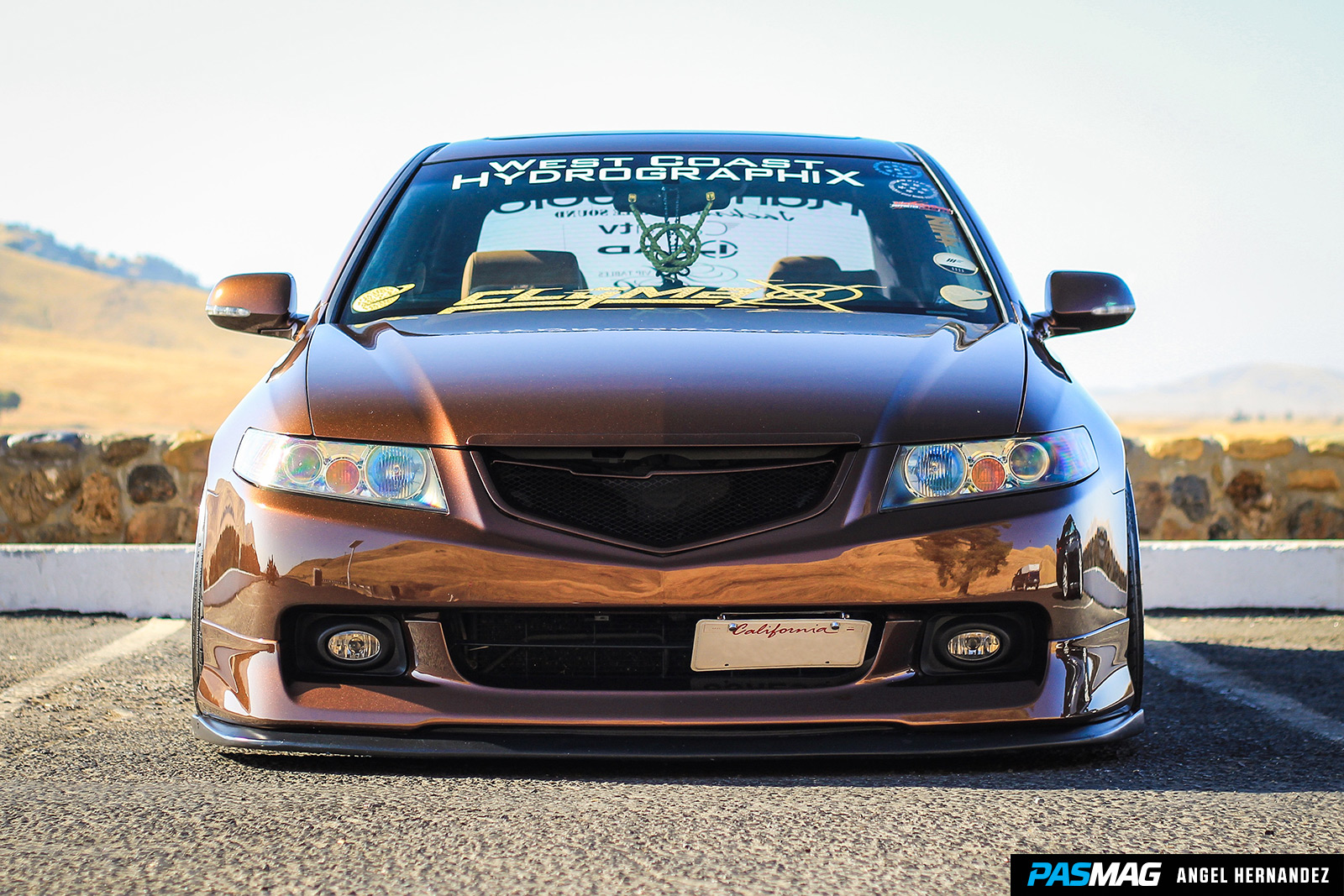 With 48% of the Popular Vote, the winner of the PASMAG Tuner Battlegrounds #TBGLIVE award category at Hot Import Nights: San Jose was Michael Regaspi with a 2004 Acura TSX!
ESSENTIALS
Vehicle: 2004 Acura TSX
Owner: Michael Regaspi
Location: Porterville, CA
Engine: Honda K24 2.4L I-4
Horsepower: 200 (est.)
Torque: 166 (est.)
SOCIAL
Facebook: Michael Regaspi
Instagram: @mr_vip.tables
ENGINE
K&N air filter
Hondata intake manifold gasket
EXHAUST
Skunk2 Megapower exhaust
Megan headers
Fastline test pipe
DRIVETRAIN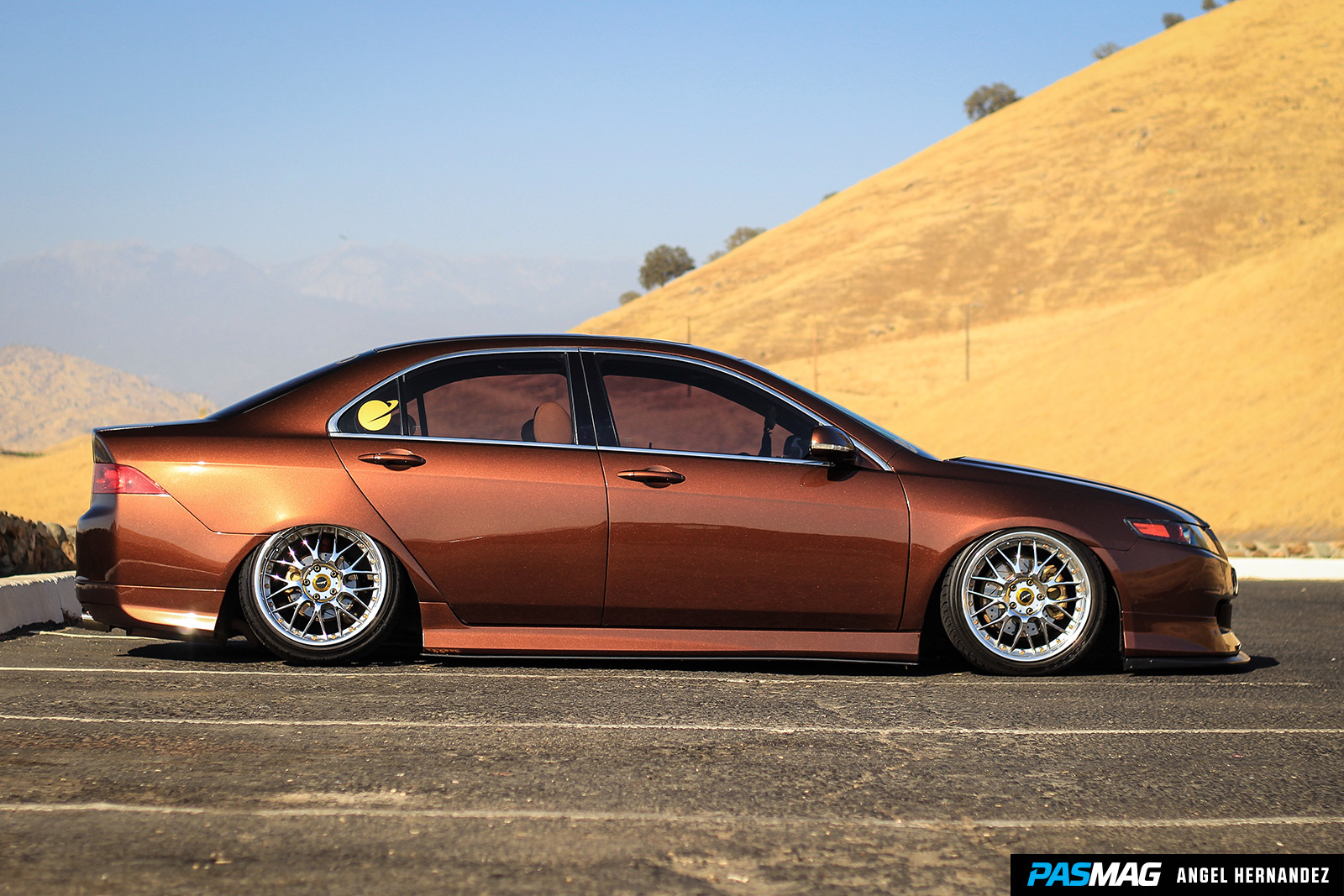 WHEELS / TIRES / BRAKES
Weds ERM wheels – 18x9.5 +45 (f), 18x10.5 +35 (r)
Falken tires – 225/40/18 (f/r)
StopTech (drilled and slotted rotors, braided lines)
CHASSIS/SUSPENSION
Function and Form Type2 coilovers
UAS Aerosport bags
Megan control arm and camber kit
EXTERIOR
Aspec (lip kit, front bumper, rear bumper)
Mugen grille
LPA (front splitter, side splitters)
Custom Rootbeer metallic paint
LED lighting
INTERIOR
Mr VIP Tables dash table
Golden tan leather (upholstery, shift boot, e-brake boot)
Samuel Adams tap handle shifter
NRG wood grain steering wheel
Viair gauges
Custom dash mount gauge pods
Painted dash and door panels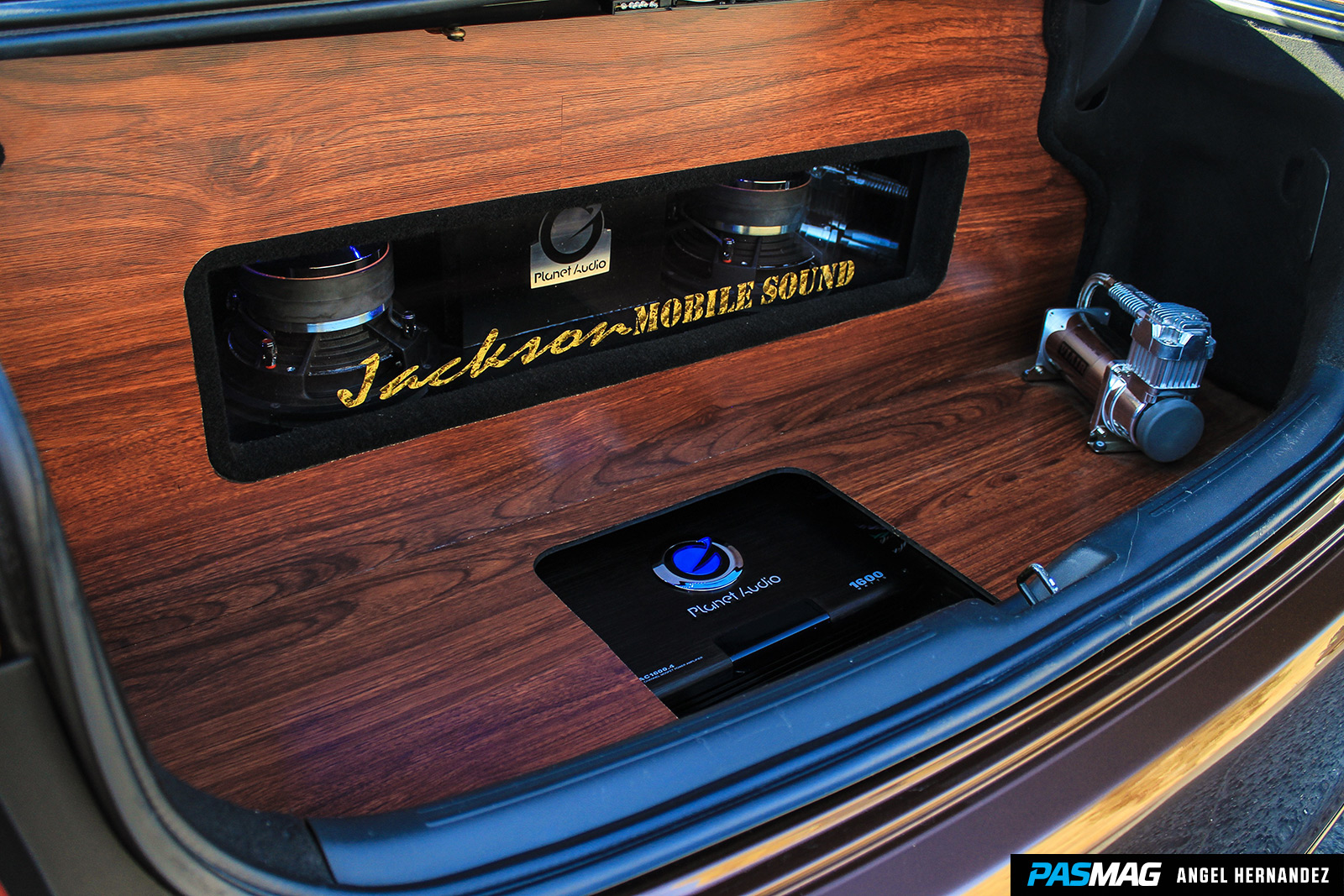 AUDIO/MULTIMEDIA
Planet Audio (P9759b head unit, PA300 processors, EC20b crossovers, AC5000.1D sub amp, AC2400.4 midrange amp, 6x9 mid bass, big bang components, P30TW tweeters, capacitor, DVD player, 12-inch rear monitors (2), 15-inch trunk monitors (2))
Atomic AP8 subwoofers (2)
Optima Yellow Top battery
Stinger (SPP1700 battery, front fuse holder, main power wire)
Nintendo Wii
SPONSORS
Planet Audio, Jackson Mobile Sounds, Lead Threads, Michaell's Upholstery