Photos by Ranger Ramirez
---
The Honda S2000 is a special car to a lot of people, Honda included. Initially introduced to the market in 1999 for Honda's 50th anniversary, the S2K was the pinnacle of Honda's engineering at the time all squeezed down into a compact sportscar chassis. This is the car that shared the same assembly line with the legendary NSX after all.
Not only was it engineered to be a true driving machine, the S2000 also had the power to back it up. By using advances made in its race teams, Honda planted the most powerful 2.0-liter engine at the time, the venerable F20C inline-four, longitudinally in the bay. The high-strung, VTEC-equipped four-cylinder makes approximately 250 horsepower – almost 125 horsepower per liter. Pair that with a six-speed gearbox, Torsen LSD, and rear-wheel-drive layout and you're laughing!
Laughing is exactly what Derek Covington was doing while behind the wheel of his friend's Spa Yellow S2000, almost nine years ago. Turns out he had such a good time that he had to have one himself. About a month after his joyride, Covington was the proud new owner of a 2003 Sebring Silver S2K.
Covington is no stranger to quick two-door sportscars, as he's owned and modified two 300ZXs (let's all have a moment of silence for his bank account). The first Z was Covington's first car, purchased at age 16 and modified until he could actually drive it. Sadly, it was short-lived; stopped at a red light, one of Covington's friends rear-ended him bad enough to write off the car. The second Z would get a more fulfilled life, which may be a little subjective, seeing as it was built in 2006 and The Fast and the Furious modification trend of flip-up TVs, PS2s, and gaudy body kits were still very much in style. Slowly, Covington's tastes grew apart from the car, and the S2000 became part of his life.
When he initially brought the S2K home, he had no plans to modify it and keep it as a daily. We all know how that story always pans out though, don't we? Soon, Covington would need a daily for his daily.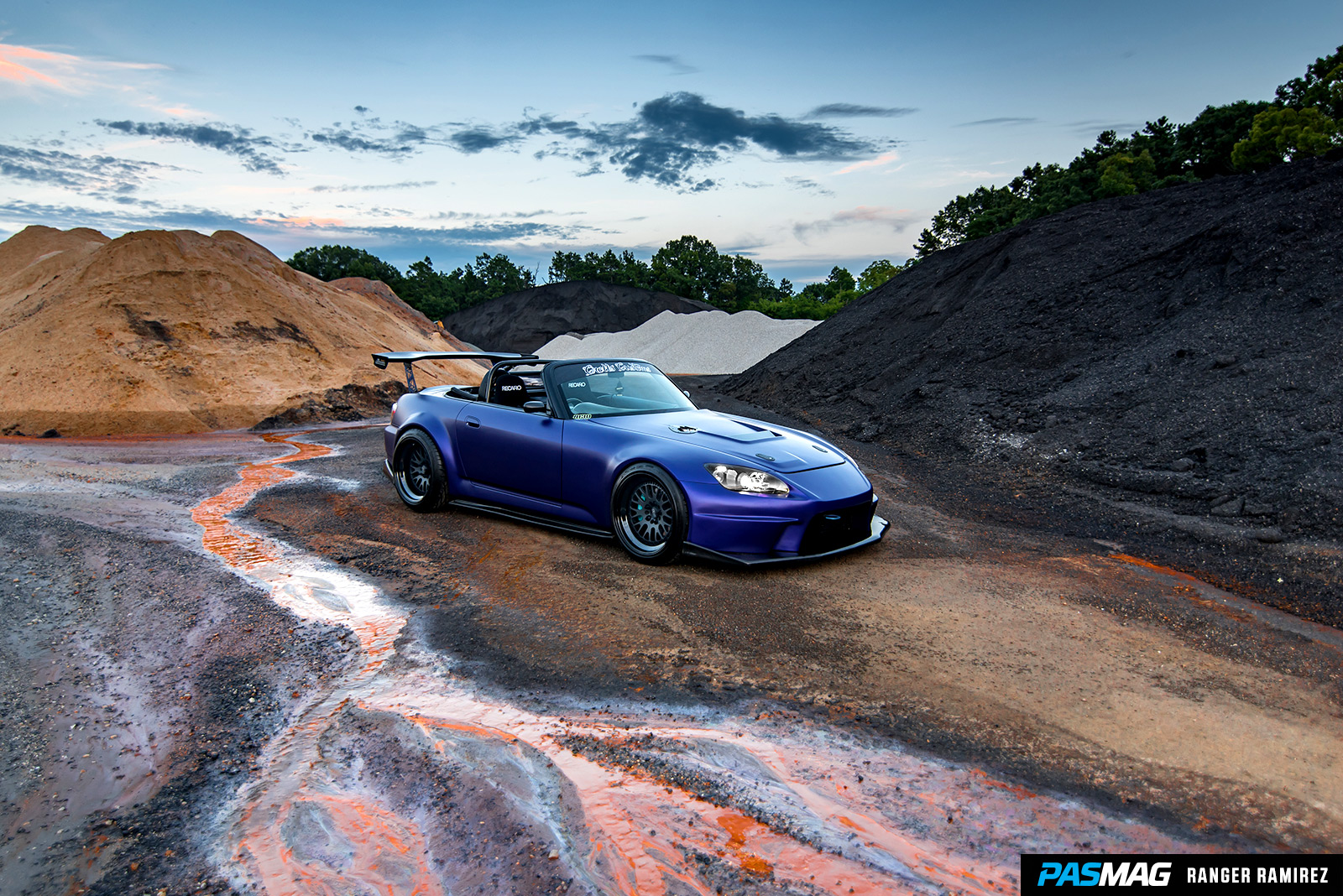 "Originally, the S2000 was supposed to be my daily driver with literally zero mods - maybe tint and exhaust," laughs Covington. "After I installed an exhaust on the car though, I went into a spiral of constantly messing with it and changing parts."
The transition from the silver S2000 of eight years ago, to the purple one we see today, started off in a completely different direction than how cars are inspired and built these days. Social media was still very much in its infancy, so Covington got his ideas and build plans from the S2Ki.com forums and even circled parts in car magazines to help him push through snags and make his Honda dreams take shape.
"I love the car as a whole," Covington says. "The platform just suits me. It's a vehicle I will most likely never get rid of, even if I park it in a garage and start a new project. My favorite part of the build has to be the engine bay. I just enjoy how simple we were able to make it, while still packing in all the important components to make it functional and not a pain in the butt to drive on the street."
The man says his favorite part is under the hood, so let's start there, shall we? No swaps here, just a nice build. The head of the F20C four-banger, pistons, piston rings, and connecting rods are all from Inline Pro, a purveyor of high-horsepower Honda engine machining and components, which should tell you exactly where this build is headed in the power department. This combination of power-packing goodies actually strokes the 2.0-liter out to a 2.4!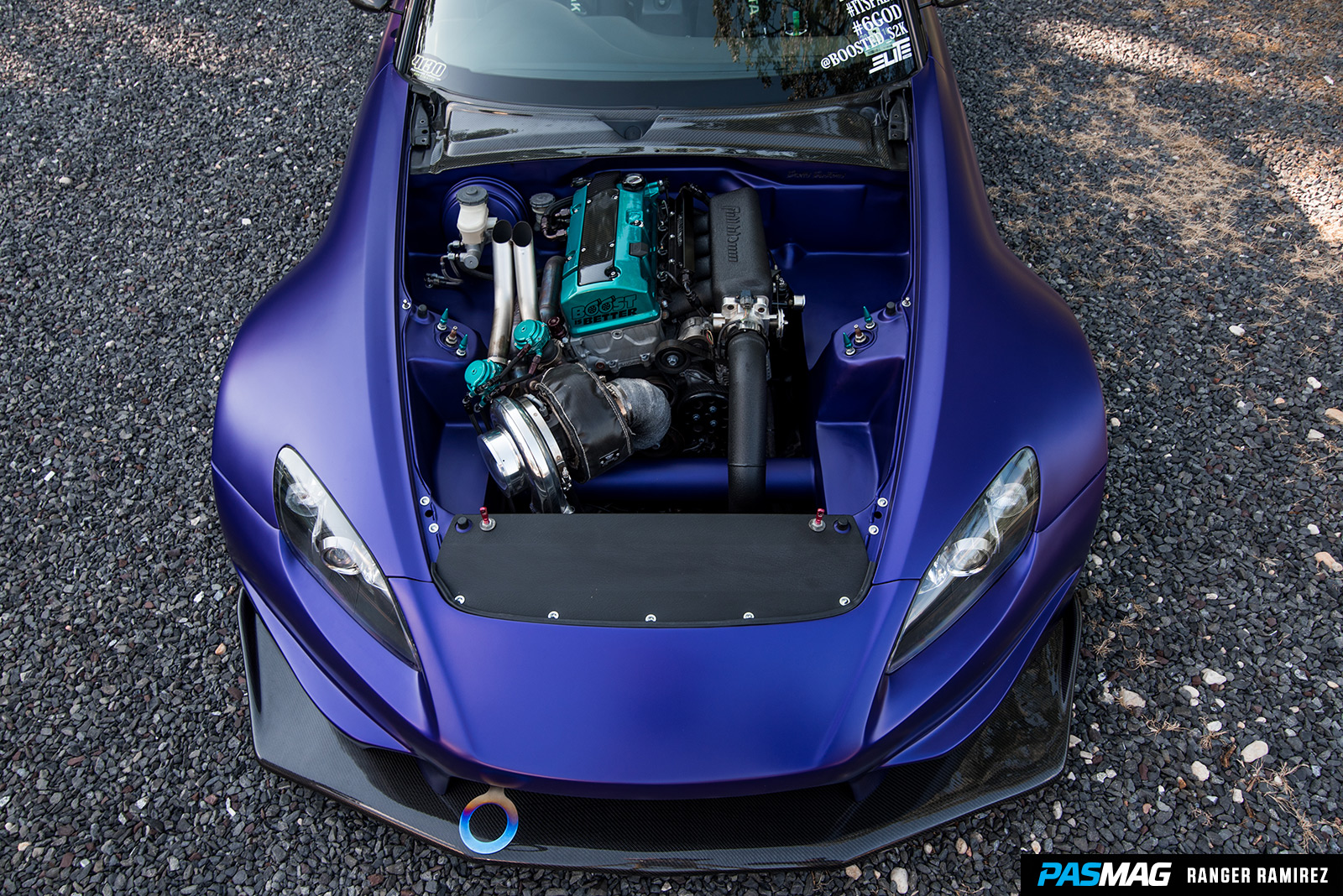 The F20C, on top of having a 9,000 rpm redline, is also a resilient engine that can handle all sorts of boost if supported properly. Covington has gone for a Borg Warner S400SX turbocharger for an extra kick in the pants, with a Full Blown Motorsports provided intercooler, enlarged throttle body, intake manifold, and fuel rail to maximize the whole setup. All in, this system makes a dyno-tested 730 horsepower and 560 pounds-feet of torque. What was that about slow Hondas again?
The beautifully built engine sits in a shaved and tucked bay by way of Josh Croll of Croll's Customs, who's touched quite a few things on this S2000. The icing on the cake is the custom 4130 Fabrication exhaust, which exits out of the hood in a twin dump-pipe configuration. Loud noises!
The aforementioned Mr. Croll also took his touch to the outside of Convington's S2K. Those wide hips you see there aren't molded on from a kit made by a 3D printer, these fenders are shaped the old school way - from metal. Now sitting an extra four-inches wider per side in the front and six-inches per side in the rear, the front Sorcery bumper, AP2 model rear bumper, and Voltex rear diffuser would all need to be widened to meet up. As you can see, their reunion went smoothly.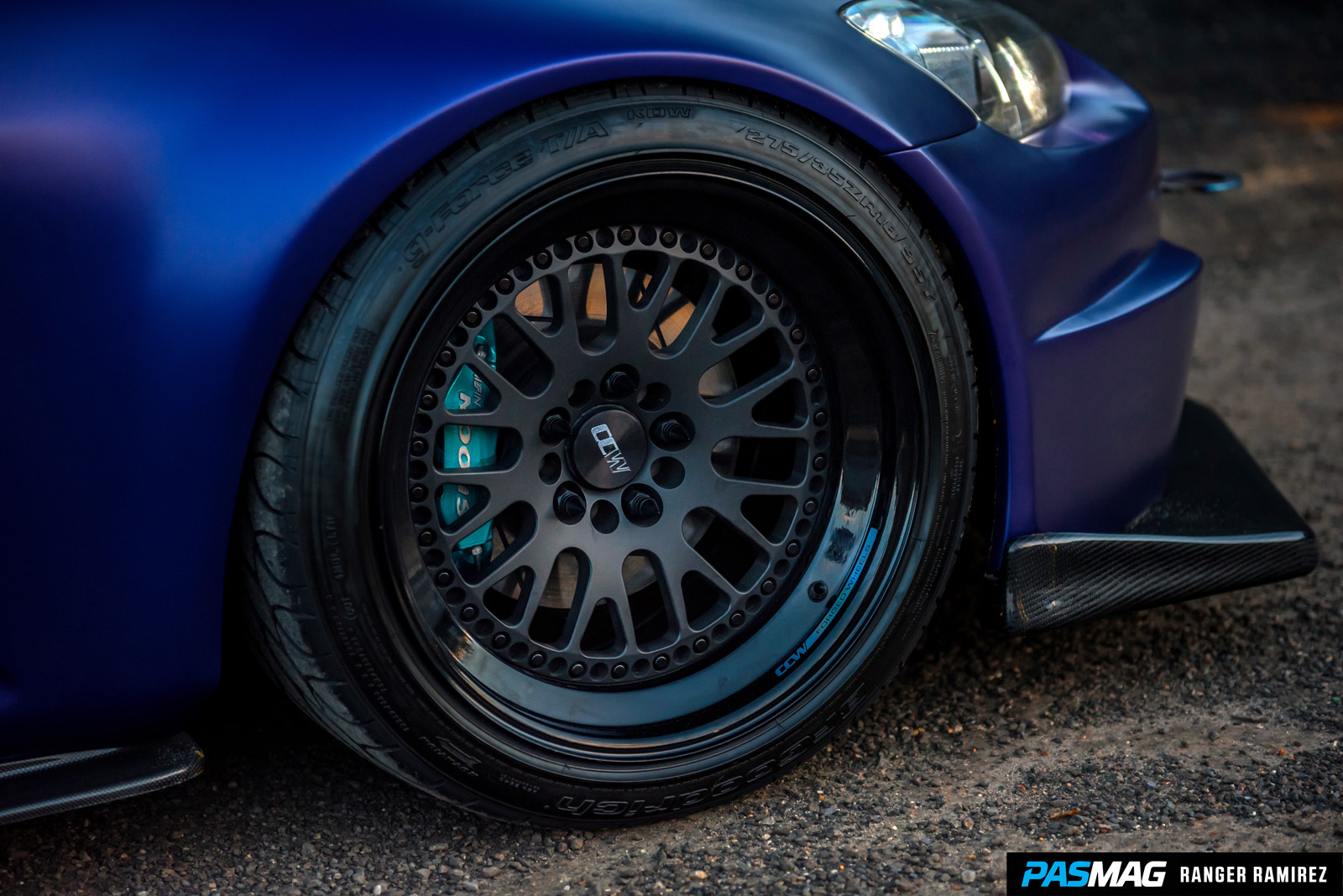 The added width allows for some serious hardware underneath, so Covington let none of the space go to waste. He optioned out some CCW Classic three-piece wheels in 18x11 in the front and a massive 18x13 in the rear, then wrapped that in some BFGoodrich KDW2 tires, 275/35 and 335/30 front and rear, respectively. To really seal the deal on the visual effectiveness of the broad bodywork, Covington topped off the rear with a J's Racing 1,600-mm GT wing.
Inside, if you can tear your eyes away from the Recaro Pole Position seats, gorgeous custom carbon fiber gauge pod setup, and "lucky cat" shift knob paired up with a boot that's made entirely of Hundreds swim shorts, you'll see that the Personal Neo Eagle steering wheel is on the "wrong" side of the cabin. This S2000 wasn't an overseas import, this modification was made by the owner by choice. Moving the wheel over was actually the most challenging part of the build, Covington recalls.
"Doing the right-hand-drive swap was an absolute mess," he cringes. "Everything from getting incorrect parts and wires, to even missing or damaged pieces. To overcome a ton of these issues, I had to purchase two to three of just about every piece to really make the swap perfect and show quality."
As I said before, the Honda S2000 is a special car that means something different to everyone. Some see it as the pinnacle of sportscar technology, while others may just brush it off as another Honda, but Convington's feelings transcend even those surface opinions. For him, the S2K came along at just the right time in his life.
"I purchased this vehicle at a really low point in my life," Covington admits. "I didn't really have much going right. As I started building my S2000, I realized that I wasn't only passionate about building it, but it really raised my spirits. This build has been with me for nine years and I've had a ton of ups and downs in life during that time, however, every moment I sit in my S2000 and fire it up, it has always left me smiling ear to ear."
And in that moment, the S2000 is more than a sportscar, and it's more than Honda's 50th anniversary celebration – it's a nine-year labor of love that still manages to tick all the right boxes. I think that sums up Honda enthusiast ownership to a T.