Pushing the envelope in the automotive aftermarket of today's world requires some outside-the-box thinking, especially if you want to make a breakthrough in style. These breakthroughs are often surrounded by controversy, which can help the project garner attention and go viral. Take this Kuhl Racing and ARTIS collaboration project for example. In 2014, Kuhl Racing partnered with Izawa Takahiko of ARTIS, a Japanese custom paint artist, to put together a Toyota GT86 with an intricately engraved silver metal paint job, seemingly taking a page out of the classic lowriders playbook for inspiration. The project garnered a little bit of a buzz and a few customer inquiries for both Kuhl Racing and Izawa, but after a while, they both decided they needed to take the idea to the big leagues.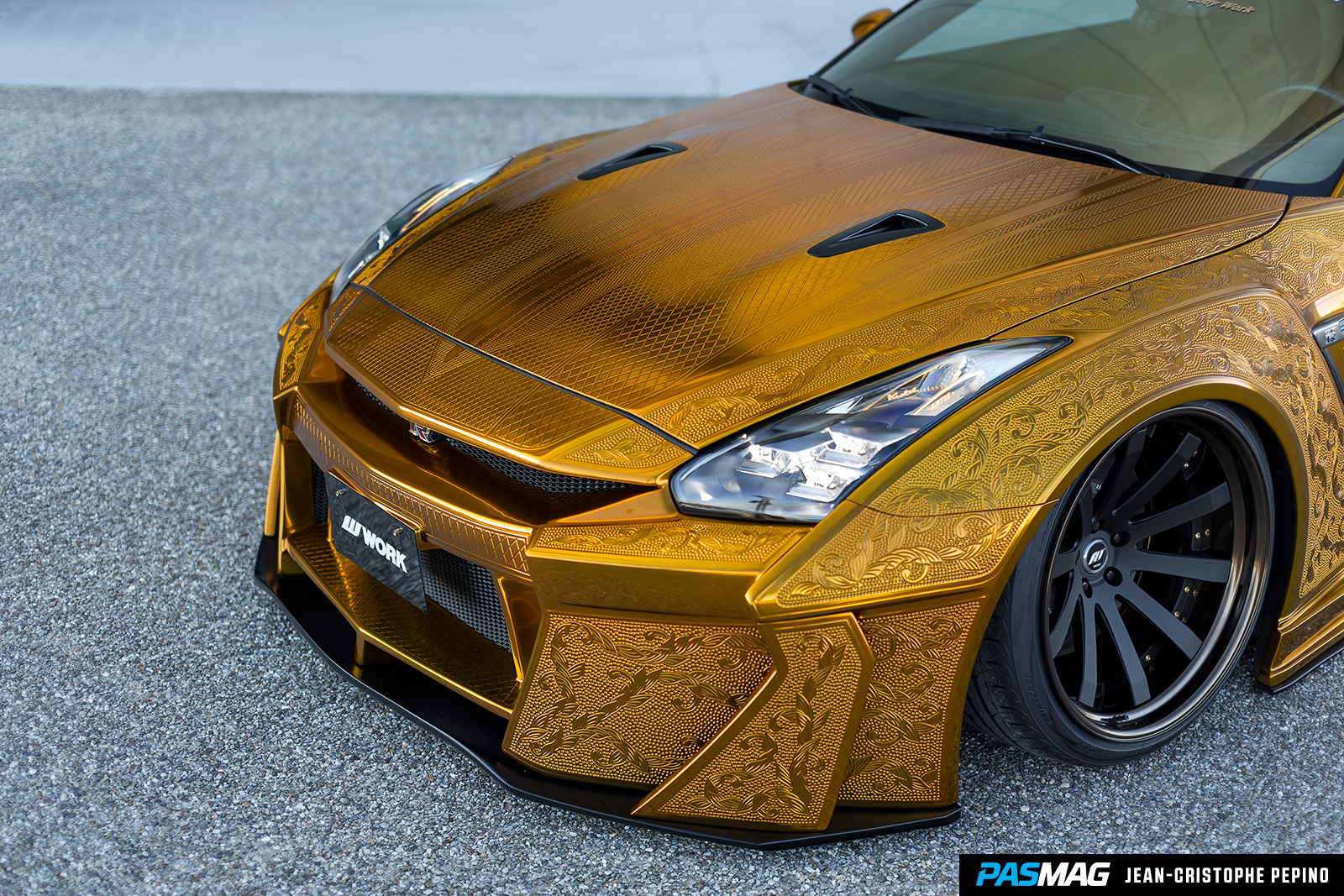 Their next step forward was an engraved silver Nissan GT-R, revealed at the 2015 SEMA show to a mixed bag of reactions from fans. Between Kuhl Racing's wild body kit design and Izawa's ARTIS paint and engraving work, the GT-R had been radically reimagined. The project gained a significant amount of attention among automotive media and enthusiasts alike, both good and bad, but there was still more to come from the Kuhl-Izawa partnership. For their third and most recent engraved project, Kuhl Racing developed their magnum opus, a second version of their extreme GT-R body kit, once again to be fit on a car designed in partnership with Izawa Takahiko.
Takahiro Kataoka, the boss at Kuhl Racing, designs the body kits himself. Having previously done full kits for the Mazda MX-5, Toyota GT86, Suzuki Swift, and Prius models, he had certainly amassed a respectable amount of experience before tackling the GT-R project. The end result of several years of experience and expertise is one of the most wildly eccentric body kits available for the GT-R, which quickly became one of the Japanese shop's most popular products. With the popularity of their version one kit rising after the debut of the silver GT-R, the team knew they had to go above and beyond with the craftsmanship on Goldzilla's version two.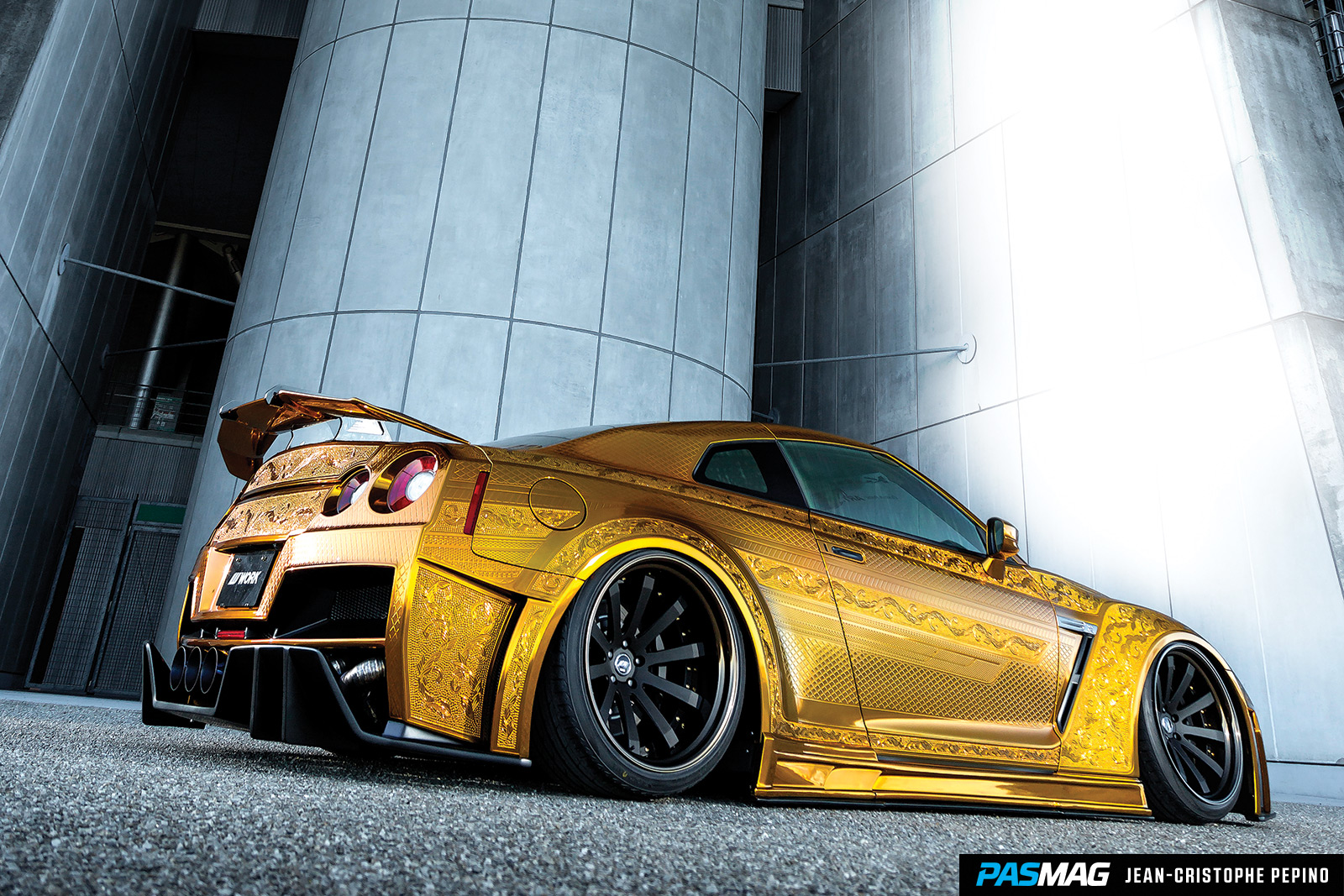 At the 2016 Tokyo Auto Salon, Kuhl Racing and ARTIS revealed one of the most intricately designed GT-Rs of all time. Their in-house version 2 body kit is a drastic alteration to the R35's body styling on its own, but the kit is only the beginning of a long list of customized touches and details. The second version of the kit shares some similarities with the predecessor kit of the previous year.
Both share the same front and rear fenders, as well as a stylish custom swan-neck GT wing, but the gold iteration differentiates itself with the help of brand new front and rear bumpers with some wildly aggressive styling cues.
For the crew at Kuhl Racing, modification of this project was intended to showcase Japanese "delicate and high quality" techniques. Enter Izawa Takahiko. To achieve the show-stopping look that both sides of the partnership were looking for, the custom engraving of the body was taken a step above that of their previous projects. Where the silver GT-R of the previous year's SEMA show was selectively engraved, the gold version would be engraved top-to-bottom and front-to-back. Almost every square inch of exposed body was met with Izawa's skilled hand and scalpel.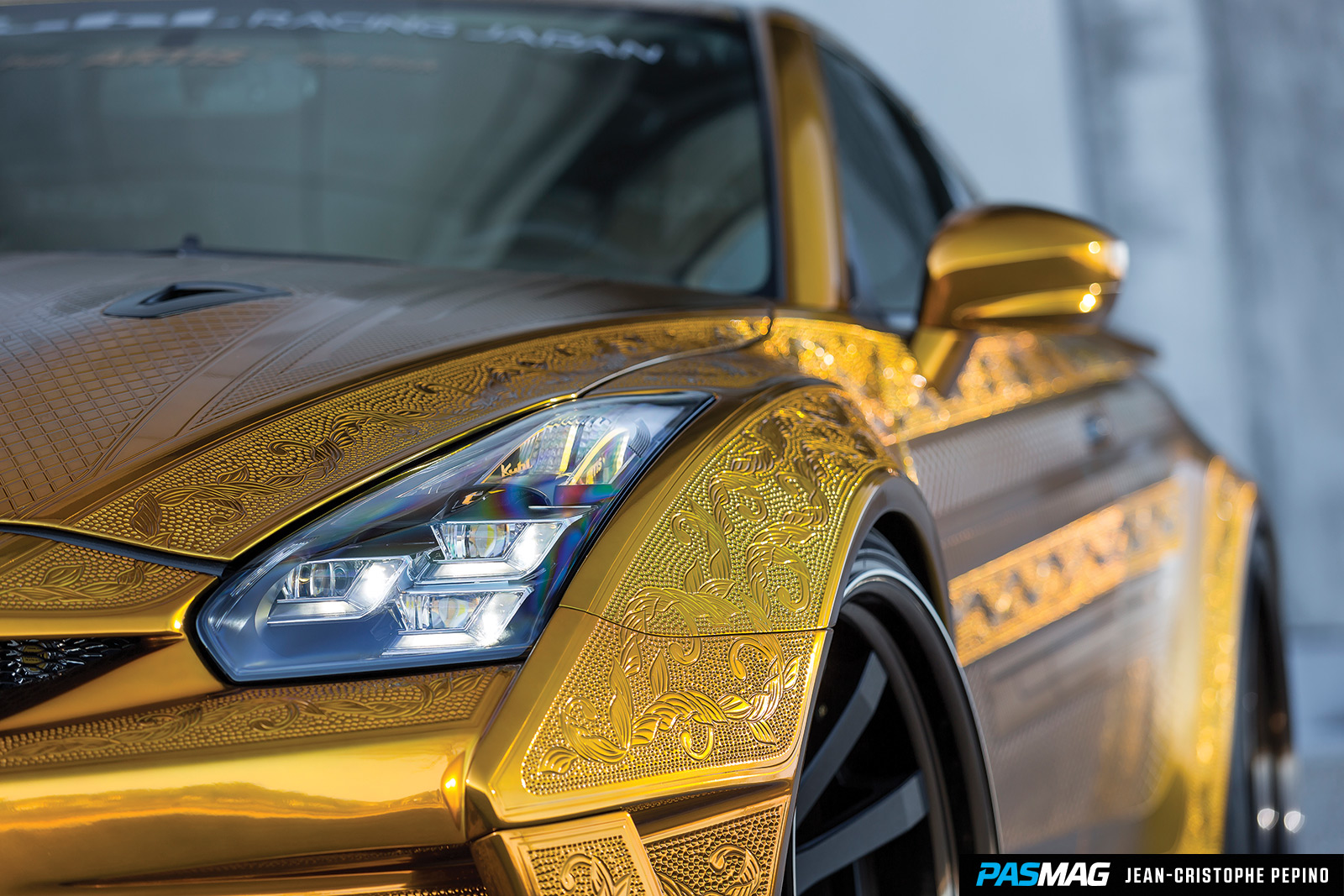 Carving intricate patterns as deep as these into FRP panels is one thing, but working with aluminum and steel parts presented its own challenge. "We could carve deep into bumpers made of FRP, but it was impossible on aluminum and steel. We learned by trial and error and finally used a thick layer of putty," recalls Kataoka, thinking back to some of the project's early challenges, such as Izawa needing to make a custom putty to engrave into. "We tried many types of putty, and selected the best one which kept the original shape even after engraving. Also," he adds, "we are carving by hand, so this is a real challenge to make it symmetrical!"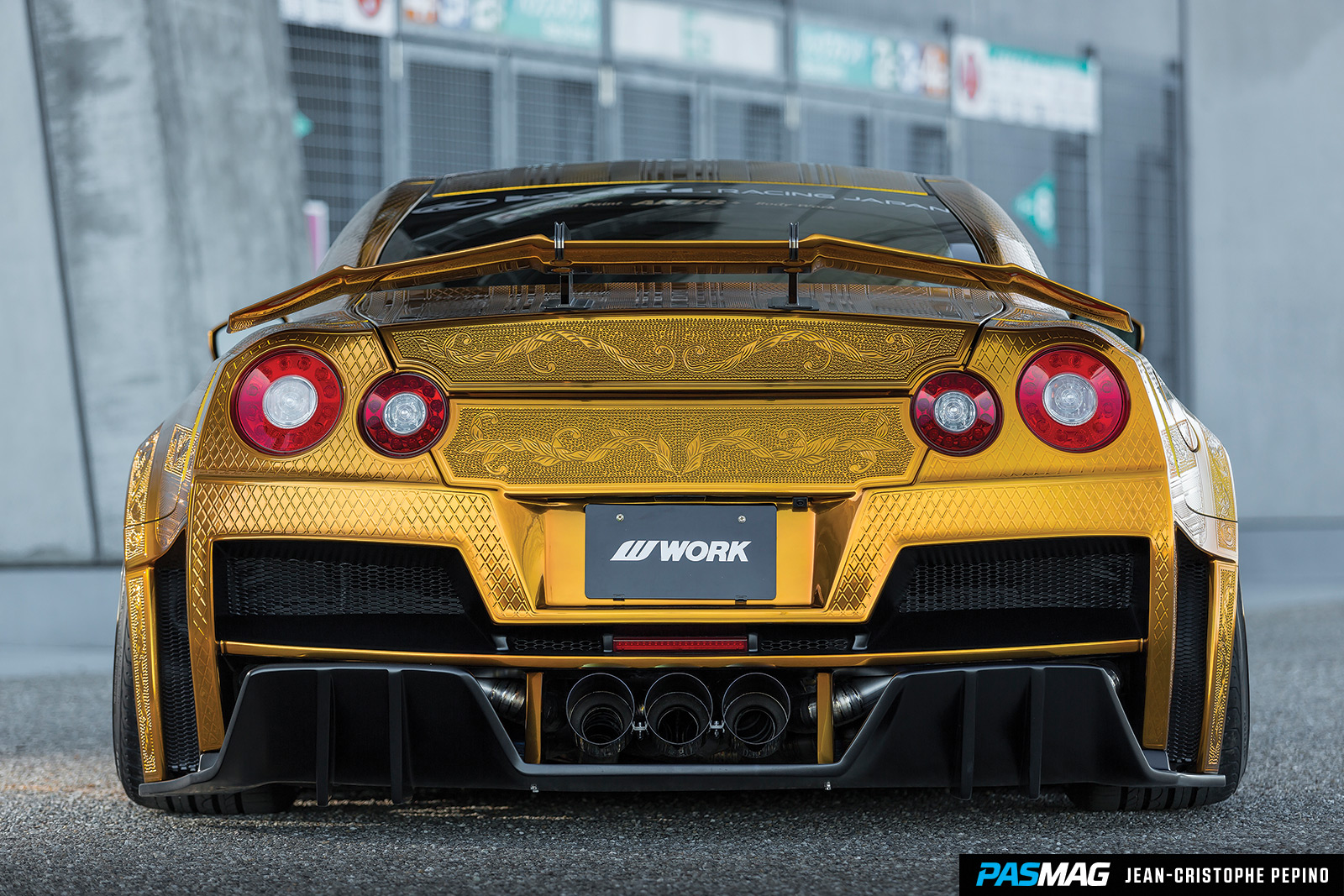 After presumably hundreds of hours of engraving work completed over an impressive two-week timespan, the GT-R went in for eight layers of paint, which starts with a silver metallic coat as a base. The final result is an eye-popping, shimmering gold paint that catches the light and reflects in every direction. The bodywork and paint combination could be examined in detail for hours on end, as any onlooker is sure to get lost in its intricacy. Resembling a fine watch or luxurious gold jewelry, it is truly a work of automotive art in the most literal sense.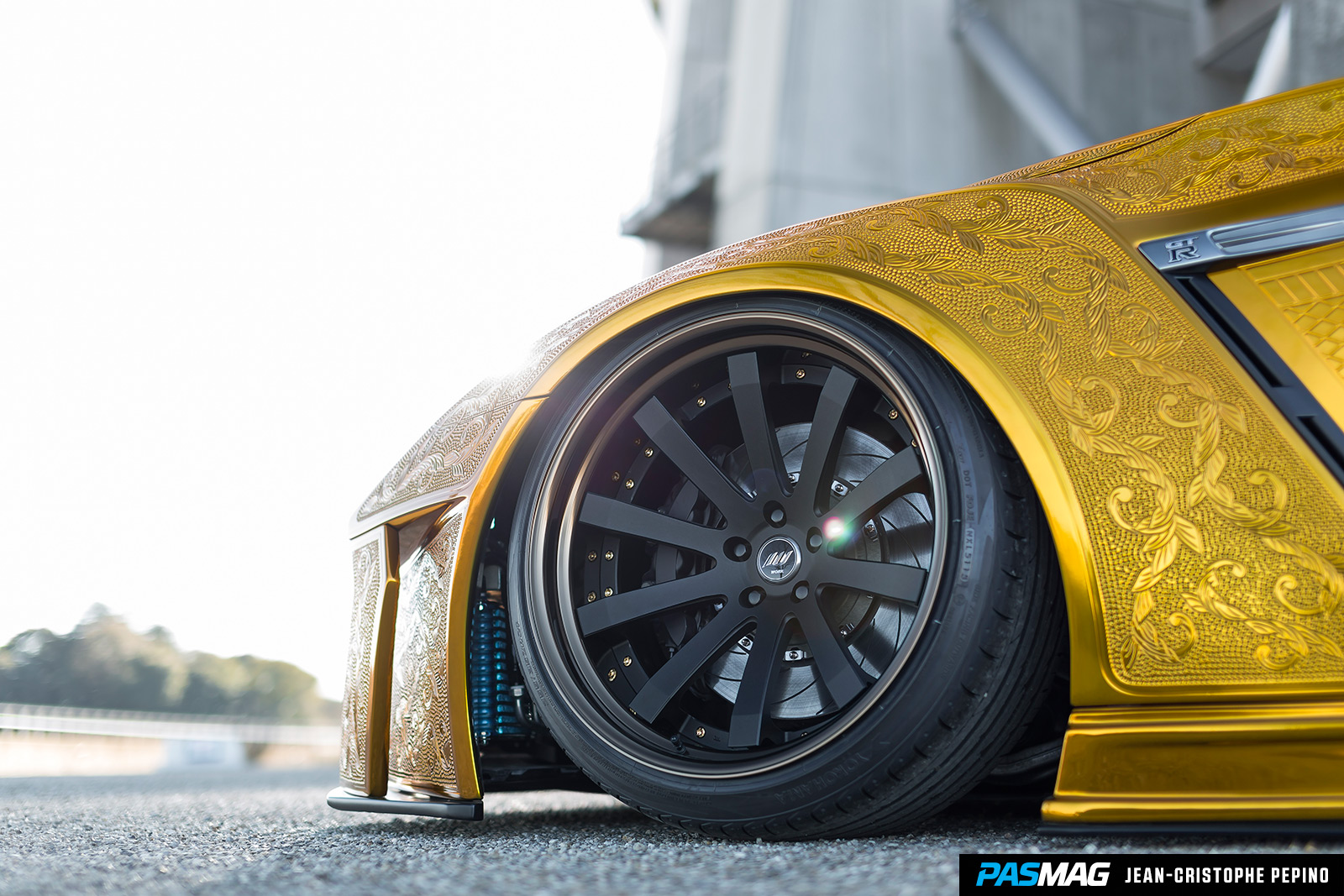 Off-the-shelf wheels just weren't an option for a build so heavily focused on custom style, so a special forged set of one-off wheels were commissioned through WORK Wheels Japan's Special Order Program, SION. The wheel design was taken directly from a drawing by Kataoka, and turned into an aggressive looking set of concave 21-inch WORK Wheels. Other neat custom touches include Lexus RC-F LED projectors, beautifully retrofitted for the GT-R headlight housings. Kataoka was never really blown away by the GT-R's factory headlights, and has been modifying them since the first engraved GT-R was in the shop. With his flawless fitting of the Lexus lights, the car's look is taken that extra step further into genuine artisanship.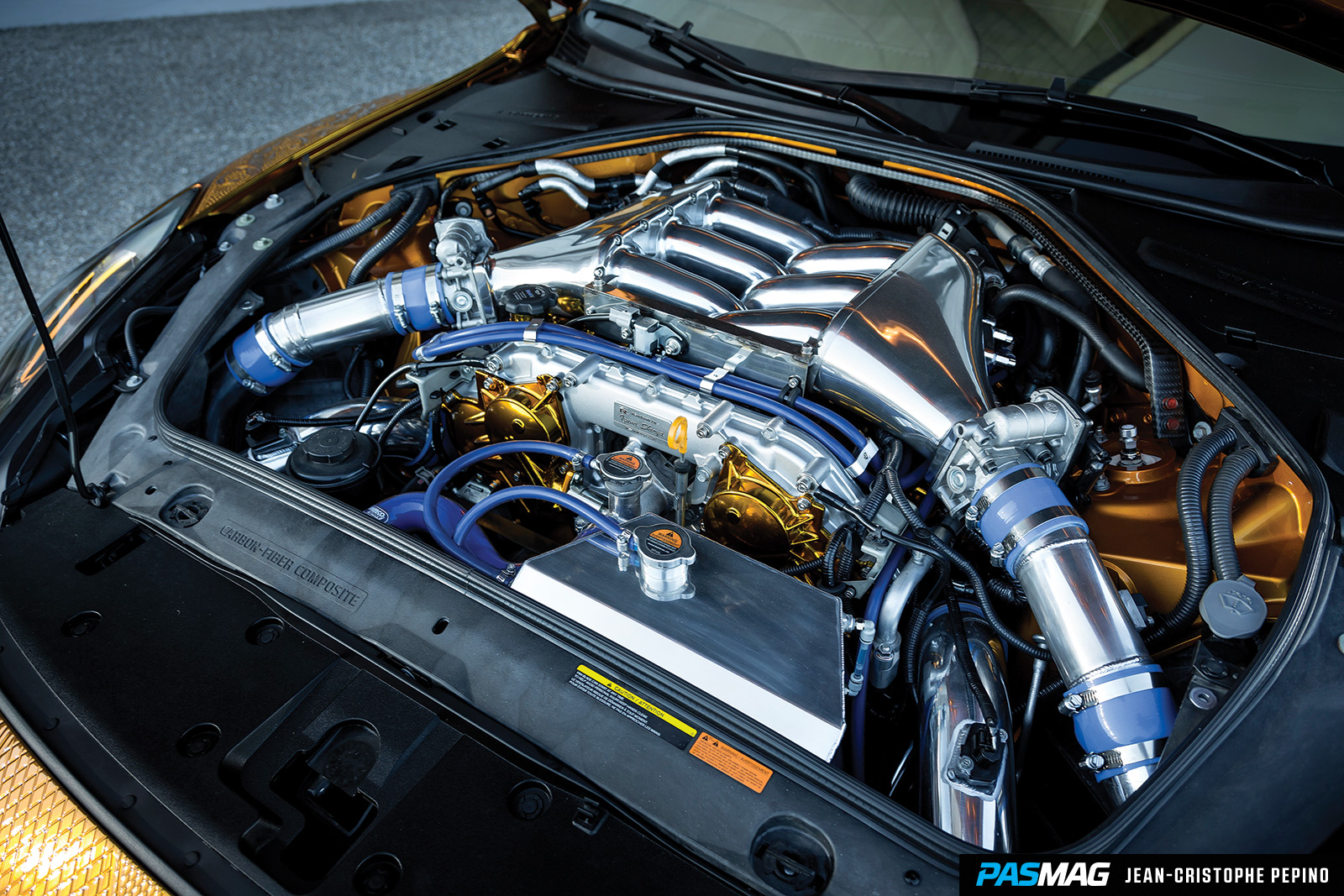 Setting the golden GT-R even further apart from its silver predecessor required some engine work in addition to the artisanal craftsmanship. Thankfully, Kuhl Racing is pretty handy when it comes to tuning. Where you once opened the hood to a mostly stock motor on the silver GT-R, you are now met with Kuhl's custom turbo setup, which utilizes a pair of GTX3076R turbochargers. With the help of some other Kuhl Racing goodies, 800 horses bellow the VR38DETT's signature song out of a handmade tri-tip exhaust, which is integrated into a center-exit within the massive rear diffuser.
Part of good artisanship is knowing when to put the tools down, so for now, this spectacular build is done. In the short time since the car has seen the spotlight, it has certainly carved its mark into the automotive world. Inquiries have been pouring in at Kuhl Racing, and they will soon be selling engraved wings, interior panels and other Kuhl Racing products, suggesting that ARTIS Izawa's involvement with Kuhl projects is far from over.
The pair have already informed us that they expect to experiment with a metal and candy paint combination for their next project, reaching further into the low-rider styles of yesteryear for influence. They also tell us they have big plans for Acura's next-generation NSX, intending to design and fabricate a comprehensive body kit, which will also receive Izawa's special touch. Until their next project, you can catch the Goldzilla at this year's SEMA show. We plan on getting lost in the details for a little while, ourselves.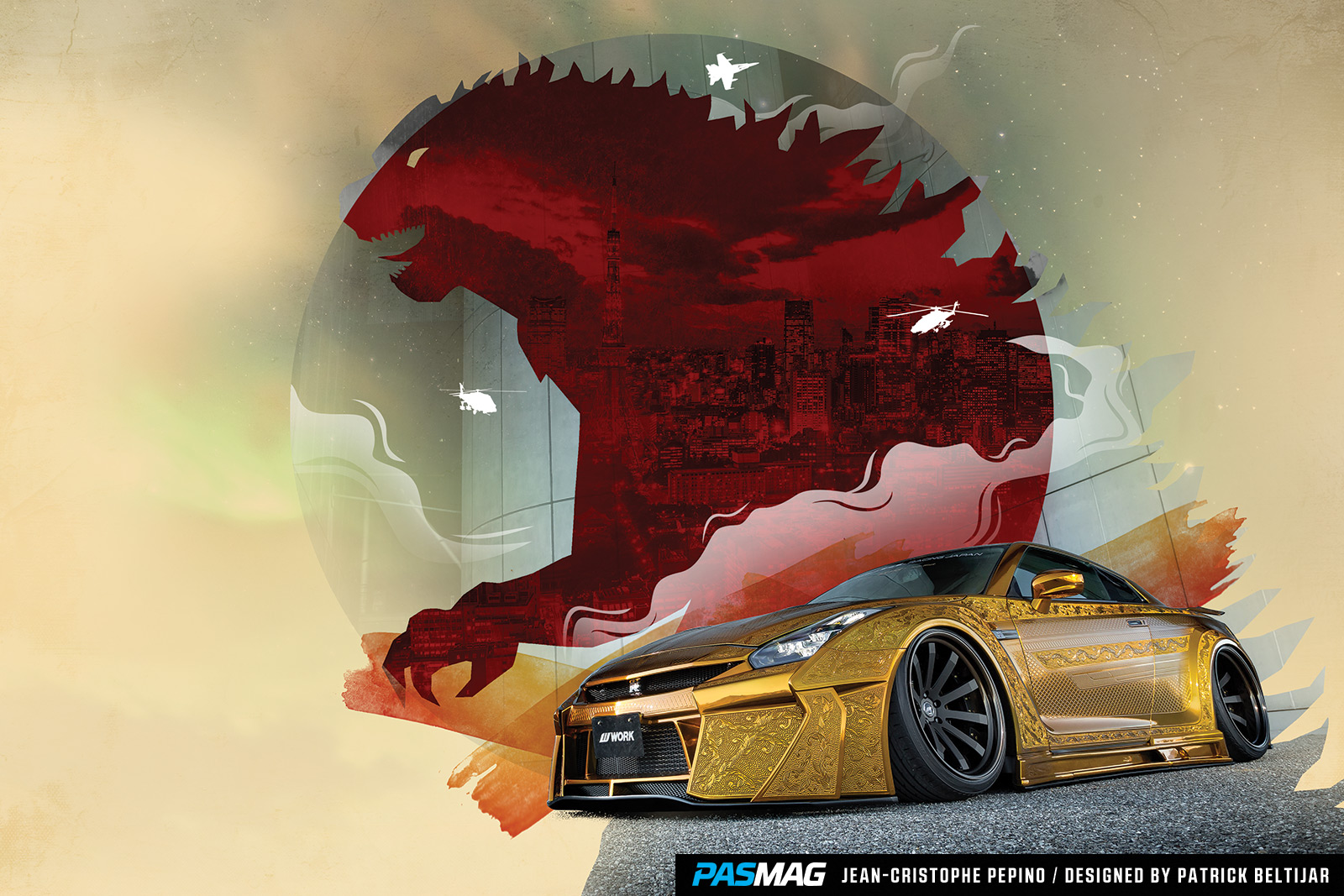 Photos by Jean-Cristophe Pepino
---
ESSENTIALS
BUILT BY: Kuhl Racing & ARTIS
VEHICLE: 2012 Nissan GT-R
ENGINE: Nissan VR38DETT twin-turbo 3.8L V6
HORSEPOWER: 800 hp
SOCIAL
Facebook: Kuhl Racing, ARTIS Japan
Instagram: kuhlracing, izawa_takahiko
ENGINE

Custom turbo system w/ twin GTX3076R turbochargers
Custom Kuhl Racing (aluminum intake piping, aluminum breather tank)
Tial wastegate
Trust (intercooler kit, surge tank, injectors, transmission oil cooler)
Koyo radiator
EXHAUST
Kuhl Racing (stainless steel exhaust system, titanium muffler)
CHASSIS / SUSPENSION
Airrex digital air suspension kit
MCR front upper control arms
WHEELS/TIRES/BRAKES

Work SION custom forged wheels – 21x11.5 -30 (f), 21x12.5 -70 (r)
Yokohama Advan Sport tires – 255/35R21 (f), 295/30R21 (r)
EXTERIOR

Kuhl Racing (Full Version 2 wide body kit, front fenders, rear fenders, swan neck GT wing)
ARTIS Izawa custom engraving
ARTIS Izawa original metal gold paint
LIGHTING
Kuhl Racing custom retrofitted RC-F triple angel eyes LED projectors
INTERIOR

---
PHOTO GALLERY