Photography by Marcel Lech Photography
---
Everyone wants a piece of this car. It's spreading like a virus. Just ask the lineup of photographers who caught the bug and were begging to shoot it. It's a Godzilla, it's a Liberty Walk. It's the marriage of the two perfect specimens. As a Canadian car, it's one of only two LBs, and undoubtedly the finest. When we first found it, Dr. J.J. Dubec's monster was but a shadow of what you see today. It's hard to scoff a GT-R – it was nice – but in its previous skin wasn't a showstopper. Now it's one of the cleanest builds with some of the most exclusive content on the continent. So, when we at PASMAG were deciding on a photographer that would do it justice, the list was very slim. As you can see in the byline, the artist creating the menacing images in this feature is Marcel Lech, and we think he did this GT-R the justice it deserves.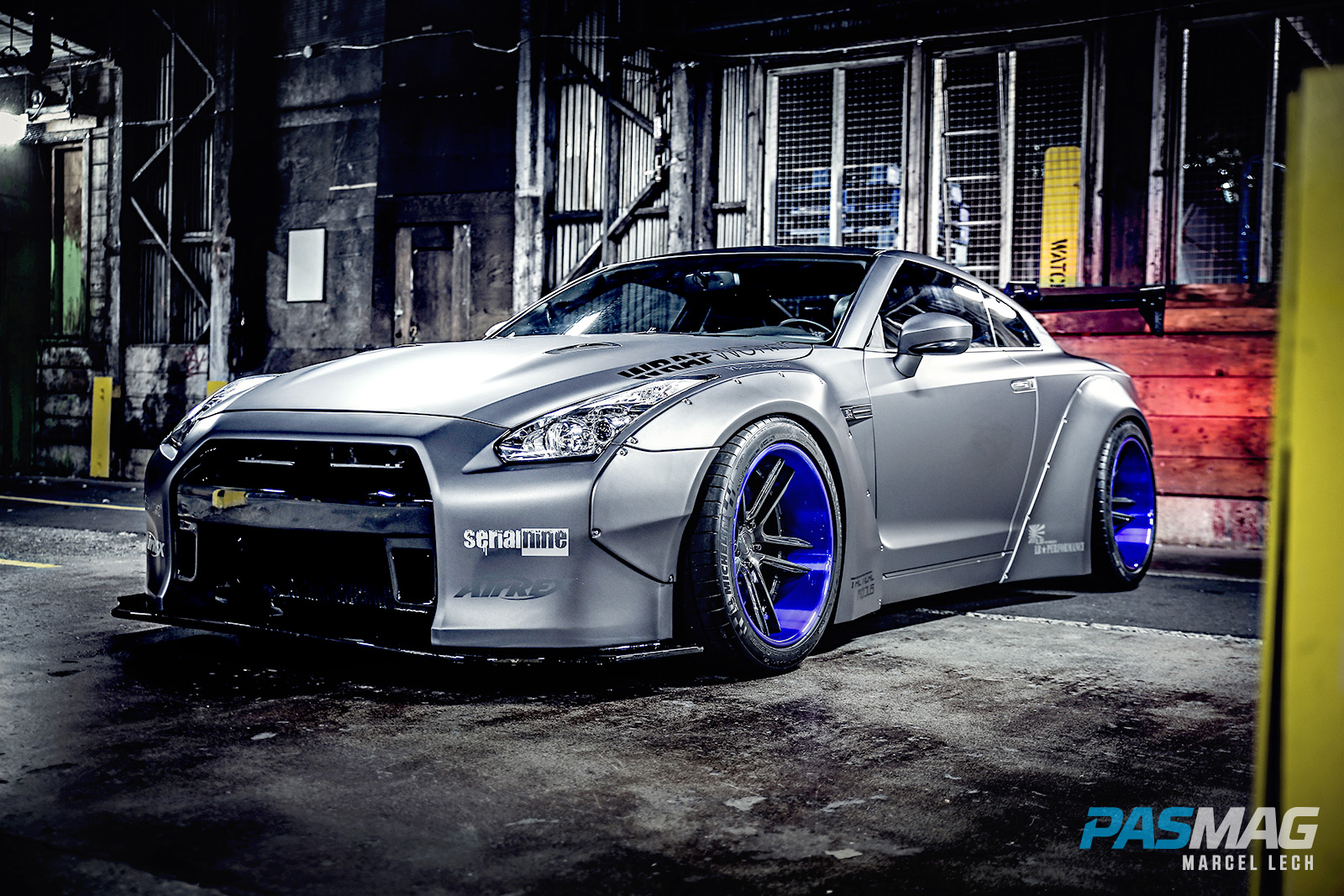 That couldn't have been more evident when the Internet nearly imploded when he posted the shoot to his Facebook wall before it ran on our cover. Instantly, the car received thousands of likes and hundreds of shares, including some of the industry's biggest magazines. Even our competition had to get in on the action. It's a telling sign not only of the photos snapped, but of just how monstrous and far-reaching this car really is. But for the record, we're taking full credit for the hype. And Lech's photos look incredible (photogs, take note).
The LB kit is straight-up ridiculous, but the work underneath deserves equal credit and gives this build its legitimacy. You see, Vancouver is hard on cars; it rains, it's coastal, and that means salt in the air and impending rust on any rough bodywork. "The company here, named SerialNine, they were instrumental in making this probably the best Liberty Walk build around," says Dubec. "The reason I say this is you can do a really poor job of putting a Liberty Walk kit on. You can just cut the fenders, throw on the overfenders, and you're done. But our weather here in Vancouver is awful. We have rain all the time, so we wanted to make sure that all of the cuts and inner welds were finished."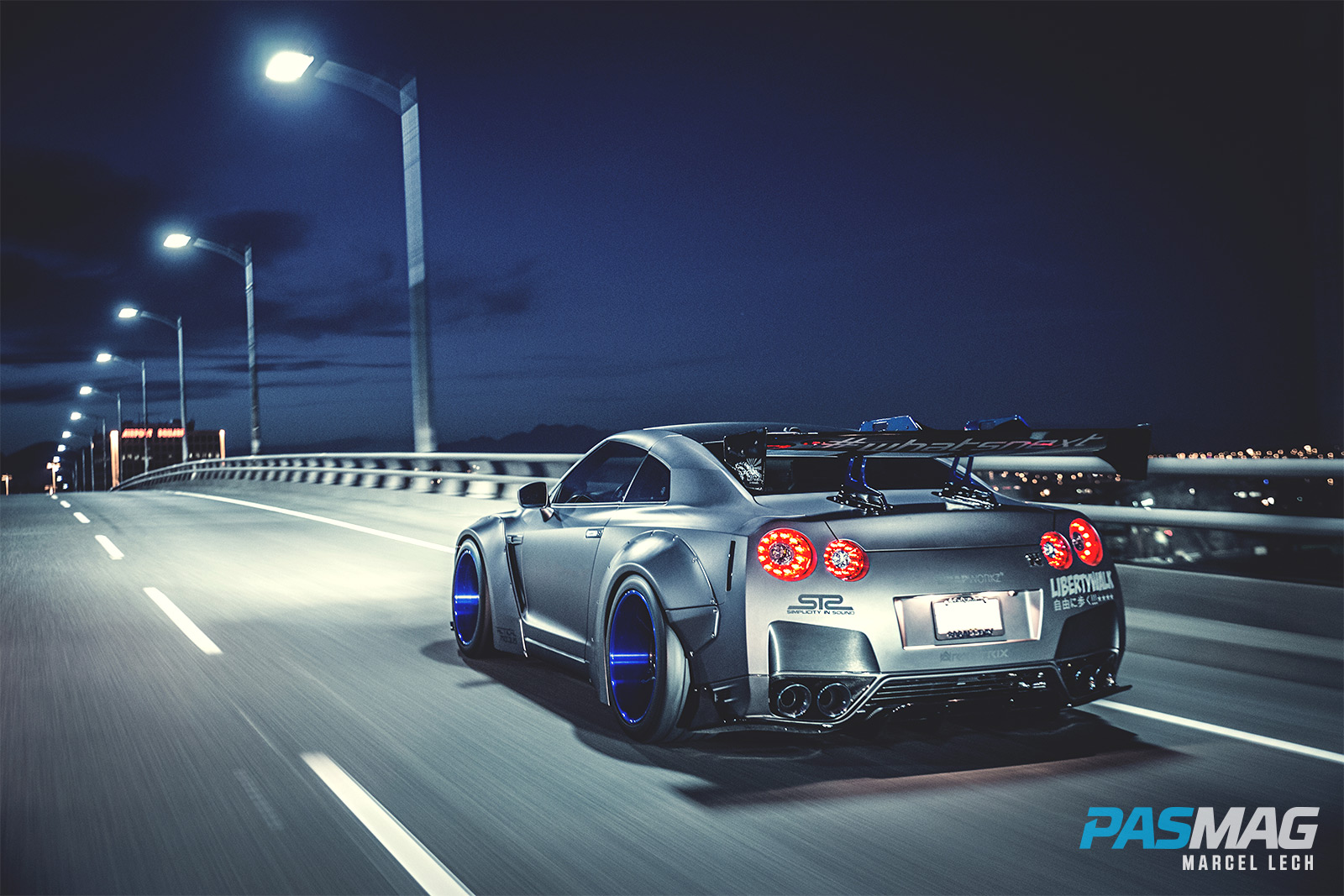 After the kit work was complete, the body received a full dressing of matte dark grey 3M 1080 vinyl wrap and graphics by Wrap-Workz, and for anyone who thinks matte is dead, just look at these curves. It's an appearance fit for a stealth fighter, and something you almost need to see in person.
The wheels? Custom one-offs: Brixton Forged R25 Monaco reverse lips with a double smoked clearcoat face, firecracker black hardware, gloss black inner rim and dishes in Blue Prismacolour – a Bentley Motors speciality. If it's too much to keep track of, just remember his wheels have four - yes four - colors on them.
Best of all, he's got a few color-matched goodies that'll make even educated onlookers double and triple take. The front and rear Brembo brake calipers are paint matched. So are his swan neck rear wing mounts. Even the natural burnt patina of his Armytrix titanium exhaust tips match perfectly. The subtle carbon touches, chrome handles and piano black finishes on the front and rear fascias are icing on the proverbial cake, but that's just the start.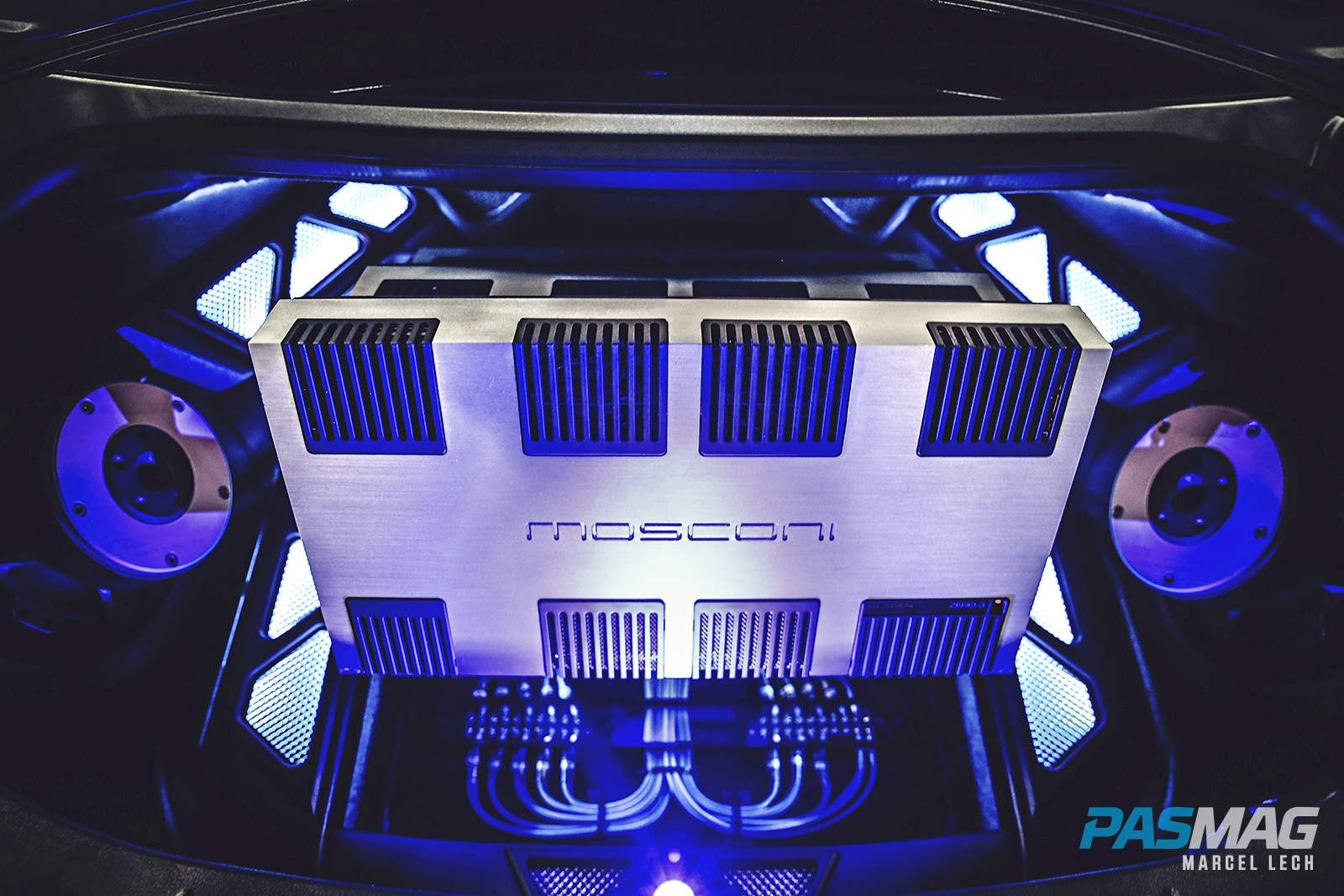 The cabin and trunk are treated to sets of componentry that even the most esteemed audiophiles can appreciate. In the rear and you'll see one of the nicest motorized amp rack installs around, pushing up two Mosconi Zero 3 amps and two Zero 4s, no less. Somehow the movement is controlled by a single actuator, crafted and built by Joey Knapp (if you're curious, you can visit Simplicity in Sound's YouTube video at: http://youtube.com/watch?v=Ym2T79Qgv0k).
Each of those four amps are responsible for covering the four frequency ranges in the car – sub, midbass, midrange and high – and each of those is treated with the finest selection of Gladen products: two Zero Pro 10-inch subs and AeroSpace series midbass, midranges and tweeters.
The sound has been carefully tuned to the resonant frequency of the vehicle, processed by a Mosconi 6to8 processor with AMAS Bluetooth module and operated through the world's first GT-R head unit swap – a Pioneer DEX-P99 RS. The entire project is no-screws.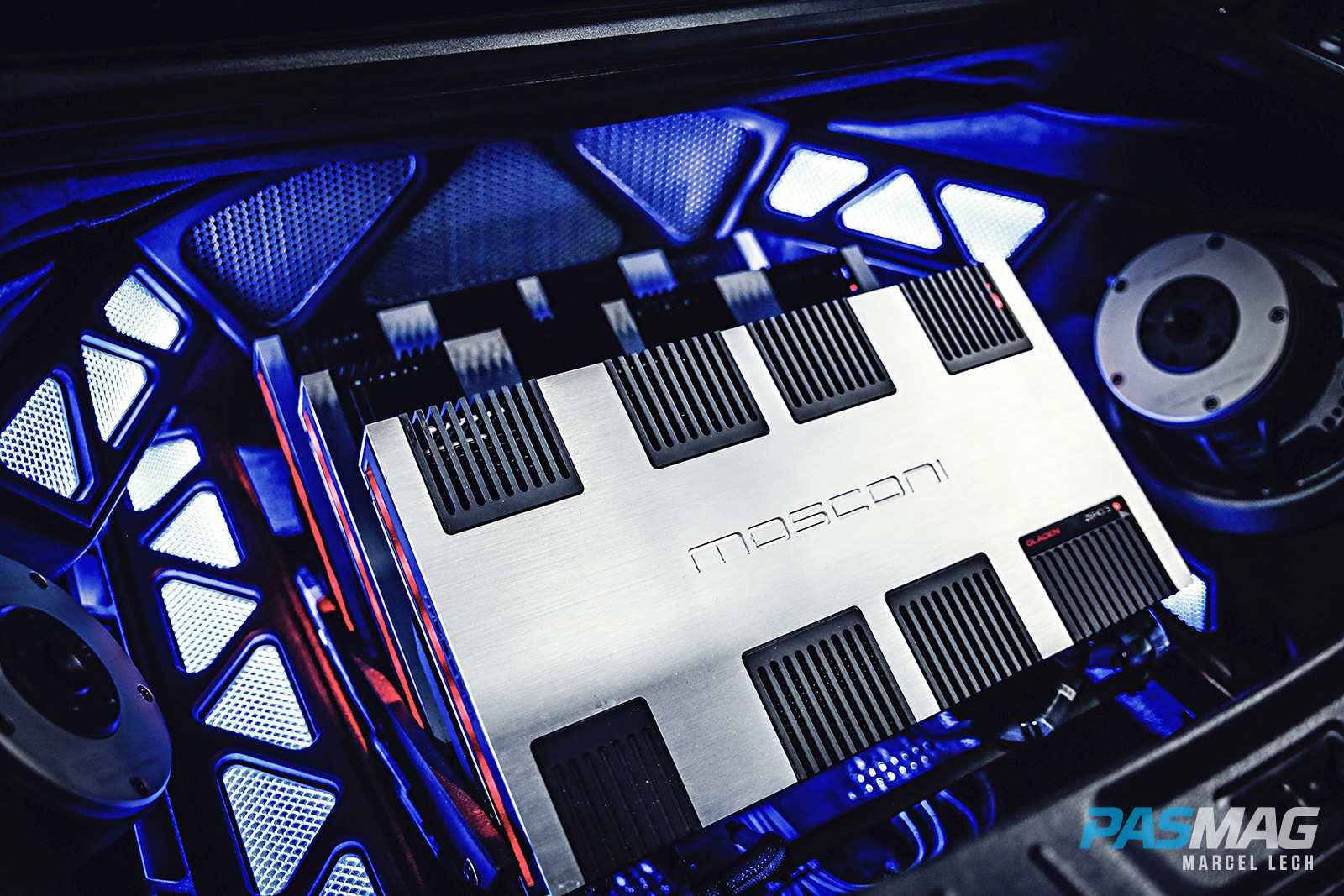 "When people hear no-screws install they think you don't drill into your car," he says. "In fact, you do drill into your car. But you use fittings, like hurricane bolts or threaded inserts. That means things are more secure but also replaceable. For accessibility, removability, sturdiness and longevity of the install. It's really cool."
It's this type of craftsmanship that sets this GT-R apart from the rest.
"It's the last thing you expect, because you blow people away with the Liberty Walk, or you pop the hood open and people see a polished intake," Dubec says. "But have a seat in the car, and it's literally one of the cleanest, most well-phased, well-balanced, totally linear cars."
And he's got the trophy case to back it up. His prior experience has seen him capture numerous IASCA/AMA sound-offs titles in his Focal Utopia Beryllium-equipped Honda Ridgeline, and as a special thanks for his continued support and promotion of the Focal brand, after Dubec bought a set of the prestigious Focal Ultima components for a future, unnamed build, Focal France sent him serial number 0001 of the kit to be set up by Nick Wingate himself. So yes, the man is serious about his sound.
"I'm a big audio guy. This whole car was basically my audio dream," Dubec says.
The doctor from B.C. hadn't planned for his Godzilla to get this out of control. The truth is, it kind of took on a mind of its own. "My original plan was to have a car that excelled both in performance and audio that I could enjoy privately," Dubec says. "That idea got scrapped after I met JOey and Bing from Simplicity in Sound, and got annihilated once I saw a Liberty Walk GT-R conversion."
"We took the whole scheme and tried to put it together. We took the brushed finish on the amps and emulated that on the roof of the car. When we thought of the blue lighting with a bit of the red, to pay homage to the red in the GT-R, we didn't change the emblem because that's a special Japanese resin that's supposed to age with time. I pay major respect to Mizuno-san (Kazutoshi Mizuno) because when I was in high-school, his R32 was what I was dreaming of, and then his R33 and R34. There are certain things in Japanese culture where there's honor and there are certain things that you can go balls out and cut your fenders, and that's Kato-san's (Wataru Kato of Liberty Walk) approach...it's a cool thing."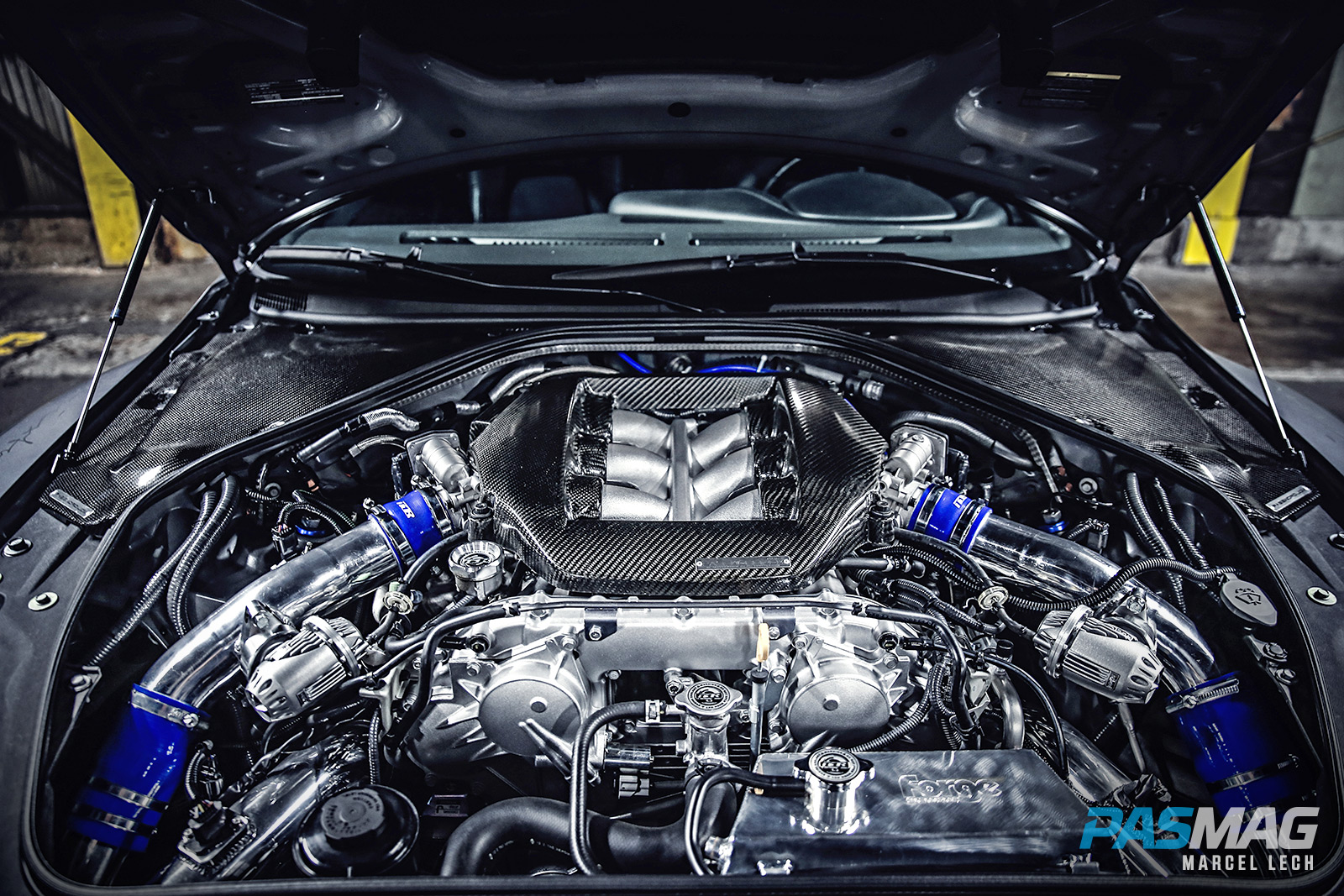 The build's organic nature and homage to the Japanese tuning and accessory scene plays all over here. His block is fitted with a Race Core FMI and Type1 Racing polished intercooler pipe kit, GotBoost three-inch intakes and HKS SSQV-4 blow-off valves, while he kept the stock Ishikawajima-Harima Heavy Industries (IHI) turbochargers.
His four-wheel Mustang Dyno results (a tough test for anyone hoping for high readouts) sees numbers anywhere from 700 to 747 crank horsepower, depending on the fuel/ethanol blend, which is live and automatically adjusted with an EcuTek ECU with FlexFuel setup and custom mapping. When Dubec pushes "cancel" on his steering wheel, the exact ethanol blend shows up on his center console display.
His power numbers aren't ridiculously high, but they're unbelievably precise, thanks in large part to an incredibly lofty, and somewhat crazy idea to fly in one of the industry's best to test and tune.
"Eight of us GT-R guys all chipped in money, flew John Visconti and his wife down to Vancouver, put him up in the Shangri-La for a week, and he dyno'd every day!"
Brilliant. Don't say you wouldn't do it either. All the work under the hood makes for a pretty serious track monster, so it might surprise some people that Dubec decided on AirREX air ride suspension, but there are two very good reasons for it.
First, this is a car that sees varying city roads and driveways. Second, there aren't too many purpose-built race cars around that are hauling around tens-of-thousands of dollars in audio gear. Plus, he was able to get kit number one (again?!) of the second coming of a special, ongoing suspension partnership between AirREX and Liberty Walk. The result is one of perfect stance, offering three drive-height modes and complete remote-adjustability to tackle any road, parking garage, or showroom floor (stay tuned for more). We wouldn't kick this out of our garage for using bags.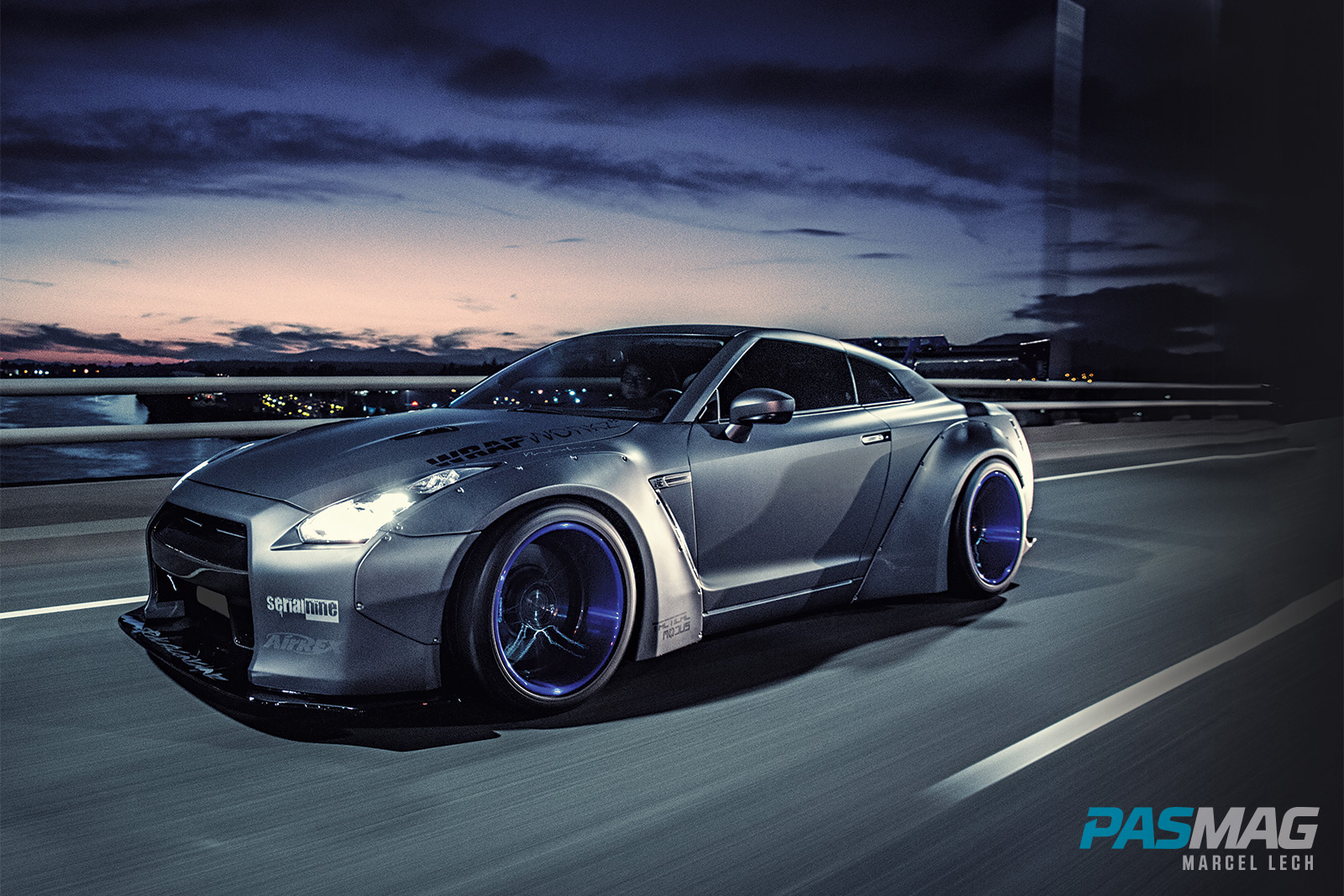 As well as being a sight for sore eyes, Dubec uses his car – and his career – for good measure. His GT-R has been sponsored by the Seattle Seahawks for the Boys and Girls Clubs of the U.S. and Canada, and most recently took Best Team Design at the Diamond Rally, where he raised proceeds for that same charity.
#Whatsnext? Well, Wrap-Workz has essentially committed to change the artwork on the car wherever it goes, and with SEMA rumors flying full force, we and many others might be lucky enough to get up close and personal with it. But beware, because this doctor's creation seems to be transforming and getting meaner by the day. It's already taken over the Internet and your social media, and you could be next. Just consider yourself warned.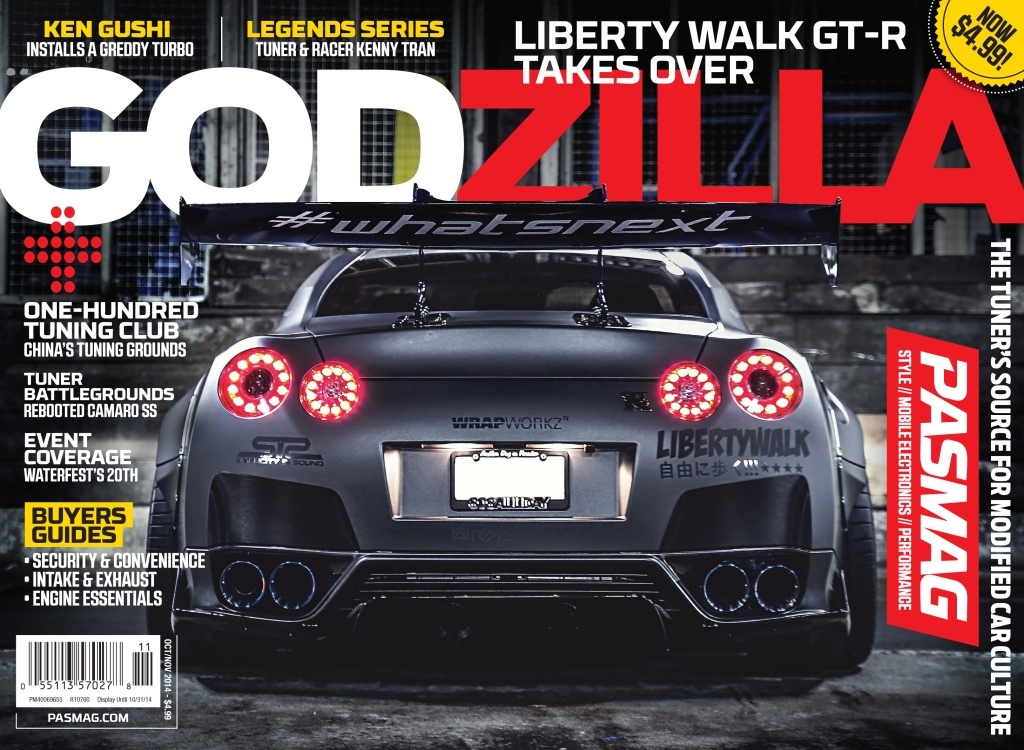 ---
ESSENTIALS
Vehicle: 2013 Nissan R35 GT-R (DBA Chassis)
Owner: J.J. Dubec
Location: Vancouver, B.C.
Club Affiliation: N/A
Engine: 3.8L twin-turbocharged V6 (VR38DETT)
Horsepower: 570 whp (94 octane), 604 whp (E45), 616 whp (E60), 633 (E67)
Torque: N/A
ENGINE MODIFICATIONS
Install and tune by John Visconti of EcuTek
Race Core front mounted intercooler (22x10x4)
Type1 Racing (polished intercooler pipe kit, caps and piping seals)
HKS SSQV-4 blow-off valve
GotBoost 3-in. Air intakes
DeatschWerks DW 65C fuel pump
Asnu 1,100 cc fuel injectors
Big Three grounding system (by Simplicity in Sound)
EcuTek engine management system with FlexFuel setup (custom map/dyno tune by John Visconti)
PASSWORD:JDM four-pc. carbon fiber engine kit
Forged polished reservoir tank
GReddy hood dampers
EXHAUST
Armytrix (F1 full Supreme Valvetronic exhaust system, high-performance cat-bypass pipe, front pipe, Y pipe, Valvetronic mufflers, tail pipe, remote control module, downpipe, catalytic converter, exhaust tips)
WHEELS / TIRES / BRAKES
Brixton Forged R25 Monaco Reverse Lip wheels (double-smoked clear face, Bentley Blue Peismacolor rim outers, gloss black inner rims) – 20x11 -15 (f), 20x12.5 -59 (r)
RacingGreed titanium lug nuts with NeoChrome coating
Michelin Pilot Super Sport tires – 295/35 ZR20 (f), 345/30 ZR20 (r)
Brembo big brake kit (custom Bentley Blue Peismacolor powder-coat) – four-piston calipers, cross-drilled rotors (f), six-piston calipers, cross-drilled (f)
Endless NX-72 brake pads
CHASSIS / SUSPENSION
AirREX air suspension (f/r)
Type1 Racing S-coil kit (f/r)
Whiteline Racing bushings
EXTERIOR
Liberty Walk Performance full GT-R kit (install by SerialNine) (front bumper, rear bumper, grill, inserts, fenders, spoiler, aero pieces)
2015 Nissan GT-R thunderbolt LED + Xenon headlamps
Clear JDM corner indicators
3M 1080 matte dark grey vinyl wrap and vinyl graphics (by Wrap-Workz)
Custom hardware coatings (by RacingGreed and SerialNine)
Tint (by Street Legal Tint & Detail)
INTERIOR
Brushed black metallic wrap (by Wrap-Workz)
Custom A-pillars (by Simplicity in Sound)
MOBILE ELECTRONICS
Pioneer DEX-P99 head unit
Mosconi (6to8 signal processor w/ AMAS Bluetooth module, Zero 3 subwoofer amplifier, Zero 3 midbass amplifier, Zero 4 midrange amplifier, Zero 4 high-frequency amplifier)
GLADEN (Zero Pro 10-in. Subwoofer (2), AeroSpace 165.3 6.5-in. midbass drivers, AeroSpace 165.3 3.5-in. midrange speakers, AeroSpace 165.3 1-in. tweeters)
Sealed enclosure
XS Power AGM power cell
Stinger (front fuse holder w/ custom brackets, main power wire, distribution blocks)
Custom Compustar and Drone GPS tracking alarm system
SPONSORS
Wrap-Workz Vancouver, Brixton Forged Wheels, Armytrix Exhaust
SPECIAL THANKS
Sami and Lewis: Wrap-Workz
Bing and Joey: Simplicity in Sound
Cody and Adam: Brixton
SerialNine
John Visconti: EcuTek
Josh Chow: Drive Marketing Group
PHOTO GALLERY