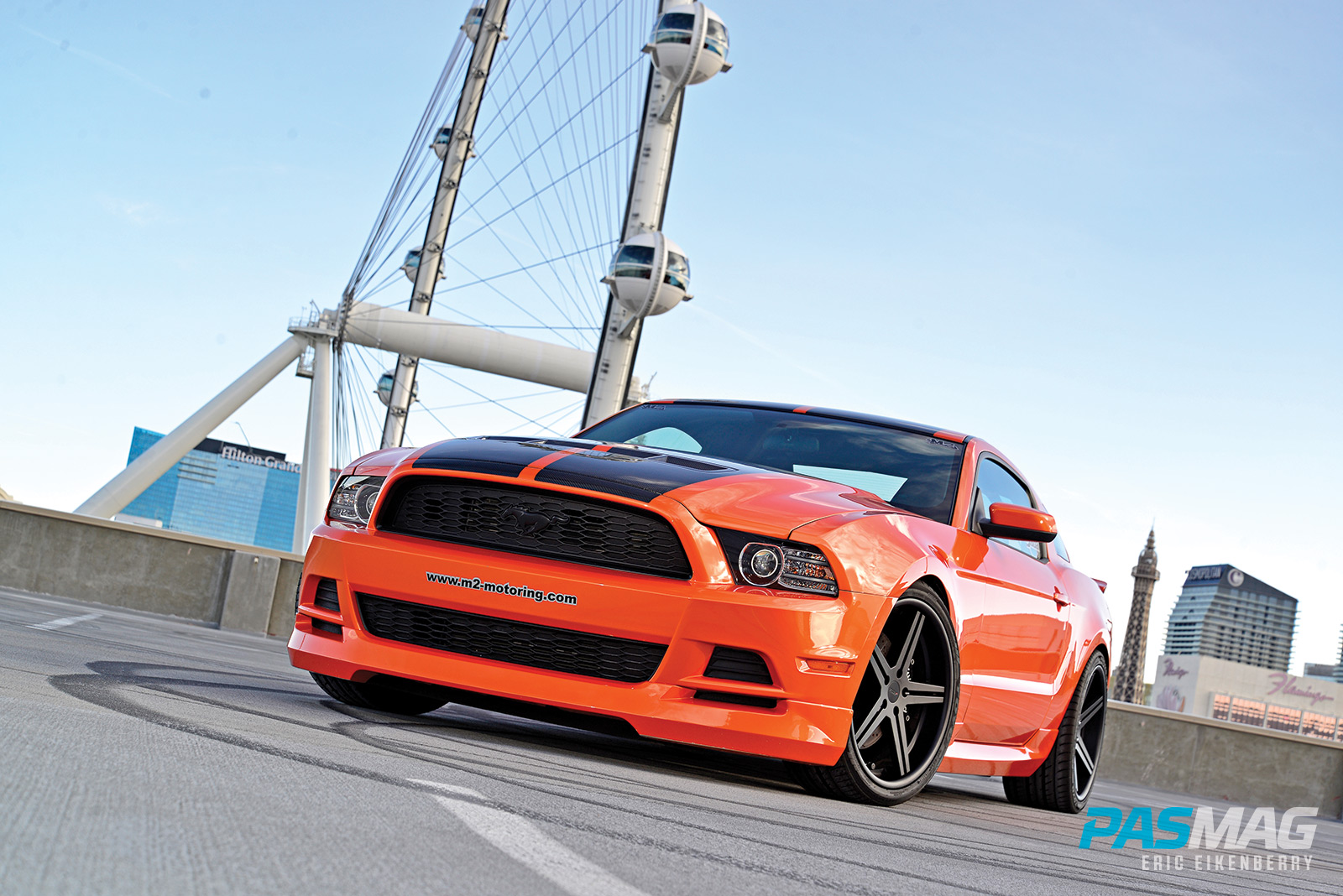 Written by Eric Eikenberry | Photos by Eric Eikenberry
What's the lifelong dream of every kid who has grown up playing with Jada Toys die casts or Matchbox and Hot Wheels cars? Life-size versions, of course! Michael Ma, owner of M2 Motoring, has long been a respected builder of SEMA show vehicles. He has worked with a variety of manufacturers and, lately has produced notable vehicles for Ford. Vehicles such as this striking 2013 Ford Mustang, which wound up in the Ford Out Front display at the SEMA Show in Las Vegas. What does it take to build a ride clean enough to be used in the automaker's own display? Evidently, a 3.7L V6 engine, for one thing. Yes, this uber-aggressive 'Stang is only packing a six-shooter... and you know what? We don't care.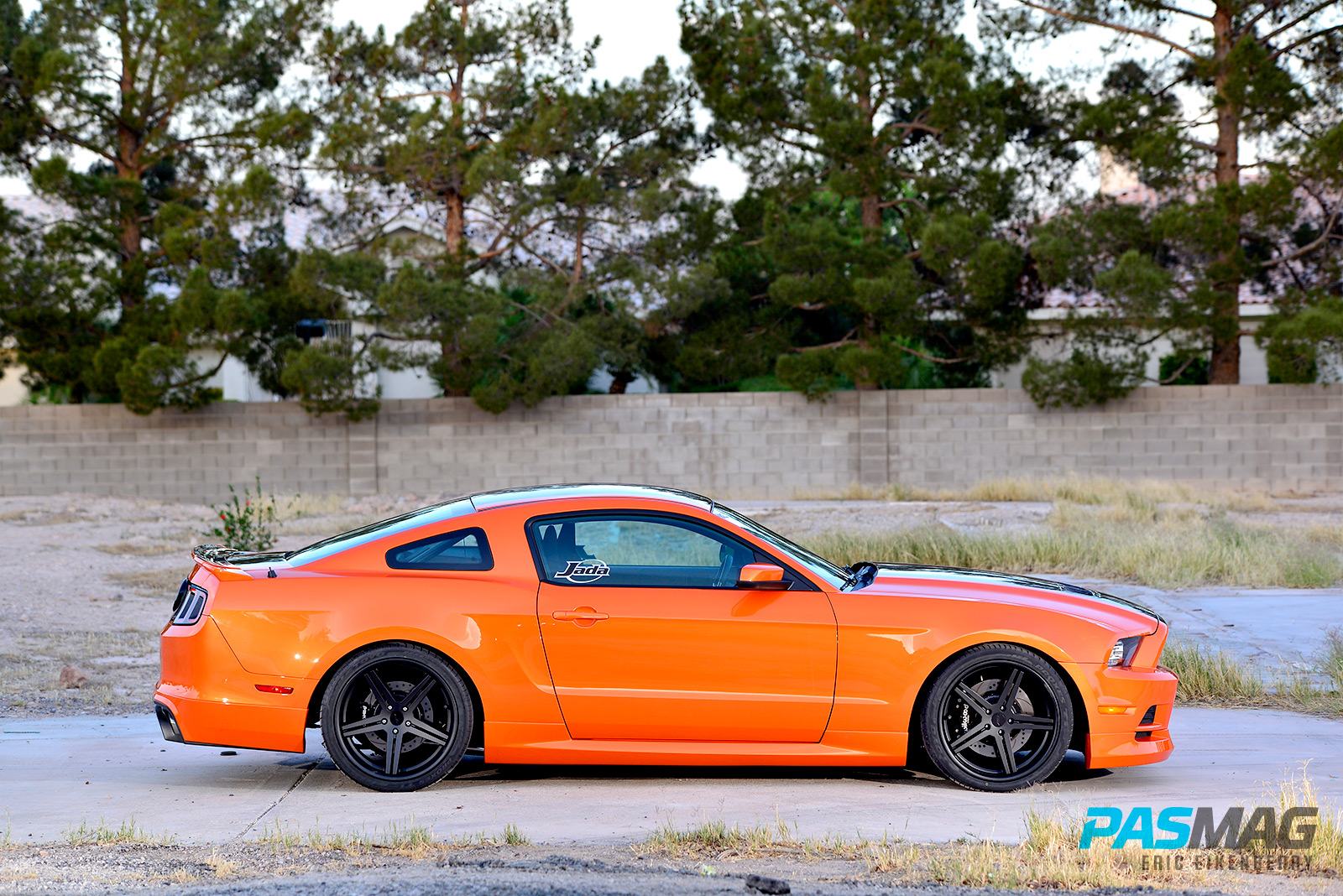 Chew on this for a moment: when the hot, new Fox-body Mustang was introduced with the 5.0-liter shortblock V8, it produced a whopping 225 horsepower – on a good day with a tailwind – at the flywheel. This modern, aluminum block and head, dual overhead cam, forged crank pony belts out a stout 302 horsepower and 276 lb-ft of torque, even before modifications. That's 22 horsepower more than the 2003 Mustang GT's 4.6 liter mill could muster. When Ma ordered it through Ford's SEMA development program, he asked for the short 3.31:1 ratio rear axle, giving it a burst of acceleration. Good enough for zero-to-60 sprints in 5.8 seconds, a mark which easily eclipses the 2003 SN95 chassis GT too. Truth in numbers, this is a quick car for 90 percent of its target market, and a far better car than most others in the sub-$25k (after rebates, etc.) range in terms of horsepower-to-dollars. So, here is where Ma started his build.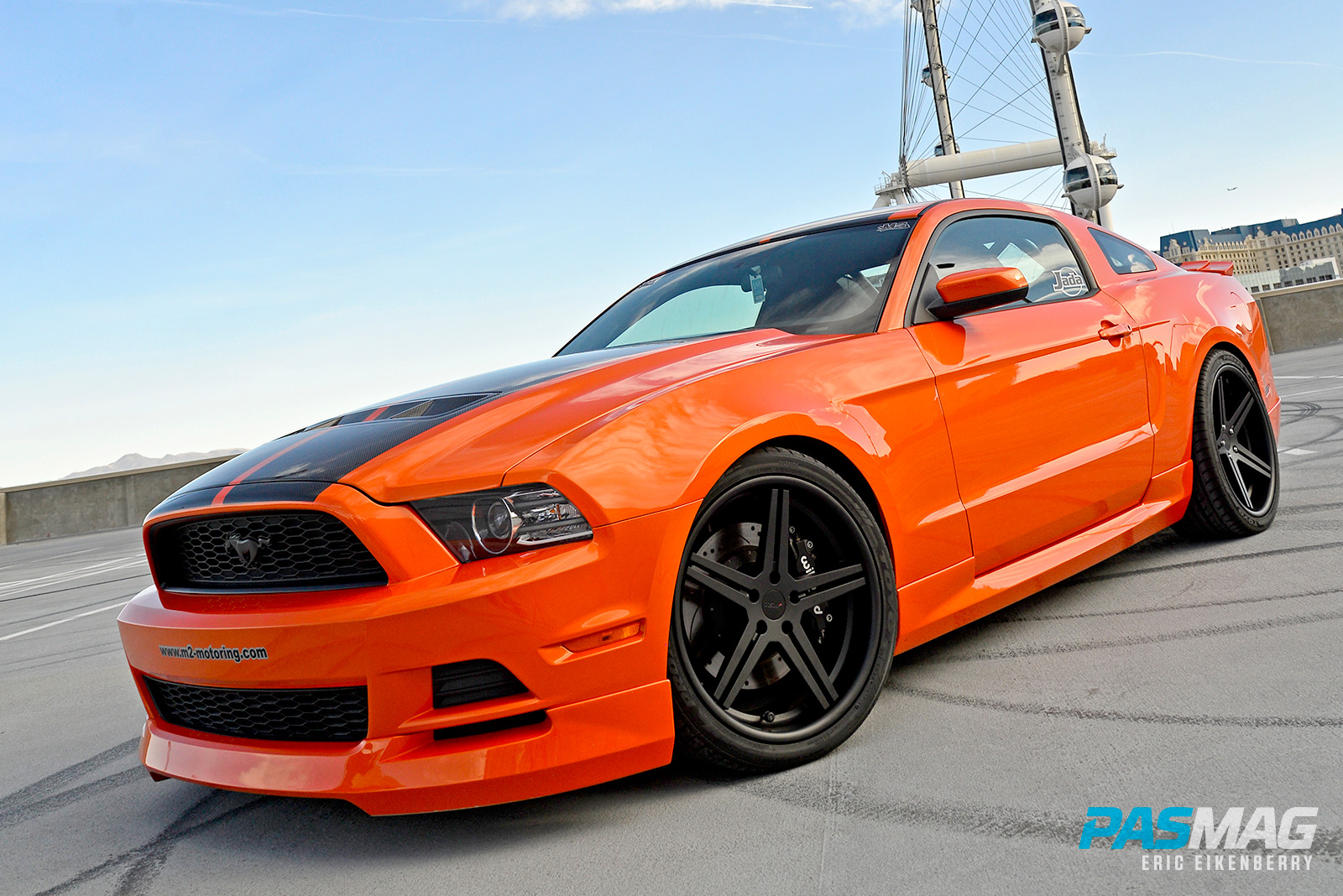 Now, no SEMA car ever rolls through those doors without some exterior modifications, so Michael dove straight in with a SEM Products Candy Orange beauty treatment, expertly applied over a quality Seibon carbon fiber hood and rear hatch, and a custom carbon fiber roof panel and rear wing. Those stripes are the reverse result of careful masking, allowing the gorgeous CF weave to show through. A 3D Carbon lip kit is also used in combination with an APR Performance carbon fiber splitter. The proper ride height is achieved with a premium set of KW Variant 3 coilovers, coupled with Granatelli Motorsport chassis braces, sway bars, a panhard bar and rear lower control arms. The Granatelli package even includes the driveshaft safety loop.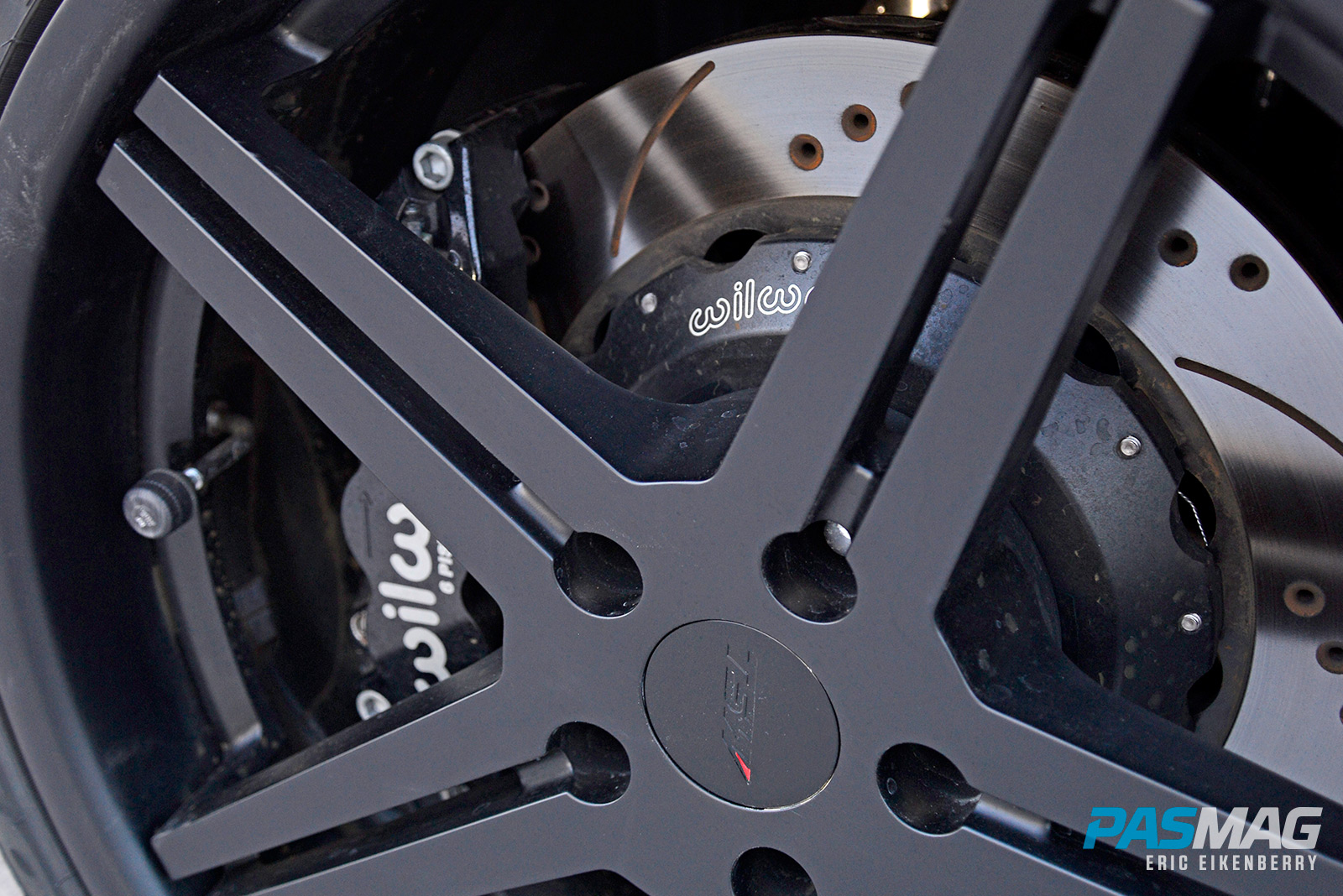 Take no chances, go whole hog, right? Brakes come from Wilwood, the 20-inch, perfect-fitment wheels from TSW and, while we might not love blacked-out wheels, the satin black finish adds a cool dose of attitude to the final project.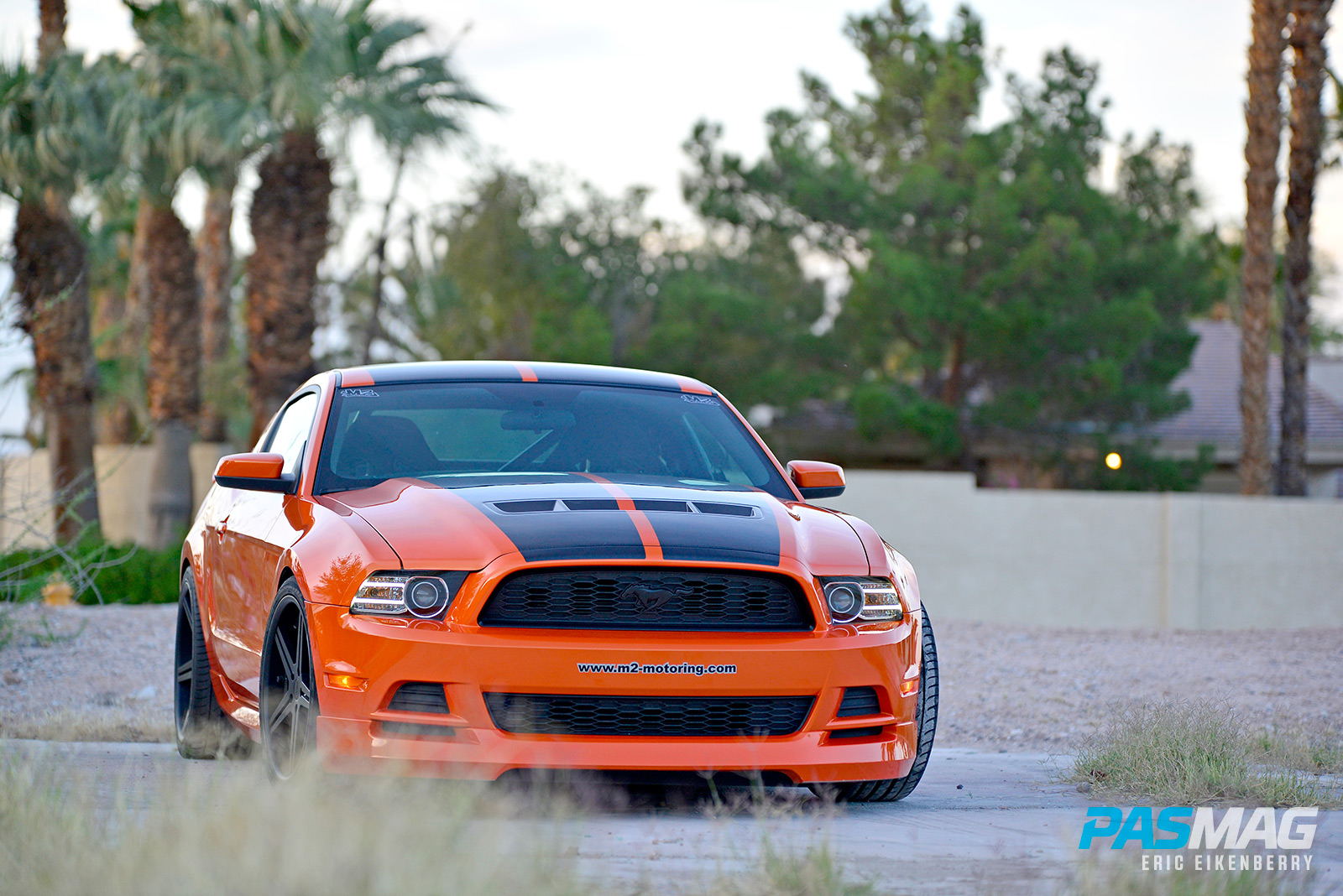 Somewhere in the planning stages, Michael's brother Steve happened to meet some of the people from Jada Toys and, luckily for Michael, arranged introductions for plans to jointly work on the build.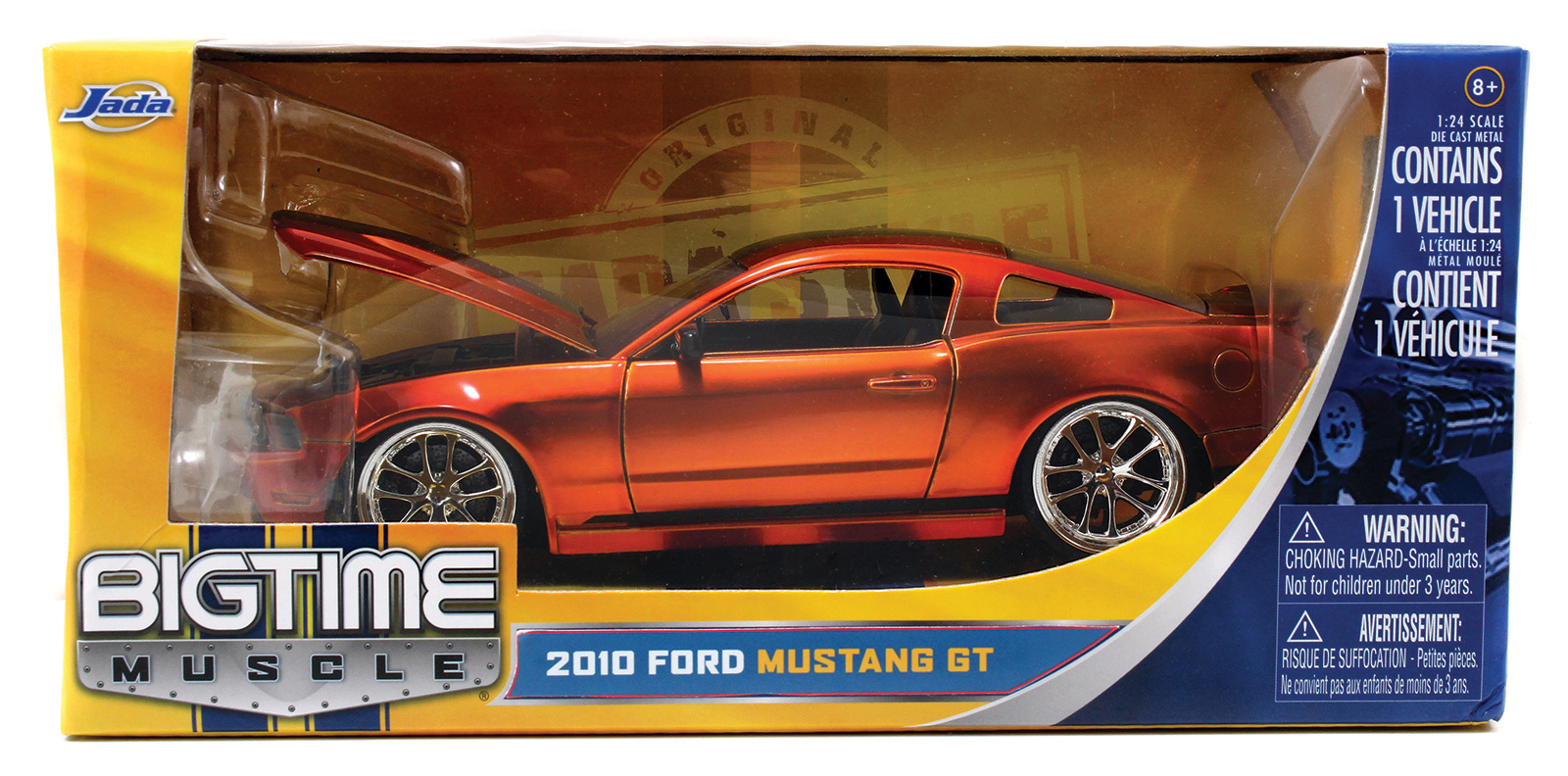 "...[Jada] liked what they heard and were very interested," Ma says. "This car was a collaboration with Jada Toys, as it's always been a dream to see one of my own cars made into a toy, built for showcasing my work and SEMA."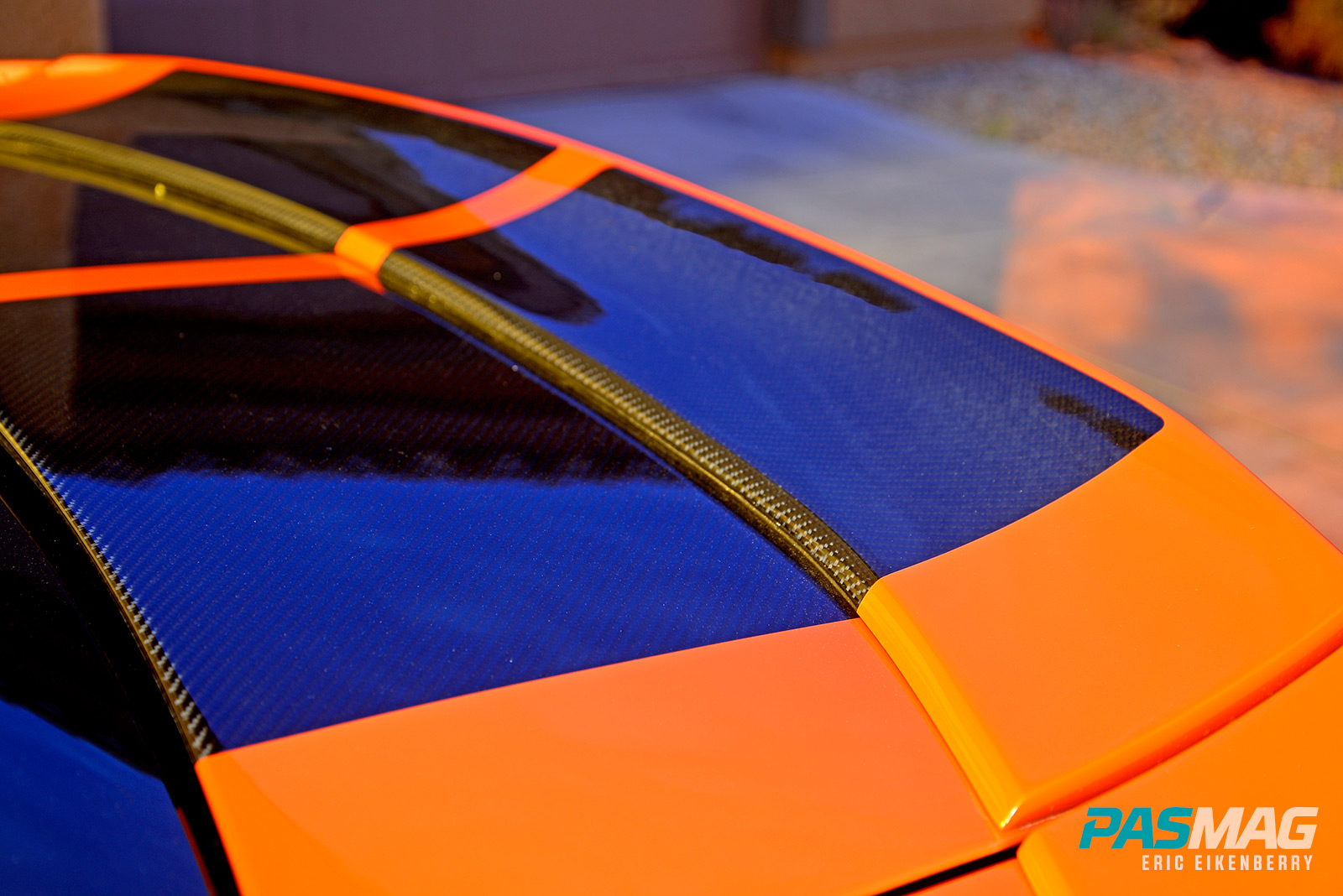 With Ford and Jada behind the project, Ma said it wound up being quite a bit different from his initial plans. While he wouldn't elaborate, we know from first-hand experience that this isn't uncommon with project vehicles and experienced builders expect this. They solve problems, find solutions and still manage to bring dreams to fruition (and on time) for SEMA every year. They do so with equipment like Recaro seats, an Oink Fabrication roll cage and a carbon fiber wrapped dash on the insides of their shiny creations. We drool because we love it.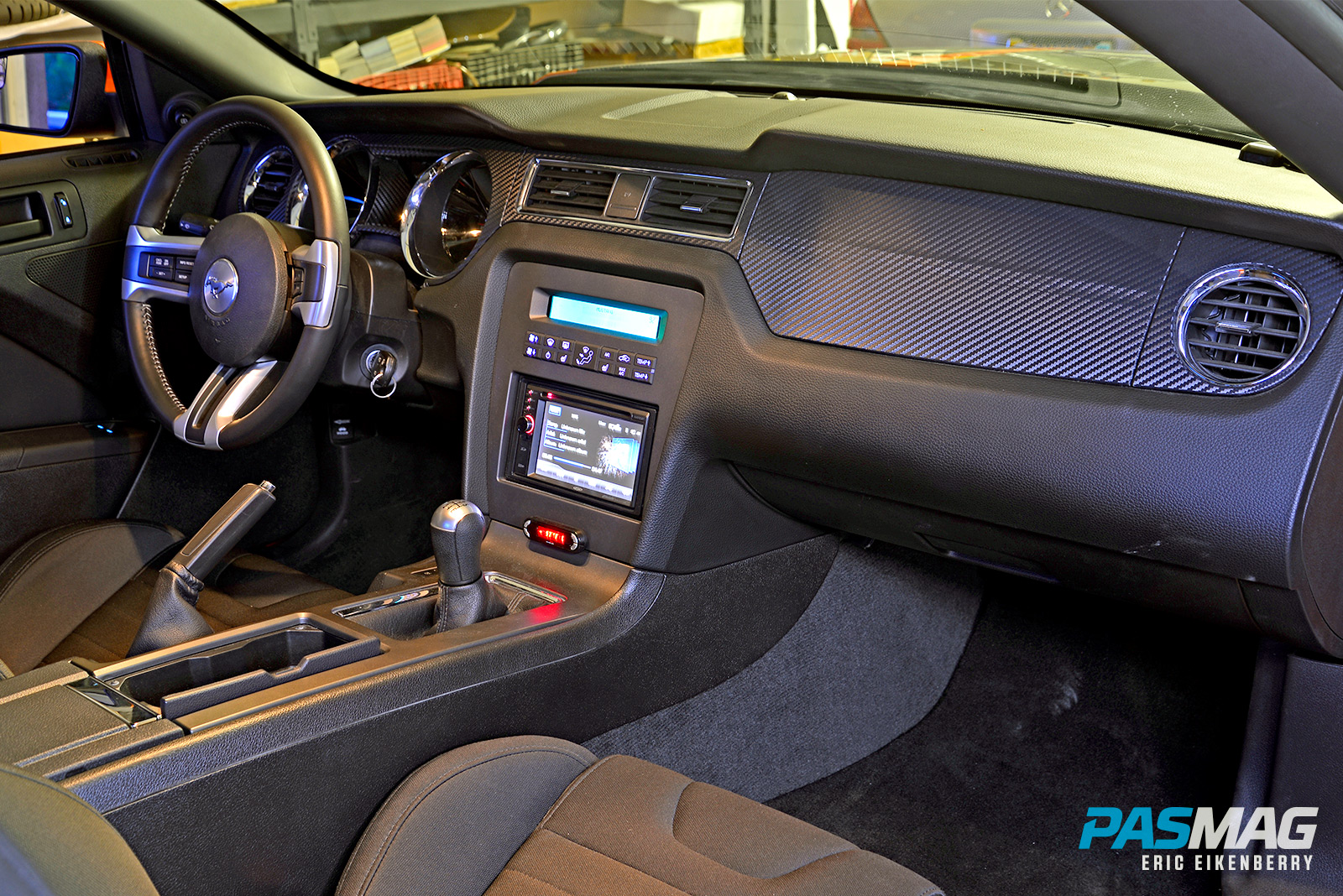 Ma has also outfitted the interior with two 12-inch Kicker CompVX subwoofers where the rear seats should be, two Jensen Mobile amps driving the four 5x7 Jensen speakers and those subs, plus a seven-inch Jensen in-dash receiver with navigation. There's even a Whistler Automotive Pro3600 radar detector with built-in, remote-mounted front and rear detections units.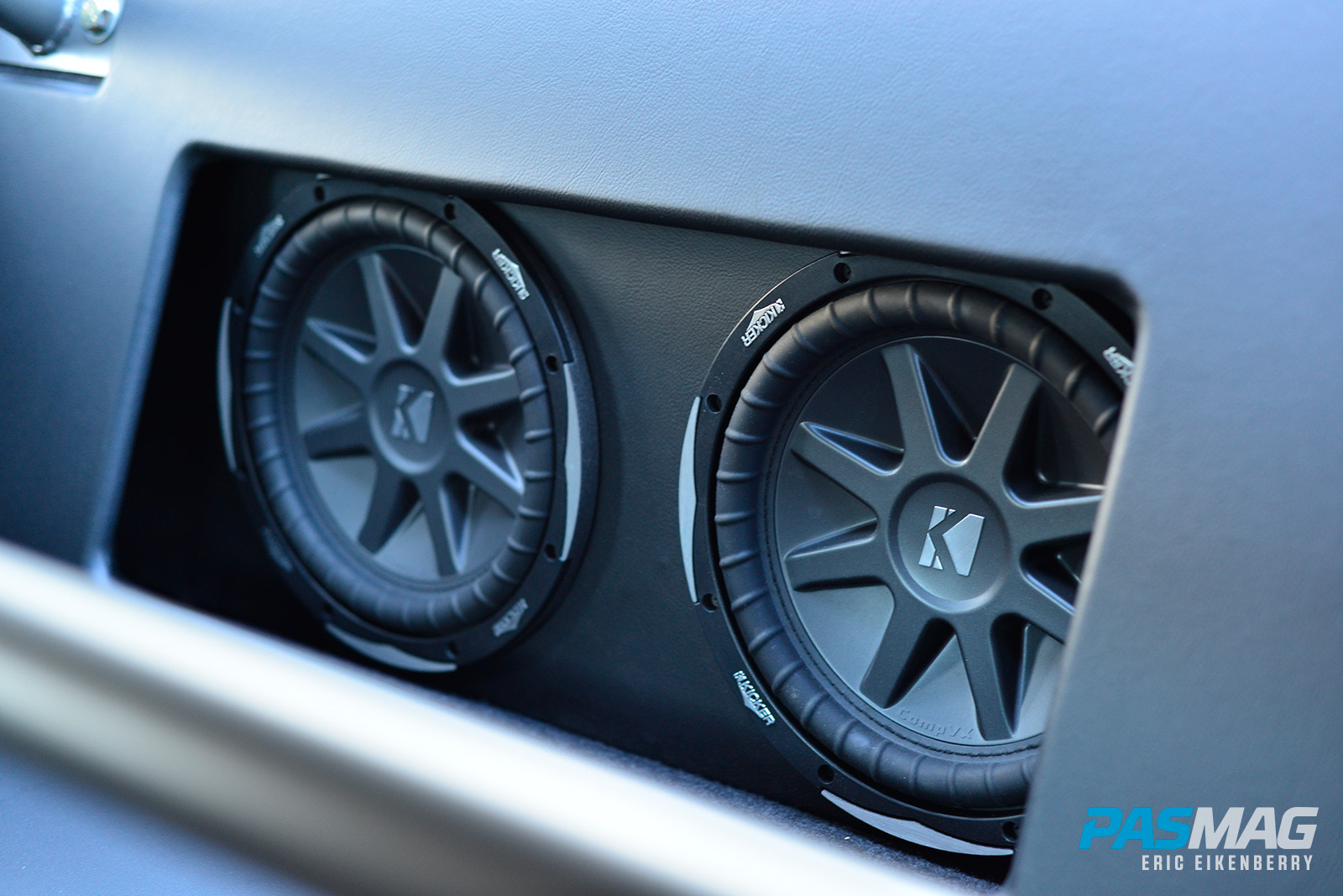 Although the stock power is plenty quick, Ma upped it even more with an Injen intake, Magnaflow cat-back exhaust and tuning from a Bama Performance module. American Muscle supplied the one-piece driveshaft, while he chose Spec Clutches for the Stage 3 clutch and flywheel. Never overlook the importance of getting rid of unwanted inertial mass in the drivetrain, wherever possible. Eliminate it ruthlessly and you'll be rewarded. Or ticketed.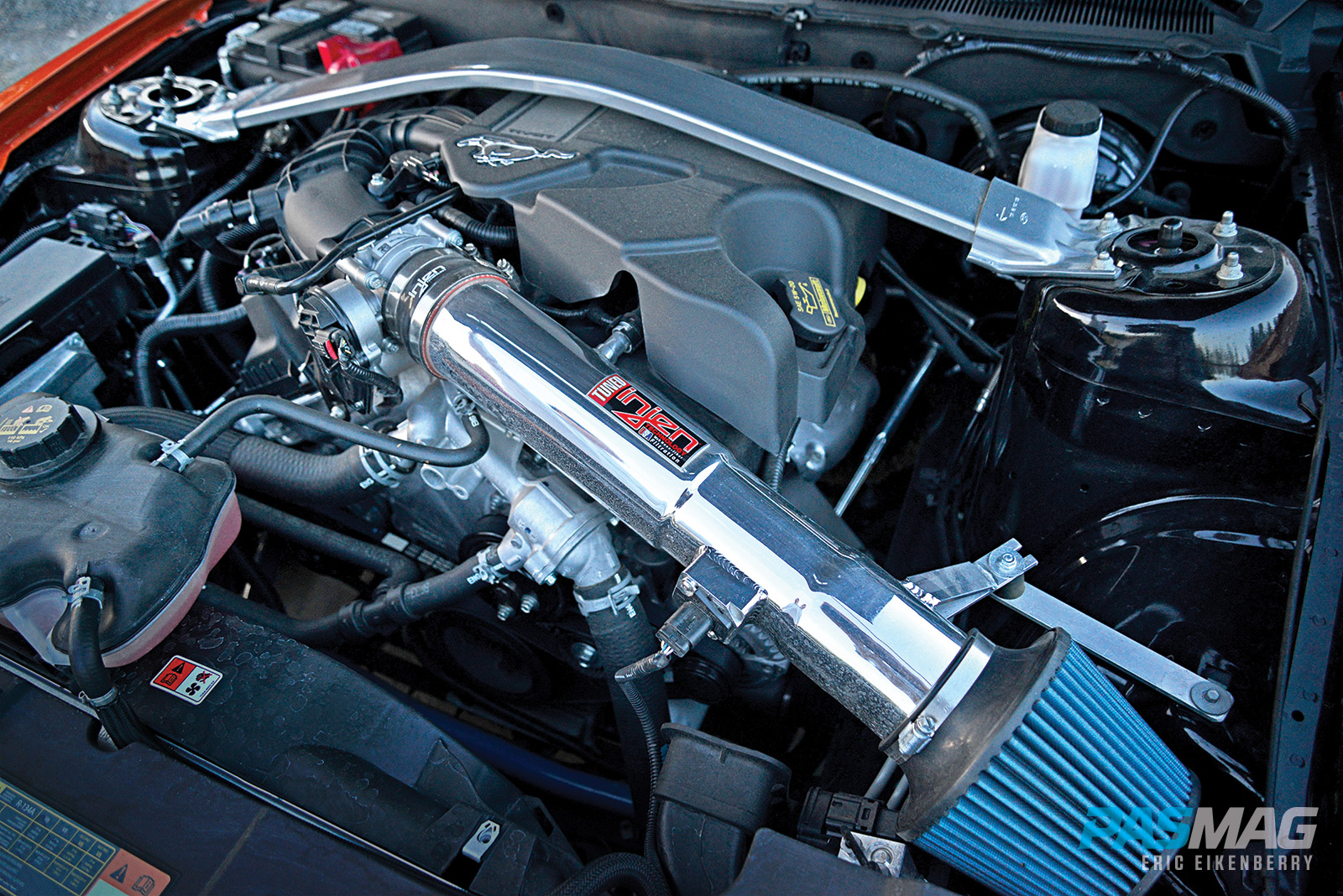 "I like the new generation of Fords," says Ma. "It might be a V6, but it's pretty damn quick. It's definitely a fun car to floor around town in."
It's the age-old tale of 'boy plays with toy cars growing up, man builds real car for show' - except this time, it's been flipped. Car becomes toy, man keeps toy on a shelf in his garage for his son to play with someday. These stories will never grow old.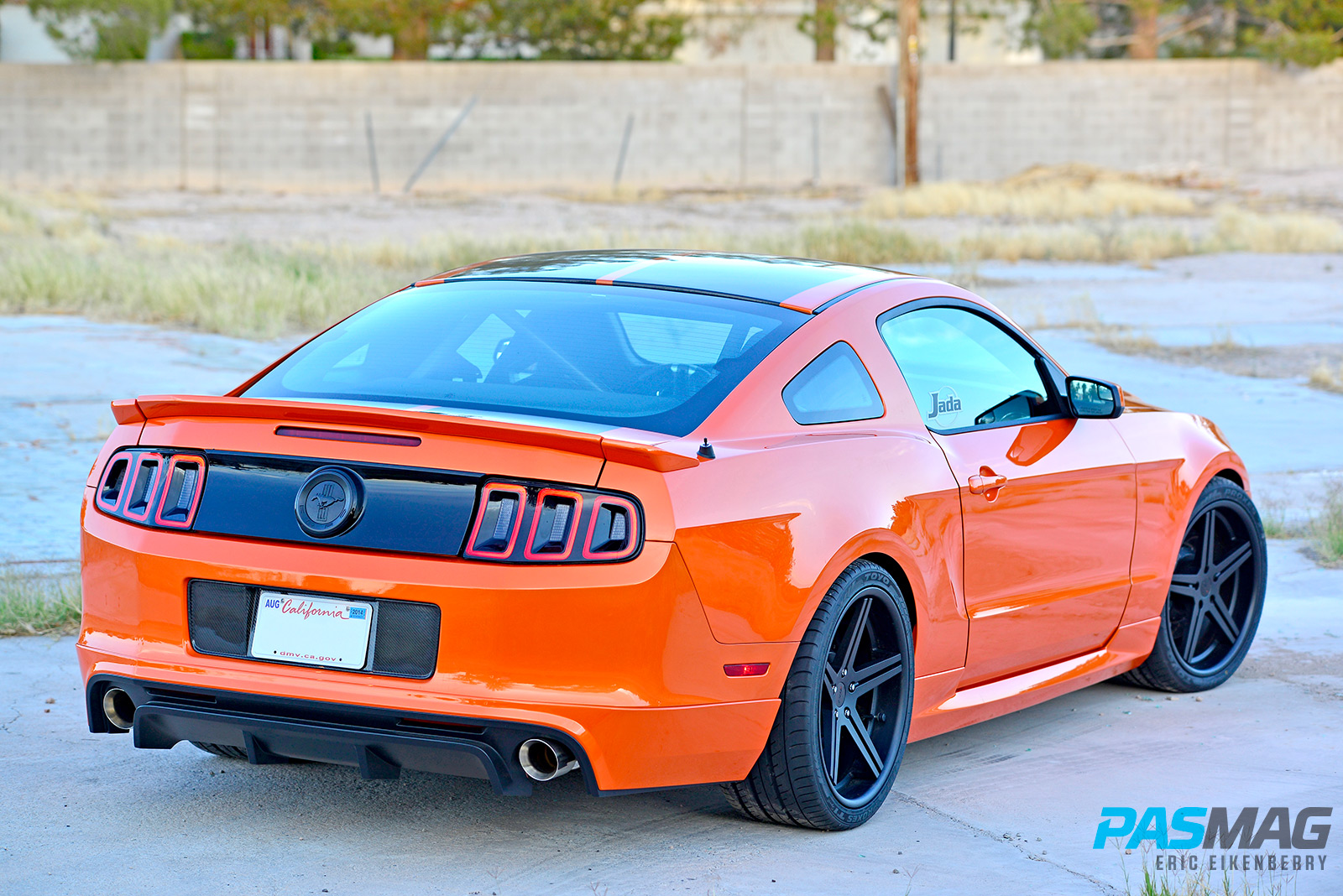 ESSENTIALS
Built by: Michael Ma (M2 Motoring), Ford Motor Company, Jada Toys
Vehicle: 2013 Ford Mustang
Engine: 3.7L V6
Horsepower: 305 hp
Torque: 280 lb-ft
ENGINE MODIFICATIONS
Injen Intake
Bama Performance module
EXHAUST
Magnaflow cat-back exhaust
DRIVETRAIN
Sport Package w/ shortened 3.31:1 rear axle ratios
American Muscle driveshaft
Spec (Stage 3 clutch and flywheel)
CHASSIS / SUSPENSION
KW Suspension Variant 3 coilovers
Granatelli Motorsports (chassis braces, sway bars, panhard bar, rear lower arms, drive shaft safety loops)
WHEELS / TIRES / BRAKES
TSW Mirabeau 2-piece wheels – 20x9 (f), 20x10 (r)
Toyo T1 Sport tires – 255/35R20 (f), 285/30R20 (r)
Wilwood brakes – Big brake kit, stainless steel brake lines (f/r)
EXTERIOR
SEM Products Candy Tangelo paint
Seibon Carbon (carbon fiber hood, carbon fiber hatch, carbon fiber rear trunk plate)
3D Carbon lip kit
APR Performance carbon fiber splitter
Custom (carbon fiber roof panel, carbon fiber rear wing)
INTERIOR
Recaro seats
Oink Fabrications roll cage
Carbon wrapped dash
American Muscle floor mats
ELECTRONICS
Whistler Automotive Pro3600 radar detector with front and rear detection units
Jensen mobile (7-IN. in-dash head unit with navigation, 4-ch. amplifier, monoblock amplifier, 5x7-in. speakers (4))
Custom rear seat delete enclosure