Written by Micky Slinger | Photos by Pepper Yandell
There is a place in Garland, Texas where monsters are born. You may have been told there were (or weren't) monsters under your bed when you were younger. Well, Jotech Motorsports is the place they reside – at least until they can squeeze out a few extra horses.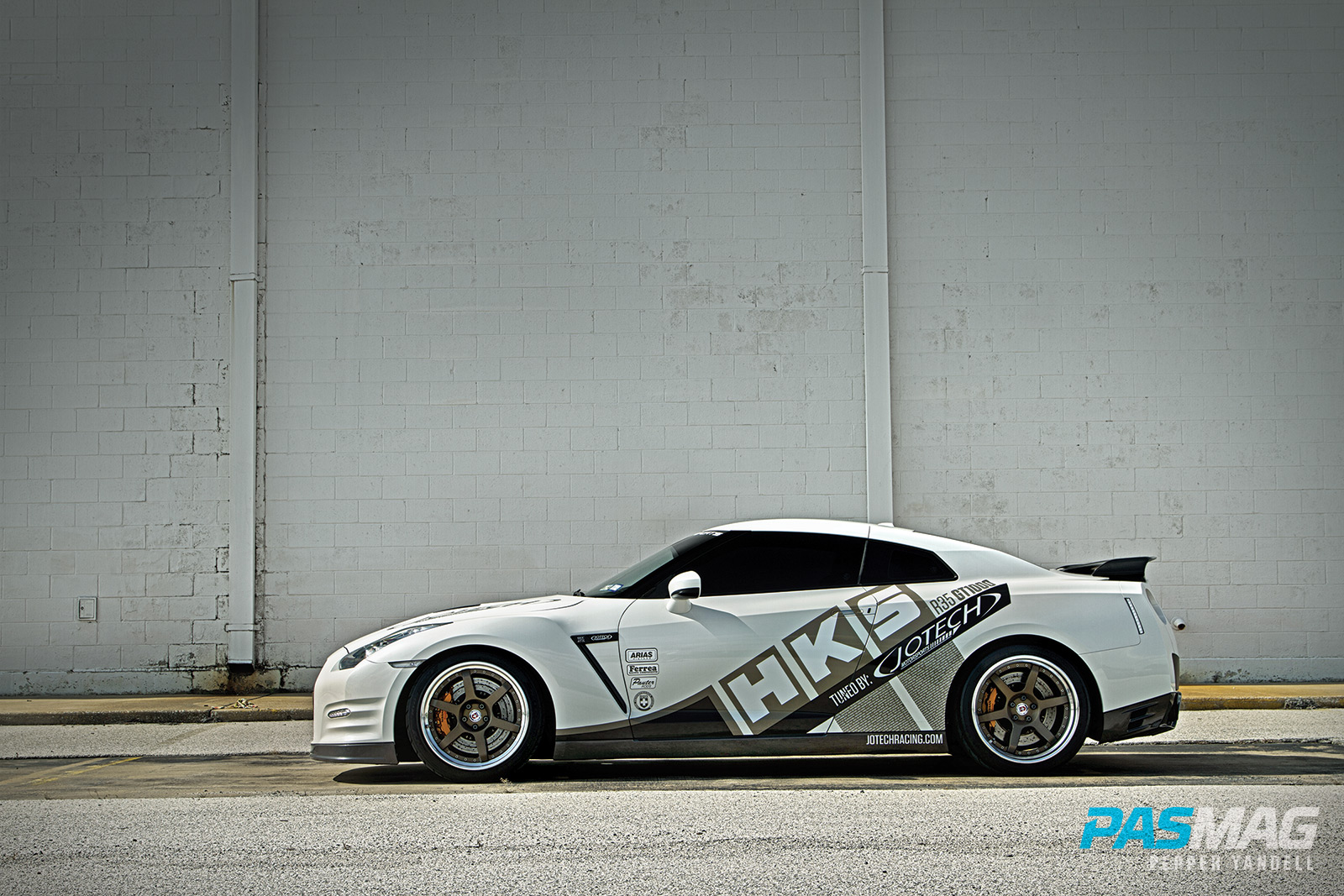 Jotech is owned by Kenny Tran, but you won't find him sitting, stuffed up in an office. Tran is right out there at the dyno, putting his many, many years of knowledge into making his next customer's ride everything they could have dreamed of. This is what Jotech specializes in. They offer "power packages" in increasing stages and even track specific bundles to ensure the customer receives the best for whatever road or track they intend to drive.
Another specialty for Tran and his team is the Nissan GT-R, specifically the R35. To say their knowledge of the car is extensive is actually understating it a bit. In 2012, the shop reached a milestone when it broke the 1,000 horsepower mark with a GT-R. Naturally, Tran owns an R35 and has tuned it himself with the most powerful, street legal package that Jotech offers; the Stage 6-S.
With over 1,000 horsepower beating under the bonnet, it's an exciting car all in itself, but the attention to detail and quality parts are almost as attention grabbing as the power figures. Other than the expertise that has been accumulated with the R35 over the years, Tran's reason for choosing it above other platforms seems to be in line with other GT-R enthusiasts.
"I test drove it once and absolutely fell in love with it," says Tran. "I love the technology and how 'mod friendly' it is to work on and tune."
As many gearheads know, a 1,000-plus horsepower build is neither all-engine or forced induction, it's a marriage of the two that, with some dyno tuning, brings a screaming beast to life. A full-blown HKS turbo kit helps boost the VR38DETT engine to over a grand of glory. Arias pistons and Pauter connecting rods work together with a Ferrea valvetrain and Kelford camshafts to simulate the quickening heartbeat of this adrenaline junkie. A Cobb Tuning Accessport V3 and HKS EVC boost controller let the GT-R's brain know what to do to make the most of the mods.
"I like the HKS turbo kit because they are such quality parts," Tran explains of his parts choices. "The engine components I like using are Arias, Pauter and Ferrea parts because they are the same parts we've used in our race cars."
While this is a heaven-sent list to put under the hood, Tran says that things would go a bit differently if he could hop in a time machine.
"If I had to do it all over again, I would start with a stroker motor with bigger displacement and longer rod ratios to get more torque," he admits.
Now, he says that the intent in building this car was for both race and show, so let's get to the goodies that fall into both categories. Shall we? The R35 houses HKS Hipermax IV coilovers under its haunches. Whiteline sway bars and an assortment of SPL control arms and links keep the GT-R tight and tidy.
Bronze-centered, 20-inch HRE C-106 wheels are wrapped in meaty 275/35 Toyo fronts, and even meatier 315/30 Nitto tires fill out the rear fender gap nicely. Past the polished lips and bronze centers, there are two-piece rotors – 400 mm in front and 380 in the rear – which are drilled to cool them down after trying to stop this machine.
If someone were to actually see the front of this R35, they would notice that an APR carbon fiber lip sets things off, while the LED headlights from a 2015 model year GT-R are nice touches. A carbon fiber rear spoiler finishes things off at the back, the place where everyone will be watching it fade into the distance.
Inside is all race rather than show. Sparco four-point harnesses and a Titan Motorsports four-point roll bar are in place just in case things go a little awry at the track. Given the tech in the GT-R, this is highly doubtful, but a nice thought nonetheless.
At this point, most builders/tuners would take a step back and bask in the glory of what their two hands had created. However, in true project car fashion, "it's never done," says Tran. He would love to see more power come out of his personal Godzilla. After it's done demolishing Texas, Tran will finally be able to take part in his favorite part of the build process: "seeing the final result."

ESSENTIALS
2013 Nissan GT-R

Built By: Jotech Racing
Owned By: Kenny Tran
Location: Garland, TX
Engine: Nissan VR38DETT DOHC V6
Horsepower: 1050 HP

ENGINE MODIFICATIONS
HKS (GT1000 turbo kit, intercooler, hoses, GTII wastegate, Iridium spark plugs, EVC 6 boost controller)
Jotech (air filter, fuel rail)
Ferrea (stainless valves, titanium retainers, dual valve springs)
Turbosmart blow-off valve
Aeromotive fuel pressure regulator
Kelford camshafts
ID2000 fuel injectors
Pauter connecting rods
Arias pistons
Cosworth head gasket
ARP (head studs, main studs)
Dodson Promax clutch
Pfitzner 1-6 billet transmission gears
Driveshaft Shop Stage 5 axles
Cobb Tuning Accessport V3

EXHAUST SYSTEM
GReddy Racing Titanium 94 mm exhaust system

CHASSIS / SUSPENSION
HKS Hipermax IV coilovers
Whiteline sway bars
SPL (front upper control arms, titanium rear camber links, titanium rear traction links, titanium rear toe links)
Titan Motorsports 4-point roll cage

WHEELS / TIRES / BRAKES
HRE C106 wheels – 20x10 (f), 20x12 (r)
Nitto NT05 front tires, Toyo R888 rear tires – 275/35 RZ20 (f), 315/30 RZ20 (r)
2-piece drilled brake rotors – 400 mm (f), 380 mm (r)
Stainless steel brake lines
Motul DOT 4 660 brake fluid

EXTERIOR
APR carbon fiber front lip
Carbon fiber rear spoiler
Nissan 2015 MY GT-R LED headlights
HKS graphics

INTERIOR
Sparco 4-point harness

SPONSORS
HKS, Jotech, HRE, Arias, Pauter, Ferrea, SPL