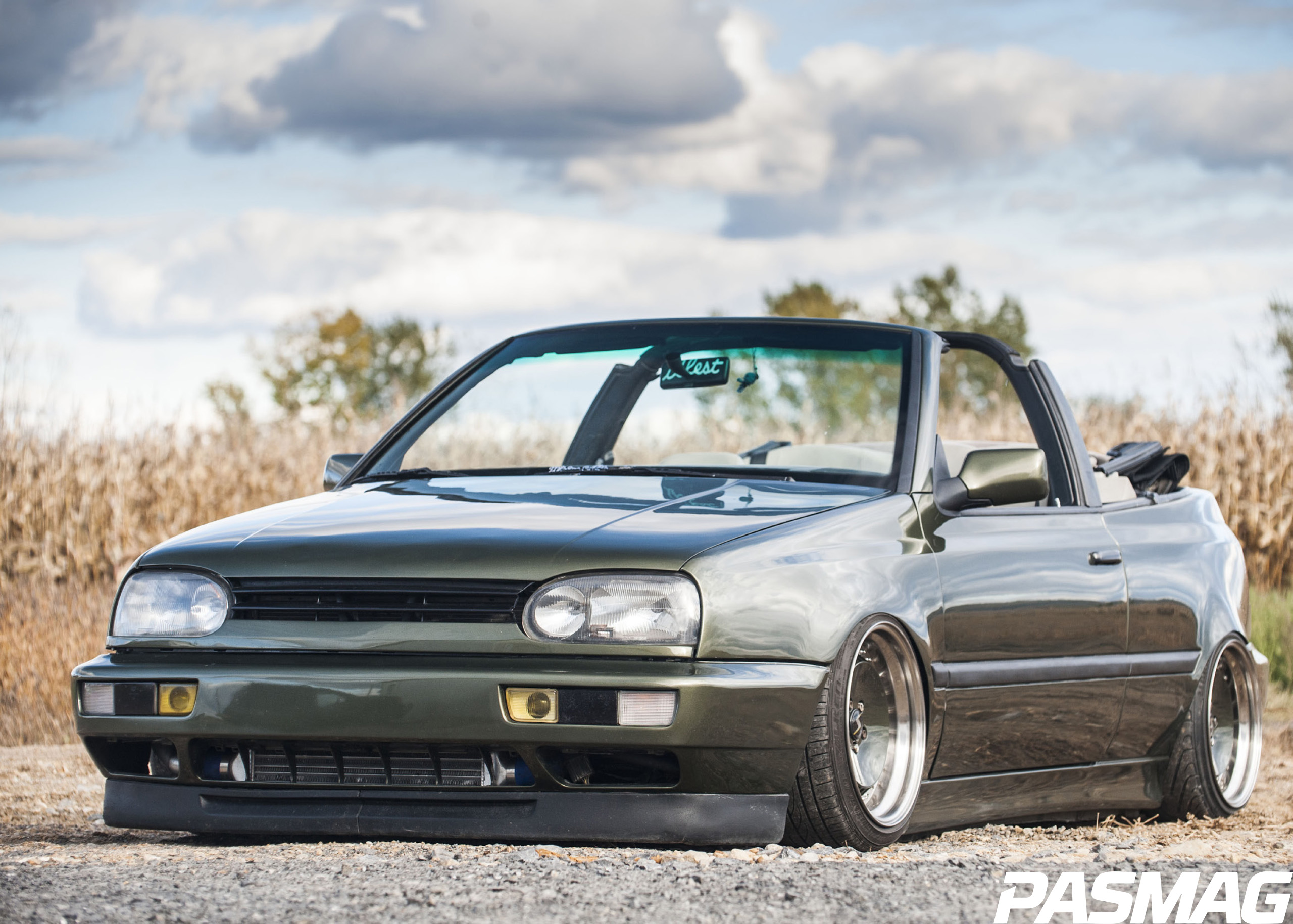 Plenty of cars are built with passion, but some just have more emotion infused into them. This VW Cabrio, owned and built by Chris Little, is one of those examples. This is a story with more history than your average bagged VW.
Coming from Montreal, Chris decided he needed a change of pace from his cover-featured VR6 Golf. Out of the blue, he parted out the VR6 and his VR Corrado project vehicle, and made plans to head west to British Columbia.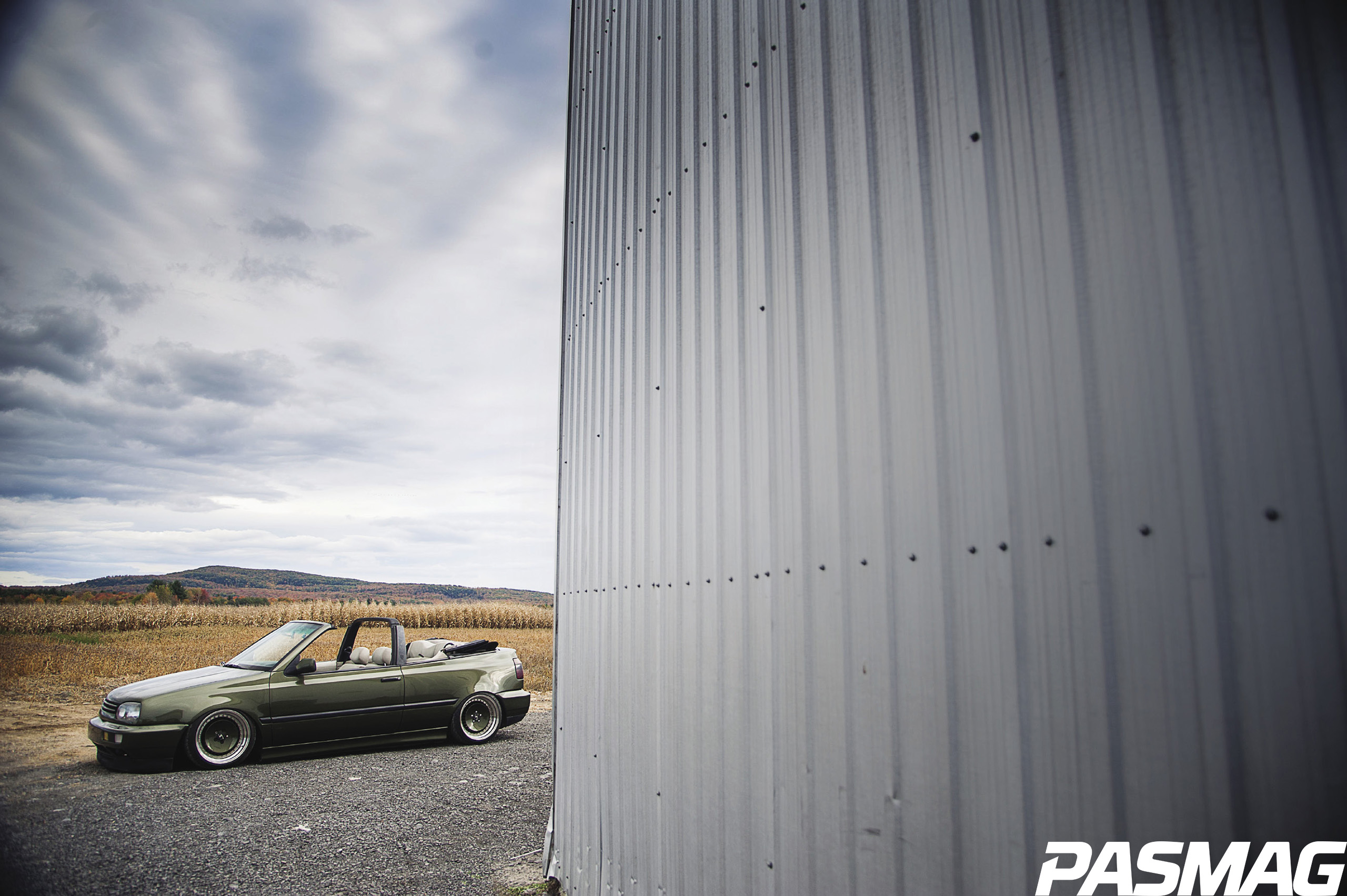 After selling almost everything, he had to find an inexpensive vehicle to drive all the way to BC. After some searching, he ended up buying his mom's black, slightly-rusted VW Cabrio. This is where things start to get interesting.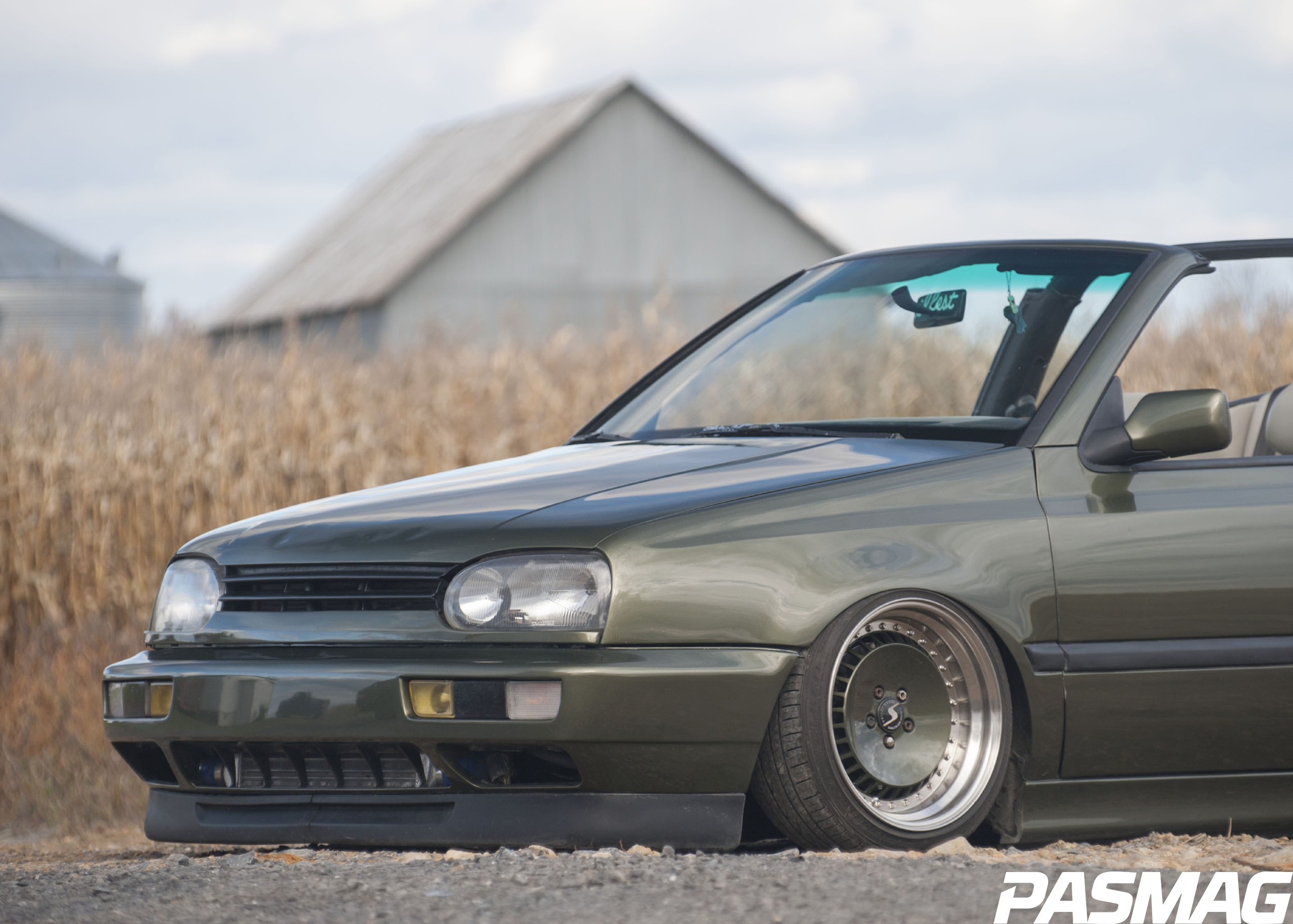 Being the car guy he is, Chris couldn't leave this Cabby stock. Using some left over parts from his previous builds, Chris swapped in a manual transmission, a set of Bilstein PSS9 coilovers and did a five-bolt conversion with four discs so he could run his black Schimdt TH-Line wheels from his Golf. Other quick mods included e-code headlights, a badgeless grill and fancy wood MOMO steering wheel.
Fast forward, Chris decided to return back to Montreal. His cabby ran great over the thousands of miles during his trip, but now that he was home it was time to get serious. Not even two weeks after getting home Chris removed the stock 2.0L and threw in a VR6. In typical style, Chris's VR6 didn't stay stock for long either. A GIAC chip, C2 Motorsports intake and 2.5-inch Magnaflow exhaust were thrown on to add a bit of engine pep.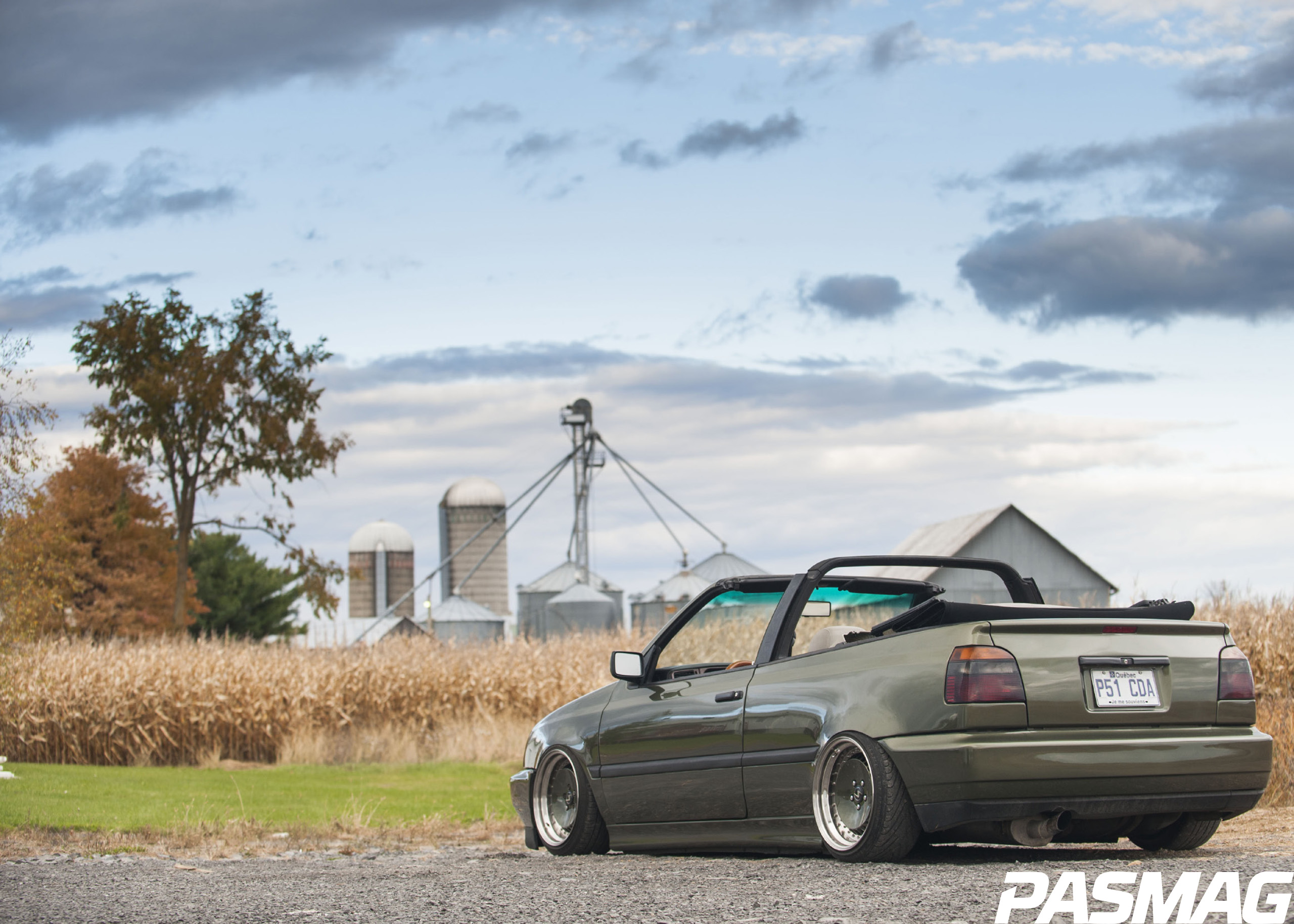 The next step was air. Chris installed an Air Lift Slam Series bag set up to get the car sitting how he wanted. With the car stanced well, he wanted to make it look good. Chris is a body and paint guy, so he went to work repairing all the rust, dents and poor body work from years past. When he was done working his magic, the car was painted Hummer H2 Sage Green with a custom flake clear coat for added sparkle.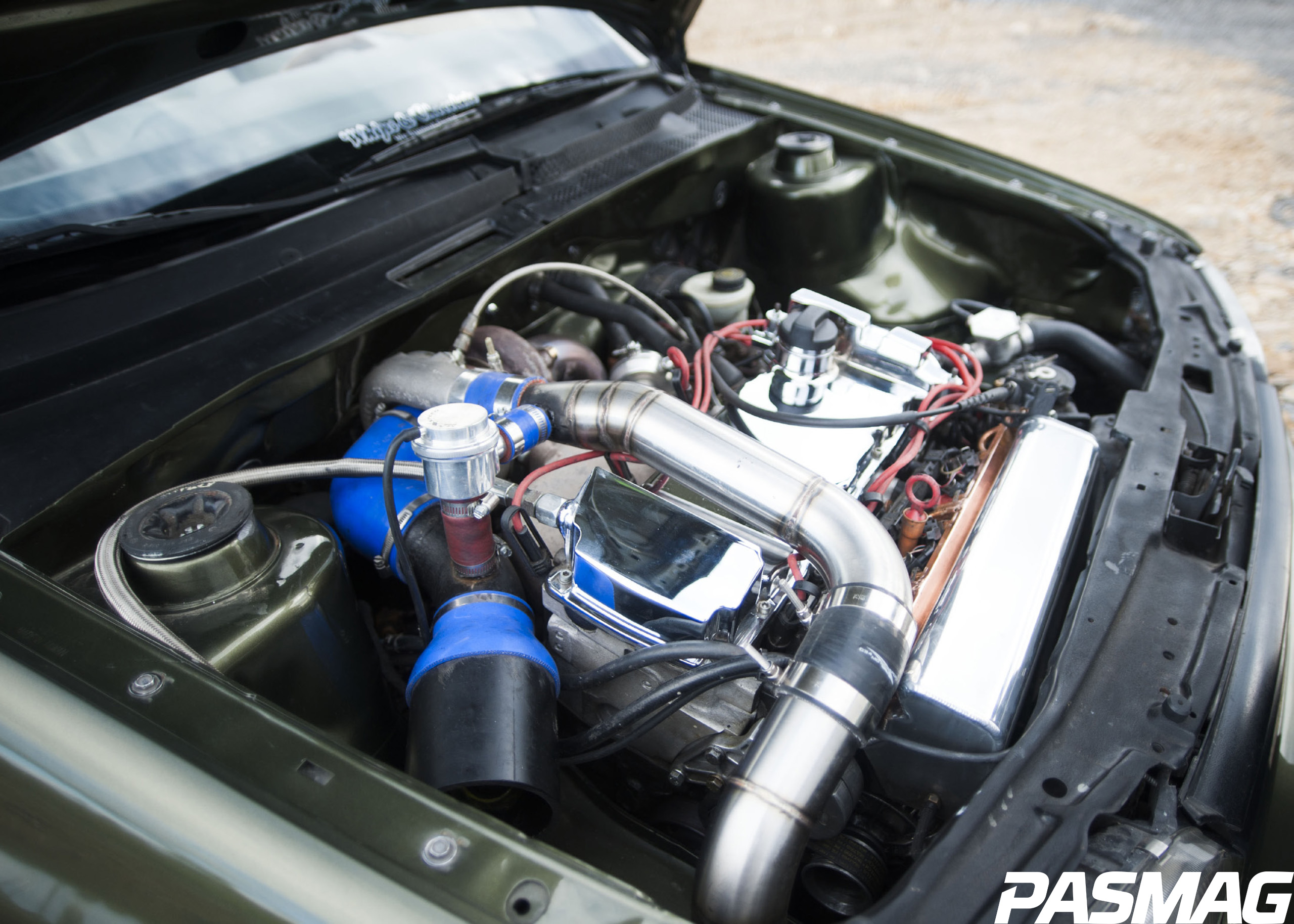 Chris then focused his attention on the engine bay. Almost everything under the hood is either chromed or polished to a shine and all unnecessary parts removed to give the engine bay a clean, shaved look. During this time he also redid his wheels to match his car, using the same paint for the centre of the wheel, which works well with the polished lips.
The car was looking and running great until a mechanical issue caused the VR6 to overheat and blow blue smoke like a two-stroke dirt bike. Without missing a beat, Chris threw in another VR6 engine, but this time added some spice to it. Installing a T3/T4 turbo and a few other go fast upgrades, Chris brought his Cabby to the 300-350 horsepower mark.
With Chris's passion for perfection, the evolution of this VW Cabrio is never-ending. With bigger plans for this ride, it seems we'll be seeing more of it in the future. Not bad for his moms car.
ESSENTIALS
Vehicle: 1998 Volkswagen Cabrio
Driver: Chris little
Team: N/A
Built by: Chris little
Engine: Vr6 12V Turbo
Horsepower: 300-350 hp
Torque: 300 lb-ft
Engine Modifications
All new gaskets (crank seal, head gasket, etc.)
C2 Motorsports (short runner, stage-1 software)
Custom (400ph core intercooler, 2.5-in. IC piping, MAF housing)
T3/T4 turbocharger (.63ar cold, .70ar hot)
ATP manifold
Tial 38mm waste gate
360cc injectors
Forge diverter valve
ARP studs
Chrome valve cover
Copper-plated (fuel rail, transmission cable bracket, brake booster shield)
Shaved engine bay
Full wire tuck
Exhaust
Magnaflow 2.5-in. straight turbo-back exhaust
WG open dump tube
Drivetrain
Bully Performance stage-4+ clutch
Five-speed OEM transmission
USP Motorsport clutch line
Chassis / Suspension
Removed front sway bar
Table bearings (removed bushings)
Airlift Slam Series
400cc compressor
3 gallon tank painted beige
Wheels / Tires / Brakes
Schmidt TH-LINE color-matched wheels - 16x9.5 et18 (f/r)
Marangoni tires - 195/40 R16 (f/r)
VR6 DE brakes (f/r)
5mm rear spacers (for center caps to fit flat center caps)
Exterior
Hummer H2 Sage Green with custom flakes clear coat paint
Pulled fenders
Shaved (engine bay, door handles, windshield washer on hood, antenna, VW logo on trunk, swag line on bumper)
Smoothed rockers
Smoked e-codes
Badgeless grill
VR6 lip
Chrome (fender and firewall bolts)
Interior
OEM beige leather interior
MOMO wood steering wheel
MK4 wood shifter knob
VDO boost gauge
Audio / Mobile Electronics
Alpine head unit
OEM speakers
Sponsors
Michael Lafrane Garage