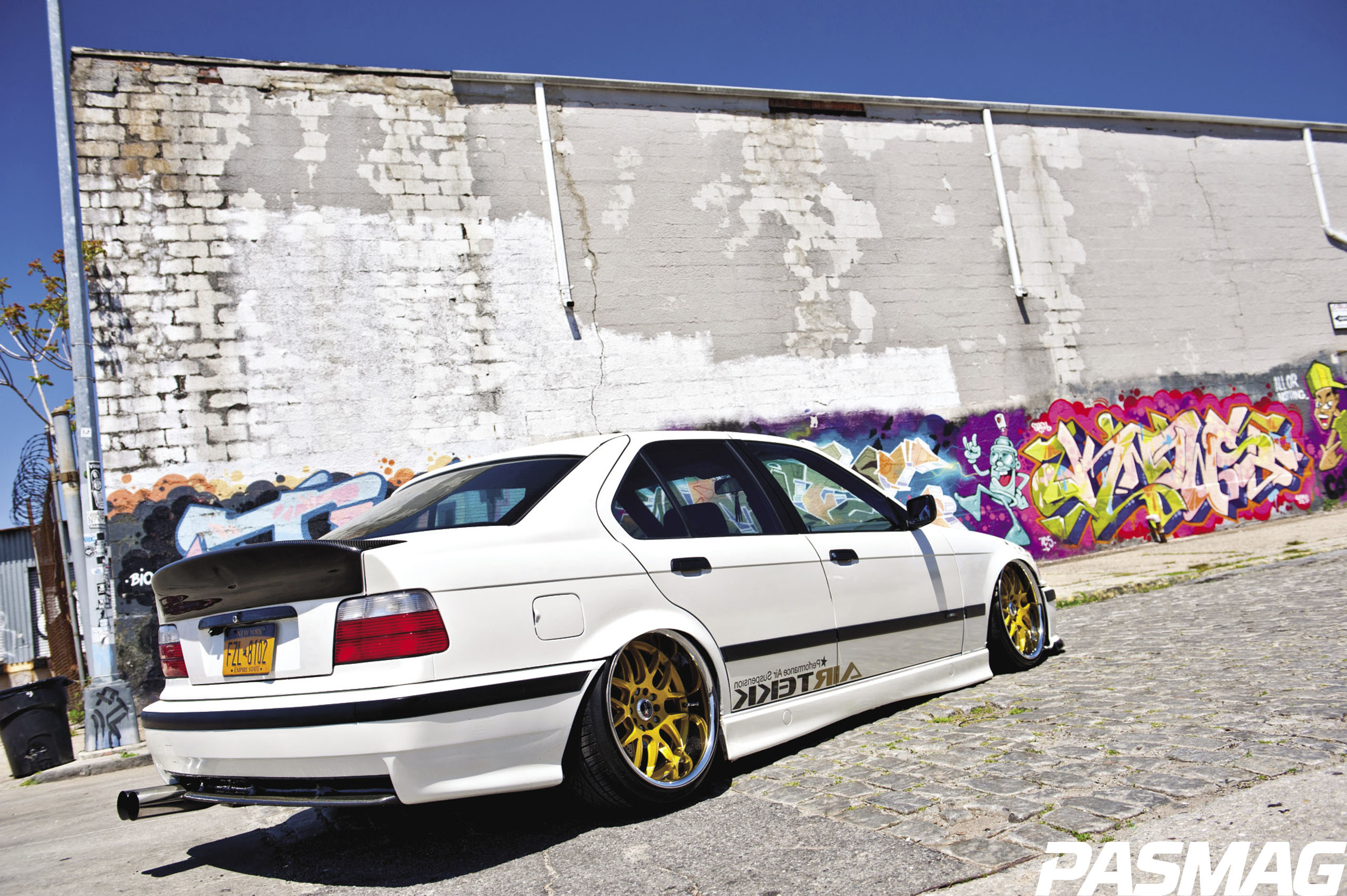 Written by Jordan Lenssen | Photography by Kevin Choi
BMWs are a prevalent sight in New York City. In fact, their regularity makes them almost unnoticeable, especially to those whose attention is whisked away by the countless exotics and luxury marquees; Bentleys, Rolls-Royces, Bugattis and Maybachs to name a few. The views downtown are dominated by skyscrapers that make these kinds of vehicles obtainable, but among the hustling city and the hordes of cars, cabs, bikes and people, one man and his machine stands out as different from the rest.
Mario Rosasco is the owner of Airtekk, which, if you aren't familiar with, is a manufacturer of the some of the coolest and most innovative air ride suspension kits around. His company and its products are constantly pushing the boundaries of air ride suspension, taking inspiration from city life and the cars in it. His resume is lined with years of experience in automotive fabrications, hydraulics and engineering, much of which he learned before he was legally allowed to drive.
Like every great story, it begins with a turning point or love at first sight moment. Rosasco's experience was the latter, and that love was the E36. He vividly recalls the first time he saw one at age 16; it was blue with M3 Vader seats.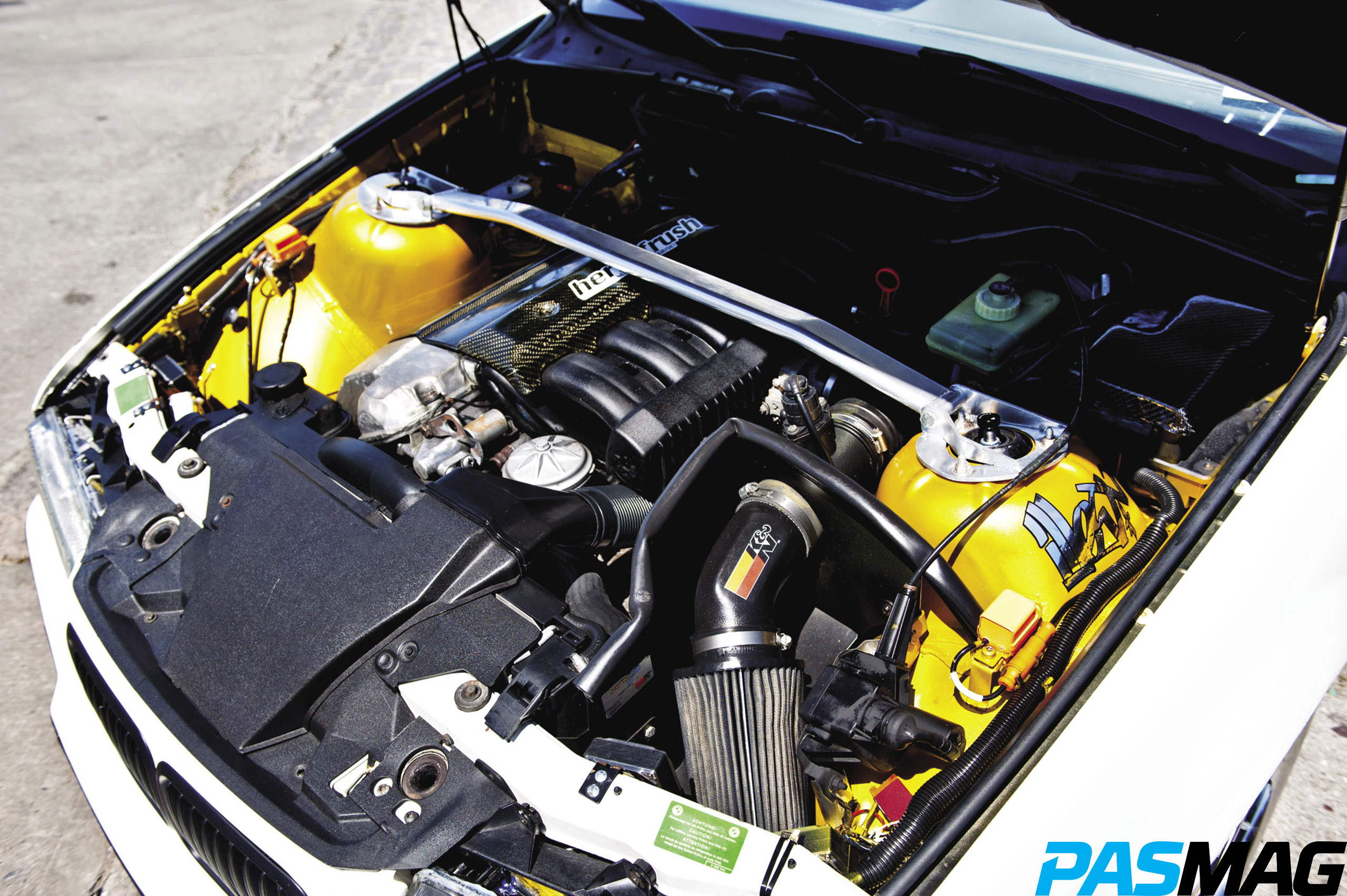 Spending most of his time in the shop learning the trades as a kid, he watched his dad hand-lay fiberglass body kits and spoilers for Mercedes and BMWs. From there he started building hydraulic lift kits, later moving to massive air lift installations for 18-wheelers.
Everything started to come together in the early 2000s. His engineering studies in high school and college transferred over to the automotive world, and he started building coil-over kits geared more toward the racing side.
"I started really focusing myself on that. I saw a good niche for it. It grew very well, then the coil-over industry exploded," he says.

Seeing the growth of the market, he looked toward greater commercial opportunities, but saw the shortcomings of coil-overs in the potholed city that is New York.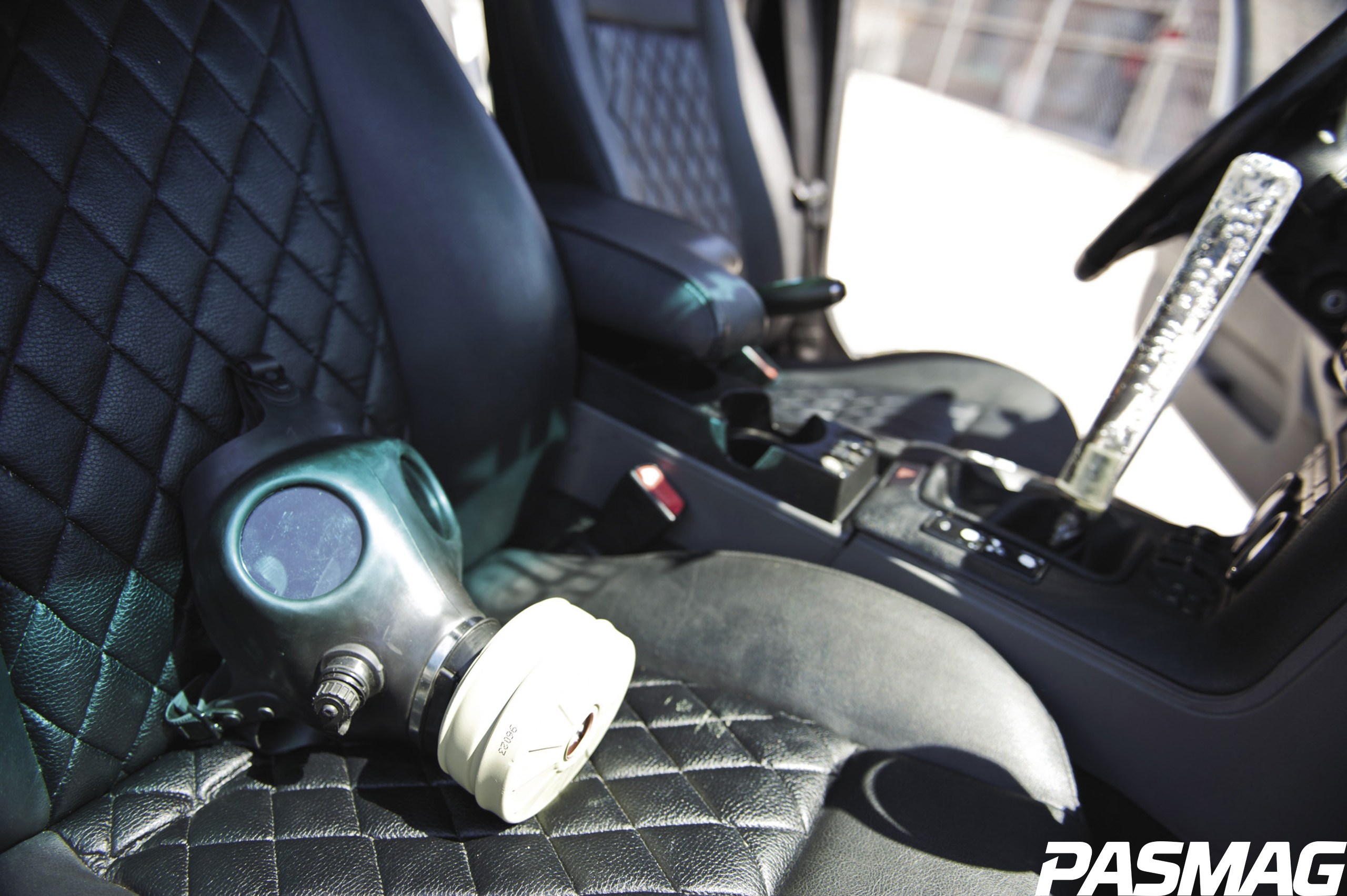 "People can lower their cars on coil-overs in New York, but you really can't get that look you want, because you'll break your bumpers and ruin your fenders," Rosasco says.
On the hydraulic side, the systems were too bulky, too bulky, too complex and too costly to make sense from a business and a usability standpoint. And tada, the beginning of Airtekk.
It was the coming together of a perfect trifecta of experience in automotive, engineering, and suspension backgrounds. Today, his Airtekk kits are some of the most popular and innovative in the world.
So, when he stumbled across an E36 on eBay, he saw an opportunity to do something truly unique with a car he had loved since day one.
"I wasn't really thinking about doing it, but it brought a lot of memories back when I wasn't able to build it, so I just said screw it!" he laughs.
Being in his position, and with relatively few other E36s known for aggressive stance, Rosasco started by loading his with an Airtekk Saigon kit, dual five-gallon VIAIR compressors and Racing Dynamics front and rear strut bars. An impressive set of XXR 526 wheels in gold pearl with polished lips pay homage to BMWs Euro-sport heritage and highlight the amazing work around all four corners.
The suspension and wheel package is so aggressive that each corner sticks out as much as three inches. To compensate, Rosasco and Vinny Manning cut each quarter, extended, then welded them back together to maintain the factory look.
Coating the amazing bodywork is a shimmering coat of BASF white pearl, treated by graphics from Jason Mok in Queens. Keeping with the tradition that clean is classy, the bodywork is highlighted by an AC Schnitzer front lip, M3 bumpers in the front and rear, M3 taillights and a modified E46 CSL wing wrapped in carbon fiber. Perhaps the biggest eye-opening detail is the Airtekk Big Guns exhaust tip, which stick out so far it might as well kick drivers following too closely right in the face.
Belting out the exhaust, one of the first things Rosasco did when he got the car was swap the stock transmission for a five-speed Getrag manual, complete with a stage-three F1 racing clutch and matching flywheel. The M50 VANOS engine was completely overhauled, with ported and polished heads and a host of upgrades large and small that are too many to list (see the spec list!). The finished product is 247 horses that sit inside a luxurious gold pearl engine bay.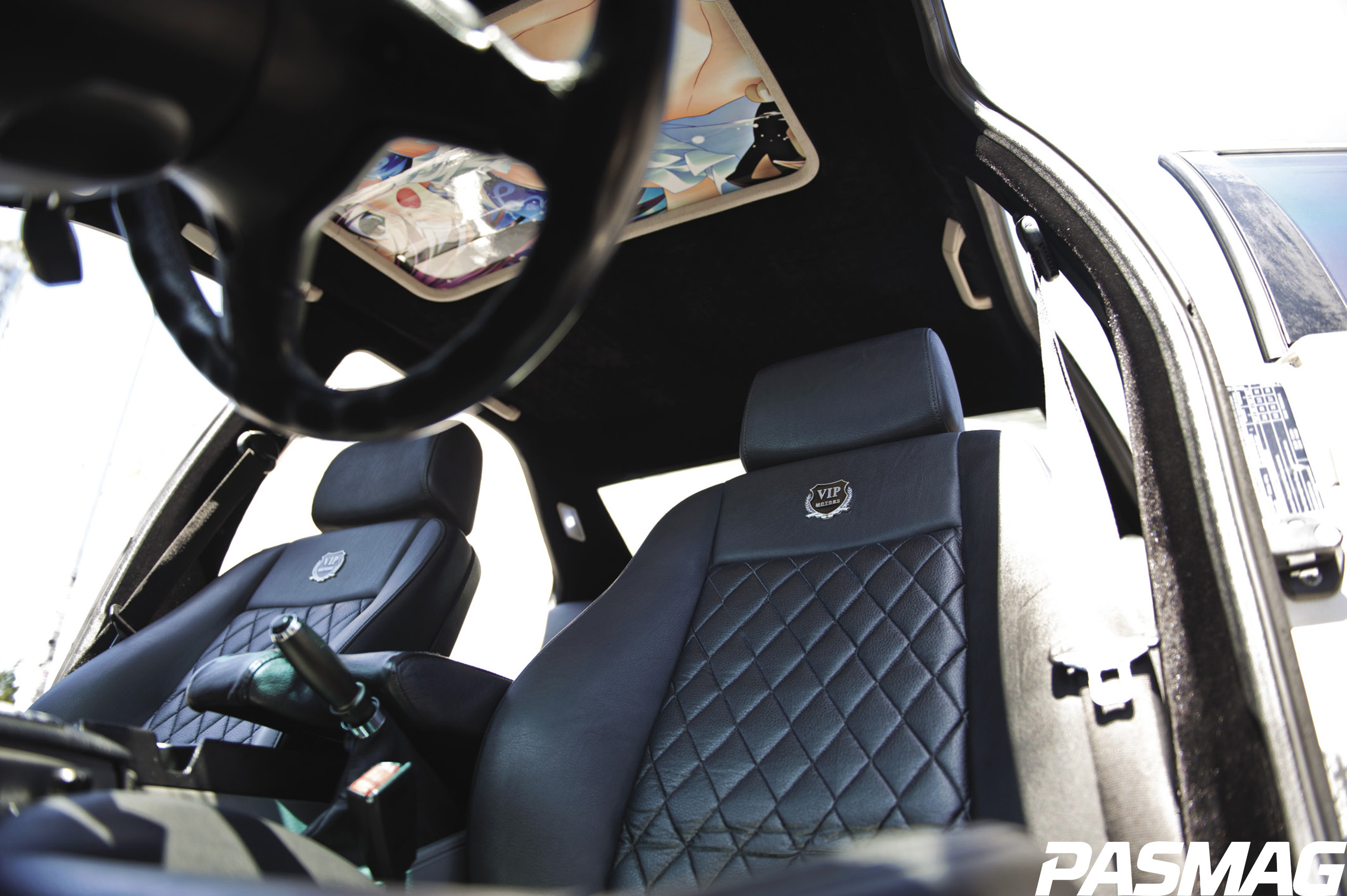 When he finally (and somehow) had time to get to the interior, Rosasco contacted the guys at Radames Interior to clear out the old and bring in the new. He stripped the carpet, swapped the 325i seats for quilted black leather 328i ones and kept things German with Bavarian Auto mats. For the roof, he matched it with black velvet and highlighted the sunroof with a sexy anime wrap as a throwback to the days when he first spotted the car.
For controls, the most obvious addition is the HUGE Monster Bubble shifter. While some might claim overkill, Rosasco still gets out to the occasional drift, so we say totally warranted. A Euro steering wheel, M3 shift boot, Glow Shift gauges and AC Schnitzer pedals help him on track and, in case he wants some music to accompany him, he's got plenty of that too.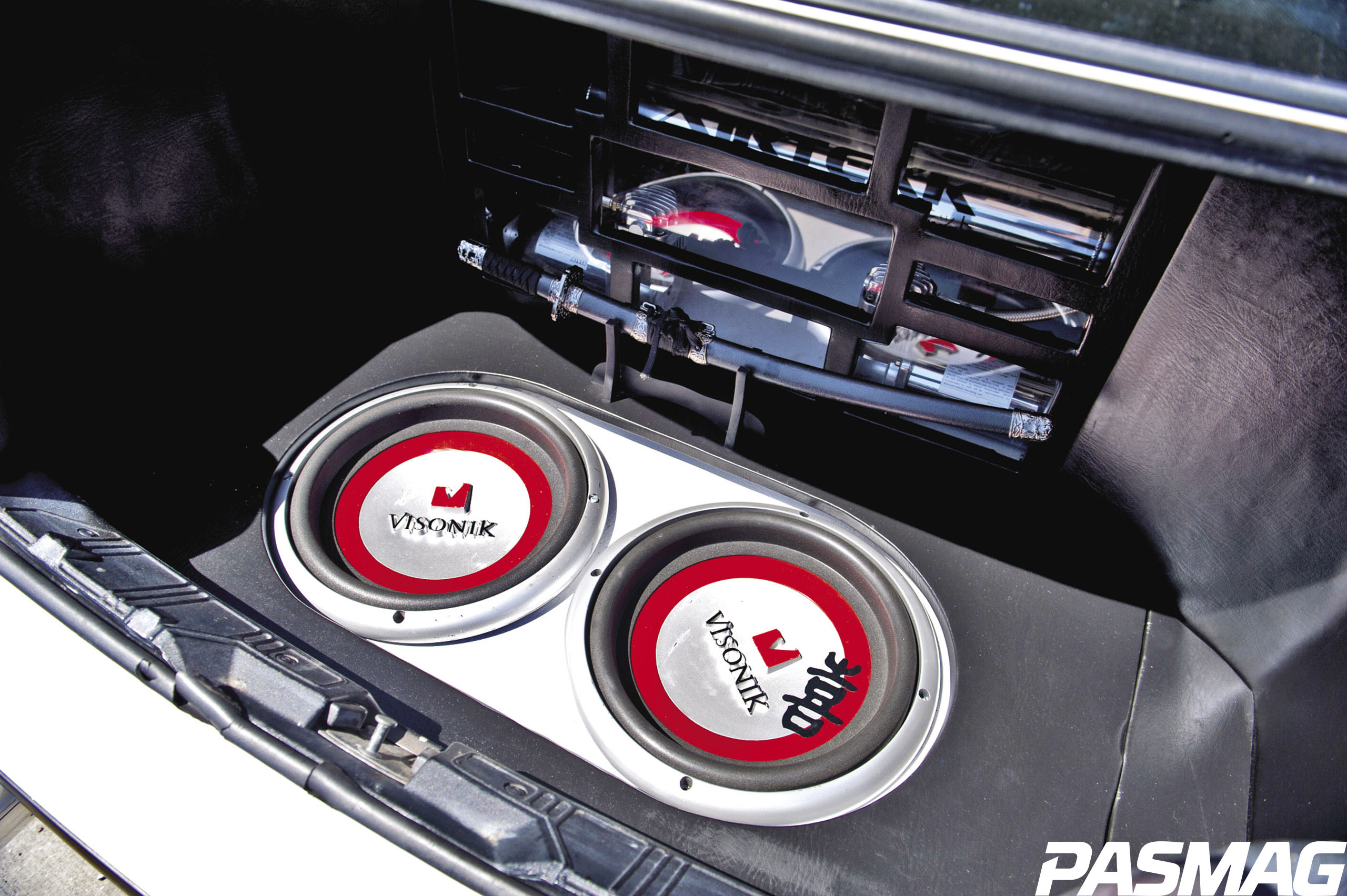 A seven-inch TVIEW head unit controls a simple, but more-than-effective system that includes a BOSS subwoofer amp and two Visonik V123BP subwoofers in an infinite baffle enclosure. Protecting it all is a beautiful mini Samurai sword that, despite its size, can be a lethal weapon when paired with Rosasco's background in martial arts.
It's not often we see E36s with this many goodies, and it's rarer still when they sit on such amazing suspension hardware. When we heard there was one hidden somewhere in the maze of New York by Airtekk's owner, we had to find out more.
So, while it may have taken years to be rekindled with his first love, there's no doubt Rosasco knows what he's got.
"They're very rare. Very, very rare. The E36s especially always get a lot of respect. Anyone who's had one and sold it always has a bit of regret. People are always telling me 'never get rid of it.'"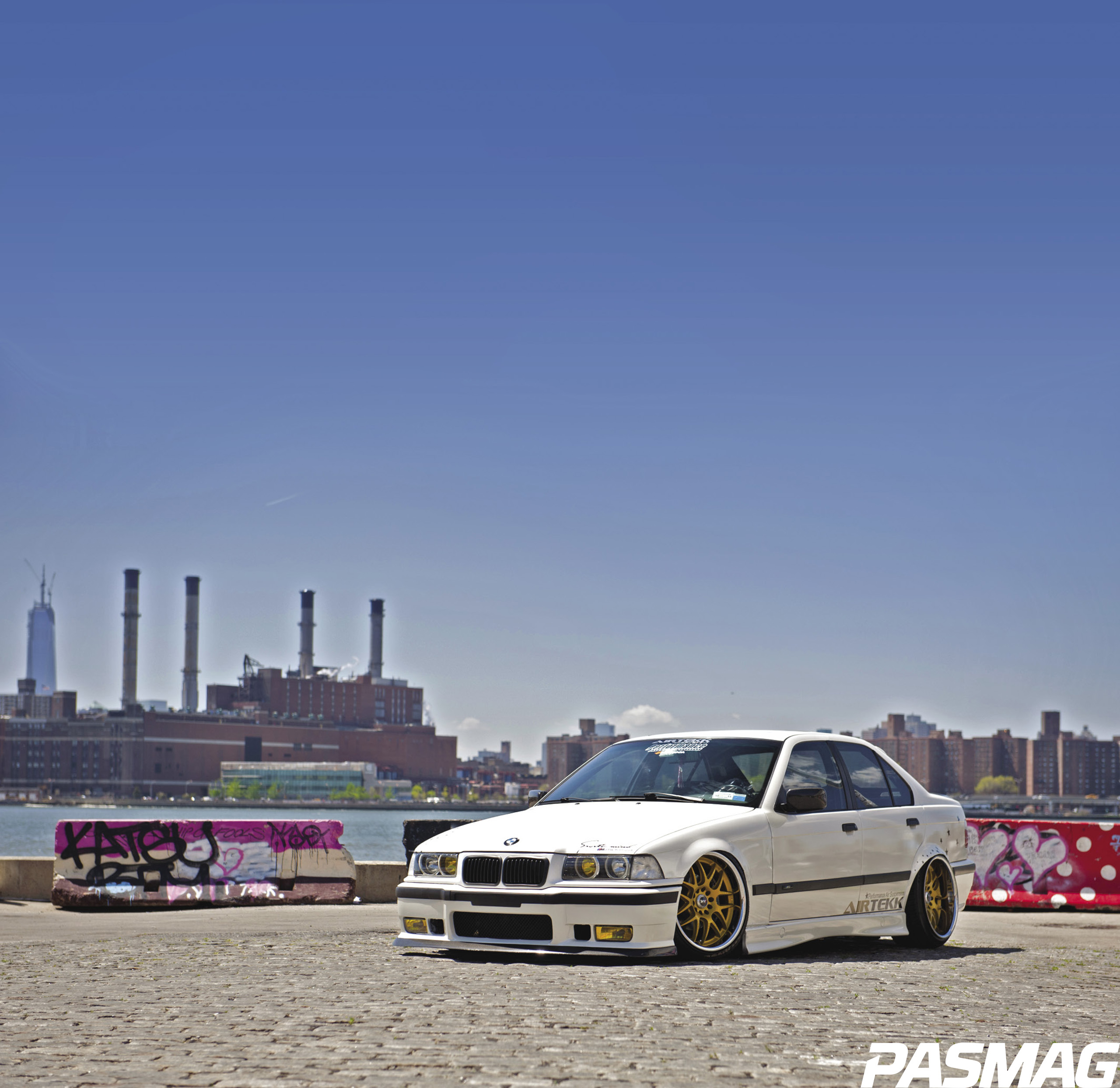 ESSENTIALS
Owner: Mario Rosasco
Vehicle: 1993 BMW 325i (E36)
Club Affiliation: Team Airtekk
Engine: M50 VANOS 3.0L
Horsepower: 247 hp
Torque: 235 lb-ft
Engine Modifications
Engine install/tune by Ray Maragani (Rays Auto)
ESI Computer Chip
Ported, polished heads
Maxsil (pistons, rings)
ARP connecting rods
Schrick camshafts
Ralco RZ cam gears
BMW (E36 throttle body, 325i intake manifold)
Cold Plugs Iridium spark plugs
Coil Packs ignition wires
Bremi ignition coils
K&N air filter
Ferrea valvetrain
Walbro fuel pump
DeatschWerks fuel injectors
Victor Reinz head gaskets
Dyno test at Wings Performance
Exhaust
Active Auto Werke (exhaust, headers, up-pipes)
Airtekk Big Guns exhaust tips
Straight Pipe cat
Drivetrain
Getrag five-speed manual transmission
F1 (racing flywheel, stage-3 racing clutch)
BMW 325i LSD
Exterior
Body Work by Vinny Manning & Mario Rosasco
BASF White Pearl paint (front and rear bumper)
Graphics by Jason Mok in Queens, NY
AC Schnitzer front Lip
BMW M3 (front/rear bumper, taillights)
Cut and extended (325i fenders/quarter panels by two inches)
E46 CSL trunk wing (modified, wrapped in carbon fiber)
ZKW headlights
HID (headlights, fog lights)
Amber LED corner lights with clear corner housing
License plate wrapped in carbon fiber
Wheels / Tires / Brakes
XXR 526 wheels – 18x9 +25 (f), 18x10.5 +25 (r)
Hankook tires – 205/40 R18 (f), 235/35 R18 (r)
Brembo front brakes (pads, six-piston calipers, 356 mm drilled one-piece rotors (f))
Stock rear brakes (slotted rotors)
Hawk rear brake pads
Agency Power braided brake lines
Blue brake fluid
Suspension
Airtekk Saigon Air Performance Suspension (full kit, front/rear)
Energy Suspension urethane bushings
Racing Dynamics (front & rear strut bar)
Interior
Black leather upholstery with quilted insert
Black velvet (roof and lining)
Black carpet
Upholstery by Radames Interior
Monster Bubble shift knob
Euro E36 steering wheel
BMW M3 (shift boot, e-brake boot)
Glow Shift gauges
Bavarian Auto floor mats
AC Schnitzer pedals
Audio / Mobile Electronics
TVIEW head unit
BOSS subwoofer amplifier
Visonik V123BP subwoofers (2)
Infinite baffle subwoofer enclosure (aperiodic, sealed, vented, bandpass)
Sponsors
Airtekk Engineering
Ray Maragani/Rays Auto
Hankook Tires