"I just can't stop tinkering," says Phatt Audio Concepts' Sam Pansino, with a laugh. That's his simple explanation for how, over four years, he went from a silver, automatic R34 GT-T to the 430 whp, manual-equipped, Bayside Blue, Paul Walker tribute you see before you - a machine that, according to Pansino's own criteria, is the "perfect car."
Obviously, that's a big boast! So, what makes this the 'perfect car' for someone like Pansino? Well, to answer that, it's best to know a bit more about the man himself. Co-owner of one of Australia's biggest and most awarded in-car entertainment installers, Pansino has a long personal history of tuning (mostly) Japanese sports cars and fitting them out with insane audio systems – ones so good that companies like Pioneer and Alpine come to him and business partner Brett Morris to build their demo cars. It's obvious that any car Pansino builds will have to meet very high standards for the install. And it'll have to be quick as well. Pansino's other machines include a monster-ported FD3S and an R33 GT-R – his latest acquisition – so it has to match those for pace.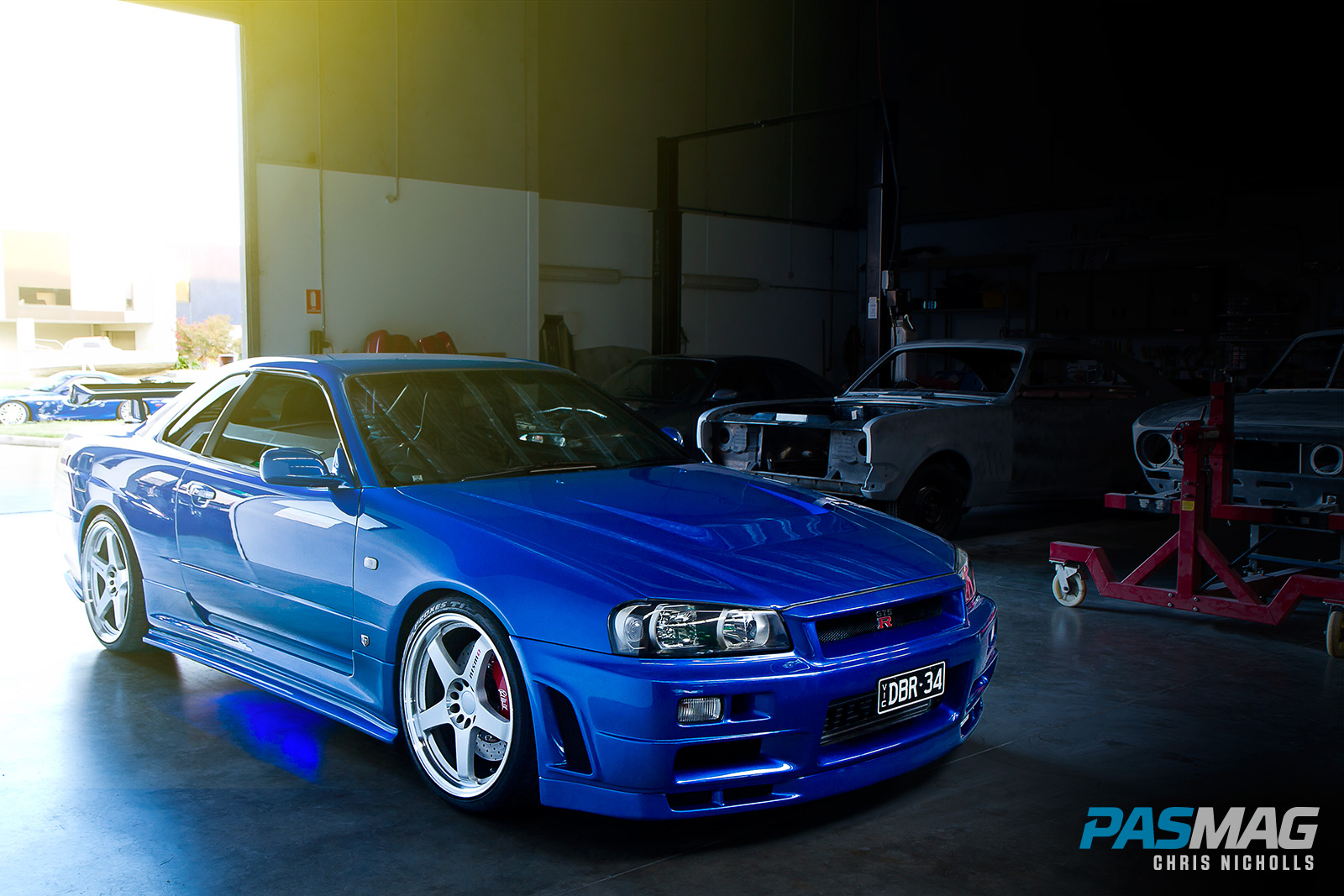 This explains why his R34 packs 430 wheel horsepower from a tuned RB25DET and "the loudest system we've ever made."
Onto the specs. The RB keeps its stock bottom end, as 430 horses doesn't put a huge strain through the system.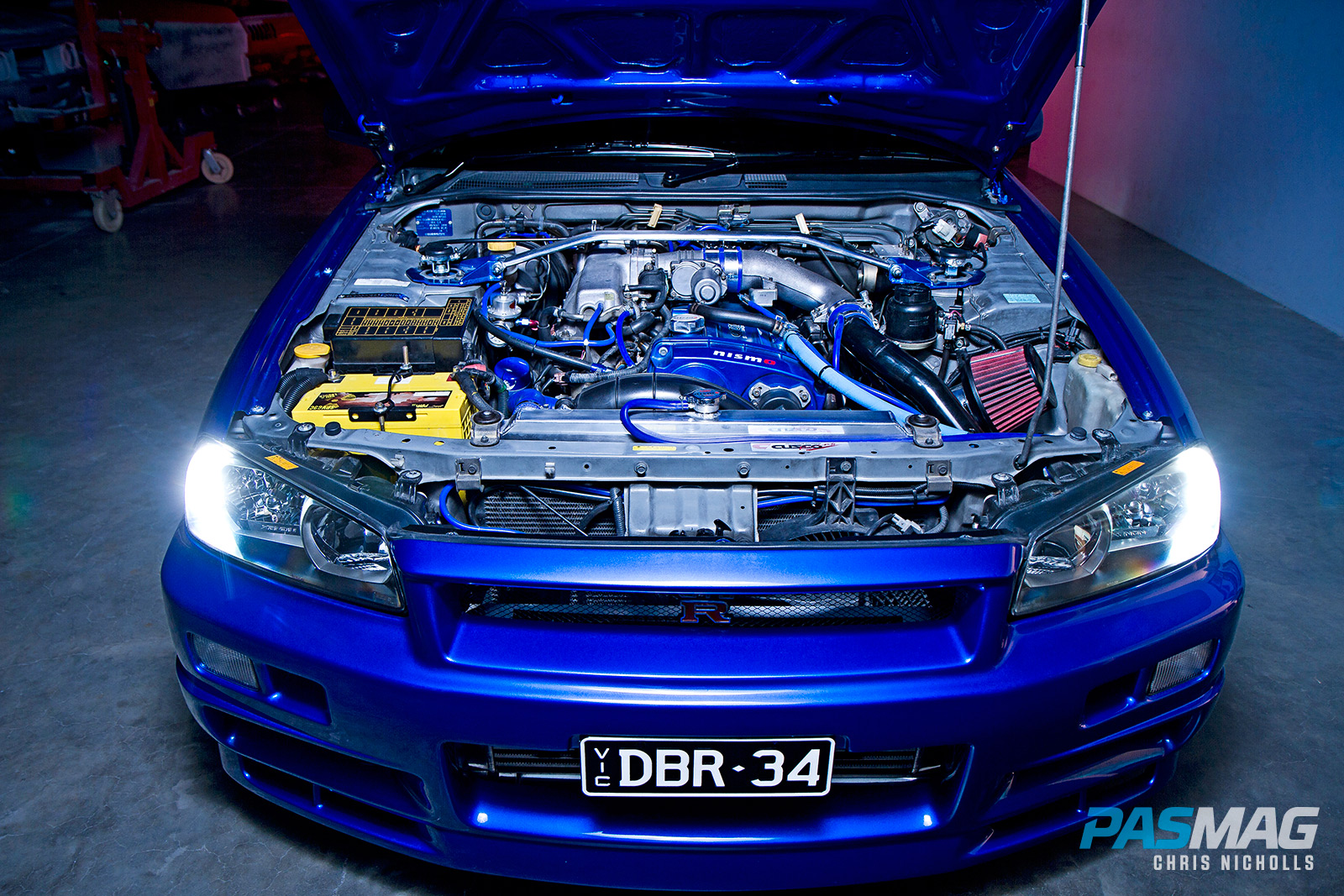 But it gains a custom Garrett GTX3076 turbo, Blitz intercooler, 260-degree Tomei Poncams, Sard 850cc/min injectors, a Signal Auto three-inch titanium exhaust and other goodies to help with the go. It feeds that power through a custom Jim Berry single-plate clutch and down into a Nismo 1.5-way LSD.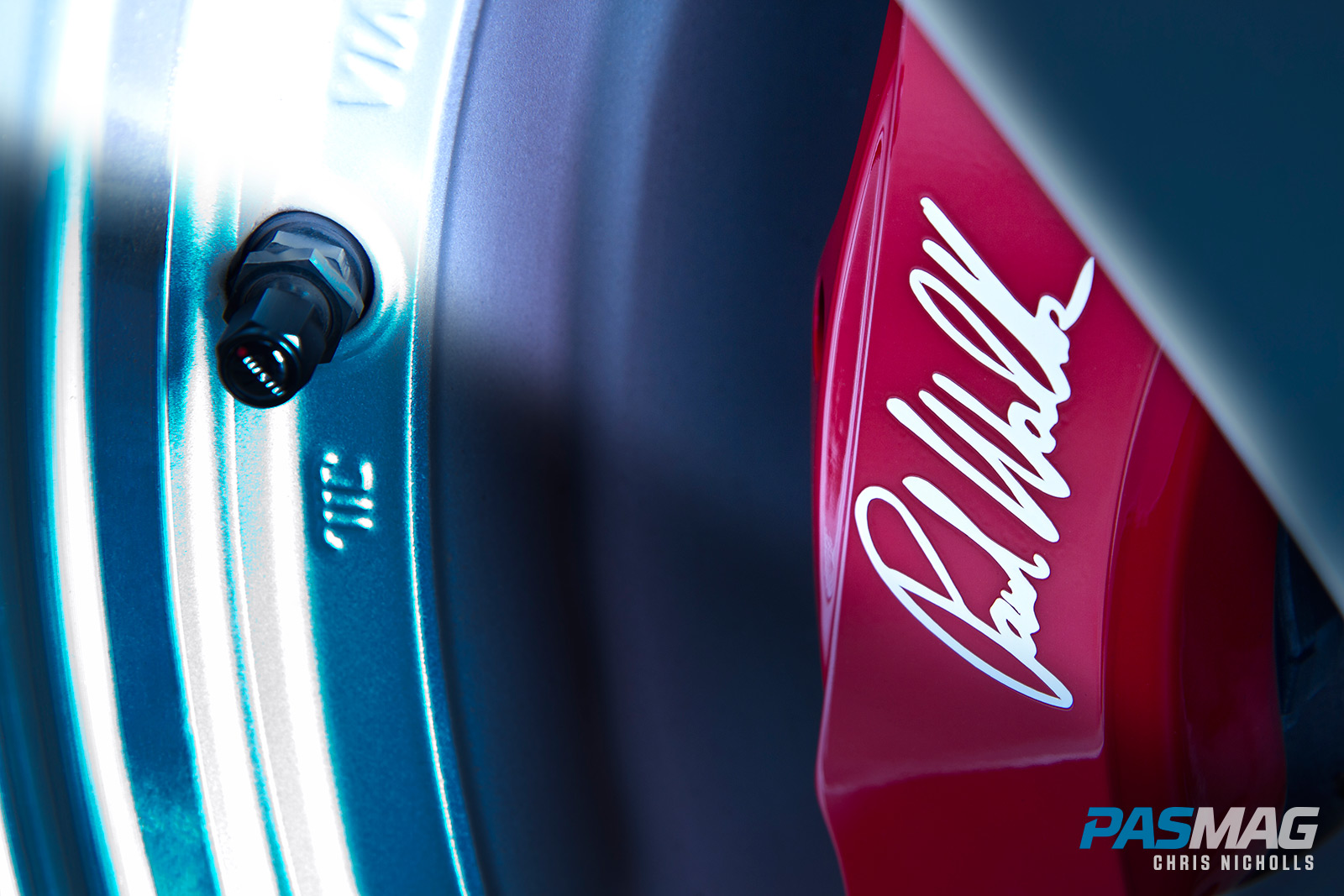 The stopping part is left to a Ksport big brake kit comprising of custom painted six-piston front and four-piston rear calipers - complete with Paul Walker's signature applied under the clear-coat - which clamp down on two-piece 356-mm drilled rotors.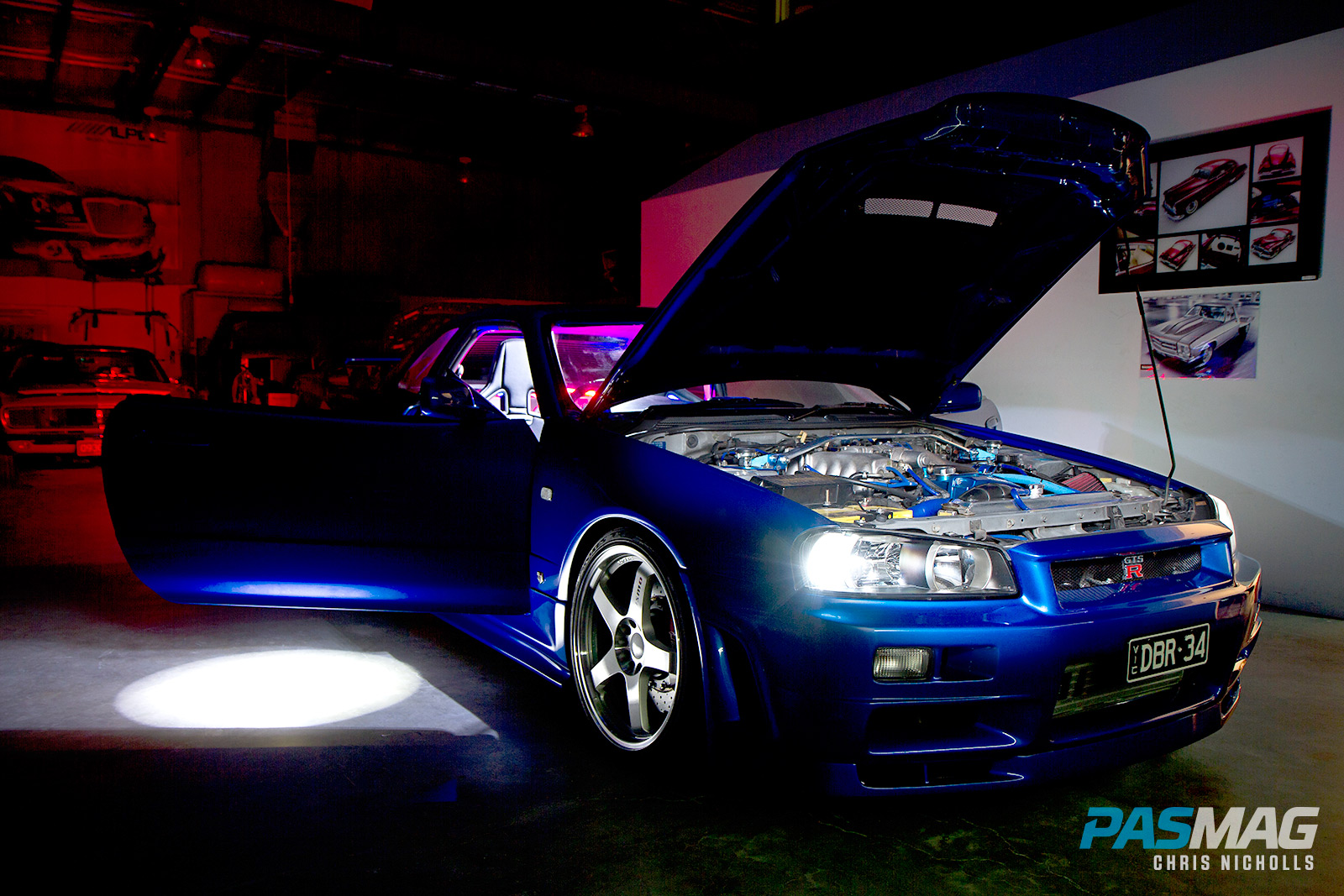 As for suspension and handling, Pansino went with mostly Cusco, with remote-adjustable Cusco Zero-2R coilovers, Whiteline sway bars, Cusco front and rear strut bars and Cusco control arms.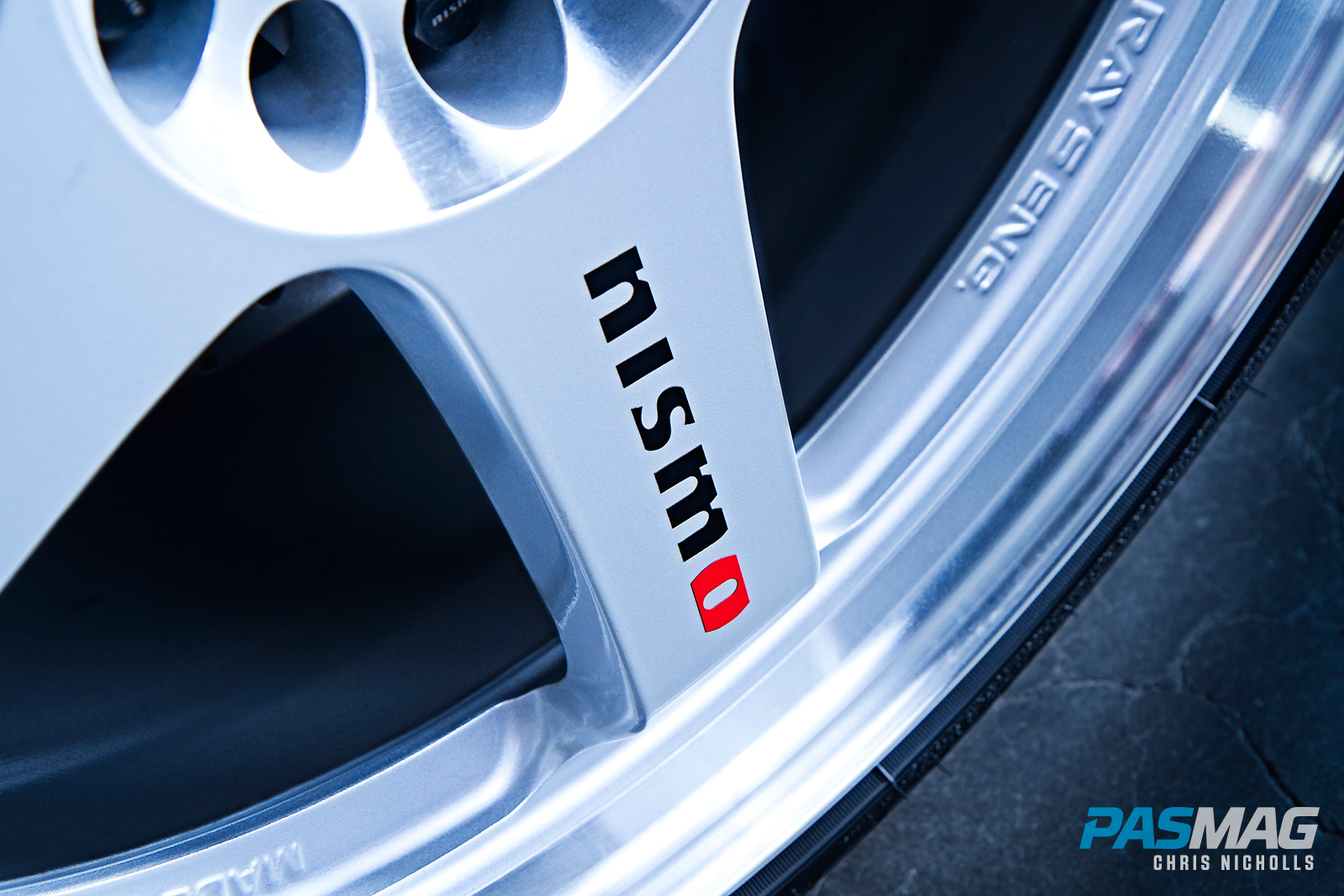 Turning all that latent ability into performance is a set of R34 GT-T-specific limited edition Nismo LM GT4 wheels in 19x8.5 +25 (f) and 19x9.5 +30 (r) sizes, wrapped in Toyo Proxes T1 Sport tires (235/30 (f) and 265/35 (r)). The rare hoops are just one of the many subtle, unique touches you'll find all over this car - a testament to Pansino and Phatt Audio Concepts' attention to detail.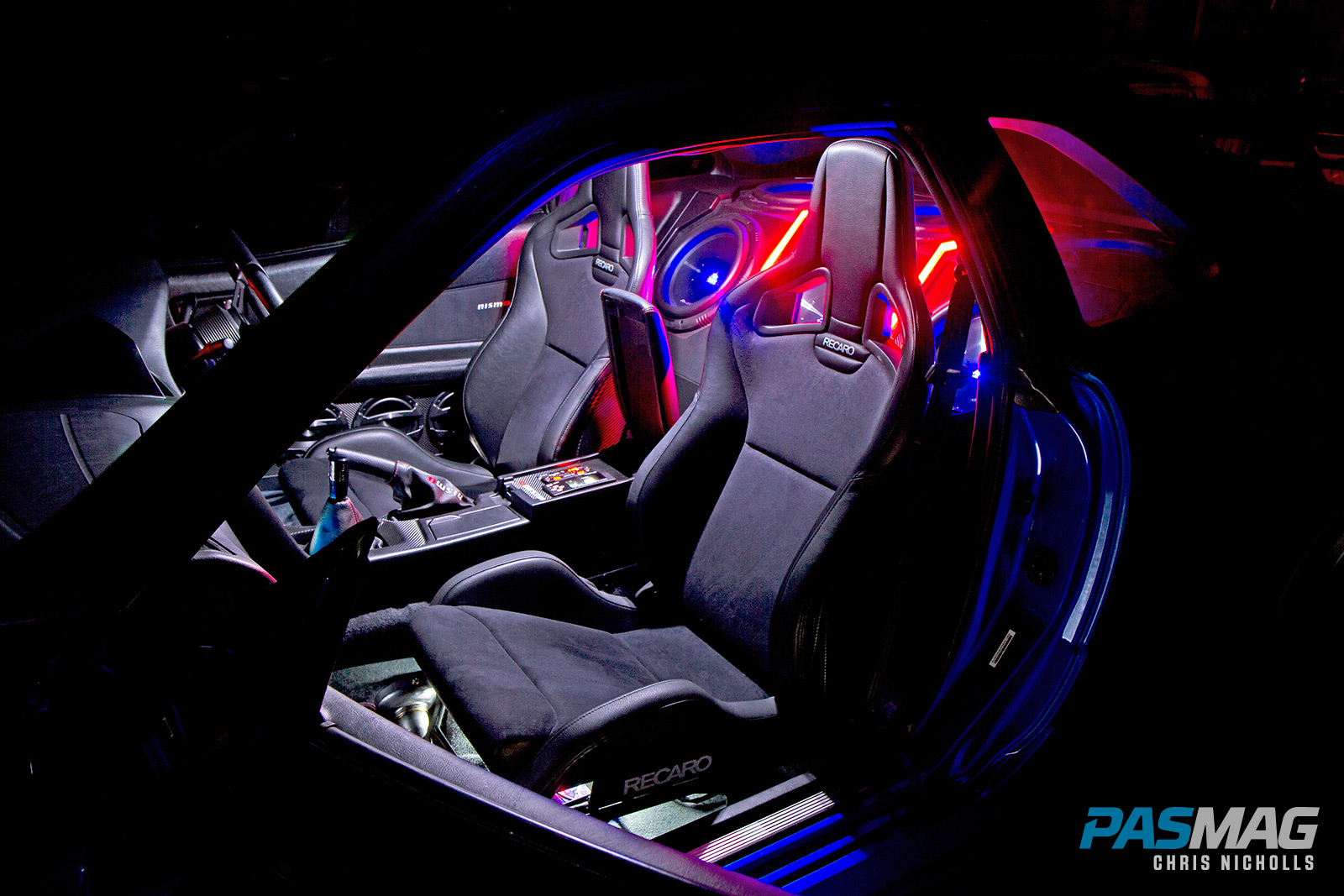 As for the audio, this is where Pansino, Morris and fellow crew member David Bridges went a bit nuts. Things start off sanely enough with an Alpine INE-W947 head unit, but it soon goes mental from there.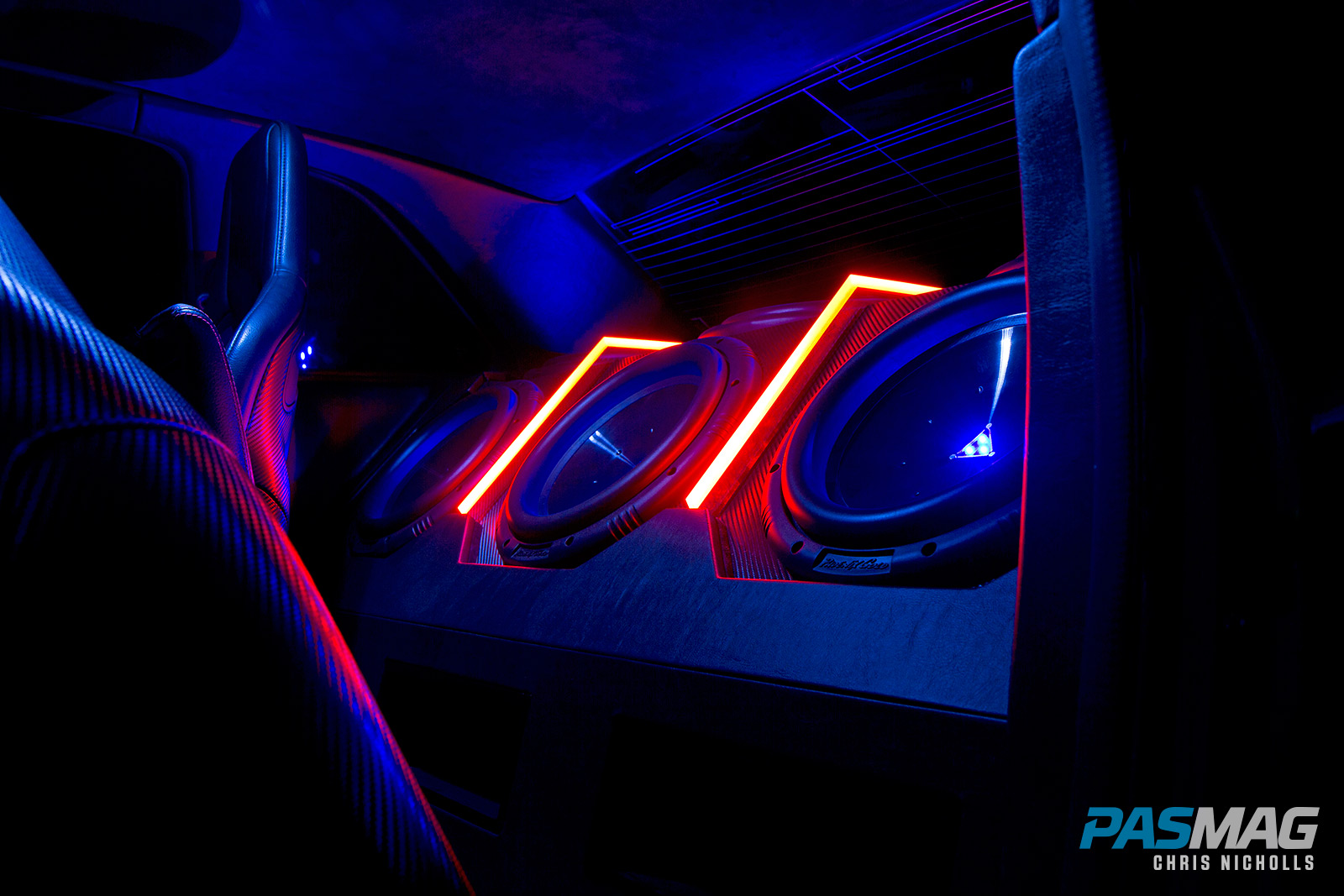 Three Phoenix Gold Elite.1 sub amps and two Phoenix Gold Elite.4 mid-high frequency amps push their signals into 22 different speakers, consisting of eight Hertz Mille ML1650.3 mid-bass drivers, four ML700.3 midrange speakers, four ML280.3 tweeters and six Phoenix Gold Elite 12-inch dual four-ohm subs, located where the rear seats used to be.
The end result? An estimated 155 decibels of maximum sound intensity. It's estimated, because Pansino has been too scared to ever test its limits. Incredibly, most of it stays within the car, too, thanks to approximately 200 pounds of sound deadening and extra sealing. Turned up to just 60 percent and with everything shut, the wiper blades bounce off the glass and you can feel air escaping through the gaps around the door handles. Just crazy.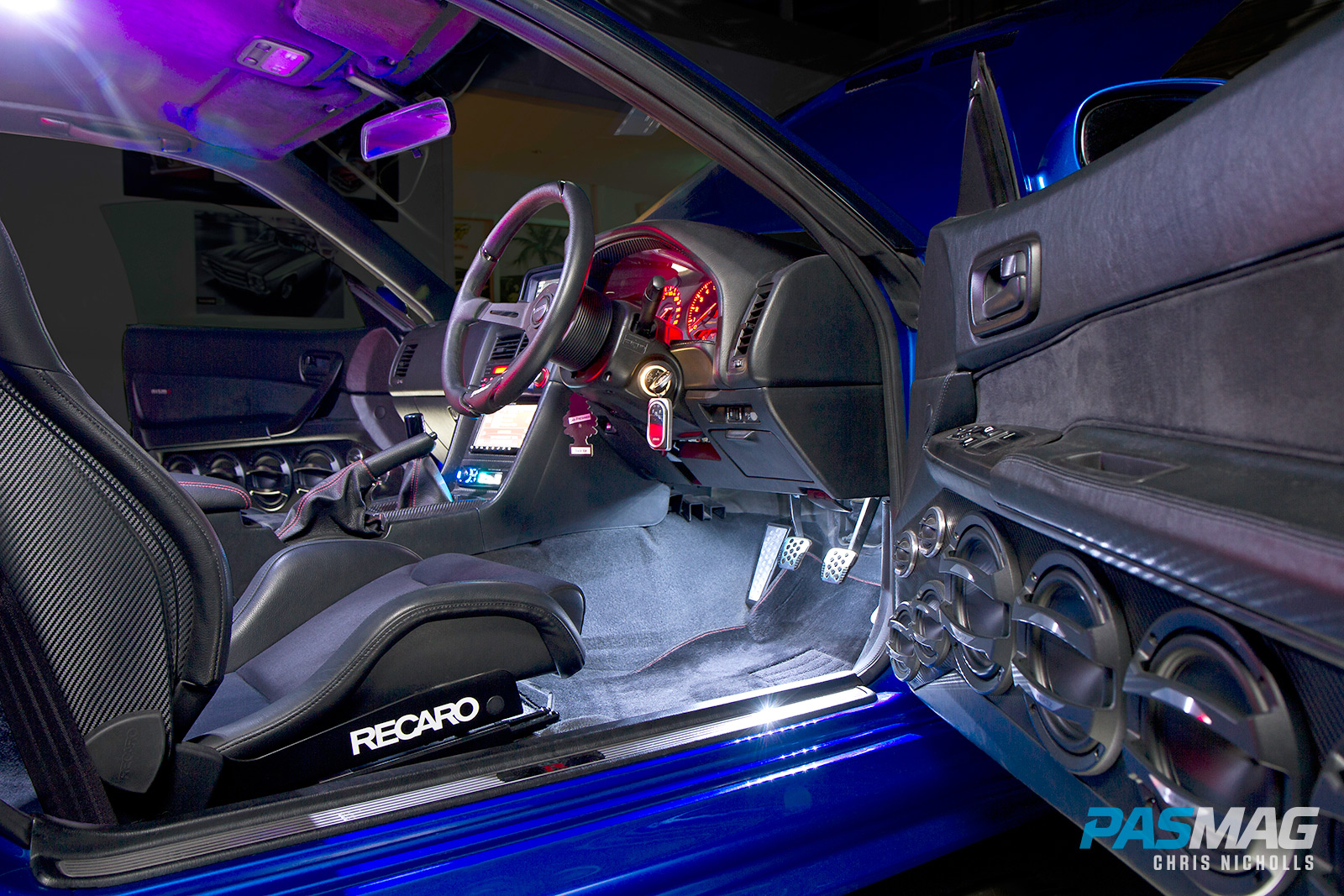 "Most people last about one song when it's turned up," says Pansino. "Then the vibrations throughout their body start to make them feel sick. Once, I had a woman in the car who lost all color to her face before the first song had even finished!"
Of course, all the equipment and sound deadening/sealing means this R34 GT-T probably weighs about as much as an R35 GT-R, but Pansino isn't bothered. It goes fast enough and still allows him to enjoy some seriously loud tunes.
However, while it may be perfect to Pansino now, perfection never comes easy, and he had to overcome several hurdles on the way. The biggest of which was getting the engine tune right.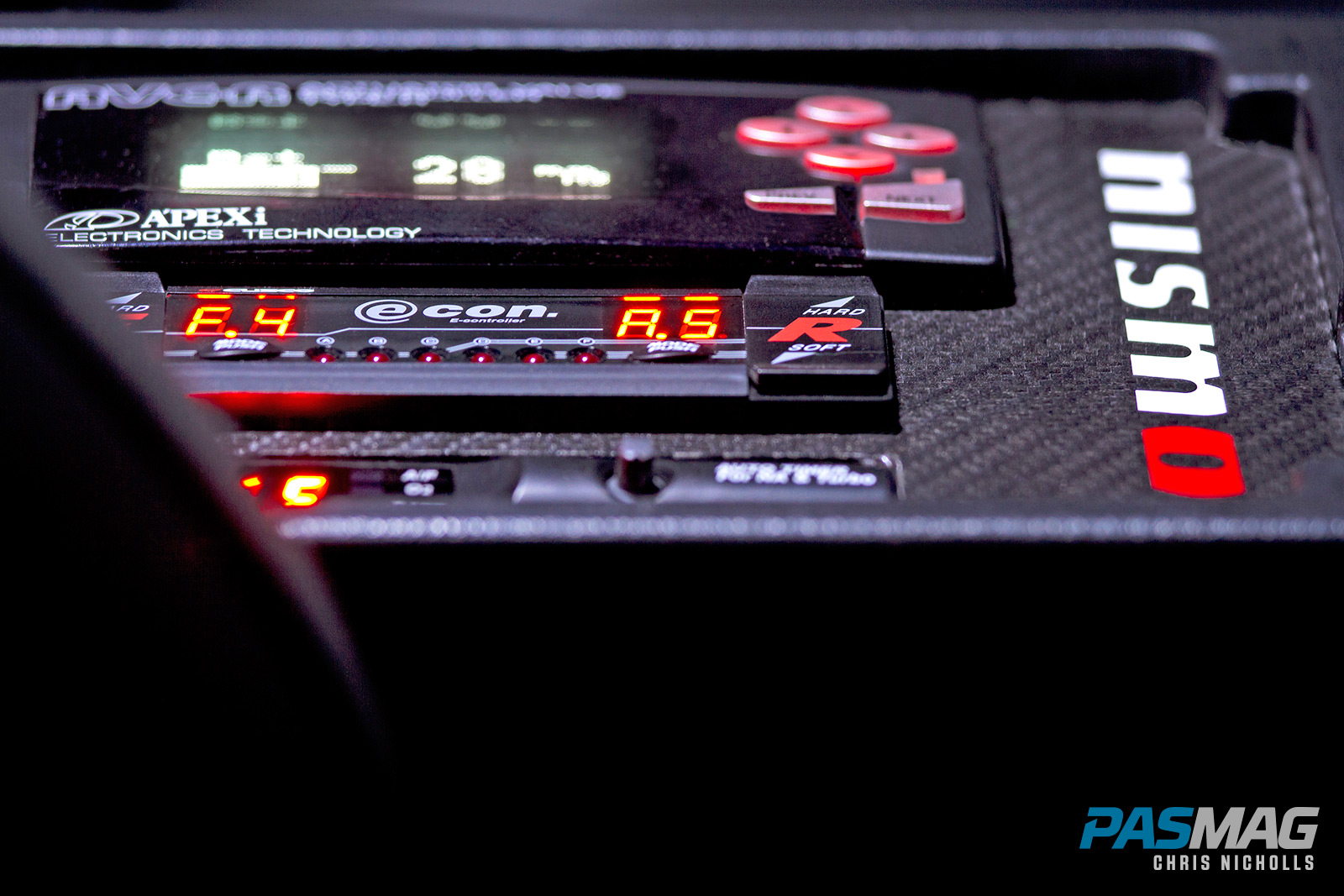 "At first I was running a Power FC on 98 octane fuel, but I was having issues with cold starting, running rich, rough idling and surging when cruising," he says. "I replaced it with a Haltech and, after my previous troubles, took it to Jason at Tunnel Vision Turbocharging to tune it. He also recommended a wide-band O2 sensor, as well as switching to E85. This allowed for a more refined, safer tune with the added bonus of more power. The engine now runs much cooler, burns a lot cleaner, and idles and starts like a stock motor, all whilst running 30 psi all day – every day."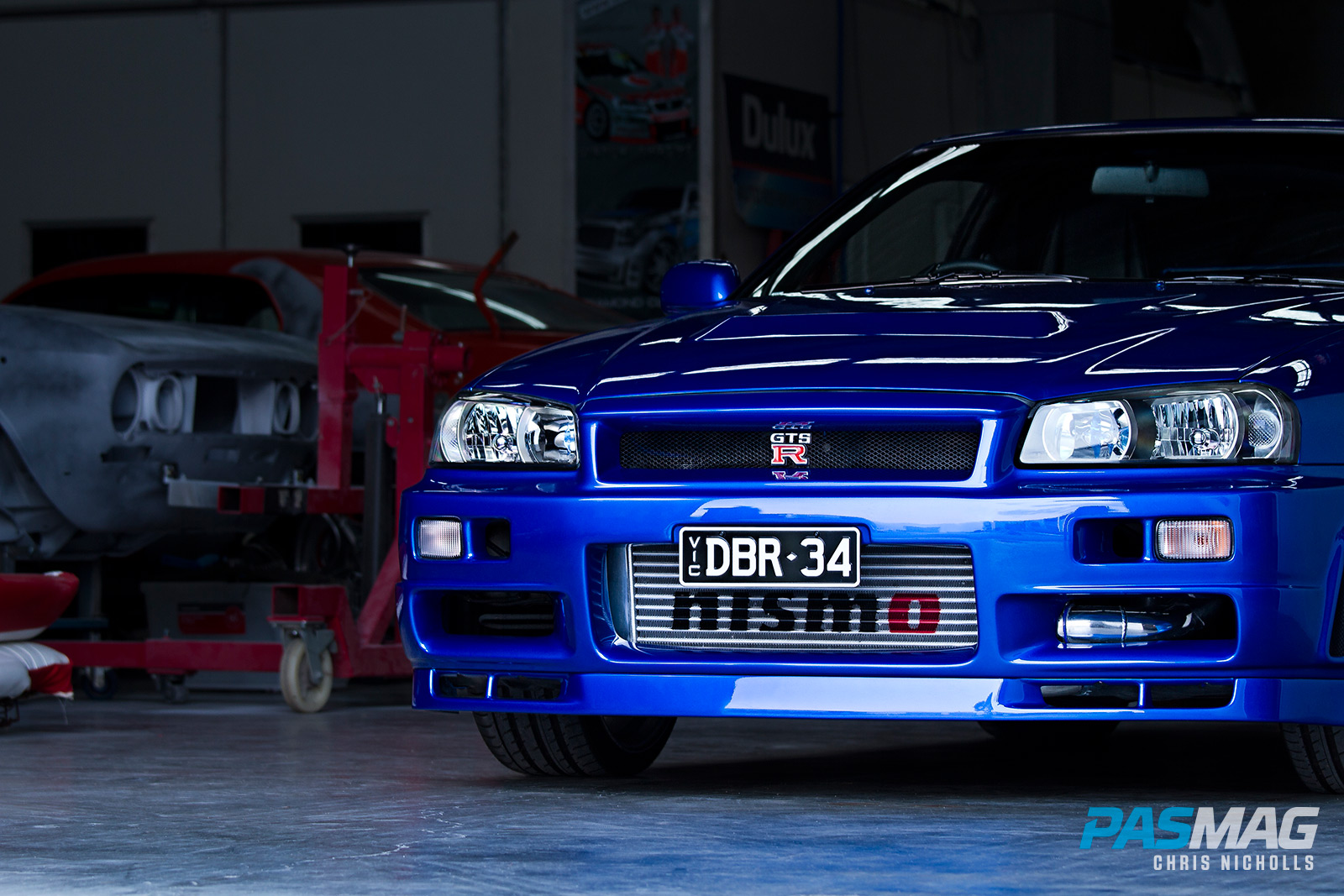 Another issue came up when Phatt Audio Concepts tried to complete the GT-R look by adding a GT-R multi-function display to the top of the GT-T center console. Normally, this would never work because the sensors on a GT-T simply don't match up with the functions a GT-R display can show, but Pansino's business partner Brett Morris is an electronics whiz, and managed - after extensive testing - to get everything working properly.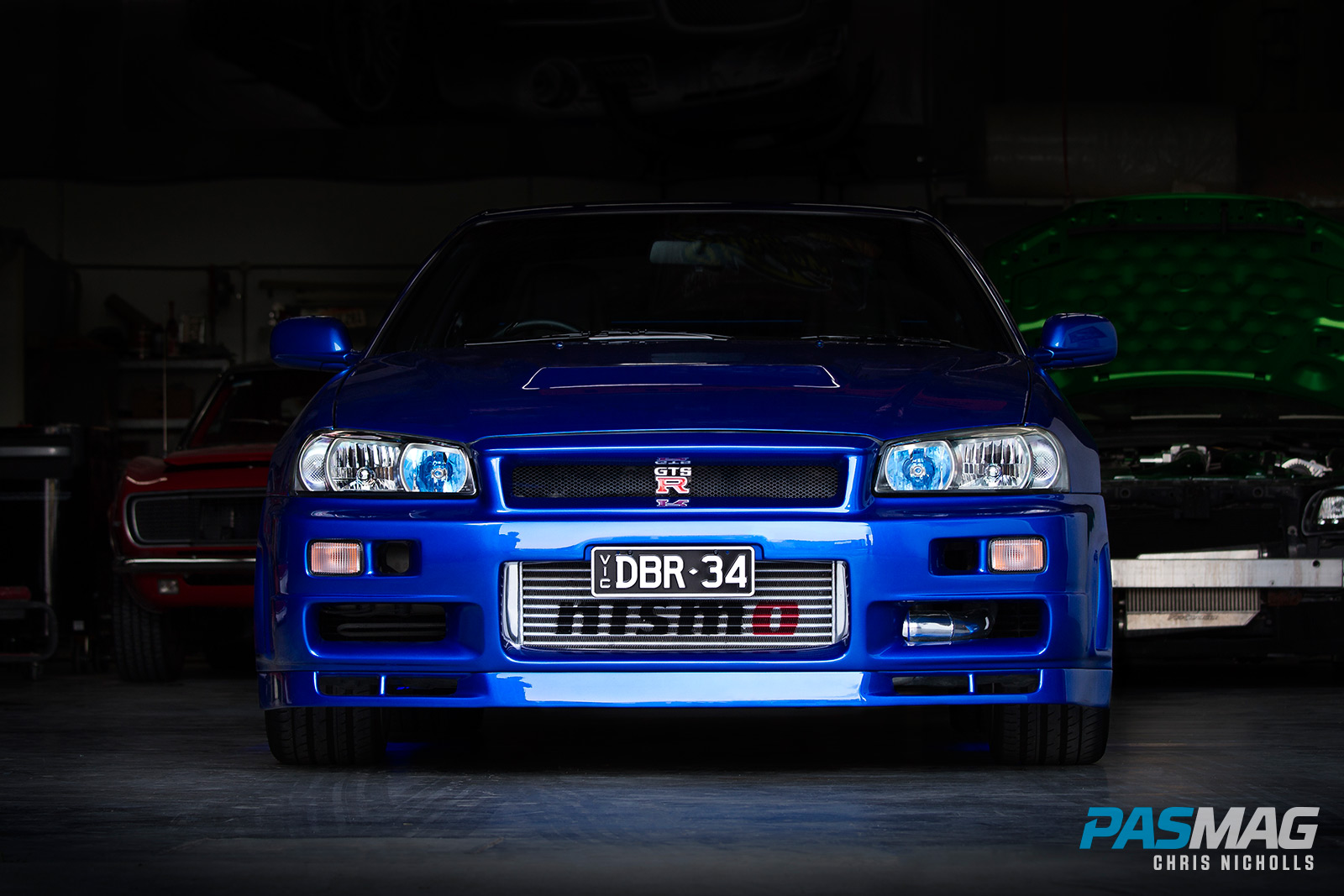 You may be wondering by now why Pansino went through all the trouble of building a Paul Walker R34 tribute from a GT-T base. Initially, as he said, the car evolved simply because he couldn't stop tinkering, but the final decision to progress to a tribute piece came after some research on the Fast & Furious (part 4) R34s and realizing the most authentic way to build something similar was actually to stick with the RWD base.
"Of the 20 cars they used in filming, only one was a genuine GT-R," says Pansino. "The rest were GT-Ts with East Bear body kits, so that's what we went with. After it was fitted, Vito from Polo Bodyworks applied the amazing paint and here we are."
It's hard to argue with such logic. Pansino's built a car that both pays homage to one of car culture's true icons, and allows him to indulge in his twin passions of speed and sound. It's safe to say he really has built himself the perfect car.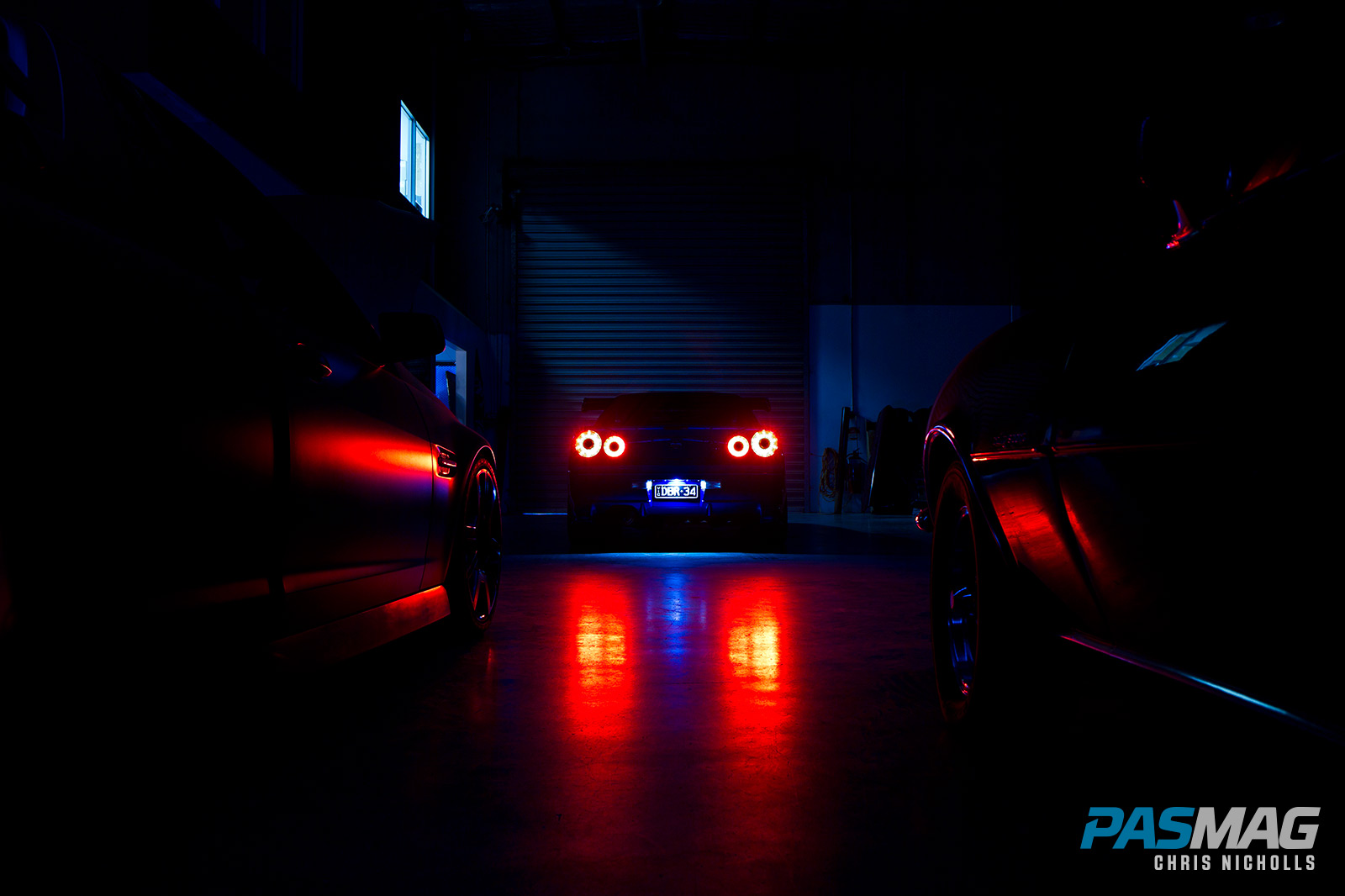 ESSENTIALS
OWNER: Sam Pansino
VEHICLE: 1998 Nissan Skyline GT-T
BUILT BY: Phatt Audio Concepts, Tunnel Vision Turbocharging, Sew Fine Interiors, Polo Bodyworks, Viva Garage
ENGINE: Nissan RB25DET 2.5L turbocharged V6
HORSEPOWER: 430 WHP (road tuned)
ENGINE
Garrett GTX3076 turbocharger
Blitz intercooler
HKS SSQV BOV
Turbosmart dual port IWG75 wastegate
A'PEXi power intake
Sard (850cc/min fuel injectors, fuel rail, Type RJ fuel pressure regulator)
Walbro E85 450
LPH fuel pump
Tomei (Poncam 260-degree intake/exhaust camshafts, cam gears)
NGK BKR7EIX spark plugs (gapped at 0.6)
EXHAUST
Signal Auto 3-in. titanium exhaust
HPI intake manifold
Tunnel Vision Turbocharging custom down-pipe
DRIVETRAIN
Jim Berry custom singe-plate clutch
Nismo 1.5-way LSD
CHASSIS / SUSPENSION
Cusco (Zero-2R coilovers with e-con remote adjustable control, strut tower bars (f/r), control arms (f/r)
Whiteline sway bars (f/r)
WHEELS / TIRES / BRAKES
Nismo LM GT4 GT-T special edition wheels – 19x8.5 +25 (f), 19x9.5 +30 (r)
Toyo Proxes T1 Sport tires - 235/30 R19 (f), 265/35 R19 (r)
Ksport BBK - 6-piston calipers, 2-pc. 356 mm drilled rotors (f), 4-piston calipers, 2-pc. 356 mm drilled rotors (r) (custom painted with Paul Walker signature applied under clear-coat)
Braided brake lines (f/r)
EXTERIOR
East Bear body kit
Bayside Blue paint
Nissan R34 GT-R rear wing
Nismo (LED taillights, clear indicators)
INTERIOR
Alcantara re-upholster
Nismo shift knob
Momo Gotham steering wheel
Custom Alcantara shift and handbrake boots
Recaro Sportster CS seats with carbon wrap backs
MOBILE ELECTRONICS
Alpine (INE-W947 head unit, PXA4800 processor, TME M780 trunk monitors (4))
AudioControl Matrix Plus line drivers
Phoenix Gold (Elite.1 sub amps (3), Elite.4 mid-high frequency amps (2), Elite 12-in. dual 4-ohm subwoofers (6) in custom vented enclosure)
Hertz Mille (ML1650.3 mid-bass drivers (8), ML700.3 mid-range speakers (4), ML280.3 tweeters (4))
Stinger (SPV69C batteries (1 under bonnet, 4 auxiliary), Pro fuse holder, HPM Series power wire)
Phatt Audio Concepts custom 12x0 gauge distribution block
R34 GT-R multi-function display integration
Contributor: Chris Nicholls.
Sam Pansino's Phatt Audio 1998 Nissan Skyline GT-T is published in PASMAG #131 (June/July 2015), on newsstands between May 25 - June 30, 2015. Order this issue online at http://pasmag.com/backissues.