Photography by Daniel Covarrubias, James Baxter
---
Being accepted by everyone just isn't a thing. It never has been and never will be.
What most people don't realize is that the sooner you stop caring about what the "haters" say, the sooner you'll be genuinely happy about what you're doing. Daniel Covarrubias, the owner of the sinister-looking FR-S you see here, has mastered the art of the "ain't care" attitude, and just look what that resulted in.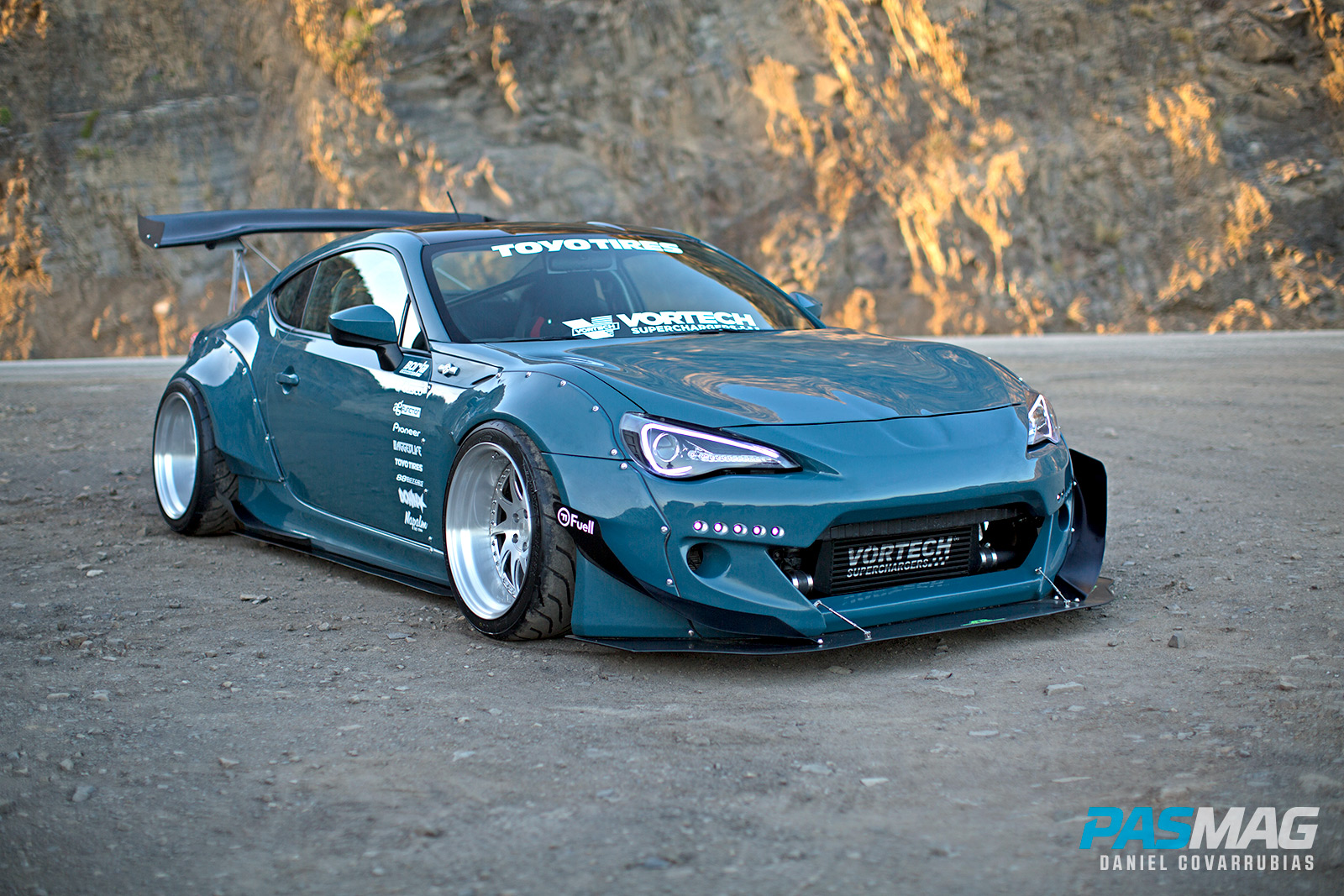 Covarrubias may not be an immediately recognizable name, but you'll more than likely recognize his Instagram handle @Killagram, which has pumped out about 900+ photos to draw in 40,500+ followers (as of press time). And if the Insta-account isn't ringing any bells, his tremendously trending hashtag #FINANCIALMISTAKE will. This 86 has come a long way since that all-too-true tag, though. Covarrubias actually bought the car fully kitted.
"The FR-S that I purchased had just gotten built, so it was maybe a month old," he explains. "I saw so much potential in it. It just had the body kit, paint and wheels."
Interested in the car, Daniel hit up the super young, 16-year-old owner about shooting some photos. The two met and the kid let it slip that the car was unfortunately – or fortunately – for sale.
"No one has seen this car yet, it's only gone to two shows and I saw the opportunity there to pretty much make a monster, so I just went for it," Covarrubias says excitedly. "I got the car shortly after that and started going to town on it."
What some people don't know is that Daniel is a total triple-threat. He's in the business of automotive marketing, he's a show junkie that attends anywhere and everywhere he can, and he's a driver – a drifter to be exact. You may have seen his red 240SX in Top Drift competition. Oh, and he shot these absolutely gorgeous pictures you see here. Is there anything this guy can't do? Well, it turns out he's pretty great at modifying cars, too.
Starting out by just picking away at some things, he installed Valenti taillights for a bit of a rear refresh, Air Lift Performance air suspension system to allow for a reliable daily driver and a Borla cat-back exhaust system paired up to their unequal-length header to accentuate that signature boxer burble. To provide a different take on the Rocket Bunny kit, Covarrubias sprung for the DAI canard set. This was all only the beginning.
"I didn't want to paint the car, keep the wheels on it or do different things so people would be like, 'Oh, that's the car that he bought from that kid,'" Covarrubias explains. "I really just put everything away until I had everything I needed to put on and then it was a full makeover in about a month and a half."
Some Spec-D LED headlights were sourced for a facelift, along with some shiny new rollers, courtesy of Avant Garde, to replace the old owner's SSR Professor MS1s. The AG F121s measure 18x10 up front and 18x12 in he back, paired with some seriously wide 255/35 and 315/30 Toyo Proxes R888 rubber. Then it was on to LTMW for the real transformation.
The well-known Cali body shop took on Covarrubias's "financial mistake", and when the shop doors rolled up, the FR-S donned Hypnotic Teal Mica paint and housed a new Bones Fab roll cage for some track duties.
Just before the 86 rolled into the shop though, Covarrubias encountered a blessing in disguise.
"I was driving on the freeway back from Arizona and my diffuser hit something and just exploded!" he recalls.
The RB rear diffuser must have grabbed a groove somewhere along the road and yanked the whole middle-rear section of the bumper with it. With a literal pain in the ass and a new diffuser looking to take a couple months to get there from Japan, Daniel saw a chance to build up something he'd been toying with for awhile: a huge chassis-mount GT wing.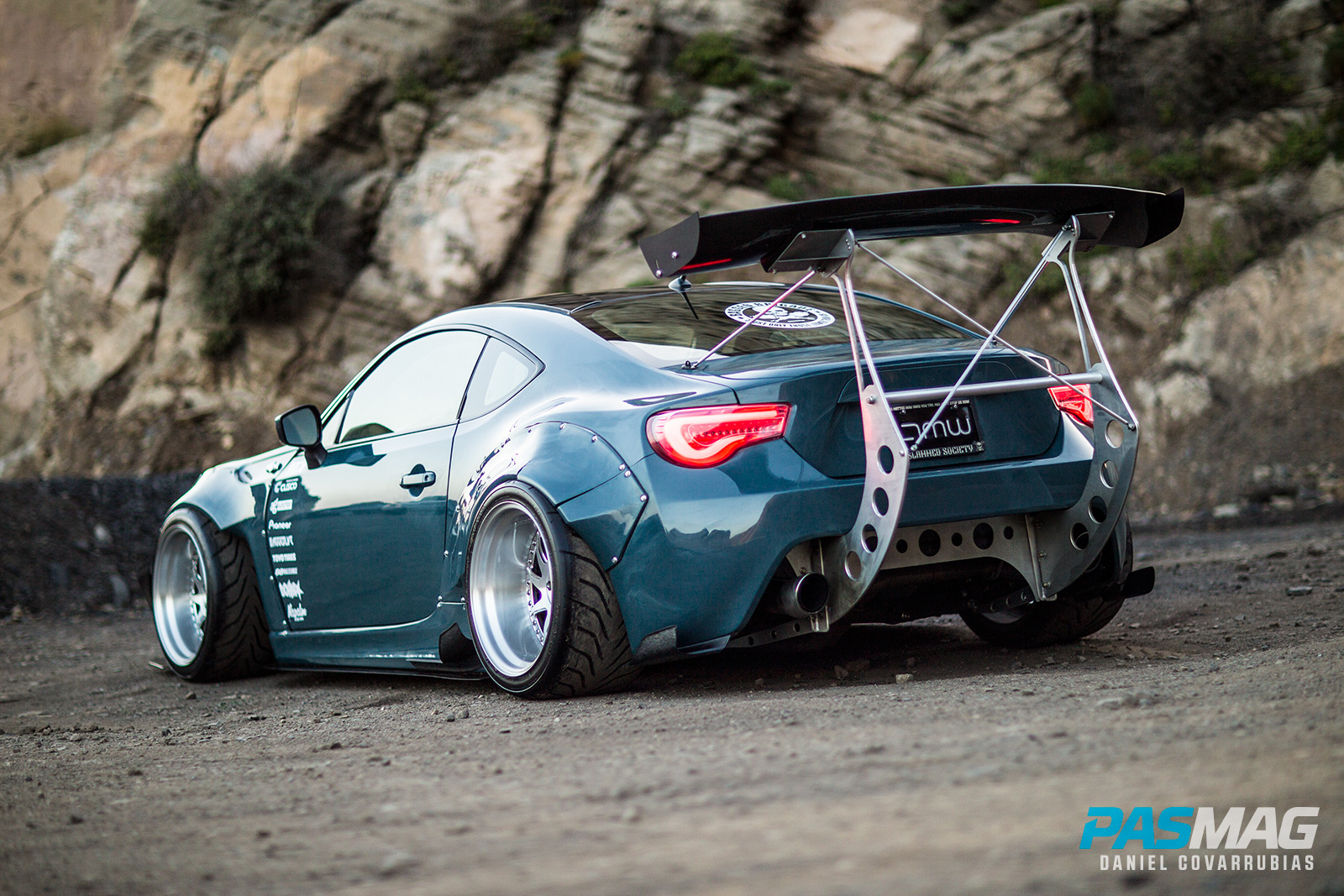 Covarrubias, as it turns out, is a big hand-talker. So when someone would ask him about what kind of shape this wing would take, he'd find himself using the same hand motions over and over again. Taking the shape he'd been describing, he sketched it on some paper. Being satisfied with the look, he put it on his car via Photoshop. After that got the thumbs up, a template was cut from Styrofoam and checked for size on the car. Once the numbers were crunched, Covarrubias turned to his friend with a CNC machine who took those numbers, and through the magic of plasma cutters and water jets, produced the first version of the defining feature of what Daniel was now calling his "Street Shark." This isn't just some publicity stunt. He may have a large following now, but this car has always been a build for himself, just how he likes it.
"Honestly, I didn't expect anyone to like my car – it just blew up out of nowhere," Covarrubias says. "When you look up drifting on You-Tube, you always see Japanese D1 street-driven cars and that's the style I wish we had out here, so that's what I'm trying to push right now."
Having the D1 bark is great and all, but there's going to need to be some bite to back it up. Daniel turned to Vortech and their V-3 supercharger and Maxflow Race blow-off valve combo. This system ups the factory horsepower about 50 percent, bringing the 86 to around 300 horses with a satisfying whistle. For a little more kick, it was time for things to get a little corny.
Ronnie of RD Engineering did up a custom E85 tune just for Covarrubias and his shark. This gluten-free kick in the pants brings the FR-S to approximately 365 horsepower and 255 lb-ft of torque in conjunction with the Vortech blower – 165 ponies and 104 lb-ft more than factory. Daniel is more than happy with his latest additions.
"It feels like I threw a six-cylinder in the car," he exclaims. "Now, it's all about turning it into a functional racecar that's reliable and able to be street driven. My overall goal is for no one to say, 'Why do you have that wing on it?'"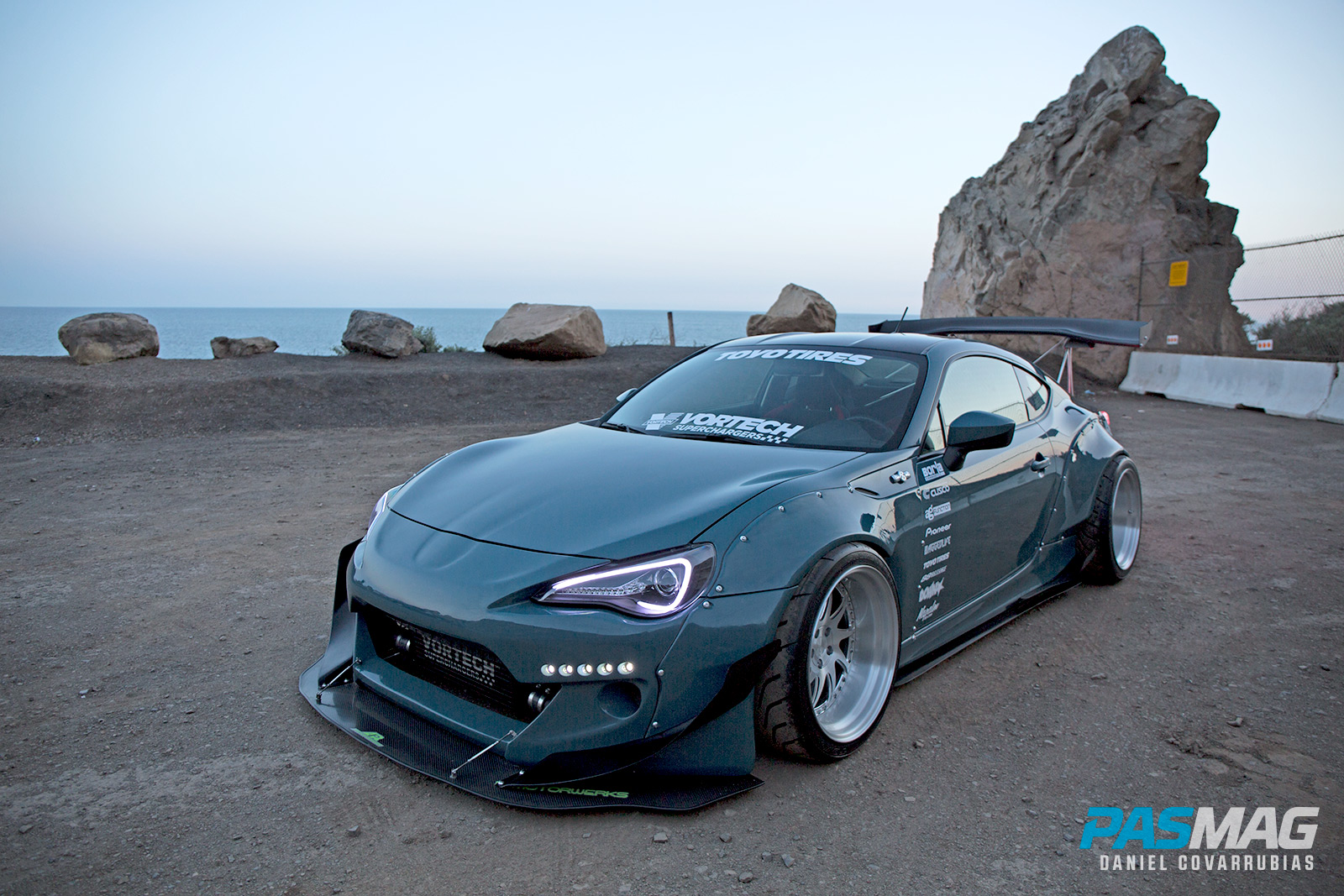 Setting out to build a car for yourself is a noble effort. In this time of social media builds and measuring self worth with thumbs-up and heart buttons, there's really something to be said about breaking the mold and doing it differently.
"One of my favorite quotes is: 'You will never influence the world by trying to be like it,'" Covarrubias says. "Just develop your own style and don't be afraid of what other people may think. It all comes back to you and what you want to drive every day."
Daniel wants to drive a D1-inspired street shark everyday. How about you?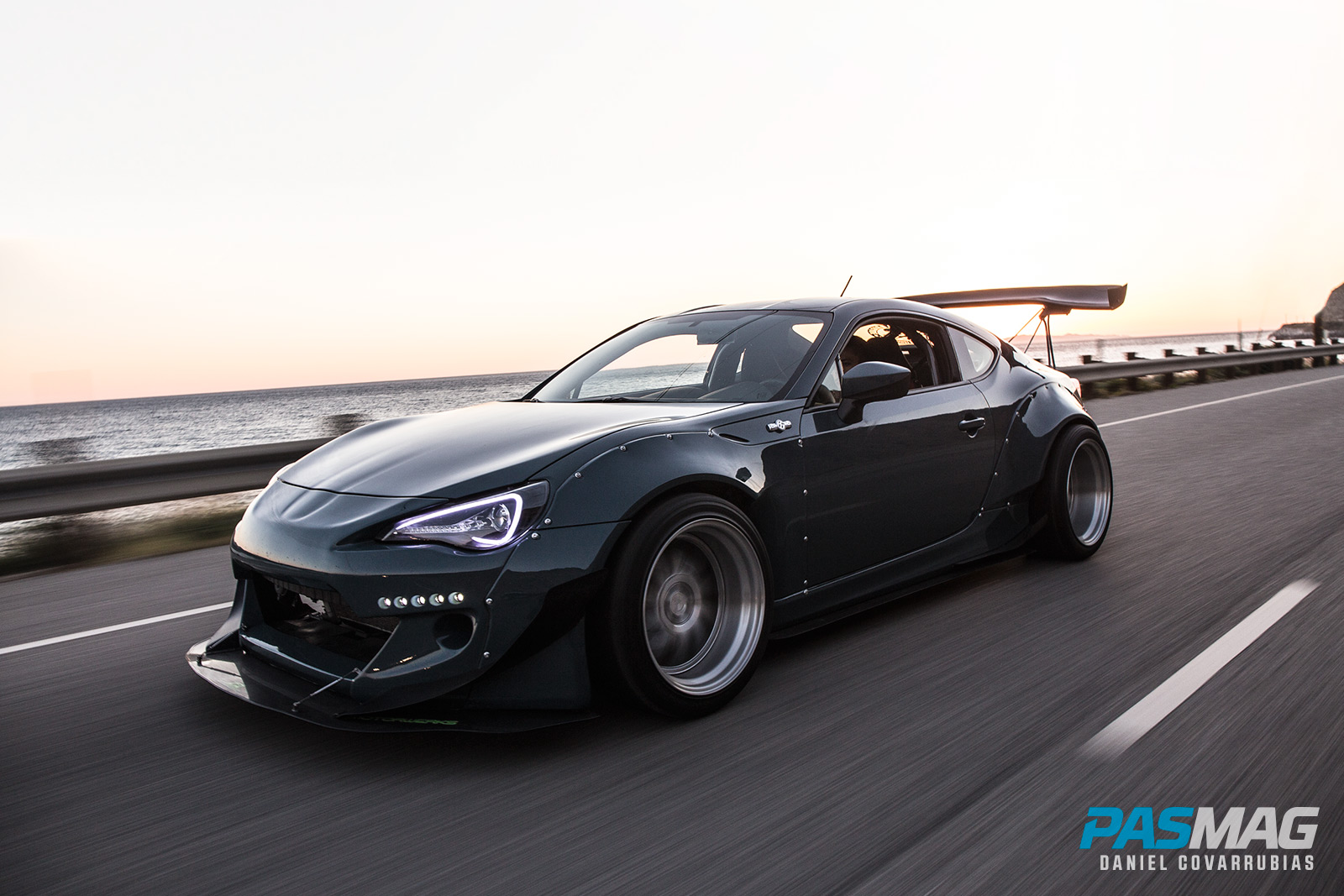 ESSENTIALS

OWNER: Daniel Covarrubias
LOCATION: Camarillo, CA
VEHICLE: 2013 Scion FR-S
BUILT BY: 88 Rotors, Baggedlife, Bones Fab, LTMW, RD Engineering
ENGINE: Toyota/Subaru 4U-GSE/FA20 2.0L boxer
HORSEPOWER: 365 HP
TORQUE: 255 LB-FT
ENGINE
Vortech Superchargers (V-3 supercharger, charge cooler, Maxflow Race blow-off valve)
Ecutek ECU tune
RD Engineering E85 tune
EXHAUST

Borla Performance (unequal length header, mid-pipe, cat-back exhaust system)
WHEELS / TIRES / BRAKES

Avant Garde F121 wheels – 18x10 (f), 18x12 (r)
Toyo Proxes R888 tires – 255/35 R18 (f), 315/30 R18 (r)
CHASSIS / SUSPENSION

Cusco 5-point roll cage – painted Battleship Gray
Cusco harness bar ∂ Air Lift Performance air suspension system
EXTERIOR
Rocket Bunny V2 wide-body kit
Dai Yoshihara x GReddy V3 canard set
Custom-built chassis-mount GT wing
Spec-D headlights
Valenti taillights
Hypnotic Teal Mica paint
INTERIOR

Nardi Torino Competition steering wheel
Snake skin shift boot
"$5 diamond shift knob"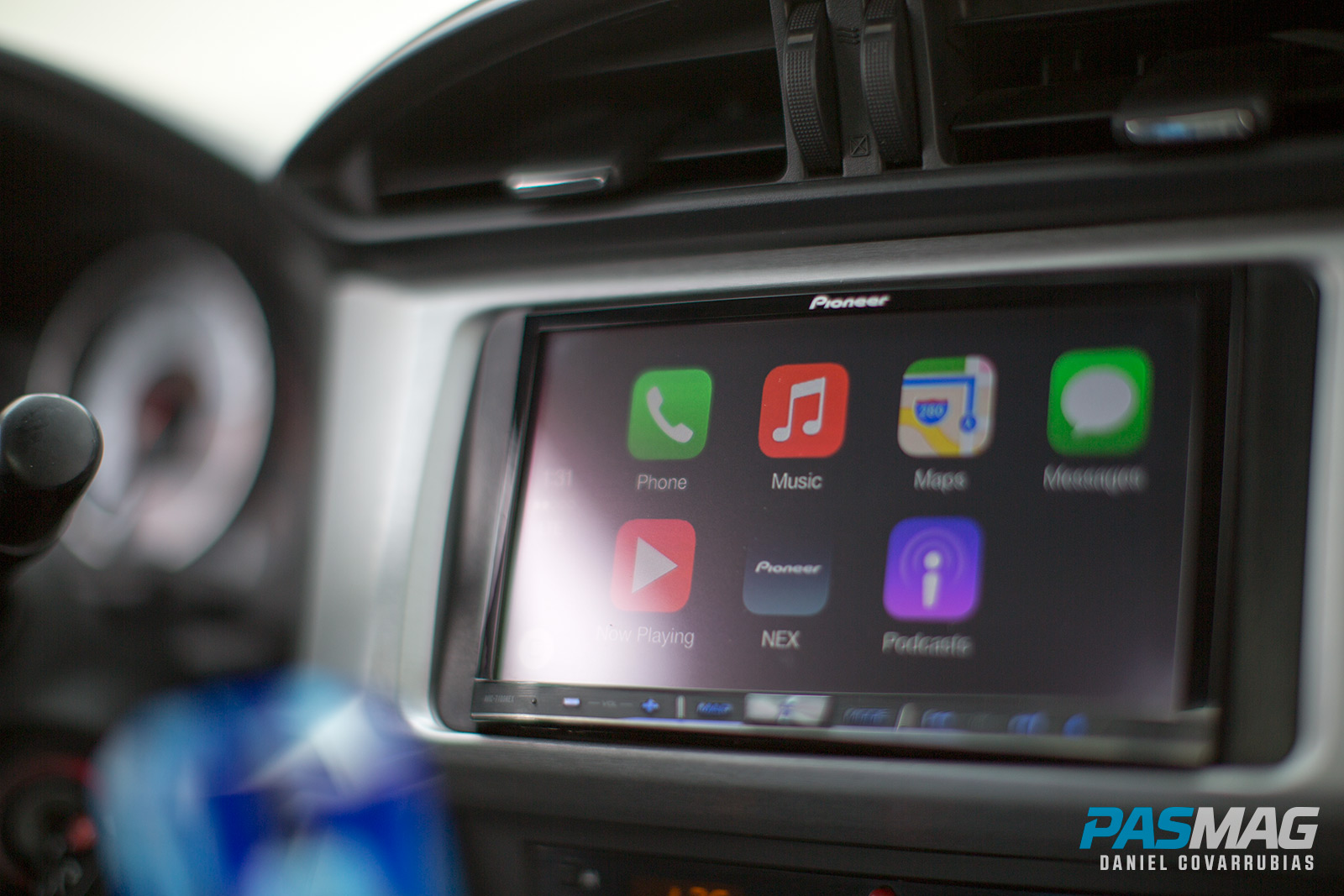 MOBILE ELECTRONICS

Pioneer (AVIC-7100NEX head unit, PRS-D800 2-channel subwoofer amp, GM-D8604 4-channel midrange amp, GM-D8604 4-channel high frequency amp, TS-SW2502S4 10-in. subwoofer, UD-SW120D enclosure, TS-D1330C front stage speaker set)
DB Link fuse holder
Sky High Car Audio (OFC 1/0 power wire, 120 mm sound deadener)
Tsunami distribution blocks
The Big 3 electrical upgrade
PARTNERS

88 Rotors, Air Lift Performance, Avant Garde Wheels, Borla Performance, Cusco USA, Downstar Hardware, Fuell Brand, LTMW, Napalm Inc., Pioneer, RD Engineering, Tjin Edition, Toyo Tires, Vortech Superchargers.
Daniel's Scion FR-S is published on the cover of PASMAG #131 (June/July 2015), on newsstands between May 25 - June 30, 2015. Order this issue online at http://pasmag.com/backissues.