Back in 1993, the Fresh Prince of Bel Air was considered a hot TV show and MC Hammer still had a career. Clinton was scandal-free and well, the trouble with Iraq seemed all but over. Cars were migrating from boxy forms of transportation to more flowing and undulating curved designs. At that time, the Altima was born and became a roaring success for Nissan.
In the customizing world… not so much! Many Editors have never written about a tuned Altima but around here we get all kinds of different projects and can appreciate the work, skill and dedication behind the build of Nick Moy's 2002 Altima (the first one we've ever featured). Moy is a resident of Woodbridge, NJ and claims to have fallen in love with the lines of the 3rd generation Altima the day it came out.
"I bought the car as a daily driver," says Moy. "I just wanted to put some upgraded wheels and sound system into the car, but it soon turned into an addiction. I wanted to be different by customizing a car you very rarely see at car shows and from there, the project got out of control."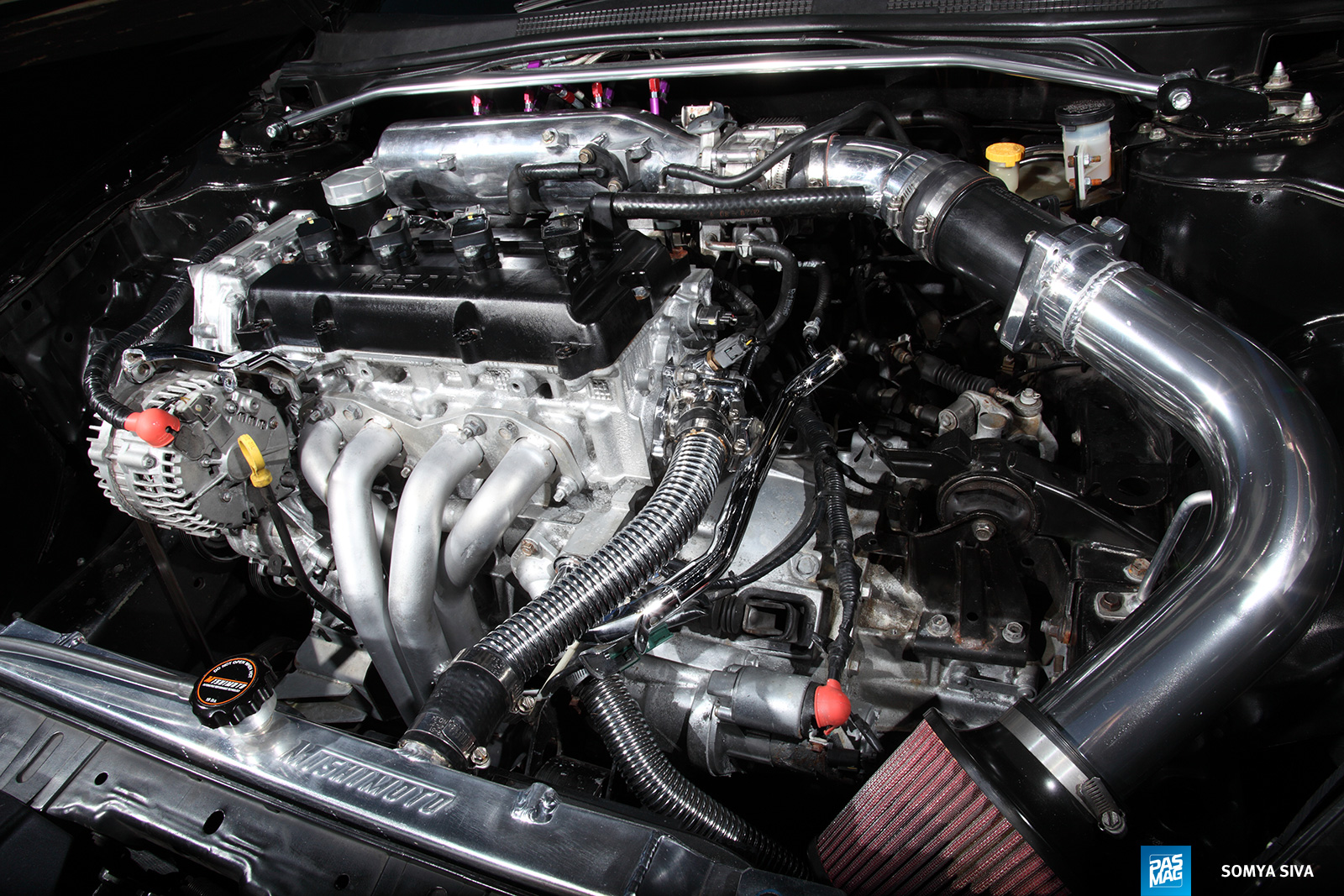 Under the hood, the engine upgrades include a custom K&N intake and a shot of "naws" from a Zex wet Nitrous system. The hot gas exits through a Stillen header and downpipe into an HKS Hi Power Titanium exhaust. Since automatics get no love (or street cred) from enthusiasts, Moy opted to make the full 5-speed swap done by Eshift.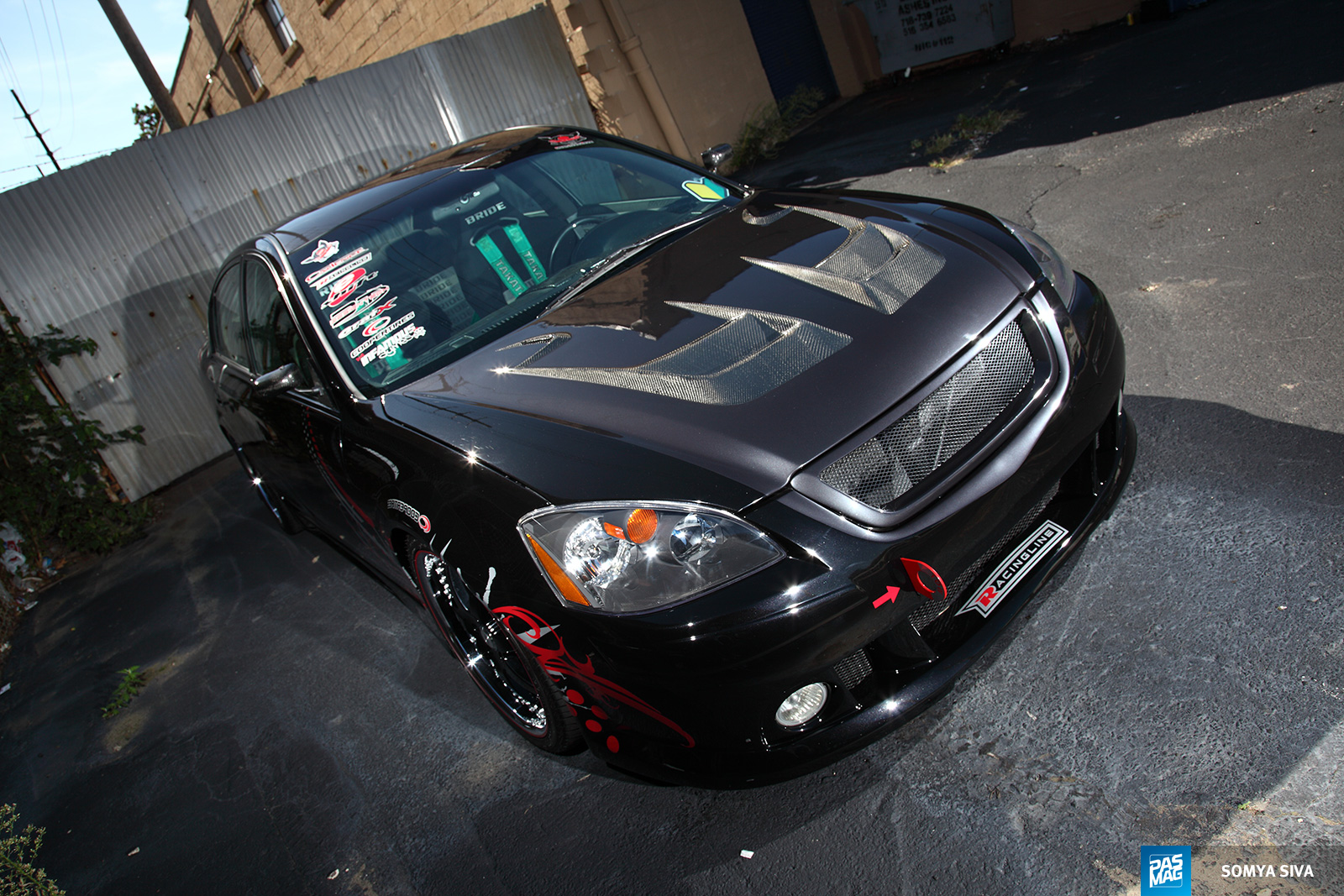 The unique look of the car comes from the E-Racing 4-piece Urethane bodykit installed by Azevedo Motorsports, with an Active Tuning grille and SE-R lip as well. A pair of APR F1 carbon fiber mirrors are found on the doors while a window spoiler was added to the rear. The paint was definitely original, but also had some Nissan Motorsports roots. The custom 2-tone scheme is made up of Skyline R33 Grey Pearl (KN6) and Black Pearl (GV1) from an R34 GT-R. After the paint dried, the Altima was sent to Grafx in Linden, NJ where it received a 3-layer scheme giving some love to all the sponsors who've helped along the way.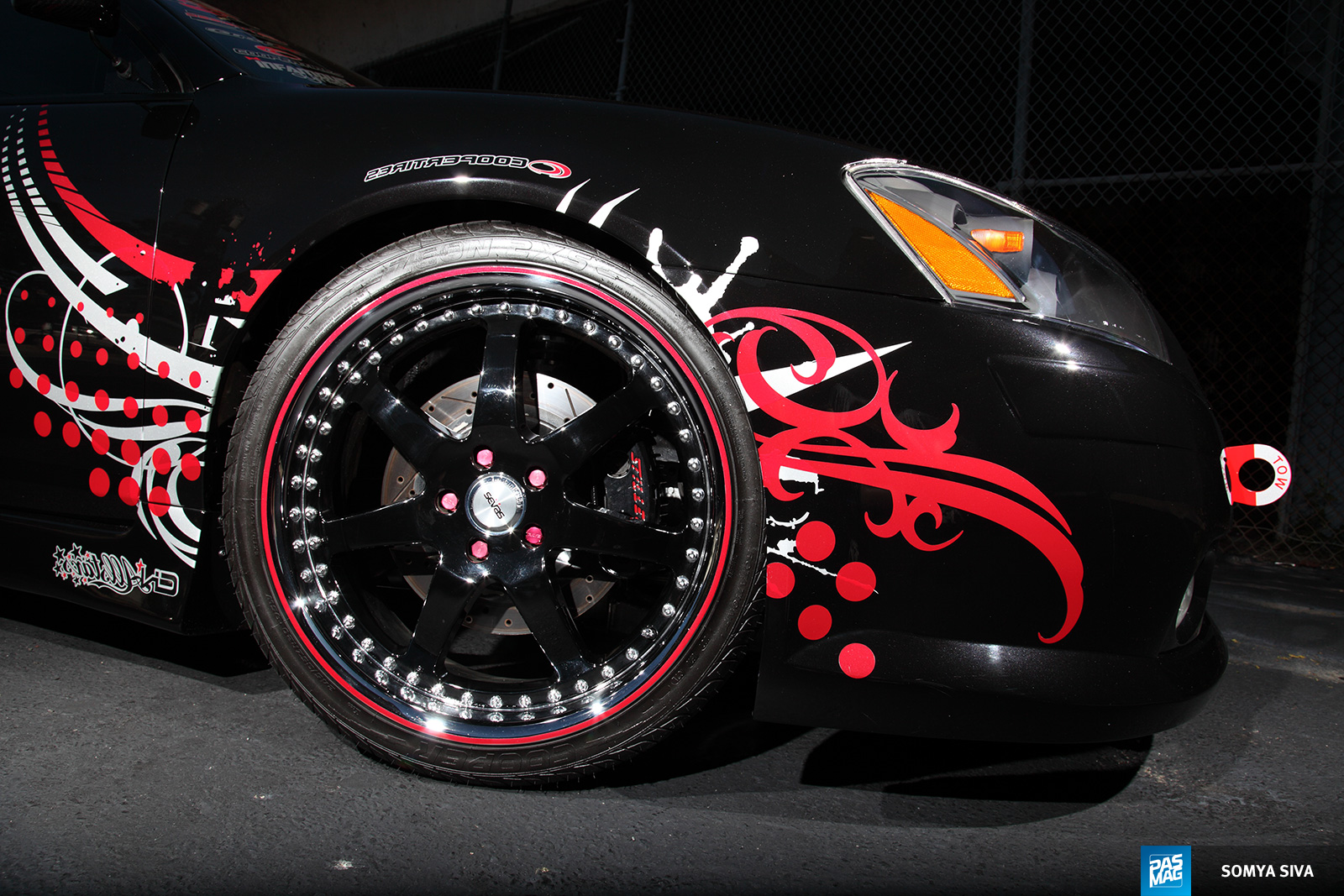 The Altima also turns heads with its choice of wheels. A set of Sevas S7s with a 38mm offset were selected in 20x8.5-inches on all four corners with Cooper Zeon 2XS tires. A Stillen big brake kit lurks behind the spokes, featuring a 13-inch rotor clamped by a 2-piston caliper with an 11.8-inch rotor in the rear all connected up with Goodridge stainless steel lines.
A set of K-Sport Kontrol coilovers were added for all the dampening and ride-height adjustments the car would need. The Suspension Techniques sway bars eliminate the roll while the Racingline end-links keep the sways in check. Some Racingline strut bars cinch the chassis together and many of the OE suspension parts are either chromed or polished.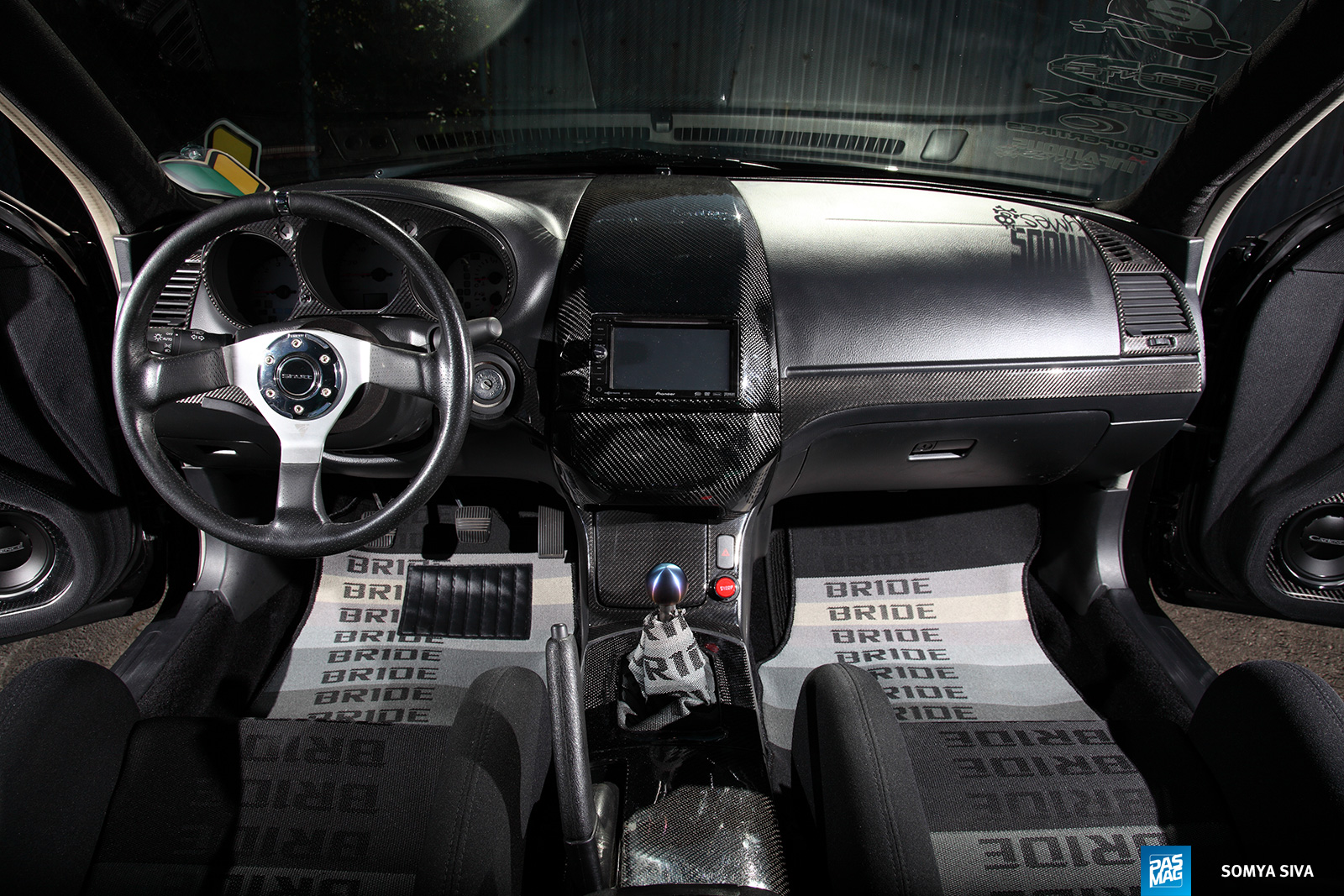 Inside, Moy started almost from scratch by removing everything! Design Tech of Union, NJ redid everything in Bride fabric including the doors, pillars, floor mats, headliner, rear deck and even shift boots. The door panels are a custom CAD design that also feature carbon fiber accents in addition to a center console that has been redesigned in carbon fiber. The trunk carries the same theme with Bride fabric and carbon fiber trim rings around the subs and on the ATL fuel cell!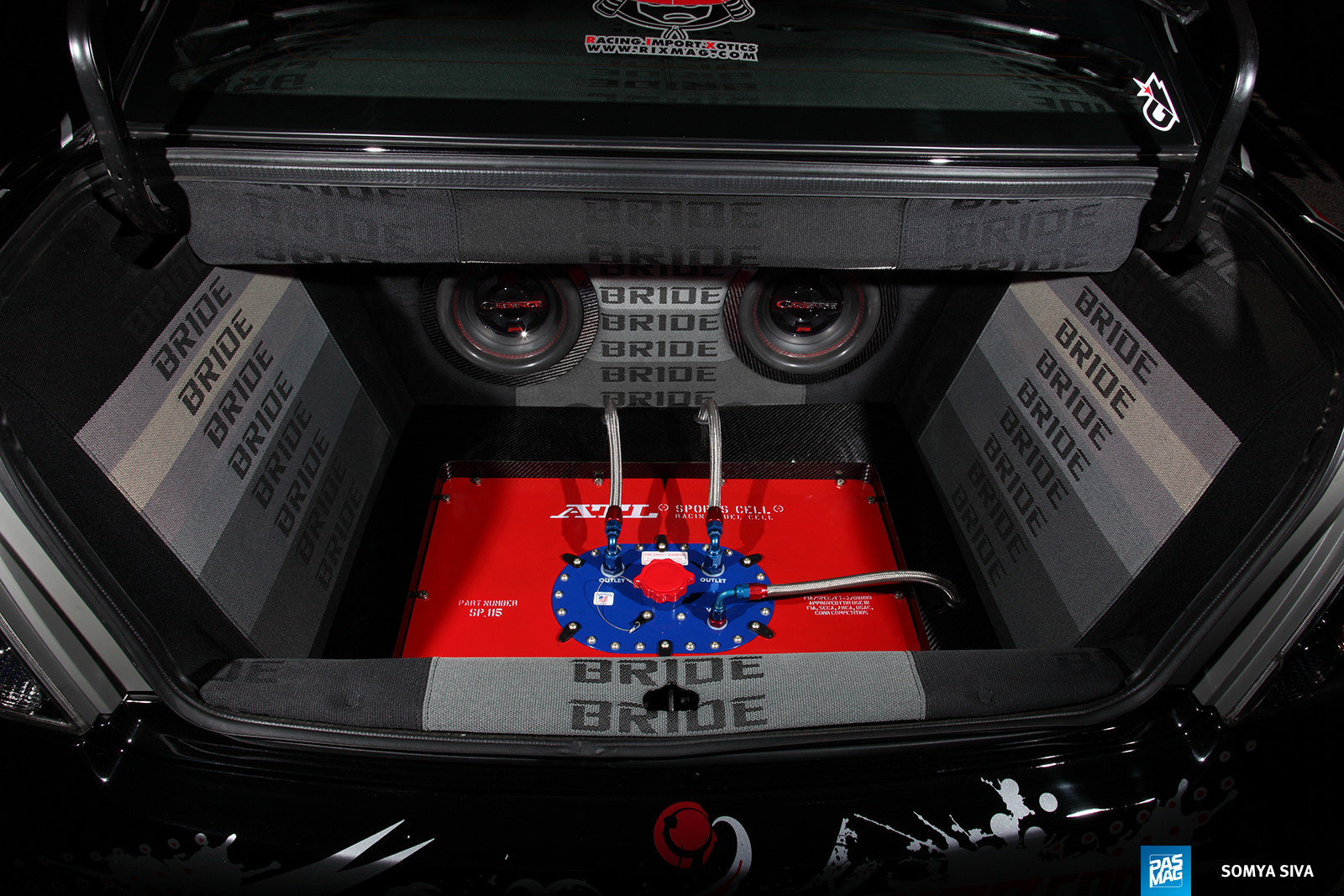 The sound system was also a serious undertaking. Design Tech started with a Pioneer AVIC D3 DVD Navigation unit that sends signals to an arsenal of Cadence gear. The lows are sent to a Cadence iA9 HC mono amp that drives a pair of Cadence ZRS 10-inch subs in the trunk. The Cadence iA7 4-channel amp runs four Cadence CVL-6K components complete with cross-overs and eight 2-inch silk dome tweeters. The Kinetik HC1800 beast of a battery now resides in the trunk, linked up with a 0-gauge power lead.
"The car is never done," says Moy. "I plan to continue to modify it and drive it until I am 50 years old!" He credits much of the car's success to the partners on this project and hinted at the next phase of his creation. He tried valiantly to keep it a secret, but some sort of rear-wheel drive configuration is going to find its way onto the chassis soon. Just remember where you heard it first!
Photos by Somya Siva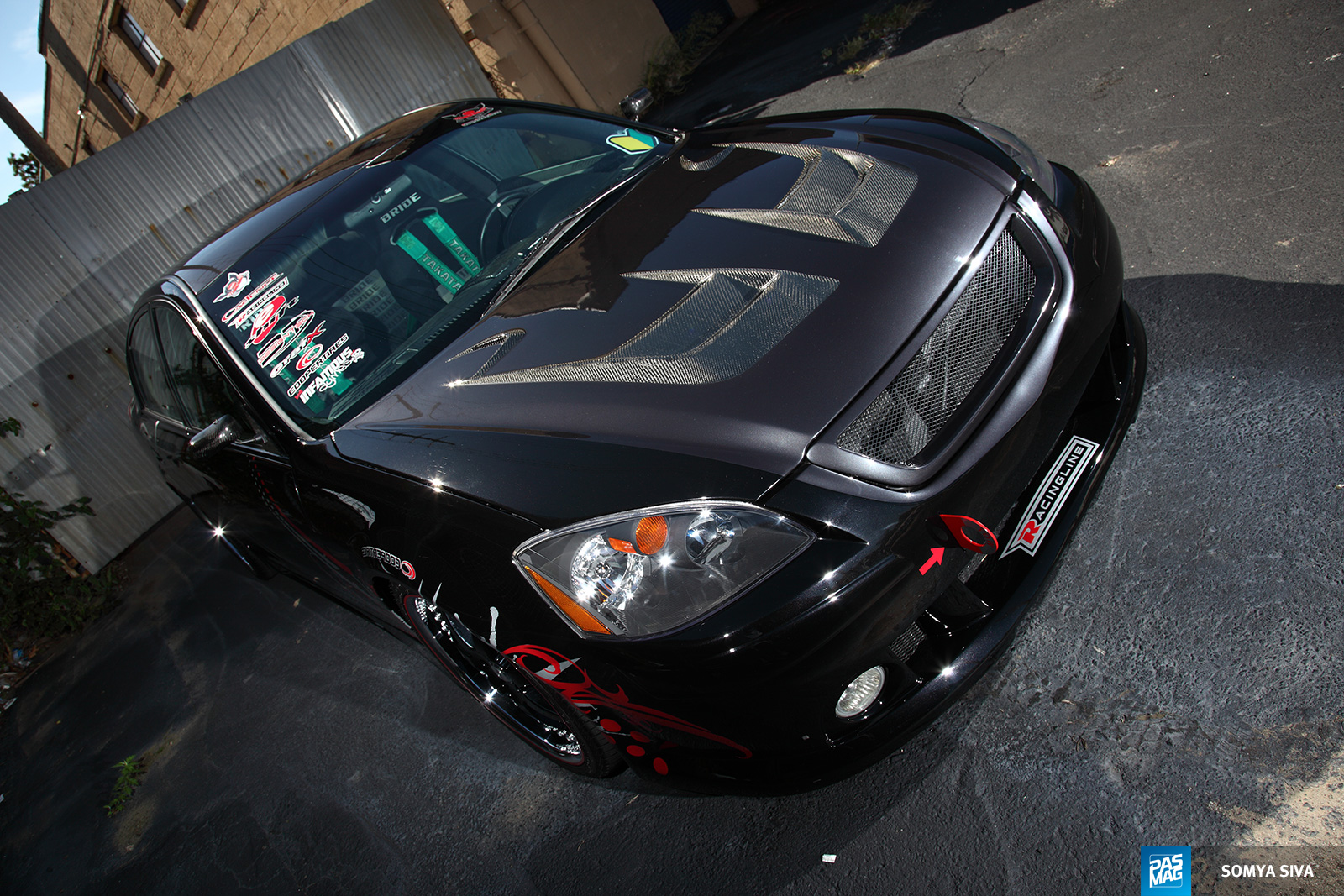 ---
ESSENTIALS

Owner: Nick Moy
Location: Woodbridge, NJ
Vehicle: 2002 Nissan Altima
Engine: Nissan 2.5L QR25DE inline-4
ENGINE MODIFICATIONS

Custom K&N intake
HKS Hi-Power Titanium exhaust
ZEX wet nitrous kit
SUSPENSION

K-Sport Kontrol coilovers
Racingline end links
Racingline strut bars
Suspension Techniques sway bars
Polished and chromed suspension
WHEELS & TIRES

Sevas S7 wheels - 20x8.5-inch
Cooper Zeon 2XS tires - 245/35R20
EXTERIOR

E-Racing Urethane bodykit
Installed by Azevedo Motorsports
Active Tuning grille
SE-R front lip
APR F1 carbon fiber mirrors
Window spoiler
Skyline R33 Grey Pearl (KN6) and R34 Black Pearl (GV1) paint
Grafx vinyl
INTERIOR

Design Tech of Union, NJ upholstery
BRIDE seats
BRIDE fabric: doors, pillars, floor mats, headliner, rear deck and shift boots
Custom carbon fiber center console and trim
BRIDE fabric with carbon fiber trim rings around subs.
AUDIO & MULTIMEDIA

Pioneer AVIC D3 head unit
Cadence iA9 HC mono amp
Cadence ZRS 10-inch subs (2)
Cadence iA7 4-channel amp
Cadence CVL-6K components (4)
Kinetik HC1800 battery
---
PHOTO GALLERY