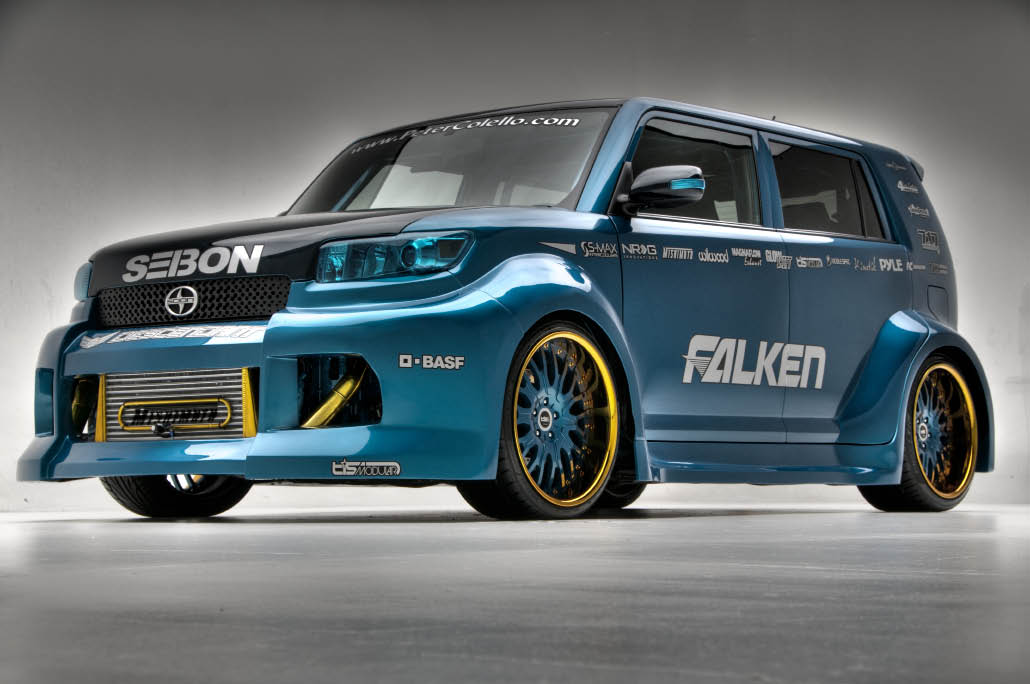 Written by Dave Pankew | Photos by RCH Designs
When you see a project like this shine at SEMA, you have to give credit where credit is due. Tuner Pete Colello has definitely worked hard to earn his way to the top. As the builder of the ultra-popular award-winning Celica, his project caught Toyota's eye, and their executives know a talented guy like Colello can really get their brand noticed. When Scion put the word out about their annual Tuner Challenge contest, several top tuners entered with some real head turning Scion-based creations. Although Colello's project faced serious competition, he and his Scion xB were able to edge out some very capable tuners to take home the coveted Scion Tuner Challenge trophy!
Walking through the halls at SEMA, this blazing blue Scion stopped onlookers dead in their tracks. The candy paint was accented by the candy apple gold piping along with teal candy coated hard-parts all over the place. It was showcased with the other two Scion Tuner Challenge projects built by tuners Brandon Leung and Eneri Abillar. With that kind of competition, nothing came easy for Colello, but we wanted to take a look behind the build to see how it was done.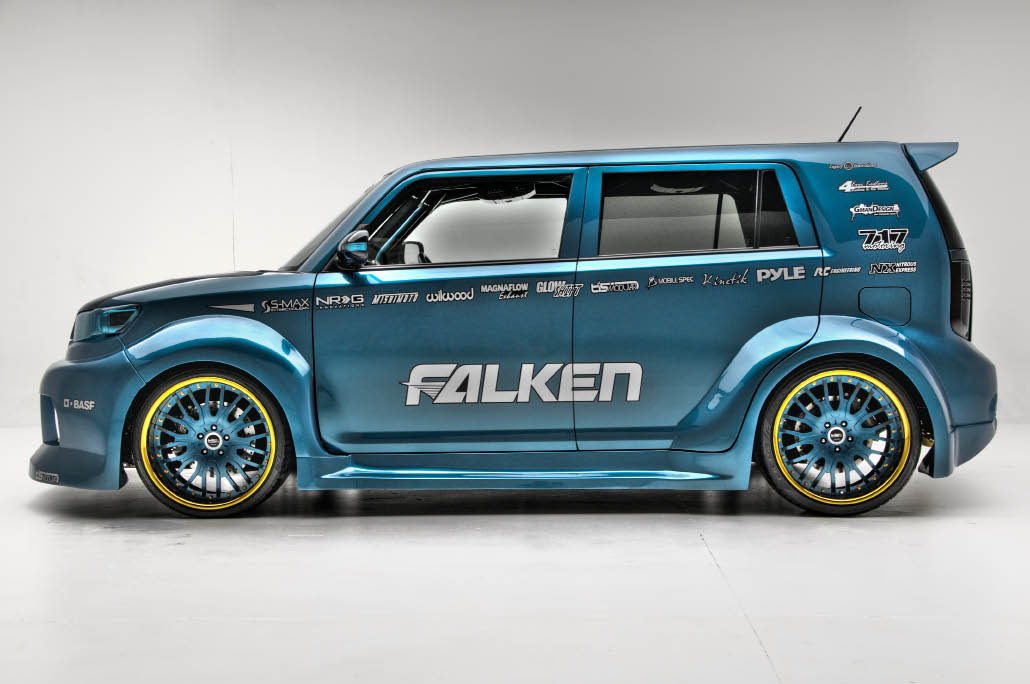 Colello was eager to tell us more about how he accomplished the makeover. First, the entire car was stripped down with all of the exterior ornamentation removed. The body was shaved to delete all door handles, antennas and wipers before the BRS Autodesign widebody kit was fitted to the car. The 9-piece kit had to be slightly modified by removing the foglights and then molding the side skirts and rear flared fenders. With the BRS kit installed, Colello turned to Seibon who supplied carbon fiber parts that were shot with teal candy paint. The list of Seibon gear includes the hood, hatch and OEM style rear deck spoiler. Colello took it one step further with carbon fiber mirrors, hatch trim and even the entire roof section. The final exterior touch included the teal headlight tint and smoked tails which truly stand out.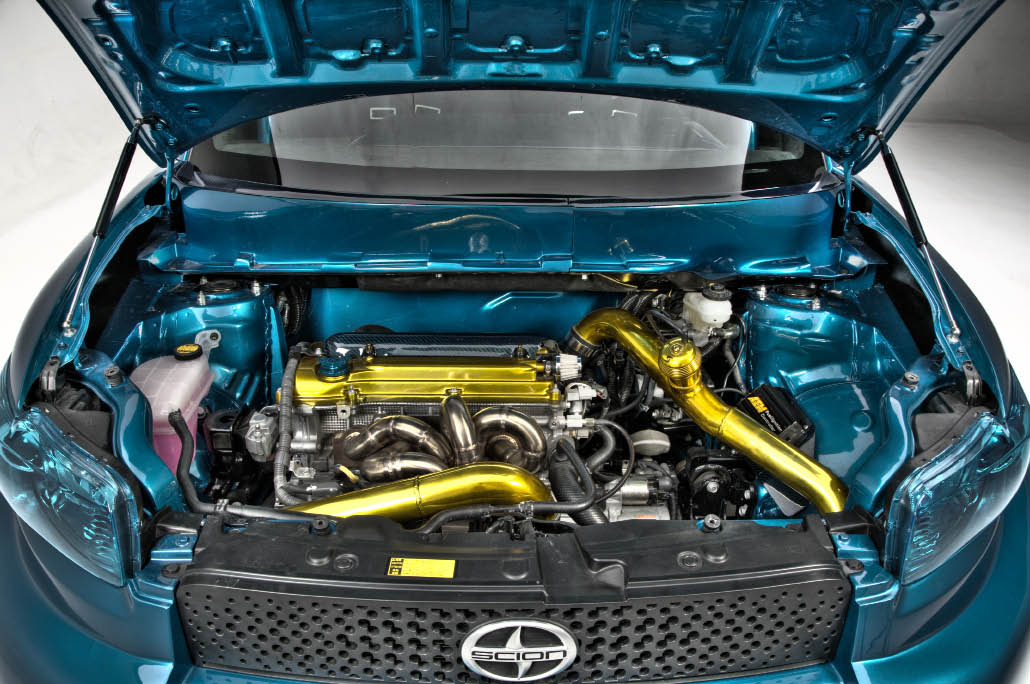 Under the Seibon lid lurked many aftermarket goodies including some big time boost. A Descendant turbo kit consisting of a turbo manifold, downpipe, harness and a BullsEye Power T04B Turbo give this beast plenty of power. Fuel system upgrades include RC Engineering 750cc injectors and a Descendant billet rail. All of the custom piping was powder coated in gold, as was the Mishimoto front mount with NX N-tercooler system vented by an S-Max blow-off valve. The Magnaflow exhaust system was also completely powder coated in candy gold. The overall engine bay is as clean as they get, with several gold and teal accents.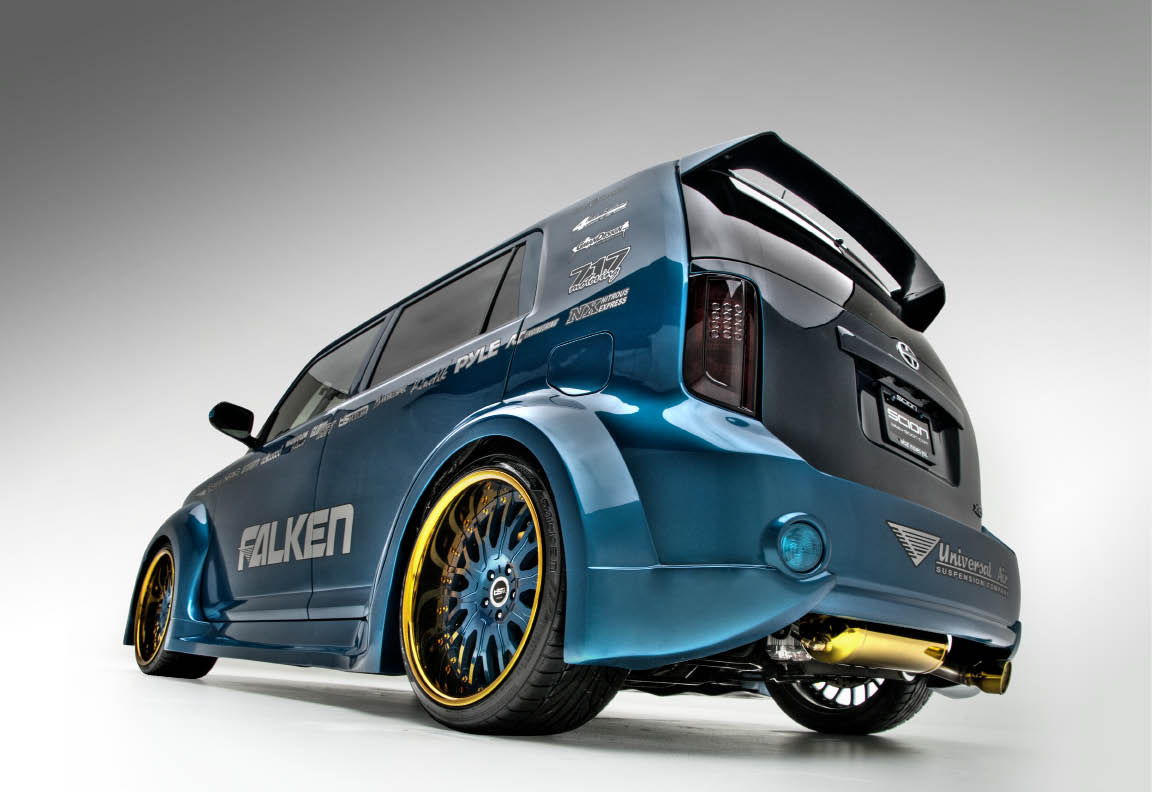 The rollers were something that Colello was proud to integrate into the project. A set of TIS Modular wheels were added with a custom teal face and unique gold lip. The front wheel measures 20x10-inches and wears a stretched Falken FK452 255/35R20 tire. The rear is an impressive 20x11-inches wearing a 285/30R20 Falken FK452 tire. Behind the teal spokes are a set of Wilwood Superlite6 brakes with 6-piston calipers and 2-piece 13-inch rotors on all four corners. The stance is achieved with an air ride system from Universal Air, which features a Viair compressor and a 4-gallon tank.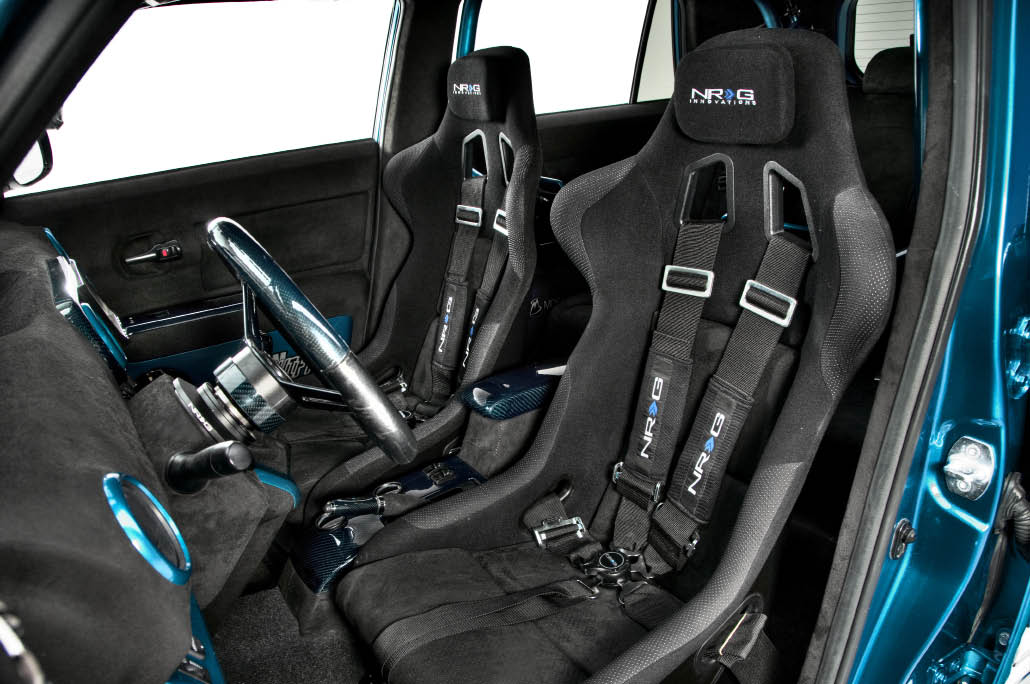 Inside Colello focused to push his project past the competition. He partnered with NRG who offering a load of new interior accessories including seats to bolster their product line. A set of NRG carbon fiber bucket seats were installed along with a pair of NRG 4-point seatbelt harnesses. The steering wheel was replaced with an NRG Gen2 quick release and a prototype deep dish carbon fiber steering wheel. A custom 6-point cage by Legacy Innovations was added to the mix; painted in matching candy teal paint with a pair of NX nitrous bottles hanging off the rear section.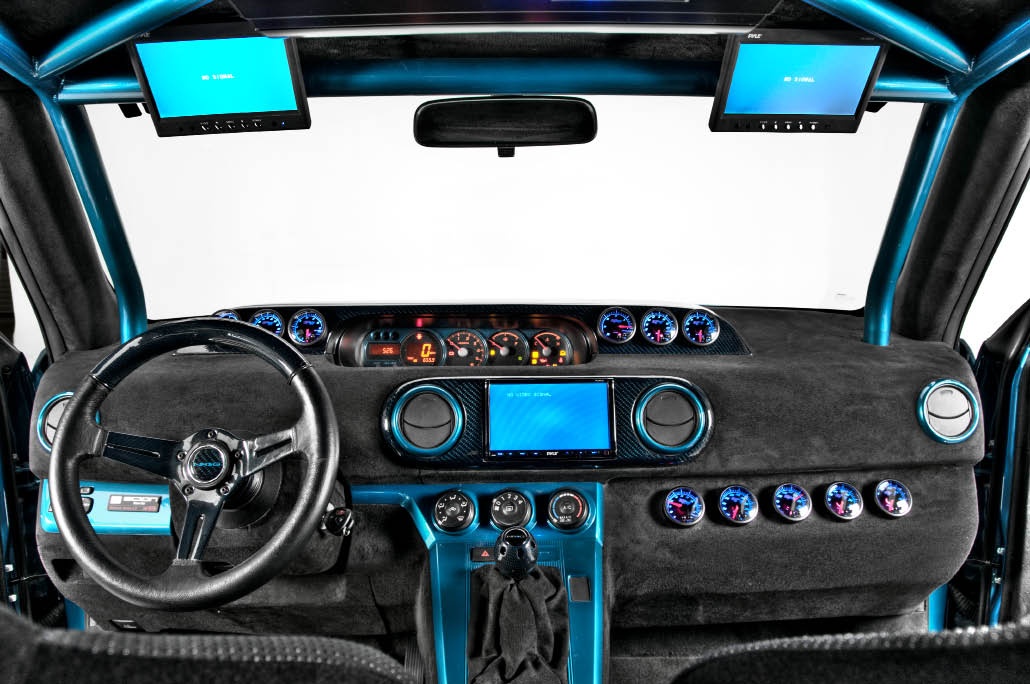 The interior panels were completely wrapped in rich, black suede with candy teal carbon fiber accents throughout. The custom dashboard now features a Pyle double DIN touchscreen in addition to 13 bright and accurate GlowShift gauges mounted up front and center!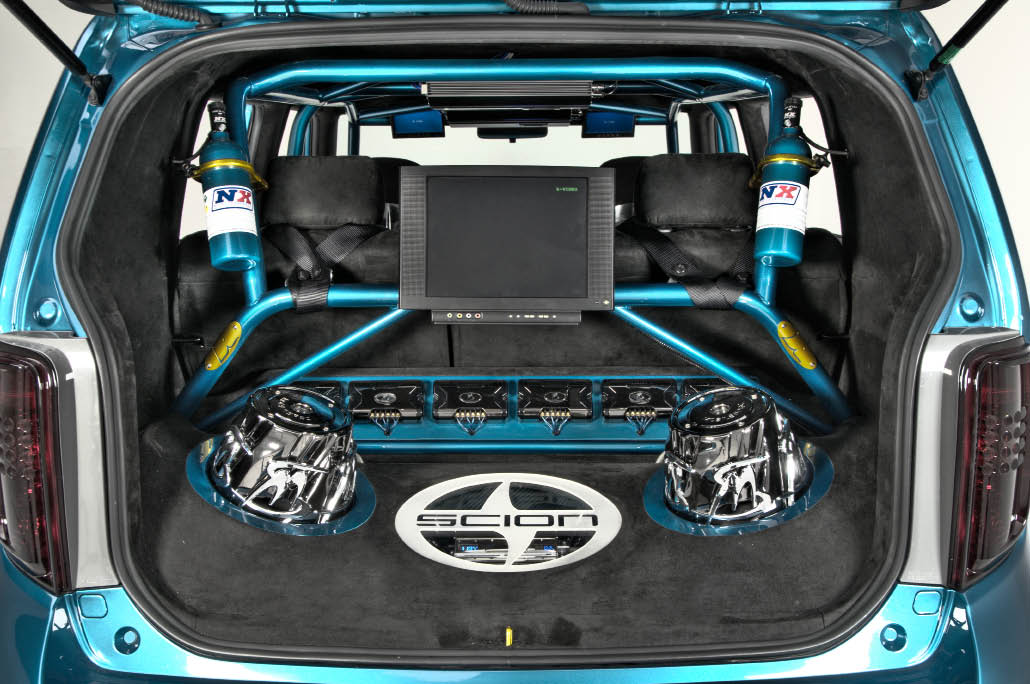 The audio and multimedia system was something Colello wanted to really rock. Known as the guy with TV screens mounted around his windshield and amps hanging from the roof in his prior Toyota Celica project, he had set the bar high on his last build. Installing three 7-inch Pyle monitors, a 13-inch Pyle LCD screen, a ton of Mobile Spec speakers and amplifiers, plus all the necessary power supplies and wiring ensures this small Scion is heard loud and clear.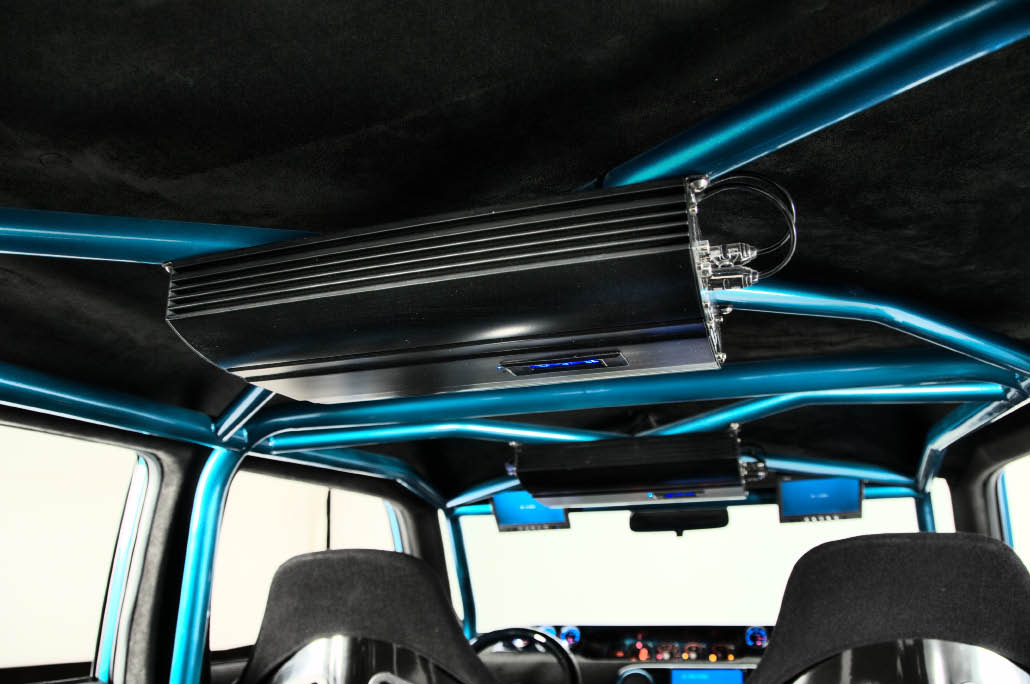 Colello would like to thank the following for making this project possible including all his supportive sponsors, Bob Dructor, Glenn Michael, Mike "Crunchy" Hemrick, Cliff VanSayoc, Travis Myers, Kris Troutman, Brandon Michael, Manny Olivo, Shawn Gorden, Shawn Baker, Jut Imes, Donnie Hannah, Pat Beaver, Vince Beaver, Deb Colello, Josh Cloud, Legacy Innovations, 4 Ever Kustoms and DUB (Myles & John).
We have to hand it to Colello, as topping the Celica is no easy task. Having bagged two features in two years, this former Architectural student turned tuner-extraordinaire is definitely rewriting the rules of automotive style and performance. We're glad to showcase Colello's high level of commitment to the tuner game and look forward to many more projects to come.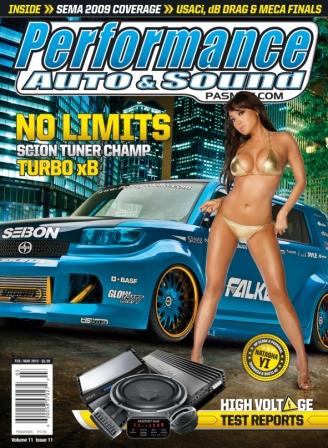 ESSENTIALS
Owner: Pete Colello
Location: Harrisburg, PA. USA
Vehicle: 2009 Scion xB
Engine: Toyota 2.4L inline-4
Exterior
BASF Custom "Teal Blue Pearl" Paint
BRS Autodesign 9-Piece Widebody Kit (modified)
1 BRS Front Bumper
2 BRS Front Flares
2 BRS Side Skirts
2 BRS Rear Flares
Seibon Carbon OEM-Style Hood
Seibon Carbon OEM-Style Hatch
Seibon Carbon OEM-Style Rear Spoiler
Carbon Fiber Roof
Carbon Fiber Mirrors
Carbon Fiber Hatch Trim Piece
Carbon Fiber Rear Water Squirter
Tinted Headlights
Tinted Tail Lights
Tinted Reverse Light
Tinted Mirror Turn Signals
Shaved Door Handles
Shaved Windsheild Wipers
NRG Carbon Fiber Hood Lifts
Engine Modifications
Descendant S.S. Turbo Manifold
Descendant P-N-P Engine Wire Harness
Descendant Fuel Rail
BullsEye Power T04B Turbo
RC Injector P-N-P 750cc Injectors
Custom Aluminum Intercooler Tubing
Mishimoto Front Mount Intercooler
S-Max BOV
Nitrous Express N-ter Cooler Sprayer Kit
Polished Valve Cover
Shaved Engine Bay
Battery / Fuse Box Relocated Wire Tuck
Painted Oil Pan
Painted Intake Manifold
Exhaust
Descendant OBD2 DownPipe
Magnaflow Exhaust
Engine Management
AEM F/I Controller
Descendant Custom Fuel Map
Wheels and Tires
TIS Modular Wheels; 20x10-inch (f), 20x11-inch (r)
Falken FK-452 tires; 255/30/20 (f), 285/30/20 (r)
Suspension/ Brakes
2 Universal Air Suspension Aero Sport
2 Universal Air Suspension Air House
1 4 Gallon Tank (Gold)
2 Viair 380c Compressor
Wilwood Superlite6 Brake Kit
6 Piston w/ 13-inch Rotors
Stainless Steel Lines
Wilwood Custom Big Brake Rear
6-Piston w/ 13-inch Rotors
Custom Stainless Steel Lines
Interior
NRG Racing Seats
NRG 5-Point and 4-Point Racing Harnesses
NRG Deep Dish Carbon Steering Wheel
NRG Quick Release Kit Gen 2.0
NRG Carbon Fiber Shift Knob
NRG Carbon Fiber Hand Brake
Custom 6 Point Roll Gage
GlowShift Gauges (x 13 gauges)
Nitrous Express 1.4lb bottles (x 2)
Nitrous Express 1.4lb Bottle Mounts (x 2)
Custom Dash
Shaved Pillars, and Headliner
Completely Suede Wrapped Interior (perforated)
Carbon Fiber Accents
Audio & Multimedia
7-inch Pyle Double Din TFT Touchscreen Head Unit (DVD/CD/MP3)
3- 7-inch Pyle Monitors (m2, mounted from cage, mounted in the back of the center console)
13-inch Pyle Monitor (mount from Cage)
2 – 10-inch Mobile Spec Pro Ice Subwoofers
Mobile Spec Amplifier ICE-11000D (mounted from cage)
Mobile Spec Amplifier ICE-450AB (mounted from cage)
3 - Mobile Spec Pro Ice 5.25-inch Components
Mobile Spec Pro Ice 6.5-inch Speakers
Mobile Spec 12-Farad Capacitor
Mobile Spec Wiring and Accessories
Mobile Spec Battery
Kinetik 80 AMP Power Supply