There's a time in every tuner's life when they're faced with the decision to either stay the course and continue building fast-and-furious pocket rockets, or change with the times and shed themselves of the tuner life's Peter Pan syndrome. Some liken it to trading in expensive bar tabs for mortgage payments, but they both basically mean the same thing – growing up. For as long as I can remember, fun-loving car builders have been forced to give up their customized chariots and assimilate with the crowd. But now, a new Japanese automotive art form has come to remedy this problem over the past couple of years. VIP (pronounced 'Bippu') tuning has been around in Japan for a while, but has only recently become the popular choice for today's 'mature tuner.' Case in point is Oxnard, CA's Angelo Mike Petralba, who traded in the high-performance capabilities of his Acura NSX for the smooth cruising of this 2004 Lexus LS430.
"I've had my share of tuner cars," recalls Petralba, "but as I got older with a family, having a big sedan made more sense. Besides, fixing it up bippu style is a lot more comfortable than the older, harsh-riding, noise-making cars I used to have."
Of course, Petralba's switch from sports cars to cruisers wasn't easy, especially because he was surrounded by his crew's award-winning whips on a regular basis. Dubbed AutoConcept Elite (ACE), this Southern California-based club has been terrorizing the show circuit this season, taking home hardware from events like Hot Import Nights, NightShift and SpoCom. With highly-tuned artillery like a Toyota Supra, Subaru WRX STI, Mitsubishi Evo, Honda S2000 and Nissan 350Z repping for the crew, it was easy for Petralba to stand out from the bunch.
Unlike the other members of ACE, Petralba didn't come from a tuner background, but rather participated in Car Audio SQ competitions. Having attended his first HIN in the Bay Area a couple years ago, he was hooked and turned to his friend Ben Abutin (ACE Team Captain) for advice. "Ben suggested that since I already had a 2001 Lexus GS300, I should build it for the VIP category," explains Petralba. "He also hinted that it should really be black instead of the silver one I had, and it should be a bigger black car."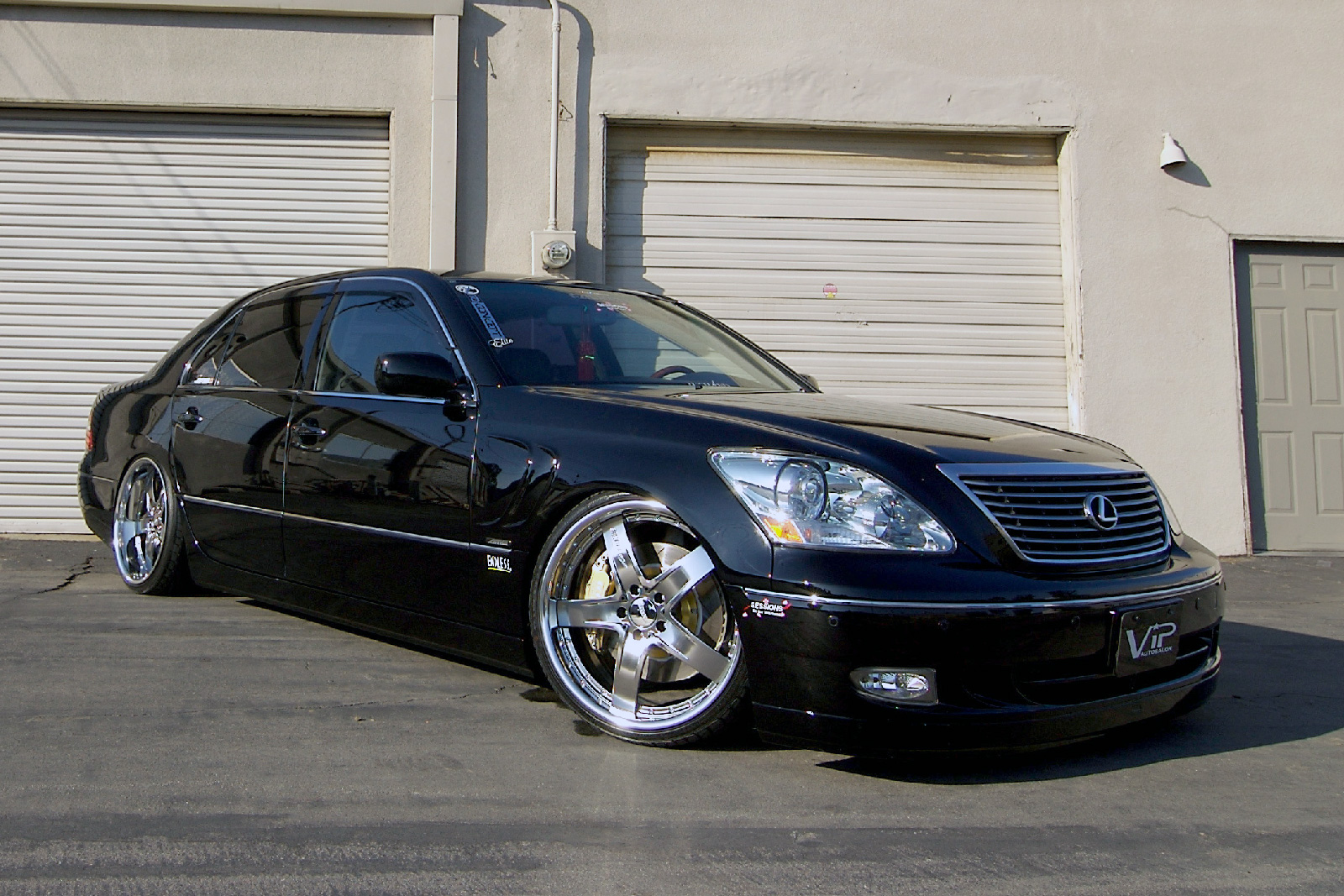 Heeding Abutin's advice, Petralba surfed the net in search of a black LS430 so that he could properly represent the VIP community. He found the perfect specimen over 2,000 miles away in Chicago, IL. It didn't take long to make the decision, as he purchased a one-way ticket to The Windy City with the intention of driving the black cruiser all the way back to SoCal. "I called and purchased the car over the phone," he recalls, "driving your car 2,000 miles across the country is definitely the best way to get to know your car!"
On the way home, Petralba made an overnight stop in Des Moines, IA to visit his friends at Elemental Designs Audio. Once Elemental Designs' Ben Milne heard about his plans for this VIP whip, he was quick to supply him with the pair of 11Kv2 subwoofers that would provide his system with the hard-hitting bass. The next morning, Petralba hit the road and 30 hours later was back in sunny California.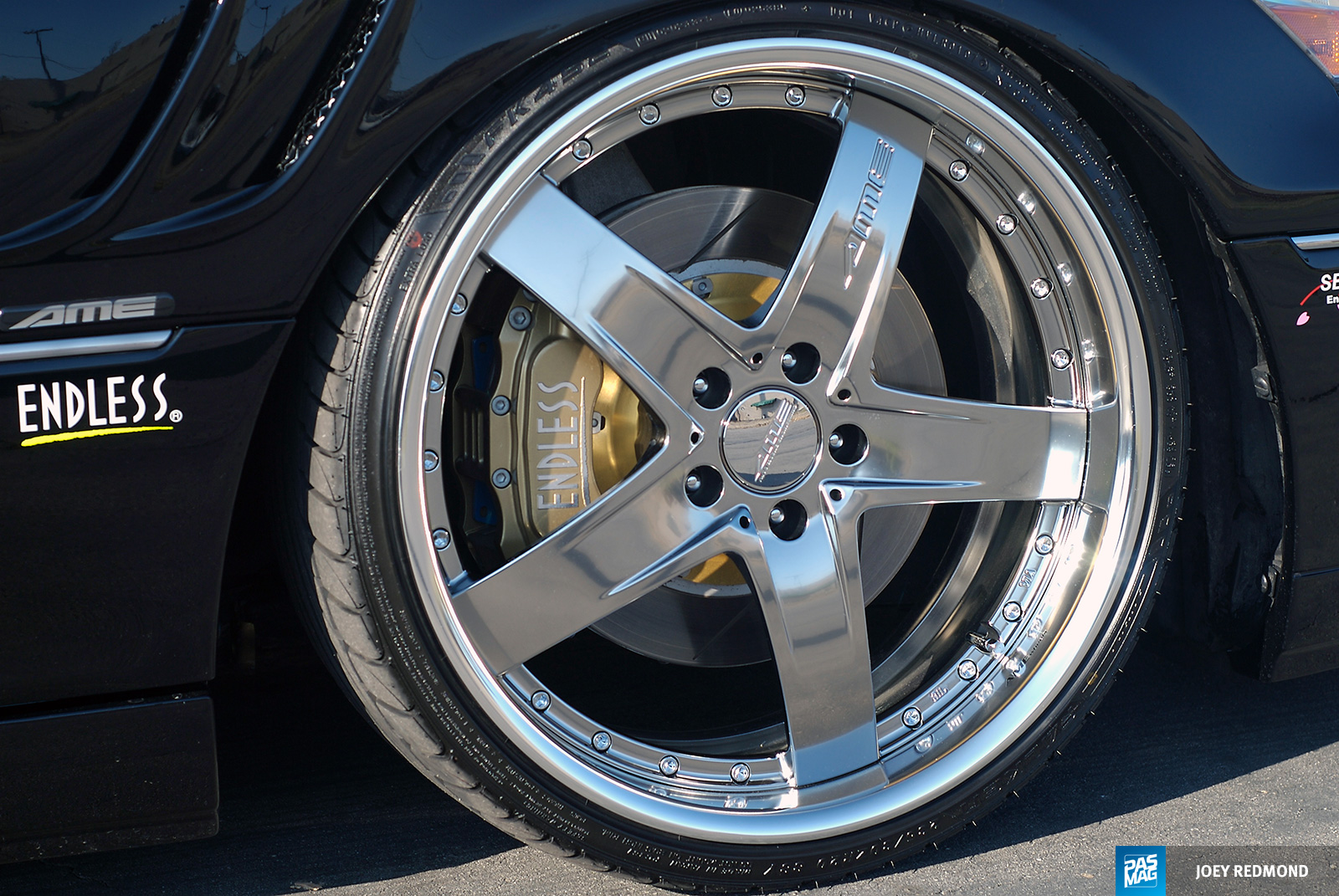 Within a week, Petralba had ordered his 20-inch AME Shallen FX wheels and VIP-friendly Nitto INVO rubber, Power-Sessions body kit and DataSystem suspension controller. With his car's debut slated for HIN's VIP Auto Show a few months away, he was confident that the vehicle would be completed on time.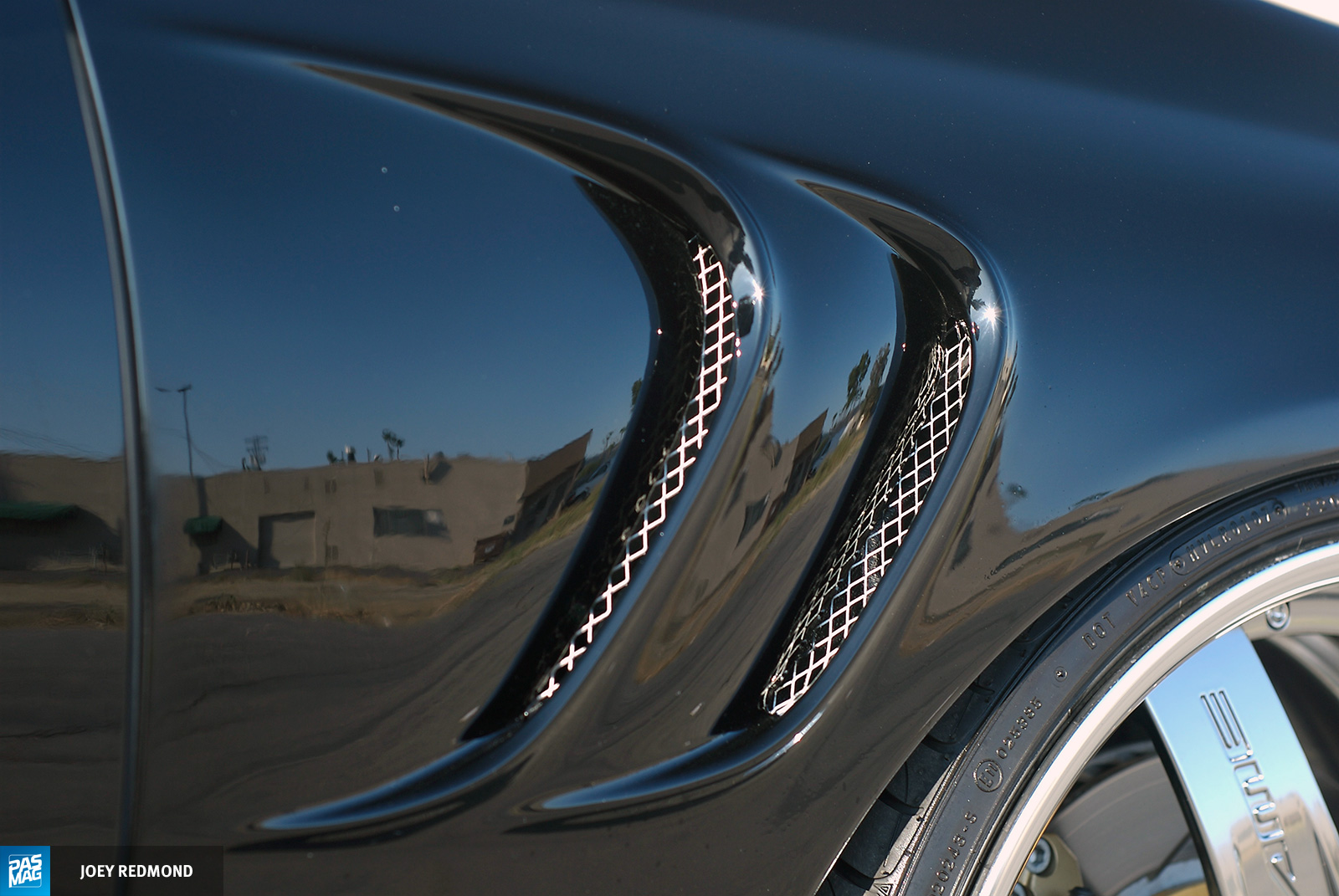 Fast forward to three weeks before the show and everything was on schedule. The wheels and Air Runner lowering suspension system had arrived from Japan, while the tires were readily available. The body kit didn't arrive until a week later, but that still left enough time to prep, paint and install them on the car. Unfortunately, Petralba was surprised to discover that the kit delivered was for a 2004-2006 Lexus LS430 and didn't fit the 2001 LS430 that he picked up in Chicago a few months earlier. Rather than send the kit back and risk missing his first event, Petralba did the unthinkable and traded in his current car for a 2004 version he found at a local dealership. Talk about dedication to meeting his deadlines!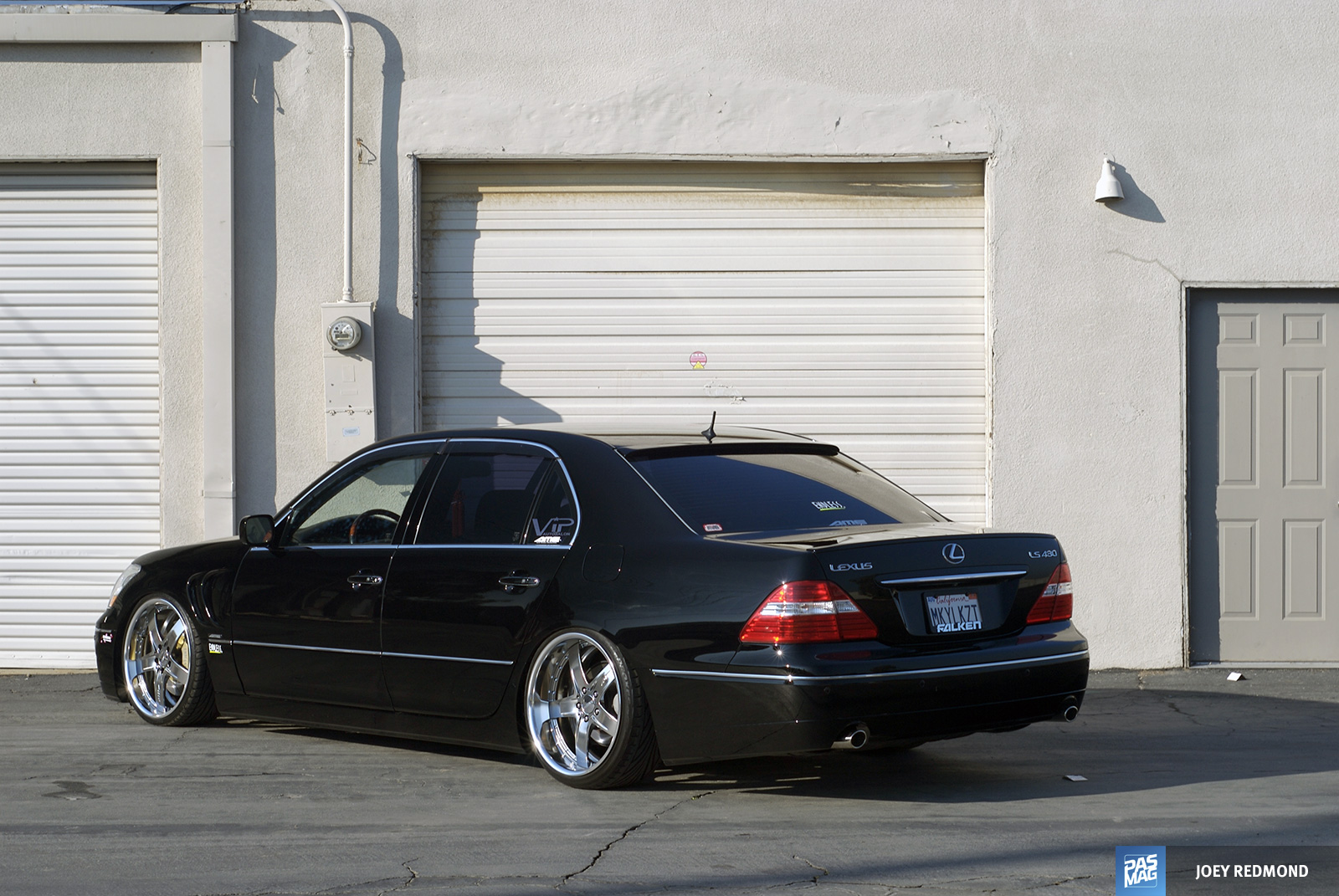 The car was completed on time and made a successful debut alongside Petralba's AutoConcept Elite brethren. It has since helped the crew win Best Team awards at almost every event they've ever competed at. Thanks go out to all parties involved with the build, including his sponsor team of Scosche, TRU Technologies, CDT Audio, Sessions-Power, Endless USA / AME Wheels, Endless Tuning Auto Performance Shop, HighEnd Performance Auto, Air Runner, Elemental Designs Audio, Nitto Tires and LuxuryJcars.com. A special shout-out to Oskarz Electronics in Ventura, CA (Oscar and Juvenal), and Devin at Audio Advice in La Crescenta, CA for their collaborative efforts on the car's multimedia system. Make sure to visit www.autoconceptelite.com for more information.
Photos by Joey Redmond
---
ESSENTIALS
Owner: Angelo Mike Petralba
Location: Oxnard, CA
Vehicle: 2004 Lexus LS430

ENGINE MODIFICATIONS
EXTERIOR
Sessions-Power complete body kit (front bumper, rear bumper, vented front fenders)
Sessions-Power rear spoiler
Limo tint rear windows
Sessions-Power HID fog lights
LED interior lights and underbody lighting
Body work and paint performed by RnJ Autobody in Oxnard, CA
WHEELS & TIRES
AME Shallen FX wheels - 20x9 (f), 20x10 (r)
Nitto INVO tires - 235/30R20 (f), 245/30R20 (r)
SUSPENSION & BRAKES
Air Runner air suspension system
Endless big brake upgrade - 6-piston calipers, 13.8-inch rotors
Stainless steel braided lines
INTERIOR
Suede interior
Custom floor mats
Work performed by Gold Coast Upholstery in Ventura, CA
AUDIO & MULTIMEDIA
VAIS Tech SLI iPod controller
TRU Tech amplifier (mids and highs)
TRU Tech mono-block amplifier (subwoofer)
CDT Audio ES 07 mid-bass drivers (x2)
CDT Audio ES 04 mid-range (x2)
CDT Audio ES 01 tweeters (x2)
Elemental Designs Audio 11Kv2 subwoofers (x2)
10.4-inch LCD monitors moulded into seat-backs
Dell 24-inch LCD monitor (trunk)
Modified XBox w/ 260GB hard drive and Linux OS
Scosche front fuse holder
Scosche main power wire
Scosche distribution blocks
---
PHOTO GALLERY