There was once a time in Godfred "Freddy" Boafo's life when he had nothing with wheels to his name. Long before he could drive, he was obsessed with cars, and since he didn't have a bicycle at the time, he would chase cool passing cars on foot until he couldn't run anymore. Way back when Boafo was old enough, and well off enough during his high school days, to build an H22-powered Honda Accord, he had always set his sights on Nissan's mighty GT-R - with a love for every generation of the iconic JDM Godzilla. To him, the GT-R represented everything about a perfectly well-rounded sports car - it had power, style, and a racing pedigree as iconic as any before or after it.
Fast forward to the modern day, and Boafo is realizing his dream one car at a time. He now owns not one, but two GT-Rs, an R32 and an R34. While the R34 sits in storage as a plan to do something crazy in the future, Boafo has already done something crazy in the form of his 1992 Nissan Skyline GT-R which he bought in 2006. Before he could even legally register the car for the road, he purchased the GT-R as one of the first to ever land in Toronto, Ontario. Even as a stock vehicle on the original 16-inch wheels, the car got attention from JDM fans everywhere, many of whom immediately recognized one of the most potent powerhouse cars from video games and old videos.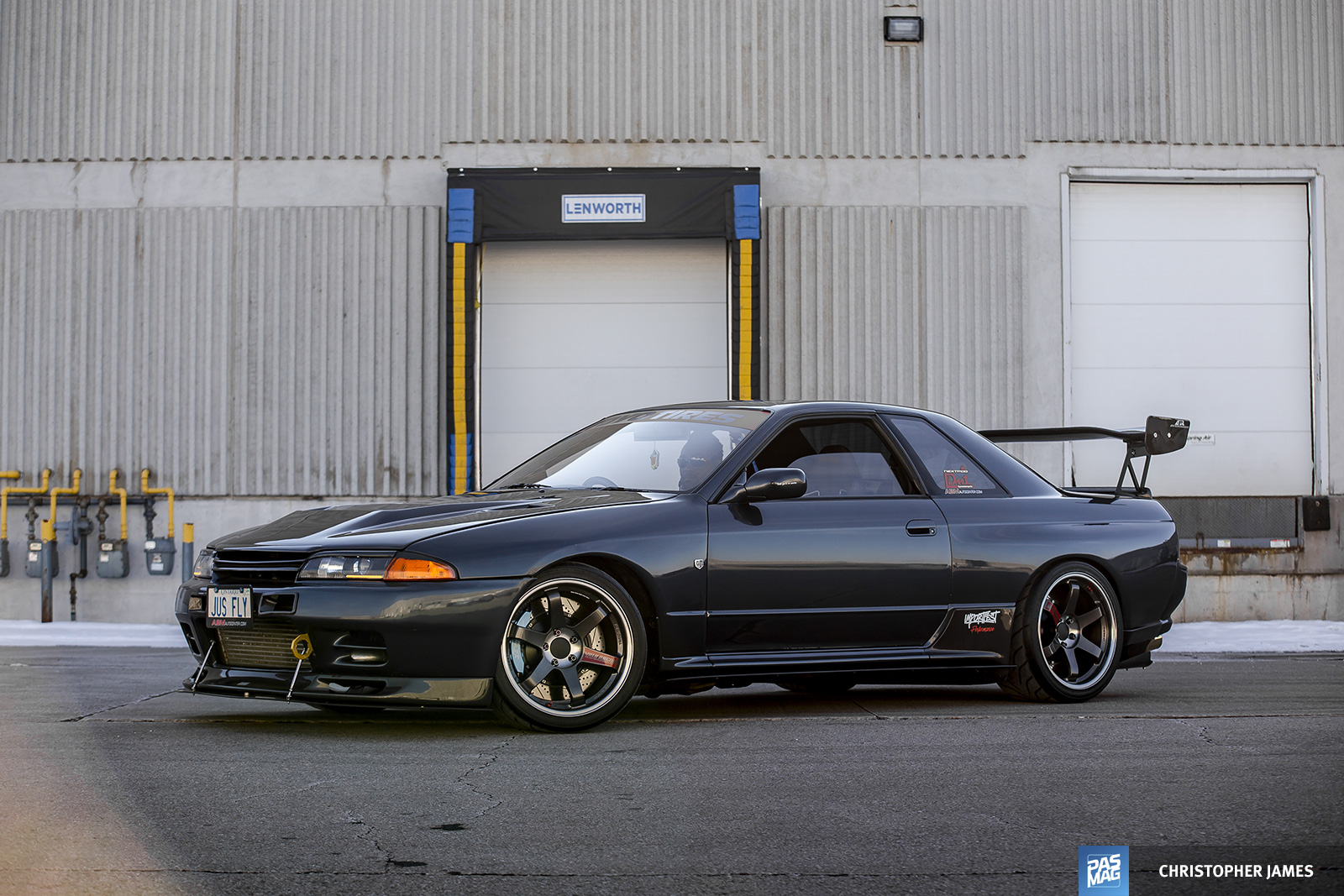 By this point, he was quietly saving money to eventually build the R32 GT-R to its limits, not just for himself, he says, but for GT-R lovers everywhere. He wanted his GT-R to represent everything that the iconic platform was at its core, so every type of GT-R fan would have something to appreciate and aspire to. This meant cutting no corners, and using quality parts throughout, a decision which would bump up the price tag of this build exponentially. According to Boafo, though, the decision to pay the premium is worth it in the long run. "Spend a bit more and you'll be happier than buying cheap and doing it twice," he says, offering advice to builders making the same decisions.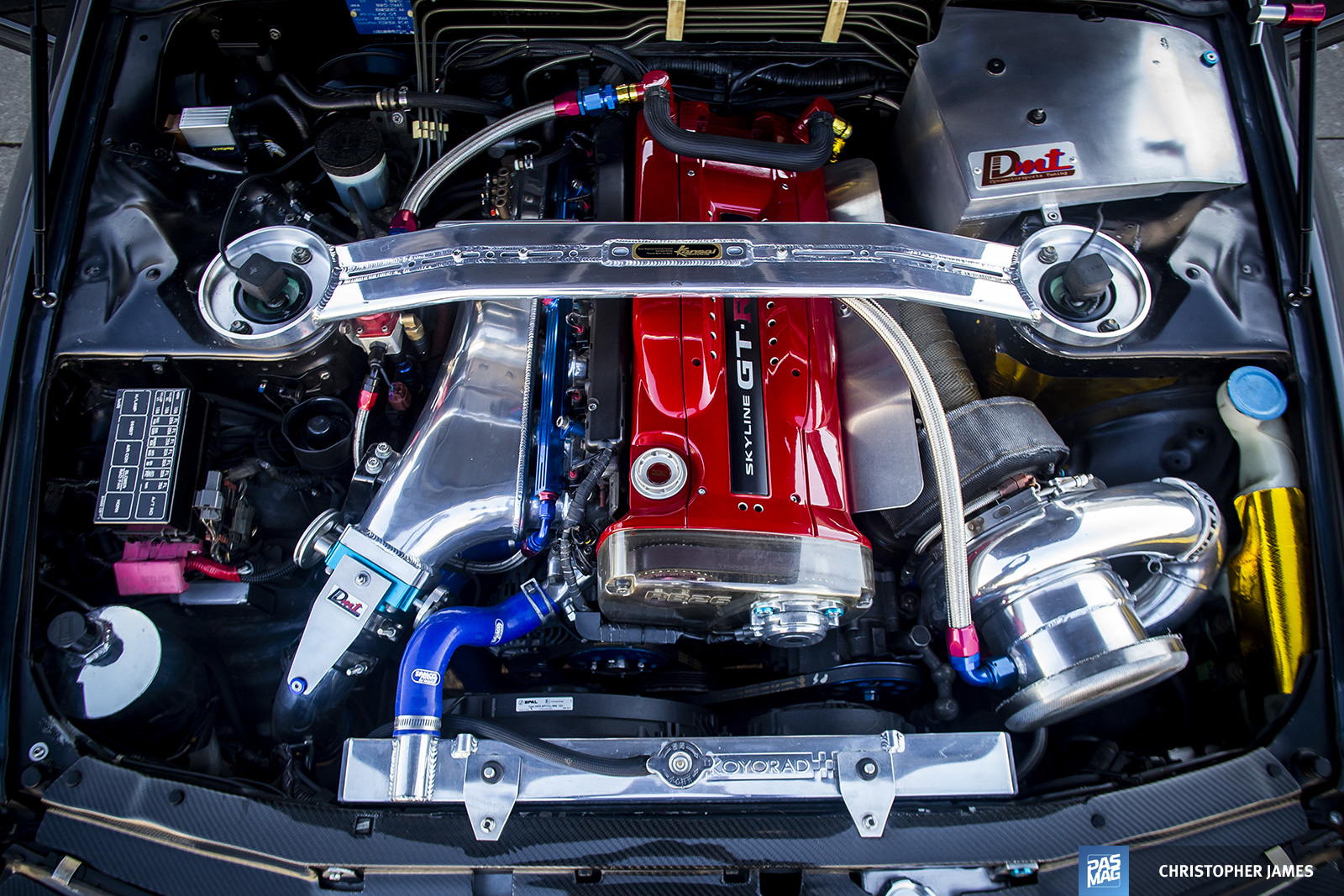 A well-rounded build was always top of mind, but the RB26's potential was too enticing for Boafo not to go crazy with power. Enlisting the help of the team at Dynamotorsports Tuning, known for their quality high-power builds, Boafo gave his RB the full treatment from top to bottom. A ported and polished head sits atop a fully built bottom end featuring JE pistons and Crower forged rods. In the top end, HKS 272-degree camshafts and cam gears, as well as a full Supertech valvetrain. Air flow is handled by way of a custom intake manifold mated to a 90mm throttle body, but the real attraction in the engine bay is the massive Garrett GTX4508R turbocharger with a Tial 1.00 A/R rear housing on the custom V-band turbo manifold. All in, this setup, with all of its associated bolt-ons and supporting mods, is good for a deadly 1,042 whp at 38 PSI.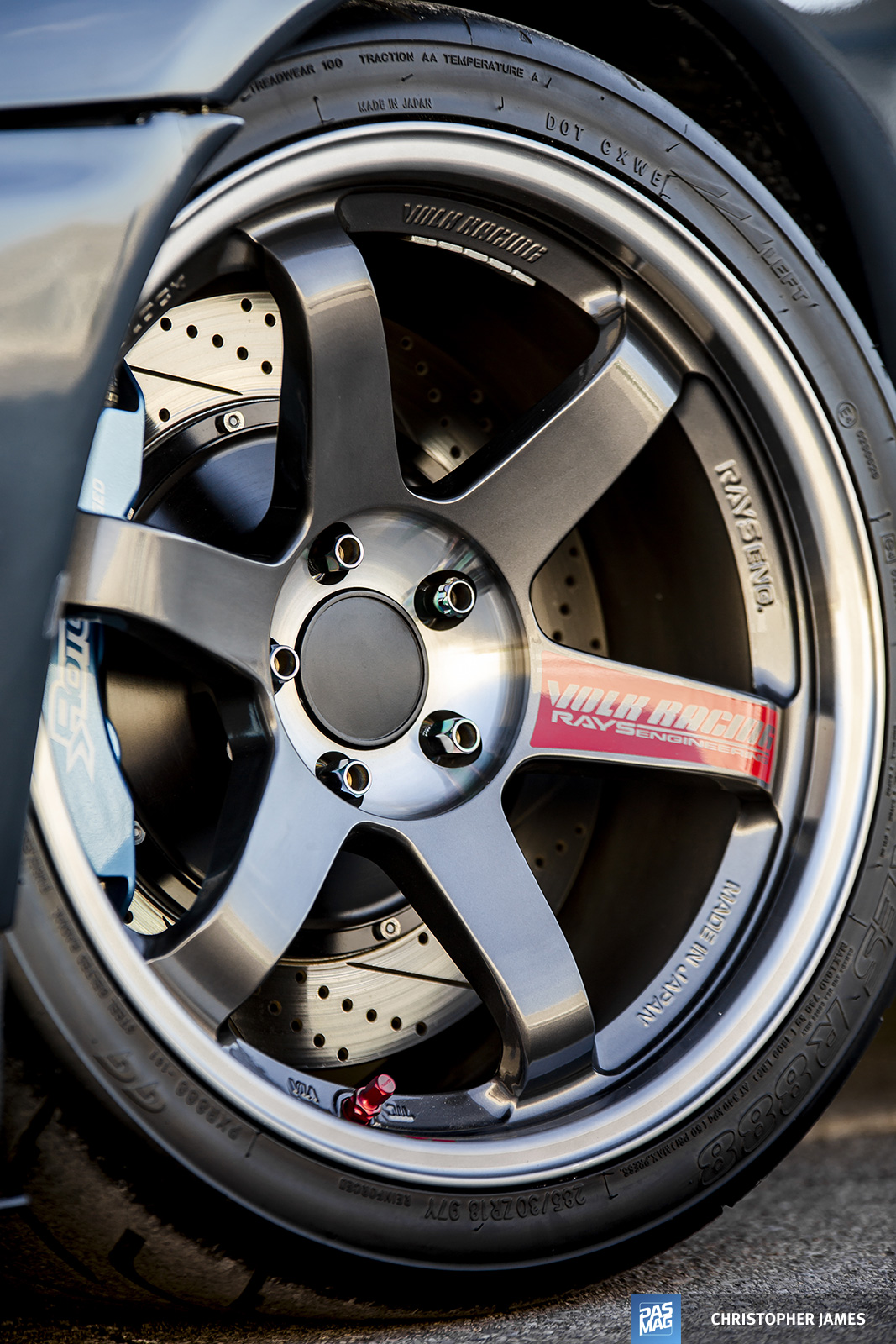 Handling power like that is a job for an Exedy triple carbon clutch mated to a custom built transmission from an R34 GT-R, and a custom Driveshaft Shop driveshaft and ensuring that power makes it to the ground is a set of Toyo R888 tires measuring 285/35/18 on all four corners. Those Toyo tires are wrapped around an 18x10-inch set of Volk Racing TE37SL wheels, one of the first key pieces in the GT-R's aggressive yet functional styling, and it only gets better from there. Also at ground level is a Rocket Dancer front lip with an APR splitter, Nismo carbon fiber side skirts, and a Top Secret rear diffuser. Higher up on the body you'll find an APR GT500 carbon fiber spoiler, and up front there's a set of Nismo N1 air ducts integrated into the front bumper.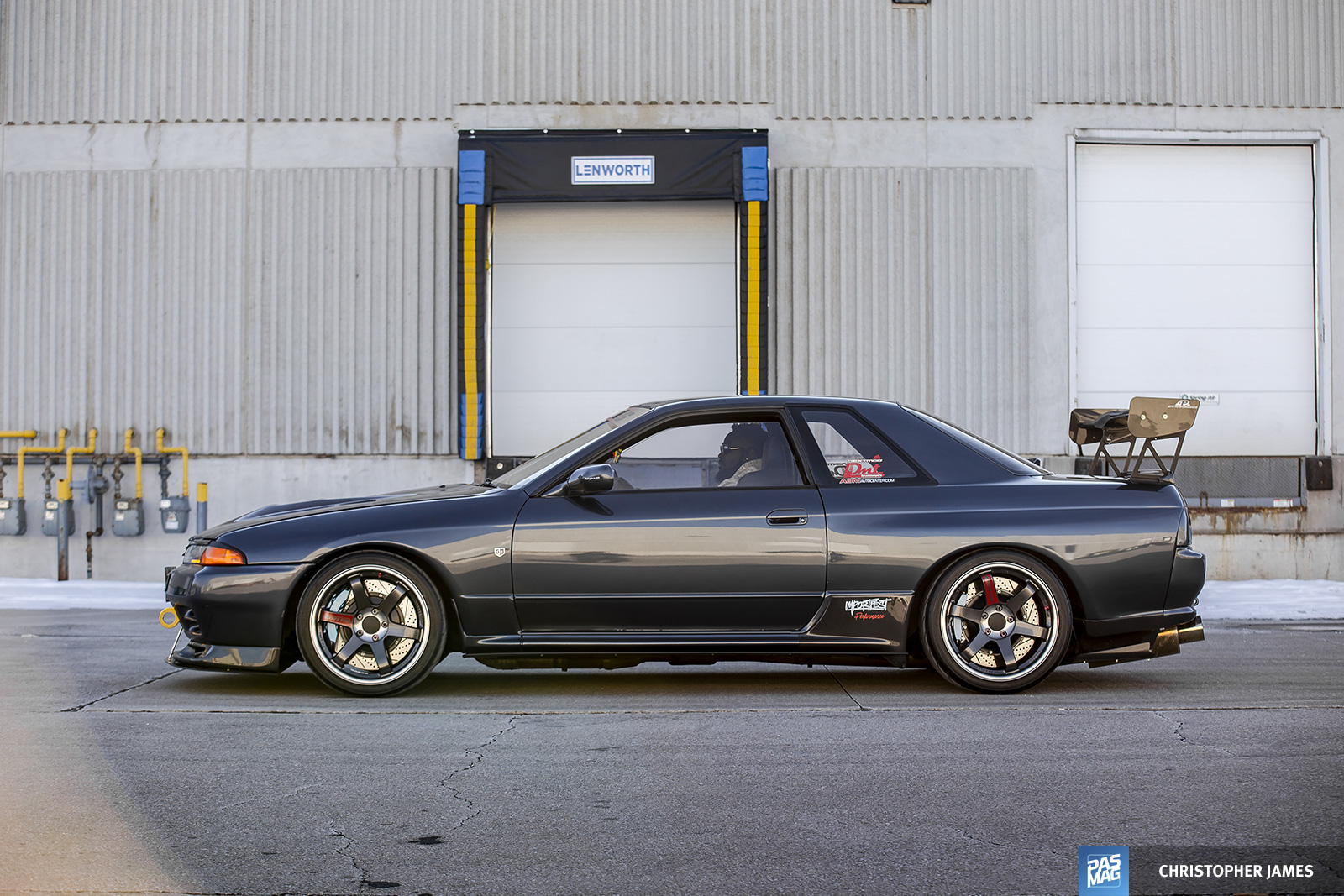 Styling of the car maintains a sleek and clean look without going overboard, and the entire ensemble is lowered just enough via a set of Tein Mono Flex coilovers with electronic damping control. With a full set of Cusco arms and sway bars, the car is built to handle just as well as it launches. Inside the car, simplistic design reigns. A custom modified set of front seats from an R34 Skyline work in tandem with Takata 5-point harnesses to keep driver and front passenger safe and snug, and custom Bride fabric rear seats add to the style throughout. As a well rounded build, you can bet there's some audio components as well. An Eclipse double-DIN head unit serves as the source for a set of JA Audio component speakers and a matching subwoofer.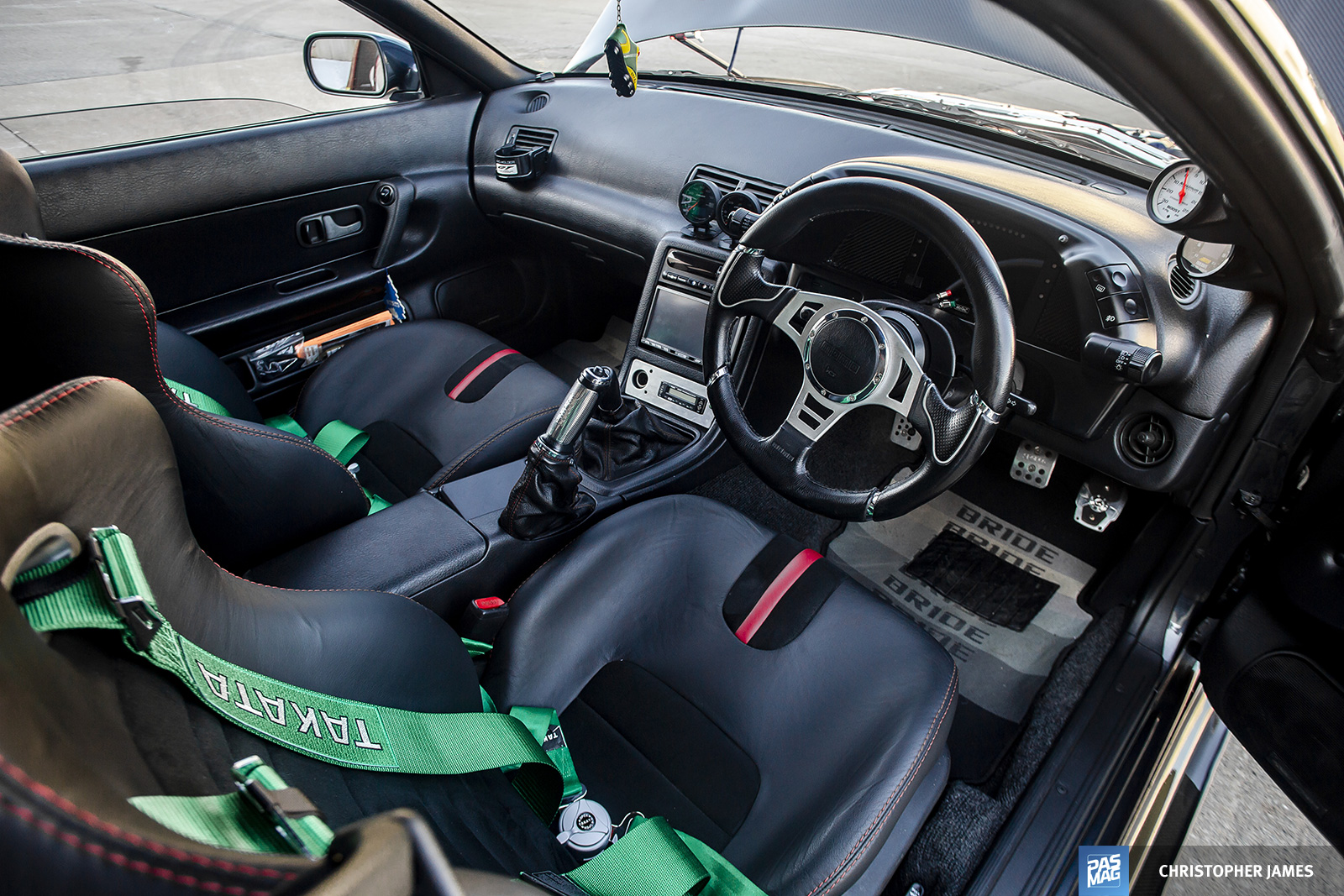 As much as we might lose our sense of responsibility behind the wheel of a monster like Boafo's R32, he says he spends a lot of time driving the exact speed limit with his kids in the car. With TVs mounted on the rear headrests, the kids love trips in the high-revving powerhouse as much as he does. Because of his typically responsible behaviour on the roads, he's also received positive attention from local law enforcement when they see he's enjoying the car with his children.
Truly a well-rounded build all together, Boafo is never truly "finished" with any project, and he tells us he frequently upgrades at least a couple of parts every year as new technology and improved parts come around. In the meantime between mods to the R32, he's got his own R34 and a Toyota Supra to toy with as well. If he intends to build either of those to the level that this Skyline is built to, we cannot wait to see what comes next.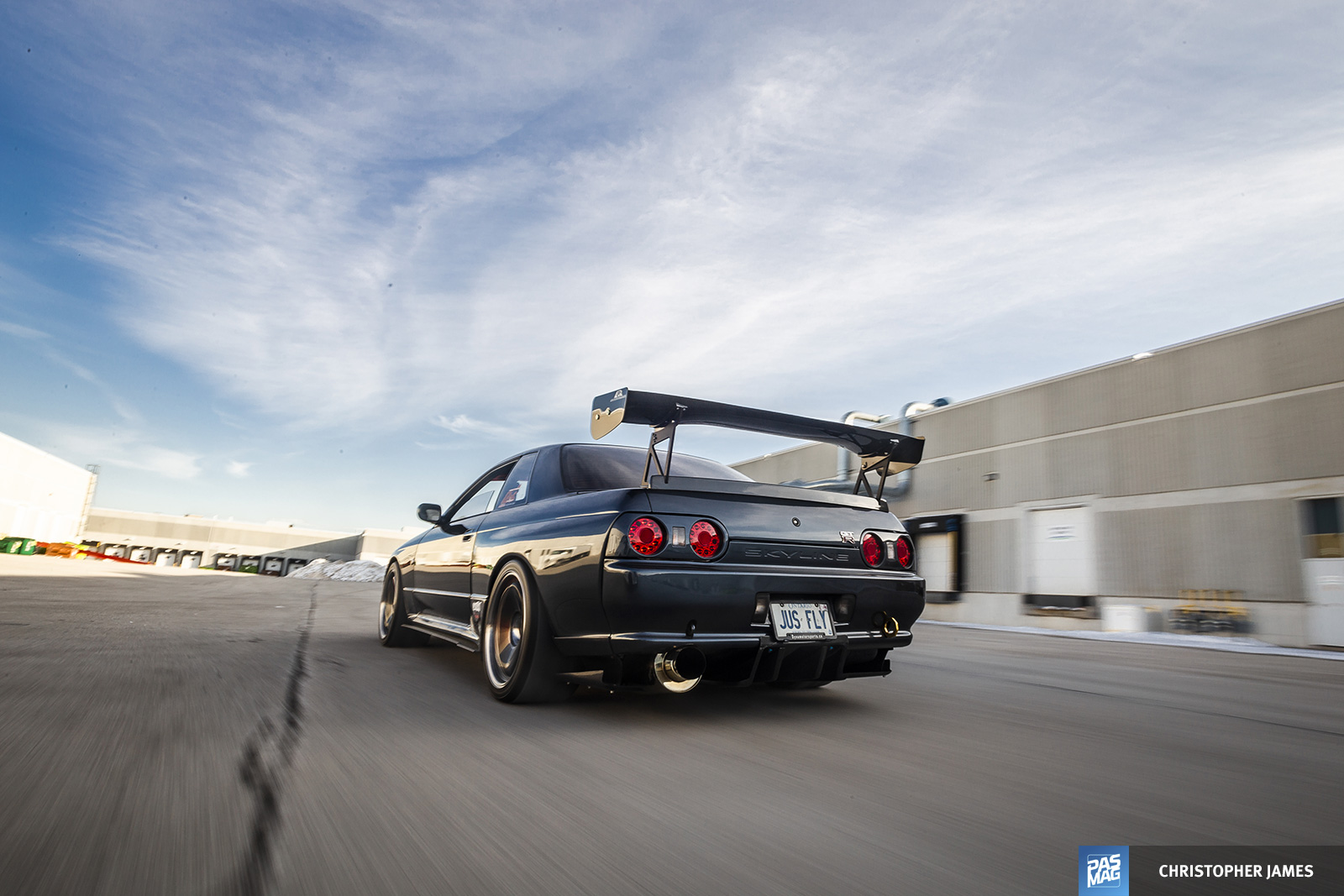 Photography by Christopher James (@itschrisvq)
---
ESSENTIALS
Owner: Freddy Boafo
Vehicle: 1992 Nissan Skyline GT-R
Location: Hamilton, ON
Engine: Nissan RB26DETT 2.6L Turbocharged I6
Horsepower: 1042 whp
Club: NextLevel
SOCIAL
Instagram: @freddy_r32
ENGINE
JE pistons
Crower forged rods
HKS (272 camshafts, cam gears)
Tomei (oil pump, MLS head gasket)
Supertech valvetrain
Garrett GTX4508R single turbo conversion w/ Tial 1.00 A/R V-band turbine housing
Custom 6-inch velocity stack turbo inlet
Custom intake manifold
Race ported and polished RB26DETT head
DMT custom (V-band turbo manifold, catch can)
90mm throttle body
ATI damper crank pulley
Racetronix 1300cc injectors
Xenocron 044 surge tank
Bosch dual 044 staged pumps
Walbro 450 lph transfer pumps
Koyorad radiator
SPAL electric fans
Mocal oil cooler
Custom intercooler
ARP hardware
Haltech Pro ECU
HKS DLI twin power
Haltech HPI-6 ignitor
Toyota Supra TT coil packs
Denso iridium spark plugs
GReddy DA multi-plugs
AEM Performance Electronics fail-safe wideband
EXHAUST
4-inch custom downpipe
4-inch custom exhaust system
Varex 4-inch electronic muffler
DRIVETRAIN
Exedy triple carbon clutch
Custom build R34 transmission
Driveshaft Shop custom driveshaft
Nismo short shifter
WHEELS / TIRES / BRAKES
Volk Racing TE37SL wheels - 18x10.5 (f/r)
Toyo R888 tires - 285/35/18 (f/r)
Rotora (6-piston front calipers, 4-piston rear calipers, 380mm rotors)
CHASSIS / SUSPENSION
Tein Mono Flex coilovers w/ EDFC control
Cusco (upper and lower adjustable control arms, traction arms, front and rear sway bars)
HICAS delete
EXTERIOR
Nismo (N1 air ducts, carbon fiber side skirts)
APR (GT500 carbon fiber spoiler, front under splitter)
Rocket Dancer front lip
Top Secret rear diffuser
Kansai Monster tower bar
INTERIOR
Custom R34 Skyline front seats
Custom Bride rear seats
Takata 5-point racing harnesses
AUDIO / MOBILE ELECTRONICS
Eclipse double-DIN DVD head unit
JA (component speakers, subwoofer)
Compustar remote start w/ alarm
Side mirror-mounted cameras
SPONSORS
---
PHOTO GALLERY