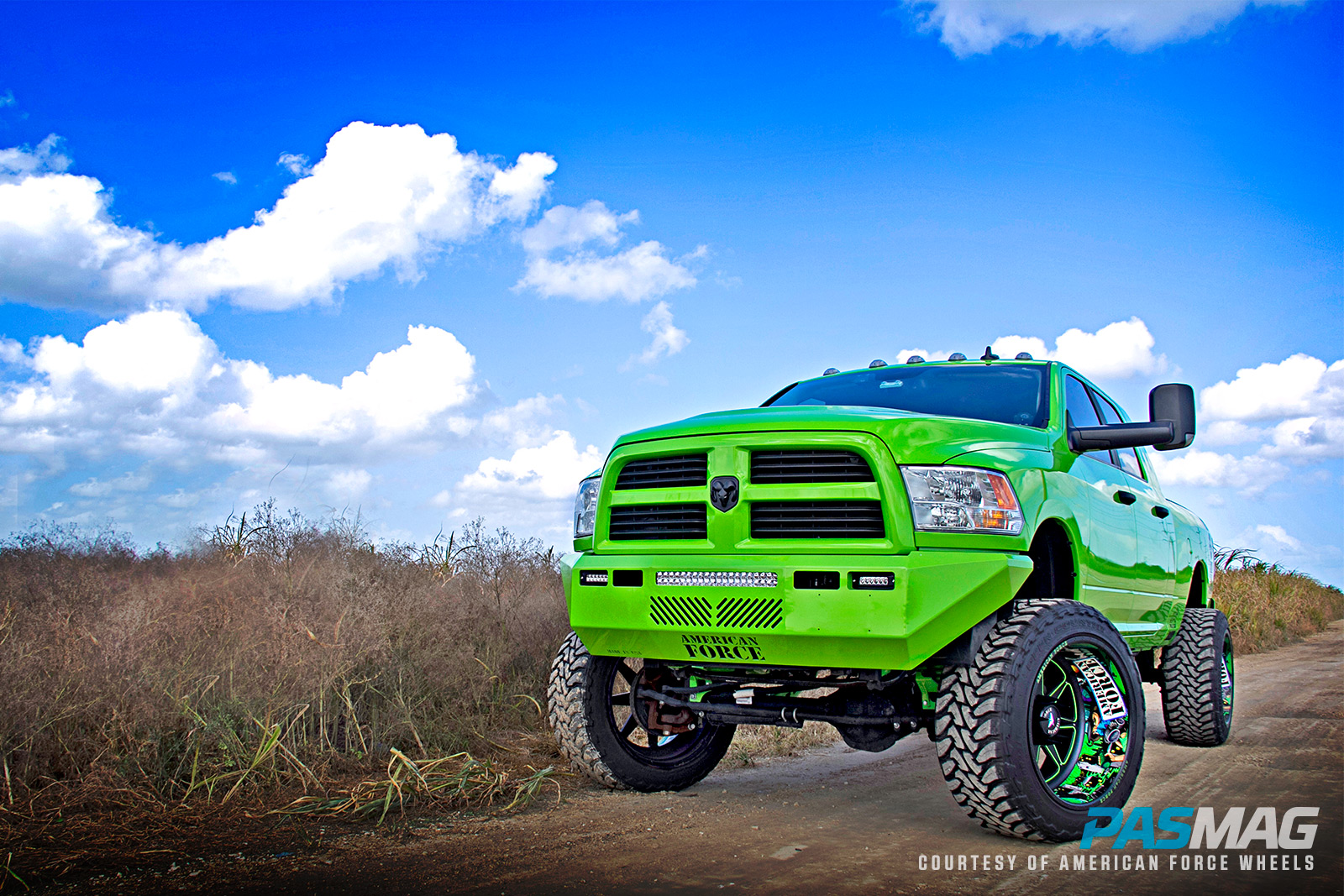 Written by Micky Slinger | Photos by American Force Wheels
This truck is the exact opposite of subtle. An eight-inch suspension lift is usually enough to get looks on the street. Custom aluminum bumpers garner a few more scopes. Add in a bright green paint color that Marvel might just sue you for, and you're snapping necks everywhere you go. This is what life is like for Albert Diaz and his family. And they love it.
"We can't go anywhere without people honking the horn and waving and giving us thumbs up," Diaz exclaims. "It's insane the amount of attention this truck gets."
With its paint job alone, it's not hard to imagine how much of an attention magnet this 2013 Ram is. If you didn't know better, you'd think you stumbled into the middle of the set of an Avengers sequel during one of Hulk's smashing scenes.
As mentioned before, this truck isn't just obscenely green, it's also large and in charge. This is courtesy of an eight-inch boost in height from Mcgaughys Suspension. This all-in-one kit is essential if you want to see above it all, as well as have the legs to stretch over any terrain. To complement this, Diaz added four-link suspension in the front end and had some custom rear traction bars made up. This is hilarious considering Diaz's past ride.
"My previous car was an Infiniti G35, slammed with 20x12s on it," he laughs. "That's totally, extremely the opposite of what this is."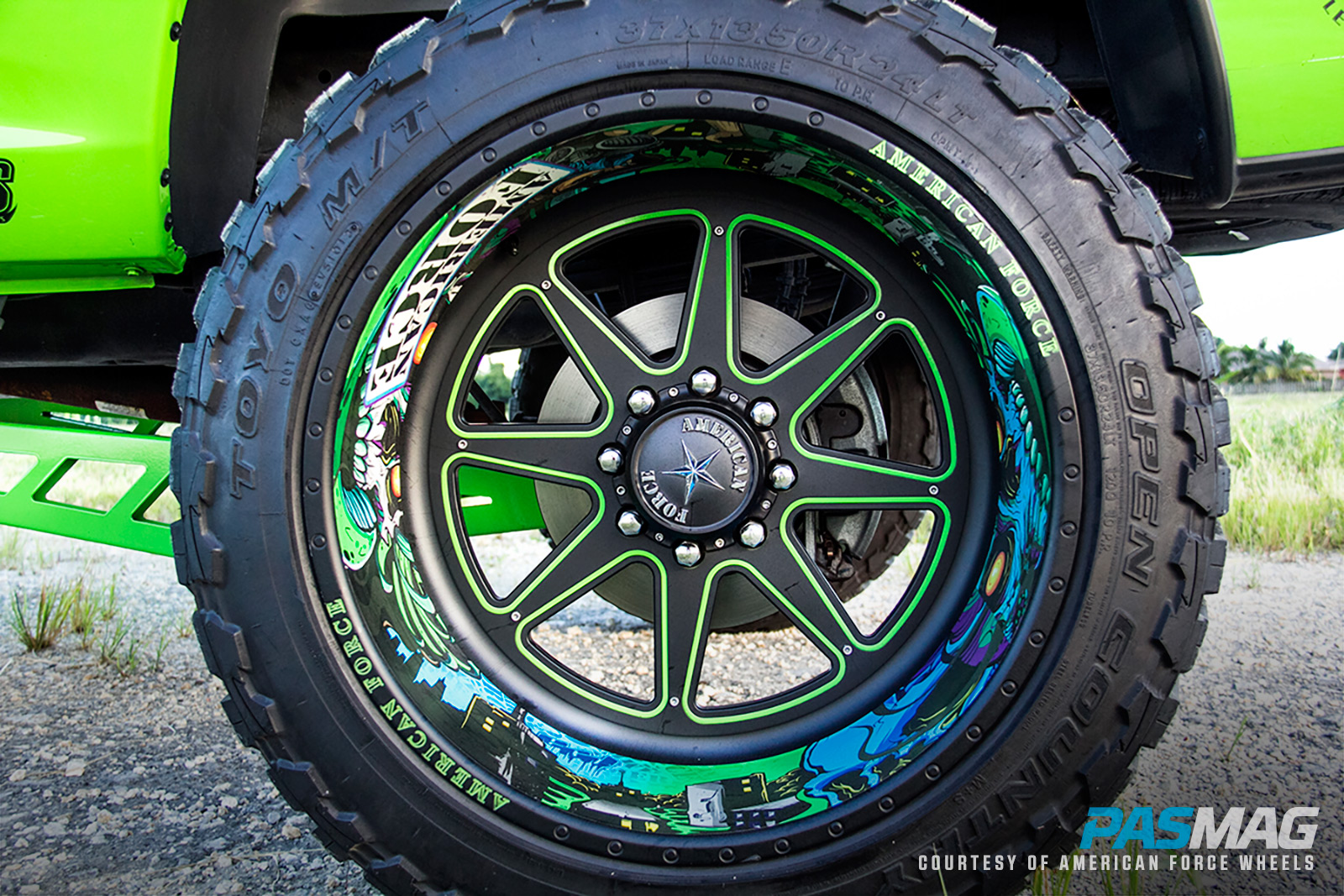 It's the total, extreme opposite, save for a set of killer wheels. Having the hookup with American Force, Diaz set out to make his set stick out from the rest. A foursome of black, eight-spoke Master FP8 wheels with matching green trim were sourced in 24x14 with a negative 73 offset. As you can imagine, the dishes on these things are serious. Not letting the space go to waste, Diaz called up one of his buddies to wrap the barrels in a custom graphic scheme.
"It's a buddy of mine up in Canada," says Diaz. "He does graphics and he had them on his wheels last year at SEMA. He said, if I wanted to, he'd make me a set for my truck. I said, 'Yeah, let's do it!' He made the graphics there and we installed them here in Miami."
These wheel wraps are like I Can't Believe It's Not Butter; you just can't tell. The custom stickers are super high quality and cleanly installed, which makes them looks like an urban Michelangelo got in there and went to town with his brush.
"He figured out a way to get the right curvature on the sticker so that when you laid it down, it completely wraps all the way around," Diaz explains. "It's just like putting on a sticker; just take your time and put it on nice and even."
Carrying on with the beastly exterior, Diaz threw on some American Force aluminum bumpers. The front bumper, besides giving the Ram a rugged feel, features a seamless lighting install. All bulbs on the truck have been converted over to Wurx Industries LED bulbs. Six, count 'em six, Rigid Industries LED lighting kits illuminate this truck. The underbody lights have been swapped out with some green LEDs, which make the Hulk known at night.
An interesting addition is AMP Research's Power Steps. They were added to keep the wife happy with the green beast, which, let's be honest, is the most important.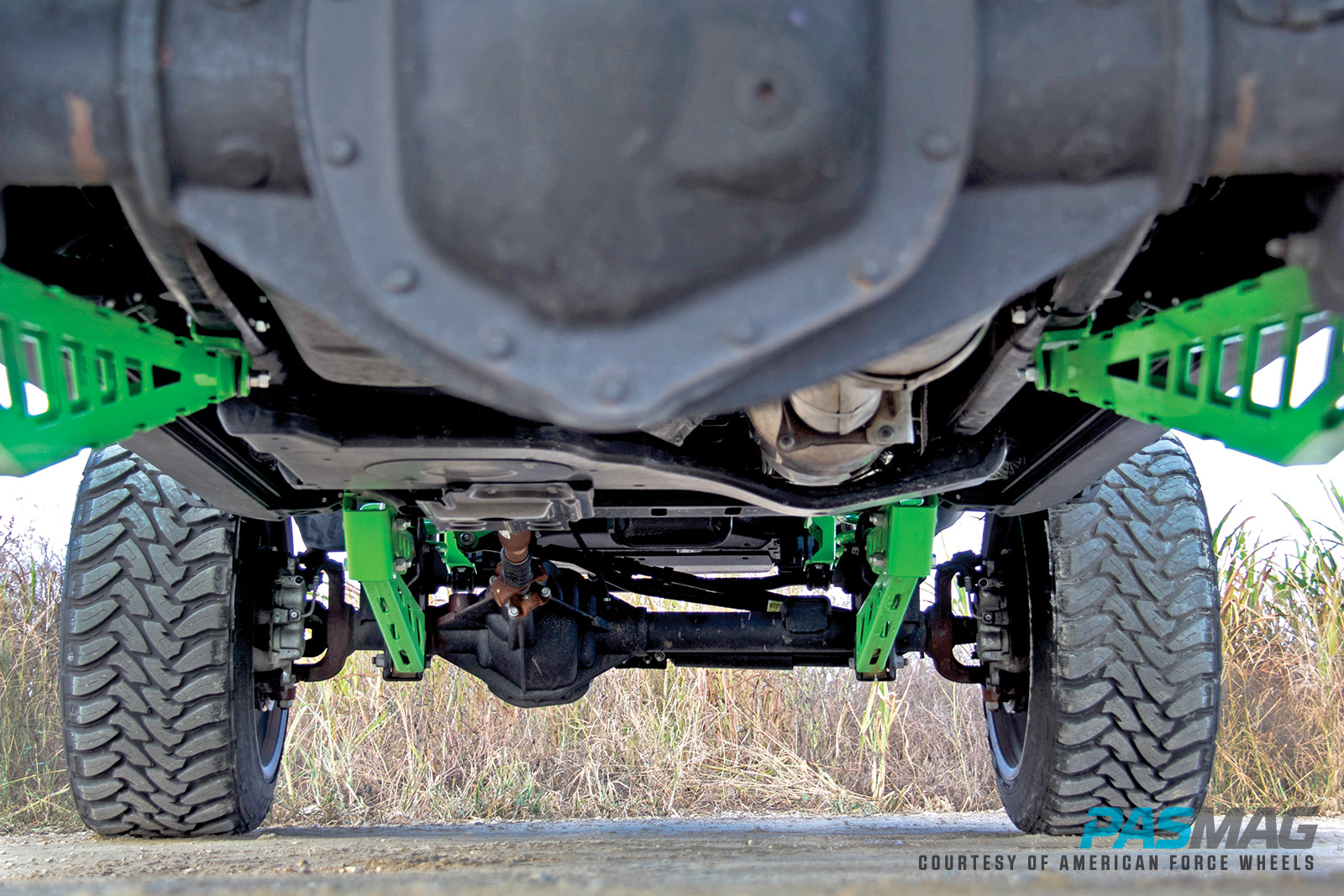 "When we bought the truck, my wife was pregnant at the time and she was like, 'I don't feel too good about this because you want to lift it. I can't pick the baby up there,'" recalls Diaz. "I ended up putting in the AMP Research Power Steps to make it easier."
Now, fans of the Ram will know the 2500 is already a capable truck with its 6.7-liter Cummins turbo diesel, resulting in it's best-in-class towing award for the millionth year in a row. To add a bit more kick and some fuel economy, Diaz turned to Bully Dog.
"Nobody really makes anything for the '13 or newer Dodges," Diaz says. "Bully Dog does; they came out with this programmer. It's a little tuner, not anything crazy."
The Bully Dog Triple Dog diesel gauge tuner is an all-in-one system that displays all the read outs you need to know from your Ram, but also provides an up-to 140 horsepower and 200 lb-ft of torque upgrade in some instances, as well as a more economic fuel map. A powerhouse that sips at the pump? Hell yeah.
"It's a management system that tells me everything that's going on with the truck," Diaz explains. "It tells me exhaust temperature, miles an hour and fuel consumption. I didn't get it for power, I got it for fuel economy."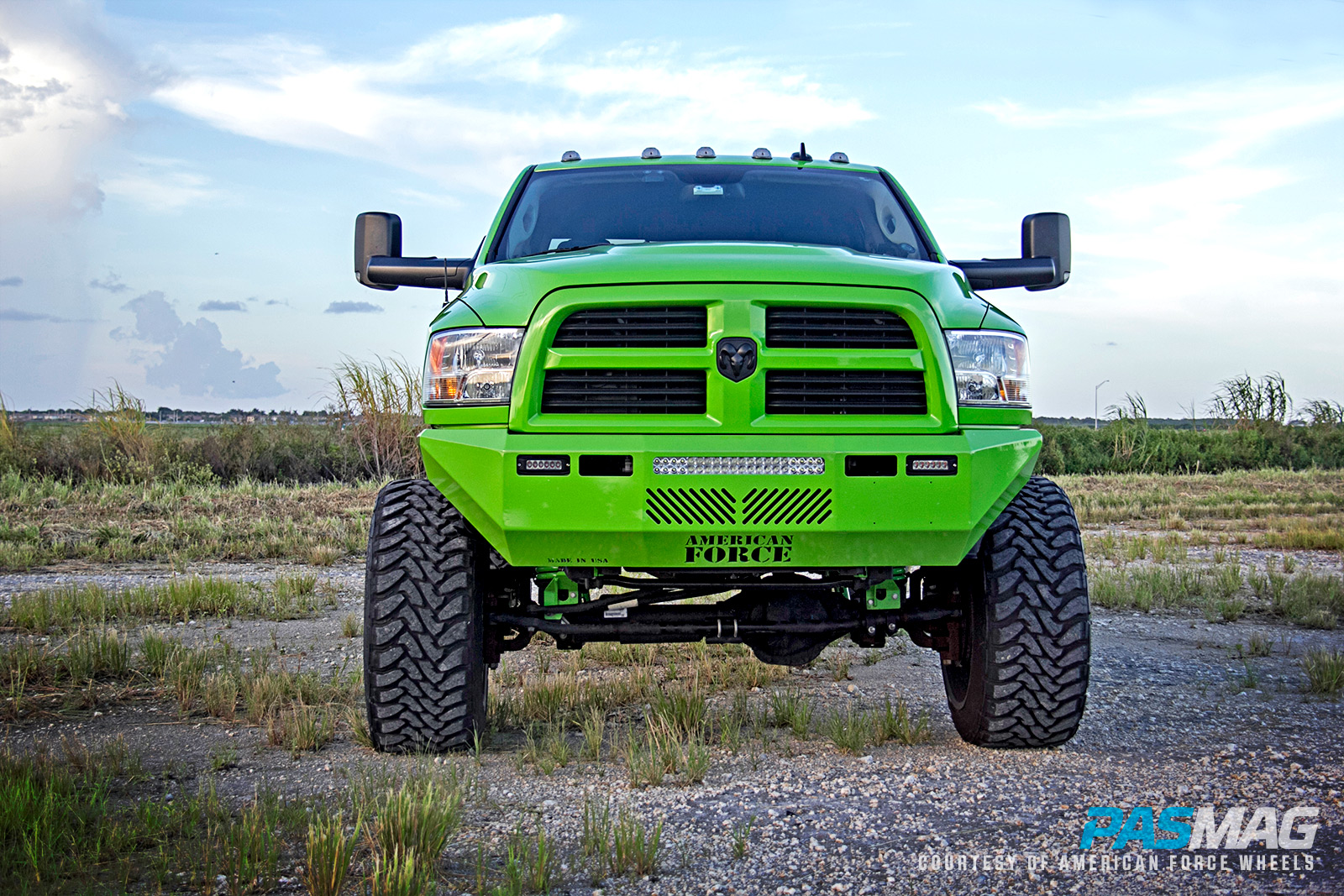 With a big green monster right out of a comic book living in his garage, Diaz is thrilled with his first diesel build. It backs up its crazy looks with just the right amount of performance for a daily driver, that keeps his family safe from anything Miami can throw at it. If anything should happen to Mark Ruffalo's version of the Hulk, this Ram is a shoe-in for the next Avengers movie.
ESSENTIALS // 2013 Dodge Ram 2500 // Built By: American Force Wheels // Owner: Albert Diaz // Location: Miami, FL // Engine: 6.7L Cummins Turbo Diesel I-6 // Horsepower: 475 hp (est.) // Torque: 940 lb-ft (est.)
ENGINE MODIFICATIONS // Bully Dog Triple Dog GT diesel gauge tuner
WHEELS/TIRES // American Force Master FP8 wheels – 24x14 -73 et (f/r) // Toyo Open Country M/T tires – 37/13.50 R24 (f/r)
CHASSIS/SUSPENSION // McGaughys (8-in. lift kit, shocks (f/r)) // Custom rear traction bars // 4-link front end
EXTERIOR // Rigid Industries Rock Light lighting kit (x6) // American Force aluminum bumpers // Wurx Industries LED bulb conversion // AMP Research power steps //Trimax adjustable tow hitch
SPONSORS // Rigid Industries, AMP Research, Trimax Locks, Bully Dog
Albert Diaz's 2013 Dodge Ram 2500 is featured in PAS Tuning Essentials: Trucks 2014. Order your copy here.